May, 23, 2012
5/23/12
12:30
AM ET
OK, I'll give you
Justin Verlander
.
I'll even give you
Miguel Cabrera
,
Prince Fielder
and
Austin Jackson
.
But five through 25? I think I'll take the
Cleveland Indians
over the
Detroit Tigers
.
The
Indians beat the Tigers 5-3
on Tuesday, even though
Ubaldo Jimenez
struggled once again with his control. Relief ace
Chris Perez
, who criticized Indians fans on Saturday for their lack of support (Cleveland is last in the majors in attendance), was greeted with a thunderous ovation as he came in out of the bullpen in the ninth inning. With two runners on, he struck out Cabrera and got Fielder to ground out.
Just another save. "That's the loudest I've ever been cheered here," Perez said. "I was pumped, the adrenaline was going. It could have gone the other way. I came through. I didn't know which way it was going to go. I was thankful it went the good way."
The good way pushed the Indians to 24-18. The Tigers are 20-22, and for the life of me I can't understand why everyone still thinks Detroit is the better team. Mind you, I'm not saying the Indians are better. I just don't see why the Tigers are better. Just because everyone picked them before the season?
Once you get past those big shiny names on the Tigers' roster, if you want to pinpoint one big difference between the two clubs, it's a little statistic that us sabermetric types love: the old base on balls. The Indians lead the American League with 188 walks, 25 more than any other team; the Tigers have 127 walks, ninth in the league. That patience will go a long ways toward giving Cleveland an offense capable of scoring as many runs as Detroit's (the Indians have outscored the Tigers by one run so far, 184 to 183).
In fact, when you go position by position, you'll see what I mean.
Catcher: Carlos Santana versus Alex Avila.
So far, Avila has been unable to match 2011's .366 average on balls in play, the sixth-best average in the majors. Which means he's hitting like he did in 2010. Santana, meanwhile, is a walks machine who hit 27 home runs in 2011.
First base: Casey Kotchman versus Prince Fielder.
Obvious edge to Fielder, of course. The most interesting thing about his start (.292/.354/.472) is his walk rate is down from 15.5 percent to 8.5 percent. Part of that is he was intentionally walked 32 times a year ago, just three this year.
Second base: Jason Kipnis versus Ramon Santiago/Ryan Raburn.
Please. Big edge to Kipnis with Santiago and Raburn both hitting under .200. Will Detroit make a move here?
Third base: Jack Hannahan/Jose Lopez versus Miguel Cabrera.
This may be the first and only time you'll see Jose Lopez mentioned in the same breath as Miguel Cabrera. So far, however, this edge has been minimal. Cabrera is hitting .304/.362/.488, Hannahan .287/.365/.436 but with better defense. According to Defensive Runs Saved, Cabrera has cost the Tigers four runs -- worst among third basemen (tied with
Hanley Ramirez
).
Shortstop: Asdrubal Cabrera versus Jhonny Peralta.
With the Indians preaching plate discipline, check out Cabrera: Last year, 44 walks and 119 strikeouts; this year, 18 walks and just 12 strikeouts. He's hitting .309 with an OBP over .400 but hasn't lost any power. In 2011, he swung at 31 percent of the pitches out of the strike but he has cut that down to 24 percent. Small differences can go a long way. Peralta was a big surprise for Detroit last season but hasn't matched the numbers in the plate or in the field.
Left field: Johnny Damon/Shelley Duncan versus Andy Dirks/Delmon Young.
Damon has looked terrible. Dirks has looked great, but too early to evaluate this one.
Center field: Michael Brantley versus Austin Jackson.
With his defense and hot start at the plate, Jackson has been as valuable as any player in the American League not named
Josh Hamilton
.
Right field: Shin-Soo Choo versus Brennan Boesch.
This one isn't close and that's with Choo off to a middling start in the power department. Choo has a .391 OBP, Boesch a .271 OBP. Choo is a solid defender while Boesch is slow and lumbering. With his poor start at the plate and poor defense, Boesch has been one of the worst regular in baseball so far. Choo is an underrated asset and I love Manny Acta's decision to move him into the leadoff spot.
Designated hitter: Travis Hafner versus field.
Cleveland's designated hitters have six homers and .370 OBP (fourth in the league). Detroit's DHs have one home run and a .238 OBP (13th in the league). Big, big edge to Pronk.
Rotation.
With the best pitcher on the planet, Detroit's rotation has posted a 3.87 ERA; without the best pitcher on the planet, Cleveland's rotation has posted a 3.94 ERA. Both teams have played 42 games and Cleveland's starters have thrown 12 more innings. Moving forward, maybe you think Detroit's group will perform better. After all,
Doug Fister
missed some,
Max Scherzer
just struck out 15 in game (never mind that the Pirates have been an historic strikeout binge of late) and
Rick Porcello
will put it together one of these years, because everyone says so. Meanwhile, Ubaldo Jimenez can't throw strikes,
Justin Masterson
hasn't pitched as well as last year and
Derek Lowe
is doing it with smoke, mirrors and a deal with the devil. The one thing the Cleveland starters do is keep the ball in the park; they've allowed 20 home runs, second-fewest in the league. Look, maybe you think Scherzer will start pitching better; I'd say so will Masterson. Maybe you're a Porcello believer; I'm not, especially with that infield defense behind him. Lowe is a fluke? Well, let's see how
Drew Smyly
does as the scouting reports get around on him.
Bullpen.
Neither pen has been stellar, as Cleveland's 4.16 ERA ranks 13th in the AL and Detroit's 4.76 ranks 14th. Cleveland's top guys, however, have been pretty solid -- Chris Perez is 14 of 15 in save opportunities while
Vinnie Pestano
,
Joe Smith
and
Nick Hagadone
have pitched well. Detroit's top two of
Jose Valverde
and
Joaquin Benoit
, so dominant a year ago, have both struggled to throw strikes.
I said before the season that I believed the Tigers were drastically overrated. On the Baseball Today podcast late in spring training, I predicted Cleveland would win the division. Unfortunately, when ESPN.com published predictions a few days later, I changed my pick to Detroit. I bought into the hype.
I'm not buying any longer. This division is wide, wide open. (And I haven't even mentioned the White Sox!)
PHOTO OF THE DAY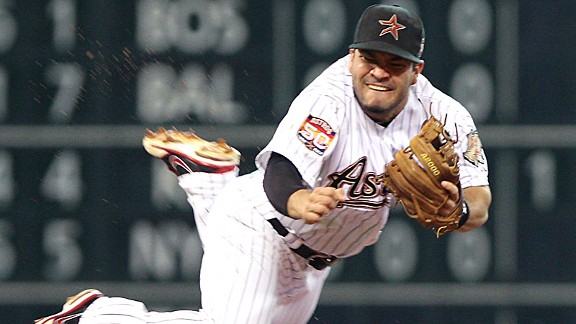 Troy Taormina/US PresswireDiminutive Astros infielder Jose Altuve isn't always so low to the ground.
March, 5, 2012
3/05/12
2:35
PM ET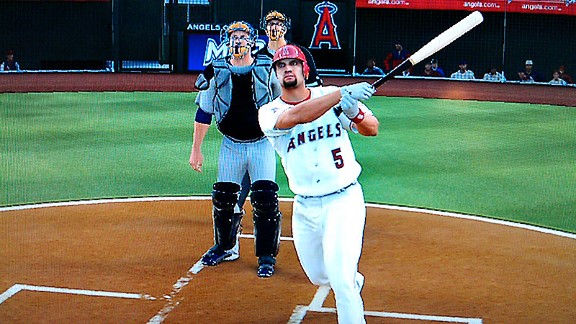 MLB 12 The Show MLB 12 The Show contains even more realistic ball action -- like the spin off Albert Pujols' bat.
Each year, Sony Computer Entertainment America and San Diego Studio produces the best sports video game available and each year those developers find a way to make their game better. Tuesday's release of MLB 12 The Show will demonstrate this but even this franchise's most dedicated followers will immediately recognize they are seeing a game they've never seen before. Put away your previous versions of the MLB The Show series: For 2012, the bar has again been raised, and this time with vigor.
The game's programmers have completely replaced last year's code and thus changed the way the baseball behaves with what they call True Ball Physics, which uses actual math for a spinning baseball that ricochets off bases, the pitching rubber and other field surfaces. The spin of the baseball off the bat is now accurate with realistic RPMs and the ball gains or loses energy like a real baseball, resulting in more hit type varieties. Line drives rise or sink and infield chops quickly become difficult to handle. My friend John Totten and I have played countless The Show games over the years, so I asked him for his '12 version impressions after a day of heated, head-to-head competition.
"Hitting a hooking line drive just inside the left-field line was something I had never seen before, and introduced an element of the unknown that I do not recall experiencing often in previous games," he said. "The overspin/underspin of a groundball based on the level of contact was an excellent added subtlety. I was surprised when a groundball did not make it through the infield, especially up the middle. Those balls simply lost pace due to underspin, as they should have. Line drives to the outfield showed tail and hook. In the past, every line drive to the outfield stayed on the same trajectory."
Trust me when I say this; Given the way the ball now spins in MLB 12 The Show, you will value the defensive abilities of your fielders as never before. Outfield defense was especially adventurous and fielding line drives or chasing balls in the gaps and down the lines is more challenging.
[+] Enlarge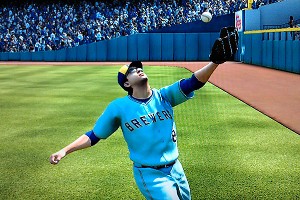 MLB 12 The Show Defense is more difficult in MLB 12 The Show, but that doesn't mean you can't get Ryan Braun to make catches like this.
The game acts, looks and sounds unlike the series has before; from completely different bat, ball and glove sounds to the TruBroadcast Presentations, which are available only on the game's PS3 version. The line between watching the video game and watching an actual baseball game has been blurred using new camera angles and audio that realistically simulate a television broadcast. You'll see more reaction shots after pitches and hear a new "buzz" of the ball and "pop" of a catcher's mitt while a bouncing, spinning baseball hitting green grass sounds just as it should.
Among MLB 12 The Show's many other changes I liked was the Swing/Pitch info box, which now pops up automatically after each pitch and remains onscreen until the next pitch, no more pressing L3 every time you want feedback. Baserunners have new situational awareness and react differently when near a batted ball or another player. Bullpen management continues its brilliant evolution. You can now warm up a relief pitcher or simply select Stretch and Toss, which has the pitcher stretch and play catch without getting warm enough to enter the game. You can also save a reliever's energy once he does begin to warm up by selecting Ready and Waiting, which has the pitcher throw a pitch in the bullpen for every game pitch thrown to maintain readiness. No more overheating relievers before they get into the game.
As always, there are new systems with which to pitch and hit the ball. Let me go on record: I hate them. I'm a button man; always have been and always will be. Last year The Show introduced analog batting featuring a stride and swing method. MLB 12 The Show has advanced to Zone Analog Batting, which allows you to control where you swing in the zone with the left analog stick as you step into the pitch and swing with the right analog stick. Sound hard? It is. I hit like a blindfolded Mario Mendoza and gave up. However, if you were a fan of analog hitting in last year's version you'll enjoy it all the more this year.
New as well is Pulse Pitching, an interactive timing mechanic with an interface that consists of a pulsating circle that flashes around the baseball as you are adjusting the desired location of your pitch. With this method you try and hit the X button when the meter shrinks to the smallest possible size around the baseball. This controls the accuracy of your pitches; the smaller the cursor the more accurate the pitch will be, with the speed of the meter's pulsating depending on the game difficulty setting and the pitcher's attributes and performance.
This feature fails for two reasons: First, it gives you a throbbing headache after about two innings of staring at it, but more importantly your opponent can see exactly how close each pitch came to its ideal location as both players see the size of the pulsating meter around the ball. The player who is batting, seeing a wide meter around the baseball as the pitch is being delivered, instantly knows that the command of the pitch will be poor and is therefore given a clear sign that he doesn't need to swing. This is not a factor with the traditional pitching meter but in the case of Pulse Pitching, when both players are focused on the strike zone, it seems the video equivalent of the guy in the white T-shirt in Toronto's center-field bleachers: a giveaway.
MLB 12 The Show has a complete set of visual tutorials for all new methods of hitting, pitching and throwing and it speaks to what has always been The Show series' greatest strength: It never FORCES you to change the way you play the game. Every year, new controls are added or enhanced while always leaving you the option of staying with the buttons and systems that you've always enjoyed, a practice that other sports video franchises, like EA's Madden or NCAA Football has not always followed. My friend Gus Ramsey's annual review of Madden on Bill Simmons' podcast has become one of The Sports Guy's biggest hits.
"Since around 2004 the look of the Madden franchise has been almost the same, but the game play has changed in an effort to make the game more realistic," Gus says. "Sometimes to great success, other times, not so much. In '04 they added the ability to direct the lead blocker on runs, a true challenge of digital dexterity to be sure. In '06 they added the Truck Stick, a departure from the popular R1 juke button. '06 also brought on the hideous Passing Cone, the New Coke of video game experiments. We've also seen the elimination of the sprint button, which left players instinctually pressing the R2 button with no results."
I don't recall MLB The Show developers ever demanding you change your button options or patterns, always offering new variations but never abandoning preferred methods enjoyed over time. A great lesson for all developers of sports video games: You can offer all the new ideas you want but don't force me to switch my buttons or I'll be forced to stop buying your game.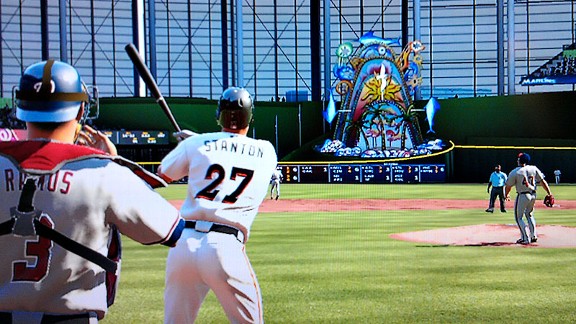 MLB 12 The Show You won't want to miss seeing Giancarlo Stanton mashing home runs in his new home ballpark.
The Show is a series that strives for authenticity yet pitcher repertoires is one area the developers consistently seem to miss their mark. In 2011 Boston's
Daniel Bard
threw 68.7 percent fastballs, 24.8 percent sliders and 6.5 percent changeups. Bard's weapons were essentially a four-seam fastball, a two-seam fastball and a slider. As the numbers prove, he rarely threw a changeup and often limited himself to just the four-seamer or slider in a game's most crucial points. In MLB 12 The Show, however, Bard has FIVE pitches: four-seam fastball, slider, cutter, two-seam fastball and a circle change. Bard admits he'll have to mix in more two-seam fastballs and changeups as he moves from the Red Sox bullpen to the rotation but five pitches for a guy who essentially has relied on two is a swing and a miss at realism. It gets worse.
In 2011, Mariners closer
Brandon League
threw 67.4 percent sinkers, 21.3 percent split-finger fastballs and 11.3 percent sliders. With two strikes, League went to his splitter a whopping 40 percent of the time. It is his big "out pitch" and one of the effective splitters in baseball; except in MLB 12 The Show, where both League's splitter and sinker don't exist. Nor does the cut fastball of Diamondbacks reliever
Bryan Shaw
, which earlier this spring Arizona closer
J.J. Putz
compared to
Mariano Rivera
's. Last season, 58.3 percent of all pitches thrown by Shaw were cut fastballs. MLB 12 The Show does not include a cutter among Shaw's three pitches, unfortunate for a pitcher who in last season's NLDS spotlight appeared in four games and faced 13 batters without giving up a base hit.
[+] Enlarge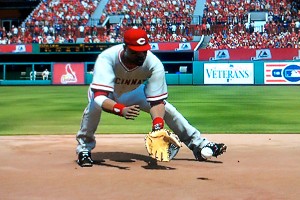 MLB 12 The Show Watch those tricky hops!
This is not just a pitch selection issue. Cleveland's
Vinnie Pestano
last season had an immensely effective combination of 79.9 percent fastballs and 20.1 percent sliders. Pestano's fastball, which is actually a cutter, averaged 92.6 miles per hour and maxed at 95.5 mph. In MLB 12 The Show, not only does Pestano not possess a cutter, his four-seam fastball is just 88 mph. Pestano joked during our Twitter conversation, "Don't know whats more upsetting ... that my 2 seamer is harder than my 4 or my pitching clutch is only 54. #pickitupdigitalme." Pestano's fellow Indians reliever
Joe Smith
joked, "That's what you get for being a righty specialist."
Smith enjoys The Show series but is used to seeing his digital repertoire miss the mark. In 2011, the real Smith threw 69 percent sinkers and 31 percent sliders. In MLB 12 The Show, Smith's video game version doesn't possess a sinker. He's instead been given a four-seam fastball and a changeup, two pitches he doesn't throw. "With guys who have been around for a few years and the big names in the game they are pretty accurate," said Smith. "Young guys seem to have to 'pay their dues' so to speak before they give them really high ratings. But I would say all in all they do an excellent job."
Agreed. Pitch selection nitpicking aside, MLB 12 The Show is not just a step forward for the series but a broad jump. This year in Road to The Show, your player will begin as a touted Double-A prospect. As of this weekend, the servers were still being tuned so I was not able to sample the game's new Diamond Dynasty mode, but based on advance publicity if you're a fan of EA's FIFA Soccer Franchise's Ultimate Team mode you'll be thrilled with Diamond Dynasty, which allows gamers to create personalized team names, colors, uniforms and fully customizable logos with up to 1000 layers of detail. As for baseball's new 10-team playoff format, the developers tell me they're not ready to make a public comment yet and will address the issue when they feel the time is right, choosing instead to let the game's new features "have their day in the sun."
There may be occasions in which you'd be rightfully content to continue playing a previous year's version of a sports video game rather than committing the cash to buy the new edition. With MLB 12 The Show, this is not one of those years. This is a different game than the series has ever seen and is beyond a doubt its best yet.
Steve Berthiaume hosts "Baseball Tonight" and you can follow him on Twitter @sberthiaumeespn.
January, 26, 2012
1/26/12
8:30
AM ET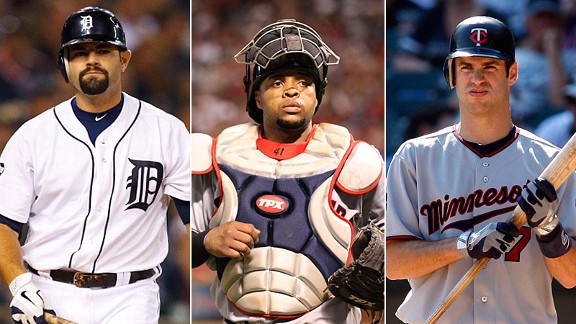 US PresswireWith Alex Avila, Carlos Santana and Joe Mauer, the AL Central is loaded at catcher.
We're back with more divisional position rankings for 2012. You can scream, you can holler, you can protest and call me names. But just because I rated your player lower than you think he deserves doesn't mean I hate your team.
(Here are the
NL East
and
NL West
rankings.)
Catcher
1.
Alex Avila
, Tigers
2.
Joe Mauer
, Twins
3.
Carlos Santana
, Indians
4.
Salvador Perez
, Royals
5.
A.J. Pierzynski
, White Sox
The AL Central might not be baseball's glamor division, but it may have three of the top five catchers in the game if Mauer bounces back from his injury-plagued campaign. Since we're not certain of his health, I'm going to give top billing to Avila, who had the best hitting numbers of any catcher outside of
Mike Napoli
and plays solid defense. I wouldn't be surprised if Santana explodes; with his power-and-walks combo, all he has to do is raise his average 30 points and he'll be one of the most valuable players in the game. Considering that his average on balls in play was .263, there is a good chance of that happening. Perez hit .331 in 39 games; OK, he won't do that again, but he doesn't turn 22 until May and puts the ball in play. There's no shame in being fifth in this group but that's where I have to place Pierzynski, who keeps rolling along and is now 36th on the all-time list for games caught.
First base
1.
Prince Fielder
, Tigers
2.
Paul Konerko
, White Sox
3.
Eric Hosmer
, Royals
4.
Justin Morneau
, Twins
5.
Matt LaPorta
, Indians
In 2009, when Morneau played 135 games, he hit .274 AVG/.363 OBP/.516 SLG. Even if he replicates that line, he may rank only fourth. Konerko has hit a combined .306 with 70 home runs the past two seasons. He's 104 home runs from 500 but turns 36 in March, so he's probably four seasons away; not sure he'll hang on that long, but who knew he'd be this good at this age. If Hosmer improves his walk rate and defense and Konerko declines, Hosmer could climb past him. If it doesn't happen this year, it will happen next. The most similar batter to him at age 21: Eddie Murray.
Second base
1.
Jason Kipnis
, Indians
2.
Gordon Beckham
, White Sox
3.
Johnny Giavotella
, Royals
4.
Alexi Casilla
, Twins
5.
Ramon Santiago
, Tigers
Well, this isn't exactly a
Robinson Cano
/
Dustin Pedroia
/
Ben Zobrist
debate, is it? Kipnis' bat is a sure thing, as evidenced by his excellent play after his call-up (.272 average and .507 slugging in 36 games). His glove was once a question mark but now appears solid enough that he looks like a future All-Star to me. Can anybody explain what has happened to Beckham? He's second mostly by default; he's gone downhill since his superb rookie season in 2009 but is only 25, so there's hope that he'll find those skills again. Giavotella has some potential with the bat (.338/.390/.481 at Triple-A), which is more than you can say for Casilla and Santiago.
Third base
1.
Miguel Cabrera
, Tigers
2.
Mike Moustakas
, Royals
3.
Lonnie Chisenhall
, Indians
4.
Danny Valencia
, Twins
5.
Brent Morel
, White Sox
We'll go with the idea that Cabrera is Detroit's starting third baseman, although I predict he'll end up starting more games at designated hitter. Manager Jim Leyland will end up doing a lot of mixing of his lineups, but for this little exercise we have to choose a starter. Moustakas didn't tear up the league as a rookie and I worry about his ability to hit lefties (.191, homerless in 89 at-bats), but he showed more than fellow rookies Chisenhall and Morel. Valencia doesn't get on base enough and he rated poorly on defense in 2011. I hope he's at least good in the clubhouse. Morel was terrible all season and then exploded for eight of his 10 home runs in September and drew 15 walks after drawing just seven the previous five months. Maybe something clicked.
Shortstop
1.
Asdrubal Cabrera
, Indians
2.
Alexei Ramirez
, White Sox
3.
Jhonny Peralta
, Tigers
4.
Alcides Escobar
, Royals
5.
Jamey Carroll
, Twins
Peralta had the best 2011 season, but he's a difficult guy to project. He had an .804 OPS in 2008 but dropped to .691 in 2009. He had a .703 OPS in 2010 and then .823 in 2011. I just don't see a repeat season, at the plate or in the field. Cabrera didn't rate well on the defensive metrics, and after a strong start he wore down in the second half. Ramirez has turned into a nice player, with a good glove and some power, and he even draws a few walks now. Escobar is a true magician with the glove. Carroll is actually a useful player who gets on base (.356 career OBP), but he's pushed as an everyday shortstop and he'll be 38. He'll be issued the honorary
Nick Punto
locker in the Twins' clubhouse.
Left field
1.
Alex Gordon
, Royals
2.
Alejandro De Aza
, White Sox
3.
Ben Revere
, Twins
4.
Michael Brantley
/
Shelley Duncan
, Indians
5.
Ryan Raburn
/
Don Kelly
, Tigers
I'm not sure what to do here. After Gordon, I just get a headache. We'll pretend to believe in De Aza after his impressive stint in the majors (171 plate appearances, .329/.400/.920). He's hit in Triple-A for three seasons now, and while he's not going to post a .400 OBP again, he should be adequate. Revere is one of the fastest players in the majors, but he's all speed and defense; he hopes to grow up to be
Brett Gardner
, which isn't a bad thing, but he'll have to learn to get on base at a better clip. Brantley doesn't have one outstanding skill so he'll have to hit better than .266 to be anything more than a fourth outfielder; Duncan provides some right-handed pop as a platoon guy. The Tigers have
Delmon Young
, but I'll slot him at DH. That leaves supposed lefty masher Raburn and utility man Kelly to soak up at-bats; both had an OBP below .300 in 2011, although Raburn has hit better in the past.
Center field
1.
Austin Jackson
, Tigers
2.
Denard Span
, Twins
3.
Grady Sizemore
, Indians
4.
Lorenzo Cain
, Royals
5.
Alex Rios
, White Sox
I can't rate Sizemore any higher since he's played just 104 games over the past two seasons, and he hasn't had a big year since 2008. Rios was terrible in '09, OK in '10 and worse than terrible in '11. I'm not betting on him.
Right field
1.
Shin-Soo Choo
, Indians
2.
Brennan Boesch
, Tigers
3.
Jeff Francoeur
, Royals
4.
Josh Willingham
, Twins
5.
Dayan Viciedo
, White Sox
Choo would like to forget 2011, but there's no reason he shouldn't bounce back and play like he did in 2009 and 2010, when he was one of the 10 best position players in the AL. I don't expect Francoeur to deliver 71 extra-base hits again, but maybe he'll surprise us. Viciedo is apparently nicknamed "The Tank," which makes me wonder how much ground he can cover. He did improve his walk rate last season in the minors and turns 23 in March, so there's still room for more growth.
Designated hitter
1.
Billy Butler
, Royals
2.
Travis Hafner
, Indians
3.
Ryan Doumit
, Twins
4. Delmon Young, Tigers
5.
Adam Dunn
, White Sox
Has there been a bigger prospect disappointment than Young in the past decade? I mean, yes, there were complete busts like
Brandon Wood
and
Andy Marte
, but those guys had obvious holes in their games, while Young was viewed as a
sure thing
, a consensus No. 1 overall prospect. But his bat has never lived up to its billing. Other than one decent year in Minnesota, he has low OBPs and he clearly lacked range in the outfield. His career WAR on Baseball-Reference is minus-0.2 (1.6 on FanGraphs), meaning he's been worse than replacement level. He's just not that good, Tigers fans.
No. 1 starter
1.
Justin Verlander
, Tigers
2.
John Danks
, White Sox
3.
Justin Masterson
, Indians
4.
Luke Hochevar
, Royals
5.
Carl Pavano
, Twins
Masterson was better than Danks in 2011, and I do believe his improvement was real. He absolutely crushes right-handers -- they slugged an anemic .259 off him. Danks had two bad months but has the longer track record of success. Even in his "off year" he had a higher strikeout rate and lower walk rate than Masterson. If you want to argue about Hochevar versus Pavano, be my guest.
No. 2 starter
1.
Doug Fister
, Tigers
2.
Ubaldo Jimenez
, Indians
3.
Gavin Floyd
, White Sox
4.
Francisco Liriano
, Twins
5.
Jonathan Sanchez
, Royals
Yes, sign me up for the Doug Fister bandwagon club. Jimenez's fastball velocity was down a couple miles per hour last season but the positives are that his strikeout and walk rates were identical to 2010; he'll be better. Floyd isn't flashy but he's now made 30-plus starts four years in a row, and he'll become a very rich man when he becomes a free agent after this season. Sanchez won't have the luxury of pitching in San Francisco (and to eight-man NL lineups).
No. 3 starter
1.
Max Scherzer
, Tigers
2.
Scott Baker
, Twins
3.
Philip Humber
, White Sox
4.
Bruce Chen
, Royals
5.
Josh Tomlin
, Indians
I could be underrating Baker, who was excellent last season, but only once in his career has he made 30 starts in a season. Tomlin's fans will disagree with this ranking, but he's a finesse guy who relies on the best control in baseball (21 walks in 26 starts). He's the kind of guy you root for, but the league seemed to figure him out as the season progressed.
No. 4 starter
1.
Felipe Paulino
, Royals
2.
Rick Porcello
, Tigers
3.
Jake Peavy
, White Sox
4.
Derek Lowe
, Indians
5.
Nick Blackburn
, Twins
Scouts still love Porcello's arm and I know he's just 23, but he's made 89 big league starts and shown no signs of getting better. His WHIP has increased each season and his strikeout rate remains one of the lowest in baseball. Paulino has an electric arm -- he averaged 95 mph on his fastball -- and
is
getting better. How could the Rockies give up on him after just 14 innings? How could the Astros trade him for
Clint Barmes
? Anyway, kudos to the Royals for buying low on the guy who may turn into their best starter. Peavy can't stay healthy. Lowe has led his league in starts three out of the past four seasons, but I'm not sure that's a good thing anymore. Blackburn is a poor man's Lowe, and I don't mean that in a good way.
No. 5 starter
1.
Chris Sale
, White Sox
2.
Jacob Turner
, Tigers
3.
Aaron Crow
/
Danny Duffy
, Royals
4.
Fausto Carmona
/
David Huff
/
Jeanmar Gomez
, Indians
5.
Brian Duensing
/
Jason Marquis
, Twins
Welcome to the AL Central crapshoot. Turner and Sale have the most upside, but one is a rookie and the other is converting from relief. Crow will also be given a shot at the rotation, but his difficulties against left-handed batters (.311 average allowed) don't bode well for that transition. Even if the artist formerly known as Carmona gets a visa, what do you have? A guy with a 5.01 ERA over the past four seasons. Duensing is another typical Twins pitcher, which means he at least throws strikes. His first full season in the rotation didn't go well, so of course the Twins brought in Marquis, yet another guy who doesn't strike anybody out.
Closer
1.
Jose Valverde
, Tigers
2.
Joakim Soria
, Royals
3.
Matt Thornton
, White Sox
4.
Chris Perez
, Indians
5.
Matt Capps
, Twins
Four good relievers plus Matt Capps. I do admit I'm a little perplexed by Perez, however. In 2009, he struck out 10.7 batters per nine innings. In 2010, that figure fell to 8.7 but he posted a pretty 1.71 ERA. In 2011, it was all the way down to 5.9, but without much improvement in his control. Perez blew only four saves but he did lose seven games. He survived thanks to a low .240 average on balls in play. He's an extreme fly-ball pitcher but didn't serve up many home runs. Bottom line: I'd be nervous.
Bullpen
1. Indians --
Vinnie Pestano
,
Rafael Perez
,
Tony Sipp
,
Joe Smith
,
Nick Hagadone
2. Royals --
Jonathan Broxton
,
Greg Holland
,
Louis Coleman
,
Tim Collins
,
Jose Mijares
3. Tigers --
Joaquin Benoit
,
Octavio Dotel
,
Phil Coke
,
Daniel Schlereth
,
Al Alburquerque
4. White Sox --
Jesse Crain
,
Jason Frasor
,
Will Ohman
,
Addison Reed
,
Dylan Axelrod
5. Twins --
Glen Perkins
,
Alex Burnett
,
Anthony Swarzak
,
Kyle Waldrop
,
Lester Oliveros
If you're starting to think I'm not high on the Twins for this season, you would be correct.
Intangibles
1. Royals
2. Indians
3. Tigers
4. White Sox
5. Twins
I like the youthful exuberance of the Royals, plus the likelihood of improvement from the young players and the possibility of some midseason reinforcements from the minors. The depth of the bullpen will help bolster a shaky rotation, and this just feels like an organization that is finally starting to believe in itself. The Indians are riding last year's positive results and enter the season knowing they might get better production from Choo and Sizemore and full seasons from Kipnis and Chisenhall. I'm not knocking the Tigers here, but they do lack depth in the pitching staff and the pressure is on them.
The final tally
1. Tigers, 65 points
2. Royals, 55 points
3. Indians, 54 points
4. White Sox, 46 points
5. Twins, 35 points
No surprise here: The Tigers will be heavy favorites to win the division with a lineup that should score a ton of runs. I don't think it's a lock that they'll win -- Verlander, Avila, Peralta and Valverde will all be hard-pressed to repeat their 2011 campaigns, for example. But the Royals and Indians appear to have too many questions in the rotations, the White Sox have serious lineup issues, and the Twins have a beautiful ballpark to play their games in.
February, 26, 2011
2/26/11
2:30
PM ET
By
Steve Buffum
| ESPN.com
As I prepare this post, the Indians are reported to have signed Phillies reliever
Chad Durbin
to a contract. On the surface, this doesn't seem all that sensible: The Indians aren't going to win this season, and they have quite a few internal candidates who would benefit from major league experience to see if they can be valuable members of Cleveland's next playoff team. Heck,
Joe Smith
was signed to a non-minimum deal to avoid arbitration, and he just got sent to Triple-A to make room for
Orlando Cabrera
. (I'm not saying I'm excited by signing O, but I understand the thinking there at least.)
[+] Enlarge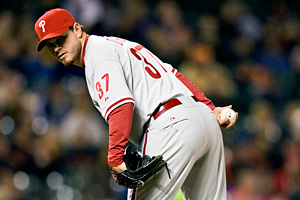 Jason O. Watson/US PresswireNew reliever Chad Durbin joins a crowded bullpen in Cleveland after a stint in Philadelphia.
Besides Smith, no fewer than eight right-handed candidates exist for the bullpen:
Jensen Lewis
,
Justin Germano
,
Vinnie Pestano
,
Frank Herrmann
,
Jess Todd
, Bryce Stowell, Zach Putnam,
Joe Martinez
and
Andy Marte
. Okay, not Andy Marte. He did have a 0.00 ERA and 9.0 K/9 rate last season, though.
(I am not including
Chris Perez
, who was excellent as a closer last season. He is the closer. Everyone else does … everything else.)
Still, even understanding the attrition rate of young relief pitchers (not to mention the fact that not one of these players looks to be elite), signing Durbin seems, well, kinda pointless.
There is one especially galling issue with Cleveland relievers from 2010, though:
Lewis: 19 BB in 36.1 IP

Pestano: 5 BB in 5 IP

Smith: 24 BB in 40 IP

Tony Sipp: 39 BB in 63 IP
Overall, Cleveland relievers walked 210 batters in 484 1/3 innings. This is simply too many free passes. And while Herrmann only walked nine hitters in 44 2/3 innings, he gave up six homers, negating much of the value of limiting walks. (Only Sipp with 12 and
Hector Ambriz
with 10 allowed more for the Tribe in relief.)
Still, a funny thing happened on the way to making a joke about the Cleveland bullpen: The bottom five guys were
Aaron Laffey
,
Jamey Wright
, Ambriz,
Kerry Wood
, and Todd. Laffey is kind of an ersatz starter/swingman: of the other four, Wright was waived, Ambriz blew out his UCL, Wood was traded (and subsequently signed with the Cubs), and Todd will go back to playing Luke on "Modern Family" in all likelihood. (Untrue, but he does look youthful, and he is unlikely to pitch much in the majors in 2011.)
Eveyone else in the bullpen had an ERA under 4.15.
Overall, the Indians sported a 3.83 ERA even
with
Woods' 8.10 ERA and Ambriz's 1.76 WHIP. In the second half, the bullpen posted an ERA near 2.50.
Still, it's probably nice to have a veteran arm: on the salary list for the Cleveland 40-man roster, two pitchers are listed as making more than $430,000, and one is
Rafael Perez
at $795,000. (
Fausto Carmona
is well-paid.) And Durbin did a better job at limiting free passes (27 in 68 2/3 IP) than most Cleveland relievers last season.
If there's a concern with Durbin, it's that he's been worked pretty hard the past three seasons. Now 33, he threw 87 2/3, 69 2/3, and 68 2/3 innings as a pure reliever over that stretch. The last time someone got aired out like that at a similar age before signing with Cleveland, he was
Juan Rincon
, and we did not care for the experience. On the other hand, Durbin gave up only four homers in 37 2/3 innings in Philadelphia's bandbox, so there's some hope than Rincon II is not forthcoming.
Cleveland's rotation really needs a lot to go right to be even average, and there are reasons to think there will be some extra innings for the bullpen to absorb. Keep in mind, though: this was, in all likelihood, the thinking behind signing Jamey Wright, too.
Steve Buffum writes The B-List, a blog about the Cleveland Indians.