September, 11, 2013
Sep 11
11:59
PM ET
@dschoenfield has any team suffered more crushing defeats than my O's this year? It's been excruciating.

— Josh Powell (@JoshuaCPowell) September 12, 2013
Here are some of the position players to suit up for the Yankees in 2013:
Vernon Wells
,
Chris Stewart
,
Jayson Nix
,
Eduardo Nunez
,
Austin Romine
,
David Adams
,
Zoilo Almonte
,
Luis Cruz
,
Ben Francisco
,
Reid Brignac
,
Chris Nelson
,
Brent Lillibridge
,
Alberto Gonzalez
,
Thomas Neal
,
Corban Joseph
and
Travis Ishikawa
. (What you don't remember the two at-bats -- both strikeouts -- Ishikawa received?)
Those 16 players had combined for 1,988 plate appearances entering Wednesday's game in Baltimore, about the playing time of three full-time players. None have provided a positive offensive contribution, Nunez being the best, and he's hittng .257 with one home run. This group had combined to hit .223 with 24 home runs and 162 RBIs and on-base percentage well south of .300.
Those totals don't even include the 73 awful plate appearances
Derek Jeter
made or the 63 bad ones from
Mark Teixeira
or the 118 from
Kevin Youkilis
. You get the idea. This is a Yankees team that the rest of the American League should have kicked to the curb, elbowed in the stomach and then thrown into the gutter alongside the Astros and Mariners.
For much of the season, it's been a team with a $228 million payroll fielding a replacement-level lineup. Well ... replacement level plus
Robinson Cano
.
It's the ninth inning on Wednesday night. The Yankees had trailed 3-1 before
Curtis Granderson
and
Alex Rodriguez
tied the game with home runs in the fifth and sixth. You can guess which guy received a loud chorus of boos as he rounded the bases.
[+] Enlarge
AP Photo/Patrick SemanskyTommy Hunter wasn't the only one who averted his eyes after what was done to him.
Cano is leading off the inning.
Tommy Hunter
, who got the final out in the eighth, is pitching for Baltimore, the only reliever Buck Showalter has used all night. Cano eats up right-handers like Adam Richman facing a plate of pancakes. He has the sixth-best OPS against right-handers in the majors, nearly 200 points better than his mark against lefties. The game before Showalter had let Cano face righty
Kevin Gausman
in the eighth and Cano singled to tie a game the Yankees went on to win. Surely he wouldn't let Cano face a righty again in a key situation?
Left-handers were hitting .175 off
Brian Matusz
. Showalter didn't bring him -- and, no, it doesn't look like rest was an issue. Matusz had thrown 14 pitches on Tuesday, his first appearance in eight days.
Troy Patton
is another lefty in the pen although he hasn't been all that great against lefties this year, .275 with five home runs allowed. Still ... Tommy Hunter. Left-handed batters were slugging .527 off him before this night; he'd allowed nine home runs on the season, all to lefties. He crushes righties; he's not good versus lefties. Clear?
Cano saw two pitches. He fouled off a 95-mph fastball. Then he swatted an 88 mph changeup to center field. The Yankees would add another run when
Adam Jones
misplayed a catchable deep fly ball into a Granderson triple, a key run as it turned out when the Orioles scored once off
Mariano Rivera
in the ninth. Yankees 5, Orioles 4.
Orioles fans forced live through another ninth-inning meltdown. Yankees fans, somehow seeing their underdog team getting a game closer to the playoffs. Tommy Hunter versus Robinson Cano, a matchup that never should have happened.
* * * *
Occam's Razor: It's a Naked Gun 2 1/2 hostage scenario. RT @dschoenfield: Joe Maddon ... not so genius-like lately.

— Jason Epstein (@Southfive) September 12, 2013
We're in the top of the 10th inning in St. Petersburg. Rays manager Joe Maddon had already run through five relievers, including closer
Fernando Rodney
, who had thrown 15 pitches in the ninth. Closers don't pitch two innings these days -- even Maddon, the guy all the smart kids love, doesn't buck that trend -- so
Joel Peralta
started the 10th.
Dustin Pedroia
walked.
Shane Victorino
sacrificed him to second, bringing up
David Ortiz
. You can actually argue that John Farrell should have let Victorino hit away considering (A) Victorino has been hot; and (B) Maddon would likely intentionally walk Ortiz.
Which is what he did, a predictable move since he'd already used his two best lefties in the pen,
Jake McGee
and
Alex Torres
.
Like he did in the third inning, when he walked Ortiz to load the bases to face
Mike Napoli
(who singled in two runs), Maddon again elected to face Napoli. He replaced the fly-balling Peralta with the ground-balling
Roberto Hernandez
. The right move? Overthinking it? Hernandez versus righties: .254/.281/.377; Peralta versus righties: .206/.287/.299.
Napoli walked on four pitches. Oops.

Farrell sent southpaw-swinging
Mike Carp
up to hit for
Jonny Gomes
. Hernandez has a huge platoon split -- lefties were hitting .303 and slugging .529 off him. Maddon did have one left-hander left in the pen in
Cesar Ramos
but he was starting to run out of relievers by now, so he stuck with Hernandez, still hoping for a double play.
Rays pitching coach Kevin Hickey visited the mound. We can assume his advice was not "Throw a first-pitch hanging slider."
Carp crushed it to dead center for a grand slam. With expanded rosters and with the depth the Red Sox have coming off their bench, it's hard to win a matchup game with them right now. Maddon tried and got burned.
* * * *
Did Showalter and Maddon make mistakes? Hey, we all second-guess when the moves don't work. The key is to second-guess
before
it happens. I was definitely surprised Showalter didn't bring in Matusz to face Cano; it's just not a good matchup for Hunter. Maddon had started his matchup game back in the sixth inning -- he used
Wesley Wright
to get
Jackie Bradley Jr
. to get out of a jam and then McGee got Ortiz to ground into a double play in the seventh. That kept the game close, which the Rays eventually tied in the eighth, but limited Maddon's options later in the game. I think he got a little too cute there in the 10th. He probably should have just let Peralta pitch to Ortiz. Any intentional walk helps increase the chances of a big inning. That's what happened.
This is what makes September baseball so much fun. Every move gets scrutinized. Every bad pitch that turns into a bad result gets amplified. We debate, discuss, watch the out-of-town scoreboard with intense scrutiny and suffer through the pain or revel in the joy when Robinson Cano and Mike Carp turn into heroes.
AL Wild-Card Standings

Texas	     81	 64    --
Tampa Bay    78  66    --
New York     78  68     1
Cleveland    77  68   1.5
Baltimore    77  68   1.5
Kansas City  77  69     2

Thursday night: Yankees at Orioles, Red Sox at Rays. Let's do it again. The five-way tie is still very much in play!
May, 7, 2013
May 7
12:40
AM ET
Joe Maddon, once again trying to be the smartest kid on the block, with your fancy glasses and wacky pregame guests and funny haircuts.
How dare you bring your closer in during the eighth inning. With runners on base, no less! Who do you think you are to manage outside the box and pretend it's still 1985 or something? Push your buttons! That's how you manage in this day and age. Your setup guy pitches the eighth. Your closer pitches the ninth. Don't try to think out there; it'll only get you in trouble.
Like it did on Monday night. You were doing fine. Your
Tampa Bay Rays
led the struggling
Toronto Blue Jays
7-5 entering the top of the eighth and
Joel Peralta
was on the mound. That may have been your first problem: You had actually used Peralta to get out of a jam in the seventh. So when
J.P. Arencibia
singled and then Peralta walked
Brett Lawrie
with one out, you faced a dilemma: Keep in Peralta, who had thrown 22 pitches, or bring in
Fernando Rodney
?
I know you trust Rodney. He was so, so good a year ago; dude allowed only five earned runs all season. It was an Eckersley-like season in its efficiency and dominance. He'd been a little shaky so far in 2013 -- nine hits and seven walks and four earned runs in just 9.1 innings -- but he'd blown only that one save back in the second game of the year, when he may have still been a little fatigued from the World Baseball Classic, and the Rays won anyway. I mean, sure, it's Fernando Rodney, career journeyman with one miracle season under his belt, but he's your closer. He's your ninth-inning guy.
And that's my point. He's the
ninth-inning guy
. You know how many times he'd entered a game before the ninth this year? Zero. You know how many of his 48 saves last year saw him entering in the eighth inning? Just two, and both of those were in September, during a desperate drive for the postseason.
But you brought him in, hoping he could get five outs. By the way, entering Monday night there had been 237 saves in the majors this season. Not including these ridiculous three-inning saves in blowouts, you know how many of those 237 saves were more than three outs? Seven. And only three of those were more than four outs and those probably happened because the manager fell asleep.
I mean, did you really want to answer to the media if Rodney blew this one? Your thesaurus doesn't do much good when trying to explain losing a game because you brought your closer in too soon.
So Rodney got out of the eighth, although he did give up a sacrifice fly to cut the lead to 7-6. In the ninth,
Adam Lind
walked on a 3-2 changeup. That was Rodney's wipeout pitch in 2012; in 120 plate appearances ending with a changeup, he recorded 55 strikeouts and just five walks and batters hit .071. It was nearly untouchable. But that was already the fifth walk he'd allowed off the changeup in 2013.
Pinch-runner
Emilio Bonifacio
then stole second and reached when
Jose Molina
threw wildly. But then
Colby Rasmus
struck out -- on a 3-2 changeup -- and
Maicer Izturis
grounded out to first baseman
James Loney
, leaving Bonifacio still at third with two outs. That brought up power-hitting catcher J.P. Arencibia, who had hit eight home runs but had season totals of 42 strikeouts and two walks. I'm not making that up. He pretty much will swing at anything between the two dugouts.
Here's what happened: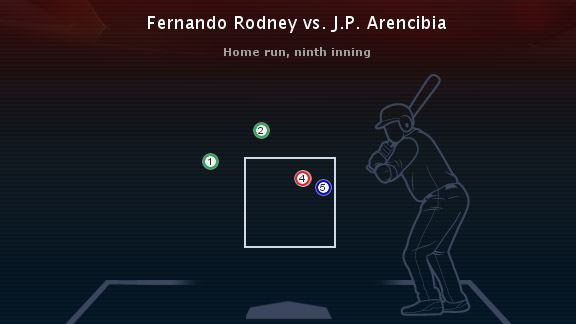 ESPN Stats & Information The locations of Rodney's five pitches to Arencibia (pitch No. 3 is hidden behind pitch No. 4).
Rodney threw four straight 97-mph fastballs to get the count to 2-2. Arencibia can still be dangerous with two strikes -- six of his eight home runs had come with two strikes -- but considering his free-swinging ways, a changeup somewhere off the plate may have been a good idea. That No. 5 circle was another 97-mph fastball and Arencibia made the home crowd very sad with a two-run homer to left field.
A crushing
8-7 defeat for the Rays
. A great win for the Blue Jays, who survived another bad
Mark Buehrle
start (Tampa Bay scored all seven of its runs in the third inning, including an
Evan Longoria
grand slam).
Look, we could make a point that bullpens are volatile, and that maybe we shouldn't have expected the Tampa Bay's pen to be as good as it was last year when the Rays led the majors with a 3.19 bullpen ERA. The Rays now have a 4.80 bullpen ERA, 28th in the majors. We could point out that Rodney wasn't going to be as good as last season even if he
was
good again. I think the point from this game is clear, however: Joe Maddon outsmarted himself. Push the buttons next time, Joe, push the buttons.
Don't dare to make the unconventional move. Even if it was the right one to make.
June, 20, 2012
6/20/12
8:00
AM ET
First base: Now that's a bad week.
Closer
John Axford
was an important cog in Milwaukee's trek to the NLCS a year ago. After blowing two save chances in early April, he converted his final 43 opportunities. It's been a different story in 2012. On Tuesday, he gave up back-to-back homers to
Colby Rasmus
and
Jose Bautista
as the Blue Jays rallied for a 10-9 victory in a good old-fashioned slugfest. By old-fashioned, we mean 2002. (Sometimes we miss those high-scoring games.) Anyway, Axford blew saves last Wednesday and Thursday in 4-3 losses to the Royals, giving him three blown saves in a seven-day span. He's allowed runs in five of his past eight appearances. Big win for the Blue Jays, who slammed six home runs (two each from Rasmus and Bautista) as Brewers rookie
Tyler Thornburg
surrendered four bombs in his major league debut.
Second base: Streak over.
The Braves ended the Yankees' win streak at 10 games, preventing the Yanks' first 11-game streak since 1985. Three keys plays: After two errors got
Tim Hudson
into a jam in the fourth inning, he struck out
Curtis Granderson
with two outs on the bases loaded on a nifty 77-mph changeup; the go-ahead run came in the sixth on
Jason Heyward
's two-out smash off
Mark Teixeira
's heel -- a tough play but one the Gold Glove first baseman usually makes;
Chipper Jones
, who made an ugly error in that fourth inning, atoned when he backhanded Teixeira's grounder in the seventh and threw out Granderson at home plate.
Third base: Umm, about that greatest relief season ever ...
Speaking of relievers,
Aroldis Chapman
gave up a two-run bomb to
Asdrubal Cabrera
in the bottom of the 10th inning as the Reds lost 3-2 to the Indians. Chapman has now picked up losses in three of his past six appearances and been scored upon in four of those appearances. That's two straight one-run wins for the Indians in the battle of Ohio. Maybe the best sign for the Reds was
Mike Leake
throwing seven strong innings; he's now gone at least seven in four of his past six starts and is perhaps finally settling into a little run of consistency.
Home plate: Tweet of the day.
Rays reliever
Joel Peralta
was ejected for having a foreign substance on his glove. Apparently, as manager Joe Maddon tweeted, the Nationals violated some sort of baseball code.
My biggest concern for tonight is Joel Peralta. He's going to get vilified and he doesn't deserve that. It isn't right. Ask the players.

— Joe Maddon (@RaysJoeMaddon) June 20, 2012
June, 19, 2012
6/19/12
11:59
PM ET
Before steroids and HGH and the cream and the clear and other substances of superpower magic, we had old-school baseball: You know, stealing signs from center field, corking the bat, spitting on the ball, using the catcher's belt buckle to cut the ball, nail files, watering the dirt around the basepaths if the visiting team had speedy players, rubbing pine tar or other sticky goo on your glove, maybe a little K-Y jelly on the bill of your cap, pitching from six inches in front of the rubber, using superballs in your bat, taping a thumbtack to your index finger, altering the dimensions of the batter's box, tilting the foul lines, or even just a good ol' first baseman yanking a baserunner off the bag in a key moment of a World Series game.
So, thank you,
Joel Peralta
, for reminding us how baseball was meant to be played, when breaking the rules and cheating were considering a form of art rather than a moral affront against the grand traditions of the game.
Peralta was ejected
in the eighth inning of Tuesday night's game against the Nationals for having a foreign substance on his glove.
That was how you cheated back in the day. If you thought you could get away with it, you tried it. The spitball was banned in 1920? So many pitchers still threw it in the 1950s that former Dodgers pitcher Claude Osteen called it the decade of the spitter. In their book, "The Baseball Codes," Jason Turbow and Michael Duca write how the spitball was so pervasive that in 1955 commissioner Ford Frick lobbied for the relegalization of the pitch.
So, Joel, there is no shame in trying to pull one over on your opponents, the umpires and the fans who paid hard-earned money to witness a contest believed to be on the up and up. After all, Whitey Ford is in the Hall of Fame and he used to mix a concoction of turpentine, baby oil and rosin that he kept in the dugout during games. Gaylord Perry is in the Hall of Fame thanks to his ability in doctoring up the baseball -- or at least, with his swipes and tugs of his cap, deceiving hitters into thinking he was doctoring the baseball (Perry's young daughter once said her daddy just threw a "hard slider"). According to Turbow and Duca, Pete Rose insisted that Angels pitcher Bill Singer threw him four straight spitballs in the 1973 All-Star Game, one which hit catcher Carlton Fisk and bounced away. ("He didn't even tell me the damn thing was coming," Rose quotes Fisk as saying.)
Heck, we all remember
Kenny Rogers
in the 2006 playoffs when he didn't allow a run in three postseason starts. So he had some unknown brown smudge on his hand? Tony La Russa questioned the umpires about Rogers during the World Series and while Rogers was ordered to wash off the foreign substance, he wasn't ejected from the game. Hey, it ain't cheatin' if you don't get caught.
But you did get caught, Joel. Still, your teammate
Carlos Pena
stood up for you. "Someone called him out or betrayed him," Pena said after the game on the Rays' broadcast. "Someone who was his teammate. ... I don't think that's good sportsmanship."
Peralta played for the Nationals in 2010. Washington first-base coach Trent Jewett managed Peralta in Triple-A that year as well. So any number of people could have tipped off manager Davey Johnson to Peralta's grooming habits.
If anything, that's the disappointing thing. Foreign substance on your glove? Boring. Rick Honeycutt once used a thumbtack to cut the ball. Joe Niekro got caught with an emery board in his back pocket. Kevin Gross used sandpaper. Nolan Ryan, in his book "Throwing Heat," admitted to sometimes pitching from in front of the rubber. "On occasion I've pitched from about six inches in front of the rubber when I've needed the big strikeout," Ryan wrote. "And I know I'm not the only one who's done that."
The highlight of all this was after Peralta was ejected from the game and Rays manager Joe Maddon had the umpires check the cap and glove of Nationals reliever
Ryan Mattheus
. Gamesmanship at its best! It's the excitement of beanball wars without the threat of injury.
Plus, you have to appreciate that Peralta respects the traditions of the game. Too many of today's players don't appreciate the game's history. How many even know who Whitey Ford or Gaylord Perry are?
Funny, just today Phillies infielder
Freddy Galvis
sent out a statement apologizing for not using an illegal substance after he was caught with an illegal substance. Just yesterday,
Roger Clemens
was declared a free man when acquitted on all charges that he obstructed and lied to Congress in denying he used performance-enhancing drugs.
But Clemens, I suppose, is still a cheater in the minds of many.
Joel Peralta? He's an artist.
PHOTO OF THE DAY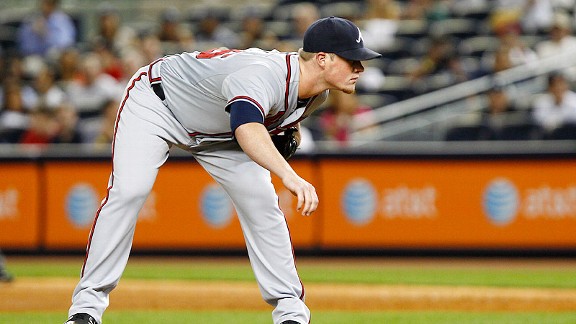 Debby Wong/US PresswireCraig Kimbrel with a lead? You wouldn't want to get between a predator and his prey, would you?
April, 15, 2012
4/15/12
1:30
AM ET
By
Christina Kahrl
| ESPN.com
Pitching, defense and three-run home runs? It's a formula that has worked going back to the days of Earl Weaver and beyond. An inning into Saturday's game, the Rays had all of that going for them: Designated hitter
Luke Scott
had already hammered a bomb off Boston's
Clay Buchholz
to plate a trio of runs, reigning Rookie of the Year
Jeremy Hellickson
was on the mound, and nobody is more alertly creative and productive on defense than Joe Maddon's ballclub.
Unfortunately, none of that mattered all that much in the next eight innings of action against the Red Sox. Boston's bats hammered the Rays, hitting five home runs, and made their initial case for why they'll still be able to score runs hand over fist without
Carl Crawford
or
Jacoby Ellsbury
. Rather than throw too much of a pity party for their life absent Ellsbury, just try to keep in mind that
Adrian Gonzalez
,
Dustin Pedroia
,
David Ortiz
and
Kevin Youkilis
provide an offensive platform that 29 other teams would be happy to work from. Counting out the Red Sox a week into the season or a half-inning into a ballgame is just silly; they're still stacked.
What's less silly is looking at the Rays' challenges in the weeks and months to come. Tampa Bay's problem is that while the Red Sox opened up on offense, the Rays didn't have the usual collection of moving parts to respond on offense or defense.
The Rays' pitching depth is the envy of the industry, but
Joel Peralta
has taken a series of beatings out of the bullpen en route to handing the closer's job to
Fernando Rodney
. Maybe that will work out the way
Kyle Farnsworth
did last year, but Peralta's not that far removed from his days as waiver bait, and Rodney's reputation for flammability perhaps exceeds Farnsworth's -- before last season.
The Rays being the Rays, they get a pass on running risks other teams might shrink from, but this year's bullpen confection is still a soufflé with as much potential to flop as rise. Having one less body around proved expensive when a three-run game still in reach became a blowout in the eighth thanks to rookie
Dane De La Rosa
's five-run debut against that Red Sox offense.
The other early issue in terms of reaping the downside of risk is that their offense is cranking less than most others in the early going, ranking just 10th in the American League in runs scored. That doesn't mean that much in itself, because we're still not even talking about two full weeks' worth of action. It's what you get when you wind up with
Jeff Keppinger
and
Sean Rodriguez
as everyday players.
That wasn't part of any plan, but that's the upshot of being without the flexibility of having
Ben Zobrist
moving around on the field to wherever he's needed while Maddon plays matchup games on offense with bit parts like Rodriguez or Keppinger. They knew they wouldn't get many runs out of
Jose Molina
or
Jose Lobaton
as their catchers, but that's another slot you can't count on in terms of offense, and another reason why the Rays have that much less margin for error in the early going. The Rays' offense is the sort of high-flying act that can't really afford to lose certain key regulars for a great length of time.
Which is why much will change for the better soon, once
B.J. Upton
comes back from the disabled list and returns to his spot in center field. The Rays won't simply get the benefit of adding his bat to the everyday lineup or his glove to the defense. They'll also reap the tactical in-game benefit of all of the situations in which Maddon will be able to use his valuable part-time contributors -- like Keppinger and Rodriguez -- to his advantage.
Matt Joyce
won't have to face the left-handed pitchers he can't hit. That's not because of what Upton does and will do, but because of the multiple benefits the Rays get from having him healthy.
Taking a few chances on "extra guys" is not automatically bad -- far from it, especially when you're dealing with budget handicaps as the Rays do. Taking a chance on Scott was an eminently worthwhile low-cost risk: After averaging 25 homers per season for three years for the Orioles, Scott's injury-wracked 2011 brought him into the Rays' orbit as far as his sale price as a free agent. If he gives the Rays' lineup a third source of power from the left side beyond
Carlos Pena
and Joyce, you'll have a lineup that gives opponents fits, just as it did in each of the past two years.
Add it up, and just like the bullpen, the Rays' offense is a complicated proposition few other teams would risk. Handled as well as the Rays have and will, though, and it works … until you knock a key starter or two out of action for any great length of time. Expose their irregulars' shortcomings, and the risk becomes one to the Rays' bid for a postseason three-peat.
PHOTO OF THE DAY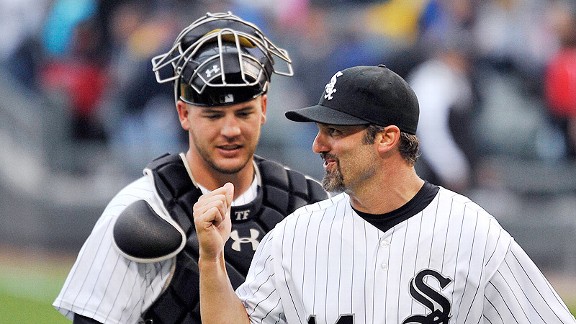 Brian Kersey/Getty ImagesPaul Konerko can afford to smile, at least as long as the White Sox are in first place.
Christina Kahrl covers baseball for ESPN.com. You can follow her on Twitter.
April, 11, 2011
4/11/11
12:27
AM ET
As miserable as the Red Sox have played so far, at least they can look at a lineup that includes
Adrian Gonzalez
,
Kevin Youkilis
,
Carl Crawford
,
Dustin Pedroia
and
David Ortiz
and know -- eventually -- they're going to score a lot of runs.
The fans of the
Tampa Bay Rays
, however, are staring down a lineup that includes Triple-A veteran
Dan Johnson
hitting cleanup, Cubs castoff
Sam Fuld
hitting leadoff and 37-year-old
Johnny Damon
trying to hold off the cruelties of age.
It's been brutal start for the defending AL East champions: 20 runs scored through nine games, with a .163 team batting average. With runners in scoring position, they're hitting .150. It's added up to a 1-8 record and now the Rays have to play the Red Sox and Twins this week, two other teams with playoff aspirations due to break out of hitting slumps.
In 2010, the Rays finished third in the AL in runs scored, despite finishing 13th in the league in batting average. They did it by drawing the most walks in the league and stealing the most bases. And they also did it with clutch hitting. Overall, the Rays hit .247/.333/.403, but with runners in scoring position they hit .266/.368/.422 and in so-called high-leverage situations, when a game's outcome is most up for grabs, they hit .272/.354/.442.
In other words, the talent level of the Tampa Bay offense wasn't that of the third-best offense in the league. Yes, the speed and stolen bases helped, but it was a team that relied on timely hitting. The 2011 Rays were counting heavily on big production from
Manny Ramirez
and Damon. Ramirez is gone and Damon looks lost early on, hitting .125 (4-for-32) with nine strikeouts and just one walk.
OK, they're not going to hit .163 all year and they'll hopefully get
Evan Longoria
back in a couple weeks, but this team is going struggle to score runs all season. And that's not the only reason I'm declaring the Rays on life support:
1. The rotation is shaky. In 2010, Tampa Bay starters posted a 3.99 ERA, third-best in the AL.
Jeff Niemann
and
Wade Davis
combined to go 24-18 with a solid a 4.23 ERA.
James Shields
had an ERA over 5.00. Of 92 major league starters to pitch 162 innings, Niemann ranked 82nd, Davis 83rd and Shields 91st in home runs allowed per nine innings. Yes, some of that was due to facing the tough lineups of the AL East, but Tropicana Field is a relatively tough home run park. Niemann (.263) and Davis (.272) also had low averages allowed on balls in play, suggesting some regression would occur in 2011 (even with Tampa's usually stout defense).
2. The bullpen. As "Baseball Prospectus 2011" reported, Tampa Bay's bullpen was the best in the league last season, worth 4½ wins more than the Yankee pen, eight more than Boston's. All those guys are gone, replaced by
Kyle Farnsworth
,
Joel Peralta
, rookie
Jake McGee
and others who will be hard-pressed to come close to the 2010 results.
3. The running game. So important to Tampa's success last year, the Rays are on the losing end this year -- because they can't stop it. While Tampa is eight for 10 on the bases, their opponents are 15 for 15. Something else to worry about.
Look, Tampa is every stat head's little engine that could. They've won two of the past three AL East titles despite spending about $444 million less than the Yankees and $243 million less than the Red Sox.
But it's not going to be three out of four.
SERIES OF THE WEEK
Dodgers at Giants
Monday:
Clayton Kershaw
versus
Madison Bumgarner
Tuesday:
Chad Billingsley
versus
Tim Lincecum
Wednesday:
Ted Lilly
versus
Jonathan Sanchez
Sadly we won't get a Kershaw-Lincecum rematch of Opening Day, but we'll see three excellent matchups. Bumgarner must rebound from a bad first start in which he lasted just three innings. With last week's incident at Dodger Stadium involving fan-on-fan violence, extra security will be on hand at AT&T Park. The Dodgers are 5-4 but another team with a struggling offense, having scored just 28 runs in nine games.
PITCHING MATCHUP OF THE WEEK
Tuesday:
David Price
versus
Jon Lester
(Tampa Bay at Boston)
Yes, I think I'll want to check this one out.
THREE SWINGS
1.
Jered Weaver
and
Dan Haren
may be as good as any 1-2 combo in the majors. After Weaver added the strikeout to his arsenal last season, he moved into the upper echelon of major leaguer starters. He's showing it wasn't a fluke after sending down 15 Blue Jays on Sunday. Haren got the win in relief in Saturday's 14-inning win over Toronto and has 13 strikeouts without a walk so far.
2. Is
Joey Votto
even better than last season? The 2010 NL MVP is hitting .455/.548/.727 and NL pitchers are showing their fear: Votto has eight walks, only three strikeouts.
3. Kudos to Ozzie Guillen for suggesting he may go to a closer-by-committee approach. Yes, this came about primarily because former setup man
Matt Thornton
blew two of his first three save opportunities, but going to a committee allows Guillen to tactically deploy his two late-inning lefties (Thornton and
Chris Sale
) and his late-inning righties (
Jesse Crain
and
Sergio Santos
) as best suited to the situation.
RANT OF THE WEEK
James Loney
, it's time to step up. The Dodgers first baseman turns 27 in May, but instead of reaching his peak, he's become a dud. After hitting .331/.381/.538 in 96 games as a rookie in 2007, big things were expected. After hitting .289 with 13 home runs in 2008, big things were still expected. When his OPS slid to .756 in 2009, people said the power may still come. When he hit .267 with 10 home runs in 2010, reality set in: James Loney isn't that good anymore. He's off to a slow start (.441 OPS) and the Dodgers -- if they want to contend in a tough division -- may need to figure out a way to upgrade their offense at first base.
PHOTO OF THE DAY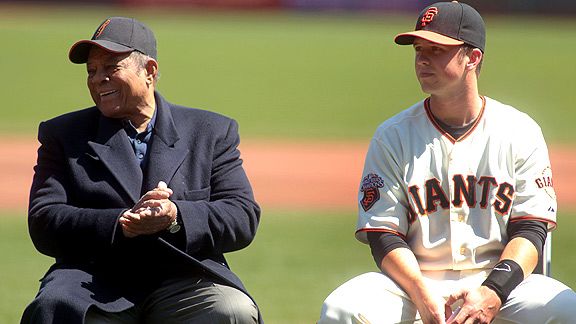 Cary Edmondson/US PresswireGiants past (Willie Mays) alongside Giants present (Buster Posey). Not bad company.