May, 31, 2011
5/31/11
5:37
PM ET
Here are the top five reasons -- and there are like 324 reasons in all -- why you should listen to
Tuesday's Baseball Today podcast

with myself and Mark Simon!
1. ESPN contributor and former GM Jim Bowden makes his Baseball Today debut, discussing many topics, including the frailty of closers,
Evan Longoria
leading off and how the
Buster Posey
collision should have been avoided. That answer might surprise you!
2. Mark discusses a landmark Memorial Day around the big leagues, and whether weather might adjust statistics from here on out.
3. It's Power Rankings day, and let's just say one of us regrets jumping on the
Cleveland Indians
bandwagon. I should have known better! We list our top 10 and bottom five.
4. How is a pair of pants like
Oliver Perez
? I concede this is an odd one, but hang with us and you'll understand.
5. The Tuesday night schedule is full of young hurlers with bright futures, but we also discuss the ESPN battle in St. Louis. Are you taking
Ryan Vogelsong
or
Chris Carpenter
. Think about it ...
Plus: Excellent emails, brothers hitting home runs, how the umpires added to the Twins' discontent, today's birthdays, the Royals change closers and
Bartolo Colon
just keeps on keepin' on. All this and more in a packed Baseball Today podcast for Tuesday!
April, 29, 2011
4/29/11
10:34
AM ET
Attention major league pitchers: Stop throwing
Ben Zobrist
fastballs. Try more changeups. Thursday,
Minnesota Twins
pitchers threw Zobrist primarily fastballs through two games of a day-night doubleheader at Target Field, and Zobrist annihilated them. Zobrist went 7-for-10 in the two games with two homers, three doubles and 10 RBIs. In the first game alone, Zobrist drove in eight runs -- a Rays' record.
Zobrist became only the fourth player to record at least seven hits and 10 RBIs in the same day and just the fifth player since 1993 to record double-digit RBIs in one day. Not since Aug. 31, 2009, when Toronto's
Adam Lind
went 3-for-5 with eight RBIs in an 18-10 win at Texas, had a player driven in at least eight runs in a game. Lind's production that day came in bunches: a grand slam in the fourth inning followed by a home run and three-run double in the ninth. Zobrist's destruction of the Twins was in some ways more diabolical, almost relentless, and the Twins were partly responsible.
[+] Enlarge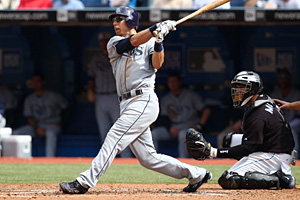 Tom Szczerbowski/US PresswireBen Zobrist signed a four-year, $18 million contract with the Rays after his All-Star season in 2009.
Before Thursday, Zobrist had seen 77 changeups this season and put only six in play, for one base hit. Tampa Bay hitting coach Derek Shelton has been working with Zobrist on his adjustments to changeups. Despite his record of struggling with the pitch, Zobrist saw only six changeups in Thursday's first game and did not put a single one in play. He did, however, crush just about everything else.
In that first game according to the ESPN Stats & Information group, Zobrist went 4-for-6 against fastballs with a home run, double and eight RBIs. Zobrist began the day hitting only .247 and slugging .391 against fastballs, so there was no reason the Twins should have feared throwing him the pitch. Now, Zobrist might not see another fastball before the All-Star break. He's filled the void left by
Evan Longoria
, who went on the disabled list April 3 with a left oblique strain. Tampa Bay's current run of 12 wins in 15 games has made its 1-8 start a distant memory, and Zobrist's contribution only underscores his value to the Rays.
Zobrist signed a four-year, $18 million contract with Tampa Bay following his All-Star season in 2009, when he hit .297/.405/.543 and had 27 home runs, 91 RBIs and 17 stolen bases. Those numbers and his ability to provide value at multiple defensive positions gave Zobrist a Wins Above Replacement rating of 8.4, second in the majors to
Albert Pujols
. Zobrist's WAR dropped to 3.4 last season, when his production slumped to .238/.346/.353. Now he's rolling again.
Last Friday at Toronto, he went 0-for-5 and was hitting .183. Since then, Zobrist is a sizzling 11-for-22 with 18 RBIs, lifting his batting average up to .258, and his 25 RBIs lead the majors. The Angels visit St. Petersburg this weekend and will start
Ervin Santana
and
Joel Pineiro
in the first two games. It's Pineiro's first start of the season after his activation from the disabled list. Sunday, we'll see Zobrist face
Jered Weaver
, who's been the majors' best pitcher. Should be fun. As much fun as driving in 10 runs in a day.
Follow Steve on Twitter @SBerthiaumeESPN.
January, 21, 2010
1/21/10
1:46
PM ET
Why was
Joel Pineiro
good last year? Halos Heaven is
blunt (and true) about it
:

Joel Pineiro sucked until he developed a two-seam fastball. He didn't have one until 2008, and then it became his go-to pitch in 2009, when he basically ceased using his four-seam fastball (which doesn't have much movement).



[+] Enlarge

G. Newman Lowrance/Getty ImagesUntil last season, Joel Pineiro hadn't thrown at least 200 innings since 2003.

--snip--

The only thing that I have a hard time believing he can maintain is his absurd 1.14 walks per 9 innings rate. I think that might've been best in the majors last year, and while I'm sure that he should be able to keep his walk rate lower than in years past, that rate is just unbelievable and likely to rise at least a little.

Bottom line - he's unlikely to repeat his 3.49 ERA from last year. But if he can even post a 4.00, that's just incredible from a guy we're calling our 5th starter!

Well, everything's going to rise this year. He's going to give up more walks, and he's also going to give up more than 11 home runs, because even super-sinkerballers usually give up more than 11 home runs
and
he's going to be facing DH's in most of his starts.
But Pineiro has become a different sort of pitcher. My concern wouldn't be for the quality of his pitching (though even a 4.00 ERA is probably a bit optimistic); my concern would be for the
quantity
. Pineiro threw 214 innings for the Cardinals last season. That was the first time he'd thrown 200 innings in a season since 2003. In the five intervening seasons, he averaged 148 innings.
If he pitches 400 innings over these next two seasons with a
4.50 ERA
he'll be worth the $16 million. I'm just not sure about the 400 innings.
May, 12, 2009
5/12/09
11:07
AM ET
This morning I did a radio spot on
a St. Louis station
, which got me to looking at the Cardinals' stats, and the one thing that popped was
Joel Pineiro
's strikeouts. He's got 13 of them in 39 innings, and yet somehow he's 4-2 with a 3.66 ERA. Then I found the following, in the story about
Pineiro's fourth win
:
"You trust your defense," the right-hander said. "That's why I throw that sinker no matter what time in the count, so they can hit it at somebody."

He got 12 of his 20 outs on grounders, with shortstop Brendan Ryan making a couple of especially nifty plays. Ryan stopped one on his knees, popping up to throw out David Ross, and pulled off a double play with a simultaneous throw as he was stepping on second.

"You get that ball on the ground, good things are going to happen," Pineiro said.

He waited until his final pitch to get his first strikeout, and it was a big one. Pineiro whiffed Brandon Jones with the potential tying run at second base in the seventh, then headed to the showers. Chris Perez struck out Ross to end the threat.

"He did well keeping the ball down," Atlanta's Jeff Francoeur said of Pineiro. "He's not going to strike a lot of guys out, but he keeps it low and gets ground balls."
According to ESPN's research department, "Joel Pineiro won despite having just one strikeout, his fourth straight win in which he's had three or fewer K's. The last pitcher to win his first four starts in a season with three K's or fewer in each one was
Greg Hibbard
with the 1992 White Sox."
Hibbard's fourth win came on the 26th of April. His eighth came on the 17th of August, and he finished the season 10-7 with a 4.40 ERA (which wasn't good in 1992). Let's not dismiss Hibbard out of hand, though. The next year he went 15-11 with a league-average ERA, and guys like that are plenty valuable. And Hibbard had began his career with a 20-16 record and a 3.18 ERA in his first 56 starts. It can be done. Keep the ball down and limit the walks, and you can win.
I'm just not sure if Pineiro's the guy to do it. His ground/fly ratio is certainly high; at 1.33, he's tied for sixth in the National League. But to thrive while striking out three batters per nine innings, the G/F ratio probably has to be even higher. What's more, Pineiro's never been in this rarefied territory before. His career ratio is less than 1, and was right around 1 in each of the last two seasons.
I'm not saying he can't do it. In addition to Pineiro's grounders being up (so to speak), his walks are down. Maybe he has, at 30, become something of a different pitcher. But Chris Carpenter might be back soon, which means someone's going to be forced from the rotation. The obvious candidate is rookie Mitchell Boggs. I would take a long look at Pineiro and all those non-strikeouts, though.