November, 11, 2011
11/11/11
11:59
PM ET
By
Christina Kahrl
| ESPN.com
The unique history of the Marlins franchise took its latest twist in the singular trail they've been blazing since they were launched as a big-league concern back in 1993. On Friday night, they officially made the long-anticipated switch from being the Florida to the
Miami Marlins
, with new uniforms to match, and a Pitbull mini-concert to mark the occasion.
[+] Enlarge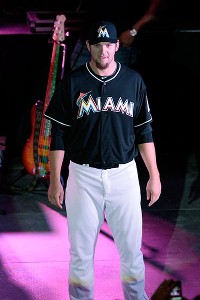 AP Photo/Alan DiazMiami pitcher Josh Johnson introduces the Marlins' new uniform, name and logo Friday.
In barely two decades of existence, theirs has been perhaps the strangest franchise saga in the game's history. Two-time world champs in 1997 and 2003, but otherwise averaging 10 games below .500 per 162-game season over the rest of their existence, the Marlins have become the game's enduring rags-to-riches-to-rags story. But where that sort of on-again, off-again relationship with success might inspire some sort of enthusiasm from their fan base -- unlike many older teams, they
have
actually won the World Series -- attendance has become reliably terrible. In the past 13 seasons, they've finished last or next-to-last in attendance a dozen times.
The hope is that the new, retractable-roof stadium they'll open up in the Little Havana neighborhood next spring will bring their attendance issue to an end. They've already brought in the reliably engaging Ozzie Guillen to manage the team, a face transplant from the White Sox that will help forge an identity for a franchise that has long lacked any defining characteristic beyond a vague sense of vagrancy.
That sensibility has only been exacerbated by transience in the owners' suite, with the switch from Wayne Huizenga to John Henry to Jeffrey Loria in their brief existence. Huizenga clearly gunned to buy a pennant, then dumped salaries once the players had won him his ring. Henry was a temp, perhaps merely biding his time for the franchise swap to come. And Loria's outfit arrived after seemingly sabotaging any attempt to keep the Expos in Montreal. There has also been a ton of attendant controversy to the Marlins and their place in the surrounding community, especially after the leaks of their reported profitability while annually crying poor, which triggered a successful initiative to recall Miami's mayor, Carlos Alvarez.
But with a new park and a new identity, it seems like the Lorians are setting down roots and the Marlins are gearing up to become a Miami institution. They seem to have money to spend, creating the additional expectation is that they'll be able to make a play for major free agents for extended stays. They've already met with
Jose Reyes
,
Mark Buehrle
and
Albert Pujols
,
three of the top six players
on Keith Law's list of the best free agents available. They've also been attached to rumored bid for spurned Phillies relief ace
Ryan Madson
, another one of the best available players at his position on the market.
They're clearly playing for higher stakes, but to their credit they've also been building up to this for a while. They got their best players signed up long-term in plenty of time.
Hanley Ramirez
was signed to a long-term commitment in May 2008, and they made a multi-year commitment to
Josh Johnson
in January 2010. It was only after coming up short on their bid to keep
Dan Uggla
in Miami with a long-term deal that they dealt him away to Atlanta, where his contract might wind up helping the Marlins by handicapping the Braves' bottom line.
With all of that buildup, and questions about
their new uniforms
aside, the Marlins could be prepped for another wild ride to postseason glory after throwing around some money this winter. Whether or not they sign one or all of Pujols, Reyes, Buehrle and Madson, this year's bid for winning with free-agent talent will be meant to achieve more than another rented hello-and-good-bye championship. If they deliver on that promise, it'll be Miami mooning over them instead of the other way 'round.
Christina Kahrl covers baseball for ESPN.com. You can follow her on Twitter.
March, 1, 2011
3/01/11
2:30
PM ET
By
Darryl Johnston
| ESPN.com
Organizational leadership is a key to success in any business.
In an effort to rank the management of the five American League East teams, we will breakdown and grade each of the owners, GMs and managers in the division. Each category will be graded against their peers, and a composite score will be totaled. The highest ranking in a given category will receive five points, while the worst will receive one point.
Certainly this is a topic that very well could require 2,000 or more words to discuss, but I've consolidated it for the SweetSpot.

Owner
: Hank Steinbrenner |
AL East rank
: 2nd |
Points
: 4
The mighty, mighty Steinbrenners. First it was George and now it's Hank. He possesses an unrelenting desire to win and a giant piggy bank to draw from. Demonstrates little restraint and is always trying to capture the next ring. It's hard to argue with that attitude from your owner, even when emotions go wild in the Bronx, leading to irrational decisions.
General manager
: Brian Cashman |
Rank
: 3rd |
Points
: 3
He has won four World Series in his time as GM, but three of them you can probably credit to Gene Michael. Has been willing to let impact players walk and is not always in sync with ownership. Cashman has a blank check and a lot of expensive hits and misses on his résumé. Would you rank him higher or lower? I'm split.
Manager
: Joe Girardi |
Rank
: 3rd |
Points
: 3
He has one pennant and one World Series title in three years as a manager of the Yankees, but many feel the team won it in spite of him. Girardi's a former catcher and previously won Manager of the Year in 2006 while with the
Florida Marlins
. Sometimes makes questionable in-game moves, particularly with the bullpen.
Yankees' composite score
: 10 points
---

Owner
: Rogers Communications |
Rank
: 5th |
Points
: 1
Rogers has caught the drift. Get out of the way of baseball operations. Nitpicky ownership saddled the team during the J.P. Riccardi era while trying to build up "sports content." Things are better with Alex Anthopoulos, but this ownership group still ranks dead last in the AL East.
General manager
: Alex Anthopoulos |
Rank
: 4th |
Points
: 2
Possibly the best young GM in baseball. Being the fourth-best best GM in the AL East is a tough draw. Brokered the "Doc Deal" netting huge prospects and somehow jettisoned the
Vernon Wells
albatross of a contract. Built a highly skilled team with younger players and fewer long-term deals. His trades have revamped the organization and positioned the team to compete with the Red Sox and Yankees in the short term.
Manager
: John Farrell |
Rank
: Incomplete |
Points
: Incomplete
He has the skills and makeup to be incredibly successful. Was considered at one point to be on a management path, but will now lead the Blue Jays in a difficult division -- albeit one he knows well. Check back in October for a grade.
Blue Jays' composite score
: 3 points*
---

Owner
: Peter Angelos |
Rank
: 4th |
Points
: 2
He's not the most popular owner in the world, and some even consider him the worst owner in baseball. The Orioles haven't been to a World Series since 1983 and have barely made a murmur in the past 15 seasons. Angelos spent a little dough on some "name" hitters this offseason, but is pretty content with just being old and rich.
General manager
: Andy McPhail |
Rank
: 5th:
Points
: 1
Tread lightly here. His owner is a frugal 81-year-old man who just recently allowed McPhail to go out and get some "big" bats. McPhail has had the deck stacked against him, and he's also up against some other great GMs. He does own two World Series rings while with the
Minnesota Twins
.
Manager
: Buck Showalter |
Rank
: 4th |
Points
: 2
He's a career .517 manager who led the Orioles to a 34-23 record last season. Showalter is an old-school coach with mixed results in previous stints with the Yankees, Diamondbacks and Rangers. He has set a new tone in Baltimore with early and positive results. Jury is still out on the Orioles, though.
Orioles' composite score
: 5 points
---

Owner
: John Henry & Co. |
Rank
: 1st |
Points
: 5
Class act, second-to-none owners who have been front and center since their acquisition of the Red Sox. Henry and the ownership group brought two titles (2004, '07) to Boston and have invested heavily in the organization while developing the farm, improving Fenway Park and allowing baseball operations to do its job. MLB's model ownership group is committed to all aspects of franchise ownership.
General manager
: Theo Epstein |
Rank
: 1st |
Points
: 5
He came along in 2004 and delivered the first World Series to Boston in 86 years. Since then, Epstein has secured another title and developed one of the best farm systems in baseball. Plays big market "Moneyball" and perennially has made the team competitive and flexible.
Manager
: Terry Francona |
Rank
: 2nd |
Points
: 4
He has managed to win two titles in Boston, with five 95-win seasons in his seven years. He is a players' coach with a head for the modern game and might be the best in team history. Despite that, he is still referred to at times as "Francoma" for questionable decisions, particularly with his bullpen.
Red Sox's composite score
: 14 points
---

Owner
: Stuart Sternberg |
Rank
: 3rd |
Points
: 3
He is a guy who some call a "carpetbagger." Others praise him for creating success under limited budgets. Is the attendance issue his fault? Time to move the team perhaps? He has rebranded the (Devil) Rays and brought in superior baseball minds. Sternberg splits the list at No. 3.
General manager
: Andrew Friedman |
Rank
: 2nd |
Points
: 4
Nobody does more with less than him -- except maybe Billy Beane. Friedman has built a fantastic farm system and exploited market inefficiencies to create a club that competes with baseball's conglomerates. Tampa Bay won the AL East division on a 2010 Opening Day payroll of about $73 million. Friedman just needs some hardware.
Manager:
Joe Maddon |
Rank:
1st |
Points:
5
He might be the best manager in all of baseball. Maddon is instinctive, can extract maximum value from players, understands and implements advanced metrics (maybe to a fault), and has unwavering support from his players.
Rays' composite score
: 12 points
---
Overall AL East ranking
:
1. Boston (14 points)
2. Tampa Bay (12 points)
3. New York (10 points)
4. Baltimore (5 points)
5. Toronto (3 points*)
(
*score incomplete due to first-year manager John Farrell
)
So there you have it. The Red Sox have the highest-rated organizational leadership in the AL East. It comes as no surprise to us in the Boston area, but can it lead the Red Sox to their third World Series in eight seasons?
Darryl Johnston contributes to Fire Brand of the American League, a blog about the Boston Red Sox. You can follow him on Twitter.
December, 1, 2009
12/01/09
3:00
PM ET
You have to hand it to John Henry; he's not shy about his opinions. In an e-mail to the Boston Globe's Nick Cafardo, Henry writes about
changing baseball's economics
:
"Change is needed and that is reflected by the fact that over a billion dollars have been paid to seven chronically uncompetitive teams, five of whom have had baseball's highest operating profits," Henry responded in an e-mail. "Who, except these teams, can think this is a good idea?"Henry added, "While the Red Sox are in the 16th largest media market we've found a way to be very competitive even though we are funding other teams. At the end of the day, the small market clubs still cannot begin to compete with the Yankees and have a very hard time competing with the teams that are struggling to pay them so much. Consequently, a system that directly impacts competition has to replace the current system, that hoped to, but ultimately did not cure competitive imbalances."
There are a couple of ways to make an argument. One is to stick to the facts scrupulously and hope the weight of your facts will carry the day. Another is to begin with a falsehood and hope nobody notices, then continue from there.
Henry seems to have chosen the latter method. Are we really supposed to believe that the poor mid-market Red Sox have risen to the top of the performance (and revenue-production) heap simply by the dint of their hard work and intellectual brilliance? According to the Media Info Center, in 2004 the Red Sox played in America's
fifth-largest TV market
. It's true that Boston proper is not a particularly populous city, but when you consider the entire metropolitan area -- not to mention Maine, New Hampshire, Rhode Island, Vermont, and a big chunk of Connecticut, there's virtually no way to slice the data and arrive at any conclusion except that the Red Sox benefit from playing in one of baseball's top 10 media markets. And John Henry knows this as well as anyone.
His actual idea does have some merit, I think:
"It's a very simple approach in which payroll tax dollars replace revenue sharing dollars and go directly to the clubs that need revenues in order to meet minimum payrolls that should be imposed on each club receiving revenue. Further, players would have to be protected with a guaranteed minimum percentage of overall revenues. This would be a very simple and effective method in reducing top payrolls and increasing bottom payrolls with no tax on revenues," Henry wrote.Henry added that "The World Series should be determined by fully competitive teams on the field - not by how much particular clubs can afford to spend. A better solution is to address competition directly so that clubs can generate revenue more equally as teams become competitive across baseball."
I suppose I'm naive, but it's hard for me to figure a reasonable objection to a system that guaranteed the players a reasonable percentage of overall revenues ... except for the little problem of defining "revenues." Do you count the Yankees' revenues from the YES Network? If the Dodgers set up a subsidiary to run their massive parking lots, do those revenues count? Because if not, the Dodgers could simply lower ticket prices and raise parking prices.
The players don't like explicit link between their salaries and the teams' revenues because they don't want to have to worry about the teams' revenues, and also because they don't trust the owners (and of course they shouldn't). Which isn't to say a soft salary cap wouldn't promote competitive balance. Still, I believe that Henry vastly overstates his case when he suggests that money wouldn't still play a role. Does he mean to suggest that the Yankees wouldn't still vastly outspend the Royals? And doesn't he know that baseball's competitive balance compares favorably with that of the other sports, all of which already do many of the things that Henry wants to do?
And then there's this:
"Baseball has determined that the best way to deal with the Yankees is to take as much of their revenue as possible. I see that in direct opposition to the ideals this country was built on. Baseball is a business and should be treated as such. Baseball is also a sport that needs competitive balance in order to prosper. Taxing their revenues and other "large markets" in the way it is presently done, is simply confiscation on an order of magnitude never seen in any industry in America," Henry said.Henry finds the system counter to the manner in which most owners operated in the industries in which they became rich men.

"It's amazing because owners, some of the most ardent capitalists in the country – who have all made their fortunes through capitalism, have imposed a tax system on baseball they would never sit still for in any of their industries," Henry said.
Please. Baseball owners operate as a collective monopoly, tightly controlling their "industry" with all sorts of rules and agreements that operate expressly in opposition to competition and the free flow of capital that supposedly exemplify "the ideals this country was built on." Baseball should be treated as a
business
? OK. Tomorrow, let's abolish the amateur draft, invite new franchises to compete in New Jersey and Brooklyn, and stop blackmailing municipalities into spending many hundreds of millions of dollars to support "businesses" that generate little tax revenue and a paltry number of full-time jobs.
I'm not sure who John Henry is trying to convince. If he's trying to convince his fellow owners, he should probably e-mail them directly. If he's trying to convince us, he should probably stick to the facts.