January, 12, 2015
Jan 12
1:31
PM ET
The recent Hall of Fame elections serve two important purposes. One, it's a chance to recognize the superstars of the recent past and how many memories
Randy Johnson
,
Pedro Martinez
,
John Smoltz
and
Craig Biggio
provided us. But the elections also serve as a reminder to remember those underappreciated players of the past, those who deserved better support in Hall of Fame voting.
So here's my all-time all-underrated team. It skews toward more recent decades, but these are the decades that players have failed to fairly represent in Cooperstown.
C: Ted Simmons (1968-1988)
Stats: .285/.348/.437, 248 HR, 1,389 RBI, 2,472 H
Career WAR: 50.1
Higher WAR than ... Ernie Lombardi, Roy Campanella, Ray Schalk
The Hall of Fame voters and Veterans Committee has drawn its line at Simmons. He ranks 10th in WAR among catchers; seven of the guys ahead of him are Hall of Famers and the other two are
Ivan Rodriguez
and
Mike Piazza
. Only Yogi Berra drove in more runs. Simmons
was
a big name when he played -- he was an eight-time All-Star -- but a couple of factors worked against his historical standing: Johnny Bench was his contemporary and Simmons loses that comparison; he wasn't regarded as a strong defensive catcher while active although his career caught stealing rate of 34 percent is actually league average.
Runner-up: Bill Freehan. Perennial All-Star for the Tigers in the '60s.
1B: John Olerud (1989-2005)
Stats: .295/.398/.465, 255 HR, 1,230 RBI, 2,239 H
Career WAR: 58.0
Higher WAR than ... Bill Terry, Tony Perez, Orlando Cepeda
For all the talk this past week about
Fred McGriff
and
Carlos Delgado
, Olerud was a better all-around player than either of those two, at least according to the advanced metrics. But first basemen are judged by power, and Olerud's 20 home runs per season and 255 career home runs didn't match up to the power numbers some of his contemporaries in the steroids era put up.
He made up for that with consistently high on-base percentages (six times over .400) and excellent defense (Baseball-Reference has him with the third-most fielding runs ever at first base, behind only
Albert Pujols
and Keith Hernandez). Olerud also had two monster MVP-caliber seasons with the Blue Jays in 1993 when he hit .363 and won the batting title and with the Mets in 1998 when he hit .354.
Runner-up: Will Clark. He could have hung around a few more years to build a stronger Hall of Fame case -- he hit .319/.418/.546 in his final season -- but instead retired. Of course, he was a pretty big star while active. But, like Olerud, he got booted off the Hall of Fame ballot after one year.
2B: Lou Whitaker (1977-1995)
Stats: .276/.363/.426, 244 HR, 1,084 RBI, 2,369 H
Career WAR: 74.9
Higher WAR than ... Ryne Sandberg,
Roberto Alomar
, Craig Biggio
Whitaker's one-and-done status on the Hall of Fame ballot was pretty surprising considering his career numbers are very similar to Sandberg's, his 1980s National League counterpart who was elected on his third try. Whitaker didn't hit quite as many home runs as Sandberg but had a higher on-base percentage and was no slouch on defense, winning three Gold Gloves.
Whitaker has the highest career WAR of any player not in the Hall of Fame who isn't still on the ballot, not yet eligible, didn't bet on baseball and didn't play in the 1800s. So why the lack of respect? Well, the things Whitaker did are those things that make most of these players underrated: He drew walks, he played good defense, he had medium-range power (although pretty good for a second baseman).
Sandberg, by comparison, was certainly flashier than Whitaker -- more home runs, more steals, a better defensive reputation. And to be fair, Sandberg at his peak
was
better than Whitaker at his peak. Whitaker then had some very strong seasons at the end of his career when he was used as a platoon player, but nobody realized how good he still was because (A) he was being platooned, which held down some of his counting numbers; (B) the Tigers were terrible by then; and (C) Alomar had arrived and was the widely acclaimed new best second baseman in baseball.
Whitaker has yet to appear on a Veterans Committee ballot. I suspect he'll remain a hard sell even then, since his consistent excellence is easy to overlook.
Runner-up: Bobby Grich. Put up excellent offensive numbers in the 1970s and early '80s -- walks, medium-range power -- when most middle infielders were inept at the plate. While not completely overlooked while active -- he made six All-Star teams and had two top-10 MVP finishes -- the fact that he didn't hit for a higher average in an era when that's what people paid attention to certainly made him underrated at the time.
3B: Graig Nettles (1967-1988)
Stats: .248/.329/.421, 390 HR, 1,314 RBI, 2,225 H
Career WAR: 68.0
Higher WAR than ... Home Run Baker, Pie Traynor, George Kell
As with Simmons, Nettles ranks 10th all time at his position in career WAR. Nettles was a superb defensive third baseman who played a long time and hit some home runs. Voters have always had trouble figuring out what to do with third basemen. Ron Santo had to get in the Hall of Fame through the back door. It will be interesting what happens with
Adrian Beltre
and
Scott Rolen
, both in the top 10 in career WAR among third basemen, when they become eligible.
Nettles never had a chance at the Hall of Fame. Brooks Robinson had already secured the legacy of best defensive third baseman of all time, so it didn't matter how good Nettles was. He was actually Robinson's equal as an offensive player, just with a different scope: more power but a lower average. I'm not sure I'd advocate Nettles as a Hall of Famer -- he'd have lined up behind Rolen, Beltre and maybe Ken Boyer -- but he certainly had some Hall of Fame-caliber seasons.
Runner-up: Boyer. He peaked at 25 percent on the BBWAA ballot. He was on the recent Veterans Committee ballot but received fewer than three of the 16 votes -- fewer than Jim Kaat or Maury Wills, even though Boyer was a better player than either one.
[+] Enlarge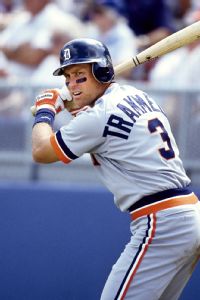 USA TODAY Sports Alan Trammell played 20 years in the majors and had a career .352 on base percentage.
SS: Alan Trammell (1977-1996)
Stats: .285/.352/.415, 185 HR, 1,003 RBI, 2,365 H
Career WAR: 70.4
Higher WAR than ...
Barry Larkin
, Joe Cronin, Luis Aparicio
Whitaker's long-time teammate is probably the stronger Hall of Fame candidate due to a higher peak level of play. I touched a bit on Trammell
here
. Trammell is eighth all time in WAR among shortstops, sandwiched between
Derek Jeter
and Larkin. The comparison to Larkin explains why Trammell is underrated: He had nearly exact career numbers but Larkin was elected to the Hall of Fame his third time on the ballot while Trammell has languished for 14 years. The weird thing is while
Cal Ripken
was certainly the star American League shortstop of the 1980s, it's not like Trammell wasn't recognized as one of the best players in the game at the time. But as soon as he retired, people forgot about him.
Runner-up: Arky Vaughan. He's actually in the Hall of Fame but this 1930s star remains one of the most unknown great players in the game's history.
LF: Jose Cruz Sr. (1970-1988)
Stats: .284/.354/.420, 165 HR, 1,077 RBI, 2,251 H
Career WAR: 54.2
Higher WAR than ... Ralph Kiner, Jim Rice, Lou Brock
Yes, Tim Raines could go here as well, but it wouldn't surprise me to see him finally get elected to Cooperstown in his final two years on the ballot. As for Cruz, it took a while for his career to get going -- he didn't have his breakout season until he was 28 -- but he was a tremendous player for a long time with the Astros. It was impossible to hit home runs in the Astrodome back then -- one year, Cruz hit 12 home runs on the road and none at home -- so Cruz didn't have big power numbers. But he hit .300 six times, drew walks and stole as many as 44 bases in a season (1977). He had three top-eight MVP votes, but if he'd come up in the 1990s instead of the '70s and played in a different park, he could have been a 3,000-hit guy.
Runner-up: Minnie Minoso. He should be in the Hall of Fame.
CF: Kenny Lofton (1991-2007)
Stats: .299/.372/.423, 622 SB, 1,528 R, 2,428 H
Career WAR: 68.2
Higher WAR than ... Duke Snider, Richie Ashburn, Kirby Puckett
Here's something that may shock you: Among players who played at least 50 percent of their career games in center field since 1901, Lofton ranks seventh in all-time WAR, behind only the legends -- Willie Mays, Ty Cobb, Tris Speaker, Mickey Mantle, Ken Griffey Jr. and Joe DiMaggio. But he was one-and-done on the Hall of Fame ballot. I'd say that makes him underrated.
Runner-up:
Bernie Williams
? Hard for a Yankee to be underrated, but the crowded ballot bumped him off on his second try in 2013. Borderline Hall of Famer at best, but usually players on great teams have a better shot at getting elected.
RF: Dwight Evans (1972-1991)
Stats: .272/.370/.470, 385 HR, 1,384 RBI, 2,446 H
Career WAR: 66.9
Higher WAR than ... Andre Dawson, Dave Winfield,
Vladimir Guerrero
And certainly higher than Rice, his Red Sox teammate. He was better in his 30s than in his 20s and, like others here, was good at some of the unrecognized things like getting on base and drawing walks. He hit more home runs than Rice and his OBP is 18 points higher even though Rice hit .298 versus Evans' .272. Would love to see him get on a Veterans Committee ballot one of these years.
Runner-up: Bobby Bonds. Not as good as his son, Barry, and not quite a Hall of Famer, but his career WAR is in the top 20 all time among right fielders.
P: Kevin Brown (1986-2005)
Stats: 211-144, 3.28 ERA, 3,256 IP, 3,079 H, 2,397 SO
Career WAR: 68.5
Higher WAR than ... Jim Palmer, Carl Hubbell, John Smoltz
But he didn't spend three years as a closer! From 1996 through 2001, in the midst of the steroid era, Brown posted a 2.53 ERA. And he had a 2.39 ERA in 2003. And a 21-win season in 1992. He certainly deserved to get more of a hearing from the voters than one ballot.
Runner-up: Rick Reuschel. Played for a lot of bad and mediocre Cubs teams in the '70s, otherwise would have won more than 214 games.
September, 15, 2013
9/15/13
3:41
PM ET
Todd Helton
had a pretty nice major league career for a backup quarterback. The one-time Tennessee QB announced he'll retire at the end of the season, after a 17-year career that has seen him hit .317 with 367 home runs, 2,505 hits and 1,397 RBIs.
While Rockies fans get to say goodbye, the question for the rest of us: Is he a Hall of Famer?
That's really a two-part question, of course: (1) Does he deserve to make the Hall of Fame. (2) What are his chances?
The initial reaction of many may be to compare him to Don Mattingly, another first baseman who had a high peak value but suffered back issues that hurt his effectiveness. As you can see from the list below of recent first basemen, however, Mattingly isn't really in the same ballpark as Helton. The list includes each player's career WAR and then their best five consecutive seasons.
Jeff Bagwell
79.5 (five-year peak: 34.4)
Jim Thome
72.8 (26.9)
Rafael Palmeiro
71.8 (26.3)
Mark McGwire
62.0 (29.8)
Todd Helton 61.1 (37.4)
John Olerud
58.0 (27.0)
Will Clark 56.4 (27.7)
Fred McGriff
52.6 (26.7)
Jason Giambi
51.2 (34.7)
Carlos Delgado
44.3 (26.1)
Don Mattingly 42.2 (28.8)
Helton is way ahead of Mattingly in both career value and peak value -- Helton, in fact, has the best five-year peak on the board. That period ran from 2000 to 2004, when he hit .349/.450/.643 while averaging 37 home runs and 123 RBIs. While Helton hit .300 five times after that, he was never the same in the power department, reaching 20 home runs just once and never again reaching 100 RBIs.
As superficial as that 100-RBI barrier is, it could work against Helton since first base is viewed as an RBI position -- a reason great all-around players like Olerud and Keith Hernandez fared poorly in Hall of Fame voting -- and he topped that 100 mark just five times. Like those two, however, Helton earned value with his glove (since 1950, he ranks seventh on Baseball-Reference's list with 73 runs saved at first base). As good as Helton was at the plate, his offensive WAR actually rates below that of Giambi, McGriff and Clark, and just ahead of Delgado.
Some of that is the Coors Field factor in measuring his value. He's hit .345/.442/.607 at home (225 home runs) versus .287/.386/.470 on the road (142 home runs). That's another knock against Helton, in the same way it's hurt former Rockies teammate
Larry Walker
, who has hovered at just over 20 percent of the vote in his three years on the ballot. In fact, compare their career numbers:
Helton: .317/.415/.539, 133 OPS+, 367 HR, 1,397 RBI, 2,505 H, 1,394 R, 37 SB
Walker: .313/.400/.565, 141 OPS+, 383 HR, 1,311 RBI, 2,160 H, 1,355 R, 230 SB

Walker won an MVP and didn't get to spend his entire career in Denver. I don't see a whole lot separating those two, except Walker was a Gold Glove right fielder and Helton a Gold Glove first baseman. I'd have to rate Walker the better Hall of Fame candidate (his career WAR is also much higher, at 72.6), but the fact that he hasn't fared well in voting probably doesn't bode well for Helton.
If Helton hadn't suffered the back problems, we wouldn't be having this discussion. Three more peak years and he'd be a slam dunk. But like Mattingly, that's not what happened. There's also the issue that none of those first basemen above separated themselves from the pack, except Bagwell, who received 60 percent of the Hall of Fame vote last year, putting him on path to get to the needed 75 percent. Palmeiro and McGwire obviously have no shot right now given their PED history, but voters haven't given much support for McGriff (493 home runs, 1,550 RBIs), either.
For me, Helton falls just under the line. Take away Coors Field, and I wonder if he's John Olerud. That's not meant as a criticism, just that nobody thinks of Olerud as a Hall of Famer. I think Helton's initial time on the ballot will mirror Walker's -- about 20 percent of the vote.
July, 12, 2013
7/12/13
12:04
AM ET
Take that,
Freddie Freeman
critics!
For those clamoring for
Yasiel Puig
to make the All-Star Game --
Freeman beat out
the much-hyped Los Angeles Dodgers rookie in the Final Man Vote -- Freeman showed why he is worthy of All-Star recognition himself, going 3-for-4 with four RBIs in the Atlanta Braves'
6-5 win
over the Cincinnati Reds on Thursday.
Putting aside the All-Star controversy for now, Freeman is a good young player, a 23-year-old who has suddenly become the focal point of the Atlanta offense with
Justin Upton
's struggles since April and
Jason Heyward
(who left Thursday's game in the second inning with a strained hamstring) still trying to get into a consistent groove. Freeman is now hitting .313/.392/.477, has knocked in 60 runs and is hitting .421 with runners in scoring position.
In writing about Freeman making the All-Star team over Puig, I described him as this generation's
John Olerud
. One of my editors suggested
Sean Casey
. A reader on Twitter suggested Eddie Murray. So in ascending order we have an All-Star (Casey), a borderline Hall of Fame guy (Olerud) and a Hall of Famer (Eddie Murray).
Casey is a little different character, since his first full season in the majors didn't come until he was 24, whereas Freeman, Murray and Olerud were all regulars at 21. Physically, Freeman is more similar to Olerud than Murray: Both are 6-foot-5, bat left-handed, not exactly burners on the basepaths. Murray was a 6-foot-2 switch-hitter.
Let's look at the three and see if the comparisons are grounded. After all, Olerud and Murray were terrific players, Olerud finishing with 58.0 career WAR via Baseball-Reference, Murray with 68.2. We'll look at adjusted OPS, walk and strikeouts compared to the league average non-pitcher hitter and isolated power.
Through Age 22 Season
Murray: 7.5 WAR, 131 OPS+, 8.7% BB rate (+0.2%), 14.8% SO rate (-2.4%), .191 ISO (+.060)
Olerud: 3.5 WAR, 116 OPS+, 12.9% BB rate (+4.0%), 16.5% SO rate (-1.7%), .173 ISO (+.042)
Freeman: 3.8 WAR, 113 OPS+, 9.2% BB rate (+0.9%), 21.8% SO rate (-3.1%), .181 ISO (+.032)
Murray obviously has the edge, primarily thanks to his power -- he hit 27 home runs each of his first two seasons, totals that ranked 13th and ninth in the American League. Freeman can't match Murray's power. And while he struck out much more than Murray and Olerud in literal numbers, on a rate basis he's not that much worse than his peers than those two were. Olerud was already showing what would become his hallmark attribute -- patience at the plate -- by walking 4 percent more than the typical AL hitter.
Let's check age 23 season, with Freeman's season in progress …
Age 23
Murray: 4.9 WAR, 130 OPS+, 10.5% BB rate (+1.9%), 11.4% SO rate (+0.3%), .180 ISO (+.041)
Olerud: 3.3 WAR, 127 OPS+, 13.0% BB rate (+4.1%), 11.4% SO rate (+3.6%) .166 ISO (+.040)
Freeman: 2.8 WAR, 134 OPS+, 10.8% BB rate (+3.0%), 19.5% SO rate (-0.7%), .158 ISO (+.010)
Murray's walk rate increased a little bit at age 23 in 1979 and better defense also helped his WAR. They called him Steady Eddie for a reason, and he would make a final improvement at the plate at age 25. From 25 through 29, he hit .304/.390/.530, worth a 155 OPS+ and averaging 5.6 WAR per season.
Olerud's plate discipline continued to improve and he'd have his breakout season at age 24 in 1993, when he hit .363/.473/.599 and probably should have won the AL MVP Award (he finished third in the balloting). That was a bit of an outlier season -- although he'd have a similar .354 season with the Mets in 1998 -- but from age 24 through age 33, Olerud averaged 4.7 WAR per season, topping 5.0 five times. He'd end up walking more times in his career than striking out, a testament to the pitch recognition that made him such a disciplined hitter.
With Freeman, we're seeing improvement in strikeout/walk ratio this year, a good sign that his .300 average isn't a fluke (he hit .259 last year). His power remains the big question, as his isolated power figure is barely above the league average.
Overall, Freeman compares favorably in many ways to Murray and Olerud. If he continues to hone that strike-zone judgment, it's possible he'll not only continue to hit .300 but learn to pull the ball more often, which would lead to more home runs. Even if he settles in as a .300, 25-homer first baseman with solid defense, that's a good player, one who will be returning to more All-Star Games in the future.
March, 30, 2012
3/30/12
1:26
PM ET
The final March edition of the
Baseball Today podcast
was a winner as Mark Simon and I waxed poetic with our National League preview, a few ridiculous questions and other fun!
1. We've got different teams representing the NL in this season's World Series, and neither is a stranger to October baseball. But what's the theme of the NL? Is parity a good thing?
2. Is acquiring
Bobby Abreu
a good thing? While I can't possibly understand Cleveland's possible interest in the one-time OBP machine, Mark takes a different angle.
3. All baseball fans should know the unbridled joy when their favorite team signs
Juan Pierre
. #Sarcasm. Hey, I mock because I care.
4. Mark and I discuss our recent defensive runs saved draft, which was a blast and we'll follow throughout the season. No, really, we did it and SweetSpot blogger Dave Schoenfield wishes he had!
5. Among the topics in email was how the Rays will treat
James Shields
and
B.J. Upton
, John Olerud's batting helmet and what happens to a pitcher after he allows a home run on the first pitch of the game! We have answers!
So download and listen to a packed Friday episode of the Baseball Today podcast, and return with us on Monday as we get you ready for a huge week of relevant baseball!
December, 15, 2011
12/15/11
5:49
PM ET
What does that question even mean, "The most talented team of all time?"
Does it simply mean the best team? The 2001
Seattle Mariners
won 116 games, a total matched only by the 1906
Chicago Cubs
. Certainly, that Mariners club had a lot of talent --
Ichiro Suzuki
hit .350 and Bret Boone had a monster season and Edgar Martinez got on base and John Olerud was really good and the pitching staff was underrated although not exactly filled with Cy Young winners. Still, I don't think many fans would say that was the most talented club ever assembled, especially since Ichiro is the only likely Hall of Famer.
[+] Enlarge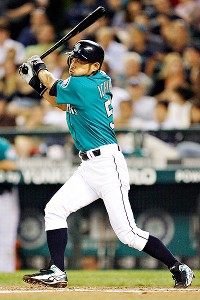 Joe Nicholson/US PresswireIchiro Suzuki hit .350 for the 2001 Mariners, who won 116 games.
The 1955
Cleveland Indians
had more players on their roster who appeared in an All-Star game at some point in their career than any other team, with 28. Was that the most talented team? It was a good club, won 93 games and finished in second place, and 28 All-Stars is certainly a lot. But considering there were only eight teams per league back then and that from 1959 to 1962 two All-Star games were played each season, a lot of players from that era were "All-Stars." Plus, some of the players were at the end of their careers (Ralph Kiner, Bob Feller) or just beginning (Rocky Colavito played five games).
Or maybe the definition of talent is different. Guys like Martinez and Olerud certainly got the most out of their abilities, as neither were what you would call a five-tool player. But the 1974
San Francisco Giants
, for example, featured an outfield of Gary Matthews, Garry Maddox and Bobby Bonds, three athletic players who could hit, run and field. Dave Kingman was on that team, a guy who hit the ball as far as anybody in the game's history. Shortstop Chris Speier was a 24-year-old All-Star. Steve Ontiveros, a 22-year-old rookie third baseman, showed promise by hitting .265 with more walks than strikeouts. On the pitching staff, John D'Acquisto was one of the hardest throwers in the league. Ed Halicki was a 6-foot-7 right-hander with a blazing fastball. It was a talented team. It also lost 90 games.
Maybe the 1975-76 Reds were the most talented team ever assembled: Johnny Bench, Joe Morgan, Pete Rose, Tony Perez, Dave Concepcion, Ken Griffey Sr., George Foster, Cesar Geronimo. The '76 team led the National League in home runs, batting average, stolen bases, doubles, triples, walks and -- of course -- runs. Bench, Morgan, Concepcion and Geronimo all won Gold Gloves. But the pitching staff didn't compare: Don Gullett threw hard when he first came up, but relied on a forkball by the mid-70s; Gary Nolan had been a 19-year-old phenom in 1967, but was a finesse guy with great control after years of shoulder problems. Closer Rawly Eastwick threw hard, but the staff as a whole didn't -- in fact, the '75 team ranked last in the NL in strikeouts.
Anyway, just some random thoughts for a slow Thursday afternoon. What do you think is the best way to approach this topic? Got suggestions for the most talented team ever? Discuss below and we can address the topic in the future.
September, 12, 2011
9/12/11
12:05
PM ET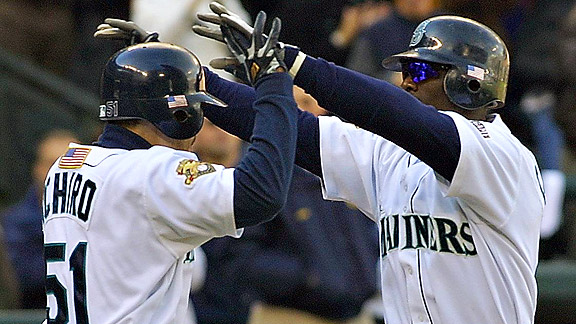 Dan Levine/AFP/Getty ImagesA common picture from the 2001 Mariners season: Ichiro Suzuki and Mike Cameron celebrating.
"Two outs, so what?"
--Catchphrase for the 2001 Seattle Mariners
Every Mariners fan has his or her favorite game from 2001. After all, we watched nearly every one or followed online the ones we couldn't see on TV or attend in person.
I have two. The Mariners had romped through the first half, going 63-24 and leading the division by 19 games. By fortuitous circumstance, Seattle hosted the All-Star Game that year and it had been a Mariners celebration, with eight players named to the roster, including starters
Ichiro Suzuki
,
Bret Boone
,
John Olerud
and
Edgar Martinez
. The American League won the game 4-1, with
Freddy Garcia
earning credit for the win and
Kazuhiro Sasaki
recording the save.
[+] Enlarge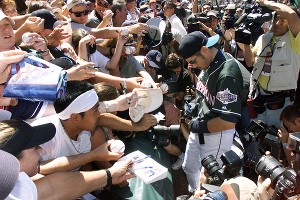 Jed Jacobsohn/Getty ImagesIchiro was one of eight Mariners All-Stars in 2001. The Mariners even hosted the game.
It would have been easy for the club to relax with such a big lead, but that's not how the 2001 Mariners played baseball. In the first game following the All-Star break, they hosted the
San Francisco Giants
and
Barry Bonds
, then chasing Mark McGwire's single-season home run record. Sure enough, Bonds launched a long home run in the first inning and the Giants held a 3-2 lead entering the bottom of the ninth. But
David Bell
homered on a 3-2 pitch from
Robb Nen
to send the game into extra innings. In the 11th,
Mike Cameron
walked with one out and stole second. With two outs,
Tom Lampkin
hit a chopper over the middle that second baseman
Ramon Martinez
gloved, but with no chance to get Lampkin. Cameron kept churning around third and beat Martinez's throw home.
Relax? The Mariners would go 17-6 in their first 23 games out of the break.
My other game came a couple of weeks later. The Mariners led the Twins 3-2 in the eighth inning when Lou Piniella sent out little-used utilityman
Charles Gipson
as a defensive replacement in center field. Sure enough, later that inning Gipson threw out the potential tying run at home plate. That was the 2001 Mariners -- Piniella making every right move, all 25 guys contributing and delivering clutch throws and big hits. Baseball is a team game made up of individual talents. But I've never seen a baseball team where the sum of the team exceeded the individuals like the 2001 Mariners. They were a team in perfect harmony.
* * * *
"I haven't seen him hit the ball with any authority."
--Mariners manager Lou Piniella on Ichiro Suzuki, late in spring training
The Mariners had lost to the Yankees in six games in the 2000 American League Championship Series, but then
Alex Rodriguez
signed with Texas as a free agent. The Mariners countered that loss by winning the posting process for Ichiro Suzuki and signing him to a three-year, $14 million contract. In a less-heralded move, the team also signed free-agent second baseman Bret Boone. Still, nobody knew exactly what to expect from the club.
Spring training got off to a bad start.
Jay Buhner
, third on the team in home runs in 2000, suffered a torn arch in his left foot in his first at-bat and would miss most of the season. More troublesome was the performance of Ichiro, whom Piniella had initially planned on hitting third in the lineup. But Ichiro wasn't hitting the ball with any power and the Seattle papers wondered if he was overmatched by major league pitchers who threw harder than the pitchers he'd regularly faced in Japan. Piniella and hitting coach Gerald Perry expressed their concerns that teams would just bunch their defense to the left.
Finally, in late March, Ichiro smacked a home run. "I shook his hand when he got to the dugout, just like I would with anyone else," Piniella said. "He had a big smile. I know it was good for him to hit the ball hard in that direction."
It was a small turning point for the Mariners. Maybe their Japanese import would be OK after all. Still, Piniella decided to install Ichiro as his leadoff hitter.
Like all of Piniella's moves that year, it was the right one.
Ichiro got two hits in the season opener. A few days later he went 4-for-6 with two runs, a double and a two-run, game-winning home run in the 10th inning in Texas. A couple of days after that came The Throw. Ichiro had started a go-ahead Mariners rally in the top of the eighth with a pinch-hit single. In the bottom of the inning, facing the boos and taunts of Oakland fans who had been hounding him throughout the series, he sent his own message when he gunned down Oakland's
Terrence Long
at third base with a laser beam from right field.
[+] Enlarge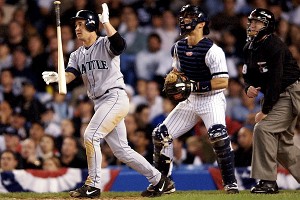 Ezra Shaw/Getty ImagesA familiar sight for M's fans in 2001: Bret Boone flipping his bat after a home run.
"I'll tell you what, you could hang a lot of clothes on that throw," Piniella said. "It was going to take a perfect throw to get me -- and that's what he did," Long said.
Just like that, Ichiro was a national sensation. He hit .336 in April, with hits in 23 of 25 games. The Mariners, meanwhile, went 20-5, including a three-game sweep in the Bronx. After the Mariners thumped the Rangers in one series, A-Rod predicted with complete insincerity but amazing accuracy that the Mariners would win 115 games. On May 23, Bell hit a home run in the eighth inning to beat the Twins, kicking off a 15-game winning streak. Ichiro and then Boone appeared on the cover of Sports Illustrated. Later, Ichiro, Boone, Cameron and Martinez appeared on the cover of ESPN The Magazine, under the billing "ALL WORLD."
* * * *
"It wasn't supposed to end like this. It wasn't supposed to end here."
--Bret Boone, after losing the ALCS to the Yankees
The Mariners never let up. Ichiro would win the batting title with a .350 mark and lead the league in hits and stolen bases. Boone had one of the greatest seasons a second baseman ever had, hitting .331 with 37 home runs and a league-leading 141 RBIs. The beloved Martinez, 38 years old, hit .306 with a .423 on-base percentage and 116 RBIs. Slick-fielding first baseman John Olerud had a .402 OBP and scored and drove in more than 90 runs. Cameron knocked in 110.
Mark McLemore
played all over the field and scored 78 runs and swiped 39 bases. With Ichiro, Cameron, Boone and Olerud, it was one of the best defensive teams I've ever seen. The pitching was the best in the league, as well. Garcia led the league in ERA,
Jamie Moyer
won 20 games and Sasaki,
Arthur Rhodes
and
Jeff Nelson
provided a dominant bullpen trio.
The team went 18-9 in June and July and 20-9 in August. They were selling out every game -- the M's would lead the AL in attendance that year, outdrawing the Yankees, a team that had won three straight World Series titles. Local TV ratings were off the charts. The team clinched the division title soon after the return to action after the 9/11 attacks halted play for a week. A champagne-soaked celebration didn't seem appropriate. Instead, the team gathered near the pitching mound for a prayer. Somebody brought out a flag and the players walked the flag around the stadium, thanking the fans for their support. As Seattle newspaper columnist Art Thiel would write, "They found a way to honor their achievements, fans and country without histrionics, triteness, or bad taste. A season of greatness found a seminal expression apart from the game."
[+] Enlarge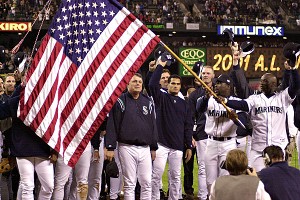 Otto Greule/Getty ImagesThe Mariners celebrated their division title in subdued fashion.
All that was left was the season record for victories. The 1998 Yankees had won 114 games. The 1906 Cubs, in a much different era, had won 116 games. Piniella pushed hard, keeping the regulars in the lineup. The Mariners surpassed the Yankees in Game No. 160 as Olerud and Boone homered and Moyer pitched a gem. The next day, they tied the Cubs as Boone homered in the first inning and five pitchers combined for a 1-0 shutout. No team had ever won more games. "I think if you assembled an All-Star team and put them in our division, they couldn't win 116 games," Boone said.
Maybe Piniella pushed too hard. Maybe the team was gassed from the record drive. Maybe the pressure to match their regular season was too great. Or maybe the playoffs are just a crapshoot. The Mariners, of course, aren't regarded as one of the greatest teams of all time. They're not mentioned in the same breath as those '98 Yankees or the '86 Mets or '75 Reds. They didn't win the World Series; they didn't even reach it.
They beat Cleveland in five games in the Division Series, rallying to win the final two games after getting bombed 17-2 in Game 3. But there were problems. Shortstop
Carlos Guillen
had contracted tuberculosis, and there were fears he'd infected the entire clubhouse. He missed the Cleveland series and played sparingly in the ALCS against the Yankees. Martinez had pulled a groin against the Indians and was ineffective in the ALCS. In the first two games,
Andy Pettitte
and
Mike Mussina
pitched gems. Seattle won Game 3 14-3 and led Game 4 1-0 on Boone's homer in the eighth, but
Bernie Williams
homered off Rhodes to tie it and then
Alfonso Soriano
hit a two-run walkoff homer off Sasaki. Game 5 was an anticlimactic 12-3 blowout.
* * * *
"I'm tired of [expletive] losing, I'm tired of getting my [expletive] beat, and so have those guys. We gotta change this [expletive expletive] around and get after it. And only we can do it. The fans are [expletive] off, and I'm [expletive] off, and the players are [expletive] off. And that's the way it is. There's no [expletive] easy way out of this, can't feel sorry for ourself, we gotta [expletive] buckle it up and get after it."
--Mariners manager John McLaren, June 2008
The decline wasn't immediate. The 2002 club was in first place as late as Aug. 18 and won 93 games, but missed the playoffs. Piniella, in part to be closer to his family in Florida and in part because he was angry management hadn't added any reinforcements at the trade deadline, left after the season to manage Tampa Bay. The 2003 club led the division by five games on Aug. 15, but Oakland got hot and the Mariners faded. Once again, 93 wins wasn't enough to make the postseason.
By 2004, the team was aging and in decline and general manager Bill Bavasi, who had replaced Pat Gillick, was ill-equipped to handle the transition. Still, the downfall was excruciating. The Mariners had arguably become baseball's premier franchise. They were filling Safeco Field. They were fun to watch. They had some of the highest revenues in the sport. Maybe they weren't the Yankees -- but they were the next-best thing.
Since 2004, the team has gone 566-714, including 100-loss seasons in 2008 and 2010. The offenses the past two years have been two of the worst baseball has seen in decades. Attendance, once more than 43,000 per game, has fallen to 23,489. The decline in popularity is evident in the team's radio broadcasts. The only commercials with player endorsements involve Jay Buhner, who has been retired 10 years, and Seattle-area native
Travis Ishikawa
, who has never played for the Mariners.
So what happened?
The foundation for demise was set in the Gillick era. Due to free-agent signings, the Mariners had no first-round pick in 2000, 2001 and 2003 and failed to sign 2002 first-rounder
John Mayberry Jr
. Those four drafts produced just two major leaguers of significance --
Adam Jones
, who was traded to Baltimore in the
Erik Bedard
trade; and
Eric O'Flaherty
, who the club released after the 2008 season.
The team did suffer some bad luck with a slew of pitching prospects in the early part of the decade. Ryan Anderson, compared to
Randy Johnson
for his 6-foot-10 stature and blazing fastball, was a top-10 prospect but blew out his shoulder and never reached the majors. Jeff Heaverlo tore his labrum.
Clint Nageotte
battled injuries.
Gil Meche
had pitched well as a rookie in 2000 but missed all of the 2001 season with a frayed rotator cuff -- yes, the 2001 club could have been even better. While Meche eventually returned, he was never the star his rookie season indicated he had a chance to become.
[+] Enlarge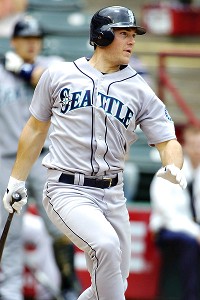 John Williamson/Getty ImagesIn 2005, the Mariners could have drafted Troy Tulowitzki, Ryan Braun or Ryan Zimmerman. Instead they took Jeff Clement.
To make matters worse, when the Mariners hit bottom and started earning high draft picks, they botched them. In 2005, they had the third pick and most experts had them taking Long Beach State shortstop
Troy Tulowitzki
. Instead, in one of the deepest drafts in recent years, they took USC catcher
Jeff Clement
, passing not only on Tulowitzki, but
Ryan Zimmerman
,
Ryan Braun
and
Ricky Romero
. Those guys went with the next four picks. (
Andrew McCutchen
,
Jay Bruce
,
Jacoby Ellsbury
and
Matt Garza
also went later in the first round). In 2006, drafting fifth, the team passed on local product
Tim Lincecum
and
Clayton Kershaw
to draft
Brandon Morrow
. In 2007, the team took hard-throwing but inexperienced Canadian high school pitcher Phillippe Aumont;
Jason Heyward
went three picks later. 2008 first-rounder
Josh Fields
was a college reliever expected to reach the majors quickly; Mariners fans are still waiting.
Current rookie
Dustin Ackley
looks like the first good hitting prospect the Mariners have developed since A-Rod. Actually, that's not completely accurate; they developed
Shin-Soo Choo
and
Asdrubal Cabrera
, but Bavasi gave them away to Cleveland in ill-advised trades for
Ben Broussard
and
Eduardo Perez
in 2006. Those two combined for nine home runs that year and the Mariners finished 78-84. Bavasi brought in past-their-prime veterans like
Scott Spiezio
(.198 average over two seasons) and
Rich Aurilia
(.241 average before being sent back to the National League). Later, Bavasi would do unmentionable things like signing
Carlos Silva
and trading
Rafael Soriano
for
Horacio Ramirez
.
In recent years, nearly every hitter the Mariners have produced has reached the majors with no concept of the strike zone -- guys like
Jose Lopez
,
Yuniesky Betancourt
,
Wladimir Balentien
and 2011 graduates
Greg Halman
and
Carlos Peguero
. You're not going to win with guys like that.
So now the Mariners are headed for another season of 90-plus losses. They suffered through a 17-game losing streak in July. They've had some bright spots like Ackley and fellow rookie
Michael Pineda
. They still have
Felix Hernandez
. At one point recently, 12 of the 25 players on the roster were rookies, a sign that a complete rebuild was in order. But Ichiro is getting old,
Franklin Gutierrez
has regressed,
Justin Smoak
remains a question mark and third base and left field remain problem areas. The rookies strike out too much, the bullpen is thin and Felix's body language often suggests that he'd like to pitch with more than two runs of support.
I'll be honest: It makes a Mariners fan want to re-watch that "Sweet 116" videotape again.
Follow David Schoenfield on Twitter @dschoenfield.
July, 22, 2011
7/22/11
12:54
PM ET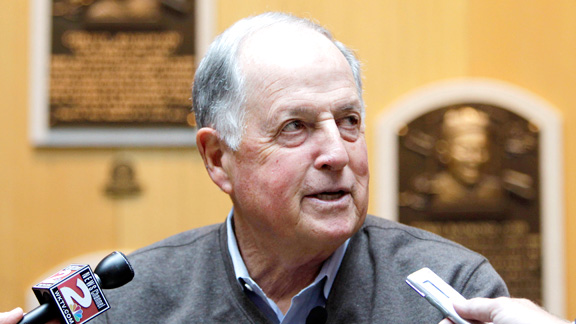 AP Photo/Mike GrollHall of Fame baseball executive Pat Gillick helped build playoff teams in several cities.
You can debate the merits of an executive getting elected to the Hall of Fame; personally, I find it a bit ridiculous that Pat Gillick got elected and will be enshrined this year while deserving players like
Barry Larkin
, Tim Raines, Alan Trammell and others were snubbed yet again by the voters (yes, Gillick was elected via a special expansion era committee).
Gillick was the general manager of the Blue Jays from 1978 through 1994, building them from an expansion franchise into a two-time World Series champion. He ran the Orioles from 1996 to 1998, making the playoffs his first two seasons. He took over the Mariners for the 2000 season, and his first big move was to trade a disgruntled Ken Griffey Jr. The Mariners made the playoffs anyway and then won a record 116 games the following season. He took over the Phillies in 2006 and retired after they won the World Series in 2008 (he remains an advisor).
His ability to build winners is undeniable, although Gillick also had good timing with his various retirements. After winning two World Series, the 1994 Blue Jays had become an aging, past-its-prime ballclub, finishing 55-60. Gillick wasn't around when the Jays stumbled to the worst record in the AL in 1995. He took over a solid Orioles club in 1996, added a few veterans to get them over the playoff hump, but left after the team fell under .500 in 1998. The Orioles haven't seen a winning record since. The Mariners won 93 games in 2003, but were an old club with a bad farm system, depleted in part because Gillick had forfeited draft picks to sign veteran free agents. He stepped down before the team lost 99 games in 2004. Only the Phillies have maintained success after Gillick left, either a testament to his genius or a testament to knowing when to quit.
Here are 10 moves that got him into the Hall of Fame, in chronological order.
1. Selecting George Bell in the Rule 5 draft.
Bell had missed most of the 1980 season while in the Phillies' system, but the Blue Jays were astute enough to select the outfielder. He didn't become a regular until 1984, but over seven full seasons with the Jays hit .288 while averaging 24 home runs and 102 RBIs, winning the 1987 AL MVP when he hit 47 home runs and led the league with 134 RBIs.
2. Acquired Fred McGriff for Dale Murray.
McGriff had hit .272 AVG/.413 OBP/.456 SLG as an 18-year-old in rookie ball with the Yankees when Gillick got him as a throw-in for a deal that brought Dave Collins and
Mike Morgan
to the Blue Jays. Collins had been a high-priced free-agent bust for the Yankees in 1982, and George Steinbrenner eagerly dumped him for Murray, a middling middle reliever who was nearly done. McGriff would hit 125 home runs for the Blue Jays, helping them win the '89 AL East crown.
3. Drafted Tom Henke from the Rangers.
Teams that lost a free agent used to be able to draft an unprotected player off another team. In 1985, Gillick selected Henke, a hard-throwing but wild right-hander who had posted a 6.35 ERA for the Rangers in 1984. Henke turned into one of the best closers in the league, had a 2.48 ERA and 217 saves over eight seasons in Toronto, and was the closer on the 1992 World Series champion.
4. Drafting John Olerud ... and then signing him as a free agent.
Olerud had been one of the best college players in the nation as a sophomore at Washington State, hitting .464 while going 15-0 as a pitcher. But he suffered a brain aneurysm before his junior season and played sparingly. Most teams were scared off, but the Jays drafted him in the third round in 1989 and he went straight to the majors. Later, in Seattle, Gillick signed Olerud as a free agent and he posted a .392 OBP from 2000 to 2003.
5. Acquired Devon White from the Angels for Junior Felix and Luis Sojo.
Felix had played well for the Blue Jays in 1990 as a 22-year-old while White had hit .217 for the Angels. But the Jays needed better defense in center (34-year-old Mookie Wilson had been the team's primary center fielder in '90) and White was one of the game's supreme fly chasers. White not only won three Gold Gloves as the Jays won three straight AL East titles from '91-93, but he hit well and averaged 108 runs per season over those three years.
6. Trading McGriff and Tony Fernandez to the Padres for Roberto Alomar and Joe Carter.
A few days later, Gillick made a good old-fashioned challenge trade, the likes of which you don't see much anymore. Fernandez had been a three-time All-Star with the Jays, but Alomar was younger and on the rise. McGriff was a better player than Carter, but the Jays had Olerud ready to play first base. In five seasons with the Jays, Alomar became one of the best all-around players in baseball, making the All-Star team all five seasons. He also hit .373 in five postseason series while with Toronto, driving in 18 runs and stealing 18 bases in 29 games. When Gillick went to the Orioles, one of his first moves was to sign Alomar as a free agent.
7. Signing Jack Morris, Dave Winfield and Paul Molitor as free agents.
By 1992, the Jays were drawing 4 million fans per season and had become one of baseball's richest franchises. Gillick had money to work with; the Jays had the third-highest payroll in 1992 and the highest in 1993. In '92, he signed veterans Morris and Winfield. Morris went 21-6 while Winfield hit .290 with 108 RBIs as the team's DH. The next season, Molitor replaced Winfield and was even better, hitting .332, driving in 111 runs, scoring 121 and finishing second in the AL MVP vote.
8. Signing Ichiro Suzuki.
Many American scouts and executives believed Ichiro was too thin and frail to succeed in the U.S. The Mariners won negotiating rights with a $13 million bid and soon signed Ichiro to a three-year, $14 million contract entering the 2001 season. All he did as a rookie was hit .350, score 127 runs, steal 56 bases, win AL MVP honors and lead the Mariners to 116 wins.
9. Signing Bret Boone as a free agent.
As good as Ichiro was in 2001, Boone might have been even better. He had one of the greatest seasons ever for a second baseman, hitting .331 with 37 home runs, leading the AL with 141 RBIs and winning a Gold Glove. All for $3.25 million.
10. Trading for Jamie Moyer.
Notice a trend? Gillick has a history of bringing back his former players. He had Moyer in Seattle and picked him up for nothing in 2006. In truth, all the key parts of the Phillies' 2008 World Series were already in place when Gillick arrived --
Ryan Howard
,
Chase Utley
,
Jimmy Rollins
and
Cole Hamels
had been drafted by the previous regime, and
Shane Victorino
had been acquired in the Rule 5 draft. Gillick's big moves were trading for Moyer, who would go 56-40 for the Phillies and was the team's No. 2 starter in 2008, and signing
Jayson Werth
before the 2008 season, after he had missed all of 2007 with a wrist injury.
Follow David Schoenfield on Twitter @dschoenfield.
April, 22, 2011
4/22/11
10:58
AM ET
Do you like the idea of expanding the baseball playoffs? Is a one-game winner-take-all playoff your cup of tea?
Vote here
and see what other fans think.
In other stuff ...
Links for Friday morning
April, 13, 2011
4/13/11
5:55
PM ET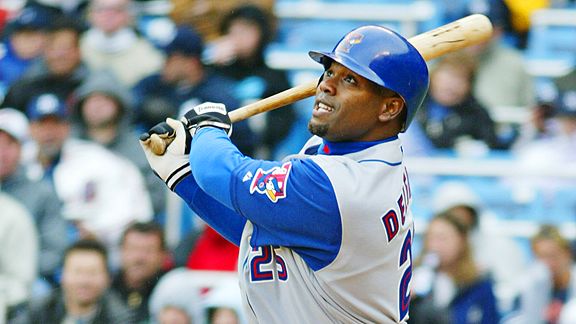 David Seelig/Icon SMICarlos Delgado hit 473 home runs and drove in more than 1,500 runs in his career.
Carlos Delgado
officially
announced his retirement
, in slightly less dramatic light than
Manny Ramirez
.
He was a great hitter, a player worthy of some random thoughts ...
1. Delgado came up through the minors as a catcher and everyone knew he could hit -- he ranked as Baseball America's No. 4 prospect in 1993 and No. 5 in 1994. He caught two games in the majors but the Blue Jays originally tried him in left field before he settled in at first base. The attempt to make him a catcher meant he spent two seasons in Triple-A when he was ready for the majors (and probably cost him 500 career home runs).
2. Long home runs. Outside of maybe
Mark McGwire
,
Barry Bonds
and
Sammy Sosa
(ahem), did anyone in the past 15 years hit longer home runs than Delgado? Loved that left-handed power stroke, like he was using a big sledgehammer.
3. The four-homer game against Tampa Bay in 2003. Delgado had taken antibiotics for a cold earlier in the day and homered in all four trips to the plate. His fourth homer was a mammoth blast to center field off
Lance Carter
.
4. His 99 extra-base hits in 2000 -- he had 57 doubles, a triple and 41 home runs -- tied for 16th-most in one season. Delgado hit .344/.470/.664 that season -- and finished fourth in the MVP voting. Yes, there was a lot of offense that year.
5. His one season with the Marlins. Actually, I don't remember this much at all.
6. Finally making a postseason appearance with the Mets in 2006 -- and raking. He hit .351/.442/.757 in 10 games, with four homers and 11 RBIs. In Game 7 of the NLCS, the Cardinals wanted nothing to do with him -- they walked him three times.
7. He only made two All-Star teams (2000 and 2003). What? The same number as Scott Cooper? How is this possible? Well, here are the first basemen who got selected in his prime years ...
1998:
Jim Thome
,
Rafael Palmeiro
,
Mo Vaughn
.
1999: Jim Thome, Rafael Palmeiro,
Ron Coomer
... yes, Ron Coomer! ... plus THREE DHs (
Harold Baines
,
John Jaha
and
Jose Canseco
).
2001:
John Olerud
,
Tony Clark
,
Jason Giambi
,
Mike Sweeney
.
2002: Jason Giambi,
Paul Konerko
, Mike Sweeney.
2004: Jason Giambi,
Ken Harvey
... yes, the immortal Ken Harvey.
2005:
Derrek Lee
,
Albert Pujols
. This one was weird. The NL selected only two first basemen, but Pujols started at DH. Third baseman
Morgan Ensberg
ended up playing first base. But
Cesar Izturis
and
Felipe Lopez
were All-Stars that year.
2006: Albert Pujols,
Lance Berkman
,
Ryan Howard
,
Nomar Garciaparra
. Nomar was hitting .358 at the break.
2007: Delgado had a bad year.
2008: Lance Berkman, Albert Pujols,
Adrian Gonzalez
. This was the year Delgado had a monster second half.
Anyway, I'm not saying he deserved to make it all those years, but it's surprising he was only a two-time All-Star. Heck, Bruce Benedict was a two-time All-Star.
8. His stance against the war in Iraq. Not an easy decision, but I applauded his courage to take a political stand
with thought and conviction
.
9. He finished with a career WAR of 49.1 via
FanGraphs
, 44.2 on
Baseball-Reference
. I'd thought it would be higher, but he's being compared against some great first basemen from his era. That places him about 26th among first basemen (minimum 50 percent of career games at first base) since 1901, similar in career value to guys like Orlando Cepeda, Gil Hodges, Don Mattingly and Boog Powell. He loses a lot of value for baserunning (terrible) and fielding (below average). Based on hitting value alone, he's about 13th to 15th among first basemen.
10. Hall of Famer? Not quite.
March, 18, 2011
3/18/11
9:36
AM ET
By
Bill Parker
| ESPN.com
Our friend Craig Calcaterra had a very interesting post over on Hardball Times the other day, in which he attempted to identify the
greatest living player from each team
. His answer for the Angels really caught my eye:
Angels: Another toughie for me. Jim Edmonds, unless you think he had too much time in St. Louis. Tim Salmon? Yikes.
And it's true that the Angels haven't really had a great player who has stayed with the team for long enough to really jump out as you as their greatest ever, but Edmonds and Salmon? That seems a stretch. Nolan Ryan?
Chuck Finley
?
The answer that came to me right away, though, was Jim Fregosi, a shortstop who made six All-Star teams, won a Gold Glove and was mentioned on MVP ballots in eight different seasons with the team. Fregosi's largely been forgotten today, in part because he was done as a full-time player at just 29 and never came particularly close to compiling a Hall of Fame career, and in part because he wasn't flashy. His .268/.340/.403 Angels line was great for a 1960s shortstop (116 OPS+), but certainly isn't eye-catching, and he didn't have the defensive wizardry or speed of a Luis Aparicio. Fregosi was simply a very good player and for a fairly long time.
[+] Enlarge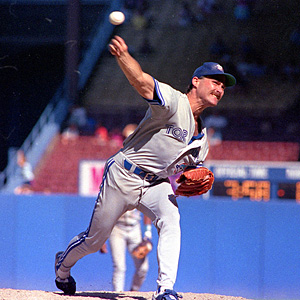 AP Photo/Tony DejakDave Stieb won 175 games for the Blue Jays during his career.
It happens that that's one of my favorite subjects: players who may not be Hall of Famers, but who were very good (sometimes great) players who have been unfairly forgotten by fans. This ignores guys who I think are terribly underrated but SHOULD be in the Hall -- Bobby Grich, Alan Trammell -- but those players are talked about often enough in Hall discussions.
So here's a randomly ordered and by no means exclusive list of players -- all still living and all active at a time when many of us were around to see them -- who, like Fregosi, were very good players who I think should be remembered more than they are:
Dave Stieb
: My personal crusade. In my opinion, Stieb was both the
greatest player in Blue Jay history
and the
greatest pitcher of the 1980s
-- leading the decade (minimum 1,500 innings) with his 127 ERA+ and his 45.2 WAR -- but he never gets credited as either. Stieb had a legitimate case to win the Cy Young Award three different times, but never finished higher than seventh.
Reggie Smith
: One of those guys who did everything pretty well, but nothing exceptionally well. He hit for a high average, but didn't hit .300; had good patience, but didn't post .400 OBPs; had good power, but topped 30 homers only twice and 100 RBIs only once (he did post 90-plus three other times); he played pretty good defense, but wasn't a Gold Glover. That's pretty much the recipe for an underappreciated player.
Jim Wynn
: Much the same story as Smith, but then add in that he was hitting in the Astrodome, which pulled his numbers down across the board. Put him in Enron/Minute Maid over the past decade and he's a superstar.
Robin Ventura
: We haven't "forgotten" him, but his 1.3 percent showing on the 2010 ballot shows how quickly we've forgotten (if we ever really appreciated) how much his on-base ability, power and (especially) defense brought to the table. I wouldn't have voted for him with so many better third basemen on the outside looking in, but he's closer than he's ever been given credit for.
Kevin Appier
: He suffers from having his best years with Kansas City (which was better than it is now, but still not great), and from not being Maddux, Unit, Pedro, Clemens, Mussina or Schilling. But he was brilliant from 1990-97 and was robbed of the '93 Cy Young.
Keith Hernandez, Will Clark and John Olerud
: I consider them as about the same player. All three are underrated because they didn't do much of the one thing first basemen were expected to do: hit home runs. They did almost everything else very well, though, and you could make Hall cases for each (I think they fall just short).
Shane Mack
: Yes, there are much more deserving candidates for this last spot than Mack. Plug in
Eric Davis
or even
Ray Lankford
for the same reasons (similar to the reasons Smith and Wynn get overlooked). But as a Twins fan, it pains me to see how quickly Mack has been forgotten even by my fellow fans. He was a key part of the 1991 champs, and you could make a good argument that he was the team's best player throughout his four-and-a-half seasons with the club.
That's 10 total names (including Fregosi), but doesn't purport to be a top 10 (the exercise is much too subjective for that). Let me know in the comments section if you've got any great non-Hall players YOU think need to be recognized.
Bill Parker blogs at The Platoon Advantage and rants about Dave Stieb and Shane Mack quite regularly on Twitter.