October, 18, 2013
10/18/13
10:59
AM ET
This was the
only
way the Nolan Ryan-Jon Daniels-ownership power struggle could end: With the 66-year-old Ryan
stepping down
as Rangers CEO and walking out into the sunset, his life in baseball probably over. Once it became clear that co-owner Ray Davis was going to back Daniels, did you think Ryan would accept a position of speaking at business luncheons and shaking hands with season-ticket holders?
Of course not.
Think of Ryan the pitcher. This is a guy who
never
gave in to a hitter. Throw a 3-2 fastball down the middle? Are you kidding? Ryan would prefer to hit a corner or throw a curveball, even if he did throw 100 mph. He'd rather give up a walk than a hit, the ultimate sign of Texas bravado. This is a pitcher who twice walked more than 200 batters in a season.
"Nolie has thrown more 3-2 curves than any power pitcher in history," Tom Morgan, his onetime pitching coach with the Angels, said in a
1980 article in Inside Sports
. "I tried to change him, believe me. Many, many times I told him, 'Just throw it as hard as you can down the middle of the plate -- they won't hit it anyway. Just pitch one full game like that for me and see how it turns out.'"
But that wasn't Ryan's style. He was going to do it his way. He walked eight or more batters in a game 29 times in his career, five or more an astonishing 232 times as a starter -- 30 percent of his career starts.
In this game
-- 13 innings, 10 walks, 19 strikeouts -- he must have thrown well over 200 pitches.
Give in? Never.
"I walked a lot of guys. I drove managers crazy," Ryan told Tony Kornheiser in that 1980 article, after the pitcher had signed as a free agent with the Astros. "They said I wasn't pitching the way someone of my ability should. If I'm going to lose, I'm going to lose my way. Who gets the L? Out of nine guys, I live with the L for the rest of my life. If I had to walk off as the losing pitcher, then I had to do whatever I could to make sure it didn't happen."
Ryan had to step down. This was not a guy who let others define his role.
We can't know the inner workings of the Ryan-Daniels relationship, but Ryan was clearly from a different generation. You have to imagine the two butted heads on more than just front-office personnel ("Nolan guys" or "Daniels guys"). You have to believe Ryan's philosophies differed greatly from Daniels, a general manager who is part of the statistically savvy wave of GMs who changed the way front offices have been run over the past decade.
For example:
"Pitchers have been pampered," Ryan
told Sports Illustrated in 2010
. "I'd go to spring training, and all they'd do was throw on the side. Now how in the world do you learn how a hitter's going to react to your pitches without a hitter in there? I always thought that was crazy. Our expectations of them have been lowered. There's no reason why kids today can't pitch as many innings as people did in my era. Today a quality start is six innings. What's quality about that?"
That was a popular story for a long time: The Rangers were going to stretch out their starters, have them throw more innings and more pitches, because that's what tough guys from Texas do (or did). That never really happened. You can't approach baseball in 2013 as if it's still 1973. Plus, not every pitcher was born with the ability to throw 150 pitches a game. Here are the Rangers' ranks in innings pitched per start:
2013: 15th
2012: 9th
2011: 10th
2010: 22nd
The Rangers reached the World Series in 2010, and a lot of publicity was given to how Ryan's belief on changing the mindset of the starters was a key to the team's success; as you can see, they ranked just 22nd in the majors in innings per start that year. The year before, they had ranked 17th. Yes, the workloads increased slightly in ensuing years -- in part because Daniels put together better pitching staffs -- but the Rangers were never doing anything different than other clubs.
I'll miss Ryan, especially those TV shots of him in the stands in the playoffs, looking ready to punch someone after some inexplicable Ron Washington decision.
The Rangers now belong to Davis and Daniels. New school won out over old school, and that too is the way it had to be.
July, 29, 2012
7/29/12
1:14
AM ET
Kenny Williams never seems to get a lot of respect.
During his tenure as
Chicago White Sox
general manager, which began after the 2000 season, he's built two division winners, including the 2005 World Series champions. Maybe the most impressive aspect of his reign is that the White Sox are always competitive. They've been under .500 just three times, but two of those were 79-83. He's done this despite lacking the monster payrolls of teams such as the Yankees, Red Sox and Phillies; despite only once having a pick better than 12th in the first round of the draft; despite never having a franchise superstar like Barry Bonds to build around or pitchers like
Tim Lincecum
and
Matt Cain
, like Brian Sabean has had with the Giants; despite a farm system -- in part because of ownership's unwillingness to spend in the draft and because of that lack of high picks -- that usually ranks near the bottom (Keith Law and Baseball America both ranked the White Sox system 30th heading into the season).
What I like about Williams is he never gives up. He's always trying to win, to build the best team he can given his resources. He never craters, never commits to a complete teardown and embarrassing on-field product, such as the one you're seeing from the Astros, Williams' 2005 World Series opponents.
This is why trading for
Francisco Liriano
is a typical Kenny Williams move -- high risk, perhaps mocked, but one with a potential nice payoff. Liriano's season numbers with the Twins look terrible -- 3-10, 5.31 ERA -- and his last start (against the White Sox, of all teams) was a rough, seven-run blowup. But after an awful April and temporary trip to the bullpen, Liriano pitched very well in a 10-start stint from May 30 though July 18, posting a 2.84 ERA with 77 strikeouts, 28 walks and 38 hits in 63.1 innings (a .171 average allowed). That stretch included back-to-back starts of 15 strikeouts and 10 strikeouts against the A's and Orioles on July 13 and 18, respectively.
In other words, there's a good chance Liriano will outpitch
Zack Greinke
the rest of the way, even though
this trade
will receive much less fanfare and required much less in prospect value: light-hitting infielder
Eduardo Escobar
and left-handed pitcher
Pedro Hernandez
.
In fact, despite the much-maligned farm system, the White Sox have received contributions from several rookies, most notably on the pitching staff with
Jose Quintana
, closer
Addison Reed
, and relievers
Nate Jones
and
Hector Santiago
. With Quintana still the big surprise in the rotation, Liriano presumably takes the place of
Philip Humber
, who did pitch well in a
5-2 victory over the Rangers
on Saturday, but that strong start barely got his ERA under 6.00. With the hope that
John Danks
might return from his shoulder issues, the White Sox now have rotation depth and options in case of injury or if they want to conserve
Chris Sale
's innings.
The White Sox also have a lot to gain from a deal such as this; with a 2.5-game lead over the Tigers, winning the division title is obviously huge. There is a reason you're seeing teams contending for a division title making moves, while teams further back in the playoff chase -- such as the American League East wild-card contenders -- are more conservative. The reward for winning one of the two wild cards is essentially half as valuable as last season, with the one-game playoff plus the possibility that you've burned your best pitcher. But the payoff for the White Sox winning the division is worth taking a chance on Liriano.
As for the Rangers, they don't need to be as desperate as their division rival Angels, who gave up three good prospects to acquire Greinke. Yes, acquiring Greinke would have helped, but the Rangers have to ask: Do any of the other available pitchers make the team that much better? I agree with Jim Bowden:
Probably not

.
The top three starters in a playoff series right now probably would be
Matt Harrison
,
Yu Darvish
and
Derek Holland
(who has had a disappointing season but lately has
looked more like the pitcher
who threw so well in the second half and postseason a year ago). The fourth spot might be open as
Neftali Feliz
rehabs, but among Feliz,
Scott Feldman
,
Roy Oswalt
and maybe even
Alexi Ogando
, the Rangers have options. Do you want to give up Mike Olt or another top prospect for what might be just a minor upgrade in
Josh Johnson
(having his worst statistical season and would be expensive to acquire) or
Ryan Dempster
(who is unlikely to approve a trade to Texas anyway)?
Plus,
Josh Hamilton
and
Mike Napoli
are impending free agents, and there's no guarantee they'll be back, even though the Rangers have entered the upper echelon of payrolls. Maybe the Rangers will let one of those guys walk, spend some of that money elsewhere and give a starting position next season to Olt (with super prospect Jurickson Profar waiting in the wings).
The Rangers have options, but their best chance at holding off the Angels and surging A's might lie within: Namely, Hamilton and
Michael Young
finding their strokes. Hamilton was given a mental day off Saturday to clear his head. Since June 1, he's been one of the worst hitters in the league, batting .190 with a .274 on-base percentage. He's hitting .145 in July with 21 strikeouts in 19 games. Young is eating up at-bats at designated hitter and first base despite an empty .270 batting average. His OBP is less than .300, and he hasn't homered since May 7.
For all the talk of needing a starter, Young is a gigantic hole in the lineup right now. Kenny Williams filled one of his holes. We'll see whether Rangers GM Jon Daniels plugs his.
PHOTO OF THE DAY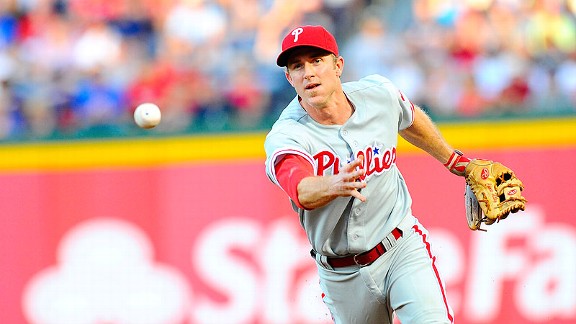 Dale Zanine/US PresswireAs quick as Chase Utley is to the ball, he's not so quick he'll beat the ball to first base.