SweetSpot:

Jonathan Lucroy
April, 23, 2013
Apr 23
11:30
AM ET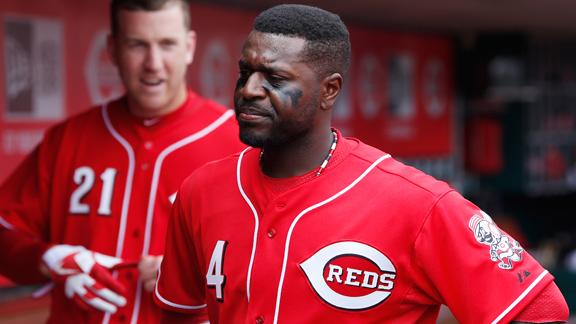 There is no scientific way to pick an all-underrated team. Well, I suppose there is
some
formula we could come up with, but that would be about as much fun as watching
Brendan Ryan
take batting practice. So let's go with an unscientific approach: my gut instinct. Plus how many times Eric Karabell and I talk about these guys being underrated at dinner. (He's sick of me bringing up
Kyle Seager
every Monday night. I remind him he's the only good position player right now on the Mariners.)
So here we go: The 2013 SweetSpot All-Underrated team, guys who don't seem to receive as much national acclaim as they deserve. Note: It's hard to be underrated if you play for an East Coast team, especially ones named "Yankees" or "Red Sox."
C -- Jonathan Lucroy, Brewers
Had a breakout season with the bat last year, hitting .320 with 12 home runs in between a stint on the DL for breaking his hand when a suitcase fell on it. Aside from his offense, statheads know Lucroy as one of the best pitch-framers in the business. Assuming he stays away from suitcases, the Brewers will reap benefits from his team-friendly contract: He'll make $15 million through 2017.
1B -- Allen Craig, Cardinals
Craig is still looking for his first home run of 2013, but a year ago he replaced
Albert Pujols
and hit .307/.354/.522 -- that's a higher on-base and slugging percentage than Pujols had with the Angels. Craig hit over .300 in the minors but his lack of a defensive home kept him off prospect lists and he didn't play 100 games in a major league season until last year, when he was already 27. He's a late bloomer but that doesn't mean he can't rake.
2B -- Neil Walker, Pirates
Unlike Craig, Walker seemed to spend forever on prospect lists, first as a catcher, then as a third baseman. He's settled in at second base, but playing for Pittsburgh his solid ability at the bat goes unnnoticed. He's not a star, but a solid contributor who should hit .280 with 12-15 home runs and adequate defense.
3B -- Kyle Seager, Mariners
Seager got off to a bad start and Karabell told me ESPN fantasy owners were dropping him like
Raul Ibanez
drops flies. Oh, the rash judgments of April. After a two-hit night Monday, Seager is up to .276/.337/.487. Unheralded coming up through the Seattle system, he has proved to be a better hitter than his North Carolina teammate,
Dustin Ackley
.
SS -- Brandon Crawford, Giants
OK, OK ... do I think his hot start with the bat is for real? No. Crawford has never really hit. But he's kind of a poor man's
Andrelton Simmons
, and while everyone raves about Simmons' ability in the field, nobody talks much about Crawford's. Just show them your ring, Brandon.
LF -- Josh Willingham, Twins
Willingham has put up good numbers at the plate for years -- including a monster 35-homer, 110-RBI season last season -- but he has played for the Marlins, Nationals, A's and Twins when they all had bad seasons and has never appeared in a postseason game. He may get that chance this year if the Twins trade him to a contender. (Not that the Twins can't contend! You never know!)
CF -- Shin-Soo Choo, Reds
He's finally getting some recognition thanks to his hot start (.366 average, better-than-Votto .521 OBP), but even then some people just want to talk about his shaky defense in center. He was a good player for the Indians for several years before coming to Cincy and I see his first All-Star Game in his future.
RF -- Norichika Aoki, Brewers
He came over from Japan last year and quietly hit .288/.355/433, lashed out 51 extra-base his, stole 30 bases and played a very good right field. He also made appearances as Bernie Brewer and at least four times raced as the Italian sausage.
SP -- Hisashi Iwakuma, Mariners
Quick: Which starting pitcher has led the AL in ERA since last July 1? I hope you guessed Iwakuma. In 20 games, he has a 2.44 ERA, edging out
Justin Verlander
's 2.51 mark, and held batters to a .225 average. He's off to a great start in 2013, with a 1.69 ERA through four starts and just 12 hits in 26.2 innings. His fastball isn't overpowering, but he gets away with throwing 90 mph fastballs up in the zone and mixing a good splitter.
SP -- Mike Minor, Braves
I'll break my East Coast rule to include Minor, who also has been dominant since last July 1, with a 2.00 ERA that is second in the majors only to teammate
Kris Medlen
. I believe he's for real.
What do you think? Whom would you put on your All-Underrated Team?
By the way, check out the video. Who do I think is
overrated
? You may be surprised.
September, 13, 2012
9/13/12
12:55
AM ET
The second wild card is a goofy, ridiculous idea that goes against everything baseball history stands for: That the regular season is the ultimate test of a team's ability, strength and toughness. To get to the playoffs, you have to prove yourself over 162 games; and to get there, baseball requires a higher standard of excellence than other sports.
Which is one reason I didn't like the second wild card; it lowers that bar. And once you're there after playing 162 games, you get one game, do-or-die, to remain alive?
I still have my doubts, but in 2012, I'll admit: The second wild card has added an extra layer of fun.
I'm pretty sure the
Milwaukee Brewers
would agree. I'm not exactly sure when the Brewers hit their low point. Maybe it was when
Rickie Weeks
swung at this pitch
, but more likely it was July 23, 24 and 25, when they lost three games in Philadelphia by identical 7-6 scores, all in the late innings. In the first game,
Francisco Rodriguez
allowed four runs in the bottom of the ninth. The next day, the Phillies scored six runs in the eighth inning. The day after that, the Brewers scored a run in the 10th but gave up two in the bottom of the inning. Two days later,
Zack Greinke
was traded.
And why not? The Brewers were 45-54, 10 games out of the second wild card, the magic of 2011's playoff run a distant memory.
Yet here we are, 44 games later, and the Brewers are three games behind the suddenly plummeting
St. Louis Cardinals
for that suddenly enticing second wild card. On Wednesday, the Brewers completed a three-game sweep of the
Atlanta Braves
thanks to an eight-run explosion in the fifth inning, all the runs in
Milwaukee's 8-2 victory
. The Brewers are 18-5 over their past 23 games, hitting .289 with 36 home runs and 32 stolen bases while averaging 6.1 runs per game. The pitching has been impressive, of course, with a 3.33 ERA and 220 strikeouts in 208 innings.
The fifth inning came from nowhere.
Paul Maholm
, who has been so solid for Atlanta since coming over from the Cubs, was sailing along with just three hits allowed through four innings. The inning began with a
Chipper Jones
fielding error,
Yovani Gallardo
's sacrifice and
Norichika Aoki
's infield single that Jones made a diving stop on but couldn't make a throw. Up stepped Weeks, the 2011 All-Star whose averaged had sunk to .158 on June 10 and remained under .200 through July 24. Since then, however, he's hit .308, slugged over .500 and he hit a 2-1 fastball from Maholm into the bullpen in right-center for his sixth home run of September.
The Brewers weren't done.
Ryan Braun
-- can we finally start talking about him as an MVP candidate? -- singled.
Aramis Ramirez
reached on another infield single that Jones couldn't handle,
Jonathan Lucroy
singled just past a diving
Paul Janish
at shortstop,
Logan Schafer
walked and
Travis Ishikawa
cleared the bases with a double over the head of
Jason Heyward
on a pretty good low-and-away slider from Maholm. That brought in
Cristhian Martinez
and Gallardo finished off the inning with an RBI double.
Hey, it was one of those innings -- two infield hits, a single just past Janish, a double just out of Heyward's reach. It's one of those innings that when they happen in September you start believing in things like luck, karma and chasing down the Cardinals.
Gallardo, in the absence of Greinke, has stepped up since that trade. Other than one bad seven-run outing against the Pirates, he's been terrific over nine starts, giving up two runs or fewer in seven of those starts and three in the eighth. The Brewers have won all nine of those games. And here's a stat that may surprise: Gallardo leads the majors with 24 quality starts, one more than
R.A. Dickey
and
Clayton Kershaw
. Does that make him a Cy Young candidate? No, but he's provided that one consistent presence from an Opening Day rotation that saw
Chris Narveson
go down after two starts,
Randy Wolf
pitch his way out of town with a 5.69 ERA,
Shaun Marcum
miss time and Greinke get traded. The Brewers even had their own less-publicized Operation Shutdown when rookie
Mark Rogers
, who went 3-1 with a 3.92 in seven starts after his recall from the minors, was shut down after his Aug. 31 start.
* * * *
OK, maybe this is where I admit I picked the Brewers to reach the World Series. It was an admittedly left-field prediction, but going out on a limb with at least one pick is part of the fun of spring-training prognosticating. But one reason I believed in them was I did think their offense would be fine, even minus
Prince Fielder
. Indeed, the Brewers have scored the most runs in the National League and one big reason has been Ramirez, who essentially replaced Fielder in the lineup. Compare their numbers:
Fielder, 2011: .299/.415/.566, 38 home runs, 36 doubles
Ramirez, 2012: .296/.361/.529, 23 home runs, 44 doubles
Pretty close, and considering Ramirez plays third base, you can actually argue that Ramirez has been
more
valuable than Fielder (Baseball-Reference Wins Above Replacement: Fielder 4.3 in 2011, Ramirez 4.7 so far.)
What I didn't account for was Wolf pitching so poorly and the bullpen duo of Rodriguez and
John Axford
developing severe cases of pyromania. The Brewers have blown 10 games they led entering the ninth inning. That's terrible beyond words: Entering Wednesday's games, all 30 MLB teams were a collective 1842-91 when leading after nine innings. That's an average of three such losses per team; the Brewers had 10 percent of those defeats all by themselves.
So the Brewers can score. They have an ace. Axford has shaved off his 1890s 'stache, reclaimed his closer role and allowed one hit over his past nine appearances that resulted in eight saves and a win.
Are the Brewers a great team? No, they're 72-71. But this goofy race for the second wild card makes them playoff contenders. Their next six games are against the Mets and slumping Pirates.
Like I said: I dislike the second wild card. And yet I love it.
Now, about those Phillies ...
PHOTO OF THE DAY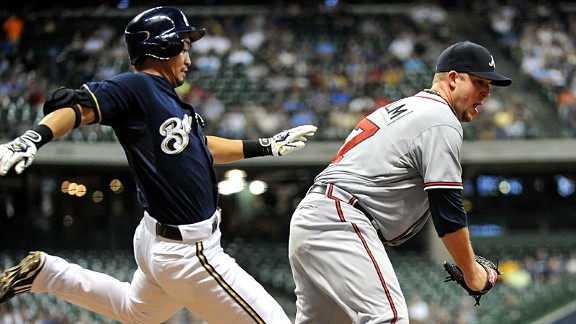 Benny Sieu/US PresswireNori Aoki's legging out an infield hit is the Brewers' case in point: They're not out yet.
May, 29, 2012
5/29/12
3:07
PM ET
Keith Law and I emerged from the long and happy Memorial Day weekend ready to talk baseball, so here's what is in store for Tuesday's
Baseball Today

podcast!
1.
Chicago White Sox
lefty
Chris Sale
piles on the strikeouts Monday, and we discuss this resurgent team and its potential new ace for the long term.
2. We should find out more on Tuesday about the injuries affecting
Jered Weaver
and
Roy Halladay
, but how critical would their absences be to their slow-starting teams?
3.
Manny Ramirez
plies his trade in the minor leagues, but should anyone care? Also, his potential new teammate
Josh Reddick
continues his power assault. Is it legit?
4. As draft day approaches, what are the
Chicago Cubs
thinking and why should we trust the organization is on the right track?
5. We also take your emails, discussing minor leaguers like Nolan Arenado, pitch recognition and take a glance at Tuesday's big league schedule.
So download and listen to Tuesday's excellent Baseball Today podcast and come back with us on Wednesday!
May, 21, 2012
5/21/12
7:00
PM ET
In response to Cleveland Indians closer Chris Perez complaining about the team's attendance -- the Indians rank last in the majors in per-game average -- I wrote a little bit about Cleveland's attendance in Clearing the Bases. Susan Petrone of "It's Pronounced Lajaway" had an analogy today, comparing Indians fans to an abused dog:
It will take time for the Indians to earn the fans' trust.
That makes sense; one decent season and a good 40 games won't send fans flocking to the ballpark. Still, the attendance problems
are
a little odd; this isn't Tampa Bay, where the fans have never shown up, or Pittsburgh, where the Pirates haven't fielding a winning team since 1992. This goes beyond waiting for a team to win or a city's economic climate, although all that factors in a bit. It's perhaps worth noting that when the Indians had their great attendance run from 1995 through 2001 the team was not only good (six playoff seasons in seven years) but the Browns were also absent from 1996 to 1998. The Cavs, a strong team through much of the '90s, collapsed in 1999 and suffered through a string of terrible seasons. So the Indians built up a following right at the exact right time. The Oakland A's similarly attracted their largest gates when the Raiders were in Los Angeles.
In most cities, baseball attendance can be cyclical and bandwagon. A decade ago, the Mariners led the major in attendance; but after years of boring, lousy baseball, the Mariners now rank 28th. The Indians, however, aren't boring or lousy. They're in first place. I suspect the front office needs to do a better job marketing the team. And if the team keep winning, the fans will eventually start showing up again.
March, 30, 2012
3/30/12
12:03
PM ET
Spring stats mean nothing! But they're fun to look at. A few highlights ... and lowlights (stats from major league games only):
Some people haven't bought in on Paul Goldschmidt as they worry about the strikeouts, but one reason I do like him is he'll draw some walks to go with the power: He's hitting .265 with three homers, but with 12 walks (and 13 strikeouts).
Josh Collmenter hasn't pitched well for Arizona: Five walks and just four strikeouts in 12 innings. He'll start in the rotation but you wonder how soon before we see Trevor Bauer.
Braves prospect Julio Teheran has somehow allowed nine home runs in 13 innings.
Jeff Samardzija earned a spot in the Cubs' rotation by showing good stuff but just as impressively has walked just one batter in 20 innings. This from a guy who averaged 5.1 walks per nine innings in relief in 2011.
Not good news for the Cubs: First baseman Bryan LaHair has 16 strikeouts and one walk. Is the 29-year-old Triple-A vet pressing now that he's been given a chance to start after hitting .331 at Iowa? His SO/BB ratio at Triple-A was 111/60.
Joey Votto is hitting .214 without a home run. I like how people will make a big deal when somebody does well ... but not a big deal when a star player doesn't do well. Again, spring stats ... for entertainment purposes only!
Dexter Fowler has had a miserable spring for the Rockies, hitting .118 in 51 at-bats with 16 strikeouts.
Clemens has pitched five scoreless innings for the Astros. Paul Clemens, that is.
Matt Kemp says he wants to go 50-50. He's not going to do it swinging like this: 21 strikeouts and one walk. Ouch.
Carlos Zambrano has 14 walks in 17.2 innings. But 18 strikeouts. So ... I think it's safe to say nobody knows what to expect from Big Z.
Zack Greinke has perhaps been the most impressive pitcher this spring with a 28/2 strikeout/walk ratio and no home runs allowed. That's pretty tough to do in Arizona, where the ball flies.
Sticking with the Brewers, Jonathan Lucroy is hitting .513 (20-for-39). This has nothing to do with that .513 average, but I like Lucroy as a breakout candidate.
Jason Bay hasn't homered or driven in a run for the Mets and has petitioned to move in the spring training fences.
Roy Halladay has allowed six home runs in 20 innings. He gave up 10 in 233.2 innings last season.
Is this the year Pedro Alvarez breaks out? Umm ... well, with 20 K's and one walk I guess we can be positive and make a Matt Kemp comparison.
One of my sleeper relievers of the year is Brad Brach of the Padres; he's looked good with a 14/2 K/BB ratio.
What will the Giants do with Brandon Belt? He's hitting .407 with seven doubles and three homers in 59 at-bats.
Adam Wainwright has a 1.45 ERA for the Cardinals but just nine strikeouts (and six walks) in 18.2 innings.
Davey Johnson says he wants to bat Ian Desmond leadoff. He has 18 strikeouts and two walks while hitting .299.
February, 15, 2012
2/15/12
7:00
PM ET
Check out some of the great work from our blog network ...
January, 29, 2012
1/29/12
12:35
PM ET
By
Christina Kahrl
| ESPN.com
With all of this talking about
production up the middle
or
at the four corners
over the past 25 years, it might also be helpful to put this into perspective by asking: Who's average?
Here again, I'm indebted to
Clay Davenport's work
in creating Equivalent Average, as useful a tool for all-time performance on offense today as it was in the '90s. Sticking with the 2011 and following Clay's advice to cheat up a couple of points -- to avoid the impact of the real scrubs -- let's look at who set the bar for mediocrity at all eight regular positions in the field:
Catcher:
Rod Barajas
, .258 Equivalent Average (EqA). Sure, he struggles to get on base, but Barajas' modest pop at the plate -- delivering a .200 ISO last season -- and solid receiving skills makes him the acme of average from the backstop bin. In Pittsburgh, he might help propel their latest bid for a .500 season.
Runner-up: The Brewers'
Jonathan Lucroy
, .254 EqA.
First Base:
Freddie Freeman
, .286 EqA. This might seem like an indictment of the Atlanta Braves' prodigy, but the standards for offense at first base are higher than at any position, and this isn't a shabby place to start for a kid in his age-21 season.
Runner-up: The Marlins'
Gaby Sanchez
, .284 EqA.
Second Base:
Orlando Hudson
, .268 EqA. Hudson's power has taken a hit the last two years since going to slugger-sapping Target Field and now the Padres' Petco Park, but he still provides average offense for the position and above-average glove work, so he'll keep landing gigs.
Runner-up: The Mets'
Justin Turner
, .263 EqA, and an excellent example of how GMs can still find plug-in players on the waiver wire.
Third Base:
One of the funny things about the field is that you'd be hard-pressed to find a truly average regular at third, but the closest might be
Casey Blake
with the Dodgers (.268 EqA) or
Jack Hannahan
with the Indians (.263), so let's call it a platoon and punt on picking a runner-up.
Shortstop:
Clint Barmes
, .257 EqA. Here we have another Pirates offseason acquisition, which might be taken as proof that average is the new up, or that it takes a certain kind of player to choose to go to Pittsburgh. But more fundamentally, Barmes reflects today's higher standard for adequacy on offense at short, because beyond premium defense he ripped a dozen homers for the Astros.
Runner-up: The White Sox's
Alexei Ramirez
, .256 EqA, and another example after knocking 15 homers of his own.
Left Field:
Cody Ross
, .273 EqA. In contrast, here's a great example of the declining standard for what gets by in left. The hero of the postseason in 2010 went back to his more mortal form at the plate with the Giants, and looks like he'll be shunted into a part-time role with the Red Sox, splitting time in right field or spotting for the injured
Carl Crawford
in left early on.
Runner-up:
Jason Bay
, .270 EqA, and a symbol of the Mets' bang-less bucks at work.
Center Field:
Adam Jones
, .273 EqA. Here's a reflection on what a difference a position makes. Cody Ross? Not in high demand. Adam Jones of the Orioles? He's a star, and somebody many teams would love to trade for.
Runner-up: The Diamondbacks'
Chris Young
, .270 EqA. Keep in mind, Equivalent Average is park-adjusted, so all that slugging the Snakes get from their center fielder at home -- including 14 of his 20 homers, with a 131-point difference between his home and road SLG.
Right Field:
Seth Smith
, .283 EqA. Right's the premium offensive position in the outfield these days, so the standard for average is going to be a bit higher. It says something about the Athletics' lot on offense that they traded for Smith and fell he'll provide a big boost with his bat from either corner.
Runner-up:
Jeff Francoeur
, .279 EqA. His comeback with the Royals was nice to see, but it's a reflection of the depths he plummeted to during his three years in the wilderness that he's gone from awful to average, not awesome.
Christina Kahrl covers baseball for ESPN.com. You can follow her on Twitter.
August, 30, 2011
8/30/11
10:30
AM ET
By
Christina Kahrl
| ESPN.com
Sort of like yesterday's exercise with pitchers, if you want to take a stab at who's doing the best job of eradicating the running game from behind the plate, you can go in a few directions. Cut off playing time around 400 innings caught (we'll cheat and keep
Joe Mauer
in the sample, because he just missed) and you can go with simple caught-stealing percentage. And voila, this year's best catchers at getting caught stealings are the Indians'
Lou Marson
and
Kelly Shoppach
of the Rays at 44 percent apiece. Raise your bar to include only the most regular receivers, and the Snakes'
Miguel Montero
is your guy (40 percent).
However, just running with SB/CS data doesn't necessarily give us the whole picture, does it? Regardless of whether a play's ruled a stolen base -- and let's set aside the anachronistic silliness of "defensive indifference" -- what we're interested in is results in terms of baserunners advancing or getting thrown out. Poor receiving skills on top of a weak arm can contribute to runners taking more extra bases on loose-ball plays (wild pitches, passed balls), but a strong arm can help deter runners from going anywhere lest they get gunned down.
So, using Baseball-Reference's Runner Bases Allowed (which include PBs and WPs as well as steals) and Runner Kills (outs of every fashion, whether they're pickoffs, caught stealings, etc.), plus Baseball Info Solutions' Catcher Runs Above Average (RsbC), let's see if we can get a slightly more involved look at the best guys:
That makes for a fairly interesting field, but we see a lot of the same names crop up: Wieters, Shoppach and Marson. Opportunities aren't equally distributed, of course -- some guys draw tougher assignments. So
Jarrod Saltalamacchia
and
Josh Thole
, the catchers charged with most frequently handling baseball's knuckleballers (
Tim Wakefield
for the Red Sox and
R.A. Dickey
for the Mets) don't catch many breaks.
And looking strictly at Runner Kills can give you a false impression -- one of the reasons Olivo and Lucroy show up in that column but nowhere else is because they lose so many bases on steals and loose balls that they get attributed more opportunities. They're very average at throwing out runners (an exactly MLB average 28 percent for Olivo, 26 percent for Lucroy), but they're both allowing around three extra bases per nine innings they catch, among the worst marks in the majors. Olivo's hands of stone made him a strange choice for the defensive-minded Mariners, especially since they settled on him in last winter's backstop sweepstakes fairly early (Dec. 9), but it's consistent with his track record.
In the end, I'm partial to the ratio of bases allowed to kills as a useful quick-and-dirty way of answering the question of who's doing the best job of killing off baserunners when opportunities come along. If you're partial to giving part-time players full credit -- and why not, catching's no easy gig -- that means giving Shoppach and Marson their due as the game's best sharpshooters behind the plate. But among the ironmen asked to be everyday receivers, it's the Orioles' Wieters who should walk away with the gold.
Christina Kahrl covers baseball for ESPN.com. You can follow her on Twitter.