SweetSpot:

Jonathan Schoop
August, 12, 2014
Aug 12
10:10
PM ET
By
Matt Kremnitzer
| ESPN.com
When
Baltimore Orioles
' third baseman
Manny Machado
injured his right knee on an awkward swing in Monday night's win over the
New York Yankees
, many fans had flashbacks to when Machado was carted off the field late in the 2013 season in Tampa Bay after he crumpled to the ground. Machado eventually needed surgery on his left knee, and he wasn't able to return to the Orioles' lineup until May.
Machado got off to a slow start when he returned, posting a slash line of .220/.271/.284 in May and botching a few routine plays in the field that he would normally make. But it wasn't realistic to expect that he would immediately return to star form after such a serious injury, and Machado eventually shed the rust and turned things around. He has been playing strong defense at third base, and his offensive numbers have improved each month:
May: .252 wOBA
June: .338 wOBA
July: .394 wOBA
August: .416 wOBA
Despite missing all of April and that slow start, Machado currently ranks fifth among Orioles' position players in FanGraphs' version of Wins Above Replacement at 2.3. He's right behind
Nelson Cruz
(2.4) but ahead of
Nick Markakis
(2.1), who has played in every game and has accumulated 190 more plate appearances.
So Machado has certainly played a key role in the Orioles' 68-50 record and six-game lead in the American League East. But the Orioles are going to be without Machado for at least a little while, as it was reported Tuesday night that he has a
right knee ligament sprain
. More information will be provided on the severity of Machado's injury on Wednesday, but a stint on the disabled list is not out of the question.
It appears that Machado has avoided a second major injury to one of his knees, but his timetable at the moment is uncertain. Going forward, the Orioles will need someone to play third base. Buck Showalter has a few options. After Machado left the game on Monday,
Chris Davis
entered the game as his replacement at third. So Davis could spend some time at both corner infield positions while Machado is out.
Ryan Flaherty
has shown that he can at least handle the position competently defensively, and
Jonathan Schoop
spent some time in the minors playing both second and third base. The Orioles also have some third base options in Triple-A Norfolk:
Steve Lombardozzi
,
Jimmy Paredes
and
Cord Phelps
. (Phelps appears to be the call-up, if needed.) And it's not unreasonable that the Orioles would at least think about acquiring a player from outside the organization who has cleared revocable waivers, though that would be a drastic alternative.
Obviously none of those options is ideal. Davis is hitting .197 -- although does have four home runs in his past seven games -- and the O's have tried to give him a day off every now and then, which they may not be able to do now. He's started 68 games at third in his career but has a .913 fielding percentage and hasn't played there much since starting 17 games in 2011. Flaherty and possibly Schoop would probably be all right defensively, but they have been awful at the plate. Realistically, the Orioles would be grateful to get by with even average or below-average production while Machado recovers.
Machado is a fantastic talent, and the Orioles won't be able to replace him if he ends up missing significant time. Thankfully, the Orioles have already banked plenty of wins and a sizable division lead, and they'd have to play pretty terrible baseball the rest of the season to blow it. Of course anything can happen and no lead is truly safe, but if the O's aren't able to hold onto their division lead, it won't be just because Machado injured his knee.
Matt Kremnitzer is a writer for Camden Depot, the Orioles blog in the Sweetspot Network.
May, 11, 2014
May 11
2:04
PM ET
By
Christina Kahrl
| ESPN.com
So the first-place Orioles are getting
Chris Davis
back. That comes after they're already getting
Manny Machado
back. Along with the big-bopping benefits of
Nelson Cruz
, they should be ready to roll, right?
Well, maybe not so much, because Matt Wieters' long fight to avoid the DL finally ended with his heading there to get some rest for his elbow soreness to recede. He may be gone until July.
Still, let's take the big-picture view of where the Orioles offense is right now. Despite losing Davis for some time, not having Machado for most of the season so far and needing to lean heavily on weak-hitting subs like
Ryan Flaherty
,
Steve Lombardozzi
,
Jonathan Schoop
and
David Lough
in the early going, the Orioles are nevertheless seventh in the league in runs scored at 4.3 per game. That's nevertheless a little below average because of the big split -- almost a half-run -- between the league's six best offenses and the rest of the league.
[+] Enlarge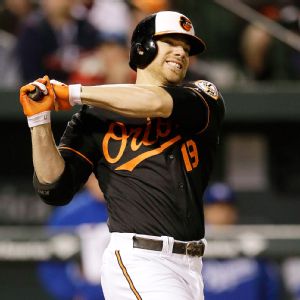 AP Photo/Patrick SemanskyThe Orioles are hoping Chris Davis starts crushing like it's 2013 all over again.
But now that Davis is back, you can see how things should improve for the Orioles, even if Wieters has to rest his elbow until June or perhaps even July. Cruz has already powered 10 home runs in his PED suspension redemption campaign. Machado has struggled, but in his defense, he has less than two weeks' worth of live-game at-bats between his rehab work and his time since being reactivated; it shouldn't be much longer before he's back in a groove.
J.J. Hardy
hasn't really gotten going, but he was hampered by early hamstring problems.
And then there's Davis, last year's third man in the Trout-Cabrera MVP duel after his 53-homer campaign. That built on Davis' end-of-season heroics in 2012, when his 10 homers after Sept. 1 powered the Orioles into the postseason. If the Orioles are going to sustain another October bid, they need him to be producing at the plate.
One potential problem for Davis? According to BrooksBaseball.net pitch data at Baseball Prospectus, Davis is seeing 23.75 percent of all pitches below the strike zone and 25.68 percent of all pitches away and outside: low, high, you name it. Between those two categories, that should amount to a lot of balls (Eric Gregg strike zones excepted), but it means a lot of pitchers are throwing him low and outside. As he waits for cookies that haven't come, Davis hasn't been able to resist. He has swung at almost 60 percent of breaking and off-speed pitches below and outside the strike zone, swinging and missing on 56 percent of them while notching just three base hits. He may not like being more of a walking man, but until he can force pitchers to come back into the zone against him, those cookies are going to be a long time coming.
Getting Davis back is very good news. And I don't think it's at all coincidental that getting Lough out of the lineup at the same time that Machado has replaced that unproductive Schoop-Flaherty combo at the hot corner has helped. Wieters' move to some time at DH while
Steve Clevenger
chipped in a surprising amount of offense? Another benefit. With Davis back, this could mean a whole more at-bats for Davis' substitute at first base,
Steve Pearce
, in the DH slot, keeping Lough among the playing-time losers.
But getting more out of the regular lineup is a matter of finally getting some production out of several weak slots in the Orioles' lineup. They are last in the league in walk rate, getting a free pass in just 5.9 percent of at-bats. Davis' return will be a big help on that score, but a significant problem is the absence of almost anyone else in the lineup who might walk much. Counting on Pearce for any length of time will be a risk, and waiting on Wieters while hoping Clevenger can keep popping as their regular catcher in the meantime will be another. And the absence of any acceptable answer at second base figures to be a season-long problem; I don't consider Schoop a real answer, not when he hasn't hit very well anywhere for any meaningful length of time since mashing in the Sally League in a half-season in 2011.
It's clear the Orioles need to deal for some help, but GM Dan Duquette's job on that front won't be easy. This early, with few teams in sell mode, there aren't a ton of options available at second base -- mighty mite
Jose Altuve
of the Astros, perhaps? There are almost as few options to trade for behind the plate.
If there's good news, it's that the organization may finally have some pieces to deal,
ranking 10th in the Keith Law's preseason organizational sorting
, but it's a system with a few great high-upside arms and not a ton of depth, so perhaps not exactly the sort of hand you want to deal from to land some of the right-now help the Orioles need. Even assuming Duquette were willing to deal, high-end talent demands high-end returns, and Altuve probably ain't that.
Which brings it back to Davis and right now. If he starts pounding at the same time that Machado and Hardy get in gear, that could buy the Orioles the time they need. Time to see when Wieters will be back. Time to see whether an answer to their needs at second base and either DH or left field -- wherever Cruz isn't -- present themselves. For a team in first place in the tight fight in the American League East, they can afford to take the time to find out.
Christina Kahrl writes about MLB for ESPN. You can follow her on Twitter.
March, 13, 2013
3/13/13
10:15
AM ET
The
Baltimore Orioles
, after years of failing to develop much quality major-league talent aside from
Nick Markakis
and
Matt Wieters
(
Adam Jones
came over in a trade from Seattle) are suddenly flush with young talent.
Manny Machado
's rookie eligibility expired last season but the 20-year-old looks like a future star, whether at third base or down the road at shortstop once he replaces
J.J. Hardy
.
Behind Machado, the Orioles have three other high-upside youngsters.
Dylan Bundy
made his major-league debut at 19, just a season after being the fourth overall pick in 2011. LSU right-hander Kevin Gausman went fourth overall in 2012 and has the stuff to reach the majors sometime this year. And if you've watched any of the World Baseball Classic, you've seen infielder
Jonathan Schoop
playing second base for the Netherlands. He held his own in Double-A last year at age 20, hitting .245 but with 14 home runs.
Jon Shepherd of Camden Depot asked, "
What are the chances of Machado, Schoop, Bundy and Gausman all being stars
?"
Jon looked at where these guys rank as prospects (Machado and Bundy in the top 10, Gausman in the 21 to 30 range and Schoop in the 91-100 range) and how often players in those groupings turn into busts, regulars or All-Stars.
Jon's conclusion of the probability of the following:
Four All-Stars -- 0.2%
Three All-Stars -- 3.5%
Two All-Stars -- 19.7%
One All-Star -- 44.0%
Zero All-Stars -- 32.6%
Jon suggests that at least two of them need to develop into exceptional players for the Orioles to remain relevant. Even then, an organization has to develop enough talent around its stars. Even four All-Stars is no guarantee of future success. In 1989, for example, the
Seattle Mariners
' rookie class included
Ken Griffey Jr.
,
Randy Johnson
,
Edgar Martinez
and
Omar Vizquel
. From there, it only took the team six years to make the playoffs and that group never did reach a World Series.
The Orioles already have a solid foundation with Wieters, Jones and Markakis. Machado looks like a can't-miss player. If Bundy and Gausman reach their potential, I see the Orioles being relevant far beyond just 2012.