SweetSpot:

Jonathon Niese
December, 22, 2012
12/22/12
8:00
AM ET
Last weekend, I presented the top 10 teams in my
personal power rankings
. That was before the Blue Jays officially acquired
R.A. Dickey
, so I updated my top 10 after that trade, and, to spur on more debate, now present the rest of my rankings. Agree or disagree, but I do think this is the most parity we've seen in a long time. It's why the Orioles and A's were able to surprise this past season and why we will undoubtedly see another surprise team in 2013. It's a great time to be a baseball fan.
1. Nationals
Most talented rotation in the majors, deep lineup, depth. Re-signing
Adam LaRoche
to add another lefty power bat will help.
2. Reds
Superb rotation could be better if the
Aroldis Chapman
transition works, bullpen is deep enough to absorb his loss and
Shin-Soo Choo
provides a needed leadoff hitter.
3. Yankees
I think they can stretch things out more season with a deep rotation, excellent bullpen and power. Remember, they had the largest run differential in the American League last season.
4. Tigers
Deep rotation, great 1-2 punch with Miggy and Prince, and
Torii Hunter
and
Victor Martinez
should improve the lineup.
5. Braves
Left-handed power, power bullpen and a young team that could improve from last year's 94 wins.
6. Blue Jays
Addition of Dickey adds a needed No. 1 to a rotation that could be dominant if
Josh Johnson
and
Brandon Morrow
remain healthy.
7. A's
Young teams that show big improvement are usually for real, and this team has a solid rotation, a strong outfield and power arms in the bullpen.
8. Dodgers
Have to love the
Clayton Kershaw
-
Zack Greinke
combo and an offense with big upside if
Matt Kemp
and
Adrian Gonzalez
come close to 2011 levels.
9. Rangers
I think the rotation is playoff-caliber with
Yu Darvish
,
Matt Harrison
,
Derek Holland
,
Alexi Ogando
,
Martin Perez
and
Colby Lewis
.

10. Cardinals
Have to replace
Kyle Lohse
, but they'll score plenty of runs as long as
Carlos Beltran
(36 years old in April) and
Matt Holliday
(33 in January) keep producing.
11. Rays
Still some holes in the lineup, and replacing
James Shields
' 220-plus innings won't be that easy, but underestimate the Rays at your own risk.
12. Angels
Oddsmaker Bovada.lv has the Angels with the second-best odds to win the World Series (behind the Blue Jays), but I see a rotation
with a lot of question marks
behind
Jered Weaver
, and
Josh Hamilton
only replaces Hunter, who was terrific in 2012.
13. Giants
I discussed
my issues with the Giants here
. I could be wrong, although our friends at Bovada only put the Giants tied for ninth in their World Series odds.
14. Diamondbacks
Their run differential wasn't much different than the Giants last year, and they've added
Brandon McCarthy
, infield depth and still have
Justin Upton
.
15. Phillies
I want to say we're all underestimating a team that includes
Cole Hamels
,
Cliff Lee
and
Roy Halladay
, but then I see an outfield of
Darin Ruf
,
Ben Revere
and
Domonic Brown
, and an infield defense that includes
Michael Young
and
Ryan Howard
and 30-somethings
Jimmy Rollins
and
Chase Utley
.
16. Brewers
They can score runs -- most in the National League last season -- and if the bullpen regroups after 2012's gruesome late-inning efforts, this team could surprise.
17. Red Sox
There will be no expectations after the disaster in 2012 (the franchise's worst record since 1965), but I see a big rebound coming.
18. Royals
I'll buy -- but I'm not buying a playoff spot.
Eric Hosmer
and
Mike Moustakas
have to take huge leaps forward ... or the Royals could be headed for another rebuild.
19. Orioles
Last season's 93-win playoff team provided a beautiful ride, but the Orioles haven't added that big bat they need.
20. Padres
Young team is moving in the right direction after winning 76 games in 2012. Can rotation improve to push Pads over .500?
21. Mariners
Mariners have pursued a big bat all offseason but were only able to pick up
Kendrys Morales
, and he cost them
Jason Vargas
, opening up a 200-inning hole in the rotation. Looks like 2014 before Mariners can make a push in the tough AL West.
22. Pirates
Still no No. 1 or even No. 2 starter (sorry,
A.J. Burnett
is a No. 3 at best) and not enough support for
Andrew McCutchen
. One of these years, Pirates fans, one of these years.
23. White Sox
No
A.J. Pierzynski
, a declining
Paul Konerko
, good year/off year
Alex Rios
due for an off year. Then again, White Sox had a bigger run differential in 2012 than the Tigers.
24. Cubs
Rotation of
Edwin Jackson
,
Jeff Samardzija
,
Travis Wood
,
Scott Baker
and
Scott Feldman
could be competitive, but offense won't be.
25. Mets
At least Mets fans can dream of a future rotation that includes
Matt Harvey
,
Zack Wheeler
,
Jonathon Niese
and Noah Syndergaard. Unfortunately, the 2013 version still includes
Frank Francisco
and a bunch of fourth outfielders.
26. Marlins
Giancarlo Stanton
still makes this team worth watching on a daily basis.
27. Indians
Getting
Trevor Bauer
in the Choo deal added a much-needed starting pitcher prospect. Unfortunately, much of the rest of rotation remains suspect.
28. Twins
Kevin Correia
,
Vance Worley
,
Mike Pelfrey
... what, Rich Robertson and Sean Bergman weren't available?
29. Rockies
At least the Twins have a direction as they wait for young position players to reach the majors. I have no clue what the Rockies are doing, intend to do, want to do, wish to do or hope to achieve.
30. Astros
Welcome to the AL West, boys.
April, 8, 2012
4/08/12
6:00
PM ET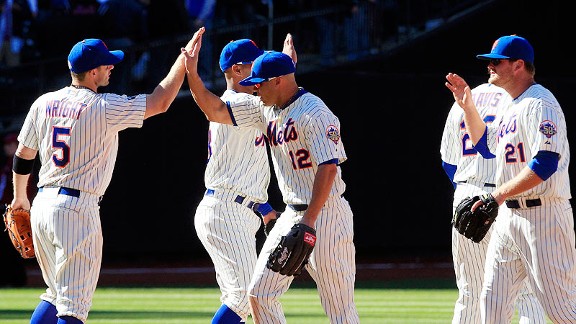 AP Photo/Frank Franklin IIThe Mets are off to a 3-0 start after sweeping the Atlanta Braves to start the season.
Hey, it's only one weekend but for one weekend
New York Mets
fans can rejoice in a simple statement of fact: the
New York Yankees
are 0-3 and the Mets are 3-0.
The
Tampa Bay Rays
' sweep of the Yankees was an important statement for the Rays, a team that has a brutal April schedule. The Rays follow up their series against the Yankees with a nine-game road trip to Detroit, Boston and Toronto, series at home against the Twins and Angels and then a three-game series in Texas. Not until they travel to Seattle and Oakland from April 30 through May 6 do they get an "easy" week. The Rays started 1-8 a year ago and managed to quickly dig out of that hole (they were 15-12 by the end of April), but this April schedule is a stiff challenge.
Jeremy Hellickson
, everybody's favorite pitcher to regress to the mean in 2012, did exactly what he did in 2011: Limit hits even though he didn't strike out many batters. Pitching on his 26th birthday, Hellickson took a three-hit, 3-0 lead into the ninth. After walking
Nick Swisher
on a 3-2 pitch with two outs -- his 118th pitch of the game -- Joe Maddon finally brought in
Fernando Rodney
for the final out. Hellickson walked four and struck out four but the top three hitters in the Yankees lineup (
Derek Jeter
,
Curtis Granderson
and
Robinson Cano
) went 0-for-11). As somebody wrote on Twitter, "Nobody induces more line-drive outs than Hellickson."
That was a knock against Hellickson's low average on balls in play in 2011 -- his .224 average was the lowest by a starting pitcher since 1988. But it's also a credit to Maddon and the Rays' defensive alignments. No team shifts and moves more on the defense than the Rays. You saw this result in several outs over the weekend, whether it was
Mark Teixeira
lining a ball to the second baseman playing in shallow right field or
Alex Rodriguez
grounding a ball over the second-base bag only to have the second baseman perfectly positioned.
Maddon will also move his players all over the batting order. Outside of
Desmond Jennings
in the leadoff spot and
Evan Longoria
in the three-hole, you never know how they'll line up.
Carlos Pena
hit second on Sunday and hit a third-inning home run off
Phil Hughes
. The Rays' lineup looks much stronger against right-handed pitching with southpaw power bats in Pena,
Matt Joyce
and
Luke Scott
. Teams would be wise to try and line up their left-handed starters against them.
Meanwhile, Joe Girardi looked like a kindergartner trying to take the SAT compared to Maddon. His intentional walk to
Sean Rodriguez
on Friday backfired when Pena hit a grand slam. He played
Eduardo Nunez
at shortstop on Saturday and his first-inning error led to two unearned runs. Look, Jeter will have to take days off throughout season and while you can understand the desire to sit him on turf, it's also just the second game of the season. Shouldn't Jeter be sitting against the Twins or Mariners or Orioles and not the Rays? And keep in mind that Nunez isn't any better on defense than Jeter; his Defensive Runs Saved in 2011 was minus-8 in 386 innings; Jeter's total was minus-14 in 1047 innings.
With Swisher battling a sensitive hammy, Girardi also put
Raul Ibanez
in right field on Sunday. This is akin to playing a fire hydrant out there. With two outs in the first Joyce blooped a ball to right field that should have been caught. Ibanez misplayed it into a triple, allowing Longoria to score the game's first run.
The Yankees travel to Baltimore on Monday, with
Ivan Nova
facing
Brian Matusz
. Nova had a rough spring, giving up 31 hits and five home runs in 22.1 innings, although he did have a 17/3 SO/BB ratio. The Yankees are 0-3 and while it's fun to pretend they are panicking, that's not really the case. This series was more about Tampa Bay doing everything right. But it is the Yankees, and when they start 0-3 that's not how most fans will view it.
* * * *
As for the Mets, they completed their sweep of the Braves as
Jonathon Niese
took a no-hitter into the seventh. The Mets nearly blew a 7-0 lead but held on for the 7-5 victory as
Frank Francisco
picked up his third save.
I watched a few innings of this game and one thing the Mets' hitters do is work the count very well. Atlanta starter
Mike Minor
threw 104 pitches in just five innings. On Saturday,
Jair Jurrjens
threw 102 pitches and didn't get out of the fifth.
Ruben Tejada
and
Daniel Murphy
may not have a lot of power at the top of the order but they're pesky, make you throw strikes and should go a nice job of getting on base. On Saturday, each saw 23 pitches in five plate appearances; on Sunday, they saw a combined 40 pitches as Tejada went 4-for-5 and Murphy 2-for-5.
It's easy to forget, but the Mets
did
lead the NL East in runs scored in 2011 -- despite playing in Citi Field. They did this with a lot of a patience as they led the NL in walks drawn. Yes,
Jose Reyes
is gone and
Carlos Beltran
was part of that production, but the Mets don't have any easy outs in the lineup. All eight regulars (
Andres Torres
landed on the DL with a calf injury after the season opener) are capable of posting a .340 OBP and that means the Mets could once again end up leading the division in runs.
Like the Rays, the Mets face a tough April: Washington, at Philly, at Atlanta, San Francisco, Miami, at Colorado, at Houston. Let's not overreact to three games and declare the Mets contenders, but I don't believe they're the 95-loss team that many fans believe. The Mets drew 27,855 on Easter Sunday, 14,000 short of capacity. It will take more than a 3-0 start to turns Mets fans into believers, but at least they can spend a few days having fun at the Yankees' expense.
Follow David Schoenfield on Twitter @dschoenfield.
April, 7, 2011
4/07/11
12:05
AM ET
A few days before the season began I was out running with Matt, one of my editors. Matt is a Mets fan and I was having a good time threatening to write a "Why the Mets could be the worst team in the National League" post.
I never got around to writing it; I guess I didn't really believe in the premise. But we all know nobody thinks the Mets will do anything in 2011, except maybe Bernie Madoff; not one ESPN insider predicted the Mets to make the playoffs. Baseball Prospectus projected the Mets to win 80 games. The Vegas over/under was 77 wins.
So even though they lost Wednesday night to the Phillies to fall to 3-2, they showed some energy by rallying from a 7-0 deficit to tie it. I liked what I saw (other than
Mike Pelfrey
). In fact, I have 10 reasons the Mets may be better than we believe.
1.
David Wright
is still a really good player. He fell out of the "SportsCenter" highlights during that 10-homer season in 2009, but hit 29 last season. If he gets his OBP back in the .390 range, he's one of baseball's best third baseman, a step below the
Ryan Zimmerman
/
Evan Longoria
duo.
2.
Jose Reyes
in a contract year. All the skills are still there. He still has the speed and the rocket arm. He doesn't turn 28 until June. I feel a big year, back among the NL runs leaders … and a big contract in the offseason.
3.
Angel Pagan
is for real. He's a solid center fielder, a switch-hitter with speed and just enough extra-base power to be dangerous. You can win a division title with Pagan out there. For example, is
Shane Victorino
really any better than Pagan?
4. Depth in the lineup. As Baseball Prospectus pointed out in its annual, the Mets gave 40 percent of their plate appearances to hitters worse than league average. Among the culprits with at least 100 plate appearances:
Luis Castillo
,
Rod Barajas
,
Alex Cora
,
Henry Blanco
and somebody named
Jesus Feliciano
. This year, the Mets go eight deep in the lineup, with catcher
Josh Thole
hitting eighth. And Thole isn't that bad. Not much power, but a decent .357 OBP as a rookie in 2010.
5.
Brad Emaus
. My colleague Eric Karabell loves Emaus. Trust in Eric. Hey, he's gotta be better than Luis Castillo. Of course, my couch is better than Luis Castillo.
6. The bench.
Lucas Duda
has some good minor league hitting numbers,
Scott Hairston
can hit lefties,
Daniel Murphy
is back after being injured last season and he's a nice utility guy.
7. Potential in the rotation. I am worried about Mike Pelfrey after two bad starts, but the rotation could be solid with
R.A. Dickey
, a step forward from
Jonathon Niese
, a comeback from
Chris Young
and
Chris Capuano
. Yes, they lack an ace unless
Johan Santana
returns healthy, but all these guys could at least be decent. And if you have five decent starters, you have a chance.
8. The bullpen is sneaky good. Hard-throwing
Bobby Parnell
is ready to emerge in the setup role,
D.J. Carrasco
is a ground ball specialist with a rubber arm who won't give up many homers,
Taylor Buchholz
was really good with the Rockies before getting injured. I'm no fan of K-Rod, but he's better than a lot of closers. (But can we dump the nickname please? He really hasn't been K-Rod since about 2007.)
9. Terry Collins. Let's put it this way: BP reminded me of the incident last season when Jerry Manuel had Castillo bunt in extra innings against Cardinals
outfielder
Joe Mather
. Collins is worth a win or two from a strategic/lineup viewpoint. Or maybe three or four.
10.
Carlos Beltran
's knees. I've avoided mentioning them until now. The Mets are due a little luck in the health department, right?
Add it all up and the Mets could win 86-87 games, and in the National League that could make them wild-card contenders.
Photo Of The Day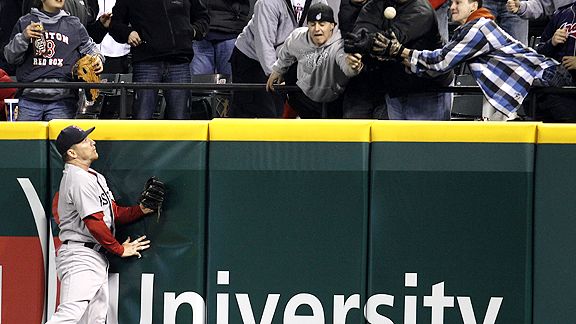 AP Photo/Tony DejakAs the Sox drop to 0-5, could Boston's J.D. Drew be singing "Come Sail Away" already?
July, 20, 2009
7/20/09
4:56
PM ET
As Howard Megdal notes, the injury suffered by
Fernando Nieve
in
Sunday night's game
means it's time for Jonathan Niese to get
a real shot
, finally:
Almost certainly, the injury paves the way for Jonathon Niese, one of the organization's most promising pitching prospects, to get a shot in New York. There are ample reasons for optimism in Niese that go beyond his famous birthday of Oct. 27, 1986 -- that's right, a pitcher could be born, grow up, get drafted and develop a major-league ready repertoire in the time since the Mets last won a World Series.

As documented by Toby Hyde, who is to Mets' Minor League prospects what Sheila Bair was to credit default swaps (check your 401(k) for details), Niese has been dominating lately. In his past eight starts, Niese has pitched to a 0.96 ERA, averaged better than seven innings per outing, with 46 strikeouts and just 13 walks. In short, he's made every offense he's faced look like the current New York Mets.

--snip--

In other words, it wasn't that the 2009 plan to rely on starting-pitching depth to carry the day in case of injury was flawed. It was relying on Tim Redding, Livan Hernandez and Freddy Garcia to be that depth. When the Red Sox did so using Brad Penny and John Smoltz, but also Justin Masterson and Clay Buchholz, the results were far different.

So, when John Maine returns, a rotation of Johan Santana/Perez/Pelfrey/Maine/Niese is the way to go. The Mets are nine games out, and it is time to deal Livan Hernandez. I write these words unhappily, since there is a tremendous pleasure as a baseball fan in watching Hernandez work, and I am particularly enamored with his 65 mile per hour curveball.
We've now seen this act from Hernandez for two straight seasons. Last year with the Twins he went 6-1 with a 3.90 ERA in his first nine starts, only to struggle terribly afterward while
Francisco Liriano
was dominating in the International League. This year the same thing -- 5-1 with a 3.88 ERA in his first 11 starts, followed by lots of batting practice -- except with Niese doing the Triple-A dominating.
Will another team really get sucked into this trap one more time?