March, 9, 2013
3/09/13
12:42
AM ET
Justin Verlander
,
Prince Fielder
,
Clayton Kershaw
and
Mike Trout
aren't on the United States roster, and their absence means a lot of fans don't care about the World Baseball Classic -- certainly not enough to spend a Friday evening in early March watching a baseball game between a largely no-name Mexico team and a still-star-laden U.S. team.
But this tournament isn't for fans who so willingly dismiss it. It's not even so much for fans in the United States, who are more focused on their professional teams or the impending NCAA basketball tournament. Earlier in the day, MLB reported that one-third of all television sets in Japan had watched the first-round games involving the Japanese team. I'm sure its dramatic comeback win over Taiwan on Friday morning rated even higher. Fans in Puerto Rico cheered on their team to a victory over Spain. Fans in Venezuela and the Dominican Republic care intensely about how their teams fare.
And Chase Field in Phoenix was nearly full for Friday's Mexico-U.S. game -- with maybe half that crowd rooting for Mexico.
Those
fans certainly cared that Mexico pulled off the huge
5-2
upset victory, essentially avoiding elimination after Thursday's heartbreaking ninth-inning loss to Italy. The players on the Mexican team certainly cared.
The Mexico lineup is pretty weak outside of Dodgers first baseman
Adrian Gonzalez
.
Jorge Cantu
hit fifth and he spent all of last year in Triple-A.
Karim Garcia
is still around and he hasn't played in the majors since 2004. But
R.A. Dickey
's knuckleball wasn't effective, a leadoff bloop single led to two runs in the first inning and Gonzalez torched a 73 mph knuckler to center field for a two-run homer in the third.
Other thoughts:
Pool D is really interesting now. It could all come down to run differential to see which two teams advance to the second round. If we assume the U.S. beats Italy on Saturday, and the U.S. and Mexico both beat Canada, then Italy, the U.S. and Mexico all finish 2-1. But Italy mercy-ruled Canada in a 14-4 victory, putting pressure on the U.S. lineup to do some damage in its next two games. The eighth inning could prove a key for the U.S., as Tim Collins and Steve Cishek worked out of a second-and-third, nobody-out jam.
After Dickey's performance, fans will be crying that Verlander or Kershaw or David Price aren't here. First off, Dickey wanted to be here and those guys didn't. Second, Dickey earned his invite as much as those guys would have, coming off his National League Cy Young Award. He just didn't have a good night. That's what happens in a tournament, not much different than what happens in the postseason: Anything can happen.
Joe Torre's lineup left a little to be desired. He hit Jimmy Rollins and Brandon Phillips 1-2, because they're fast and they hit at the top of the order for their regular teams. He hit Eric Hosmer sixth, pushing Giancarlo Stanton -- who only led the NL in slugging percentage -- all the way down to seventh, and Adam Jones, he of the 32 home runs last year, batting eighth. Stanton and Jones are better hitters than Rollins, Phillips and Hosmer. Torre might have been playing the hot hand with Hosmer, who had hit .391 in spring training with the Royals, and maybe he wanted to spread out his three left-handed hitters (switch-hitter Rollins, Joe Mauer and Hosmer). Still, a little more creativity would have had something like David Wright, Mauer, Ryan Braun, Stanton, Jones, Rollins, Phillips, Hosmer and catcher J.P. Arencibia.
Dodgers third baseman Luis Cruz had two key at-bats for Mexico. In the first inning, he delivered a sacrifice fly that was also deep enough to move Ramiro Pena to third, and Pena scored on Gonzalez's sac fly. In the fifth, after Eduardo Arredondo slapped an Ichiro-like double down the left-field line off Twins closer Glen Perkins and was bunted to third, Cruz delivered another sac fly.
Pitchers are allowed a maximum of 65 pitches in first-round games, but Yovani Gallardo was on a 50-pitch limit for Mexico. He looked sharp, allowing two hits and striking out four in 3.1 innings, but that meant Mexico had to rely on its bullpen, a day after using four relievers in that 6-5 loss to Italy. Royals righty Luis Mendoza escaped a jam in the fifth after walking the first two batters, striking out Arencibia on a nice 0-2 slider and then retiring Rollins and Phillips on ground balls. Oliver Perez got a key out in the sixth and Oscar Villareal pitched a scoreless seventh. The U.S. scored once off Cardinals reliever Fernando Salas in the eighth, and Giants closer Sergio Romo closed it out.
The Giants were undoubtedly nervous seeing Romo come in. They had apparently requested that Romo not appear in consecutive games, and manager Bruce Bochy has always been very cautious with his use of Romo. He threw 26 pitches Thursday, but this was a must-win game for Mexico. Saving him for Saturday's game against Canada doesn't make any sense if you lose this game. A reliever can't appear three consecutive days, so Romo is unavailable now for Canada.
Ryan Vogelsong starts for the U.S. against Italy, and while the Italian team is mostly comprised of U.S.-born players -- including several major leaguers -- they will start an actual pitcher from Italy: Luca Panerati, a left-hander who was in the Reds' system from 2008-11, never advancing past Class A. Last year, he pitched in the Italian Baseball League. Now he gets to face a team of the best players in the world. This is what the World Baseball Classic is all about.
December, 18, 2011
12/18/11
10:37
AM ET
By
Javier Maymí, ESPNDeportes.com
| ESPN.com
Carlos Zambrano
, who was hit in the head by a line drive earlier in the winter season, returned to action with the Caribes de Anzoátegui in the Venezuelan League. After three shaky starts, the embattled
Chicago Cubs
hurler finally came to form this week, pitching five hitless innings against the Aragua Tigres before yielding to the bullpen to complete an 11-0 shutout.
[+] Enlarge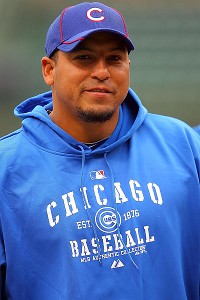 Dennis Wierzbicki/US PresswireCarlos Zambrano recently pitched five hitless innings in Venezuela.
In four starts, Zambrano has a 2.55 ERA in 17.1 innings while recording 13 strikeouts. However, he has been susceptible to the long ball as he gave up six home runs in his first 12 innings of work this winter. It was precisely his leaving the breaking ball up in the zone which led to Zambrano's problems in Chicago. He was placed on the disqualified list by the Cubs on Aug. 12 after giving up five home runs in a game against the
Atlanta Braves
. After being ejected for throwing behind Braves third baseman
Chipper Jones
, Zambrano cleaned out his locker and left Wrigley Field. He has since met with new Cubs president Theo Epstein and they're working on a way for Zambrano to get back on the Cubs' active roster.
The Caribes, managed by Julio Franco and trailing the La Guaira Tiburones by two and a half games heading into the final stages of the regular season, have relied on
Renyel Pinto
to be their ace as he has compiled a 6-0 mark with a 1.27 ERA in 10 outings and striking out 64 in 60 innings. Pinto, who pitched parts of five seasons with the Florida Marlins, was last seen in the majors in 2010 and was eventually released by the
St. Louis Cardinals
.
In another Venezuelan league note, former
New York Yankees
outfielder Hensley Meulens took over as manager of the last-place Margarita Bravos after the firing of Don Baylor.
Caribbean Interleague play
A contingent of All-Stars from the Dominican and Venezuelan leagues faced off this week in the Caribbean Interleague All-Star game in which Luis Jimenez shined with two home runs in Venezuela's 4-0 victory in Caracas.
Jimenez, a first baseman who has spent the past two seasons in the
Seattle Mariners
organization after playing a year with Japan's Hokkaido Nippon Ham Fighters, has anchored the Lara Cardenales' offense, hitting .298 with nine homers and 28 RBIs and is among the Venezuelan League leaders in average, hits, home runs, RBI, total bases, on-base percentage and OPS.
Minor league veteran Dwayne Pollock, who has had a solid winter with the Zulia Aguilas, recorded the win for Venezuela while
Lorenzo Barcelo
was saddled with the loss.
Ayala's milestone in Mexico
Luis Ayala
, a sought-after reliever in MLB's free agent market, reached a milestone as he became the seventh pitcher in Mexican Pacific League history to record 60 saves. Pitching for the Ciudad Obregon Yaquis, Ayala is perfect in eight save opportunities, yielding one earned run in 14.1 innings.
Ayala, who was used by the Yankees in middle relief last season, is reported to be hearing offers from six MLB teams for 2012, including the Yankees,
New York Mets
,
Toronto Blue Jays
,
Los Angeles Angels
,
Tampa Bay Rays
and
Boston Red Sox
.
Elsewhere in the MPL, former major league first baseman
Jorge Cantu
has had an immediate impact as he returned to action with the Hermosillo Naranjeros. In his first 17 games, Cantu is batting .328 with seven homers, 16 RBIs and a 1.102 OPS to help Hermosillo back into playoff contention.
Released last July 30 by the
San Diego Padres
after batting .194 in 57 games, Cantu signed a minor league contract with the Rockies but did not return to the majors and was granted free agency in November. At 29, Cantu has played eight seasons in the majors with Tampa Bay, Cincinnati, Florida, Texas and San Diego.
Rivera to return to Carolina's roster
The
Minnesota Twins
granted catcher
Rene Rivera
permission to return to the Carolina Gigantes of the Puerto Rico Baseball League a day after signing a new minor league deal that includes an invitation to spring training.
The Twins announced Rivera's signing on Dec. 13 along with the signing of
Sean Burroughs
, who revived his career with the
Arizona Diamondbacks
in 2011.
Rivera, who was
Joe Mauer
's substitute for 46 games last season, impressed with his defense as he threw out 40 percent of would-be stealers. In five games with Carolina thus far, he has four singles and a triple in 15 at-bats.
Burroughs, meanwhile, has been active in the Venezuelan League with the Bravos de Margarita, batting .326 in 35 games.
June, 4, 2011
6/04/11
12:00
PM ET
By
Christina Kahrl
| ESPN.com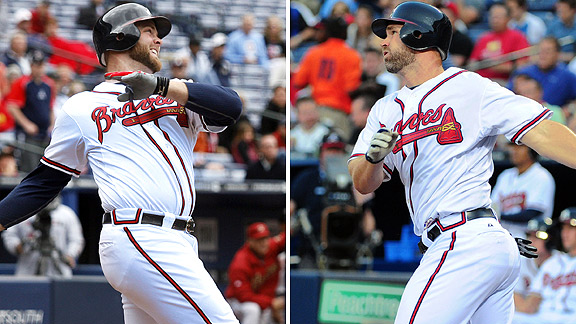 US Presswire/Getty ImagesThe lefty/righty catching platoon of Brian McCann and David Ross has been the NL's best this season.
If the American League has very few stable platoons but a few identifiable platoon players getting work, is the National League any better off? Even with today's bigger bullpens, the absence of a DH gives NL skippers and GMs a little more freedom to carry a player whose primary value is to platoon, since they have five reserves, so even if one is a catcher and another is someone who can play short, that still leaves space for the odd guy. Say, that journeyman who can knock a situational lefty right out of the box, or who can help put up a crooked number against that tiring right-handed starter in the fifth or sixth inning. And it doesn't hurt that these kinds of guys are handy for double-switches.
As in the American League, you find a few catching platoons of convenience, in which the backup backstop bats from the other side and conveniently gets his starts on the days the starter needs a rest. The Braves' setup with
Brian McCann
and
David Ross
is the best of the lot, but when Atlanta afforded itself Ross, it did so knowing it was getting more than a platoon player. The Mets' young/old and lefty/righty combo of
Josh Thole
and
Ronny Paulino
has its virtues. Charlie Manuel has the benefit of a slight inversion of the paradigm when
Brian Schneider
is healthy -- a lefty-batting backup is a lot easier to spot when
Carlos Ruiz
really does need a rest, since most pitching is right-handed -- but he's on the DL.
Stable platoons beyond those behind home plate are surprisingly limited in the Senior Circuit. I'd divide the current group of platoons in the league into three groups: committed, accidental and diffident, reflecting the level of planning and commitment that went into constructing them, and whether or not they're going to last more than a couple weeks.
Among the few we'd call committed, Clint Hurdle's stolidly running out his right-field combo of
Garrett Jones
and
Matt Diaz
. It isn't hitting all that well, but that was the plan, and so far, they're sticking with it. The Phillies anticipated a right-field platoon before the season, but
Domonic Brown
's injury kept that from becoming a reliable feature of Manuel's lineup cards until recently, pressing
Ben Francisco
back into an everyday role he handed back.
[+] Enlarge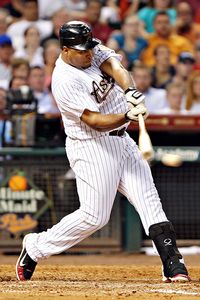 Troy Taormina/US PresswireThe Astros are 10-8 against lefties this season, which could be partly because that matchup allows them to move Carlos Lee out of left field.
In the infield, San Diego manager Bud Black has been reliably sticking with
Brad Hawpe
and
Jorge Cantu
as his first-base arrangement, but there's only so much Can'tu at the plate that even the Padres can endure. The rare multi-position platoon that's a matter of design, but also a certain diffidence is found in Houston, where Brad Mills is moving
Carlos Lee
between left and first base, but not every time out.
Brett Wallace
sits against a few lefties,
Jason Michaels
plays left and Lee moves to first and keeps getting to play every day. The 'Stros might have a 10-8 record vs. lefties, but getting Michaels into the lineup isn't the reason why. But re-potting the increasingly immobile Lee someplace other than left field might be a contributing factor.
Alone among their NL brethren, the Marlins have stuck with an infield platoon someplace other than first base, and they platoon at third without actually finding a set right-handed half of the platoon. Edwin Rodriguez has damned the defensive torpedoes to run
Greg Dobbs
out there every day against right-handers, while leaving his partner du jour as a matter of mystery -- sometimes it's
Wes Helms
, sometimes it was
Donnie Murphy
, and now sometimes it's the roving
Emilio Bonifacio
. Those happy few who root for the Teal Deal are no doubt on their seat's edge when their Fish face a lefty.
Among the accidental platoons, three NL West teams have setups they didn't necessarily expect. To the credit of both Bruce Bochy and Black, they've proven reliably willing to platoon, and they're assembling new ones on the fly after their initial designs broke down. Black got plenty of mileage out of his outfield platooning last year, but
Will Venable
flopped this spring, handing back his half of the right-field job. In his desperation, Black is pairing
Eric Patterson
with
Chris Denorfia
, which isn't helping matters.
While Bochy isn't trying anything quite as inspired as last year's mid-season lineup platoon between
Travis Ishikawa
and
Aaron Rowand
-- with
Aubrey Huff
moving to the outfield against righties and returning to first base against lefties -- he has been aggressive in getting
Nate Schierholtz
into the lineup against right-handers while playing
Cody Ross
daily. Rowand is getting platoon time with
Andres Torres
in center, but
Pat Burrell
hasn't been entirely reduced to Schierholtz's platoon partner.
Then their is the Dodgers' Don Mattingly. Some combination involving
Jay Gibbons
in left field was probably going to be part of the program at the outset, but Gibbons' spotty health, a passing interest in
Tony Gwynn
's speed, and
Marcus Thames
' breakdown opened up an opportunity for first baseman
Jerry Sands
to win the job. But like so many other thundersticks from Albuquerque in Dodgers history, his stick fell still in Chavez Ravine, and now Sands is in an accidental platoon with Gibbons until they decide there's a better alternative.
Injury created the Braves' temporary replacement platoon setup for
Jason Heyward
, as the
Eric Hinske
/
Joe Mather
platoon is working out nicely -- but it's also clear that pair will head back to pine time as soon as Heyward's healthy. In contrast, some managers look like they'd like to platoon more, but injuries have gotten in the way. The Brewers' Ron Roenicke appears committed to a
Nyjer Morgan
/
Carlos Gomez
platoon in center because of the speed 'n defense combo it provides, but Morgan's injury got in the way at the outset. If it sticks, that's the circuit's lone platoon arrangement up the middle someplace other than catcher.
The Pirates' loose platoon at the infield corners reflect what I mean by "diffident platooning." In contrast with his greater faith in his right field platoon, at the infield corners Clint Hurdle's sort of futzing around with
Steven Pearce
at both first and third vs. lefties to give him something to do, and sometimes
Brandon Wood
gets time at third. But it isn't an everyday sort of devotion, and has as much to do with
Pedro Alvarez
's career-stunting slow start and
Lyle Overbay
's offensive indifference than any abiding faith in Pearce or Wood.
I'd also chuck Kirk Gibson's first-base set-up into this category as well --
Xavier Nady
and
Juan Miranda
are platooning, sort of, but Gibson isn't exactly being a stickler about it. Since neither are hitting the people they're supposed to, and since neither plays first base all that well, it's more first base by coin toss at gunpoint than a straight platoon.
Platooning isn't automatically a good idea, after all, and if as Casey Stengel put it, "I could'na dunnit widdout the players," that's just as true today -- skippers can only use what they've got, no matter how clever they might be in how they employ it.
Christina Kahrl covers baseball for ESPN.com. You can follow her on Twitter.
October, 12, 2010
10/12/10
4:22
PM ET
From Marc Topkin, news about
tonight's lineups
:
Manager Joe Maddon went mostly right-handed in his lineup tonight, but did opt for lefty Dan Johnson at DH over Willy Aybar. Kelly Shoppach will be the catcher.

Maddon had said on Monday that he likely would go back to his righthanders, such as Shoppach and 2B Sean Rodriguez, but hadn't decided on the DH. Part of that was Johnson's ability to work tough at-bats even against lefty pitchers, such as Texas' Cliff Lee. And also that Maddon likes the flexibility of having the switch-hitting Aybar on the bench for a pinch-hit opportunity. In Game 1, the Rays used Rocco Baldelli, but he is no longer on the active roster.
As I've written, Maddon's cupboard is utterly bare when it comes to a DH who can hit lefties (which was true even before Baldelli went down). I don't know that Johnson is the best choice among bad choices, but I don't know that he's not.
Coincidentally, Ron Washington has almost exactly the same problem at first base. Rookie
Mitch Moreland
, a left-handed hitter, gives the Rangers decent production against right-handed pitching, but righty-hitting
Jorge Cantu
hasn't done anything against anybody this season. And like Maddon, Washington is foregoing the platoon advantage in favor of the guy who's actually hit some this season.
I just hope nobody lets Washington get away with claiming that he's saving Cantu as a pinch-hitter for a key moment in the most important game in franchise history.
July, 30, 2010
7/30/10
4:53
PM ET
A
flurry of moves
for the first-place Rangers!
The Texas Rangers continued to shore up their infield, trading for Washington Nationals shortstop Cristian Guzman, a source said Friday.

Guzman's agent, Stanley King, confirmed the trade to MLB.com.

Texas has been looking for infield help because it dealt first baseman Justin Smoak to the Mariners in the Cliff Lee deal, then Ian Kinsler went on the disabled list.

The Rangers acquired Jorge Cantu, who can play first, from the Marlins on Thursday. Guzman can fill the Kinsler void and take on a utility role once Kinsler returns.
At least one report suggests the Rangers are sending two "prospects" to the Nationals for Guzman, and that one of them is Double-A pitcher
Ryan Tatusko
. If either prospect ever makes any sort of contribution in the majors -- and Tatusko wasn't on anyone's radar screen before this season -- this is a pretty lousy deal. The Rangers have a huge lead, Kinsler's supposed to return to the lineup in three or four weeks, and Guzman isn't likely to see more than an inning or two of duty in October.
The Cantu deal makes more sense. The Rangers did give up a couple of actual prospects -- granted,
one of them
is recovering from Tommy John surgery and the other's a
Triple-A setup man
-- to get Cantu. But while Cantu's nothing special -- sorry, that .322 career OBP just doesn't impress me -- he should play against lefties and give the Rangers at least a
chance
of getting decent production from their first basemen. And Cantu, unlike Guzman, is likely to come up with a big hit in October.