SweetSpot:

Jorge De La Rosa
May, 17, 2014
May 17
12:49
AM ET
By
Michael Eder
| ESPN.com
Earlier on Friday, one of baseball's best young pitchers,
Jose Fernandez
, underwent Tommy John surgery.
Martin Perez
,
Matt Moore
,
Jarrod Parker
,
Brandon Beachy
and a list of far too many players have also been victimized by the same elbow injury. Just two months into the baseball season and it's growing hard to find teams that haven't been affected by this year's rash of pitching injuries.
After these surgeries, we're seeing more and more teams rely on their sixth starter, their seventh starter, and at times pitchers that we've hardly heard about. Just two days ago, the Yankees sent
Chase Whitley
to the mound after he had made just 14 minor league starts. And despite the talent level of pitchers seemingly declining with every subsequent injury, pitching in baseball has hardly taken a hit. We're seeing a ton of these no-names pitch better than some of the big-money starters of just a decade ago.
In 2013, starting pitchers owned an average 4.01 ERA, a 3.95 FIP, an 18.9 strikeout percentage, and a 7.4 walk percentage. This season, numbers have improved to an average 3.85 ERA, a 3.85 FIP, a 19.7 strikeout percentage, and a 7.5 walk percentage. I've seen and heard a handful of theories to explain baseball's evolution toward lower run totals. Some say that shifts significantly help pitchers save hits, while others say that the steroid era has ended and with it the home run boom of the 1990s and 2000s. Whatever you believe, there's no denying that even with a plague of injuries to very talented pitchers, more and more young starters are emerging in their place.
With the weather warming up and pitchers continuing to build arm strength, Friday night featured some prime examples of starter dominance. We saw a handful of shutouts, and even some complete games to go along with them. Teams like the Red Sox, Royals and Rangers were held to no runs. Starting pitchers dominated the night.
Max Scherzer
was perhaps the most predictable success of the night, however, it came against the reigning World Series champion Red Sox. Despite a 47-minute rain delay, Scherzer and
Jon Lester
pitched following the weather stoppage and both succeeded. Lester's five innings of four-hit and one-run ball just wasn't good enough to overcome Scherzer's six innings of shutout stuff. While we expected a pitching duel from both starters, their success through a rain delay and against such daunting offenses was somewhat unforeseeable.
Perhaps one of the night's most stunning performances came inside baseball's toughest pitcher's park.
Jorge De La Rosa
of the Rockies allowed just two baserunners all night, and didn't give up his first hit until the seventh inning. He ended the night with seven shutout innings, five strikeouts and 11 groundouts with no flyouts. Inside Coors Field, that is nearly the perfect strategy, keeping the ball on the ground or simply avoiding contact all together. After a dominant 2013 and a sour start to 2014, De La Rosa has now put together six consecutive quality starts.
Then there was
Chris Tillman
, who pitched a complete-game, five-hit shutout to shut down the Royals. Though he didn't dominant Kansas City's lineup with strikeouts (he had just three strikeouts while he walked just one), he showed a great command of the strike zone and induced weak contact with his four-seamer. Tillman now owns the lowest ERA (3.34) in the Orioles' rotation, beating out
Wei-Yin Chen
,
Bud Norris
and
Ubaldo Jimenez
.
The Reds' rotation, which projected to include
Mat Latos
,
Homer Bailey
,
Johnny Cueto
,
Mike Leake
and
Tony Cingrani
in the offseason, is now showcasing
Alfredo Simon
, a career reliever prior to this season. But Simon has emerged as far more than adequate, and after pitching 7 2/3 shutout innings with eight strikeouts against the Phillies, the right-hander now owns a 2.45 ERA over his first eight starts of the season.
Yet the strongest performance of the night came by a 23-year old right-hander who's hardly a household name in the prospect scene.
Drew Hutchison
, who has spotted lofty peripherals all season, finally put together a brilliant performance for the Blue Jays against the Rangers. Entering the game, Hutchison owned a strong 9.73 K/9 ratio, a 2.98 BB/9 ratio and an outstanding 3.14 FIP. The problem with that was he also had a 1-3 record with a 4.37 ERA. On Friday, Hutchison dominated the Rangers with a complete-game shutout. He allowed only four baserunners and finished with six strikeouts. He outdueled Rangers ace
Yu Darvish
and it only took him 105 pitches to finish off Texas.
There were a handful of other great starts on Friday, as baseball is slowly evolving towards a pitcher's game. Even with the injuries taking a toll on countless teams, it feels like young and unexpected starters are taking to the scene faster than ever.
Michael Eder writes for It's About the Money, a blog on the New York Yankees.
March, 27, 2014
Mar 27
12:44
PM ET
We're getting closer ...
Watched the Baltimore-Tampa Bay game on Wednesday night since it featured Opening Day starters Chris Tillman and David Price. Considering the teams are division rivals, both starters may have held back just a bit and neither pitcher went five innings. I think Price has a huge season coming, one reason I'm picking the Rays to win the AL East. Yu Darvish was going to be my Cy Young pick until his current stiff neck issue means he's going to miss the first week of the season and raises at least a little doubt over his season. I may shift now to Price -- or Max Scherzer or Justin Verlander -- as he became a strike-throwing machine when he returned from his DL stint last season, walking just 13 batters over his final 18 starts. When you can command your stuff like that and throw 95+ mph, a lot of good things are going to happen.
The Angels cut Joe Blanton even though he's owed $8.5 million on his contract. Teams still have a hard time admitting mistakes so give Angels GM Jerry DiPoto credit here for cutting bait. It was a bad deal at the time -- Blanton predictably got hammered in the AL after straddling the line of mediocrity in the NL -- and his poor performance (2-14, 6.04 ERA) was a major reason the Angels finished under .500. Blanton was worth -2.0 WAR last year, so even replacement-level pitching from the fifth spot will be an improvement.
Strong final start from Rockies Opening Day starter Jorge De La Rosa, with six shutout innings against the Giants with one walk and seven strikeouts. The Rockies will need Jhoulys Chacin to come back strong in May but I'm starting to think the Rockies could be that sleeper team to watch -- a team that finished below .500 in 2013 that could make the playoffs. A lot of that depends on the health of some injury-prone players -- Carlos Gonzalez, Troy Tulowitzki, Brett Anderson -- but if the back of the rotation holds up the Rockies could crack .500 and surprise.
The Mets still haven't decided between defensive whiz Juan Lagares and stolen-base dude Eric Young Jr. for a starting outfield slot. The Mets know Lagares can play center -- his great range and 15 assists allowed him to post 26 Defensive Runs Saved in 2013, the sixth-highest total of any fielder -- but also know the .281 OBP he posted may not get any better. OK, I get that he can't hit. But EYJR, who led the NL with 46 steals, had a .310 OBP with the Mets last year. Young has been worth 0.3 WAR in his major league career, Lagares valued at 3.5 WAR a year ago. Lagares doesn't have to improve with the bat to be a more valuable player than Young. Even if his defense slips a little (he may not get as many assists, for example), he's still the better player.
The Pirates locked up Starling Marte to a six-year, $31 million extension, buying out at least one year of free agency and owning options on two more. Looks like a great deal for the Pirates, exactly the kind of below-market rate they need to sign their young players to, and once Gregory Polanco reaches the majors at some point this year, you're going to see what could be one of the best defensive outfields in recent memory with Marte in left, Andrew McCutchen in center and Polanco in right.
Tanner Scheppers was named Opening Day starter for the Rangers, in what will be his first career start. I wonder how many pitchers have made their first career start on Opening Day? If I did the search right on Baseball-Reference, it looks like just three (at least since 1914): Lefty Grove of the Philadelphia A's in 1925, Jim Bagby Jr. of the Red Sox in 1938 and Al Gerheauser of the Phillies in 1943. So who were those three guys? Grove had been a star for years for Baltimore in the International League when the A's purchased him. Bagby, son of a former major leaguer, had gone 21-8 in the Class A New York-Penn League in 1937, enough for the Red Sox to start him against the Yankees as a 21-year-old rookie. Boston had been 80-72 in 1937, so starting a rookie seems a little odd. Gerheauser was a 26-year-old minor league vet who had pitched for Yankees' Triple-A club in Newark in 1942. The Phillies had lost 109 games in 1942, so probably were hoping some Yankee magic would rub off on them. (Actually ... that list looks like pitchers who made their major league debut as an Opening Day starter. Fernando Valenzuela's first career start -- after 10 relief appearances in 1980 -- came on Opening Day of 1981. He pitched a shutout and then reeled off seven more starts in a row of nine innings (one wasn't a complete game). He allowed four runs in those eight starts and we had Fernandomania.
So Randy Wolf was told he had made the Mariners' Opening Day rotation. And then got released. So ... what? Apparently, the Mariners asked Wolf to sign a 45-day advanced-consent relief form, which would mean the Mariners could release Wolf within 45 days and not have to pay his full season's salary. I didn't know such a possible contract existed, and I don't know how common such requests are, but Wolf refused to sign it and became a free agent. (Ryan Divish of the Seattle Times has the story here.) It's understandable why the Mariners would make the request -- Wolf didn't pitch in the majors last year and was last effective in 2011 and it's possible he would simply be holding a spot for a few starts until Taijuan Walker is ready, but considering Wolf was set to make just $1 million, it makes the Mariners look petty and cheap. It's already hard enough to get players to come to Seattle; this isn't going to help.
March, 25, 2013
3/25/13
11:45
AM ET
ESPN headline: "Rockies bolster rotation with Garland signing" ... well, I'm not sure I would have used "bolster" there.
OK, let's assume
Jon Garland
is healthy after making just nine starts in 2011 and missing all of last season with shoulder issues. He was in camp with the Mariners and it appeared like he was going to make the rotation until he didn't. So he exercised an out clause in his contract and
signed with the Rockies
.
By the way, Garland's spring statistics that apparently made the Rockies decided they needed him in their rotation: 12 innings, 10 hits, five walks, four strikeouts.
Which is who Garland is: Not a strikeout pitcher. In other words, he's the
worst
kind of a pitcher for Coors Field (not that there's really a good kind). What makes Coors such a good hitter's park isn't so much the home runs, but all the gaps in the outfield: It's a
batting average
park as much as it is a home run park. Last year, the Rockies hit .306 at home, .241 on the road; their opponents hit .306 at Coors, .273 at home.
Instead of focusing on groundball pitchers, I've always thought the Rockies should focus on strikeout pitchers -- even if that means strikeout pitchers who walk guys. What you don't want at Coors is balls in play, because at Coors, balls in play tend to fall for hits. Garland allows a lot of balls in play, which means he gives up a lot of hits. And while he has a reputation as a groundball guy, he still serves up his share of home runs. In his last full season in the majors, 2010 with the Padres, he allowed 20 home runs in 200 innings. Not a bad total, but that was in San Diego. And it was three years ago. He posted a fine 3.47 ERA that year, but it was 4.01 on the road. So even if things work out perfectly here there is little upside.
It's a low-risk signing by the Rockies; if Garland doesn't pan out, they'll just get rid of him, similar to what they did last year with
Jamie Moyer
after 10 starts. The larger issue is that the Rockies still feel the need to take these stabs in the dark at veterans like Moyer and Garland, both of whom were coming off seasons missed with injuries. You don't win pennants by hoping you get lucky.
The rotation will now include
Jhoulys Chacin
,
Jeff Francis
,
Jorge De La Rosa
,
Juan Nicasio
and Garland, with young lefty
Drew Pomeranz
likely headed to Triple-A (even though he was probably the team's best starter a year ago, not that that's an award to put in your trophy room).
Some people believe the Rockies have sleeper potential in 2013 with the likes of
Troy Tulowitzki
,
Carlos Gonzalez
,
Dexter Fowler
and
Wilin Rosario
leading the offense. With that rotation, I have serious doubts.
May, 25, 2011
5/25/11
3:11
PM ET
There are many reasons you should listen to Wednesday's three-headed
Baseball Today podcast

with myself, Keith Law and SweetSpot blogger David Schoenfield, but here are the top five:
1. Tuesday was a far different day for the De La Rosa pitchers, as one blew out of his elbow, and the other got the call to the big leagues. Are the
Colorado Rockies
in trouble replacing their De La Rosa? And what are the
Los Angeles Dodgers
doing promoting theirs?
2. Sticking with the NL West, do the
San Francisco Giants
want
to score runs? Of course they do, but then why aren't they playing their best hitters? Then again, this isn't the same offense it was a year ago.
3. Should MLB take a cue from Premier League soccer and bump out the bottom few teams each season? As always, Mr. Law brings a strong opinion.
4. We talk relief pitchers, from the hierarchy of the
Atlanta Braves
' top duo to the fellow that earned a three-year contract from the
Detroit Tigers
.
5. On Wednesday's docket is a rematch of one of the best pitched games of 2010. Not to give too much away, but you can find this game on ESPN2!
Plus: Excellent,
Glee
ful emails (send to
baseballtoday@espnradio.com
, incidentally), discussion about a few prospects in the upcoming draft,
Alfredo Simon
's presence in the big leagues,
Edinson Volquez
's presence in the minor leagues, why
Madison Bumgarner
isn't a bum and I wantonly ring the Kara-bell, all on Wednesday's Baseball Today podcast!
April, 15, 2011
4/15/11
9:00
AM ET
By
Christina Kahrl
| ESPN.com
The Giants might have been the preseason favorite to repeat in the NL West, and the Dodgers' loss of
Rafael Furcal
won't do them many favors
, but neither of those two teams are on top two weeks into the season. Who's riding high early? How about the Rockies?
Already 10-2, they're in first place after sweeping Thursday's doubleheader in New York against the Mets. Could the team that always seems to put the "wild" in wild card after epic in-season comebacks propelled them to October glory in both 2007 and 2009 win its first division title? Absolutely, and if the Rockies do, it'll be a testament to their adaptability.
Adaptability, you ask? That's the word I prefer, although because of those rallies to win the NL wild card, some folks might talk about their resilience. However, there was enough turnover between the various season editions of Colorado baseball -- including the celebrated switch to Jim Tracy in the dugout in '09 -- that it's somewhat hard to ascribe that to the players in isolation.
[+] Enlarge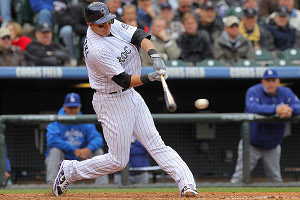 Doug Pensinger/Getty ImagesCould this be the year Troy Tulowitzki and the Rockies break through and with a division title?
The only pitchers still on the staff who contributed significantly to both the 2007 and '09 teams are
Ubaldo Jimenez
and
Franklin Morales
, and that's stretching the meaning of the word "significant."
Aaron Cook
will make that three guys if he really does come back from the 60-day DL in May.
Among the position players, you've got four holdovers: the current and former faces of the franchise,
Troy Tulowitzki
and
Todd Helton
, in the everyday lineup. They also have frequently frustrating catcher
Chris Iannetta
, and handy, dandy fourth outfielder
par excellence
Ryan Spilborghs
. So as far as this entire team's concerned, we're talking about all of six or seven guys -- out of 25 -- who can talk about multiple playoff experiences in purple and black.
That isn't a negative, not by any stretch. The Rockies' turnover across five years reflects what a tremendous job GM Dan O'Dowd and his staff have done at restocking that roster and digging up value, both through player development and their acquisitions from trades and the floating pool of available talent. Building around this core talent -- or core talents of Jimenez and Tulo, when you get right down to it -- they've made inspired trades, leveraging their last season in control of
Matt Holliday
into
Carlos Gonzalez
and
Huston Street
, or getting
Jorge De La Rosa
from the Royals in a nothing-seeming sort of deal. But they've also added just enough homegrown talent over that time.
Which is why I think we're better off crediting the Rockies as an organization for their adaptability. This isn't about moisturizing the ball to overcome the challenge of playing at altitude, or at least it isn't just about that. Even with the humidor, Coors Field is still the best hitters' park in baseball. That's OK, because the Rockies didn't win in 2009 because of their home-field advantage, they won because of three key inter-related factors.
First, they led the majors in quality starts, a surprising development to no little extent because they were counting on journeyman
Jason Marquis
and Rays roster-crunch refugee
Jason Hammel
among their front five. But those starters had the benefit of a quality supporting cast in the field, reflected somewhat in the best park-adjusted defensive efficiency in the National League. Finally, they finally had a lineup that wasn't entirely park-dependent and was drawing walks everywhere, leading the league in free passes. Those three play-everywhere factors contributed to a franchise-best 41-40 road record.
As far as upsetting the Giants' applecart and winning their first division flaglet, this year's team should have those same three things going for them. Gone are the days of that 2007 team that goosed its offense by depositing a pair of former first basemen,
Brad Hawpe
and
Garrett Atkins
, at other corners and taking the defensive hit that came with it. The offense is again rating among the league's best at drawing walks anyway. And on the staff, even with Cook out, thanks to the breakthrough of
Jhoulys Chacin
in the rotation last year and the retention of De La Rosa, they might have an even better rotation than 2009's improbable outfit. Jimenez is now better established among the game's best starters, Chacin might be the third man in a homegrown trinity of top talent.
However, the hope that Tulo stays healthy and in the lineup (and on the field) is perhaps the fulcrum around which both their offense and defense depends upon, which is why he rated well on some preseason ballots for MVP. There's nothing coincidental about the fact that, when he's been able to play a full season -- he did in both 2007 and 2009 -- Rocktober becomes a possibility. If he's able to manage another 150-game season this year, the MVP award won't be the only hardware he'll have a shot at.
Christina Kahrl helped found Baseball Prospectus in 1996, is a member of the BBWAA, and covers baseball for ESPN.com. You can follow her on Twitter here.
February, 12, 2011
2/12/11
11:10
AM ET
By
Drew Fairservice
| ESPN.com
Your view of
Colorado Rockies
GM Dan O'Dowd's offseason moves depends on your perspective. If you work in the Rockies' accounting department, you are acutely aware of the large trucks full of money delivered to both
Troy Tulowitzki
and
Carlos Gonzalez
; ensuring two core pieces will breathe mountain air for many years to come. The Rockies also re-signed free-agent rotation mainstay
Jorge De La Rosa
and bullpen anchors
Rafael Betancourt
and
Matt Lindstrom
.
The biggest splash the Rockies made on the open market this winter was a move that wasn't. The Rockies' long-rumored interest in Rangers third baseman
Michael Young
hit a fever pitch when the Rangers "slugger" announced his desire for a trade. The Rockies and Rangers couldn't get a deal together, and both sides stopped just short of pronouncing the deal dead this week. Instead, the Rockies opted for minor moves like acquiring
Jose Lopez
and
Ty Wigginton
. The important question remains: Are they any closer to challenging for the N.L. West crown?
In a word: Yes. The 2010 Rockies won 83 games, finishing 9 games behind the Giants after a wild month of September. Entering the month trailing the division leading Padres (!) by 7 games, the Rockies lost two one-run games to the Giants before rattling off 10 straight wins -- powered solely by Tulowitzki's
hair and good looks
. (Also his home runs: Tulo hit eight in that 10-game span.) Suddenly, the Rockies sat only 2.5 games out of the division lead. Unfortunately for Colorado, that was as close as it got. The Rockies slumped to the finish, eventually losing 15 of their 19 remaining games.
The Rockies proved they have the talent to take a run at the playoffs in 2010 and, by solidifying the core of their team, they're able to add fringe pieces with potential like Lopez and Wigginton. Lopez wore out his welcome in Seattle with a (perceived) bad work ethic and poor plate discipline. Lopez was terrible at the plate in 2010 but can supply some pop -- especially after moving from spacious, right-handed-hitter killing Safeco to Coors Field. Not to mention his excellent defense across nearly all advanced metrics in his first full season at third base.
Wigginton posted equally dire numbers to Lopez at the plate in 2010, without the benefit of superlative defense. Serving as a right-handed utility bat to spell creaky first basemen
Todd Helton
and
Jason Giambi
would be the best option for Wigginton.
Getting full seasons from both
Chris Iannetta
and
Jhoulys Chacin
should only prove the Rockies have one of the best young cores in all of baseball. Adding veteran pieces to address specific concerns is the mark of a good GM. O'Dowd's moves this winter might not be sexy, but his team is a solid pick to take down the Giants in 2011.
Drew Fairservice writes the Blue Jays blog Ghostrunner on First. Follow him on Twitter.
September, 17, 2009
9/17/09
11:52
AM ET
Among the responses to
this morning's post
about last night's Giants-Rockies game, the one I anticipated runs something like this: "You have disrespected
Jorge de la Rosa
! How dare you call him a "journyeman"!
Well, OK. I was in San Francisco, and the post was written from that perspective. No, I was not writing for the hometown fans. But when you're sitting there in the press box, the fans literally close enough to touch, it's hard to approach things from the visiting team's perspective. For me, anyway. And I thought losing to Jorge de la Rosa was a bit more poignant, a bit more painful -- a better
story
-- than losing to
Ubaldo Jimenez
or
Jason Marquis
or
Aaron Cook
would have been.
Was that fair, though? I'm not sure how you define "journeyman," but de la Rosa is 28 years old and he's pitching for his fifth organization. As a major leaguer, he's pitched for three teams and now has a 40-40 record with a 5.13 ERA. Yes, he now seems to have found a home with the Rockies ... But did you have him, in March, winning 15 games this season. Did you have him pitching the best game of his career in perhaps the biggest game of the Rockies' season?
Because he did. Last night's eight innings, three hits, two walks, nine strikeouts and zero runs adds up to an 83 Game Score; in 92 previous starts, de la Rosa had never topped 80 (and had come reasonably close only a few times).
So, yes: Perhaps Jorge de la Rosa should now be described as an ex-journeyman. However, until very recently he could also have been described as the Rockies' No. 4 starter. And Wednesday night in the biggest game of his career, he pitched the best game of his career.
Now that's a story.
September, 17, 2009
9/17/09
1:18
AM ET
There's no such thing as a
must-win game
in the middle of September. But there are games that
feel
like must-win games. And, sitting in the press box at
Willie Mays Park
Wednesday night -- and by the way, the press box here must be as close to the fans as any press box in modern baseball history -- this one did feel pretty important.
When I was younger and more skeptical and someone would refer to one game resulting in a "two-game swing," I couldn't understand it. "How can one game be two games? That's not mathematically correct!"
Eventually, I got it. For any skeptics out there, here's a real-world example: If the Giants could beat the Rockies Wednesday night, the Giants would have trailed the Rockies in the wild-card standings by just one-and-a-half games, which is sort of the standings equivalent of a bloop-and-a-blast; it can happen in the blink of an eye. But if the Giants were beaten by the Rockies, and they would trail by three-and-a-half games.
This is what it comes down to, then: Can you beat journeyman Jorge de la Rosa with your No. 2 starter on the mound? If you can, your postseason chances still burn brightly. If you can't ... well, in the Hierarchy of Horribles, being three-and-a-half games behind with two-and-a-half weeks left doesn't top the list.
But then you look at the schedule, and you see that among the Giants' 16 remaining games, 10 will be road games (including three in the decidedly enemy territory of Los Angeles). And you see that among the Rockies' 15 remaining games, nine will be home games. And you see that the Giants won't have another head-to-head shot against the Rockies this season. And you realize that while the Giants didn't have to win Wednesday night ...
Well, in the Hierarchy of Horribles, if you're a Giants fan, losing to Jorge de la Rosa -- being practically shut out by Jorge de la Rosa, then coming oh so close in the ninth inning -- and having to play that schedule, and having a lineup full of struggling hitters ... well, that's gotta be pretty close to the top.
Then again, I don't know that anyone on the Peninsula has any cause for complaint -- Jorge de la Rosa or no Jorge de la Rosa. The Giants are 13th in the league in scoring, and you might recall that six months ago, they weren't given even the slightest chance to be playing for anything but third place right around now. Unless your favorite team is the Yankees or the Red Sox, all you can really hope for, each season, is that your team is still playing games that mean something, right around now. That your team's games must be seen or heard, because each pitch quickens your pulse.
And the Giants' games will still do that, for at least a few more days. Catching the Rockies might now rank somewhere on your Hierarchy of Impossibles. But it's not at the top. Not yet.