September, 28, 2014
9/28/14
1:59
PM ET
Jose Altuve
told the
Houston Astros
he wants to start Sunday's finale rather than sit to preserve his lead in the batting race over
Victor Martinez
of the
Detroit Tigers
.
Altuve enters the day hitting .340, and Martinez is at .337. If Altuve didn't play, Martinez would have to go 3-for-3 to pass Altuve, giving him a .3407 average compared with Altuve's .3399. If he plays the whole game, Altuve risks lowering his average and giving Martinez a better chance to catch him. Of course, if Altuve goes 1-for-1 and then sits down, then Martinez has to go 4-for-4 to catch him.
That's what
Jose Reyes
did back in 2011 when he won the NL batting title with the Mets with a .337 average. Reyes reached on a bunt single in his first at-bat and then pulled himself from the game, to much criticism.
Ryan Braun
needed to go 3-for-4 to pass him (he didn't and finished at .332).
But Reyes was hardly unusual in his decision. Bill Mueller of the Red Sox sat on the final day of the 2003 season, pinch-hitting in the eighth inning, and finished at .326, one point ahead of teammate
Manny Ramirez
(who also sat that day, so it could have been a manager's decision with the Red Sox heading to the postseason) and two points ahead of
Derek Jeter
, who went 0-for-3. Bernie Williams of the Yankees left the 1998 finale after six innings and a 2-for-2 performance that gave him a .339-to-.337 edge over Mo Vaughn.
One of the most famous "sits" occurred in 1976. Ken Griffey Sr. of the Reds entered the day leading the NL race with a .338 mark, while Bill Madlock -- a guy who obsessed over batting titles (he would win four) -- was hitting .333. With a seemingly safe lead, Griffey was on the bench in Cincinnati when the game began. Sparky Anderson originally had Griffey's name in the lineup, but several teammates urged Griffey to sit. So he did. When asked about the decision, Anderson replied, "Is this for print? Because I have two different ways to answer that."
But in Chicago, Madlock would go 4-for-4 to raise his average to .339 (he was pinch-hit for in the eighth inning). Seeing what had happened in Chicago, Griffey finally entered the game in the seventh but would go 0-for-2 and finish at .337.
Bill James once wrote of Madlock, "Sometimes it seemed like all he cared about was winning the batting title. The last month of the season, if he was in the hunt for a title, the guys in the press box used to run a poll to see who could pick the days that Madlock's hamstring would keep him out of the lineup."
Madlock's last title came in 1983, when he hit .323 for the Pirates, while Lonnie Smith of the Cardinals hit .321. Check out Madlock's final week:
Game 157: Played the entire game
Game 158: Started, played three innings
Game 159: Started, played four innings
Game 160: Started, played four innings
Game 161: Started, played one inning
Game 162: Didn't play
Seems a little weird, doesn't it? Madlock did tear a tendon in his calf muscle in early September and missed some time, and it was clearly an issue all month. But why did he keep trying to play? By then he had accumulated enough plate appearances to qualify for the title (he finished with 530). Maybe he knew of his reputation and didn't want the perception that he was sitting on his lead. Smith made a late run -- he was hitting .314 with a week left in the season -- and went 2-for-4 on the final day to fall just short.
An incident similar to the Griffey-Madlock episode occurred in 1982, when the Royals' Willie Wilson led the Brewers' Robin Yount .332 to .328 on the final day. The Royals were at home, but the Brewers were in Baltimore (needing a win to beat the Orioles for the AL East title), and Yount went three for his first four (two home runs and a triple!) to raise his average to .331 and lead the Brewers to a big win. By then, the game in Kansas City had started with Wilson on the bench. The Royals called Baltimore to keep track of Yount's progress. With Yount possibly getting one more at-bat, the Royals stalled their game to see if Wilson would need to enter. Yount was hit by a pitch in the ninth. Wilson sat and the batting title was his.
In 1986, Wade Boggs and Don Mattingly were in a tight race down the stretch, with Boggs leading by four points with six games to go. The Miami Herald reported, "Though the Red Sox have clinched the AL East title, Boggs, 28, says he intends to play every remaining game."
He didn't. He missed the final five games with a hamstring injury. The Red Sox and Yankees played each other the final series, and by the final day, Mattingly had to go 6-for-6 to catch Boggs. "What if I go 5-for-5. Will they pitch to me the sixth time?" Mattingly asked. He went 2-for-5, and Boggs had the title. He was back in the Boston lineup for the ALCS.
These episodes don't even touch on some of the other controversial batting races. Most notably, 1910 between Ty Cobb and Nap Lajoie, when Lajoie caught Cobb by going 8-for-8 -- including several bunt hits -- in a season-ending doubleheader against the Browns, who basically kept their third baseman way back to allow the hits out of spite for Cobb. Then there was 1976, when Royals teammates George Brett and Hal McRae were dueling for the title. It came down to the final inning, and Brett needed a hit to pass McRae (who was on deck). Brett's fly ball fell in front of Twins left fielder Steve Brye and turned into an inside-the-park home run. McRae grounded out, made two obscene gestures to the Twins dugout and had to be restrained from going after Twins manager Gene Mauch after the game, accusing Brye and the Twins of letting Brett's ball drop on purpose. (
More on that whole episode here
.)
Anyway, it's nice to see Altuve electing to play the finale. Or at least start it. Now, if he goes 1-for-1 and then sits ... well, it won't be the first controversial batting title. [
Postscript: He didn't come out, had two hits in his first three at-bats, so yeah, this is awesome.
]
September, 3, 2014
9/03/14
8:05
AM ET
1. The Tigers had the biggest win of the night.

J.D. Martinez's magical season continued with a three-run shot to dead center off Cody Allen in the ninth to give the Tigers a 4-2 lead that Joe Nathan then protected. With Allen struggling to throw his breaking ball for strikes, Martinez had to be sitting fastball and he didn't miss. If we did an "All-Surprise Team" for 2014, Martinez would certainly be on it. (Hey, good idea for a blog post!) While it was a big win for the Tigers, keeping them a half-game behind the Royals, it was even more of a crushing defeat for the Indians, who dropped 5.5 games behind the Royals. (Keep in mind that Cleveland leads Kansas City 4-2 in the 10th inning of that suspended game.)

2. Buster Posey: Late entry into the MVP discussion.

The Giants rallied from a 6-0 deficit at Coors Field to beat the hapless Rockies 12-7. Posey went 3-for-4 with three runs and four RBIs and is now hitting .302/.355/.484 thanks to a big second half so far. While Hunter Pence has probably been more valuable over the course of the season for the Giants, if Posey continues his surge and the Giants catch the Dodgers, I can see Posey getting MVP support for the whole "carried the Giants to the division title in the second half" thing that voters love. It would be reminiscent of 2012, when he hit .385 in the second half to win MVP honors.

3. Brewers can't be feeling good.

A 7-1 loss to the Cubs was their seventh in a row -- two to the Cubs, three to the Giants and two to the Padres. Carlos Gomez is still out with a sprained wrist and will miss another week. After another game with the Cubs comes a four-game series at home against the Cardinals. That could be a make-or-break series for the Brewers. Hard to see a rebound coming at this point: After that 20-7 start in April they've been four games under .500.

4. Big night for Jose Altuve's quest for a batting title.

The Astros' second baseman went 4-for-5 to raise his average to .340, eight points ahead of Victor Martinez. The pennant-race implication was that the Astros beat the Angels 8-3 as C.J. Wilson struggled again and got knocked out in the fourth inning. Even his two "good" starts in recent weeks weren't that good as he struggled with his walks. The Angels maintained their lead as the A's lost 6-5 to the Mariners when a late rally fell short, but Wilson's issues are, well, an issue. I know I just wrote that the Angels will win the West, but Angels fan and SweetSpot TV guest host Cary Chow informed me that I was premature with that suggestion.

Let's be honest: Clayton Kershaw is the MVP, the Cy Young, the Everything.
Eight innings, three hits, one run, eight K's. Although Bryce Harper did tag him for a home run, the first he's given up to a lefty all season. Put that one in your back pocket, just in case the Dodgers and Nationals meet in October.
July, 8, 2014
7/08/14
12:38
PM ET


It's the award-winning Rapid Fire! Today, Eric and I discuss the Angels' rotation, more replay confusion, Jose Altuve's chances of winning the batting, Manny Machado and the Orioles and whether Felix Hernandez wins the Cy Young Award and more!
April, 4, 2014
4/04/14
1:00
PM ET
Houston Astros
manager Bo Porter hit
Jose Altuve
cleanup the past two games, which certainly makes him one of the more unique cleanup hitters in history. Altuve is listed at 5-foot-6, which may be generous an inch or two, and has just 14 career home runs in over 1,500 plate appearances.
Porter
explained
his thinking to MLB.com reporter Brian McTaggart on Wednesday: "Obviously, Altuve and [Jason] Castro are arguably our two best hitters, and having (Dexter) Fowler and (Robbie) Grossman at the top, those two guys are switch-hitters who can get on base. When you hit Castro third and a right-hander is pitching, you're basically making sure the left-hander gets the extra at-bat given the matchup scenario."
I like that Porter at least had a sound reason for his thinking, unlike the explanation Nationals manager Matt Williams gave for hitting
Bryce Harper
sixth the other day: Williams said he wanted to take some pressure off the 21-year-old left fielder. Castro is a better hitter than Altuve, so Porter wanted to give him an extra at-bat, if it came to that. Reasonable enough. Most managers would then hit
Chris Carter
in the cleanup spot, and while Carter did hit 29 home runs last year, it also came at the expense of a .223 average and 212 strikeouts, hardly what you'd prefer from a cleanup hitter.
Anyway, I asked on Twitter if Altuve was the shortest cleanup hitter ever. Several readers immediately responded with Hack Wilson, who hit 56 home runs and drove in a record 191 runs for the Cubs in 1930. Wilson was also listed at 5-foot-6, a short but obviously immensely powerful man.
Here's a photo
of him when he played for Brooklyn and here's one
with Babe Ruth and Lou Gehrig
.
Another reader pointed out Rabbit Maranville, like Wilson a Hall of Famer. But Maranville got there because of his glove at shortstop, not his bat. Listed at 5-foot-5, Maranville played in the majors from 1912 to 1935 and hit .258 with 28 career home runs. His OPS+ was above the league average in just two full seasons, in 1917 and 1919.
Yet he regularly hit cleanup for one of the more famous teams of the first half of the 20th century, the 1914 Boston Braves.
A little history: In the 1890s, the Boston franchise in the National League -- then called the Beaneaters -- was a powerhouse, winning five pennants between 1891 and 1898. But from 1903 through 1913 the team finished under .500 every season, usually in last place, and had four straight seasons of 100-plus losses from 1909 to 1912. Under new manager George Stallings, they were a little better in 1913, going 69-82, but there certainly weren't high expectations for 1914.
The Braves had made one big offseason acquisition, acquiring second baseman Johnny Evers from the Cubs. Maranville was entering his second full season, as were pitchers Bill James and Dick Rudolph, so there was some youth to build upon.
Maranville started the season hitting first with Evers second, but Stallings soon reversed them in the order and they hit 1-2 through May and into June. On June 9, however, Stallings put Evers back in the second spot, moved cleanup hitter Larry Gilbert to leadoff and Maranville to the cleanup spot. The Braves were 13-28, in last place and already 12.5 games out of first place. The Braves were still in last place on July 18, still 11 games out with a 35-43 record.
Then, seemingly out of nowhere, came one of the great stretch drives in major league history. The Braves went 59-16 the rest of the way. From July 7, on, James went 15-1 and Rudolph 13-1. Lefty Tyler threw five shutouts. The team also acquired three outfielders, Possum Whitted (yes, the Braves had a Rabbit and a Possum), Josh Devore and, in late August, Herbie Moran from the Reds. Stallings began platooning at all three outfield spots. While a little platooning had been done before this, it had never been done before on that scale. It worked; the Braves averaged 3.8 runs per game in the first half and 4.8 in the second. They won the pennant by 10.5 games, finished second in the league in runs scored and became known as the Miracle Braves.
Maranville would remain the team's cleanup hitter through late August. When Moran came over, he usually hit leadoff, moving Gilbert or Whitted to the cleanup spot. Maranville was moved down to seventh. Still, he would start 73 games in the cleanup spot (he hit there only three other times in his career) and led the team with 78 RBIs, even though he batted just .246. The Braves swept the Philadelphia A's in the World Series, leading to Connie Mack ripping apart his team and sending the A's into a decade of futility. (Some have suggested Mack believed his team had thrown the World Series.)
It was short-lived success for the Braves. The following season, Evers got hurt and James, who had gone 26-7, hurt his shoulder (he was never again effective). They were back under .500 by 1917 -- where they would spend 14 of the next 15 seasons. They wouldn't win another pennant until 1948.
May, 16, 2012
5/16/12
12:30
PM ET
Jerry Crasnick
has a story
today on
Jose Altuve
, the exciting spark plug for the
Houston Astros
. Yes, I just wanted to write "spark plug." At 5-foot-5, Altuve looks like a player better suited to 1896 than 2012. But the dude can hit. Anyway, here's an all-time all-short team in honor of our new favorite second baseman.
C: Yogi Berra, 5-7 (1946 to 1965)
A Yankees scout who saw Berra when he was a teenager turned in this report: "He does everything wrong, but it comes out right." Berra refused to sign with his hometown Cardinals because they wouldn't give him the same bonus as his neighborhood pal Joe Garagiola. Berra knew he was better. He was right.
1B: Joe Judge, 5-8 (1915 to '34)
First basemen are supposed to be tall and powerful, and Judge is the only 5-8 or shorter one to have a lengthy career. He was a good player for the Washington Senators, although he didn't hit for much power (71 career home runs). He hit better than .300 nine times and finished with a .298 average and more than 2,300 hits. Judge broke Walter Johnson's ankle during spring training in 1927, essentially ending Johnson's career. Bill James wrote that when Johnson later managed the club and had to bench an aging Judge, the two men who had been best friends ended up in a nasty public feud.
[+] Enlarge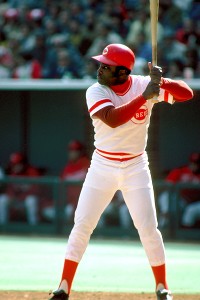 Malcolm Emmons/US PresswireThe 5-foot-7 Joe Morgan was inducted into the Hall of Fame in 1990.
2B: Joe Morgan, 5-7 (1963 to '84)
The two-time MVP and Hall of Famer was easily the best player in baseball during his 1972-1976 peak. When we did the all-time best season bracket, I wrote about
Morgan's remarkable 1975 season
, when he was five wins better than any other NL player. (Although Baseball-Reference.com has since modified its WAR calculations, and that margin is down to 3.4 wins.)
3B: John McGraw, 5-7 (1891 to 1906)
Although remembered as one of the greatest managers ever, McGraw was a valuable third baseman in the 1890s because of his on-base skills. In 1899, he hit .391 and drew 124 walks for a .547 OBP, the fourth-highest single-season mark. Back in McGraw's day, third base was actually more of a defensive position than second base because of the large number of bunts employed, so you see a lot of small, spry third basemen up until the 1920s. The only notable "modern" third basemen under 5-9 would be
Chone Figgins
and Grady Hatton, a good player with the Reds in the late '40s/early '50s.
SS: Freddie Patek, 5-5 (1968 to '81)
Listed at 5-5, Patek might have been an inch shorter. You could go Phil Rizzuto (5-6) or Rabbit Maranville (5-5) here, but we'll give Patek bonus points for being even shorter than those two guys. Nicknamed "The Flea," Patek was a three-time All-Star with the Royals and finished sixth in the 1971 AL MVP vote.
LF: Tim Raines, 5-8 (1979 to 2002)
Raines deserves to be in the Hall of Fame. He was an on-base machine and one of great base stealers ever. If we lower the bar to 5-7 (there haven't been many short left fielders), we'd go with George Burns, a Raines-type player with the Giants in the teens and early '20s who led the NL five times in runs scored.
CF: Hack Wilson, 5-6 (1923 to '34)
Built like Kirby Puckett except even shorter, stronger and more barrel-chested, a unique figure in baseball history. Wilson is rare among short players in that he had enormous power, leading the NL four times in home runs, including 1930 when he drove in an MLB-record 191 runs with the Cubs. His career fell apart after that because of heavy drinking and his Hall of Fame résumé is based on a scant five-year run, but you wonder whether such a player could even exist today.
RF: Willie Keeler, 5-4 (1892 to 1910)
Keeler arrived in the big leagues as a third baseman with the New York Giants, but the Giants sold him to Brooklyn for $800. He was later traded to the Baltimore Orioles, where he played with McGraw as the Orioles won three straight NL pennants from 1894 to 1896. A .341 career hitter and Hall of Famer, and Baseball-Reference.com lists Keeler as a left-handed thrower (he hit lefty), but that's a mistake. Here's a
picture of him
late in his career with the Giants, throwing right-handed.
DH: Matt Stairs, 5-9 (1992 to 2011)
He actually didn't DH all that much, but there haven't been many short guys to play more than a handful of games at DH. We'll put Stairs here, especially because he's generously listed at 5-9. Brian Downing, 5-10, became a regular DH the last few years of his career (1973 to 1992).
P: Dolf Luque, 5-7 (1914 to '35)
"The Pride of Havana" won 194 games, including 27 with the Reds in 1923. He had a good fastball and big curveball and from 1921 to 1928 averaged 262 innings per season. There were some excellent short pitchers in the 1800s, but of course we see very few short hurlers in modern baseball. Since 1950, the pitcher with the most wins who was 5-9 or shorter is Tom Gordon with 138, and only five have won 100. At 5-10 (listed heights), you get Whitey Ford and Billy Pierce.
RP: Roy Face, 5-8 (1953 to '69)
Credited with 193 saves, Face is famous for his 18-1 season with the Pirates in 1959. He also saved three games for Pittsburgh in the 1960 World Series.
May, 3, 2012
5/03/12
4:19
PM ET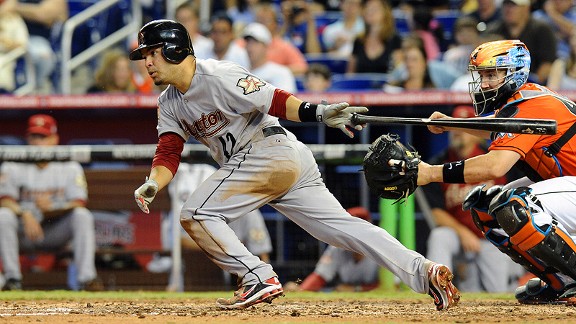 Steve Mitchell/US PresswireJose Altuve is off to a great start for the Astros, hitting .358 through May 2.
Houston Astros
second baseman
Jose Altuve
is a 5-foot-5 hitting machine. His strike zone is the size of an iPhone. He looks like
Dustin Pedroia
's little brother. Opposing pitchers may confuse him for the bat boy.
Until he steps to the plate
, that is, and rings a base hit past their earlobe or stings a double into the gap or lofts a liner down the right-field line. He doesn't turn 22 for a few days, but Altuve is hitting .358. He's not a big home run threat, but he does have 11 extra-base hits. In other words, the kid can flat-out hit and I'm going to make a bold statement. He can win a batting title ... and maybe as soon as this season.

He's not good enough, you say? Hey, he hit .389 in the minors last season. Plus I like that he's showing a little more patience this season. He's not a big walker, but his walk rate in 57 games as a rookie last season was just 2.1 percent (five walks in 234 plate appearances). This year, it's up to 7.6 percent. He's dropped his percentage of swings at pitches outside the strike zone from 43.7 percent to 24.3 percent. So far, only
Ichiro Suzuki
has a higher overall contact percentage than Altuve. So when he swings, he makes contract. He's improving his pitch recognition. He's hitting .358.
He's too young or too inexperienced, you say? Well,
Alex Rodriguez
turned 21 years old in 1996 when he hit .358 to win the AL batting crown. Al Kaline won a batting title when he was 20. Rod Carew was 23 when he won his first title. Wade Boggs was older but in his first full season when he hit .361 in 1983 to win the AL crown. Don Mattingly's only batting championship came in his first full season. So it can be done.
It will likely take a mark in the .330 to .345 range. Six of the past seven NL batting leaders hit between .335 and .344 (the exception being
Chipper Jones
' .364 mark in 2008). Can Altuve do that? Am I nuts for thinking so? Am I nuts for suggesting he'll end up with a higher batting average than
Albert Pujols
at season's end? (See poll.)
Follow David Schoenfield on Twitter @dschoenfield.
May, 3, 2012
5/03/12
1:56
PM ET
What a day in baseball on Wednesday! Eric Karabell and myself could have done a two-hour
Baseball Today podcast
. Here are some highlights of a jam-packed show. Eric even tricked me into comparing
Jose Altuve
to Al Kaline and
Alex Rodriguez
. OK, maybe I did that to myself.
1. We discuss
Jered Weaver
's no-hitter, of course, and wonder how many more no-hitters we'll see this season.
2. We discuss that wild, improbable game in Atlanta between the Phillies and Braves. Are there reasons to be concerned about
Roy Halladay
?
3. That's only the tip of the iceberg of a crazy night -- bad calls,
Jason Giambi
's walk-off homer,
Jake Arrieta
dominating the Yankees and more.
4. We answer some emails about
Mat Gamel
's injury and other stuff.
5. Finally, we look ahead to Thursday's action and I declare that Jose Altuve is a batting title contender.
Check it all out on Thursday's
Baseball Today podcast
, and don't miss Friday's show with Mark Simon and awesome guests Jayson Stark and
Tampa Bay Rays
pitching coach Jim Hickey.
May, 1, 2012
5/01/12
1:54
PM ET
It was another eventful chat session as we discussed Albert Pujols' homerless April and asked readers to project his final numbers. We discussed many things about the Minnesota Twins, gave a shout-out to the awesome Jose Altuve, tried to figure out what the Angels should do with Mark Trumbo, wondered who the first manager to be fired will be (yes, once we again Dusty Baker's name came up!), wondered how much bad defense has to do with the poor starts by Max Scherzer and Josh Johnson, wondered how much good defense is helping Jeremy Hellickson, debated the Nationals' attendance issues and pointed out that Pujols' slow start is stealing attention away from Jose Bautista's slow start. All that and more!
Check out the transcript here
.
May, 1, 2012
5/01/12
1:13
AM ET
Yep, just another boring April of baseball where nothing exciting happened. We only had one of the
greatest April performances
of all time. We had a perfect game. We saw the Red Sox blow a 9-0 lead at home to the Yankees -- and lose by six runs. We saw one of the best hitters of all time turn into one of the worst players in the game, at least for a month. We saw pitchers dominate -- 20 starters have an ERA under 2.00. We saw a 19-year-old phenom make his major league debut. We saw a venerable veteran hit .389 with 37 hits. To cap it off, on the final day of the month we saw
Ryan Braun
hit three home runs out of the Grand Canyon -- aka, Petco Park.
Braun is the first player to hit three home runs at Petco, no mean feat considering it's something like 748 feet to the power alleys. As impressive as that achievement is, it doesn't quite land Braun on our all-April All-Star team.
C: Yadier Molina, Cardinals (.316/.369/.592, 4 HR, 15 RBIs)
Molina is proving last season's power surge was no fluke as he ripped out nine doubles and four home runs in April. He's nailed 43 percent of basestealers and the Cardinals have a 2.61 staff ERA. Terms like team leader are thrown out a bit loosely, but there's little doubt Molina is the heart and soul of the Cards. If not for
Matt Kemp
, you could make a case for Molina as April's MVP.
1B: Bryan LaHair, Cubs (.390/.470/.780, 5 HR, 14 RBIs)
One of the feel-good stories of the month, the 29-year-old minor league veteran was given the first base job only as a placeholder for prospect
Anthony Rizzo
. He may not give it up quite so easily. Thirteen of his 23 hits have been for extra bases and, incredibly, he's batting .676 when not striking out. Yeah, yeah ... that impossible to keep up, of course. Still, he could make for some interesting trade bait for a team in a pennant looking for some power at first base. (Yes, we mean you,
Los Angeles Dodgers
.)
2B: Ian Kinsler, Rangers (.298/.400/.574, 5 HR, 12 RBIs)
Most impressively: 24 runs in 23 games. Since 1950, only 11 times has a player scored 140 runs in a season. Only one of those --
Jeff Bagwell
in 2000 -- scored 150 runs. If Kinsler can maintain that .400 OBP -- 45 points higher than last season -- he may have a shot.
3B: David Wright, Mets (.389/.494/.569, 3 HR, 14 RBIs)
Last season was a rough one for third basemen, as several of the top guys landed on the DL. Things got so bad that
Scott Rolen
made the NL All-Star team. It's a different story in 2012, as six regulars are hitting over .300,
Miguel Cabrera
is hitting .298 with power and
Chase Headley
is off to a terrific start for the Padres. But Wright kept his OBP over .500 until the final day of April. Cardinals fans will point to
David Freese
's 20 RBIs, but Wright's big lead in walks (16 to four) gives him the edge.
SS: Derek Jeter, Yankees (.394/.437/.585, 4 HR, 13 RBIs)
So much for needing a rest. Jeter played every game this month (four starts at DH) and led the majors with 37 hits. His 10 extra-base hits are already nearly one-third of the 34 he punched out a year ago. The range at shortstop remains problematic, but nobody seems to care right now.
LF: Josh Hamilton, Rangers (.395/.438/.744, 9 HR, 25 RBIs
OK, maybe I cheated a little bit here: Hamilton has played twice as many innings in center in left. Sorry,
Josh Willingham
.
CF: Matt Kemp, Dodgers (.417/.490/.893, 12 HR, 25 RBIs)
We bow down to your greatness, Mr. Kemp, and can't wait to see what you do in May.
RF: Corey Hart, Brewers (.270/.360/.635, 6 HR, 13 RBIs
Not bad for a guy who had knee surgery in early March and wasn't expected to be ready for the start of the season.
DH: David Ortiz, Red Sox (.405/.457/.726, 6 HR, 20 RBIs)
Remember April and May of 2009, when Big Papi hit .185 with one home run? "Trust me, I am not finished," Ortiz said in early June of that year. Many Red Sox fans wanted the club to release him. A Boston columnist called for the club to do so. Maybe it did come close to doing so.
P: Jake Peavy, White Sox (3-1, 1.67, 37.2 IP, 21 H, 5 BB, 33 SO
My pitcher of the month for April, it's great to see Peavy healthy and slinging again. He put together a terrific first five starts, in part because had to face Boston, Texas, Detroit and Baltimore in four of those games.
P: Stephen Strasburg, Nationals (2-0, 1.13, 32 IP, 22 H, 6 BB, 34 SO
He's allowed four runs in five starts ... and has two victories. Please explain to your friends why wins are overrated. He's been absolutely dominant, hasn't allowed a home run and with the Nationals leading the NL East, the speculation has already heated about what the club will do about Strasburg's supposed innings limit if the club is in the pennant race in September. We'll worry about that then; for now, let's enjoy a master at work.
RP: Aroldis Chapman, Reds (2-0, 0.00, 12.1 IP, 5 H, 4 BB, 21 SO)
He's gotten 37 outs -- so 57 percent of his outs have come via the strikeout. It leaves one to wonder: How would he do starting? Please, Dusty, give us the chance to find out.
Guy I wanted to put on the team: Jose Altuve, Astros (.360/.404/.547)
The little guy can flat rake. Enjoy, Astros fans.
Strikeouts don't mean everything award: Derek Lowe, Indians
Lowe is 4-1 with a 2.27 ERA even though he has just nine strikeouts in five starts.
Most un-All-Star: Albert Pujols, Angels (.217/.265/.304, 0 HR, 4 RBIs)
Sorry, with $240 million comes more pressure, more scrutiny and expectations that maybe you'll hit one or two home runs per month. Pujols was arguably the worst player in baseball in April. Who would have thought we'd ever hear such words?
PHOTO OF THE DAY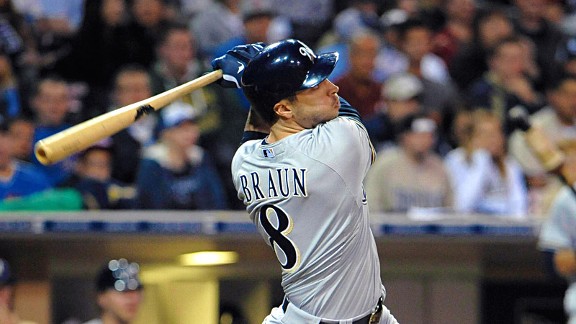 Denis Poroy/Getty ImagesRyan Braun hits his fourth-inning home run -- his first of three big blasts.
Follow David Schoenfield on Twitter
April, 27, 2012
4/27/12
12:12
AM ET
I tweeted a note Thursday morning from our Stats & Information department: Only two walk-off home runs had been hit so far (by Alex Aliva and
Todd Helton
), the fewest this late in a season since 1982.
Sure enough, we got another one later in the day when Tampa Bay's
Brandon Allen
golfed a low fastball from
Jordan Walden
over the wall in right-center for a dramatic two-run blast to give the Rays a 4-3 victory over the Angels, completing a series sweep over the reeling
Albert Pujols
& Co.
In typical Joe Maddon fashion, he pulled the right strings in sending Allen up to hit for
Jose Molina
. Claimed off waivers last week from the A's, Allen had just one previous plate appearance with Tampa, drawing a key bases-loaded walk the night before. So he hadn't really swung the bat since April 7. He hadn't delivered a hit all season, since he went 0-for-7 with five strikeouts with Oakland. Walden tried to blow him away with five straight fastballs, but Allen crushed a 2-2, 97-mph four-seamer deep into the stands, getting up and personal with his teammates during the ensuing home-plate celebration.
Allen is a fringe major leaguer, a guy with big-time power but who has struggled to make contact in his brief trials with Arizona and Oakland. In many ways, it was just another baseball game, a mid-April affair played on an afternoon when most of the sports world was focused on the NFL draft. But, you know, this game could end up being one of the best moments of Allen's big league career, which makes it pretty neat in my book.
"Baseball is luck. It's a lot of luck. You just do what you can to prepare for it," Allen said after the game. "I just got in there and stayed within myself."
Maddon had told Allen to be ready when the Rays signed him. "To do this, to basically win two games for us two nights in a row, is pretty special," Maddon said.
The Rays are 12-7, which isn't necessarily surprising since many picked them to make the playoffs. But what is surprising is they've done this amid a tough April schedule and they've done it with a lot of offense, supposedly the team's weakness.
Currently fourth in the AL in runs scored, Tampa's hitting attack looks legitimate.
Evan Longoria
is hitting .309 with a .427 on-base percentage.
Matt Joyce
is proving last season's All-Star appearance wasn't a fluke with a .322/.394/.644 start.
Carlos Pena
is hitting .284 and drawing walks.
Luke Scott
is providing power from the DH slot. Add in
Ben Zobrist
,
Desmond Jennings
and
B.J. Upton
and you get the feeling the Rays may score some runs.
And the pitching ... Well, you get the feeling the pitching hasn't even gotten their groove on yet.
Here are three more big surprises after three weeks.
1. Lance Lynn and Kyle Lohse.
The Cardinals have withstood
Chris Carpenter
's injury and
Adam Wainwright
's slow start since these two guys have dominated. Lynn replaced Carpenter and, yes, he's faced the Cubs twice and the Pirates in three of his four starts. But he has allowed one run in each start and has an impressive 24/6 SO/BB ratio. Remember, Lynn was a first-round supplemental pick and a decent prospect coming up through the minors before excelling in the bullpen last season as a rookie. Actually, he's still a rookie. He has a good arm, he is a 6-foot-5 beast on the mound and there is a good chance he's a solid No. 3 starter. As for Lohse, I'll be honest: I didn't expect him to repeat last season's 3.39 ERA. He has kept his changeup down in the zone so far and hasn't allowed a home run, leading to a 0.99 ERA. Both have a chance of being middle-of-the-rotation starters ... or better, certainly more than the back-of-the-rotation guys I projected them as.
2. Jose Altuve
This little guy can rake. He's off to a .377 start, which is surprising enough, but the biggest surprise is the mature approach the 5-foot-5 21-year-old has shown at the plate. After hitting .389 between Class A and Double-A last season, the Astros called him in July. While he hit a respectable .276, he drew just five walks in 234 plate appearances, leading to concerns he would be exposed this season. But he has already drawn seven walks, and after swinging at 41 percent of pitches outside the strike zone as a rookie, that has dropped to 25 percent this season. He's a key reason the Astros are third in the NL in runs scored and playing respectable baseball -- they're 7-12 but have outscored their opponents.
3. Pirates pitching
OK, the Pirates are hitting .221 with a .269 OBP. But they're 8-10 behind a pitching staff that has allowed less than three runs per game. The Pirates have neither scored nor allowed more than five runs in a game. Can they keep it up? Even though the starters have a 2.59 ERA, I'm a little skeptical. The Pirates' 6.54 K's per nine ranks 25th in the majors. Their .256 BABIP allowed is third-best. Those two numbers are a bit at odds with each other. It should be noted we saw a similar result last year as the Pirates had a good run in the first half before collapsing. Still, give credit to the pitchers (and defense) for an amazing run of games.
PHOTO OF THE DAY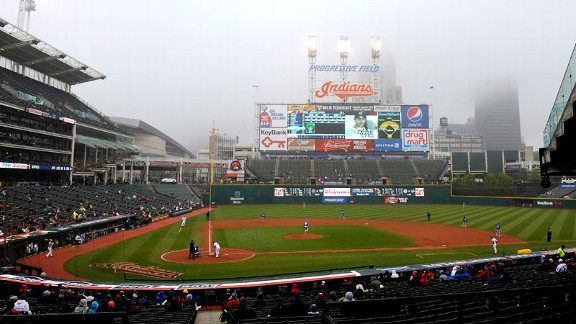 Jason Miller/Getty ImagesTemperature in Cleveland: 58 degrees. Attendance: Generously listed at 9,229.
March, 20, 2012
3/20/12
3:55
PM ET
OK, we had to do the
Houston Astros
at some point.

The Astros went 56-106 in 2011 -- and that was with
Michael Bourn
playing 105 games and
Hunter Pence
playing 100. Those two are gone and the Astros outfield regulars appear to be
J.D. Martinez
,
Jordan Schafer
and
Brian Bogusevic
.
Wandy Rodriguez
and
Bud Norris
headline the rotation, with guys like
J.A. Happ
,
Jordan Lyles
,
Henry Sosa
and
Kyle Weiland
competing for the other three spots. Veteran innings eater
Brett Myers
was moved from the rotation to the closer role, presumably to make him a more attractive trade chip come July. The Astros allowed the most runs in the National League in 2011 so there's nowhere to go but up. Moving Myers to the pen won't help that.
Bright spots?
Jose Altuve
is a young second baseman, a little guy with potential at the plate. Martinez will get the chance to prove to skeptics that he's more than a fourth outfielder. Schafer, once a top prospect with the Braves, is still only 25. Maybe this is the year he learns to make better contact.
But that may be optimistic dreaming; realistically, this team is staring at 100 losses again. The new regime in Houston knew a complete overhaul of the franchise was in order, so they'll jump at the first opportunity to trade Myers or Rodriguez or
Carlos Lee
, in the slim chance that a team will take on a portion of their remaining contracts. The over/under is 62.5. I'll take the under.
December, 3, 2011
12/03/11
12:48
PM ET
By
Javier Maymi, ESPNdeportes.com
| ESPN.com
Former Arizona Diamondbacks and Oakland Athletics slugger Erubiel Durazo is in the midst of one of his best winter league seasons, playing with the Hermosillo Naranjeros of the Mexican Pacific League. Through his first 40 games, Durazo has hit seven home runs with 30 RBIs while batting .267 with an on-base percentage of .324.

Once a promising and powerful left-handed bat, Durazo's career was slowed by an array of injuries. In his last full major league season in 2004, he hit .321 with 22 home runs and 88 RBIs for the A's, earning him votes for American League MVP. His biggest highlight, however, came in 2001 when he hit a two-run homer off Tom Glavine in Game 5 of the National League Championship Series to help the Diamondbacks into the World Series. He was traded to Oakland in 2002.

Injuries kept Durazo to just 41 games in 2005, which led to his release by the A's. He has since signed minor league contracts with the Rangers, Twins, A's and Yankees, who released him in 2007. He has played in the Mexican summer league ever since.

At 37, Durazo said recently he would not mind returning to the majors and would consider an invitation to the Caribbean Series should his Naranjeros not win the MPL championship.

Peguero's bat comes alive in the Dominican

Carlos Peguero, one of the Seattle Mariners' outfield prospects, is currently leading the Dominican League in home runs, doubles and runs scored and is among the leaders in average and RBIs. Playing for the Cibao Gigantes, the left-handed hitting Peguero is batting .310 in 31 games with nine home runs and 24 RBIs to lead the Gigantes into playoff contention.

The Gigantes have also received a pleasant surprise from Erick Almonte, who eight years removed from his last major league game returned to the big leagues in 2011 as an outfielder with the Milwaukee Brewers. Almonte is batting .314 but his power numbers are way below pace with just six extra-base hits and only 16 RBIs in 124 at-bats.

Meanwhile, Yankees pitcher Hector Noesi continues to impress while pitching for the Licey Tigres as he earned Player of the Month honors in November with a 3-1 record and a 2.22 ERA over 28 1/3 innings.

Altuve tearing it up

Fresh off his first half season in the majors, Houston Astros second baseman Jose Altuve is in the middle of a monster season with the Magallanes Navegantes in the Venezuelan league.

The 21-year-old Maracay native is hitting .378 with an on-base percentage of .409 through 38 games, good enough to be among the league leaders in average, at-bats, runs scored, hits, doubles, triples, total bases, extra-base hits and slugging. Altuve is trying to make his case for the starting job with the Astros where he is projected to compete with Matt Downs.

Aviles to play the outfield in Puerto Rico

Aware that the Boston Red Sox have a gaping hole in right field, third baseman Mike Aviles will be joining the Ponce Leones this week to work on his outfield skills in hope that he can compete for the right field job in spring training.

Aviles, who hit .317 in 38 games with Boston last season, has experience in all four infield positions, but did not play the outfield in his first three seasons with the Kansas City Royals. He did play five games -- one in left and four in right field -- for the Red Sox.

Leones general manager Frankie Thon -- the brother of former Astros infielder Dickie Thon -- said Aviles should join the team this week and play for the remainder of the regular season.