SweetSpot:

Jose Contreras
April, 26, 2014
Apr 26
7:40
PM ET
By
Christina Kahrl
| ESPN.com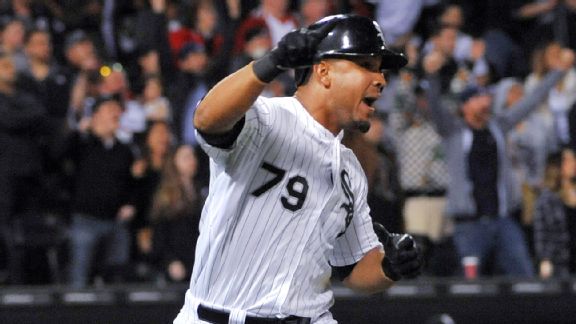 David Banks/Getty ImagesCuban slugger Jose Abreu is already giving White Sox fans cause to celebrate.
With first baseman
Jose Abreu
busting out big in the early going, you can't help but get a little more excited about the White Sox than you might have been before the season. If you're in Chicago, you could already anticipate that attendance was going to continue to plummet after last year's 99-loss debacle, because the White Sox weren't just bad last year -- worse yet, they were boring.
And sure enough, the Sox are already drawing more than 2,400 fewer people per game and have dropped to 14th in the league in attendance, foreshadowing what might be an eighth straight season of declining attendance. Even accepting it's been a chilly spring, they're being outdrawn by the Astros and the Rays. Something has to change that, and the hope is that Jose Abreu might be what does it.
That's because the White Sox have been here before in terms of being in the doldrums in the turnstiles, and they've had a Cuban superstar ride to the rescue to shake up a moribund franchise and make it watchable. In 1951, it took the addition of Minnie Minoso, the Cuban Comet, to propel them to the franchise's first season with more than a million people in the seats. (And guess what? As soon as they traded Minnie to the Indians in 1958, they dropped back below a million.)
It's asking a lot of Abreu to be an instant All-Star, as well as an attendance magnet with that kind of instant impact. And who can match the reliably upbeat Minoso -- still active with the White Sox's community relations department at a spry 88 -- in terms of charming people back into the stands. But with Abreu, if you look at the swing, the power, the early results and even
something as dramatic as Friday's night's decisive grand slam
, it's hard not to have that kind of optimism when it comes to White Sox watchability in the summer to come. Abreu is already tied for the league lead in home runs, and that's before the weather warms up in Chicago and the Cell becomes the homer haven Sox fans know and love.
[+] Enlarge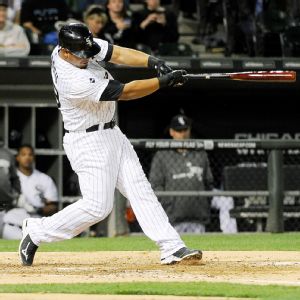 David Banks/Getty ImagesCan the kind of clout Jose Abreu brings to the plate pay off in the stands as well?
Abreu might be inheriting the Minoso mantle in terms of the franchise's historic good vibe when it comes to adding Cuban talent, but perhaps more significantly he represents the best news yet in an organizational adaptive strategy to compensate for its other failures on the player development front. One of the reliable facts about the White Sox as an organization over more than the decade is that they rarely rank well when it comes to farm system assessments, but it gets worse when you look at how they've done drafting and developing position players. Among White Sox position players still with the team,
Gordon Beckham
leads with 5.4 career WAR generated across six different seasons -- essentially, a guy a nose above replacement level is the best they have to show from the past 10 drafts.
Dial it back to White Sox drafts since they selected their last homegrown All-Star, center fielder
Chris Young
, in the 16th round of the 2001 draft, and the past 13 White Sox drafts have generated a total of 30.3 WAR among position players. Young is responsible for almost half of that (14.7 WAR), followed by platoon outfielder
Ryan Sweeney
(6.5), and then Beckham. Other "success" stories include infielder
Chris Getz
(1.8 WAR), catcher
Chris Stewart
(2.3) and outfield reserve
Jeremy Reed
(2.0). You will not find them on the cover of anybody's media guide.
As much as the draft hasn't been a strong point for the Sox, signing Latin talent generally also hasn't been an area in which they've been able to make up for it. The Sox haven't been able to go toe-to-toe with organizations who have invested heavily in getting talent out of the Dominican Republic or Venezuela.
They've worked around these handicaps in a couple ways, providing player procurement instead of spending on player development. First, they've traded for other people's prospects, with
Tyler Flowers
,
Adam Eaton
,
Conor Gillaspie
and
Avisail Garcia
being the current best examples (even with Garcia out for the season). But the real winner for the White Sox has been throwing money at quality Cuban talent, opening the checkbook to paper over their other failures.
It started with
Alexei Ramirez
, the Cuban Missile. He was almost instantly a bargain after inking his four-year, $4.75 million deal, because Ramirez was big league-ready at an up-the-middle position as soon as they signed him in January 2008. As soon as Ramirez reached an arbitration-related opt-out of the original deal, he and the Sox hammered out a four-year extension for $32.5 million with a 2016 option. If you focus on what he doesn't do (walk), you risk overlooking what he does: stay healthy, play a good short, steal bases and deliver more power than your average shortstop (which matters in a park that rewards well-lofted fly balls). If they don't pick up the option, they'll have gotten nine years out of Ramirez for about $4.3 million per year, where
the current average payday for shortstops is $4.2 million per annum
.
Dayan Viciedo
inked a big league deal with the Sox just 11 months later in December 2008, but as a 19-year-old, he took a couple years in the minors to adapt to playing stateside as well as develop. Admittedly, the Sox haven't gotten the same return on investment, having paid just under $3 million per year over his six seasons in the organization (including his $4 million signing bonus), but that's what you get when you take a chance on young talent. However, even though it seems as if he's been around forever, he has just turned 25, and an age-25 season is right around where a player's normal peak production should begin. Even before Garcia's injury, 2014 seemed like it was going to be a make-or-break season for Viciedo, who has shown better plate coverage this year, while walking more and striking out less. If he keeps that up, we're back to talking about a guy good for 25 to 30 homers per year. The fact that the White Sox have control of him through 2017 could make him a long-term investment that will pay off.
Add in a historic association with Minoso and the White Sox's success in salvaging Jose Contreras' career in the Aughties, and there's probably no more logical place for Abreu to have landed than Chicago. Having already employed the Cuban Comet and Cuban Missile, we'll have to see what nickname gets awarded to Abreu with the White Sox. If he keeps crushing nine homers a month, that -- like the attendance problem -- might just take care of itself.
Christina Kahrl writes about MLB for ESPN. You can follow her on Twitter.
April, 25, 2011
4/25/11
2:56
PM ET
Top five reasons why you should listen to Monday's really long
Baseball Today podcast

with myself and Mark Simon:
1. The Red Sox and Rays are on fire! Hmm, which one of us gave up on those teams a mere 10 days into the season? Let's see where they place in each of our Monday power rankings.
2. One could make the case the two best teams in the game placed their respective closers on the disabled list this weekend. Which of those bullpens is really in trouble?
3. What is Game Score and why was last week such a surprising one for some starting pitchers like Anibal Sanchez?
4. How many games should the regular season schedule be? I admit we're pretty unimaginative, but if the number 162 is all we've ever known ...
5. Quick, name three members of the 1976 Oakland Athletics that stole an incredible 341 bases! Herb Washington wasn't on that team, but it didn't stop me from comparing a current major leaguer to Herb, and reminiscing about Vince Coleman.
Plus: Excellent emails on lefty knuckleballers, the best defensive middle infield ever, what we're writing about (pitcher walk-offs and A.J. Burnett) and let's all celebrate Dillon Gee's birthday! Enjoy White Sox-Yankees tonight!
April, 17, 2011
4/17/11
10:40
PM ET
Who says there's no such thing as a big series in April? Not me.
Starting Monday, we have Giants at Rockies for three games, and it certainly
feels
like a big showdown to me. The Rockies have baseball's best record at 12-3 -- but have yet to play a team with a winning record, as they've cleaned up against the Diamondbacks, Dodgers, Pirates, Mets and Cubs. So they have a little something to prove. The Giants are 8-7, four games behind the Rockies, and certainly don't want to leave Denver seven games out of first place. They have their three top starters lined up (
Tim Lincecum
,
Jonathan Sanchez
,
Matt Cain
) to prove something to
Troy Tulowitzki
and Co.
The Rockies have been impressive in outscoring their opponents 85 to 59, especially going 7-1 on the road, after a dismal 31-50 mark in 2010. The Rockies have had only one winning road season in franchise history -- 41-40 in 2009 -- so getting off to a strong start there is a positive sign.
Second-year righty
Esmil Rogers
starts Monday against Lincecum in what may look like a mismatch, but Rogers has been solid in winning his first two starts. As a rookie in 2010 he was jerked around between Triple-A and the majors, between the bullpen and starting, so this is a good opportunity for the Rockies to see what they have. So far he's been effective against left-handers (.200/.300/.343) but there are doubts on how his stuff will fare consistently against lefty swingers.
And with
all the attention given to Tulowitzki and
Carlos Gonzalez
, it's easy to forget that
Ubaldo Jimenez
is back after missing a couple starts with a cracked cuticle. The Giants hit just .168 in four games against Jimenez last season. He starts Tuesday against Sanchez.
Cain has allowed three runs over his first three starts, despite just 10 strikeouts over 19 innings. Going back to last September, and including his three postseason starts, Cain has allowed more than two runs just once in 10 starts (his final regular-season start of 2010). He may not impress you with the raw stuff that Lincecum and Jimenez possess, but since 2009 the only starters with a better ERA are
Felix Hernandez
,
Adam Wainwright
,
Roy Halladay
,
Josh Johnson
,
Clayton Kershaw
,
Chris Carpenter
and Lincecum.
The Giants may also make a move with
Cody Ross
during the series. After a couple rehab starts with Fresno on Sunday and Monday, he should be activated from the DL. Will rookie first baseman
Brandon Belt
be sent down? After an 0-for-4 effort on Sunday, Belt is down to .200/.310/.280, with one homer and one double in 50 at-bats. But his eight walks shows the excellent discipline and understanding of the strike zone he displayed in the minors.
Considering Aubrey Huff's shaky efforts in the outfield, the Giants may want to move Huff back to first and send Belt down until his bat gets going. I think it would be a mistake; despite his postseason heroics, Ross just isn't that good (and it hurts saying that, as I'm a big fan). Ross can hit lefties -- .883 OPS in 2010 -- but shouldn't be a regular against righties (.687 OPS in 2010). Andres Torres' strained Achilles tendon that landed him on the DL may give Belt a two-week reprieve, as Ross could slide into center field (except Aaron Roward is inexplicably off to a .364/.378/.568 start in 44 at-bats).
It all adds up to some intriguing subplots to the best series of the week.
OTHER SERIES OF THE WEEK
Los Angeles Angels at Texas
Monday:
Ervin Santana
(0-1, 3.74 ERA) vs.
C.J. Wilson
(1-0, 3.72)
Tuesday:
Matt Palmer
(0-0, 7.71) vs.
Colby Lewis
(1-1, 5.25)
Wednesday:
Jered Weaver
(4-0, 1.30) vs.
Matt Harrison
(3-0, 1.23)
The Angels are riding the red-hot arms of Jered Weaver and
Dan Haren
and come to Texas riding a five-game winning streak. The offense has been solid, but it's coming from surprising sources:
Maicer Izturis
is hitting .383,
Alberto Callaspo
.346 and Howie Kendrick has five home runs.
Vernon Wells
has raised his average to .148, but still seeks his first home run. (How many years left on that deal?) For the Rangers, their own hot pitcher, Matt Harrison, squares off against Weaver in the series finale. Harrison's start is especially impressive considering his outings have come against the Yankees, Orioles and Red Sox. Harrison entered this season with 225 major league innings and not much of a track record -- 5.39 ERA, 261 hits, 31 home runs, only 4.9 K's per nine innings. He's allowed just 14 hits in 22 innings despite a below-average strikeout rate (5.7). He's throwing more strikes and getting more ground balls, but I'm not sold on him just yet.
PITCHING MATCHUP OF THE WEEK
Friday:
Jon Lester
(1-1, 3.20 ERA) vs. Dan Haren (4-0, 1.16 ERA), Red Sox at Angels
Haren has been absolutely dominant so far, pounding the strike zone, allowing opponents a .164 average and generally looking like the best pitcher in the AL. If there's been one complaint about Haren over the years it's that he throws
too
many strikes, leading to a lot of home runs (31 in 2010, 27 in 2009), So far, he's allowed just one in 31 innings, and pitching in Angel Stadium will help, as it's one of the tougher home runs parks in the AL.
THREE SWINGS
1. Watched
Jose Contreras
close out the Phillies' 3-2 win over the Marlins for his third save. It wasn't pretty, as he walked two batters and threw just nine of 22 pitches for strikes, finally getting
Omar Infante
to ground out sharply to end it. Contreras hasn't allowed a run in five innings, but I'm still a little skeptical about the Philly bullpen. But … maybe the Phillies won't need much beyond Contreras,
Ryan Madson
(five scoreless innings) and
Antonio Bastardo
(nine K's in 5 2/3 innings). Philadelphia relievers threw just 421 innings last season, fewest in the NL. No team has pitched fewer than 400 since the 2005 Cardinals threw 397 2/3, but the Phillies are a good bet to do it. That Cardinals team won 100 games and all five starters -- Chris Carpenter,
Jason Marquis
,
Mark Mulder
,
Jeff Suppan
and
Matt Morris
-- made at least 31 starts.
2. Welcome back,
Grady Sizemore
. Nice to see Cleveland's center fielder go 2-for-4 with a home run, double and an RBI in his first game since May 16. The Indians are 11-4 after sweeping the Orioles for their third series sweep already, and it's worth noting that
Shin-Soo Choo
(.214/.286/.339) and
Carlos Santana
(.196/.276/.314) aren't hitting yet, and they will.
3. I watched the major league debut of Arizona pitcher Josh Collmenter and he had one of the weirdest motions you'll see. Midway through the windup, as he brings the ball back behind him, he does a little bit of a knee jerk of sorts, leans back a bit, and then comes straight over the top. He's not really much of a prospect -- Baseball America didn't rate him as one of Arizona's top 30 prospects -- but he entered in the 11th inning against the Giants, threw strikes, worked quickly (a lesson for all rookies), retired all six batters he faced and got the win when Arizona scored in the bottom of the 12th. Congrats, Josh.
RANT OF THE WEEK
Right when I start believing in the Brewers … they go out and lose a doubleheader to Jason Marquis and
Livan Hernandez
, two guys who can't break 90 with their fastballs (actually, in the case of Livan, he can't break 85). The Brewers desperately need
Corey Hart
to return, as the team's lack of depth is embarrassing.
Mark Kotsay
? Forty-year-old
Craig Counsell
? Thirty-three-year-old outfielder
Erick Almonte
, once hailed as the next
Derek Jeter
, but now listed at 245 pounds and coming off a two-homer season in Triple-A? Please. This has to be one of the worst benches in the majors, especially for a supposed contender.
PHOTO OF THE DAY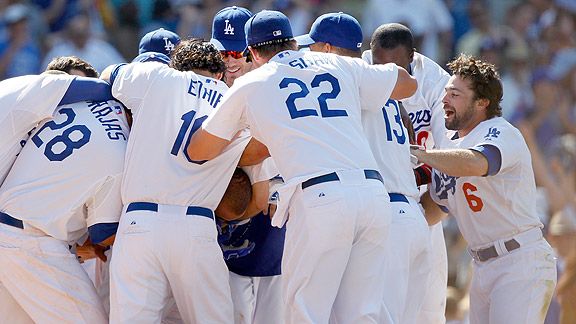 AP Photo/Alex GallardoSomewhere in there is Matt Kemp, who belted a walk-off winner in the ninth against St. Louis.
March, 25, 2011
3/25/11
4:55
PM ET
Tim Kurkjian reports that
Brad Lidge
won't be ready for the season opener and included this scary-sounding quote from Lidge: "I've never had shoulder issues before."
As good as the Phillies' rotation is, the bullpen is starting to look the opposite of that. Last season, the bullpen was only
10th in the NL in ERA
, and that was with good Lidge (as opposed to the 2009 disaster), a career year from
Ryan Madson
and the surprising effectiveness of
Jose Contreras
. Check out the 2010 numbers of the projected relievers:
Brad Lidge (2.96 ERA, 1.23 WHIP)
Ryan Madson (2.55 ERA, 1.04 WHIP)
Jose Contreras (3.34 ERA, 1.22 WHIP)
J.C. Romero
(3.68 ERA, 1.61 WHIP)
Danys Baez
(5.48 ERA, 1.64 WHIP)
Kyle Kendrick
(4.73 ERA, 1.37 WHIP as starter)
Antonio Bastardo
(4.34 ERA, 1.50 WHIP)
That is not a good 'pen, especially with the likely regression of Madson and Contreras. The good news is that the Phillies' bullpen pitched the fewest innings in the NL last season, a number that should decrease with the addition of
Cliff Lee
. The Phillies survived Lidge's 0-8, 7.21 season in 2009, but overall that 'pen was still ninth in the NL with a 3.91 ERA. We don't know whether Lidge's injury is serious or will linger, but even with a healthy Lidge, this is a mediocre group that provides another reason why the Phillies aren't a lock to win the East.
Follow David Schoenfield on Twitter at @dschoenfield. Follow the SweetSpot blog at @espn_sweet_spot.
May, 12, 2009
5/12/09
1:27
PM ET
Well, it took an 0-5 record and an 8.19 ERA. But the White Sox got
Jose Contreras
through waivers and have dispatched him to the International League for a bit of seasoning.
Next
:
In the meantime, the White Sox have called up left-handed pitcher Jimmy Gobble from Triple-A Charlotte to plug into the bullpen. Left-handed pitcher Clayton Richard will start Tuesday night's game in Cleveland and become the temporary replacement for Contreras.

Contreras had to clear waivers, which meant all 29 teams had 48 hours to claim him and his $8 million-plus contract that remains from his $11 million salary.

In particular, Contreras will work on his split-fingered pitch, which he has not been able to command against left-handed hitters this season.
Nobody wanted to pay Contreras $8 million? Shocking.
I would not, on the other hand, be shocked if Richard winds up as more than a "temporary replacement." He doesn't have a great deal of professional experience, but in 128 Double- and Triple-A innings he's got a brilliant strikeout-to-walk ratio and a 2.47 ERA. It's not clear that his stuff will play nearly as well in the majors, and to this point he's been notable mostly for a crazy-deceptive pickoff move. But if I have to guess which is more likely to be starting for the White Sox in August -- Richard or Contreras -- I'm going with the kid rather than the 37-year-old who's supposedly forgotten how to throw his best pitch.