June, 11, 2014
Jun 11
1:01
PM ET
Here's the funny thing about great throws: How many do you remember? Specific throws, I mean? Of course, there's the
Bo Jackson throw
to nail Harold Reynolds and the
Ichiro Suzuki throw
early in his first season in Seattle that helped establish his reputation for having a great arm.
But do many others pop into your head? Roberto Clemente and Al Kaline are known for their legendary arms, but did either one have a signature throw? Certainly, Pirates or Tigers fans of a certain age may remember a specific throw, but from the days before widespread TV broadcasts, visual evidence is spotty. If for some reason you think maybe Clemente's arm strength has been exaggerated through the years ... you're wrong.
Here's one example
, from the 1971 World Series, late in his career. It didn't catch a runner but held one at third and provides pretty solid evidence of his cannon.
Well, I'm thinking the
throw from left field
made by
Yoenis Cespedes
on Tuesday night is one we'll remember for a long time. I was watching the end of the Yankees-Mariners game when Twitter exploded -- this time, with good reason. It was definitely an all-timer.
The best throw I ever saw in person was back in the '80s, sitting in the right-field stands at the Kingdome. Somebody hit a ball into the right-field corner and attempted to stretch the hit into a triple. Jesse Barfield fired a laser all the way to third to get the runner. I had a perfect, direct line right behind Barfield to view the throw. Amazing. Barfield was known as having the best arm in the game in the '80s. Although there's no video of that throw (at least that I could find), here he is
throwing out Chili Davis
at third base. And here he is
throwing out
Mariners catcher Matt Sinatro on a base hit -- only a big deal because Sinatro was on
third base
to start the play.
As a kid, I watched the 1979 All-Star Game in Seattle, in which strong-armed Dave Parker
threw out two runners
. That second one ... wow. Also: Bring back those all-yellow Pirates jerseys!
Another outfielder of that era known for his powerful arm was Ellis Valentine of the Expos. Here he is with the Mets
throwing out
Pete Rose and Dale Murphy. Another strong-armed -- but also famously wild at times -- Expos right fielder was
Vladimir Guerrero
. But when he was on target, he
did things like this
.
One throw that some of you may remember from 1998 was from another Pirates right fielder.
Jose Guillen's throw
from the warning track was impressive enough that MLB Network named it the most unbelievable throw of all time.
Former pitcher-turned-outfielder
Rick Ankiel
was known for his terrific arm.
Here's a fly ball
to medium-deep center in which the runner decides not to tag up -- probably a good decision.
Here's a pretty good one
to catch a runner at third from deep right-center.
Of course, in his short time in the majors,
Yasiel Puig
has developed a reputation for his great arm. Here are
four from his rookie season
.
Here's one
from 2010 that Yankees fans will remember: Backup outfielder
Greg Golson
throws out speedy
Carl Crawford
at third base for the final out of an 8-7 victory.
Here's one I just learned about:
Joe Ferguson cutting down Sal Bando
at the plate in the 1974 World Series. The Dodgers played Ferguson, a catcher, in the outfield at times because they had Steve Yeager.
The most famous throw in World Series history may be
George Foster getting Denny Doyle
in the iconic Game 6 of 1975. Mets fans would like to forget
Derek Jeter's relay throw
to nail
Timo Perez
in Game 1 of the 2000 World Series.
Anyway, we could go on and on. I didn't even mention guys like Carl Furillo, Dwight Evans,
Larry Walker
or
Raul Mondesi
. Greatest throw ever? Maybe it is Cespedes or Guillen. It's definitely
none of these
.
February, 4, 2011
2/04/11
12:30
PM ET
By
Nick Nelson
| ESPN.com
Baseball headlines have been sparse over the past week (with the exception of
Andy Pettitte
calling it quits). Here in early February, many teams have turned their focus away from offseason roster fidgeting and toward spring training preparations.
There are, however, a few intriguing names still available on the free-agent market. This group of players -- overlooked for various reasons and typically willing to sign for a reduced price -- could be referred to as the bargain bin.
Signings at this stage of the offseason typically don't generate much excitement, but that doesn't mean it's impossible to find a player who can help out.
Jonny Gomes
,
Orlando Hudson
and
Jim Thome
are all examples of players who signed in February last year and went on to make meaningful contributions for playoff teams.
So let's sort through the bargain bin and see which of baseball's remaining free agents might be able to make a difference on the cheap for clubs with postseason aspirations.
Vladimir Guerrero
: He earned plenty of accolades last year -- All-Star, Silver Slugger, even a few MVP votes -- but the market has been bone dry for Guerrero this winter, to the point that the Orioles appear to be bidding against themselves on a one-year deal. Teams are no doubt scared of his age, his balky knees and his second-half drop-off in 2010. Yeah, Vlad has his flaws, but he can still hit. I'm surprised there's not more interest.
Russell Branyan
: The lefty can really only do one thing: hit home runs. His career BA is .234, he strikes out a ton, he's not good in the field and supposedly not very pleasant in the clubhouse. But boy, can he hit home runs. Sixty-eight over the last three years, in limited playing time, with a .515 slugging percentage. You'd think someone would sign him for that reason alone.
David Eckstein
: He's lurking. Like a gremlin in the shadows ready to pounce forth in a flurry of grit. Which fan base will become his unsuspecting victim?
Jose Guillen
: He was acquired by offense-hungry San Francisco in an August trade, and went on to post a sub-.700 OPS over 42 games. He was left off the postseason roster and forced to watch his team win a World Series from home, and now he remains unemployed in February. It's been a rough few months for Guillen. He can really crank it when he gets in the zone, but his flaws are evident.
Kevin Millwood
: There's some value in a veteran who's likely to give you close to 200 average innings, and that's what Millwood is. He's nothing flashy but he's made at least 29 starts in each of the past six seasons and registered a decent enough 4.37 ERA during that span. For a rotation short on depth, he could prove to be a wise one-year investment.
Jermaine Dye
: In 2008, he was one of the key figures in Chicago's dramatic run to the postseason. In 2009, he bashed 27 homers and drove in 81 runs. He sat out last year, but at 37 Dye still might have something to offer teams in need of a right-handed bat.
Jarrod Washburn
: A 36-year-old junkballer who's 16 months removed from big-league action, Washburn isn't the most appealing commodity in the world but he was a solid innings-eater up until his disappearance. Prior to sitting out the 2010 campaign, he'd strung together nine straight seasons with at least 149 innings pitched and an ERA never exceeding 4.69. He'd probably take a minor-league deal.
-- Nick Nelson writes Nick's Twins blog, a blog about the Minnesota Twins.
October, 29, 2010
10/29/10
10:45
AM ET
In retrospect, maybe we should have
seen this one coming
...
San Francisco Giants outfielder Jose Guillen, left off the team's postseason roster, is linked to a federal investigation into shipments of performance-enhancing drugs, The New York Times reported on its website Thursday night.

The story, citing several unidentified lawyers, said federal authorities told Major League Baseball they were looking into shipments of human growth hormone, allegedly sent to Guillen's wife in the Bay Area.

That was just before the postseason began, The Times said. Guillen was left off the Giants' roster for all three rounds because of a nagging neck injury, according to manager Bruce Bochy. According to The Times, the Giants were told to leave Guillen off the roster by Major League Baseball.

--snip--

Looking for more offense, the Giants acquired Guillen from the Kansas City Royals in a trade on Aug. 13. He batted .266 with three homers and 15 RBIs in 42 games for the NL West champions.

Cody Ross
joined the Giants on August 22. He batted .288 with three homers and seven RBIs in 33 games for the NL West champions.
In the last week of the season, with the Giants still fighting for their lives, Guillen started five games and Ross started once.
I don't know if we'll ever know exactly why Cody Ross made the postseason roster and Jose Guillen didn't. They say it's because Guillen's neck was sore. But somehow it wasn't too sore for Guillen to start 15 of the Giants' 16 games.
Maybe the decision was based purely on Guillen's performance, and his injury. But the Giants would not be where they are right now if Cody Ross hadn't been handed the job in right field in the Giants' Division Series. And it now seems at least plausible that Ross wouldn't have been handed the job if Guillen hadn't gotten busted for drugs.
Among the bizarre incidents marking what might be the San Francisco Giants' first world championship, beating the stuffing out of
Cliff Lee
in Game 1 might have just been bumped to No. 2 on the list.
October, 25, 2010
10/25/10
2:12
PM ET
Regarding the burning question of who should
DH for the Giants
, Dave Cameron comes up with four possibilities:
1. Give the job to
Pablo Sandoval
.
2. Give the job to
Pat Burrell
(but who would play left field?).
3. Give the job to
Aubrey Huff
(with
Travis Ishikawa
playing first base).
4. Activate
Jose Guillen
and give him the job.
Cameron:
Given those four choices, I'm honestly not sure what Bruce Bochy's best bet is. I wouldn't be surprised if he didn't end up settling on one choice, but just kept shuffling through the options. Maybe you DH Burrell in Game 3, and if he has a big day, you run him back out there for Game 4, but if he doesn't, you go with one of the other plans. No matter what way they go, it won't be a great option, and the Giants will be at a disadvantage in the AL park.
Yes, and just another reason to pick the Rangers.
I suspect that Bochy will try at least two different DH's, if only because he's been pulling all sorts of levers throughout the postseason. Why would he stop now?
October, 16, 2010
10/16/10
11:28
PM ET
Caught this exchange on TV, after
Cody Ross
hit his second home run off
Roy Halladay
...
Joe Buck: The Padres were trying to claim him off waivers, from the Florida Marlins. The Giants didn't want San Diego to add to their offense ... so they claimed him. He comes to the Giants. He hits well down the stretch in September, and now he's got three postseason home runs out of the No. 8 spot.

Tim McCarver: What a move by Brian Sabean, the general manager of San Francisco.
Well, it definitely was a move.
[+] Enlarge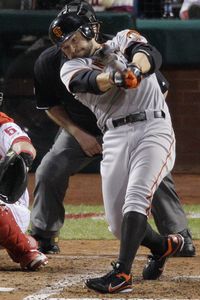 AP Photo/Eric GayCody Ross hit two home runs against the Phillies on Saturday.
Ross didn't actually hit well down the stretch, in September or any significant part of September. He didn't even play much. After joining the Giants in late August, Ross started only 17 of the team's final 37 games.
When Ross joined the Giants, he was hitting .265/.316/.405; at season's end he was hitting .269/.322/.413. He hardly hit well enough down the stretch to earn real playing time against right-handed pitchers in October ... Except Bruce Bochy doesn't have a great deal of choice.
If
Travis Ishikawa
had done anything this season, Bochy might be tempted -- with an enemy right-hander on the mound -- to play Ishikawa at first base and
Aubrey Huff
in right field.
But Ishikawa didn't do anything. So Bochy doesn't see any point in letting Huff play in the outfield (for which he's ill-equipped).
It took more than Ishikawa's struggles to get Ross his big chance, though. He didn't play a great deal after joining the Giants because the Giants had
already
acquired two right-handed-hitting outfielders:
Pat Burrell
in late May,
Jose Guillen
in the middle of August (about a week before Ross arrived).
Guillen, who showed up with (if nothing else) the
reputation
of a dangerous hitter, started almost every Giants game down the stretch. Whereas Ross hit just slightly better after joining the Giants, Guillen hit just slightly worse.
In the last week of the season, with literally every game seeming critical, Guillen started five games; Ross started once. That, as much as anything else could, tells us exactly what Bruce Bochy thought about their relative talents. Ross is playing now only because Guillen's struggles in September and his neck injury finally made their point.
Picking up Ross was a great move. Even if none of the Giants' decision-makers had any idea that he would hit three home runs in the club's first five postseason games. How could they have? Ross had hit three home runs in the previous five
weeks
.
October, 7, 2010
10/07/10
3:23
PM ET
Via Andrew Baggarly, the Giants have set
their Division Series roster
:

The Giants released their division series roster, with one major surprise — and it wasn't the omission of Barry Zito, which we all knew was coming.

Jose Guillen was left off the list, too.

It really shouldn't come as a shock, given Guillen's lack of production and defensive shortcomings. Guillen was hitting .121 and hasn't driven in a run since his six-RBI game Sept. 19. He has hit a stunning eight double-play grounders in 128 at-bats, too. And he's 3 for 19 in his career against right-hander Derek Lowe, who loves to get ground balls with his sinker.

But Bruce Bochy's puzzling loyalties to Guillen seemed strong as he started 15 of the club's last 16 games in right field.

Guillen started swinging the bat better in mid-September after he got an injection to alleviate pain from a disc issue in his neck. It turns out that was just a temporary fix. Although Bochy kept insisting Guillen was fine, AOL Fanhouse.com's Jeff Fletcher just Tweeted that Bochy says Guillen's neck is an issue again.

Guillen hasn't been hitting, and his absence certainly doesn't hurt the Giants. What hurts the Giants is their systemic lack of good left-handed hitting. They've got
Aubrey Huff
, and they've got switch-hitters
Andres Torres
and
Pablo Sandoval
. And unless you count
Mike Fontenot
, that's just about it.
Travis Ishikawa
isn't going to play, and
Nate Schierholtz
probably shouldn't.
All of which is a particular problem against the Braves, who feature three good (or better) right-handed starting pitchers.
Picking up
Pat Burrell
in May worked out wonderfully for the Giants. It's just a shame they couldn't find a lefty-hitting equivalent. Because with the exception of Torres, the Giants don't have a single outfielder who figures to thrive against the Braves.
October, 5, 2010
10/05/10
11:36
PM ET
SweetSpot Networkers
Capitol Avenue Club
and
Bay City Ball
have teamed up for a Division Series preview, and (from
one of them
here's CAC's third question for BCB:
3. With Andres Torres, Pat Burrell, Cody Ross, Jose Guillen, Aaron Rowand, and Nate Schierholtz in the fold, the Giants' outfield is difficult to figure out. What outfield alignment do you think the Giants will use? (note: they won't be facing any left-handed starters in the NLDS)

I expect that we'll see Burrell in LF, Torres in CF, and most likely, to the disappointment of Giants' fans, Jose Guillen in RF. Personally, I'd much rather see Cody Ross or Nate Schierholtz in RF. Guillen is a notoriously bad fielder and his batting line with the Giants (.266/.317/.375) isn't nearly enough to compensate for his diminished range. Cody Ross started slow, but he's now OPS'ing over .800 with the Giants and his defense in RF is a plus. If the Giants were smart, they would bench Guillen and replace him with Ross.
Unless you're a Giants fan, the manager's ongoing affection for Jose Guillen should serve as a source of amusement.
Over the last three seasons, Cody Ross has a .267 batting average.
So does Guillen.
Over the last three seasons, Cody Ross has a .320 on-base percentage.
So does Guillen. (Actually, it's .322 but please grant me this small license.)
Ah, but Guillen's got the
power
right?
Ah, but no.
Over the last three seasons, Cody Ross has a .456 slugging percentage.
Same span, Guillen's got a splendiforous .429 figure.
Why Bruce Bochy would play Guillen over Ross -- who is, of course, the better defender -- is a real mystery. But he's been doing it for seven weeks. There's no reason to think he'll stop now.
August, 13, 2010
8/13/10
6:12
PM ET
Oh, boy.
This
doesn't figure to make the Giants' starters real happy:

According to Jeff Fletcher of AOL Fanhouse, Giants manager Bruce Bochy confirmed that the newly-acquired Jose Guillen will be the everyday right fielder, moving Aubrey Huff back to first base.

--snip--

Huff is no great shakes as an outfielder himself, but this decision also means that the hot-hitting Pat Burrell will remain the everyday left fielder, effectively putting two of the worst defensive outfielders in all of baseball on one field at the same time. It's a good thing Andres Torres has a background as a track athlete, because he's gonna need it playing center field between these two.

OK. I know I wrote about this already Friday, and I know Bochy might have been misinterpreted or might change his mind.
But if this really is the plan, it's even worse than I thought. Because making Guillen the every day right fielder and Huff the every day first baseman means
Travis Ishikawa
is out of a job ... and he's done absolutely nothing this season to deserve losing his job.
Not that it's been a
regular
job, exactly; Ishikawa's played in 84 games, but has just 141 plate appearances. Still, the Giants'
best
lineup against right-handed pitching includes Ishikawa at first base, Aubrey Huff in one of the outfield corners, and one of the Giants' right-handed DHs in the other corner. With
Nate Schierholtz
coming in to play defense the moment the Giants have the lead.
Maybe that's how Bochy will play it. Keep an eye on Ishikawa, though. If he's buried by Guillen, you might reasonably question the manager's sanity. And not just because of all the running Torres (and
Aaron Rowand
) will be doing in center -- and left-center, and right-center -- field.
August, 13, 2010
8/13/10
11:52
AM ET
Looks like Brian Sabean is
adding to his collection
of veteran DHs (which would be less odd if they used DHs in the league the Giants play in). Enrique Rojas:
The Kansas City Royals and San Francisco Giants worked early Friday to complete a trade that would send outfielder Jose Guillen to the Bay Area team, a source close to the deal said.

Upon completion of the trade, Guillen was expected to fly from Miami to San Francisco in time to debut in the series that begins Friday between the Giants and San Diego Padres. The Giants began the weekend 2½ games behind the Padres, who lead the NL West.

Guillen was designated for assignment last Thursday by the Royals. The club had until Saturday to trade, release or reinstate the most expensive player on its roster.

Guillen was hitting .266 with 16 homers and 52 RBIs as a designated hitter this season. With San Francisco, he would play right field.
I don't get it.
Jose Guillen -- and I hope you're sitting down for this shocking news -- isn't real good. Since joining the Royals in 2008, he's got a .256/.308/.420 line. Yeah, maybe moving to the National League will help. It sure helped
Pat Burrell
. But I'm not sure how many times you can go to that well. And I grieve for the Giants' pitchers, who will now have
two
DH types stumbling around in the outfield almost every time out.
This move does make the Giants a little more potent against left-handed pitching. But I don't think it makes them much better against right-handed pitching, and if Guillen's not playing regularly this might make them worse in the clubhouse.
We'll see how it goes. The Giants are within hailing distance of the first-place Padres and they actually have a one-game lead in the wild-card standings. This move does matter.
April, 10, 2009
4/10/09
10:42
AM ET
The Royals are 2-1 and their starting pitchers have given up one run in 20 innings, so you'll understand if there's a little buzz around the club. And as Sam Mellinger writes,
expectations for the Royals have seldom been higher
(not since the early 1990s, at least).
The Royals' focus has been investing time and money on the amateur draft -- it's thought that they spent more money on last year's picks than any team ever -- and on player development.

From spending $91 million on free agents Gil Meche and José Guillen, to trading for Kyle Davies (who blanked the Chicago White Sox for seven innings Thursday) and Coco Crisp (who hit the go-ahead homer in the ninth), everything the Royals are doing at the big-league level is meant as a bridge of sorts to when the organization's investment in the infrastructure of the minor leagues begins to show.

"Our constant balance is improving our big-league club without sacrificing what we're doing below," Moore says. "Look, I understand. I like getting some sleep at night, and that certainly is a product of things going well (with the major-league team). But we can't be so consumed that we forget about what's most important, and that's long term."

--snip--

Moore knows this other side of it, too. He knows the expectations that are created by adding nine new players and $12 million of payroll.

Internet message boards that used to fill with positive fan comments now question why Moore signed Kyle Farnsworth -- who didn't help himself by blowing an eighth-inning lead in the season opener -- for two years and $9 million.
Dayton Moore made a big mistake when he signed
Jose Guillen
for three years and $36 million. That contract suggested -- and continues to suggest, each day -- that Moore lacks a basic familiarity with objective analysis. Moore made a small mistake when he signed Farnsworth, whose skills, impressive as they might be -- in, say, South Korea -- are not worth anything like $9 million on the open market.
If the Royals played in the American League East, Moore's propensity for such mistakes would take the Royals off the board for as far into the future as you might care to look. But they don't play in the AL East, and if Moore really does build a superior farm system and picks up a little luck here and there -- well, a Royals fan can dream a little. Especially if Davies keeps pitching like this.