March, 26, 2014
Mar 26
1:45
PM ET


Have there been more injuries than usual this spring? I don't know. We probably say that every year. Eric and myself discuss the five most critical injuries of spring training and how they could affect the pennant races. In one case, it's led Eric to picking a different division winner than he otherwise would have.
November, 11, 2013
11/11/13
7:04
PM ET
Baseball's future is in good hands. And good arms. A year after
Mike Trout
,
Bryce Harper
,
Yu Darvish
and
Yoenis Cespedes
burst on to the major league scene, 2013 gave us
Jose Fernandez
and
Yasiel Puig
, two players who have the ability to win even bigger awards than rookie of the year in the future.
Fernandez outpointed Puig for National Rookie of the Year
in one of the more interesting rookie votes in recent seasons: Pitcher versus hitter, both explosive talents with unrivaled raw talent. Maybe the most surprising part of the seasons these two put together is that back in March neither was supposed to be here, let alone be this good.
Fernandez had spent 2012 in Class A ball. Considering he wouldn't turn 21 until July, he was expected to begin the year in Double-A, maybe Triple-A. The Marlins were heavily criticized when he opened the season in the rotation, with analysts wondering why the team would rush him to the bigs and start his arbitration and free-agent clocks so quickly. As Fernandez showed, however, the Marlins couldn't keep him down -- he was too good.
Puig is a couple years older than Fernandez, but after signing with the Dodgers last summer he played just 23 games in the minors, none above Class A. After a torrid spring training, he began the year at Double-A Chattanooga. With the Dodgers struggling in early June and facing injuries in the outfield, Puig got the call after just 40 games in Double-A. Like Fernandez, he was ready.
I think the voters made the right selection in both cases. Fernandez, also one of the three finalists for the NL Cy Young Award, went 12-6 with a 2.19 ERA in 28 starts, striking out 187 in 172 2/3 innings. Baseball Reference estimated his value at 6.3 WAR, third among NL pitchers. Puig, in 104 games, hit .319/.391/.534, with 19 home runs, 42 RBIs and 66 runs. Baseball Reference estimates his value at 5.0 WAR.
How good was Fernandez? Over his final 18 starts he allowed more than two runs just twice -- and both of those times he allowed just three. His ERA over that span was 1.50 and opponents hit just .161 against him. For the season, opponents hit .182/.257/.265. Basically, he turned the entire National League into Mario Mendoza.
If there's an argument for Puig, it was that he played a major role in helping the Dodgers reach the playoffs while the Marlins lost 100 games. The Dodgers were scuffling in June when Puig was recalled (and
Hanley Ramirez
returned from the disabled list); they took off soon thereafter with that historic 50-game run. In games Puig appeared in, the Dodgers went 66-38.
But the award isn't the most valuable rookie, so while MVP Award voters consider things such as quality of teammates (sorry Mike Trout), the rookie of the year voters focus on the individual contribution and ignores a team's place in the standings.
So Fernandez it is. A historical rookie season and now a shiny trophy for his fireplace mantel.
* * * *
The American League crop was pretty uninspiring, with all three of the top candidates being partial-season players.
Wil Myers
became the first AL Rookie of the Year position player who played fewer than 100 games (he played 88 for the Rays) but still won the vote easily, collecting 23 of the 30 first-place votes.
By uninspiring, I don't mean that as a knock against the Myers' future, or that of
Jose Iglesias
or
Chris Archer
. I don't think this is
Chris Coghlan
beating out
J.A. Happ
.
I do think the voters got this one correct as well. In fact, look back to that Coghlan vote in the NL in 2009.
Andrew McCutchen
finished fourth that year with similar numbers to Coghlan (and much better defense). It was pretty obvious, however, which player was the better bet for the future and McCutchen would have been a more astute choice.
Should rookie of the year voters factor that in? Certainly, between Myers and Iglesias, Myers is the guy everyone would bet on to make the bigger impact over the next decade. I would argue that if you have two rookies who had similar value, go with the guy with more upside. NL voters did this a year ago in choosing Bryce Harper over
Wade Miley
and AL voters did it in choosing Myers over Iglesias.
July, 31, 2013
7/31/13
6:04
PM ET
Jonah Keri breaks down the three-way Jake Peavy deal
here
and Keith Law breaks it down
here
if you're an ESPN Insider.
Jose Iglesias moves to Detroit in the trade and everyone knows Iglesias isn't anything near the .330 hitter he's been for the Red Sox. After a luck-fueled hot start, Jonah points out he hit .176 over his final 21 games with the Red Sox.
Iglesias wasn't acquired for his bat, of course, but his glove. The guy I compare him to is Omar Vizquel, as both have those wonderful hands and aesthetic beauty in the field. My question: Could Iglesias ever develop at the bat like Vizquel did? When Vizquel came up with the Mariners, he was, like Iglesias, a magician on defense with no physical strength at the plate. In his first three seasons with Seattle, Little O hit .230/.290/.283 with just four home runs in nearly 1,200 plate appearances. That's about what you would expect from Iglesias moving forward considering his .257/.307/.314 line in the minors.
Vizquel slowly improved, however. From ages 25 to 27, which covers his final two years in Seattle and his first in Cleveland, he hit .273, albeit still with little power. At 28, he hit six home runs and 28 doubles, and then from 1996 through 2002 he hit .287/.358/.388, averaging 41 extra-base hits per season. His OPS+ of 93 was still below the league average hitter, but certainly acceptable for a good defensive shortstop.
Ozzie Smith was a similar case as well. Through age 26 he hit .231/.295/.278. Traded to St. Louis and helped by the turf at Busch Stadium, his batting averages improved and he eventually topped out at 40 doubles one season.
One big difference between Vizquel and Smith and Iglesias, however: Both of them showcased a better walk rate. Smith was at 7.7 percent through age 26 and averaged over 10 percent every season except one from ages 27 trough 37. Vizquel was at 7.4 percent through age 26 and averaged 9.4 percent over the next decade. Iglesias owns a 4.7 percent walk rate so far in his major league career (6 percent in the minors). That plate discipline and bat control eventually helped them to become better hitters, as well post respectable on-base percentages.
I did a quick search on Baseball-Reference.com of players since 1969 who had at least 1,500 plate appearances through age 25 and an OPS+ of 75 or lower (where 100 is a league average hitter). How many of them developed into decent hitters? Here's the list of 23 players with their OPS+ through age 25 (Iglesias is 23) and then their career OPS+ in parenthesis.
Dick Schofield, 75 (73) ... became utility guy in his late 20s
Alex Gonzalez I, 74 (79) ... power but low OBPs
Rey Quinones, 74 (74) ... out of majors at 25
Terry Pendleton, 74 (92) ... NL MVP in 1991, runner-up in '92
Rod Gilbreath, 74 (74) ... out of majors at 25
Eddie Leon, 74 (69) ... last full season at 26
Carlos Gomez, 73 (89) ... breakthrough season at 26
Alex Gonzalez II, 71 (79) ... 157 career HRs, low OBPs
Omar Vizquel, 71 (82) ... 2877 career hits
Spike Owen, 71 (83) ... not much power but took some walks
Julio Cruz, 71 (71) ... second baseman with speed, no pop
Cesar Izturis, 69 (63) ... still hanging around
Ozzie Guillen, 68 (69) ... never improved, swung at everything
Alfredo Griffin, 68 (67) ... once drew four walks in 140 games
Glenn Hoffman, 67 (68) ... utility guy by age 25
Ozzie Smith, 67 (87) ... better than average OPS+ in four seasons
Roger Metzger, 67 (69) ... five career HRs in 4201 at-bats
Jerry Royster, 66 (76) ... had a few decent years as utility guy
Tom Veryzer, 65 (61) ... last year as regular at 26
Andres Thomas, 64 (61) ... epitome of bad Braves teams of late '80s
Tim Foli, 63 (64) ... Lots of these no-hit '70s shortstops here
Jack Wilson, 61 (76) ... Had 64 extra-base hits with Pirates at 26
Enzo Hernandez, 56 (61) ... Infamously had 12 RBIs in 618 PAs in '71
Not surprisingly, almost all these guys were shortstops. The two who developed the best at the plate were the two who didn't play shortstop or second base -- third baseman Pendleton and center fielder Gomez. Pendleton hit .240 at age 24 and .239 at age 25 with the Cardinals but later went to the Braves and won a batting title and hit 22 and 21 homers his two big seasons. We know the Gomez story.
Looking at the others, however, you can see that Vizquel and Smith are unique cases. Iglesias' glove should still make him a valuable asset for the Tigers, but I would bet against him becoming even a minor threat at the plate.
July, 31, 2013
7/31/13
12:46
AM ET
There's never a better time to overreact than on the eve of the trade deadline! General managers, their assistants, their scouts, their special advisors and their stat geeks in the front office have spent weeks assessing their own talent and that of other organizations. But one night can change everything.
Some thoughts on Tuesday's news, rumors and game results ...
Who needs Jake Peavy when you have Brandon Workman!
The Red Sox have won the
Peavy Sweepstakes
, although I don't know if that means winning the lottery or cashing in your $10 prize at 7-Eleven. Peavy's injury history (long) and home run issues (14 in 80 innings) make him a wild card acquisition; this isn't the same thing as trading for
Cliff Lee
, or even close to trading for Cliff Lee.
Peavy, however, comes a lot cheaper. The Red Sox got to keep all their top prospects and surrendered only slick-fielding
Jose Iglesias
, who has a superficially good .330/.376/.406 batting line with the Red Sox in 215 at-bats. He's not close to a .300 hitter, let alone a .330 hitter. A few weeks ago I looked at all his hits and they featured an unsustainable number of infield singles, five-hoppers that sneaked through and bloopers just over the heads of infielders. In July, he's hitting .205 with one extra-base hit in 83 at-bats and he's a career .244/.296/.292 hitter in Triple-A in nearly 1,000 plate appearances. But he can pick it at shortstop (or third base, where he's been playing a lot for the Red Sox) and I suppose there's a small chance that he could improve at the plate, a la
Omar Vizquel
.
So good job by Red Sox GM Ben Cherington to sell high on Iglesias, even if Peavy is more of a No. 3-4 starter than a 1 or 2. But acquiring Iglesias makes sense for the Tigers, who will likely see shortstop
Jhonny Peralta
get suspended any day now in the fallout from the Biogenesis investigation. Iglesias will be an improvement over Peralta on defense -- although Peralta's minus-3 Defensive Runs Saved haven't hurt the team as much
Miguel Cabrera
and
Prince Fielder
, both rated at minus-10 at the corner infield spots.
The White Sox get
Avisail Garcia
in the deal, a player scouts like a lot but sabermetric types are skeptical about, due to a low walk rate in the minors. Still, if he puts it together, there's a lot of upside there. Put me in the skeptical category; probably a big league regular, but I don't foresee a star player.
The Braves can stand pat.
When Detroit's
Alex Avila
hit that grand slam off
Stephen Strasburg
as the Braves were crushing the Rockies, it seems a symbolic moment of the Nationals' 2013 season to me. They're now 10 games behind the Braves and the Braves only have seven games left against teams currently over .500. At least the Nationals won't have to worry about Strasburg's innings in October.
So the Braves don't have to make a deal, plus
Alex Wood
's strong outing against the Rockies means he should get a few more turns through the rotation. With Peavy off the market, there isn't really a starter who is a guaranteed upgrade anyway, other than Cliff Lee and he'll cost a fortune.
You don't win division titles on paper.
Ignore the run differentials. Ignore the recent histories. The Pirates now have the best record in baseball after sweeping Tuesday's doubleheader and lead the NL Central. Not that the Cardinals organization ever panics or overreacts, but Cardinals fans are certainly tired of seeing
Matt Holliday
ground into double plays (he's done that 24 times, giving him a chance to catch Jim Rice's single-season record of 36) and some dude named
Brandon Cumpton
shut them down in the second game. Maybe the Cardinals
do
make a move.
The Pirates should still get a bat.
This is one reason we love the trade deadline: When the Cubs signed
Nate Schierholtz
in the offseason for $2.25 million -- $29.75 million less than
Josh Hamilton
will make in 2016 and again in 2017 -- it wasn't exactly headline news. Now he's viewed as a must-have acquisition for the Pirates because he's slugging over .500 and Pirates right fielders have the lowest OPS in the majors.
The Orioles should get a bat as well.
Chris Davis
did hit a big home run a 4-3 win over the Astros, but he and
Manny Machado
haven't matched their first-half exploits. The bottom four hitters in Tuesday's lineup had on-base percentages of .302, .295, .273 and .293. Their DHs are hitting .200. They should be able to find an upgrade. Getting a pitcher would be sexier -- well, if that pitcher were Cliff Lee -- but a hitter would add more depth to an already solid lineup.
Michael Young is great!
Hey, forget that he has -0.6 WAR this season, he went 2-for-4 with a home run on Tuesday. His trade value just shot up. Plus he's a veteran presence in the clubhouse! Warning: Has the range of a flower vase at third base. Beware of defensive risks if employing full time at the hot corner. The Rangers need a hitter, but at least in their case it would be to use Young at DH or first base.
Who needs a third baseman when you have Juan Uribe!
Uribe hit a 441-foot home run off
Andy Pettitte
and is hitting a respectable .263/.335/.406. The Dodgers may do just as well playing Uribe as acquiring some of the lackluster options for third (Young,
Aramis Ramirez
) or acquiring a shortstop and moving
Hanley Ramirez
to third (he's hitting so well, don't mess with him right now).
The Indians have momentum (if momentum existed in baseball).
They started nine guys on Tuesday and the guy batting ninth had the highest slugging percentage in the lineup. (That's
Yan Gomes
, hitting .291 and slugging .520.) They've won six in row after rallying from a 3-0 deficit to beat the White Sox. They acquired
Marc Rzepczynski
from the Cardinals to add a second lefty to the bullpen but acquiring another starter or reliever would help.
Zack Wheeler is the second coming of Matt Harvey.
This is one reason we love the trade deadline, part 2: The hope that the prospect your team acquires can turn into Zack Wheeler and flash the no-hit stuff like Wheeler did against the Marlins. Two years ago, the Mets got Wheeler from the Giants for
Carlos Beltran
. There may not be a Wheeler in this year's crop of trades -- there rarely are -- but you never know.
Cameron Diaz fed popcorn to Alex Rodriguez.
Wait ... that didn't happen on Tuesday? Ahh, those were simpler times.
June, 26, 2013
6/26/13
10:25
AM ET
Quick thoughts on Tuesday's games ...
June, 18, 2013
6/18/13
5:35
PM ET
Entering Tuesday's doubleheader,
Boston Red Sox
infielder
Jose Iglesias
is riding a 17-game hitting streak and hitting .438 in 89 at-bats, a streak that has caught everyone off guard considering that much like former Cuban compatriot
Rey Ordonez
, Iglesias is known for
his fancy glove work
not his bat.
With a career .257 average in the minors (and little power), has Iglesias figured something out at the plate? I checked the video of each hit during his 17-game streak -- 26 hits in all. Working backward ...
--2-1, 91-mph fastball off
Brian Matusz
Slow chopper in the hole to shortstop, beats throw to first.
--1-2, 79-mph splitter off
Freddy Garcia
Infield hit, chopper off home plate that
J.J. Hardy
had to charge.
[+] Enlarge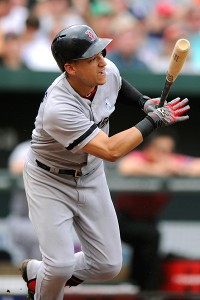 AP Photo/Nick WassJose Iglesias, known more for his defensive prowess, has been getting attention for his bat lately.
--0-1, 91-mph fastball off
Chris Tillman
Bunt single.
--0-2, 93-mph fastball off Chris Tillman
Lined softly past first baseman who was playing well off the line, low and away pitch.
--1-2, 85-mph slider off
Roberto Hernandez
Eight-hopper through third base/shortstop hole.
--1-2, 93-mph fastball off Roberto Hernandez
Blooper off the fists into Bermuda Triangle in right-center.
--0-2, 89-mph fastball off
Joe Blanton
Infield single in the hole to shortstop.
--0-0, 90-mph fastball off Robert Coello
High inside fastball lined off the middle of the Green Monster.
--2-1 90-mph cutter off
Jerome Williams
Slow tapper off the end of the bat that sneaked into center field.
--1-2, 91-mph fastball off Jerome Williams
Flare to right off his fists.
--1-1, 95-mph fastball off
Garrett Richards
Four-hopper up the middle.
--0-1, 87-mph slider off Garrett Richards
Slider down the middle, lined hard off the glove of the third baseman.
--2-2, 95-mph fastball off
Derek Holland
Fastball right in the sweet spot, pulled hard on ground to left field.
--2-2, 94-mph fastball off
Robbie Ross
Down the middle, blooper to right.
--2-1, 90-mph fastball off
Justin Grimm
Liner into right-center gap, stretched into a double.
--0-0, 93-mph fastball off
Ross Wolf
Soft line drive to center, bad read by
Craig Gentry
.
--0-0, 92-mph fastball off
Hiroki Kuroda
Right down the middle, hit 4-5 rows deep in left field for a home run.
--3-2, 86-mph slider off
Adam Warren
Blooper to left, terrible route by
Vernon Wells
.
--0-1, 92-mph fastball off
CC Sabathia
Hard liner to center.
--1-2, 80-mph slider off CC Sabathia
Hard grounder up the middle.
--0-2, 92-mph fastball off
Jeremy Horst
High fastball, blooper down right-field line that the second baseman overran.
--3-2, 89-mph fastball off
Chad Durbin
High fastball, hit off the wall down left-field line for a double.
--0-0, 91-mph fastball off Antonio Bastardo
Down the middle, ripped to left field corner for a double.
--2-2, 92-mph fastball off
Cliff Lee
Infield single to
Jimmy Rollins
.
--3-2, 84-mph fastball off
Tyler Cloyd
High fastball, worm burner past Rollins.
Of the 26 hits, I'd classify nine of them as hard hit, maybe 10 depending on your definition. Iglesias isn't a fast runner but he seems to get out of the box well and that's helped him beat out a couple of those infield hits.
But the stats and the video evidence show this is a player hitting in a lot of luck. He did hit the one home run but he clearly lacks the strength to drive the ball and he took advantage of some meatballs thrown to him. He's been fun to watch and can really pick it at shortstop (or third base, where he's also getting some playing time), but the bat is still suspect. The comparison to Ordonez seems apt: A defensive wizard who can play on a team that can carry his bat. Ordonez played in the heart of the steroid era so his weakness at the plate was amplified, so Iglesias has that advantage. The hits are falling now but they won't continue.
(Note: After I started this, I saw that Sam Miller of Baseball Prospectus had a similar idea. He has GIFs comparing Iglesias hits to Iglesias outs.
Can you tell the difference?
)
June, 11, 2013
6/11/13
4:25
PM ET
November, 23, 2012
11/23/12
10:25
AM ET
By
Christina Kahrl
| ESPN.com
So, how about that AL East? We know the Blue Jays have been busy, and the Yankees will be. The Rays can't be counted out and the Orioles just proved nothing's certain. What's a fading former contender like the
Boston Red Sox
to do?
It would be easy to blast to the foundations and start dealing away everyone who might be a free agent after 2013 --
Jacoby Ellsbury
,
Jon Lester
and
Jarrod Saltalamacchia
among others -- but I doubt that's why they re-signed
David Ortiz
, and it probably wouldn't help them talk
Dustin Pedroia
into signing a contract extension. So instead, let's say the Red Sox make a real effort to contend again, shy of making any huge financial commitments, but shoring up the hand they've got and making a play to get back to October. Could they make that happen?
What do they need? I'd argue two big areas would have to be addressed: A front-end rotation starter who ranks up there with Lester at the very least, and offensive upgrades wherever possible, especially at first base and the outfield.
The rotation's fairly straightforward, because to keep up in the AL East's arms race, the Red Sox need to shore up a rotation that let them down in 2011, delivering only 72 quality starts last year. Hoping for rebound seasons from Lester and
Clay Buchholz
may be reasonable, and counting on
John Lackey
to come back and be a solid mid-rotation horse will help, but it isn't enough.
On offense, let's face it, an outfield blend of just-added
Jonny Gomes
plus
Ryan Kalish
,
Daniel Nava
and
Ryan Sweeney
doesn't add up to two well-stocked corners. And at first base, settling for some combination of
Mauro Gomez
and
Jerry Sands
also isn't going to get it done; outside of Albuquerque's extra-friendly confines, Sands hit a relatively unimpressive .278/.350/.510 in the hitter-friendly PCL in his second season in the circuit. Take that down a few pegs in the majors, and you won't get much O from an offense-first position.
General manager Ben Cherington's cupboard isn't bare. The Red Sox have a few young veterans who might fill people's needs at up-the-middle positions, notably Saltalamacchia and Kalish. In and of themselves they're not guys who will put Boston over the top, now or ever, but that's perhaps the Red Sox's area of surplus. As Salty heads into his age-28 season after belting 25 bombs in 2012, he's already as good as he's going to get, and while Kalish has had his moments at the lower levels over a long minor-league apprenticeship, he's no Ellsbury. Their value may never be higher, so better to shop them now and address the Red Sox's needs.
June, 12, 2012
6/12/12
12:51
PM ET
Do the Detroit Tigers need a second baseman more than a starting pitcher? Are the Pittsburgh Pirates for real? Will the Cleveland Indians make a deal? Who should be in the Home Run Derby? Is Mike Trout worthy of MVP discussion? And why were accused of AL bias? Check it out in today's
chat wrap
.
June, 9, 2012
6/09/12
8:01
PM ET
By
Christina Kahrl
| ESPN.com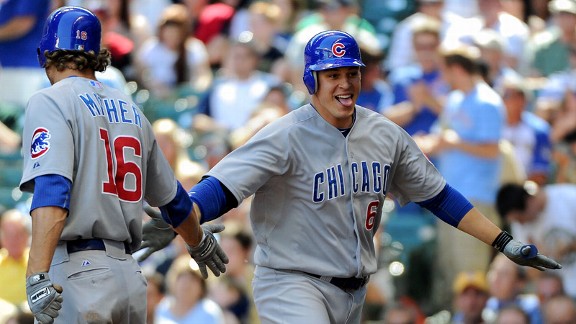 Benny Sieu/US PresswireBryan LaHair, 29, is in the top five in the National League in slugging, OBP and OPS.
At 28 years old and after spending much of the previous five seasons in Triple-A,
Bryan LaHair
was a purportedly "known" quantity -- Quadruple-A bat, perhaps a fill-in first baseman. In his one brief shot at The Show in Seattle in 2008, he split time at first base with utilityman
Miguel Cairo
and
Jose Lopez
. He didn't shine, and it was back to Tacoma the next year. In short, he seemed a man doomed to a dim star on an obscure walk of fame to be named later, perhaps in Tacoma, maybe in Iowa.
He changed that in his sixth campaign in the Pacific Coast League, changing the minds of scouts and analysts alike with 28 homers and a 1.070 OPS. And this year, taken seriously for the first time, he's a 29-year-old getting his first real shot at everyday play in the major leagues ... and blowing the league away. He's third in the National League in slugging, fourth in OBP, and fourth in OPS. And all it took to bring him to Wrigleyville was a minor-league contract, after the Mariners let him slip away as a minor league free agent.
By simultaneously shredding expectations and opposing pitchers, LaHair is providing a fine example that players' career paths aren't simply a matter of forecasting off past performance. That works on the macro level, for most players. But whether as a matter of changing their game or finally getting opportunities they'd long deserved, a few past-prime players are making the most of their opportunities this season.
You can't quite come up with a full lineup's worth of these guys, but beyond LaHair, here's my off-the-cuff list of this season's other "surprise stars," some of whom will belong in Kansas City as full-fledged All-Stars in a month's time.
C A.J. Ellis, Dodgers:
Say what you will about catching always being in short supply -- and it isn't -- Ellis had to wait until this year to get a clean shot at a catching job. Now 31, he's pretty much the perfect example of an organizational soldier: He spent his first two full seasons after getting picked in the 18th round out of Austin Peay as a backup at High-A, caddying for
Russell Martin
and then
Edwin Bellorin
(once upon a time a well-regarded Venezuelan prospect).
Ellis finally became a regular in Double-A in 2006. From the start, he showed tremendous ability to get on base, but the Dodgers kept him at the same slow pace, as he spent two years in the Southern League and two years in the PCL before graduating to two years as a big-league backup. That sort of long-form apprenticeship that seemed certain to lock him into little more than membership in the International Brotherhood of Backup Backstops.
Perhaps only taken seriously as a starter as a matter of grudging last resort this past winter, when the market offered slim pickings as far as catching help, Ellis is second only to
Yadier Molina
among NL catchers in his production at the plate while throwing out 41 percent of opponents' steal attempts. Ellis might be this group's best bet beyond LaHair to be headed to Kansas City for the All-Star Game.
SS Mike Aviles, Red Sox:
It has been a bumpy road for Aviles since his old-rookie debut as a 27-year-old with the Royals in 2008. In K.C., he had to contend with injuries and the idea that he wasn't really a shortstop. This year, shortstops are putting up the collectively lowest OPS (.678) or OPS+ (88), so Aviles' .711 OPS/90 OPS+ clip is just a wee bit above average, not shabby considering he's also doing fine at short, according to advanced fielding metrics. Beyond buying time for
Jose Iglesias
, this has proven a relatively high-yield, low-expense gamble for the Sox: League-average shortstops usually cost millions on the market, but Boston got him for an organizational arm (Kendal Volz) and
Yamaico Navarro
, a utility player so interesting that K.C. flipped him to the Pirates, who have already ditched him in Indianapolis.
[+] Enlarge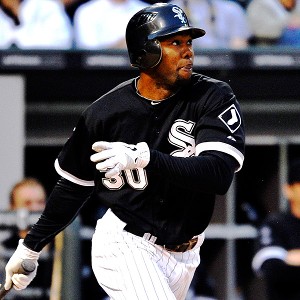 AP Photo/Brian KerseyCenter fielder Alejandro De Aza is making the most of his chance to play every day at age 28.
CF Alejandro De Aza, White Sox:
If LaHair is the slugging surprise of the season, De Aza is the out-of-nowhere leadoff solution most teams need. Back in 2007, he got an opportunity with the Marlins, leading off on Opening Day, but injuries to first one ankle and then the other derailed that season and the next. In 2009, he gave the first indication that he wasn't just going to be a speed guy, slugging .506 for New Orleans; the Marlins were so impressed they let him slip away on a waiver claim by the White Sox. Finally getting a shot at everyday play as a 28-year-old in the one-hole, he's hitting .299/.381/.425 and he's holding his own in center.
Juan Pierre
never looked this good, but a crowd of quality center fielders in the American League will keep De Aza from All-Star status.
OF Gregor Blanco, Giants:
Melky Cabrera
isn't the only Giants outfielder having a season well beyond anything he's done before. A Braves prospect they lost interest in, he was dealt to the Royals, who dealt him to D.C. before the Nationals ditched him. All he's ever done is get on base; he just needed an opportunity. He got one when general manager Brian Sabean fished him off the discard pile this past winter. Pushing his way past
Nate Schierholtz
, Blanco has hit his way into everyday play in right field and the leadoff job with a .387 OBP as a 28-year-old journeyman. Blanco may rival Sabean's "discovery" of
Andres Torres
in 2009 before all's said and done.
RF Justin Maxwell, Astros:
Nobody has doubted Maxwell's power or talent, but his ability to stay healthy has been an annual concern. The Nats decided they had better uses for his spot on the 40-man and traded him to the Yankees, but he spent more time on the disabled list in 2011 with a bum shoulder than he did in pinstripes. The talent-hungry Astros snagged the 28-year-old off waivers this spring, and he's been a free-talent find as a fourth outfielder, providing power against lefties and strong-armed defense.
SP Jerome Williams, Angels:
Back in the day, Williams was a top prospect in the Giants' organization, ranking in Baseball America's top 20 for all baseball. That all seemed merited after a fine 2003 rookie season in which he drew an NL Division Series start for them against the Marlins. It was almost unrelentingly downhill from there; he needed elbow surgery in 2004, got dealt to the Cubs in 2005, and then bouncing through the Nationals, Twins, A's (twice) and Dodgers organizations, as well as a stint in the independent leagues. After making a nice impression on the Angels down the stretch last season, the 30-year-old Williams is getting regular rotation work in the majors for the first time in seven years as their fifth starter. More of a finesse righty these days, he's been an exceptional salvage-project success, putting up eight quality starts in 10 turns, far better work than most teams reasonably expect from a No. 5.
Quite simply, what these guys reflect is that not all replacements are "replacement level." Just when you think you know what a player is capable of, a happy few beyond their expected peak age of 27 have demonstrated the delightful capacity to surprise and exceed the modest expectations even their fans harbored for them. I don't know about you, but I like these kinds of surprises -- here's hoping we see more of the same from all of them.
Christina Kahrl covers baseball for ESPN.com. You can follow her on Twitter.
March, 27, 2012
3/27/12
2:06
PM ET
Opening Day is a mere hours away! Are you ready? Keith Law and I discussed the Mariners-Athletics starting the season in Japan and a lot more on Tuesday's fine
Baseball Today podcast
!
1.
Felix Hernandez
versus
Brandon McCarthy
! Well, I'll be watching. Is opening the season in Japan good for baseball? Keith discusses.
2. Our special guest on the show was "Top Chef's" Richard Blaise, talking not only about food but also choking and pressure. It's interesting stuff.
3. In our news segment we talked about
Joba Chamberlain
and
Jose Iglesias
, but also Mets hurler
R.A. Dickey
, who will be making news this week off the field. Kudos to R.A. for his honesty.
4. In our email segment we talk about potentially surprising teams like the Royals, which season was actually Mariano Rivera's best and Shelby Miller's ETA to the big leagues.
5. Keith talks about players to watch in 2012 and why
Stephen Strasburg
did not make his list! Find out why!
So download and listen to Tuesday's Baseball Today podcast because it's the last one before the games start to count!
January, 23, 2012
1/23/12
5:45
PM ET
By
Christina Kahrl
| ESPN.com
Sending shortstop
Marco Scutaro
away might seem like an invitation for disaster for the Red Sox. It might seem as if they are about to lurch back into the bad, old days of Jackie Gutierrez, just so that they can afford
Roy Oswalt
in an attempt to keep up with the Yankees in the AL East arms race.
But if anything,
dumping Scutaro with one year left on his contract
represents a neat calculated risk: Can
Nick Punto
and
Mike Aviles
keep them covered at least until they might call on defensive whiz
Jose Iglesias
?
[+] Enlarge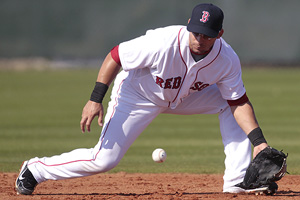 AP Photo/Dave MartinThe Red Sox traded Marco Scutaro to the Rockies for right-handed pitcher Clayton Mortensen.
There's little doubt that Iglesias' glove is ready right now. The Cuban defector's range, arm and footwork already make him a decent choice for best shortstop glove in the minors today. The problem is whether his bat will be ready, now or ever.
After Iglesias' .235/.285/.269 line for Triple-A Pawtucket as a 21-year-old last season, you can understand the skepticism. Dan Szymborski of ESPN Insider projects Iglesias to hit .267/.307/.344, while Baseball Info Solutions is significantly more pessimistic about what he might do this year (.241/.277/.277).
The situation is a lot like that of a previous Cuban defector who was a highly regarded glove wizard:
Rey Ordonez
of the Mets. Ordonez was considered a ready-now glove from the moment he signed with the Mets at the end of 1993. Like Iglesias, he notched two years down on the farm before debuting in the majors. And at the plate he was worse than Iglesias despite being three years older at this same point of his career, hitting .214/.261/.294 for Triple-A Norfolk in 1995.
The Mets gave him the job at shortstop the next year anyway, heavily leaning on a strong interior defense. It didn't pay off immediately -- they won 71 games in '96. The Mets won 88 games in each of the next two seasons, though, although Ordonez didn't manage to get an OPS over .600 in any of his first three years.
The Mets then won 97 games and the wild card in '99, as Ordonez delivered his first borderline adequate season at the plate (.636 OPS). But the extent to which Ordonez was helping or hindering the effort to put the Mets over the top was open to question. When he got hurt in 2000, they traded for Mike Bordick at the deadline and won the NL pennant. The next year, they switched back to Ordonez -- and fell right back out of contention.
Iglesias isn't expected to be the second coming of
Nomar Garciaparra
, but he should eventually grow up to be better than Rey Ordonez at the plate. That's setting the bar as low as it can go, though. Would Iglesias' development as a hitter --if he has any in him -- suffer from an early promotion? Ozzie Smith is the ultimate example of a shortstop whose contributions on offense eventually caught up to his value on D. That was extraordinary, and the suspicion is that Iglesias won't be.
However, carrying a weak bat for the defensive payoff might be slightly easier on the Red Sox, especially now. They led the majors in scoring last season, and that was despite getting terrible production from their corner outfielders.
Carl Crawford
should be better, and there's no way they'll get worse production from their right fielders, even if they wind up relying on some combination of
Ryan Sweeney
,
Darnell McDonald
and
Ryan Kalish
.
Something approaching normalcy from those hitters would make Iglesias that much more palatable if Red Sox manager Bobby Valentine -- the man who managed Ordonez over the bulk of his "productive" career with the Mets -- takes a shine to Iglesias in camp.
In the meantime, Boston's fall-back options are fairly reasonable. Like Scutaro, Punto is neither the best or worst defender at short. The difference in their career OBPs (.338 vs. .325) is narrow enough to suggest there won't be any drop-off with a change to the identity of the ninth-slot hitter in Boston's lineup, and Punto actually has a higher walk rate for his career (10.2 percent to Scooter's 9.1). That's without getting into why Aviles might have been the best right-now option of the three. After getting jerked around by the Royals ever since coming back from the Tommy John surgery that put a dent in his future in 2009, he still profiles as a good bat and playable glove at short.
But it's Iglesias who represents the team's long-term future at short. And it's Rey Ordonez's old manager who will be helping to decide whether or not he can use the latest slick-fielding Cuban kid at short, sooner or later.
Christina Kahrl covers baseball for ESPN.com. You can follow her on Twitter.
May, 11, 2011
5/11/11
1:17
PM ET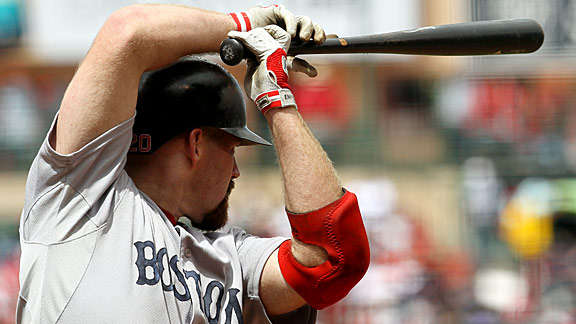 Stephen Dunn/Getty ImagesKevin Youkilis has a career average of .292 with a .394 on-base percentage.
Edgar Martinez
was a .312 career hitter and played in the major leagues until he was 41 years old. As a 40-year-old in 2003, Martinez hit .294 in 145 games. He's beloved in Seattle and his career record, which includes a pair of batting titles with averages of .343 and .356, says he's a Hall of Fame hitter. Voters are debating as to whether Martinez's career spent primarily as a DH will get him to Cooperstown, but regardless, it's a path Boston's
Kevin Youkilis
should follow.
Martinez's major league career got off to a relatively late start. He wasn't in the Mariners' everyday lineup until 1990, when he was 27, the same age at which Youkilis became a permanent Red Sox regular in 2006. Martinez was Seattle's primary third baseman through the 1994 season. It was when he was made the regular DH in 1995, however, that he consistently began putting up Hall of Fame numbers.
Martinez played all 145 games in 1995 and led the American League with a .356 average, 52 doubles, 121 runs, a .479 OBP and 1.107 OPS. Martinez was 32 years old during that 1995 season. Youkilis just turned 32 in March. For six consecutive seasons beginning in 1995, during which Martinez started a total of just 30 games in the field, he was one of baseball's premier right-handed hitters. These were Martinez's average numbers during that run as Seattle's DH from 1995 through 2000:
Youkilis is the ultimate grinder. When Ty Cobb said, "I have observed that baseball is not unlike a war," he seemed to be describing Youkilis, who most times after games looks like he just stormed screaming across a Scottish glen with Mel Gibson in "Braveheart." From 2004 through the start of this week's games, Youkilis has averaged 4.32 pitches per plate appearance, third-most in baseball over that span behind only
Jayson Werth
's 4.46 and
Bobby Abreu
's 4.33. The toll of Youkilis' daily wars of attrition at the plate might be lessened by allowing him to make them his sole focus. During his sensational six-year run as Mariners' DH, Martinez averaged 649 plate appearances per season. Isn't Boston better off getting Youkilis 649 plate appearances per season for the next six years, and lessening the risk of injury?
Yes, Youkilis won a Gold Glove in 2007 when he started 124 games at first base and fielded 1080 chances without a single error. The Red Sox have committed to pay
Adrian Gonzalez
$154 million to play that position through 2018. While Youkilis is a solid and extremely steady defender at first, Gonzalez is a graceful artist. Youkilis' days at first base in Boston are over.
Now he's back at third base, his original big league spot. Through his first 30 games, Youkilis' defensive runs saved rating was minus-3, which puts him on a 135-game pace of minus-15. This is hardly an indictment of Youkilis' career defensive contributions. Martinez was Seattle's third baseman from 1990 through 1994 and played all but one full season during that span with a range factor per nine innings at or above the league average. After hamstring injuries in '93 and '94, the Mariners moved him to DH; now with Youkilis at the same point along a career timeline, it would work again.
Boston's future shortstop, Jose Iglesias, is already getting a sneak preview of the big leagues this week at age 21. Keith Law called Iglesias "the best defensive shortstop prospect I've ever seen." Iglesias' presumed arrival next season creates a need to shift
Jed Lowrie
, who has moved into the everyday shortstop role this year and hit .330/.364/.505 through his first 30 games. After being bounced around the infield, the switch-hitting Lowrie, at 27, could finally settle into a regular defensive home and develop his third-base skills in the mode of
Bill Mueller
.
I'm sure a player like Youkilis, who gives you absolutely everything he has every single day, does not want to become a full-time DH. However, it's a position that gave
David Ortiz
a career in Boston. Big Papi will be 36 years old after this season, will be a free agent, and likely won't merit the $12.5 million contract on which he's currently playing. When that DH spot opens up for good, Youkilis should embrace it as Edgar Martinez once did.
Follow Steve on Twitter: @SBerthiaumeESPN.