May, 28, 2013
5/28/13
7:22
PM ET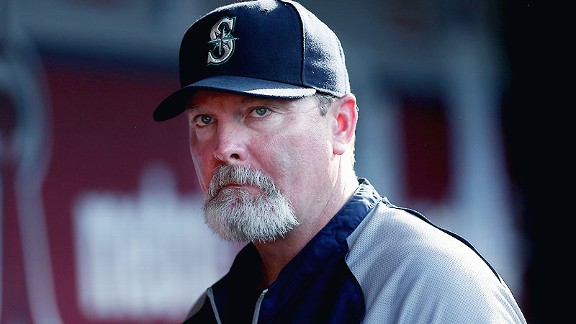 Jeff Gross/Getty ImagesSeattle's failure to consistently develop prospects could soon cost manager Eric Wedge his job.
No, I'm not writing about
Dustin Ackley
again because I'm a Mariners fan. I'm writing about him because he was the second overall pick in the 2009 draft and got sent down to the minors over the weekend, the exclamation point on his quick demise from promising rookie in 2011 to .205-hitting replacement-level second baseman in 2013.
Actually, I'll save myself the pain and link to
Dave Cameron's take
over at the U.S.S. Mariner blog, including his reference to Mariners manager Eric Wedge's quote that blamed Ackley's struggles on sabermetrics. No, really. Here's what he said: "It's the new generation. It's all this sabermetrics stuff, for lack of a better term, you know what I mean? People who haven't played since they were 9 years old think they have it figured out. It gets in these kids' heads."
Read Dave's piece as he breaks down Wedge's quote with the lethal result of a
Felix Hernandez
changeup. He wraps up by saying that Wedge will probably be fired soon, which is probably true:
Everyone knows that the only people capable of offering any kind of intelligent analysis of baseball players are those who have Major League experience. You know, like Eric Wedge. That's what's made him such a successful Major League manager, with his career record of 725 wins and 784 losses. And, you know, clearly Wedge knows how to develop young talent, since he helped all those young players turn into superstars in Cleveland.

Oh, wait, Cleveland's young players didn't develop as well as they were expected, and Wedge has had two winning seasons in 10 years as a big league manager. Hmm. Maybe experience isn't the only thing that matters after all?

Eric Wedge is going to be fired in the not too distant future. That move, in and of itself, won't turn around the Mariners franchise. But it won't hurt.
There's another piece on the U.S.S. Mariner site by Jeff Sullivan which
compares Ackley
to another former Mariner who was supposed to hit,
Jeremy Reed
. This points to the larger issue within the Mariners organization going back more than 10 years and three different front-office regimes: The complete inability to develop hitters (
Kyle Seager
, who was never a top prospect, being the exception).
Actually, they've developed three other real good ones in the past decade. Trouble is, they traded away
Adam Jones
,
Shin-Soo Choo
and
Asdrubal Cabrera
. But the list of Mariners position players besides Jones and Choo once rated in Baseball America's top 100 prospects is a sad list:
Dustin Ackley: Second overall pick in the 2009 draft. Was Baseball America's 11th and then 12th-best prospect. Truth is, he didn't tear apart the minor leagues (.280), but did draw more walks than strikeouts, and his decent rookie performance (.273/.348/.417) suggested he'd develop into a decent hitter. Definitely the most difficult one here to explain.

Justin Smoak: No. 13 prospect in 2010. His 24 home runs in 702 minor league at-bats suggests his power potential was always overrated anyway. Maybe remaking himself as well ... he's drawing walks now but a .698 OPS from a first baseman isn't exactly middle-of-the-order material.

Jesus Montero: Minor league numbers were impressive for his age, but the fact that he hit worse his second year in Triple-A was probably a bad sign in retrospect. Remember, this guy was BA's No. 4, No. 3 and No. 6 prospect three years running based on his sure thing as a hitter.

Michael Saunders: A May 13 headline in the Seattle Times reads, "Michael Saunders has gone from flop to force at the plate." Since then he's hit .109 (5-for-46) and is down to .217 with a sub-.300 OBP. Was BA's No. 30 prospect heading into 2010. He now has over 1,300 major league PAs and owns a career .219/.283/.366 line. I thought he had a breakthrough last year but now all bets are off.

Carlos Triunfel: BA's No. 62 prospect after debuting in the States at age 17. Remained in the top 100 the next year. Power never developed, undoubtedly aided by his poor plate discipline (35 SO, 7 BB in Triple-A this year).

Adam Moore: No. 83 before 2010, his minor league numbers were good, not great, but he was a catcher. Hit .195 as a rookie. Then came a bunch of injuries.

Jeff Clement: Drafted third overall in the loaded 2005 draft, peaked at No. 33 on the BA prospect lists. Just a misfire. A costly one.

Jose Lopez: Peaked as Baseball America's No. 38 prospect and reached the majors at age 20 and even made the All-Star team his first full season. But his willingness to swing at pretty much anything (never walked 30 times in a season) ruined his career.

Jeremy Reed: Acquired from the White Sox in the Freddy Garcia trade, he had hit .373 with 70 walks and 36 strikeouts in 2003 between A and Double-A. But a .289 average in Triple-A in 2004, the year the Mariners acquired him, suggests a guy who was probably overrated as the No. 25 prospect.

Chris Snelling: Three-time top-100 prospect, as high as No. 39. Couldn't stay healthy. The one guy here who I'm convinced would have hit.
How does this happen? How can one organization fail so miserably? Certainly, there's been a system-wide failure -- again, through different regimes and thus different major and minor league coaches and instructors -- to develop hitters with the ability to control the strike zone. Is that just bad luck? Bad coaching? Bad Safeco Field karma?
I don't really know. A friend of mine posits that the Mariners continually emphasize how much pressure they're under in the major leagues, instead of just letting them hit instead of talking about their struggles all the time. Maybe bad hitting and bad approaches just feed off itself like the Ebola virus. Losing is a disease, right?
There is no answer here other than that there is no magic wand you can wave, no secret sauce, no hitting coach that can flip the switch. The new guys are arriving --
Nick Franklin
is here to replace Ackley and Mike Zunino will be up soon.
They better be good.
June, 9, 2012
6/09/12
8:01
PM ET
By
Christina Kahrl
| ESPN.com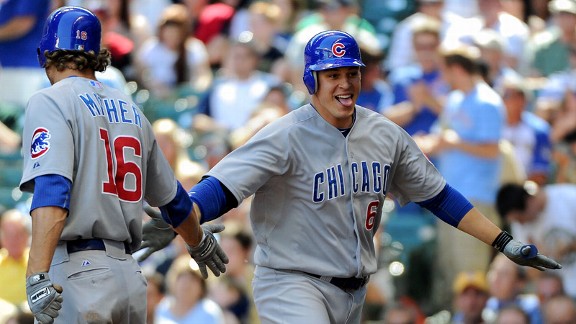 Benny Sieu/US PresswireBryan LaHair, 29, is in the top five in the National League in slugging, OBP and OPS.
At 28 years old and after spending much of the previous five seasons in Triple-A,
Bryan LaHair
was a purportedly "known" quantity -- Quadruple-A bat, perhaps a fill-in first baseman. In his one brief shot at The Show in Seattle in 2008, he split time at first base with utilityman
Miguel Cairo
and
Jose Lopez
. He didn't shine, and it was back to Tacoma the next year. In short, he seemed a man doomed to a dim star on an obscure walk of fame to be named later, perhaps in Tacoma, maybe in Iowa.
He changed that in his sixth campaign in the Pacific Coast League, changing the minds of scouts and analysts alike with 28 homers and a 1.070 OPS. And this year, taken seriously for the first time, he's a 29-year-old getting his first real shot at everyday play in the major leagues ... and blowing the league away. He's third in the National League in slugging, fourth in OBP, and fourth in OPS. And all it took to bring him to Wrigleyville was a minor-league contract, after the Mariners let him slip away as a minor league free agent.
By simultaneously shredding expectations and opposing pitchers, LaHair is providing a fine example that players' career paths aren't simply a matter of forecasting off past performance. That works on the macro level, for most players. But whether as a matter of changing their game or finally getting opportunities they'd long deserved, a few past-prime players are making the most of their opportunities this season.
You can't quite come up with a full lineup's worth of these guys, but beyond LaHair, here's my off-the-cuff list of this season's other "surprise stars," some of whom will belong in Kansas City as full-fledged All-Stars in a month's time.
C A.J. Ellis, Dodgers:
Say what you will about catching always being in short supply -- and it isn't -- Ellis had to wait until this year to get a clean shot at a catching job. Now 31, he's pretty much the perfect example of an organizational soldier: He spent his first two full seasons after getting picked in the 18th round out of Austin Peay as a backup at High-A, caddying for
Russell Martin
and then
Edwin Bellorin
(once upon a time a well-regarded Venezuelan prospect).
Ellis finally became a regular in Double-A in 2006. From the start, he showed tremendous ability to get on base, but the Dodgers kept him at the same slow pace, as he spent two years in the Southern League and two years in the PCL before graduating to two years as a big-league backup. That sort of long-form apprenticeship that seemed certain to lock him into little more than membership in the International Brotherhood of Backup Backstops.
Perhaps only taken seriously as a starter as a matter of grudging last resort this past winter, when the market offered slim pickings as far as catching help, Ellis is second only to
Yadier Molina
among NL catchers in his production at the plate while throwing out 41 percent of opponents' steal attempts. Ellis might be this group's best bet beyond LaHair to be headed to Kansas City for the All-Star Game.
SS Mike Aviles, Red Sox:
It has been a bumpy road for Aviles since his old-rookie debut as a 27-year-old with the Royals in 2008. In K.C., he had to contend with injuries and the idea that he wasn't really a shortstop. This year, shortstops are putting up the collectively lowest OPS (.678) or OPS+ (88), so Aviles' .711 OPS/90 OPS+ clip is just a wee bit above average, not shabby considering he's also doing fine at short, according to advanced fielding metrics. Beyond buying time for
Jose Iglesias
, this has proven a relatively high-yield, low-expense gamble for the Sox: League-average shortstops usually cost millions on the market, but Boston got him for an organizational arm (Kendal Volz) and
Yamaico Navarro
, a utility player so interesting that K.C. flipped him to the Pirates, who have already ditched him in Indianapolis.
[+] Enlarge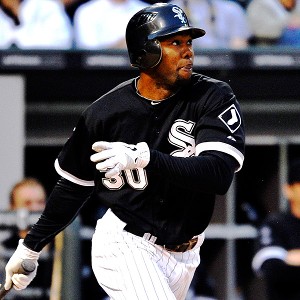 AP Photo/Brian KerseyCenter fielder Alejandro De Aza is making the most of his chance to play every day at age 28.
CF Alejandro De Aza, White Sox:
If LaHair is the slugging surprise of the season, De Aza is the out-of-nowhere leadoff solution most teams need. Back in 2007, he got an opportunity with the Marlins, leading off on Opening Day, but injuries to first one ankle and then the other derailed that season and the next. In 2009, he gave the first indication that he wasn't just going to be a speed guy, slugging .506 for New Orleans; the Marlins were so impressed they let him slip away on a waiver claim by the White Sox. Finally getting a shot at everyday play as a 28-year-old in the one-hole, he's hitting .299/.381/.425 and he's holding his own in center.
Juan Pierre
never looked this good, but a crowd of quality center fielders in the American League will keep De Aza from All-Star status.
OF Gregor Blanco, Giants:
Melky Cabrera
isn't the only Giants outfielder having a season well beyond anything he's done before. A Braves prospect they lost interest in, he was dealt to the Royals, who dealt him to D.C. before the Nationals ditched him. All he's ever done is get on base; he just needed an opportunity. He got one when general manager Brian Sabean fished him off the discard pile this past winter. Pushing his way past
Nate Schierholtz
, Blanco has hit his way into everyday play in right field and the leadoff job with a .387 OBP as a 28-year-old journeyman. Blanco may rival Sabean's "discovery" of
Andres Torres
in 2009 before all's said and done.
RF Justin Maxwell, Astros:
Nobody has doubted Maxwell's power or talent, but his ability to stay healthy has been an annual concern. The Nats decided they had better uses for his spot on the 40-man and traded him to the Yankees, but he spent more time on the disabled list in 2011 with a bum shoulder than he did in pinstripes. The talent-hungry Astros snagged the 28-year-old off waivers this spring, and he's been a free-talent find as a fourth outfielder, providing power against lefties and strong-armed defense.
SP Jerome Williams, Angels:
Back in the day, Williams was a top prospect in the Giants' organization, ranking in Baseball America's top 20 for all baseball. That all seemed merited after a fine 2003 rookie season in which he drew an NL Division Series start for them against the Marlins. It was almost unrelentingly downhill from there; he needed elbow surgery in 2004, got dealt to the Cubs in 2005, and then bouncing through the Nationals, Twins, A's (twice) and Dodgers organizations, as well as a stint in the independent leagues. After making a nice impression on the Angels down the stretch last season, the 30-year-old Williams is getting regular rotation work in the majors for the first time in seven years as their fifth starter. More of a finesse righty these days, he's been an exceptional salvage-project success, putting up eight quality starts in 10 turns, far better work than most teams reasonably expect from a No. 5.
Quite simply, what these guys reflect is that not all replacements are "replacement level." Just when you think you know what a player is capable of, a happy few beyond their expected peak age of 27 have demonstrated the delightful capacity to surprise and exceed the modest expectations even their fans harbored for them. I don't know about you, but I like these kinds of surprises -- here's hoping we see more of the same from all of them.
Christina Kahrl covers baseball for ESPN.com. You can follow her on Twitter.
May, 23, 2012
5/23/12
12:30
AM ET
OK, I'll give you
Justin Verlander
.
I'll even give you
Miguel Cabrera
,
Prince Fielder
and
Austin Jackson
.
But five through 25? I think I'll take the
Cleveland Indians
over the
Detroit Tigers
.
The
Indians beat the Tigers 5-3
on Tuesday, even though
Ubaldo Jimenez
struggled once again with his control. Relief ace
Chris Perez
, who criticized Indians fans on Saturday for their lack of support (Cleveland is last in the majors in attendance), was greeted with a thunderous ovation as he came in out of the bullpen in the ninth inning. With two runners on, he struck out Cabrera and got Fielder to ground out.
Just another save. "That's the loudest I've ever been cheered here," Perez said. "I was pumped, the adrenaline was going. It could have gone the other way. I came through. I didn't know which way it was going to go. I was thankful it went the good way."
The good way pushed the Indians to 24-18. The Tigers are 20-22, and for the life of me I can't understand why everyone still thinks Detroit is the better team. Mind you, I'm not saying the Indians are better. I just don't see why the Tigers are better. Just because everyone picked them before the season?
Once you get past those big shiny names on the Tigers' roster, if you want to pinpoint one big difference between the two clubs, it's a little statistic that us sabermetric types love: the old base on balls. The Indians lead the American League with 188 walks, 25 more than any other team; the Tigers have 127 walks, ninth in the league. That patience will go a long ways toward giving Cleveland an offense capable of scoring as many runs as Detroit's (the Indians have outscored the Tigers by one run so far, 184 to 183).
In fact, when you go position by position, you'll see what I mean.
Catcher: Carlos Santana versus Alex Avila.
So far, Avila has been unable to match 2011's .366 average on balls in play, the sixth-best average in the majors. Which means he's hitting like he did in 2010. Santana, meanwhile, is a walks machine who hit 27 home runs in 2011.
First base: Casey Kotchman versus Prince Fielder.
Obvious edge to Fielder, of course. The most interesting thing about his start (.292/.354/.472) is his walk rate is down from 15.5 percent to 8.5 percent. Part of that is he was intentionally walked 32 times a year ago, just three this year.
Second base: Jason Kipnis versus Ramon Santiago/Ryan Raburn.
Please. Big edge to Kipnis with Santiago and Raburn both hitting under .200. Will Detroit make a move here?
Third base: Jack Hannahan/Jose Lopez versus Miguel Cabrera.
This may be the first and only time you'll see Jose Lopez mentioned in the same breath as Miguel Cabrera. So far, however, this edge has been minimal. Cabrera is hitting .304/.362/.488, Hannahan .287/.365/.436 but with better defense. According to Defensive Runs Saved, Cabrera has cost the Tigers four runs -- worst among third basemen (tied with
Hanley Ramirez
).
Shortstop: Asdrubal Cabrera versus Jhonny Peralta.
With the Indians preaching plate discipline, check out Cabrera: Last year, 44 walks and 119 strikeouts; this year, 18 walks and just 12 strikeouts. He's hitting .309 with an OBP over .400 but hasn't lost any power. In 2011, he swung at 31 percent of the pitches out of the strike but he has cut that down to 24 percent. Small differences can go a long way. Peralta was a big surprise for Detroit last season but hasn't matched the numbers in the plate or in the field.
Left field: Johnny Damon/Shelley Duncan versus Andy Dirks/Delmon Young.
Damon has looked terrible. Dirks has looked great, but too early to evaluate this one.
Center field: Michael Brantley versus Austin Jackson.
With his defense and hot start at the plate, Jackson has been as valuable as any player in the American League not named
Josh Hamilton
.
Right field: Shin-Soo Choo versus Brennan Boesch.
This one isn't close and that's with Choo off to a middling start in the power department. Choo has a .391 OBP, Boesch a .271 OBP. Choo is a solid defender while Boesch is slow and lumbering. With his poor start at the plate and poor defense, Boesch has been one of the worst regular in baseball so far. Choo is an underrated asset and I love Manny Acta's decision to move him into the leadoff spot.
Designated hitter: Travis Hafner versus field.
Cleveland's designated hitters have six homers and .370 OBP (fourth in the league). Detroit's DHs have one home run and a .238 OBP (13th in the league). Big, big edge to Pronk.
Rotation.
With the best pitcher on the planet, Detroit's rotation has posted a 3.87 ERA; without the best pitcher on the planet, Cleveland's rotation has posted a 3.94 ERA. Both teams have played 42 games and Cleveland's starters have thrown 12 more innings. Moving forward, maybe you think Detroit's group will perform better. After all,
Doug Fister
missed some,
Max Scherzer
just struck out 15 in game (never mind that the Pirates have been an historic strikeout binge of late) and
Rick Porcello
will put it together one of these years, because everyone says so. Meanwhile, Ubaldo Jimenez can't throw strikes,
Justin Masterson
hasn't pitched as well as last year and
Derek Lowe
is doing it with smoke, mirrors and a deal with the devil. The one thing the Cleveland starters do is keep the ball in the park; they've allowed 20 home runs, second-fewest in the league. Look, maybe you think Scherzer will start pitching better; I'd say so will Masterson. Maybe you're a Porcello believer; I'm not, especially with that infield defense behind him. Lowe is a fluke? Well, let's see how
Drew Smyly
does as the scouting reports get around on him.
Bullpen.
Neither pen has been stellar, as Cleveland's 4.16 ERA ranks 13th in the AL and Detroit's 4.76 ranks 14th. Cleveland's top guys, however, have been pretty solid -- Chris Perez is 14 of 15 in save opportunities while
Vinnie Pestano
,
Joe Smith
and
Nick Hagadone
have pitched well. Detroit's top two of
Jose Valverde
and
Joaquin Benoit
, so dominant a year ago, have both struggled to throw strikes.
I said before the season that I believed the Tigers were drastically overrated. On the Baseball Today podcast late in spring training, I predicted Cleveland would win the division. Unfortunately, when ESPN.com published predictions a few days later, I changed my pick to Detroit. I bought into the hype.
I'm not buying any longer. This division is wide, wide open. (And I haven't even mentioned the White Sox!)
PHOTO OF THE DAY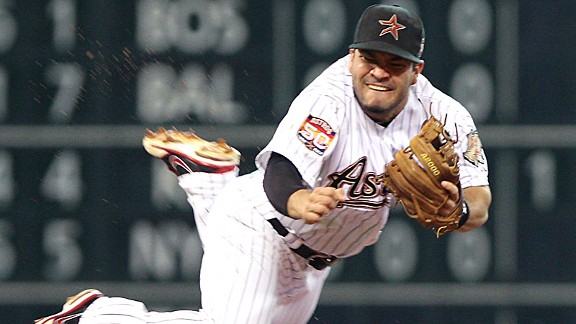 Troy Taormina/US PresswireDiminutive Astros infielder Jose Altuve isn't always so low to the ground.
November, 28, 2011
11/28/11
5:10
PM ET
As a 25-year-old, Angels first baseman
Mark Trumbo
had a solid rookie season: He hit 29 home runs, finished tied for 18th in the American League in extra-base hits and displayed good range on defense.
However, those numbers came with a big negative: 25 walks that led to a .291 on-base percentage, 68th out of 73 AL regulars.
Knowing it's near impossible to win with a first baseman who posts a .291 OBP, the Angels have to consider: (1) How likely is Trumbo to improve? (2) Do they spend the money to go after
Prince Fielder
or
Albert Pujols
? (3) Could Trumbo handle third base?
I think the first question is the biggest key here. If the Angels think Trumbo is a productive hitter, they don't need to worry about the second question (especially if they also count on
Kendrys Morales
returning).
Trumbo's skill-set is relatively odd: Despite the .291 OBP, his park-adjusted OPS was better than league average -- 113 (where 100 is average). The first step in determining Trumbo's future as a hitter is to look at similar hitters. Since 1990, only three other 25-year-olds posted an OBP of .310 or less and an OPS+ of at least 100:
Matt Kemp
(2010),
Jose Lopez
(2009),
Torii Hunter
(2001) and
Matt Williams
(1991).
It's an interesting list. Kemp, of course, turned into an MVP candidate, but he's the least similar as he'd already had two much more productive seasons prior to his 2010 slump. Hunter gradually increased his walk rate from 4.8 percent in 2001 to 7.8 percent in 2003 to 9.6 percent in 2011. That improved strike-zone judgment was key in his development as a hitter. Lopez was well into his career by 2009, but after a 25-homer season that year, he fell apart and has hit .233 with a .263 OBP the past two seasons.
While Lopez is the worst-case scenario, Williams is the most interesting comparison. He hit .268/.310/.499 in 1991, numbers slightly more impressive in their context than Trumbo's line. However, his 128/33 strikeout/walk ratio nearly matches Trumbo's 120/25 mark. Williams never did walk much (season high of 43), but eventually cut his 1991 K:BB rate from 3.88 to a career mark of 2.91.
Of course, four players is a small sample. Let's expand the parameters to since 1990, 24 or 25 years old, first or second year in the majors, 300 PAs, OBP of .310 or less and OPS+ of at least 90, we get this list:
Trevor Plouffe
(2011),
J.P. Arencibia
(2011),
Josh Fields
(2007),
Jared Sandberg
(2007),
Tony Clark
(1996),
Bret Boone
(1993),
Ryan Thompson
(1993),
Eric Karros
(1992), Leo Gomez (1991),
Ray Lankford
(1991), Wes Chamberlain (1991), Jeff King (1990),
Greg Vaughn
(1990).
Obviously, it was hard to post a low OBP and maintain an OPS close to league average during the high-offense era of the mid-1990s to mid-2000s. If you stick to raw numbers (let's say at least 25 home runs, but fewer than 35 walks at age 25), a couple of interesting names pop up:
Juan Gonzalez
and
Sammy Sosa
. (But also
Chad Tracy
,
Brad Fullmer
,
Geoff Jenkins
and
Rondell White
.) There's a big difference with Gonzalez and Sosa, however: Gonzalez had a .324 OBP and Sosa .339 in the years in question. Those a sizable increases from .291.
Basically, I still like the Williams comparison as a
best-case
scenario. Realistically, that probably won't happen. Even though Trumbo was a rookie, you have to remember he's 25 years old. He's essentially a mature hitter, which is why the projections for him predict similar numbers: ESPN contributor Dan Szymborksi's
ZIPS system has Trumbo at .253/.295/.437
and the Bill James system a slightly more optimistic .269/.313/.493.
Even that second line looks more like a third baseman than a first baseman. As far as that possible conversion, for a franchise that has long emphasized defense, it seems a long-shot opportunity considering Trumbo never played a game there in the minor leagues.
The Angels already have a projected payroll of $128 million according to Baseball-Reference.com (thank you,
Vernon Wells
), but investing in Fielder or Pujols makes sense. If they want to compete with the Angels, this team needs a big bat; Trumbo is not that big bat. If they can suck up the budget for one season, Hunter comes off the payroll after 2012, so that could open up right field for Trumbo (he's played a bit in the minors). With
Peter Bourjos
and
Mike Trout
, the Angels could survive with one subpar defensive outfielder.
And a lineup with Trout, Trumbo, Fielder, Bourjos, Morales, Howie Kendrick and
Erick Aybar
suddenly looks like one that can win a division title.
February, 12, 2011
2/12/11
11:10
AM ET
By
Drew Fairservice
| ESPN.com
Your view of
Colorado Rockies
GM Dan O'Dowd's offseason moves depends on your perspective. If you work in the Rockies' accounting department, you are acutely aware of the large trucks full of money delivered to both
Troy Tulowitzki
and
Carlos Gonzalez
; ensuring two core pieces will breathe mountain air for many years to come. The Rockies also re-signed free-agent rotation mainstay
Jorge De La Rosa
and bullpen anchors
Rafael Betancourt
and
Matt Lindstrom
.
The biggest splash the Rockies made on the open market this winter was a move that wasn't. The Rockies' long-rumored interest in Rangers third baseman
Michael Young
hit a fever pitch when the Rangers "slugger" announced his desire for a trade. The Rockies and Rangers couldn't get a deal together, and both sides stopped just short of pronouncing the deal dead this week. Instead, the Rockies opted for minor moves like acquiring
Jose Lopez
and
Ty Wigginton
. The important question remains: Are they any closer to challenging for the N.L. West crown?
In a word: Yes. The 2010 Rockies won 83 games, finishing 9 games behind the Giants after a wild month of September. Entering the month trailing the division leading Padres (!) by 7 games, the Rockies lost two one-run games to the Giants before rattling off 10 straight wins -- powered solely by Tulowitzki's
hair and good looks
. (Also his home runs: Tulo hit eight in that 10-game span.) Suddenly, the Rockies sat only 2.5 games out of the division lead. Unfortunately for Colorado, that was as close as it got. The Rockies slumped to the finish, eventually losing 15 of their 19 remaining games.
The Rockies proved they have the talent to take a run at the playoffs in 2010 and, by solidifying the core of their team, they're able to add fringe pieces with potential like Lopez and Wigginton. Lopez wore out his welcome in Seattle with a (perceived) bad work ethic and poor plate discipline. Lopez was terrible at the plate in 2010 but can supply some pop -- especially after moving from spacious, right-handed-hitter killing Safeco to Coors Field. Not to mention his excellent defense across nearly all advanced metrics in his first full season at third base.
Wigginton posted equally dire numbers to Lopez at the plate in 2010, without the benefit of superlative defense. Serving as a right-handed utility bat to spell creaky first basemen
Todd Helton
and
Jason Giambi
would be the best option for Wigginton.
Getting full seasons from both
Chris Iannetta
and
Jhoulys Chacin
should only prove the Rockies have one of the best young cores in all of baseball. Adding veteran pieces to address specific concerns is the mark of a good GM. O'Dowd's moves this winter might not be sexy, but his team is a solid pick to take down the Giants in 2011.
Drew Fairservice writes the Blue Jays blog Ghostrunner on First. Follow him on Twitter.
December, 1, 2010
12/01/10
2:07
PM ET
The Mariners already declined their $5 million option on
Jose Lopez
for next season. Now it seems they're going to
non-tender him, too
, essentially making him a free agent.
Prior to this latest news, Geoff Baker detailed the
Mariners' thinking about Lopez
...
You can see why the M's would opt to give Lopez one more crack after that, hoping he could produce such numbers over an entire year, especially coming off a 25-homer season in 2009. His salary for 2010, coming in at $2.75 million, wasn't exactly prohibitive. The Mariners also used that season to test Lopez out as a third baseman and he didn't look too shabby, though the play of shortstops Jack and Josh Wilson helped cover a lot of ground to Lopez's left. It wasn't an accident. The defense was positioned to minimize Lopez's flaws.

Even so, it became largely irrelevant. The bottom fell out on Lopez's offense in 2010 and that has so far made him untradeable. The Mariners declined to pick up his $5 million option for 2011 (an extra $500,000 added to that pile once he accumulated 500 plate appearances last season), meaning he is now arbitration eligible.

--snip--

Some have suggested the M's could offer Lopez arbitration and then try to trade him.

That is true. But it seems like too much of a risk for too little reward potential.

It's not like the M's can offer Lopez ten bucks in arbitration, then pawn him off. The system doesn't work that way. You can't offer an arbitration eligible player anything more than a 20 percent pay cut under the current collective bargaining agreement.

That means the minimum Lopez would be offered is a $2.2 million salary.

And he could counter that with a claim for, say, $3 million. Or even $4 million. And whatever the arbitrator decides, that's what he'd get. There is no middle ground. Arbitration is a funny thing and teams never really know how it's going to work out. Pay cuts are not unheard of, but nor are they common. You'd think a player who performed as poorly as Lopez would be in-line for a cut. But you just never know. His side could argue that he was bounced around the lineup, into a cleanup role he was ill-suited for and moved to a new position where modern stats suggest he was one of the best defensive third basemen in the game.

So, would you roll the dice on that?
Well, yeah. I probably would.
In 2008 and '09, Lopez was worth roughly $10 million ...
in each season
. Granted, those two seasons were sandwiched by 2007 and 2010, in which he was worth very little. If he's physically capable, though, wouldn't we expect him to be worth at least $5 million in 2011?
You can't really blame the Mariners for letting Lopez go. They're coming off a terrible season and Lopez didn't help. They've watched him, over the last two seasons, draw the grand total of 47 walks and reach base precisely 28.7 percent of the time. They're probably just tired of watching him. It's only natural.
Lopez will bounce back, though, won't he? His contact rate and his line-drive percentage and his ground-ball percentage and all the rest of them were right in line with the rest of his career. Well, almost all the rest of them. His home runs per fly ball percentage was down significantly from the previous two seasons. Was he weaker in 2010? Or just unluckier?
I don't know. I suspect that Lopez can be had this winter for a lot less than $5 million. He won't be a star, and probably won't be the comeback player of the year or anything. But he could be a solid pickup for a team that's desperate for a cheap third baseman who can't really get on base or a cheap second baseman who can't really play second base.
March, 19, 2010
3/19/10
5:47
PM ET
Shannon Drayer spent some time with Don Wakamatsu this morning, and apparently the M's still aren't sure
who's going to play third base, and who's going to play second
:
Wak and Jack Z met this morning to talk about the infield situation. They are leaning toward keeping Lopez at third and Figgins at second but the final decision has not been made and it has not been an easy one at that.

Jack suggested that perhaps Don should flip it back for a day or two, not saying he has given up on the experiment but just to give him a look at it the other way. Wak may have the two take ground balls at their regular positions tomorrow then try them in a game sometime next week. Or he may not. He sounded hesitant when I asked if he thought they might really try the switch.

"Everybody in the clubhouse feels like what we are doing now, they feel strong about it. The players Lopey, Figgy feel good about it. Kotch, Jack they are all on board with it so we are leaning that way but we still have some games to see."

It is not just Wak who is leaning towards keeping Lopez at third and Figgins at second. Just about everyone in the organization I have talked to feels it can work. It looks like it will still be a little while however before we get a final answer.
Does anyone else think it's a little strange that on the 19th of March, a (supposedly) contending team still isn't sure where to play two of their every-day infielders, both of them with at least four full seasons in the majors? And that the decision might come down to how they "look" over the course of two or three games in late March?
I don't know that it matters much. If Lopez can make the throws and Figgins can stay healthy, both can be perfectly acceptable in their new spots. Just seems like an odd way of doing business, with Opening Day right around the corner.
March, 8, 2010
3/08/10
5:01
PM ET
It's nice to know that March still has some surprises. As
Bob Condotta reports
, the Mariners are seriously considering shifting
Jose Lopez
to third base and
Chone Figgins
to second base:
A week into the Mariners' grand experiment to move Lopez to third and allow free-agent signee Chone Figgins to play second, Lopez says, "I feel great."

Primarily a second baseman in his six previous seasons as a Mariner, Lopez admits he was initially wary of the move, saying, "Nobody is comfortable at a new position the first couple of days."

But he said handling three ground balls without a flaw in his first two games has helped his confidence.

"I feel better," he said Sunday. "I feel really comfortable right now. I don't feel 100 percent. But I think I've got a chance to get to 100 percent before the season starts."

Nothing is concrete yet, but Mariners manager Don Wakamatsu said all signs point toward Lopez staying at third.

"There's nothing right now that says that wouldn't work that I've seen," Wakamatsu said.

That includes not only Lopez's play on the field but his body language, which Wakamatsu said from the start has been positive.

"You're asking a guy to change a position, you want his enthusiasm for it, and he's shown that," Wakamatsu said. "I think initially he has liked it."

The Mariners made the move thinking Figgins — primarily a third baseman with the Angels — might give them a more athletic, mobile body at second, and a replacement was needed at third with Adrian Beltre signing with the Red Sox. Lopez, and his 25 homers of last season, fit the offensive profile of the position.

I'm just catching up to the news, I guess ... This floored me. I don't find the "offensive profile of the position" argument particularly compelling.
Cal Ripken
didn't fit the "offensive profile" of a shortstop, but he was a pretty good one for a long time.
Joe Mauer
doesn't fit the "offensive profile" of a catcher, but the Twins keep sending him back there.
For that matter, Chone Figgins fits the "offensive profile" of a second baseman, but the Angels sent him to third base and his numbers there were fantastic. Earlier in his career, his numbers at
second
base were not so fantastic. They were, in fact -- and yes, we're talking about a small sample here -- not as good as Lopez's.
I've got a great deal of faith in Seattle's front office. They've earned it over the last 16 months. But moving two players who have been good (or good enough) at their most recent positions strikes me as rearranging perfectly good deck chairs on the Queen Mary.