March, 6, 2014
Mar 6
3:56
PM ET
The appreciation of framing pitches isn't a new concept -- scouts and managers have acknowledged the ability of good defensive catchers since the days they used chunks of raw meat for extra padding and we've all heard Tim McCarver discuss the topic for years -- but what is relatively new is the attempt to
measure
that value.
Harry Pavlidis and Dan Brooks of Baseball Prospectus came out earlier this week with an
impressive new study
on the topic in a piece titled "Framing and Blocking Pitches: A Regressed, Probabilistic Model." The data requirements for the study were extensive and the math complex but their results indicate that the value of a good receiving catcher matches what other studies have produced. Which is a quite a lot. They write:
Our data suggest that over the past five years, the teams that have employed good framers like Jonathan Lucroy, Brian McCann, and Jose Molina have received essentially "free" MVP-caliber seasons from framing alone. (Each of those catchers has been worth about two extra wins per season over that span). This is a staggering amount of value. Add in the fact that these wins are almost assuredly not properly priced into the free agent market, and the difference between having a good framing catcher or a bad framing catcher can make or break a cost-conscious team.
You can read the article for the in-depth explanation of the study. Harry and Dan write, "Rather than identifying a single strike zone and giving binary credit for each pitch relative to that strike zone's borders (i.e., strike or no strike), our model gives partial credit for each pitch based on that pitch's likelihood of being called a ball or a strike. To determine that, we created a probability map of likely calls."
This includes categorizing different pitches into separate groups (fastballs, curveballs, sliders, etc.) but also specific pitches within each group -- for example, two-seam fastballs, four-seam fastballs and sinkers would be part of the fastball group. The run value of the count is also considered. Framing a 3-2 take is more valuable than framing a 0-0 take. The pitcher is also considered. As the authors write,
Because catching necessarily involves pitching, and because pitching talent is not equally distributed across the league, it can be difficult to correctly assign credit for each catcher's contribution to a framing total. For example, if Mariano Rivera, Brian Wilson, or Derek Lowe is your batterymate, you are likely to get more favorable calls than if your batterymate is Andrew Miller, Brandon League, or Micah Owings.
So they adjusted for all that, or at least the best they could.
They studied 2008 to 2013. The top five catchers in overall framing runs earned were Brian McCann (+127), Jose Molina (+116), Jonathan Lucroy (+94), Russell Martin (+91) and Ryan Hanigan (+74). Yadier Molina ranked seventh. No surprises there, as those guys have ranked high in previous studies and all carry reputations as outstanding defensive catchers (Lucroy is maybe the one guy who doesn't get a lot of credit for his glove outside of sabermetric circles). The bottom five: Ryan Doumit (-124), Gerald Laird (-83), Chris Iannetta (-75), John Buck (-55) and Nick Hundley (-55).
The article also lists some of the pitchers who have received the "worst" support from pitch framing. Justin Masterson (-40 runs) and Felix Hernandez (-30) have been hurt the most here. Masterson, of course, has thrown a lot of innings to Carlos Santana, who isn't regarded as a positive behind the plate, while Hernandez has thrown to a variety of poor pitch framers (five the 10 lowest-rated catchers on a rate basis played for the Mariners in this period).
The big question: Do the results pass the sniff test? Is it possible the best pitch framers are worth 20 runs (about two wins) a season? That's about one run a week. It seems like a lot of value, especially when the best players (Mike Trout, Andrew McCutchen, Miguel Cabrera) are worth 7 to 10 wins above replacement level. Is Ryan Hanigan's ability to frame pitches worth one-fifth of Mike Trout's overall value? I think it's reasonable when you consider that catchers are involved in every pitch.
The value of framing explains why a smart team the Rays signed Jose Molina a couple years ago and traded for Hanigan this offseason. For teams that don't value pitch framing, look at the Mariners, who traded for non-catcher Jesus Montero a couple years ago and signed Buck this winter. With Montero flopping on defense, the Mariners were forced last season to rush Mike Zunino to the big leagues.
But maybe there's good news there: Zunino, in his short time in the majors, has rated very well at framing pitches.
September, 27, 2012
9/27/12
1:48
AM ET
I sent an email to my pal Jim Caple, asking: Would you rather see the A's or Angels in the playoffs?
I could also ask: Would you rather see the Orioles or the Rays?
All four teams won on Wednesday, which means good news for the Orioles and A's -- one game closer to the playoffs! -- and bad news for the Rays and Angels, who need to keep winning and get some help.
My thought on the A's is I want them to make it because they're the ultimate underdog, Cinderella, small-market franchise, and it's good for baseball for a team like that to make it to show success doesn't depend solely on a high payroll. But I'd also like to see
Mike Trout
and
Albert Pujols
in the postseason. And I'd like to see if the Orioles can keep their magical success in one-run games and extra-inning games going. And I'd like to see the Rays make it, because how can you not root for the Rays?
But only two of the four teams can win the wild cards (and we shouldn't discount the Orioles' chances of winning the American League East). Here's the case for each on why we want them to make it.

Baltimore Orioles
: Because there are Orioles fans now in high school who haven't seen their team post a winning record. … Because they were once baseball's premier franchise from the late 1960s to the early '80s (18 consecutive winning seasons, including 13 with 90-plus wins) and Baltimore was once a great baseball town, finishing first or second in the American League in attendance every year from 1992 to 2000. … Because we need to see if
Adam Jones
can hit another home run in extra innings. … Because we have no idea who Buck Showalter would start in the wild-card game. … Because we may see Cal Ripken throw out a first pitch. … Because they wear orange jerseys. … Because nobody believed in them when they won five in a row in New York and Boston in May -- including The
Chris Davis
Game -- to improve to 19-9, or when they tossed back-to-back shutouts in Atlanta in June to go to 39-27, and certainly not when they lost 17 of their next 24. … Because they've won 16 extra-inning games in a row. … Because they've brought back the tri-colored '80s hats. … Because they had the guts to call up 20-year-old shortstop
Manny Machado
and make him their starting third baseman down the stretch. … Because an Orioles-Nationals World Series would be pretty cool. … Because it's time to exorcise the demons of that brat in the Yankees cap.
Tampa Bay Rays
: Because they keep doing this every season despite one of the lowest payrolls in baseball and it's time to see them go all the way. … Because we could see a
David Price
vs.
Justin Verlander
showdown at some point. … Because
Evan Longoria
is a stud and deserves some time on the big stage and 11 Yankees make more money than he does. … Because we want to see if
Matt Moore
can replicate that "Welcome to the big leagues, kid!" performance from last October, when he blanked the Rangers for seven innings on two hits in Game 1 of the Division Series. … Because
Fernando Rodney
has had a season for the ages (45 saves, 0.63 ERA) and nobody has paid much attention to it. … Because Joe Maddon had the guts to move
Ben Zobrist
to shortstop in August and the Rays have gone 27-18 since. … Because they have a 2.48 ERA over their past 63 games and if pitching is what takes you all the way then this team can go all the way. … Because we could get
Jose Molina
facing brother
Yadier
in the World Series. … Because at least it won't be 38 degrees inside Tropicana Field.
Oakland A's
: Because they were ranked No. 29 in the first week of the ESPN.com Power Rankings, one slot below the Orioles (hey, at least we got the Astros right). … Because it was just announced that
Travis Blackley
is officially a rookie, meaning the A's are currently going with an all-rookie rotation -- and that is just
awesome
. … Because they signed
Yoenis Cespedes
and nobody else did. … Because
Jarrod Parker
's changeup is so good it can be compared with
Felix Hernandez
's and not make anyone think you're crazy saying that. … Because
Chris Carter
has more power in one arm than many big leaguers have in two. … Because maybe we'll get a wild-card game against the Orioles featuring yellow jerseys versus orange jerseys and we can pretend it's the '70s all over again. … Because they have the sixth-best record since 2000 and four of the other five teams won a World Series (Yankees, Cardinals, Red Sox, Angels; the Braves being the exception). … Because they've used 18 different rookies. … Because
Alex Rodriguez
,
Mark Teixeira
and
Pedro Feliciano
make more money combined than the entire A's roster. … Because they have 13 walk-off wins, most in the majors, and is there anything sweeter than a walk-off win in the postseason? … Because we could see an A's-Giants Bay Area World Series. … Because with Blackley and
Grant Balfour
, a World Series with the A's in it would be HUGE in Australia.
Los Angeles Angels
: Because America wants to see Mike Trout in the postseason. … Because America
needs
to see Mike Trout in the postseason. … Because we could get Albert Pujols going back to St. Louis and we can all spend three days wondering if Cardinals fans will boo him or cheer him. … Because
Jered Weaver
throws high fastballs in the upper 80s and gets away with it. … Because when he's on, few pitchers are as fun to watch as
Zack Greinke
. … Because a World Series featuring Trout and
Bryce Harper
would remind us of the 1951 World Series that also featured two rookie center fielders named Mays and Mantle. … Because
Mark Trumbo
may hit one 500 feet. … Because maybe we'll see
C.J. Wilson
face off against
Yu Darvish
and his ex-Rangers teammates. … Because you know a World Series game in Anaheim means we won't see players wearing earflap caps and drinking coffee in the dugout while wearing ski gloves.
As for my question to Jim, what was his response? "I want them both to make it!"
Thanks, Jim. Way to take a stand.
PHOTO OF THE DAY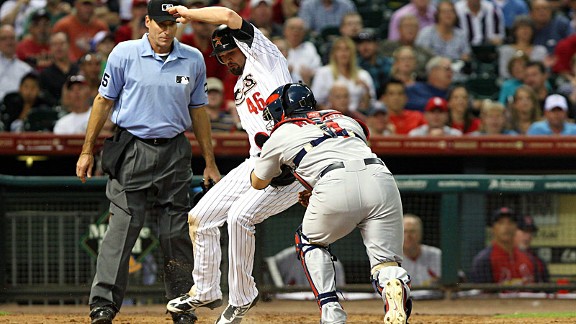 Troy Taormina/US PresswireYadier Molina shows why he's incomparable when it comes to the rough dance around home plate.
June, 7, 2012
6/07/12
12:56
AM ET
"Show us some respect," yell Baltimore Orioles fans. Or maybe they're politely demanding. But I've seen the complaints in the Power Rankings comments, read the emails sent to "Baseball Today," been asked the question in my chats: Why doesn't anyone believe in the Orioles?
The Orioles traveled to Fenway Park this week in a precarious situation. They've lost two of three in Tampa. They've been swept in Toronto. They've lost two of three at home to Kansas City. They've lost two of three at home to Boston. They haven't won a series since the big weekend showdown in Washington from May 18-20.
So, yes, the concerns all of us "experts" had been raising -- it's a long season, let's see what happens to the rotation, let's find out if some of the hitters can keep up their hot starts, the bullpen can't keep its ERA under 2.00 all season -- were proving true. The O's were 27-14 after winning the second against the Nationals but had gone 3-10 since, with the staff posting a 4.95 ERA while the offense scored 3.5 runs per game.
These were the Orioles we all expected. And then they beat the Red Sox in extra innings on Tuesday. And then they
beat the Red Sox 2-1
on Wednesday behind a solid effort from
Wei-Yin Chen
and scoreless innings from
Pedro Strop
and
Jim Johnson
. They're 5-0 at Fenway in 2012 and Chen is now 5-2 with a 3.49 ERA. The key moments came in the seventh inning after the Red Sox threatened with a pair of singles to start the frame. But after a sacrifice bunt, Chen struck out
Marlon Byrd
and induced
Mike Aviles
to pop out to first base.
Normally, Buck Showalter might have turned to his stellar bullpen, but after Tuesday's victory, in which the bullpen threw five innings, he left Chen to escape the jam. He set up Byrd with three fastballs and then got him swinging on a beautiful changeup. He threw three more fastballs to Aviles that he couldn't get around on. Don't underestimate Chen. His stuff plays up big, with his four-seamer reaching 94 mph. His last pitch to Aviles was clocked at 93. In 11 starts, he allowed two or fewer runs seven times and I think this outing will give Showalter more confidence to stretch Chen a little deeper into games.
So the Orioles remain in first place for another day, half a game ahead of the Yankees. Is it time to show them a little respect, to give Orioles fans what they crave? Let's do some position-by-position rankings to help sort out this tightly packed division. Rankings are simply listed in order of who I would want the rest of the season.
(Season-to-date Wins Above Replacement from Baseball-Reference.com, before Wednesday's games, listed in parenthesis.)
Catcher
1.
Matt Wieters
, Orioles (1.6 WAR)
2.
Jarrod Saltalamacchia
/
Kelly Shoppach
, Red Sox (1.6)
3.
Russell Martin
, Yankees (0.7)
4.
J.P. Arencibia
, Blue Jays (0.2)
5.
Jose Molina
, Rays (0.1)
There is a case to be made that Boston's duo is more valuable since they've combined for 14 home runs and an OPS over .900. But Wieters brings elite defensive skills and I also don't believe Salty is going to slug .583 all season. For the second consecutive season, the Rays are essentially punting offense at catcher. Rays catchers have the worst OPS in the majors.
First base
1.
Adrian Gonzalez
, Red Sox (0.8)
2.
Mark Teixeira
, Yankees (0.6)
3.
Mark Reynolds
, Orioles (-0.6)
4.
Carlos Pena
, Rays (0.4)
5.
David Cooper
/others, Blue Jays (incomplete)
Gonzalez is still struggling to get his stroke going, but he's the best of a weak group. Yes, I just called Mark Teixeira weak, but at this point he's a low-average guy who pops a few long balls, doesn't draw as many walks as he once did and isn't as great on defense as Yankee fans believe. But in this group that's good enough to rank second. Reynolds has a low WAR but he's missed time and that includes his bad defense at third base, a position we've hopefully seen the last of him playing. The Jays, meanwhile, need to quit fooling around at first base and find a legitimate hitter, or move
Edwin Encarnacion
there and find a designated hitter. You hate to waste a potential playoff season because you can't find a first baseman who can hit. (No, David Cooper is not the answer, although he's hit well so far in 11 games.)
Second base
1.
Robinson Cano
, Yankees (2.1)
2.
Dustin Pedroia
, Red Sox (1.8)
3.
Kelly Johnson
, Blue Jays (2.1)
4.
Ben Zobrist
, Rays (0.7)
5.
Robert Andino
, Orioles (0.6)
I love Ben Zobrist almost as much as two scoops of Vanilla Heath Bar Crunch from Ben & Jerry's, but a .199 average isn't going to cut it in this group, even if you are on pace to draw 100-plus walks. Zobrist has actually play more right field so far, but should be back at second on a regular basis with
Desmond Jennings
back.
Third base
1.
Evan Longoria
, Rays (1.4)
2.
Brett Lawrie
, Blue Jays (3.1)
3.
Alex Rodriguez
, Yankees (1.2)
4.
Kevin Youkilis
/
Will Middlebrooks
, Red Sox (0.5)
5.
Wilson Betemit
/
Steve Tolleson
, Orioles (-0.1)
Lawrie's WAR is boosted by defensive metrics that treat him like he's the second coming of Brooks Robinson. He's a good player but don't I think he's been the second-best position player in the American League. Longoria hopes to
return at the end of the Rays' current road trip
. As for A-Rod, his health is always a question at this stage of his career, but Youkilis has health questions and I'm not a believer in Middlebrooks' ability to hit .321 with power all season. His 29/4 strikeout/walk ratio is something pitchers should learn to exploit. As for the Orioles ... third base is an obvious concern. But don't expect a rare intra-division trade to acquire Youkilis.
Shortstop
1.
J.J. Hardy
, Orioles (2.1)
2. Mike Aviles, Red Sox (2.2)
3.
Derek Jeter
, Yankees (0.9)
4.
Yunel Escobar
, Blue Jays (1.9)
5.
Sean Rodriguez
, Rays (1.9)
Wait ... Jeter has been the
least
valuable of this group so far? The other four all rate as excellent fielders -- in fact, Baseball-Reference rates them all in the top 13 fielders in the AL. Jeter, meanwhile, ranks 310th in the AL on defense -- out of 313 players.
Left field
1. Desmond Jennings, Rays (1.2)
2.
Daniel Nava
/
Carl Crawford
, Red Sox (1.7)
3.
Brett Gardner
/
Raul Ibanez
, Yankees (0.3)
4.
Eric Thames
/
Rajai Davis
, Blue Jays (-0.1)
5.
Endy Chavez
/
Xavier Avery
/
Nolan Reimold
, Orioles (-0.3)
Not to keep picking on the Orioles, but this is another problem position, especially if Reimold's disc problems lingers all season. Nava has quietly been a huge savior for the Red Sox, batting .305 with a .438 OBP. He's drawing walks at a crazy rate. He should slide some but he's provided the kind of depth the Orioles don't have.
Center field
1.
Adam Jones
, Orioles (2.5)
2.
Curtis Granderson
, Yankees (1.3)
3.
B.J. Upton
Rays (0.9)
4.
Jacoby Ellsbury
/
Scott Podsednik
/Marlon Byrd, Red Sox (0.5)
5.
Colby Rasmus
, Blue Jays (1.3)
Ellsbury might be the biggest wild card in this race, because the Red Sox can't survive much longer with the Podsednik/Byrd platoon. When will he return? How will he hit? He just started throwing and could
return by the end of the month
. I've conservatively put him fourth, which seems fair considering the unknown. And please note, Orioles fans, that I believe in Mr. Jones.
Right field
1.
Jose Bautista
, Blue Jays (0.9)
2.
Matt Joyce
, Rays (2.2)
3.
Nick Swisher
, Yankees (-0.1)
4.
Cody Ross
/
Ryan Sweeney
, Red Sox (1.6)
5.
Nick Markakis
/others, Orioles (0.3)
Markakis is out three to four weeks with a broken bone in his wrist, an injury that once again reflects Baltimore's lack of depth. But all five teams are solid in right field. Ross is about to return from his broken foot; we'll see if he pounds the ball like he was before the injury (.534 slugging).
Designated hitter
1.
David Ortiz
, Red Sox (1.4)
2. Edwin Encarnacion, Blue Jays (1.6)
3. Revolving Door, Yankees
4.
Chris Davis
, Orioles (0.3)
5.
Luke Scott
, Rays (0.0)
No respect for Davis? OK, he's hitting .295/.333/.494. And he has 53 strikeouts and eight walks. Sorry, call me skeptical, O's fans. Yankee designated hitters have actually fared well, hitting a combined .279/.354/.467 with 10 home runs.
No. 1 starter
1.
David Price
, Rays (2.2)
2.
CC Sabathia
, Yankees (1.9)
3.
Ricky Romero
, Blue Jays (0.3)
4.
Josh Beckett
, Red Sox (0.5)
5.
Jason Hammel
, Orioles (1.9)
Look, Hammel has been terrific so far thanks to a career-high strikeout rate
and
a career-high ground-ball rate. But this is tough group and the question is who is going to be best moving forward? My biggest concern is that Hammel has never pitched 180 innings in a season. Can he pitched the 210 to 220 that you need from a No. 1?
No. 2 starter
1.
Brandon Morrow
, Blue Jays (1.1)
2.
James Shields
, Rays (-0.4)
3.
Andy Pettitte
, Yankees (1.5)
4. Wei-Yin Chen, Orioles (0.7)
5.
Jon Lester
, Red Sox (-0.4)
I like Chen. Heck, right now I like him better than Jon Lester, which tells you how much I like him. But he averaged just 172 innings in Japan over the past three seasons. Can he hold up over 32 starts?
No. 3 starter
1.
Jeremy Hellickson
, Rays (1.0)
2.
Hiroki Kuroda
, Yankees (1.4)
3.
Felix Doubront
, Red Sox (0.4)
4.
Brian Matusz
, Orioles (0.2)
5.
Henderson Alvarez
, Blue Jays (0.4)
Matusz is holding his own at 5-5, 4.41, but he's still walking a few too many, allowing a few too many hits, a few too many home runs. The velocity is solid, averaging 91 on his fastball. We're talking minor upgrades needed in his command, getting the ball down in the zone more often to get more groundballs. If the Orioles are to have any chance, Matusz's improvement may be the single most important aspect.
No. 4 starter
1.
Matt Moore
, Rays (-0.6)
2.
Ivan Nova
, Yankees (0.3)
3.
Jake Arrieta
, Orioles (-0.4)
4.
Clay Buchholz
, Red Sox (-1.2)
5.
Kyle Drabek
, Blue Jays (-0.1)
Five pitchers who have struggled, but Arrieta's peripheral numbers are actually pretty solid. Like Matusz, there is hope for improvement. On the other hand, he's been awful since pitching eight scoreless innings against the Yankees on May 2, giving up 29 runs in 31.2 innings. His BABIP was .243 through May 2; it's .361 since. The truth is probably right in the middle, leaving Arrieta third on our list of fourth starters.
No. 5 starter
1.
Alex Cobb
/
Jeff Niemann
, Rays (0.3)
2.
Drew Hutchison
, Blue Jays (0.1)
3.
Phil Hughes
, Yankees (0.2)
4.
Daisuke Matsuzaka
/
Aaron Cook
/
Daniel Bard
, Red Sox (-0.3)
5.
Tommy Hunter
, Orioles (-0.5)
Hunter isn't really a major league starter, but I'm not sure
Jamie Moyer
-- just signed to a minor league contract -- is exactly a solution. The Orioles need to upgrade here.
Bullpen
1. Yankees (2.76 ERA)
2. Orioles (2.48 ERA)
3. Red Sox (3.66 ERA)
4. Rays (3.43 ERA)
5. Blue Jays (4.39 ERA)
If you watched Pedro Strop and Jim Johnson close out Wednesday's win, you'll realize the back of the Orioles' end has two guys with filthy stuff.
Darren O'Day
and
Luis Ayala
are strike-throwing machines and
Troy Patton
is a lefty who isn't a LOOGY. It's a good pen and it's deep. But the reliability of the pen ties into the rotation's inability to pitch deep into games -- Orioles relievers have already thrown 39 more innings than Yankees relievers, for example.
OK, let's add it up … one point for ranking first, five points for ranking fifth. Hey, this isn't meant to be scientific, so don't overanalyze this too much. The totals:
Yankees: 36 points
Rays: 40 points
Red Sox: 45 points
Blue Jays: 51 points
Orioles: 53 points
Not the respect Orioles fans are seeking. Sorry about that; it's nothing personal. Look, I don't think the Orioles are going to fade away anytime soon. I worry about the rotation's ability to hold up all summer and the bullpen's workload. They lack depth on offense and have a couple of obvious holes. Hey, you never know, and the Orioles are certainly due for a winning season. I would love to see it happen.
PHOTO OF THE DAY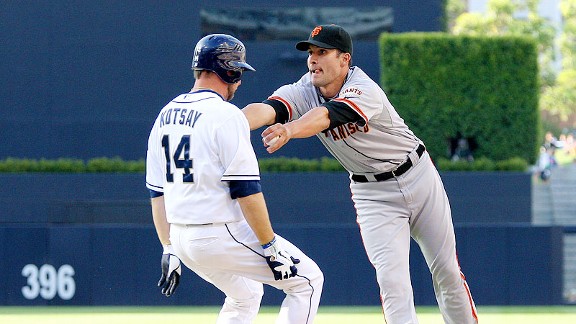 Jake Roth/US PresswireJavier Lopez is sending a message to Mark Kotsay: Tag, you're out!
April, 15, 2012
4/15/12
1:30
AM ET
By
Christina Kahrl
| ESPN.com
Pitching, defense and three-run home runs? It's a formula that has worked going back to the days of Earl Weaver and beyond. An inning into Saturday's game, the Rays had all of that going for them: Designated hitter
Luke Scott
had already hammered a bomb off Boston's
Clay Buchholz
to plate a trio of runs, reigning Rookie of the Year
Jeremy Hellickson
was on the mound, and nobody is more alertly creative and productive on defense than Joe Maddon's ballclub.
Unfortunately, none of that mattered all that much in the next eight innings of action against the Red Sox. Boston's bats hammered the Rays, hitting five home runs, and made their initial case for why they'll still be able to score runs hand over fist without
Carl Crawford
or
Jacoby Ellsbury
. Rather than throw too much of a pity party for their life absent Ellsbury, just try to keep in mind that
Adrian Gonzalez
,
Dustin Pedroia
,
David Ortiz
and
Kevin Youkilis
provide an offensive platform that 29 other teams would be happy to work from. Counting out the Red Sox a week into the season or a half-inning into a ballgame is just silly; they're still stacked.
What's less silly is looking at the Rays' challenges in the weeks and months to come. Tampa Bay's problem is that while the Red Sox opened up on offense, the Rays didn't have the usual collection of moving parts to respond on offense or defense.
The Rays' pitching depth is the envy of the industry, but
Joel Peralta
has taken a series of beatings out of the bullpen en route to handing the closer's job to
Fernando Rodney
. Maybe that will work out the way
Kyle Farnsworth
did last year, but Peralta's not that far removed from his days as waiver bait, and Rodney's reputation for flammability perhaps exceeds Farnsworth's -- before last season.
The Rays being the Rays, they get a pass on running risks other teams might shrink from, but this year's bullpen confection is still a soufflé with as much potential to flop as rise. Having one less body around proved expensive when a three-run game still in reach became a blowout in the eighth thanks to rookie
Dane De La Rosa
's five-run debut against that Red Sox offense.
The other early issue in terms of reaping the downside of risk is that their offense is cranking less than most others in the early going, ranking just 10th in the American League in runs scored. That doesn't mean that much in itself, because we're still not even talking about two full weeks' worth of action. It's what you get when you wind up with
Jeff Keppinger
and
Sean Rodriguez
as everyday players.
That wasn't part of any plan, but that's the upshot of being without the flexibility of having
Ben Zobrist
moving around on the field to wherever he's needed while Maddon plays matchup games on offense with bit parts like Rodriguez or Keppinger. They knew they wouldn't get many runs out of
Jose Molina
or
Jose Lobaton
as their catchers, but that's another slot you can't count on in terms of offense, and another reason why the Rays have that much less margin for error in the early going. The Rays' offense is the sort of high-flying act that can't really afford to lose certain key regulars for a great length of time.
Which is why much will change for the better soon, once
B.J. Upton
comes back from the disabled list and returns to his spot in center field. The Rays won't simply get the benefit of adding his bat to the everyday lineup or his glove to the defense. They'll also reap the tactical in-game benefit of all of the situations in which Maddon will be able to use his valuable part-time contributors -- like Keppinger and Rodriguez -- to his advantage.
Matt Joyce
won't have to face the left-handed pitchers he can't hit. That's not because of what Upton does and will do, but because of the multiple benefits the Rays get from having him healthy.
Taking a few chances on "extra guys" is not automatically bad -- far from it, especially when you're dealing with budget handicaps as the Rays do. Taking a chance on Scott was an eminently worthwhile low-cost risk: After averaging 25 homers per season for three years for the Orioles, Scott's injury-wracked 2011 brought him into the Rays' orbit as far as his sale price as a free agent. If he gives the Rays' lineup a third source of power from the left side beyond
Carlos Pena
and Joyce, you'll have a lineup that gives opponents fits, just as it did in each of the past two years.
Add it up, and just like the bullpen, the Rays' offense is a complicated proposition few other teams would risk. Handled as well as the Rays have and will, though, and it works … until you knock a key starter or two out of action for any great length of time. Expose their irregulars' shortcomings, and the risk becomes one to the Rays' bid for a postseason three-peat.
PHOTO OF THE DAY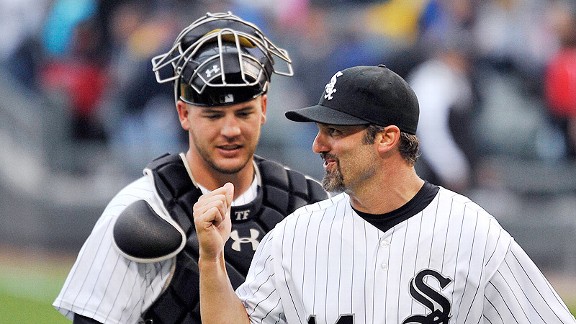 Brian Kersey/Getty ImagesPaul Konerko can afford to smile, at least as long as the White Sox are in first place.
Christina Kahrl covers baseball for ESPN.com. You can follow her on Twitter.
April, 6, 2012
4/06/12
8:15
PM ET
If my math is correct, the
Tampa Bay Rays
and
New York Yankees
still have 17 games against each other. The Rays and
Boston Red Sox
have 18 games against each other. The Red Sox and Yankees have 18 games against each other. And all three teams have 18 against the
Toronto Blue Jays
.
That's 107 more games of American League East mini-wars, in which every game will be treated as the one that may win -- or lose -- a division championship.
Friday's game at the Trop was as interesting as a regular-season game can be, with a hundred little moves worth discussing and dissecting. Rays manager Joe Maddon was already in midseason form, calling for a squeeze bunt, pinch-hitters and lefty/righty matchups out of the bullpen. Yankees counterpart Joe Girardi went to his trusty binder in the bottom of the first inning and got burned. And the greatest closer of all time failed to do his job. Yes, I'll take more, thank you very much.
[+] Enlarge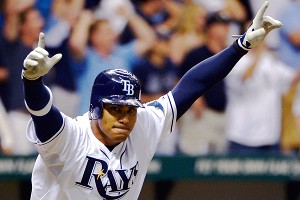 AP Photo/Phelan M. EbenhackCarlos Pena's game-winning hit was his first ever off Yankees closer Mariano Rivera.
A few quick highlights about a game you could write 3,000 words about:
With two out in the first and runners on second and third, Girardi had CC Sabathia walk Sean Rodriguez to pitch to Carlos Pena. Girardi has a bit of unusual obsession with the intentional walk. Sabathia, for example, issued 17 IBBs over the previous three seasons. Compare that to guys like Justin Verlander (0), Cliff Lee (3), Roy Halladay (5) or Jon Lester (0). Anyway, while it's true Pena struggles against left-handers (.133 in 2011, .179 in 2010), it's also true that he's a very patient hitter willing to take a walk. Juicing the bases forces Sabathia to throw a strike. Pena worked the count to 3-2 and drilled a fastball for a grand slam. An intentional walk on Opening Day with two out in the first inning? Just ... well, wow.

Down 6-5, the Rays had a great chance to tie the game in the bottom of the eighth when they put runners on the corners with no outs against David Robertson. Maddon sent Stephen Vogt in to hit for Elliot Johnson, Vogt's first major league at-bat. Robertson struck him out on four pitches -- two 92 mph cutters and a fastball up sandwiched around a curveball in the dirt. With Jose Molina up and a 1-1 count, Maddon sent the runners ... except Molina missed the squeeze sign and instead fouled off the pitch. Maddon, with the proverbial guts of a cat burglar, went right back to the squeeze, but Molina fouled it off for strike three. Robertson than fanned Matt Joyce to escape the jam.

Mariano Rivera entered to close out it out. Desmond Jennings singled to right-center and Ben Zobrist tripled to deeper right-center. Girardi -- remember, he loves the intentional walk -- gave free passes to Evan Longoria and Luke Scott to load the bases. Once again, Girardi left his pitcher with no margin for error. Rivera fell behind 3-1 to Rodriguez but came back to strike him out, bringing up Pena. He got the count to 1-2 and the strikeout-prone Pena looked like a dead duck. Instead, Rivera threw a meaty pitch over the middle of the plate and Pena lofted a deep fly off the base of the wall in left-center. Game over. His first hit ever off Rivera. "Oh, yeah. [I was] very aware of it," Pena said. "His ball moves so much that your eyes deceive you." But Pena's eyes mapped this Rivera cutter, giving him a three-hit, five-RBI day. And as Pena did a postgame on-field interview, B.J. Upton delivered a shaving cream pie in the face that tasted just right.
Follow David Schoenfield on Twitter @dschoenfield.
February, 15, 2012
2/15/12
1:45
PM ET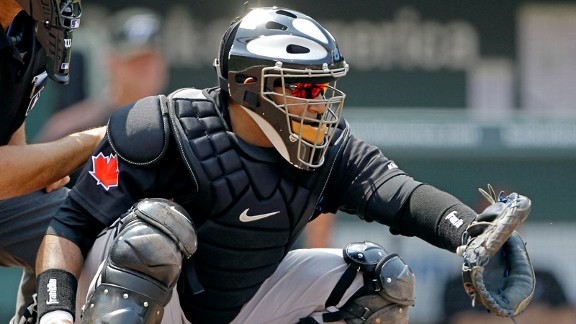 Rob Carr/Getty ImagesJose Molina's skills in framing pitches could prove to be a hidden asset for the Rays.
Driving in to work today, I heard MLB Network Radio interview
Tampa Bay Rays
pitcher
James Shields
. He was asked about the team signing
Jose Molina
and Shields mentioned the Rays haven't really had a veteran catcher in a long time and how Molina is regarded as one of the best receivers in the game.
Thanks to the Pitchf/x data that is now available, smart people who are geniuses with a spreadsheet can attempt to study this kind of stuff. Mike Fast, who wrote for Baseball Prospectus, turned his ability to analyze Pitchf/x data into a job with the
Houston Astros
. BP just hired another writer named Max Marchi, who also crunches the Pitchf/x numbers.
Anyway, Max wrote a
piece on Molina
a few days ago for BP, breaking down Molina's ability on blocking pitches, controlling the running game, fielding bunts and batted balls and framing pitches.
Molina rated poorly in blocking pitches, very good at controlling the running game (from 2008 to 2011, only brother
Yadier Molina
saved more runs, according to Max's methods) and a tick above average in fielding batted balls.
But the big area of Molina's value comes in the art of framing pitches. In fact, that ability may be so important that if you believe the numbers, framing pitches has to be considered the new hidden, cost-effective gem in player evaluation. Since 2008, Max reports that Molina has saved 62.8 runs framing pitches, third-best in the majors behind
Brian McCann
(79.3) and
Russell Martin
(70.0).
What does that mean? Well, consider the following list of hitters and how many runs better than an average hitter they've been since 2008, from Baseball-Reference.com:
Troy Tulowitzki
(+71),
Robinson Cano
(+68),
Justin Upton
(+61),
Ian Kinsler
(+56),
Curtis Granderson
(+54). And remember -- Molina has only been a part-time player. He's caught 1,937.1 innings over those four seasons compared to McCann's 4,414.2 and Martin's 4,274.2. If we extrapolate Molina's runs saved to McCann's playing time, we get 143 runs saved, or about 35.8 runs per season. That's about the same number of runs as
Albert Pujols
contributed with the bat in 2011 compared to an average hitter.
Is that really believable? One way to check the findings is to compare the runs scored while Molina was catching compared to his teammates. Yes, this method is imperfect -- some catchers may only catch certain pitchers, a couple of big blowouts can influence the results and so on. But if Molina is
really
this good, something should show up in the data.
Check the chart to the right, which traces the past four seasons. This basic method also confirms that Molina is doing something right behind the plate -- he's "allowed" 4.08 runs per nine innings while his teammates have allowed 4.89. (Although that gap is helped created by the fact that
John Buck
and
Jorge Posada
rate as two of the poorest pitch-framers.)
It's funny; managers talk all the time about the importance of a good defensive catcher. Of course, they don't always back this up on the field. When Posada returned from injury in 2009 after missing most of the 2008 season, Joe Girardi still installed him as the regular catcher ahead of Molina. Angels manager Mike Scioscia
did
back this up when the club jettisoned
Mike Napoli
after the 2010 season. In Mike Fast's
study published on Baseball Prospectus last September
,
Jeff Mathis
rated plus-19 runs in framing pitches since 2007 while Napoli rated minus-24. Scioscia didn't like Napoli's defense; of course, that difference of a few runs over the course of one season wasn't large enough to make up for Napoli's advantage with the bat.
As for Molina, he's not much of a hitter either, thus his status as a career backup. But the Rays definitely know his value behind the plate. This wasn't just a random signing of a veteran catcher with great leadership skills. Andrew Friedman and the stat-crunchers in Tampa Bay's front office know what they're getting. And it's not like the Rays got offense from their catchers last season; they made the playoffs even though their catchers hit .194 with a .274 OBP.
Molina turns 37 in June and has played more than 78 games just once in his career, so it remains to be seen how he'll hold up if he's expected to catch 110 games or so. The Rays already have a pretty good pitching staff, so it also remains to be seen how much better Molina can make it. (The Rays were eighth in the AL in walks allowed, however.) It remains to be seen if pitch framing
is
the new undervalued asset and whether Jose Molina's glove is really equal to Robinson Cano's bat.
If it is, it won't be undervalued for long. Maybe in a few years the best pitch-framers will be in high demand and receive commensurate contracts. Could we see the day of the $10 million catcher who hits .223?
October, 6, 2009
10/06/09
4:29
PM ET
Carrying on a grand tradition -- remember
Greg Maddux
and
Javy Lopez
? -- the Yankees are going to bench one of their best players because one of their starting pitchers
doesn't care for him, much
:
Jorge Posada just revealed that Joe Girardi told him on Sunday that Jose Molina will catch A.J. Burnett in this series.

--snip--

"I just hope we win that game," Posada said. "That's all I've got to say."

He added, "It's not like I didn't see it coming."

When asked if he might be the DH when Molina catches, Posada said he wasn't sure but that, "Matsui is our DH."
Well, yes: Matsui is.
That doesn't necessarily mean that Posada couldn't play that role ... but in practice it probably does. It would be foolish to bench the left-handed-hitting Matsui with a right-handed pitcher on the mound, and Matsui's platoon split is small enough that Posada would give the Yankees just a tiny edge against left-handed pitchers. Toss in that a) Girardi will usually want a catcher in reserve, and b) Posada, a switch-hitter, is more useful on the bench than Matsui, and it's neither likely nor sensible to use Posada as the DH.
Now, whether it makes sense to bench Posada at all is a different story. Essentially, Girardi has to get inside Burnett's head. And if he thinks that Burnett might give up even a quarter of a run more with Posada catching, then Molina's the better choice. Because as well as Posada hits and as poorly as Molina hits, the difference between them within a particular game is so small, it defies measurement.
Even without Posada, the Republic shall endure. And so will the Yankees, probably.