May, 22, 2013
5/22/13
12:46
AM ET
Quick thoughts on Tuesday's excellent slate of major league action …
October, 31, 2012
10/31/12
12:59
AM ET
Heading into the offseason, the top free-agent starting pitchers looked to be
Zack Greinke
,
Kyle Lohse
and
Jake Peavy
, assuming the Chicago White Sox didn't pick up a $22 million option on Peavy.
Peavy
The White Sox didn't exercise that option, as they made a different move: They
signed Peavy to a two-year, $29 million extension
, making the already-sparse starting pitching market a little more sparse. It looks like one of those win-win moves: The White Sox get Peavy for a more cost-effective $33 million (including the $4 million buyout of his existing contract) and Peavy stays in a place where he wanted to play.
The White Sox also announced that they declined options on
Kevin Youkilis
and
Brett Myers
while picking up the $9.5 million option on
Gavin Floyd
, giving the White Sox a 2013 rotation of
Chris Sale
, Peavy, Floyd,
John Danks
and
Jose Quintana
or
Philip Humber
. Even with Danks making just nine starts due to surgery to repair a tendon tear (he's expected to be ready for spring training), the White Sox finished with a 4.15 ERA from their rotation, seventh-best in the American League but a solid figure considering U.S. Cellular Park is one of the best hitting parks in the league.
Peavy was a big reason the White Sox battled the Detroit Tigers for the AL Central title, the right-hander going 11-12 with a 3.37 ERA that ranked ninth in the AL. He also ranked fifth in innings pitched, helping give him 5.0 WAR, sixth-best among AL pitchers. The caveat: It was the first time he topped 200 innings since 2007 and the first season since 2008 he surpassed even 112 innings. His long medical history certainly suggests this isn't a risk-free deal for the White Sox.
The surgery he had in 2010 to reattach a tendon in his shoulder was the first time the surgery
had been performed on a baseball player
, but Peavy told ESPNChicago.com during the 2012 season that he was a different pitcher than in recent seasons, "worrying about game planning, not sitting in the trainer's room the whole time in between days."
If Peavy and Danks can stay healthy, it's certainly a rotation that can contend for a division title. Next up for the White Sox: Possibly re-signing Youkilis and free-agent catcher
A.J. Pierzynski
, who hit .278 with 27 home runs in 2012.
September, 18, 2012
9/18/12
1:10
AM ET
In their most important game of the season, the
Chicago White Sox
ran out a lineup that featured the following players:
That lineup helped
defeat the Tigers 5-4
on Monday afternoon, pushing the White Sox's lead in the AL Central to 3 games with 16 remaining. It's their division to lose.
Kenny Williams never seems to get the credit he deserves as White Sox general manager, but that's an impressive string of deals. Viciedo and Ramirez were sought-after Cubans, but the others show Williams' ingenuity in building a baseball team. He's the king of dumpster diving.
The players he acquired off the scrap heap doesn't stop with the above list.
Alejandro De Aza
, the team's starting center fielder most of the season before an injury (he recently returned), was claimed off waivers from the Marlins back in 2009.
Jake Peavy
was acquired in another salary dump in which Williams didn't have to give up any top prospects (not that the White Sox ever have any).
Francisco Liriano
came over from the Twins this year for next to nothing and has given the White Sox some good starts.
Philip Humber
hasn't been too effective since his perfect game back in April, but he was another waiver claim.
The White Sox are team of castoffs and the unwanted. Even the team's two longtime veterans,
Paul Konerko
and
A.J. Pierzynski
, could be classified in that category. Konerko had been a top prospect coming up through the Dodgers' system, but the Dodgers traded him to the Reds and the Reds traded him to the White Sox. Pierzynski had acquired a label as a malcontent and the Giants released him after the 2004 season. Williams took a chance.
That's what he does. The White Sox don't sign big-name free agents --
Adam Dunn
is the lone high-profile free agent on the roster. The White Sox don't draft well -- in part because owner Jerry Reinsdorf doesn't allow over-slot selections, in part because the White Sox rarely draft high (only one top-10 overall pick since 1991), in part because they just don't draft well -- and
Chris Sale
and
Gordon Beckham
are the only players the White Sox selected in the first round on the current roster.
Williams' pet move through the years is to take a risk on a veteran player with an undesirable contract. The Padres couldn't afford Peavy after signing him to a big deal and see him land on the disabled list. The trade didn't really pay dividends in 2010 and 2011 as Peavy battled more injuries, but he's been one of the AL's top starters. The Blue Jays signed Rios to a guaranteed $70 million deal in April of 2008, but a year later put him on waivers after a slight decline from his 2006-07 numbers, hoping another team would claim him. The White Sox. They got a solid 2010, a terrible 2011, and now an excellent 2012. Youkilis has provided a major upgrade at third base over what the White Sox had received there in recent seasons.
It's a market inefficiency of sorts that Williams has gambled on and that few GMs and owners are willing to take. But it's also a way of acquiring potentially premium talent without giving up top prospects. Maybe those guys aren't
quite
worth their salaries, but in 2012 they are solid contributors. Williams is willing to take the chance on those big salaries -- but not so big they cripple the team's payroll (the White Sox were 11th in the majors in Opening Day payroll).
Billy Beane is certainly the favorite for Executive of the Year, for his offseason wheeling and dealing that turned the A's into surprise contenders. (Yes, there is such an award, given out by The Sporting News, although oddly the last general manager who won the award
and
the World Series was Andy MacPhail of the Twins in 1991.) But Beane's deals weren't really constructed to build the A's into instant winners; it's been more a perfect storm of luck and unexpected performance. Give Beane the credit, of course, but acknowledge the residue of the unknown. Certainly Mike Rizzo of the Nationals and Dan Duquette of the Orioles will receive support.
But Williams is my choice. No, all those players weren't acquired in 2011-2012, so it's kind of a cumulative award. But teams aren't built in one offseason; the award should be based on a general manager's series of moves to build a winner. That's what Williams has done. It's what he usually does -- keeps the White Sox in contention, season after season.
Of course, let's not get ahead of ourselves just yet. As Tigers fans would like to point out, the season is not yet over.
PHOTO OF THE DAY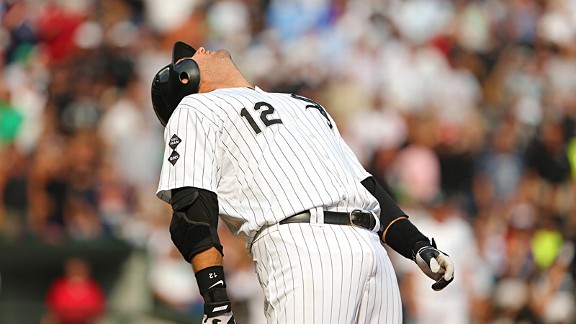 Nuccio DiNuzzo/Chicago Tribune/Getty ImagesWith a White Sox win like Monday's, A.J. Pierzynski might think they can aim for the heavens.
September, 11, 2012
9/11/12
1:02
AM ET
It's possible, in the end, that the
Detroit Tigers
just aren't as good as everyone believed. Famous? Sure. Big-name players? Sure. A playoff team? Not so sure.
Take Monday's starter in the first game of a crucial four-game showdown against the American League Central-leading
Chicago White Sox
.
Rick Porcello
has been famous in baseball circles since he was the 27th pick in the 2007 draft. Many scouts believed he had the best arm in the draft that year but he fell to Detroit because of a high price tag. After one year at Class A ball, he was in the majors as a 20-year-old rookie in 2009 and had a pretty nice season, going 14-9 with a 3.96 ERA. Jim Leyland had enough confidence in Porcello to start him in the AL Central tiebreaker game against the Twins, and Porcello left in the sixth inning with a 3-2 lead, although the Tigers would eventually lose the game.
Many in the game still love Porcello's arm, especially his bread-and-butter power sinker, and they've been waiting for a breakthrough season. It hasn't happened. Monday night, he was cruising along through five innings, having allowed only two hits and his sinker had helped generate six ground-ball outs.
Fourteen pitchers later, he was out of the game and the
White Sox ended up with a 6-1 victory
behind a strong 7.1-inning effort from
Jose Quintana
. Porcello dropped to 9-12 with a 4.59 ERA.
In the sixth, he struck out
Kevin Youkilis
but
Dewayne Wise
reached on
Omar Infante
's error.
Paul Konerko
singled to left on a 1-2 92-mph sinker. That led to a visit from Tigers pitching coach Jeff Jones. Whatever advice Jones gave him ("Go get 'em, kid!"), it certainly didn't help. Two pitches later,
Alex Rios
drilled Porcello's two-seam fastball -- his 10th two-seamer in a row in the inning -- over the left-field fence for a three-run homer. Two pitches later -- a changeup and then another two-seamer --
A.J. Pierzynski
made it 4-1 with a crushing solo shot to center. Exit, Porcello.
It's no coincidence that Porcello struggled the third time through the Chicago lineup. Look at stats entering Monday's start:
First time through the order: .281/.314/.377, 3.40 SO/BB ratio
Second time through the order: .304/.346/.464, 3.08 SO/BB ratio
Third time through the order: .356/.407/.494, 1.60 SO/BB ratio
Look, Infante's error set the inning in motion. Maybe Porcello goes 1-2-3 without the miscue. On the other hand, this outing was par for the course for the right-hander. For whatever reason, his sinker becomes less effective as the game goes along. Here's another stat that illustrates that:
Innings 4-6: .239/.283/.307 (220 plate appearances ending with a sinker)
Innings 5-7: .410/.453/.581 (129 plate appearances ending with a sinker)
Sabermetricians keep track of a stat called BABIP, batting average allowed on balls in play. I cite it here quite often. The consensus theory is that pitchers have little control -- some argue none -- over what happens once the ball is put in play, that the result is the residue of defense and some combination of good or bad fortune. Among qualified starters, Porcello entered Monday's games with the worst BABIP in the majors at .350. Considering teammate
Max Scherzer
was second-worst at .336, it's fair to suggest Detroit's defense is somewhat to blame here -- the Tigers are 27th in the majors in percentage of balls in play that are turned into outs. (Although it's interesting to note that Porcello is a fairly extreme ground-ball pitcher and Scherzer a fairly extreme fly-ball pitcher.)
Still, the above numbers seem to suggest that Porcello clearly has a large degree of control of what is happening against him. It is worth mentioning that the typical major league pitcher also fares worse as the game progresses:
First time: .251/.310/.401, 2.83 SO/BB ratio
Second time: .263/.322/.420, 2.44 SO/BB ratio
Third time: .273/.331/.446, 2.22 SO/BB ratio
But Porcello's decline is obviously much more severe than the average starter, which is undoubtedly why Jeff Jones paid Porcello a visit after an error and a single. It's hard to tell exactly what goes on to explain Porcello's decline in the middle innings. Here are two heats map of Porcello's two-seam sinker location: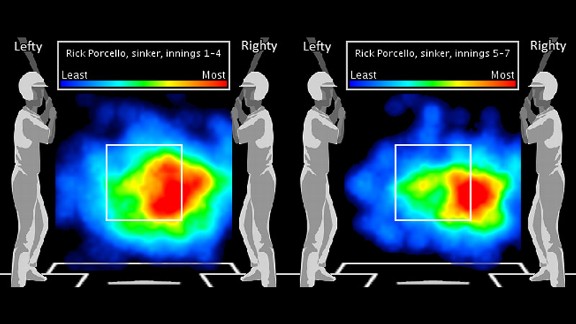 ESPN Stats & InformationRick Porcello's sinker doesn't have the same location later in the game.
As you can see, those maps aren't exactly the same thing. Opposing hitters fare very well with the location on the second map, as Porcello's sinker apparently flattens out and gets less movement.
So now the famous Tigers are three games behind the less-famous White Sox. (Jose who?) There are still three games left in the series and 22 games remaining in the season. Maybe the Tigers will finally go on that big run like we saw when they began the season 9-3. If so, it better start on Tuesday. And if so, it's time for somebody besides
Miguel Cabrera
and
Prince Fielder
to do something on offense. ... And maybe time for Leyland and Jones to realize before his next start that Porcello is good for about four or five innings.
PHOTO OF THE DAY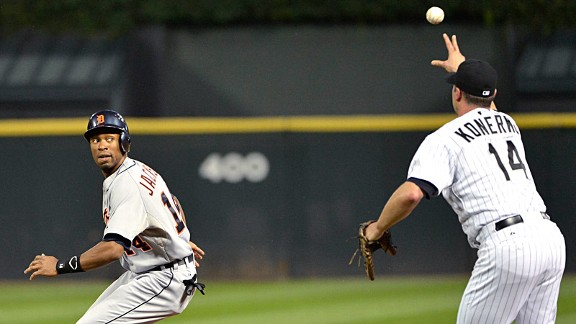 Brian Kersey/Getty ImagesAustin Jackson can look back, but like the Tigers, he's looking like he might be dead to rights.
July, 29, 2012
7/29/12
1:14
AM ET
Kenny Williams never seems to get a lot of respect.
During his tenure as
Chicago White Sox
general manager, which began after the 2000 season, he's built two division winners, including the 2005 World Series champions. Maybe the most impressive aspect of his reign is that the White Sox are always competitive. They've been under .500 just three times, but two of those were 79-83. He's done this despite lacking the monster payrolls of teams such as the Yankees, Red Sox and Phillies; despite only once having a pick better than 12th in the first round of the draft; despite never having a franchise superstar like Barry Bonds to build around or pitchers like
Tim Lincecum
and
Matt Cain
, like Brian Sabean has had with the Giants; despite a farm system -- in part because of ownership's unwillingness to spend in the draft and because of that lack of high picks -- that usually ranks near the bottom (Keith Law and Baseball America both ranked the White Sox system 30th heading into the season).
What I like about Williams is he never gives up. He's always trying to win, to build the best team he can given his resources. He never craters, never commits to a complete teardown and embarrassing on-field product, such as the one you're seeing from the Astros, Williams' 2005 World Series opponents.
This is why trading for
Francisco Liriano
is a typical Kenny Williams move -- high risk, perhaps mocked, but one with a potential nice payoff. Liriano's season numbers with the Twins look terrible -- 3-10, 5.31 ERA -- and his last start (against the White Sox, of all teams) was a rough, seven-run blowup. But after an awful April and temporary trip to the bullpen, Liriano pitched very well in a 10-start stint from May 30 though July 18, posting a 2.84 ERA with 77 strikeouts, 28 walks and 38 hits in 63.1 innings (a .171 average allowed). That stretch included back-to-back starts of 15 strikeouts and 10 strikeouts against the A's and Orioles on July 13 and 18, respectively.
In other words, there's a good chance Liriano will outpitch
Zack Greinke
the rest of the way, even though
this trade
will receive much less fanfare and required much less in prospect value: light-hitting infielder
Eduardo Escobar
and left-handed pitcher
Pedro Hernandez
.
In fact, despite the much-maligned farm system, the White Sox have received contributions from several rookies, most notably on the pitching staff with
Jose Quintana
, closer
Addison Reed
, and relievers
Nate Jones
and
Hector Santiago
. With Quintana still the big surprise in the rotation, Liriano presumably takes the place of
Philip Humber
, who did pitch well in a
5-2 victory over the Rangers
on Saturday, but that strong start barely got his ERA under 6.00. With the hope that
John Danks
might return from his shoulder issues, the White Sox now have rotation depth and options in case of injury or if they want to conserve
Chris Sale
's innings.
The White Sox also have a lot to gain from a deal such as this; with a 2.5-game lead over the Tigers, winning the division title is obviously huge. There is a reason you're seeing teams contending for a division title making moves, while teams further back in the playoff chase -- such as the American League East wild-card contenders -- are more conservative. The reward for winning one of the two wild cards is essentially half as valuable as last season, with the one-game playoff plus the possibility that you've burned your best pitcher. But the payoff for the White Sox winning the division is worth taking a chance on Liriano.
As for the Rangers, they don't need to be as desperate as their division rival Angels, who gave up three good prospects to acquire Greinke. Yes, acquiring Greinke would have helped, but the Rangers have to ask: Do any of the other available pitchers make the team that much better? I agree with Jim Bowden:
Probably not

.
The top three starters in a playoff series right now probably would be
Matt Harrison
,
Yu Darvish
and
Derek Holland
(who has had a disappointing season but lately has
looked more like the pitcher
who threw so well in the second half and postseason a year ago). The fourth spot might be open as
Neftali Feliz
rehabs, but among Feliz,
Scott Feldman
,
Roy Oswalt
and maybe even
Alexi Ogando
, the Rangers have options. Do you want to give up Mike Olt or another top prospect for what might be just a minor upgrade in
Josh Johnson
(having his worst statistical season and would be expensive to acquire) or
Ryan Dempster
(who is unlikely to approve a trade to Texas anyway)?
Plus,
Josh Hamilton
and
Mike Napoli
are impending free agents, and there's no guarantee they'll be back, even though the Rangers have entered the upper echelon of payrolls. Maybe the Rangers will let one of those guys walk, spend some of that money elsewhere and give a starting position next season to Olt (with super prospect Jurickson Profar waiting in the wings).
The Rangers have options, but their best chance at holding off the Angels and surging A's might lie within: Namely, Hamilton and
Michael Young
finding their strokes. Hamilton was given a mental day off Saturday to clear his head. Since June 1, he's been one of the worst hitters in the league, batting .190 with a .274 on-base percentage. He's hitting .145 in July with 21 strikeouts in 19 games. Young is eating up at-bats at designated hitter and first base despite an empty .270 batting average. His OBP is less than .300, and he hasn't homered since May 7.
For all the talk of needing a starter, Young is a gigantic hole in the lineup right now. Kenny Williams filled one of his holes. We'll see whether Rangers GM Jon Daniels plugs his.
PHOTO OF THE DAY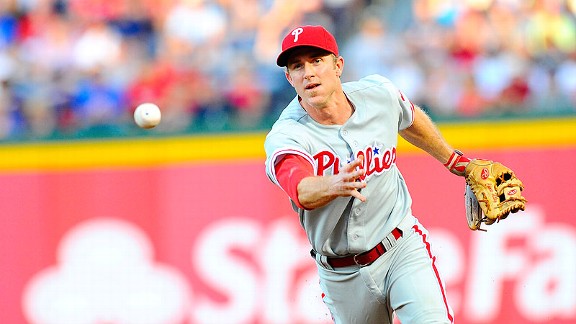 Dale Zanine/US PresswireAs quick as Chase Utley is to the ball, he's not so quick he'll beat the ball to first base.
June, 25, 2012
6/25/12
10:41
AM ET
First base: Goodbye, Youk.
Kudos to White Sox general manager Kenny Williams for not waiting until late July to shore up his team's third-base problem. White Sox third basemen (mostly
Brent Morel
and
Orlando Hudson
) had combined to hit .167 with one home run, and they ranked last in the majors in home runs, batting average, OBP, slugging, RBIs and extra-base hits. So
Kevin Youkilis
doesn't have to be great -- even if he matches the .233/.315/.377 line he had with Boston, that's a big improvement. If he matches the .258/.373/.459 he put up in 2011, even better. Considering the White Sox will have to pay only $2 million of the remaining $7.8 million owed to Youkilis,
it's a low-risk move by Williams
that only cost him a back-of-the-staff pitcher in
Zach Stewart
and utility player
Brent Lillibridge
.
Paul Konerko
summed it up best: "There is no way we are not a better team with Kevin Youkilis. He is just too good of a player and has been through all the wars, and is still relatively a young guy. We just have to keep him on the field. If that is the case, it could be one of the bigger steals of the season."
Second base: Low-scoring duels.
The White Sox and Brewers played two 1-0 games over the weekend, with both games going 10 innings. The Brewers won on Friday with
Zack Greinke
getting the win with nine scoreless innings, and the
White Sox won on Sunday
as rookie
Jose Quintana
tossed eight scoreless frames for the second straight start. According to ESPN Stats & Information, the last time teams split 1-0 extra-inning games in the same series was 1975, when the Giants and Phillies did so. In those games, Giants starters Ed Halicki (10.2 innings) and John Montefusco (10 innings) both went the distance. Yes, I just wanted to mention John Montefusco.
Third base: Interleague play wraps up.
The American League clobbered the National League in interleague play, going 142-110, a .563 winning percentage. Only five NL teams posted winning records -- the Nationals (10-8), Pirates (10-8), Cardinals (8-7), Diamondbacks (9-6) and, of course, the Padres (8-7). The contending team that suffered the most was the Marlins, who went 5-13 -- even though they didn't have to play the Yankees. They went 1-5 against both the Rays and Red Sox. The Marlins scored nine runs to beat the Blue Jays 9-0 on Sunday, breaking a stretch of 25 consecutive games scoring five runs or fewer, longest in MLB this season. Over those 25 games they went 8-17, hit .228 and averaged 3.0 runs per game. In his past 17 games,
Hanley Ramirez
is homerless while hitting just .200 with three RBIs.
Home plate: Tweet of the day.
Aroldis Chapman
gave up another game-winning home run, a two-run shot to Minnesota's
Josh Willingham
that gave the Twins a 4-3 victory.
Joe Mauer
's double off a 99-mph fastball preceeded
Willingham's blast
. It's Chapman's fourth loss in seven appearances.
Aroldis Chapman had a 0.00 ERA on June 6th. Since then it's 11.37. #PANIC!!!

— DJ Gallo (@DJGalloESPN) June 24, 2012