SweetSpot:

Josh Collmenter
July, 7, 2013
Jul 7
11:45
PM ET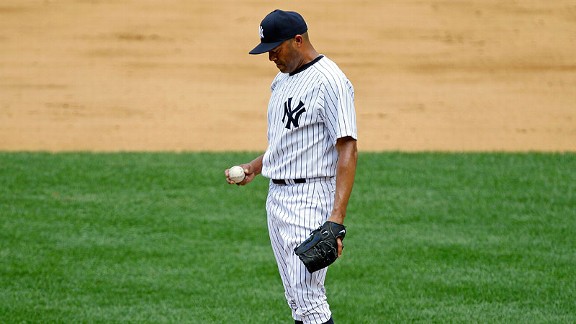 AP Photo/Kathy WillensAdam Jones hit a two-run homer against Mariano Rivera, and the Orioles beat the Yankees 2-1 on Sunday.
As
Mariano Rivera
showed
on Sunday
, even the best closers suffer a blown save from time to time. While the two-run home run
Adam Jones
hit off Rivera resulted in Rivera's second blown save, the Yankees' closer is also allowing more than a hit per inning for the first season since his rookie year in 1995. While Mariano isn't
quite
the Mariano of years past, he's still pretty good and the
New York Yankees
are still comfortable with their late-inning bullpen duo of
David Robertson
and Rivera.
Elsewhere, however, many bullpen issues exist. While most teams would love to add a starting pitcher or a better bat at the trade deadline, the easiest area to acquire help is in the pen. Don't be disappointed or surprised if that's the only move your favorite team makes. Buyer beware though: Relief pitchers are notoriously volatile and trades for relief help can have immediate impact ... or dire consequences for the future.
The 2011
St. Louis Cardinals
were a positive trade deadline bullpen story. They traded
Colby Rasmus
to the
Toronto Blue Jays
and acquired starter
Edwin Jackson
plus relievers
Octavio Dotel
and
Marc Rzepczynski
. A bullpen that had been a problem area suddenly had depth. When
Jason Motte
took over as closer in September, the pen got hot and helped carry the Cards to a World Series title.
The 2003 Marlins were another success story -- of sorts. They had a shaky closer in
Braden Looper
, so they traded for
Ugueth Urbina
, who posted a 1.41 ERA with six saves in 38.1 innings. They also signed
Chad Fox
in early August and he sported a 2.14 ERA in 25.1 innings down the stretch. The Marlins did go on to win the World Series, but Urbina cost them young first base prospect
Adrian Gonzalez
. Flags forever, though, right? Even in Miami.
But bullpen trades can also backfire. The
Texas Rangers
acquired
Koji Uehara
from the
Baltimore Orioles
to help their 2011 playoff run. After allowing five home runs in 18 innings, and then three more in the first two rounds of the playoffs, Uehara didn't even make the Rangers' World Series roster. Oh, and the price to get him:
Chris Davis
. (OK, maybe not Larry Andersen for
Jeff Bagwell
, but imagine the Rangers with Davis in their lineup right now.) Perhaps the most notorious relief deadline trade -- the Andersen/Bagwell deal actually happened in August -- occurred in 1997, when the
Seattle Mariners
acquired closer Heathcliff Slocumb (0-5 with a 5.79 ERA at the time of the trade) from the
Boston Red Sox
for
Jason Varitek
and
Derek Lowe
. The Mariners did win the division but lost in the first round of the playoffs. Do-over, please?
(And sometimes minor deals can take on larger ramifications the following season, such as the
St. Louis Cardinals
acquiring
Edward Mujica
last year or the Blue Jays getting
Steve Delabar
for
Eric Thames
.)
OK, all that said, here are 10 bullpen issues worth looking at between now and the July 31 trade deadline.
1. Do the Orioles stick with Jim Johnson as closer?
Two days after blowing his sixth save, Johnson followed Rivera's ninth inning with a 1-2-3 bottom of the ninth to record his MLB-leading 30th save. Of course, that "MLB-leading" part is misleading, as Johnson has those six blown saves and seven losses to go with a 3.92 ERA. Buck Showalter is obviously sticking with Johnson for now, but after losing just one game heading into the ninth inning last year, the Orioles already have lost seven. Some have called for
Tommy Hunter
to get a chance, but he has allowed seven home runs and a .511 slugging percentage to left-handed batters. Looks like the O's will live and die with Johnson.
2. Do the Tigers trade for Jonathan Papelbon?
Papelbon is the one top-tier closer who may be out there, but is he worth the prospect price tag and contract? I don't think so. He hasn't exactly been lights-out this year with four blown saves in 22 chances, despite good numbers otherwise. I understand the desire to believe Papelbon could be a difference-maker, but this could be the classic case of overstating the value of a closer. You know what Papelbon's save percentage is this year when entering with a one-run lead? Five for nine. Does that sound like a guy who is really any better of a bet than
Joaquin Benoit
or
Drew Smyly
?
3. Who makes the mistake of trading for Kevin Gregg?
Gregg blew his second save on Sunday but is 15-for-17 with a 1.78 ERA. The Cubs will trade him somewhere but Gregg looks like the classic example of the volatile reliever who probably won't help all that much. Is the veteran really a different pitcher from the guy who had a 4.12 ERA the past three seasons while averaging over five walks per nine innings? Maybe, but do you want to be the team to take the chance?
4. Should the Pirates trade for a reliever?
The Pittsburgh bullpen has been outstanding with a 2.91 ERA, second in the majors only to Atlanta's 2.72 mark. The Pirates, however, have also pitched the second-most relief innings. As good as
Jason Grilli
,
Mark Melancon
,
Justin Wilson
and company have been, the Pirates should look to add some depth here. They wouldn't have to give up a top prospect to acquire somebody like Seattle's
Oliver Perez
(1.39 ERA, 46 K's in 32.1 innings).
5. Who ends up as Arizona's closer?
The depth in their pen was supposed to be a strength for the
Arizona Diamondbacks
, but instead
J.J. Putz
and
Heath Bell
have both blown up closing games and
David Hernandez
, so dominant a year ago, has struggled as the eighth-inning guy (4.70 ERA, seven home runs).
Josh Collmenter
has been extremely valuable as a long man (4-1, 2.42 ERA). Fine, use him as a -- get this! -- multi-inning closer. Remember them?
6. Which contending team should be most worried about its bullpen?
Well, the
Los Angeles Dodgers
did just actually trade for
Carlos Marmol
(although they sent him to the minors). I'd be a little worried about the Indians. The pen is 16-8 so far but with a 4.22 ERA that ranks 26th in the majors and has especially struggled against left-handed hitters (.781 OPS allowed). Perez would be a good fit here or maybe
Matt Thornton
of the
Chicago White Sox
.
7. Who is the best reliever who may be available?
Glen Perkins
just made his first All-Star team and deservedly so with a 1.93 ERA and .159 average allowed. Perkins is signed to a very team-friendly deal through 2016 ($3.75 million in 2014 and 2015 with a $4.5 million team option in 2016), so he won't come cheap. I doubt the Twins trade him, but if they do, he's the guy I'd want if you're looking for a closer.
8. Which contending teams feel best about their bullpens?
I'd say the Cardinals and Rangers. The Rangers just got
Joakim Soria
back to an already deep pen and the Cardinals have the great 1-2 duo of
Trevor Rosenthal
and Mujica, who have combined for 94 strikeouts and 11 walks in 79.1 innings, and the third-best overall bullpen ERA in the majors.
9. What about the Red Sox?
If the Tigers have bullpen issues, then don't the Red Sox? They have a higher ERA, higher batting average and higher slugging percentage allowed than the Tigers. Buster Olney mentioned the possibility of Papelbon going back to Boston during the Sunday night game, although the price is extremely high right now. What do you think, Red Sox Nation?
10. Does Rivera pitch one more time in the postseason?
I'm going with no. But it won't be his fault the Yankees miss the playoffs for just the second time in his 19-year career.
April, 4, 2013
Apr 4
9:46
AM ET
Quick thoughts on Wednesday's games:
Three closers blew ninth-inning leads -- Phil Coke of the Tigers, Fernando Rodney of the Rays and Chris Perez of the Indians. The Rays and Indians ended up winning their games anyway, so no harm, no foul. Of the three the one I'd most worry about is Rodney, because he was so good last year and the Rays need him to dominate once again. Coke entered with a 2-1 lead after Joaquin Benoit had walked the leadoff hitter in the ninth, and Coke gave up a little flare to right and then a two-run double to Eduardo Escobar that was tagged to deep left-center but Austin Jackson and Andy Dirks had a miscommunication, letting the ball drop. I'm not that worried yet about Detroit's closer-by-committee situation, as I still think they have enough good arms down there to make it work.
The other closer to really worry about, however, is Milwaukee's John Axford. After giving up a game-tying homer in the opener, he pitched the ninth while down 4-3 and allowed five hits and two runs, failing to get three outs. Rockies beat writer Troy Renck reported on Twitter that a scout said hitters are seeing Axford's release point so easily that it's almost like he's tipping his pitches. I don't see how the Brewers can use him in a save situation again until he proves he can actually go through an inning without giving up a home run. (Carlos Gomez did have the play of the day, however.
Watched Tim Lincecum's start and it wasn't pretty, although he escaped with the win despite walking seven batters in five innings. How rare is that? Tommy Hanson was the only starter to walk seven batters last year and come away with a victory. Like with Roy Halladay, we're still left wondering what lies ahead.
Great game in Arizona that I didn't stay up for, the Diamondbacks beating the Cardinals 10-9 in 16 innings. Josh Collmenter pitched five innings to get the win, which begs the question: How many teams even have a reliever like that anymore, a guy you can leave in to soak up innings? Collmenter has spent parts of the past two seasons in the Arizona rotation. (Although I don't understand moves like this: David Hernandez, one of the best setup guys in the game, pitched just one inning and 10 pitches. In a tie game, why remove him so quickly? In a tie game, don't you have to think about the game being extended and how you want as many innings as possible from your best relievers? Especially since Arizona doesn't even play on Thursday. It worked out in the end for Kirk Gibson, but I hate that rote "remove a guy after one inning" mind-set and ignoring his pitch count.)
Was watching Halladay pitch, so missed Matt Harvey's gem for the Mets (7 IP, 1 H, 0 R, 2 BB, 10 SO). I think I'll be watching some of his starts soon enough. In a postgame interview, he said he had command of his fastball to both sides of the plate, and didn't have to shake off catcher John Buck all game.
The Astros, Marlins or Yankees: Which team will be worse? Just kidding, Yankees fans! (Sort of.)
April, 20, 2012
4/20/12
8:00
AM ET
First base: King Felix hates his teammates.
Or should, anyway. At least on this night.
Felix Hernandez
was brilliant against the Indians, striking out 12 batters in eight shutout innings, escaping a bases-loaded jam in the eighth by striking out
Jason Kipnis
and then
Shin-Soo Choo
with a Niagara Falls changeup. He left the mound pumping his fist with the most emotion I've ever seen from him. But his position mates scored just one run and
Brandon League
-- who had been lights-out -- coughed up the lead. Indians 2, Mariners 1. A key to the game: The patient Indians did force Hernandez to throw 126 pitches, even if they drew just one walk.
Josh Tomlin
made it through eight on just 96 pitches for Cleveland. (Dave Cameron has a
good take here
on Felix's changeup.)
Second base: Upton returns to Rays.
B.J. Upton
is expected to be activated from the DL and return to Tampa's starting lineup on Friday. The Rays could certainly use a right-handed bat in a lineup that has been featuring
Jeff Keppinger
in the cleanup spot against left-handers. Scoring runs hasn't actually been an issue for the 7-6 Rays: Only the Red Sox and Twins have allowed more runs in the AL.
Third base: Kid power.
Remember when the Braves were 0-4 and everybody was already calling for manager Fredi Gonzalez's head? Since then they've won eight of nine, including a 10-2 thrashing of the Diamondbacks.
Jason Heyward
had two more hits to raise his average to .348 and
Freddie Freeman
slugged two home runs and drove in five runs. Meanwhile,
Mike Minor
pitched eight strong innings with nine strikeouts and no walks.
Josh Collmenter
allowed four runs in 5.1 innings, his third straight poor start, putting more pressure on the Diamondbacks to recall Trevor Bauer or one of their pitching prospects.
Home plate: Tweet of the day.
Speaking of King Felix, a factoid on his no-decision ...
This will be Felix's 16th no-decision in a start where he pitched at least 7, gave up no more than 1 run. Most in MLB since he debuted.

— Andrew Simon (@HitTheCutoff) April 20, 2012
March, 30, 2012
3/30/12
12:03
PM ET
Spring stats mean nothing! But they're fun to look at. A few highlights ... and lowlights (stats from major league games only):
Some people haven't bought in on Paul Goldschmidt as they worry about the strikeouts, but one reason I do like him is he'll draw some walks to go with the power: He's hitting .265 with three homers, but with 12 walks (and 13 strikeouts).
Josh Collmenter hasn't pitched well for Arizona: Five walks and just four strikeouts in 12 innings. He'll start in the rotation but you wonder how soon before we see Trevor Bauer.
Braves prospect Julio Teheran has somehow allowed nine home runs in 13 innings.
Jeff Samardzija earned a spot in the Cubs' rotation by showing good stuff but just as impressively has walked just one batter in 20 innings. This from a guy who averaged 5.1 walks per nine innings in relief in 2011.
Not good news for the Cubs: First baseman Bryan LaHair has 16 strikeouts and one walk. Is the 29-year-old Triple-A vet pressing now that he's been given a chance to start after hitting .331 at Iowa? His SO/BB ratio at Triple-A was 111/60.
Joey Votto is hitting .214 without a home run. I like how people will make a big deal when somebody does well ... but not a big deal when a star player doesn't do well. Again, spring stats ... for entertainment purposes only!
Dexter Fowler has had a miserable spring for the Rockies, hitting .118 in 51 at-bats with 16 strikeouts.
Clemens has pitched five scoreless innings for the Astros. Paul Clemens, that is.
Matt Kemp says he wants to go 50-50. He's not going to do it swinging like this: 21 strikeouts and one walk. Ouch.
Carlos Zambrano has 14 walks in 17.2 innings. But 18 strikeouts. So ... I think it's safe to say nobody knows what to expect from Big Z.
Zack Greinke has perhaps been the most impressive pitcher this spring with a 28/2 strikeout/walk ratio and no home runs allowed. That's pretty tough to do in Arizona, where the ball flies.
Sticking with the Brewers, Jonathan Lucroy is hitting .513 (20-for-39). This has nothing to do with that .513 average, but I like Lucroy as a breakout candidate.
Jason Bay hasn't homered or driven in a run for the Mets and has petitioned to move in the spring training fences.
Roy Halladay has allowed six home runs in 20 innings. He gave up 10 in 233.2 innings last season.
Is this the year Pedro Alvarez breaks out? Umm ... well, with 20 K's and one walk I guess we can be positive and make a Matt Kemp comparison.
One of my sleeper relievers of the year is Brad Brach of the Padres; he's looked good with a 14/2 K/BB ratio.
What will the Giants do with Brandon Belt? He's hitting .407 with seven doubles and three homers in 59 at-bats.
Adam Wainwright has a 1.45 ERA for the Cardinals but just nine strikeouts (and six walks) in 18.2 innings.
Davey Johnson says he wants to bat Ian Desmond leadoff. He has 18 strikeouts and two walks while hitting .299.
October, 5, 2011
10/05/11
12:50
AM ET
By
Christina Kahrl
| ESPN.com
The "Kirk Gibson made mistakes" meme is already a big part of the storyline of the Brewers-Diamondbacks series, but it's worth crediting the Snakes' skipper for sticking with what worked during the season and riding it to a decisive
8-1
Game 3 win on Tuesday night. In what could have turned out to be the D-backs' last game of the season, Gibson reaped the benefits from more than a few things that helped Arizona shock everyone and show up in the postseason in the first place.
Like turning to a rookie starter in an elimination game. Make no mistake,
Josh Collmenter
can pitch in this league, and his good work in 2011 is a big part of the reason why the D-backs are here. Between
Zach Duke
's ineffectiveness and
Jason Marquis
' injury, they needed an organizational soldier to step up, and the 25-year-old did just that, delivering 15 quality starts in 24 turns.
On his way up through the farm system, Collmenter didn't get here slathered with scouts' drool and effusive praise of everything about him the way that the Rays'
Matt Moore
did. Before the year, Collmenter didn't even merit a top-30 mention from Baseball America on its prospect list, because a career minor-league track record of a 3.50 ERA and more than eight strikeouts per nine don't mean much if your stuff is seen as pedestrian.
But after Tuesday night's masterful seven-inning effort, Collmenter joined Moore on an exclusive list of two. According to Elias, Collmenter is just the second rookie starter in postseason history to go at least seven innings while allowing two hits or less. As ESPN researcher Mark Simon noted, from 1903-2010, no rookies did it, but in less than a week, we got to see it done twice.
Finesse right-handers generally don't even get the benefit of their own term, like "crafty lefty" or "professional hitter." "Strike thrower" becomes almost a dismissive, left-handed compliment for this kind of right-hander, which seems appropriate for Collmenter. He'll never impress a speed gun any more than he did scouts. Instead, he's someone whose fastball moves about as fast as your basic workmanlike lefty -- high 80s if he gets the benefit of a back wind, or with the AC in Chase Field cranked to max.
But part of what makes Collmenter such a funky foe is an over-the-top delivery that can sometimes make it seem as though the ball's shooting out from behind his head, and mix that in with changeups and cutters. If you can upset hitters' timing as effectively as Collmenter did all season and did again on Tuesday, you don't
need
to impress those things. This isn't the Olympics, it's baseball, and Collmenter's sterling start is just the latest proof there's more than one way to skin the strike zone.
One of the other things that delivered a big win for the D-backs was Gibson's continuing faith in another rookie,
Paul Goldschmidt
. Some risk-averse managers might have ducked controversy by turning to
Lyle Overbay
on the last legs of his career -- there's little that Overbay hasn't been reputed of doing over the course of his career, hitting for power (a little), playing good D (sometimes), being clutch or a good guy or all the other qualities that get appended to a player after he's reached a certain age. For all that, Gibson stuck with talent, and Goldschmidt responded again in this series, hammering the grand slam in the fifth.
It's the addition of these key rookies, and the courage to trust them in October, that helped put Arizona in this series in the first place, so it's fitting that they're responsible for delivering their first postseason win now. This kind of development isn't exactly redemptive, however. The Diamondbacks still need to win two more games for this one blowout win to rise to that level. But it provides an important reminder that they belong. And if Kirk Gibson wins the National League Manager of the Year Award -- as seems likely -- then Tuesday night's outcome seems like a nice reminder of that as well.
Up to a point, so Arizona can afford to bask now, for at least one night. Unfortunately, there's always tomorrow, and a new set of questions. Before we even get there, though, there are ones to ask right now.
Like, why Gibson would use first
David Hernandez
and then
J.J. Putz
with a seven-run lead? The odds that the D-backs will need both of them on Wednesday in Game 4 are pretty close to 100 percent.
Joe Saunders
, nifty innings-eater that he may be over the full season's six-month stretch, isn't an overpowering ace or even a multi-trick pony a la Collmenter. Pitching at home this year, Saunders allows a run every other inning while allowing a WHIP pushing 1.5. So even on a night like Tuesday night, when so much for the D-backs went right, Gibson can give you cause for asking questions.
Christina Kahrl covers baseball for ESPN.com. You can follow her on Twitter.
October, 4, 2011
10/04/11
12:33
PM ET
Did home-plate umpire Gerry Davis cost the Yankees the game last night? There is some feeling that CC Sabathia got squeezed a little more than Justin Verlander. Here,
check out the location charts
from Brooksbaseball at It's About the Money.
One of the bloggers from the site says both Sabathia and Verlander had five strikes called balls, while Sabathia had 13 balls called strikes and Verlander had 18 balls called strikes. Verlander threw 120 pitches to Sabathia's 106, so if that count is accurate, Verlander did benefit from a couple extra called strikes, but I don't see evidence that Sabathia was getting squeezed in comparison to Verlander.
Look, it looks like ump bashing is going to be a popular theme this year: Tony La Russa did it in the middle of the game of the other night, Joe Girardi whined last night. But the bottom line: Sabathia gave up 13 baserunners in 5.1 innings; that's not the umpire's fault. Verlander pitched through the tight strike zone to strike out 11 batters, while Sabathia could only put away three. As Ian O'Connor writes at ESPNNewYork,
CC is to blame, not Davis
... and Sabathia knows that better than anyone.
Not to mention: No team has benefited from more blown calls over the years than the Yankees. I'm not defending Gerry Davis, but strike zones are never going to be perfect As long as the umps get all the calls in the field correct (well, and we avoid the Eric Gregg Strike Zone), I won't complain.
May, 22, 2011
5/22/11
11:49
PM ET
In a year that has been so improbable, the most predictable result has been that of the
Philadelphia Phillies
.
The Phillies have allowed the fewest runs in the major leagues behind a rotation that leads the majors in complete games, strikeouts and fewest walks allowed. The staff has combined for seven shutouts, a pace of 25 -- that would be the most
since the 1969 Mets recorded 28
.
As a result, the Phillies are 28-18, owners of the second-best record in the majors.
On the other hand, the Phillies have struggled to score runs in the absence of
Chase Utley
and
Domonic Brown
(and now
Shane Victorino
). Despite playing in one of the better hitter's parks in the league, the Phillies are 12th in the NL in runs per game and on pace for 620 runs, which would be the lowest total for a Phillies team in a full season since the 1988 club scored 597. Juan Samuel led that team with 67 RBIs and Steve Jeltz hit .187 in 148 games. After averaging 4.6 runs per game in April, the Phillies are averaging 2.8 in May after getting shut out on Sunday by the Rangers. They haven't scored more than three runs in their past nine games, a stretch in which they're hitting .172.
As a result, the Phillies have won just one game in which they've allowed more than four runs.
Utley is set to return Monday
and Brown returned on Saturday, going 0-for-4 in his season debut. Their replacements did not fare well: Phillies
second basemen
(mostly
Wilson Valdez
and
Pete Orr
) are hitting a punchless .226 (no homers, 10 RBIs) and their
right fielders
(mostly
Ben Francisco
) are hitting .224/.323/.370.
How much of an impact will Utley have on the lineup? Valdez and Orr combined for about 13 runs created in 177 combined plate appearances. Last season, Chase Utley played 115 games -- coincidentally, almost exactly how many games the Phillies have remaining (116) -- and created about 82 runs in 511 PAs while hitting .275/.387/.445. At their current rate of production, Valdez and Orr would be expected to create about 37 runs over 511 PAs -- meaning Utley, if he plays every day the rest of the season -- would add about 45 runs to the Phillies' team total if he hits like he did in 2010.
Based on that current pace of 620 runs, that changes the expected total to 665 runs -- still well below 2010's 772, which ranked second in the NL.
It may not seem like a huge difference, but 45 runs would make a dramatic impact on the NL East race. Considering none of the Phillies' other regulars are necessarily sure bets to improve much on their current numbers, the Phillies are desperately counting on Utley to produce and remain healthy. If he does, I think that solidifies the Phillies as the NL East favorite right now.
Well, assuming
Roy Halladay
and company keep spinning all those zeroes.
(For more on Utley and the Phillies, check out
Bill Baer's take at Crashburn Alley
.)
SERIES OF THE WEEK
Boston at Cleveland, Monday-Wednesday
Monday (ESPN2, 7 p.m. ET):
Clay Buchholz
(4-3, 3.42) vs.
Justin Masterson
(5-2, 2.52)
Tuesday:
Josh Beckett
(3-1, 1.73) vs.
Fausto Carmona
(3-4, 4.76)
Wednesday:
Jon Lester
(6-1, 3.68) vs. Undecided
These teams met in the first week of the season in Cleveland for three cold, dreary days, but it was a series that set up Cleveland's magical run so far: the Indians swept the Red Sox, sparking an eight-game winning streak.
After a shaky April, Buchholz has looked like the pitcher from last season, with a 1.40 ERA, .202 average and one home run allowed in four starts. Beckett continues to roll, leading AL starters in ERA while ranking second to
Justin Verlander
in opponents' average and second to
Dan Haren
in OPS allowed.
For Cleveland, shortstop
Asdrubal Cabrera
is having a terrific season, raising his average to .302 after a 5-for-5 day with two home runs on Sunday.
Shin-Soo Choo
is also heating up, hitting .381 the past week. The Indians will be without DH
Travis Hafner
, placed on the DL on Friday with a strained oblique.
PITCHING MATCHUP OF THE WEEK
Friday:
Tim Lincecum
(4-4, 2.06) vs.
Shaun Marcum
(6-1, 2.37), Giants at Brewers
Marcum has allowed zero runs or one run in six of his 10 starts, including four of his past five. As predicted, his numbers have improved across the board since moving from Toronto to Milwaukee: More strikeouts, fewer hits and a lower home run rate. Lincecum is quietly having another terrific season, ranking fourth in the NL in ERA, second in innings and third in strikeouts. He's throwing more ground balls than ever this season, but maintaining one of the best strikeout rates in the majors. Not to state the obvious, but what an amazing pitcher.
THREE SWINGS
1. The first round of interleague play is completed and the National League held its own, earning a split of the 42 games. After winning the head-to-head tally in four of the first seven seasons of interleague play, the NL hasn't earned a season victory since 2003. The nadir was 2006, when the AL crushed the NL with a 154-98 record. The NL has fared better the past two seasons, going 114-137 in 2009 and 118-134 in 2010. Despite the split, there were still signs of the AL's superiority. It outscored the NL 187-158 and held the NL to zero runs or one run in 12 of the 42 games, compared to the NL's six games allowing one or fewer runs.
2. Several weeks ago, I wrote about
Josh Collmenter
picking up a victory in relief in his major league debut for the Diamondbacks. Collmenter wasn't really much of a prospect, but after pitching well in relief, the Diamondbacks moved him into the rotation and he's responded with 12 scoreless inning over two starts. Collmenter has a funky, over-the-top delivery that maybe hitters will figure out once they get better scouting reports. But right now he's throwing strikes (one walk in 26 innings, counting his relief outings) and he's provided a lift for an Arizona rotation dying for a homegrown prospect to make good. The Diamondbacks have won six straight to claw back to .500. Collmenter starts Tuesday at Colorado.
3. With so much negative injury news going on, good to hear that
Josh Hamilton
and
Nelson Cruz
should be activated on Monday for the Rangers. A month ago, the Rangers were 14-7, but they've gone just 10-16 since -- although they lost just two games off their lead in the mediocre AL West. The offense has been the culprit for the slide (boy does that refrain sound familiar in 2011) as the Rangers were scuffling along at a
.233/.305/.325 mark
in May before Sunday's 2-0 victory. After hitting 36 home runs April, they have 11 in May. There's an argument to made that the Rangers are actually a
bad
offensive team, as they have an .811 OPS at home and .650 on the road. That road OPS is 11th in the AL, barely higher than Seattle's. Hamilton and Cruz will help, but this could be a team that needs a hitter at the trade deadline, not a pitcher. Check out their
individual road splits
.
RANT OF THE WEEK
The
All-Star ballot is out already?!?!?
Isn't the game in July?!?!?! And they want us to vote already?!?!?! The season isn't even 50 games old!!!! It's crazy and just shows MLB is a bunch of money-grubbing business men who don't even care about the sanctity of the voting process!!!!
Of course I voted! Here's my May 22 ballot:
1B:
Adrian Gonzalez
(AL);
Joey Votto
(NL). With
Albert Pujols
' slow start, easy choices in both leagues.
2B:
Ben Zobrist
(AL);
Rickie Weeks
(NL). Whatever happened to
Brad Emaus
anyway? (I think Karabell will still vote for him, however.)
SS: Asdrubal Cabrera (AL);
Troy Tulowitzki
, Rockies (NL). I don't go straight "best season," so I'll give Tulo the slight edge over
Starlin Castro
and
Jose Reyes
.
3B:
Kevin Youkilis
(AL);
Chipper Jones
(NL). Watered-down NL field with injuries to
Ryan Zimmerman
and now
David Wright
.
C:
Russell Martin
(AL);
Brian McCann
(NL).
Yadier Molina
off to a hot start, and McCann to slow one (for him), but I'll take McCann.
DH:
David Ortiz
(AL). Why is this slot even on the ballot?
OF:
Jose Bautista
,
Curtis Granderson
and
Matt Joyce
(AL);
Ryan Braun
,
Lance Berkman
and
Matt Kemp
(NL). Only three AL outfielders have an OPS higher than .900 and eight above .800. Kemp gets the third nod over
Matt Holliday
since he plays center field.
P:
Michael Pineda
(AL); Roy Halladay (NL). What's an All-Star ballot if not allowing for at least one hometown vote? And don't tell me you wouldn't want to see this matchup! OK, OK ... pitchers aren't even on the ballot. (By the way, Mariners starters have gone nine straights starts of pitching at least seven innings and allowing two runs or fewer.)
PHOTO OF THE DAY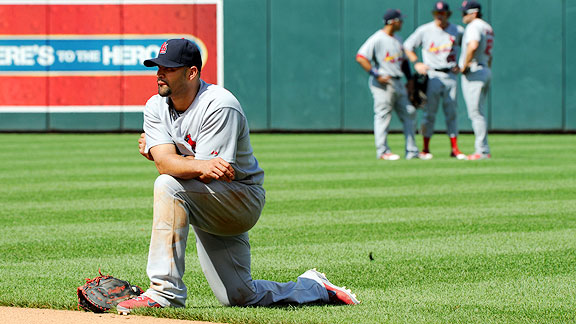 Peter G. Aiken/US PresswireRelax, Albert, it's a long day. The Cardinals and Royals did have to go extra innings, after all.
April, 17, 2011
4/17/11
10:40
PM ET
Who says there's no such thing as a big series in April? Not me.
Starting Monday, we have Giants at Rockies for three games, and it certainly
feels
like a big showdown to me. The Rockies have baseball's best record at 12-3 -- but have yet to play a team with a winning record, as they've cleaned up against the Diamondbacks, Dodgers, Pirates, Mets and Cubs. So they have a little something to prove. The Giants are 8-7, four games behind the Rockies, and certainly don't want to leave Denver seven games out of first place. They have their three top starters lined up (
Tim Lincecum
,
Jonathan Sanchez
,
Matt Cain
) to prove something to
Troy Tulowitzki
and Co.
The Rockies have been impressive in outscoring their opponents 85 to 59, especially going 7-1 on the road, after a dismal 31-50 mark in 2010. The Rockies have had only one winning road season in franchise history -- 41-40 in 2009 -- so getting off to a strong start there is a positive sign.
Second-year righty
Esmil Rogers
starts Monday against Lincecum in what may look like a mismatch, but Rogers has been solid in winning his first two starts. As a rookie in 2010 he was jerked around between Triple-A and the majors, between the bullpen and starting, so this is a good opportunity for the Rockies to see what they have. So far he's been effective against left-handers (.200/.300/.343) but there are doubts on how his stuff will fare consistently against lefty swingers.
And with
all the attention given to Tulowitzki and
Carlos Gonzalez
, it's easy to forget that
Ubaldo Jimenez
is back after missing a couple starts with a cracked cuticle. The Giants hit just .168 in four games against Jimenez last season. He starts Tuesday against Sanchez.
Cain has allowed three runs over his first three starts, despite just 10 strikeouts over 19 innings. Going back to last September, and including his three postseason starts, Cain has allowed more than two runs just once in 10 starts (his final regular-season start of 2010). He may not impress you with the raw stuff that Lincecum and Jimenez possess, but since 2009 the only starters with a better ERA are
Felix Hernandez
,
Adam Wainwright
,
Roy Halladay
,
Josh Johnson
,
Clayton Kershaw
,
Chris Carpenter
and Lincecum.
The Giants may also make a move with
Cody Ross
during the series. After a couple rehab starts with Fresno on Sunday and Monday, he should be activated from the DL. Will rookie first baseman
Brandon Belt
be sent down? After an 0-for-4 effort on Sunday, Belt is down to .200/.310/.280, with one homer and one double in 50 at-bats. But his eight walks shows the excellent discipline and understanding of the strike zone he displayed in the minors.
Considering Aubrey Huff's shaky efforts in the outfield, the Giants may want to move Huff back to first and send Belt down until his bat gets going. I think it would be a mistake; despite his postseason heroics, Ross just isn't that good (and it hurts saying that, as I'm a big fan). Ross can hit lefties -- .883 OPS in 2010 -- but shouldn't be a regular against righties (.687 OPS in 2010). Andres Torres' strained Achilles tendon that landed him on the DL may give Belt a two-week reprieve, as Ross could slide into center field (except Aaron Roward is inexplicably off to a .364/.378/.568 start in 44 at-bats).
It all adds up to some intriguing subplots to the best series of the week.
OTHER SERIES OF THE WEEK
Los Angeles Angels at Texas
Monday:
Ervin Santana
(0-1, 3.74 ERA) vs.
C.J. Wilson
(1-0, 3.72)
Tuesday:
Matt Palmer
(0-0, 7.71) vs.
Colby Lewis
(1-1, 5.25)
Wednesday:
Jered Weaver
(4-0, 1.30) vs.
Matt Harrison
(3-0, 1.23)
The Angels are riding the red-hot arms of Jered Weaver and
Dan Haren
and come to Texas riding a five-game winning streak. The offense has been solid, but it's coming from surprising sources:
Maicer Izturis
is hitting .383,
Alberto Callaspo
.346 and Howie Kendrick has five home runs.
Vernon Wells
has raised his average to .148, but still seeks his first home run. (How many years left on that deal?) For the Rangers, their own hot pitcher, Matt Harrison, squares off against Weaver in the series finale. Harrison's start is especially impressive considering his outings have come against the Yankees, Orioles and Red Sox. Harrison entered this season with 225 major league innings and not much of a track record -- 5.39 ERA, 261 hits, 31 home runs, only 4.9 K's per nine innings. He's allowed just 14 hits in 22 innings despite a below-average strikeout rate (5.7). He's throwing more strikes and getting more ground balls, but I'm not sold on him just yet.
PITCHING MATCHUP OF THE WEEK
Friday:
Jon Lester
(1-1, 3.20 ERA) vs. Dan Haren (4-0, 1.16 ERA), Red Sox at Angels
Haren has been absolutely dominant so far, pounding the strike zone, allowing opponents a .164 average and generally looking like the best pitcher in the AL. If there's been one complaint about Haren over the years it's that he throws
too
many strikes, leading to a lot of home runs (31 in 2010, 27 in 2009), So far, he's allowed just one in 31 innings, and pitching in Angel Stadium will help, as it's one of the tougher home runs parks in the AL.
THREE SWINGS
1. Watched
Jose Contreras
close out the Phillies' 3-2 win over the Marlins for his third save. It wasn't pretty, as he walked two batters and threw just nine of 22 pitches for strikes, finally getting
Omar Infante
to ground out sharply to end it. Contreras hasn't allowed a run in five innings, but I'm still a little skeptical about the Philly bullpen. But … maybe the Phillies won't need much beyond Contreras,
Ryan Madson
(five scoreless innings) and
Antonio Bastardo
(nine K's in 5 2/3 innings). Philadelphia relievers threw just 421 innings last season, fewest in the NL. No team has pitched fewer than 400 since the 2005 Cardinals threw 397 2/3, but the Phillies are a good bet to do it. That Cardinals team won 100 games and all five starters -- Chris Carpenter,
Jason Marquis
,
Mark Mulder
,
Jeff Suppan
and
Matt Morris
-- made at least 31 starts.
2. Welcome back,
Grady Sizemore
. Nice to see Cleveland's center fielder go 2-for-4 with a home run, double and an RBI in his first game since May 16. The Indians are 11-4 after sweeping the Orioles for their third series sweep already, and it's worth noting that
Shin-Soo Choo
(.214/.286/.339) and
Carlos Santana
(.196/.276/.314) aren't hitting yet, and they will.
3. I watched the major league debut of Arizona pitcher Josh Collmenter and he had one of the weirdest motions you'll see. Midway through the windup, as he brings the ball back behind him, he does a little bit of a knee jerk of sorts, leans back a bit, and then comes straight over the top. He's not really much of a prospect -- Baseball America didn't rate him as one of Arizona's top 30 prospects -- but he entered in the 11th inning against the Giants, threw strikes, worked quickly (a lesson for all rookies), retired all six batters he faced and got the win when Arizona scored in the bottom of the 12th. Congrats, Josh.
RANT OF THE WEEK
Right when I start believing in the Brewers … they go out and lose a doubleheader to Jason Marquis and
Livan Hernandez
, two guys who can't break 90 with their fastballs (actually, in the case of Livan, he can't break 85). The Brewers desperately need
Corey Hart
to return, as the team's lack of depth is embarrassing.
Mark Kotsay
? Forty-year-old
Craig Counsell
? Thirty-three-year-old outfielder
Erick Almonte
, once hailed as the next
Derek Jeter
, but now listed at 245 pounds and coming off a two-homer season in Triple-A? Please. This has to be one of the worst benches in the majors, especially for a supposed contender.
PHOTO OF THE DAY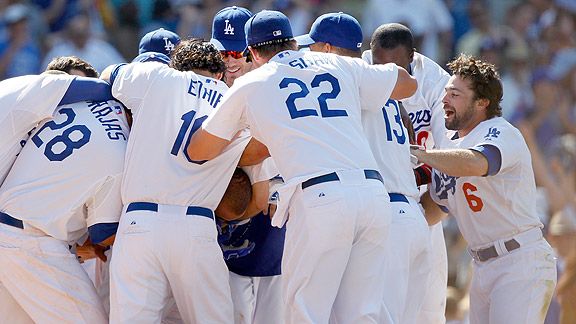 AP Photo/Alex GallardoSomewhere in there is Matt Kemp, who belted a walk-off winner in the ninth against St. Louis.