SweetSpot:

Josh Donaldson
September, 23, 2013
Sep 23
12:47
PM ET
Note: We're making the case for each of the five top AL MVP contenders today. Here's Robinson Cano and now Josh Donaldson.
1. Baseball Reference WAR leaders: Mike Trout 9.1, Donaldson 8.1, Robinson Cano 7.4, Miguel Cabrera 7.3, Chris Davis 6.1. FanGraphs WAR leaders: Trout 10.2, Donaldson 7.7, Cabrera 7.7, Davis 6.4, Cano 6.0. So by WAR, Donaldson is clearly a strong and viable candidate, even if he hasn't received the same attention throughout the season as the others.
2. The A's have clinched the AL West. The Angels are under .500. An MVP should arguably come from a playoff team -- or at least a team in contention. The Angels have been dead since April.
3. Games in September may not matter
more
, although most people say they do, but they at least have a certain intensity to them that maybe games in April and May don't. The A's began the month in second place but won the division in part because Donaldson has hit a monster .389/.500/.708 in September, with five home runs, eight doubles, 15 RBIs and 17 runs in 20 games. Overall, he's hitting .306/.388/.511, with 24 home runs, 92 RBIs and 86 runs, ranking fifth in the AL in OPS+ and runs created.
4. Where would the A's be without Donaldson? With Josh Reddick and Yoenis Cespedes both having big declines from last season, the only other Oakland players with a 4-WAR season are Bartolo Colon (4.9) and Coco Crisp (4.1). Donaldson has easily been the best player on a team without a lot of star power.
5. Defense matters. One reason Donaldson's WAR is better or equal to Cabrera and Davis is defense. He's at +12
defensive runs saved
while Cabrera is -17 at the same position. That's a 29-run difference right there. Davis is -7 DRS at first base.
6. Ballparks. Donaldson plays in a tough park for hitters, especially for average due to all the foul territory in Oakland. He's hitting .321/.410/.500 on the road, the fifth-best road batting average in the majors and the seventh-best
wOBA
.
7. He's hitting .344 with runners in scoring position and .318 in "late and close" situations.
8. Baseball-Reference also keeps track of how players hit in high-leverage situations, when the game is closest. Donaldson's .394 average is third-best in the majors (minimum 60 PAs) and higher than Cano (.351), Davis (.342), Cabrera (.326) and Trout (.258).
9. Against the Rangers, the A's rival for the AL West crown, Donaldson hit .343/.451/.582.
10. In fact, Donaldson has hit much better against good teams than bad teams: A .993 OPS against teams over .500 and an .818 OPS against teams under .500. You gotta love a guy who raises his game against the toughest competition.
September, 17, 2013
Sep 17
4:25
PM ET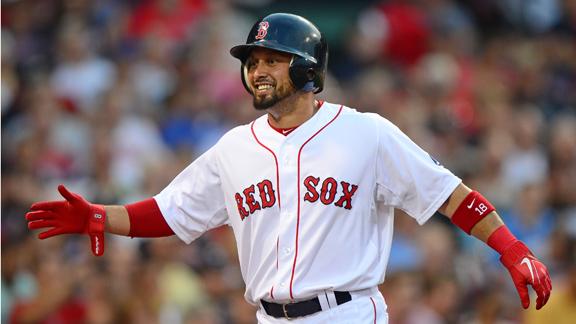 Keith Law wrote about players who
have exceeded his expectations
and Eric Karabell and myself have a corresponding video on four players who have surprised us the most in 2013. Can you say Josh Donaldson, MVP candidate?
September, 16, 2013
Sep 16
10:54
AM ET
Let's be honest: The American League wild-card "race" is more like two marathon runners stumbling to the finish line. As my colleague Jim Caple points out, over the past month the Rangers are 11-16, the Rays are 13-16, the Orioles are 14-15, the Yankees are 15-13, the Royals 16-14 and the Indians 16-12. The six wild-card contenders are a combined one game under .500 since Aug. 15. Not exactly gripping baseball going on here.

At-bat of the day: Justin Morneau hit the go-ahead single in the eighth inning of Pittsburgh's 3-2 win over the Cubs, but how about Josh Donaldson's first-inning, two-out homer to give the A's an early 2-0 lead over the Rangers. Oakland would go on to a 5-1 victory, completing the sweep and essentially wrapping up the division title. By the way, Baseball-Reference AL WAR leaders: Mike Trout 8.7, Donaldson 7.4, Robinson Cano 7.1, Chris Sale 6.9, Miguel Cabrera 6.8. FanGraphs: Trout 10.0, Cabrera 7.4, Donaldson 7.1. Sounds like Donaldson has some MVP arguments, at least based on WAR.

Pitching performance of the day: Clay Buchholz walked four in six innings but allowed just two hits and an unearned run in improving to 11-0 with a 1.51 ERA. Buchholz is at 95.1 innings. Pitchers since 1950 with a lower ERA, at least 100 innings: Bob Gibson, 1968 (1.12); Ted Abernathy, 1967 (1.27); Bruce Sutter, 1977 (1.34); Mel Rojas, 1992 (1.43); John Hiller, 1973 (1.44); Jesse Orosco, 1983 (1.47).


Most important win: The Indians waited out a long rain delay to beat the White Sox 7-1 and climb to a half-game behind the Rangers and Rays. Maybe it will be Cleveland's year: Matt Carson, who had appeared in nine games as a defensive replacement, made his first start and went 3-for-3 with a home run, two RBIs and a stolen base.

Most important loss: The Rays led 3-0 in the seventh when David Price tired and then 4-2 in the eighth when the Twins scored four runs -- all after two outs and nobody on. Ryan Doumit homered off Joel Peralta, Trevor Plouffe singled, Josh Willingham walked and then Josmil Pinto smacked a three-run homer, sending the Rays to a devastating defeat. The Rays' next 11 games: Rangers (4), Orioles (4), at Yankees (3).

Monday's best pitching matchup: Matt Garza versus Alex Cobb (Rangers at Rays, 7:10 ET). Good news here for the Indians, Orioles, Yankees and Royals: The two wild-card leaders will beat up on each other over the next four days, opening the door for games to be gained. Garza has a 5.16 ERA over his past eight starts -- with just one quality start. The "best" deadline trade acquisition has been a huge flop.

Player to watch: Johnny Cueto is making his first start since June 28. The Reds are 3.5 behind the Pirates and Cardinals, but are now just 4.5 ahead of the streaking Nationals, who have won eight of nine. It would still take a sizable collapse for the Reds to blow it, but stranger things have happened.
August, 29, 2013
Aug 29
12:25
AM ET
Major League Baseball began handing out the Manager of the Year award in 1983, and Bobby Cox of the 2004-05
Atlanta Braves
is the only man to win it in consecutive seasons. If the lineup the
Oakland Athletics
fielded Wednesday night is a snapshot of the tools at Bob Melvin's disposal, he should be a strong candidate to replicate that feat.
Yes, John Farrell has changed the mindset in Boston a year after that 69-win Bobby Valentine-led debacle. Joe Maddon of the
Tampa Bay Rays
deserves to win the award every year, and Terry Francona has done a wonderful job keeping the
Cleveland Indians
in postseason contention despite the team's flaws. But have any of them done a noticeably better job than Melvin, who has taken a star-free team with the 26th-highest payroll in baseball and put it in the mix for a wild-card spot and possibly a second straight American League West title?
[+] Enlarge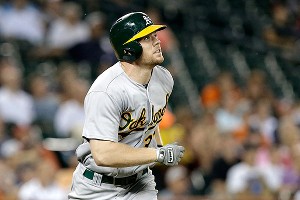 AP Photo/Paul SancyaBrandon Moss is the perfect Oakland A: Discarded by others, but he comes to play.
With a 14-4 laugher in Detroit on Wednesday that featured six RBIs from
Brandon Moss
, the A's raised their record to 75-57. They're 2 ½ games behind Texas in the division and four games ahead of Cleveland in the race for the second wild-card spot, and they're starting to get some important pitching reinforcements.
Bartolo Colon
returns from the disabled list to face
Max Scherzer
in a Thursday matinee at Comerica Park, and
Brett Anderson
is back and pitching in the bullpen for now after missing four months with a foot injury.
The lineup requires some cobbling together on a lot of nights.
Coco Crisp
has contributed some monster moments this season, but he brings a .330 career on-base percentage in the leadoff spot.
Eric Sogard
, the second baseman, looks like the kid selling you an iPad at Best Buy.
Daric Barton
continues to hang around at first base despite being on the
Russ Canzler
-
Eli Whiteside
designated-for-assignment plan. And the A's recently had to scramble to reacquire old friend
Kurt Suzuki
from Washington when injuries to
Derek Norris
and
John Jaso
put a serious crimp in their catching contingent.
When the season began, the outfield looked like Oakland's strong suit. But it hasn't turned out that way.
Chris Young
and
Seth Smith
are both having disappointing seasons. Worse yet,
Josh Reddick
and
Yoenis Cespedes
haven't come close to their performances in 2012, when they combined for 55 home runs in the three and four spots in the order. Reddick has a .658 OPS and just went on the DL with a wrist injury. Cespedes has been too pull-happy and prone to chasing breaking balls out of the strike zone, and it's reflected in his .289 OBP and increased strikeout total.
As Athletics beat writer John Hickey pointed out earlier this week,
Jason Kubel
might be a good fit in Oakland after getting designated for assignment by Arizona. For late-August trade buffs,
Justin Morneau
is also still out there and readily available.
Only three Oakland hitters --
Josh Donaldson
,
Jed Lowrie
and Moss -- have performed to or beyond expectations this season, and they all project a certain dirtbag quality befitting the team persona. So why are the A's so good? They grind out at-bats (they lead the majors with 476 walks and average a lofty 3.96 pitches per plate appearance). They're 24-16 in one-run games, and they're tied with Pittsburgh for the major league lead with 13 victories when trailing after six innings.
The A's also pitch.
A.J. Griffin
,
Jarrod Parker
and the other starters have gone deep into games consistently enough that the bullpen has logged only the 11th-heaviest workload in the league. That means closer
Grant Balfour
and his relief-mates won't be running on fumes in September.
Oddly enough, a few hours before Oakland took the field and banged out a season-high 21 hits against
Doug Fister
and the Detroit bullpen Wednesday, Donaldson was candid in his assessment of what the A's have to do to survive the final month.
[+] Enlarge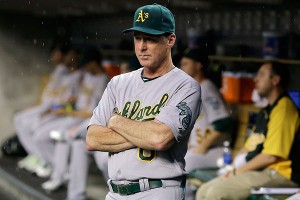 AP Photo/Paul SancyaHas Bob Melvin earned his second straight manager of the year award?
"We know how we're built, and we're built to pitch and play defense," he said. "Anytime one of those gets out of whack is when we start faltering a little bit. I don't feel like we're going to bang with teams like the Tigers and Rangers every day."
Even the departure of
Jonny Gomes
to Boston through free agency hasn't put a crimp in the
esprit de corps
in Oakland. That's largely a tribute to Melvin, a manager whose approach wears well over six months and 162 games. Players love him because of his even temperament, fairness and attention to detail -- but he can be tough when the situation warrants. After the A's failed to show much spark against Houston and Seattle during their last homestand, Melvin let the players know things had to change in a hurry. It appears he got their attention.
When the Detroit series concludes, the A's will head home for six games against Tampa Bay and Texas, at which point the schedule gets less taxing. Of Oakland's final 23 games, 20 are against Houston, Minnesota, the
Los Angeles Angels
and Seattle.
The young A's learned a lot about perseverance last year when they went on a 51-25 roll after the All-Star break to overtake Texas for the division title. Expectations were higher this year, but that doesn't minimize the job that Melvin and his coaching staff have done squeezing the most out of the roster.
Melvin's name should be in the middle of the Manager of the Year conversation again in November. But as long as he has the chance to keep making out lineup cards in October, the rest is gravy.
August, 20, 2013
Aug 20
9:19
PM ET


OK, none of these guys are actually going to win the American League MVP Award -- not with Miguel Cabrera, Chris Davis and Mike Trout around -- but they deserve recognition for their terrific seasons. And if you find down-ballot MVP votes interesting, it would be interesting to see how this group eventually fares in the voting.
July, 6, 2013
Jul 6
7:49
PM ET
The big questions for this season's All-Star selections as we headed into Saturday's selection show: Would
Yasiel Puig
make it? Who backs up
Miguel Cabrera
at third base in the American League from a strong field of candidates? Who represents the Astros?
But I'm left with this one: Could the American League have chosen a worse, more boring squad?
Remember, the All-Star squads are chosen by a four-tiered system: The fans vote in the starters, the players vote for the reserves at each position, plus the top five starting pitchers and top three relievers, the managers choose the rest of the squad (with their choices limited due to having to name a representative for each team) and then the fans vote again for the final man.
Got all that?
The player vote is the one that usually causes the biggest mistakes. Last season, for example, the players voted in Cubs first baseman
Bryan LaHair
as the backup first baseman even though he was a platoon player with 28 RBIs at the time of selection. Similarly,
Lance Lynn
, who had a big April, was voted in as one of the top five starters even though he ranked 28th in the National League in ERA. The ripple effect for selections like those end up causing more worthy All-Stars to not make it. This season, a similar thing happened, most notably with
Torii Hunter
named as an outfield reserve in the AL.
My quick reaction to this season's
American League
and
National League
squads:
Best fan selection:
Chris Davis
, Orioles. Hardly a household name before the season, his offensive numbers are just too good to ignore, and he's a deserving starter over
Prince Fielder
.
Worst fan selection:
Bryce Harper
, Nationals. The fans generally do a good job -- better than the players -- and while I don't see Harper as a glaring mistake (I'd put him on my NL roster as a reserve), he did miss significant time with the knee injury.
Andrew McCutchen
of the Pirates or
Carlos Gomez
of the Brewers would be a more deserving starter (both should be starting over
Carlos Beltran
as well).
Most controversial AL selection:
Justin Verlander
, Tigers. He's not having a terrific season, with a 9-5 record and lukewarm 3.54 ERA, but I don't have a huge problem with American League manager Jim Leyland selecting the guy who's been the best pitcher in baseball the previous two seasons.
Most controversial NL selection:
Marco Scutaro
, Giants. The NL roster is actually pretty solid, but you can nitpick Scutaro and
Allen Craig
. With
Matt Carpenter
being voted in by the players, manager Bruce Bochy didn't have to add a third second baseman, but he did select his guy and take a slot away from a deep pool of outfield candidates -- Puig and
Hunter Pence
were added to the final-vote group, but
Starling Marte
,
Jay Bruce
and
Shin-Soo Choo
all had All-Star first halves. But, hey, even All-Star teams need professional hitters.
How the Astros screwed the AL:
Salvador Perez
being voted in by the players as the backup catcher meant
Jason Castro
was named as a third catcher to represent the Astros. Actually, this is a little unfair, since Castro is having a season equal to or better than Perez's. But having three catchers on the squad takes a slot away from one of the much more deserving third basemen --
Evan Longoria
,
Josh Donaldson
or
Adrian Beltre
.
[+] Enlarge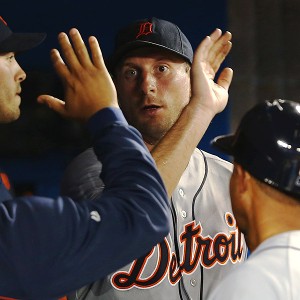 Tom Szczerbowski/USA TODAY SportsWith the American League's weak pitching staff, Max Scherzer could see a couple innings.
How the players screwed the AL:
Hunter rode a .370 April to an All-Star berth, but he's down to .307 with just five home runs. It's not a great season for AL outfielders, but Hunter is kind of a joke selection: He ranks 24th among AL outfielders in FanGraphs WAR (0.9).
Brett Gardner
or
Jacoby Ellsbury
are better options.
Weirdest selection:
Brett Cecil
, Blue Jays. The Jays already had
Jose Bautista
and
Edwin Encarnacion
, so there was no need to add Cecil. Don't get me wrong, he is having a nice season -- 1.43 ERA, 50 strikeouts in 44 innings -- but this is also a guy with a 4.79 career ERA entering the season. (Granted, mostly as a starter.) Rangers starter
Derek Holland
was the better choice here.
Team with a gripe:
The A's have a better record than the Tigers yet ended up with one All-Star to Detroit's six.
Most-deserving guy who didn't make it, AL:
Longoria. Seventy All-Stars were named today, but somehow one of the top 10 players in the game didn't make it.
Most-deserving guy who didn't make it, NL:
Not including the players eligible in the final-player vote, I'd go with Pirates outfielder Marte or Braves defensive whiz
Andrelton Simmons
.
Worst final-player vote ever:
American League. Choose from
Joaquin Benoit
,
Steve Delabar
,
David Robertson
,
Tanner Scheppers
and
Koji Uehara
. Can I go to a dentist appointment instead? Unless you have a fetish for right-handed relief pitchers, this isn't exactly the best way to get fans enthused about the All-Star final vote. Why not at least have a final-man vote with Longoria, Beltre and Donaldson?
Most predictable final-player vote ever:
National League. Is there any way Puig doesn't beat out
Ian Desmond
,
Freddie Freeman
,
Adrian Gonzalez
and Pence for the final vote?
In a perfect world, Jim Leyland does this:
The AL pitching staff is a little shaky, so he should try to ride his top starting pitchers. Assuming
Max Scherzer
starts, I'd pitch him two innings and then bring in White Sox lefty
Chris Sale
for two more innings so he can face the top of the NL lineup that would probably feature
Carlos Gonzalez
and
Joey Votto
.
Yu Darvish
and
Felix Hernandez
take over from there and hand the ball to
Mariano Rivera
, with
Glen Perkins
and Cecil used as situational lefties if needed.
Offensively, Cabrera and Davis should play the entire game, as they've clearly been the dominant offensive forces in the AL. Frankly, I'm not too thrilled with the AL bench, especially the outfield.
Mike Trout
and Bautista should also play the entire game. Use Fielder and Encarnacion to pinch hit as needed for
J.J. Hardy
or
Adam Jones
.
Manny Machado
can replace Cabrera in the late innings if the AL is ahead.
In a perfect world, Bruce Bochy does this:
The NL squad looks much better on paper. Assuming
Matt Harvey
starts, he should be followed up with
Clayton Kershaw
and
Cliff Lee
(
Adam Wainwright
is scheduled to pitch on Sunday and will be unavailable). From there, I'd match up --
Madison Bumgarner
or
Jordan Zimmermann
-- and then turn the game over to three dominant relievers:
Jason Grilli
,
Aroldis Chapman
and
Craig Kimbrel
. (Kudos to Bochy for going with all starting pitchers after the mandatory three relievers.)
Offensively,
David Wright
should play the whole game in front of the home fans, and assuming
Paul Goldschmidt
gets the nod as the designated hitter, I'd let him and Votto play the entire nine as well. Without a regular center fielder in the starting lineup (although Beltran, Gonzalez and Harper have all played there in the past), I'd get McCutchen in the game as soon as possible, with apologies to Gomez. I'd hit for
Brandon Phillips
in a key situation with a better bat like
Buster Posey
or Craig or maybe for Gonzalez against a left-hander (although he's hit very well against lefties this season).
And Puig? Yes, once he makes the team, I'd like to see him play as well.
June, 14, 2013
Jun 14
12:24
AM ET
Jesse Chavez
is essentially the 25th man on the Oakland A's roster. He started the year in Triple-A, got called up, got sent down, got called back up and is working as the low-leverage guy out of the bullpen. Before Thursday, he hadn't pitched since June 5, and the final scores of games he'd appeared in (without a decision) were 6-1, 10-2, 11-5, 6-2, 6-1, 6-3, 10-2, 9-6 and 8-1.
Chavez is the definition of a journeyman right-hander, having pitched for the Pirates, Braves, Royals and Blue Jays before the A's purchased him from Toronto last August. He was a typical Billy Beane acquisition: He has a pretty good arm, fastball in the low 90s, but what Chavez hadn't had was much success at the major league level, with a 5.74 ERA over 191 career innings.
But sometimes you need that 25th guy to come through, and Chavez's other asset is that he had started for Triple-A Sacramento. That ability to pitch multiple innings came into play in Thursday's 18-inning marathon in Oakland, the A's finally pushing across the winning run with a blooper and broken-bat flare off
Mariano Rivera
, winning
3-2
. Chavez was the big hero, however, pitching 5.2 innings of one-hit, scoreless relief. He has a starter's repertoire, with a cutter, curve and changeup. He got two big outs when he entered with two runners on in the 13th, striking out
Kevin Youkilis
and
Vernon Wells
on curveballs.
In the 14th, A's manager Bob Melvin had the guts to intentionally walk
Robinson Cano
with runners on first and second;
Mark Teixeira
popped out to shortstop, missing a hittable fastball. From there it was smooth sailing, as Chavez retired the side in order in the 15th, 16th, 17th and 18th innings. Not bad for your garbage-time reliever.
[+] Enlarge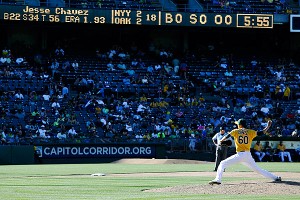 AP Photo/Eric RisbergJesse Chavez got the win for the A's in 5.2 innings of scoreless relief, with one hit and seven strikeouts.
"The last guy they threw was the best guy we faced all day," Teixeira told MLB.com. "That guy is nasty."
It's one of those games that will be remembered if the A's end up winning the American League West. It's that kind of bullpen depth that fueled their second-half surge last season and has fueled their strong start this season. The A's are 33-0 when leading heading into the ninth inning. They're 6-2 in extra innings. When tied through seven innings they're 8-1. This is a tough team to beat late in a game.
The A's have won 11 consecutive games at home and 21 of their past 26, and while they were 7 games behind the Rangers in mid-May, they now lead the division by two games, after the Blue Jays beat
Yu Darvish
and the Rangers
3-1
, dropping the Rangers to 4-8 in June. Injuries to
Ian Kinsler
and
Mitch Moreland
have hurt, but that gets us back to roster depth.
Who is the favorite to win the West? Here's a quick rundown comparing the two teams.
Lineups
Oakland: .246/.328/.397
Texas: .264/.327/.436
Entering Thursday's games, the Rangers had the higher wOBA, but the A's had the slightly better park-adjusted offense. The A's have gotten huge performances from
Josh Donaldson
and
Coco Crisp
, and while some regression might be in order, Donaldson also looks like a much-improved hitter from last season,
as Jerry Crasnick wrote
. On the other hand,
Josh Reddick
(.187) and
Chris Young
(.169) should improve.
For the Rangers, the offense is trending downward. In 2011, they averaged 5.3 runs per game; in 2012, 5.0; this year, 4.4.
Adrian Beltre
and
Nelson Cruz
are doing Adrian Beltre- and Nelson Cruz-type things, but
Elvis Andrus
and
David Murphy
are struggling right now. If Murphy doesn't pick it up, the Rangers might look to add an outfielder.
Advantage: A's.
Starting pitching
Oakland: 29-24, 4.01 ERA; .249/.298/.398; 6.1 innings per start
Texas: 25-21, 3.77 ERA; .251/.311/.391; 5.9 innings per start
The rotations have posted similar numbers, but once you adjust for ballpark, the Rangers' staff has performed better, led by Darvish and
Derek Holland
. FanGraphs WAR rates the Rangers' starters at 8.6 Wins Above Replacement, third-best in the majors, and the A's 12th-best at 5.0.
The good news for the A's is that
Jarrod Parker
pitched well again Thursday. After posting a 7.34 ERA through his first seven starts, he's gone 4-1 with a 2.40 ERA over his past seven, with a .183 average allowed and WHIP under 1.00. His changeup is back to the deadly weapon it was last year, as batters have hit .118 against it in those most recent seven games.

The Rangers have succeeded even though
Matt Harrison
has spent most of the season and the disabled list and
Colby Lewis
all of it.
Alexi Ogando
is also
out again with shoulder inflammation
. The Rangers received some solid work from
Nick Tepesch
and
Justin Grimm
early on, but those two haven't been quite as strong lately, and you have to wonder if the injuries won't catch up to the rotation at some point, at least until Lewis and Harrison return.
Edge: Even. The Rangers have been better so far, but moving forward I think the A's close the gap.
Bullpen
Oakland: 12-3, 2.89 ERA; .227/.289/.358
Texas: 13-7, 3.29 ERA; .240/.313/.368
The Texas bullpen has also been outstanding, especially the back three of
Joe Nathan
,
Tanner Scheppers
and
Robbie Ross
.
Neal Cotts
has added some depth as well. Scheppers has been the big surprise, with a fastball that sits at 94-96 mph and touches 98; he's always had a good arm but might finally be putting it together. He doesn't have a big strikeout rate (21 in 32.1 innings), and I do wonder if he keeps pitching this well. Batters are hitting just .170 off his fastball even though Scheppers' strikeout/walk ratio with the pitch is just 10.9.
Edge: A's. The Rangers have a good pen, but once you get into the fifth, sixth and seventh guys, I think the A's have the advantage.
Defense
Oakland: minus-20 Defensive Runs Saved
Texas: plus-8 Defensive Runs Saved
Ultimate Zone Rating has the clubs essentially even -- Texas at minus-0.3, Oakland at minus-1.3. The big problem area for the A's has been shortstop
Jed Lowrie
at minus-8 DRS. Chris Young, who usually rates very well in the outfield, has also rated poorly at minus-5 DRS. Of course, if he doesn't start hitting, he's not going to get much playing anyway behind Crisp, Reddick and
Yoenis Cespedes
.
Edge: Rangers.
The A's were my preseason pick to win the division, and they look like the better team right now. What do you think?
May, 6, 2013
May 6
1:20
AM ET
Thoughts on Sunday's games ...
October, 11, 2012
10/11/12
2:00
AM ET
More baseball!
On a day that featured a quadruple-header of baseball playoff action, a game in which a starting pitcher who didn't win a game all season gets a W, a game with a demoted former two-time Cy Young winner coming out of the bullpen for a clutch relief outing, an once-in-a-lifetime performance by
Raul Ibanez
(and I mean all of our lifetimes), the Oakland A's completed the night with a bottom-of-the-ninth three-run rally to beat the
Detroit Tigers
4-3
to keep their American League Division Series alive and force a fifth game.
It also gives us a fourth game on Thursday.
More baseball? Yes, please.
Justin Verlander
in a decisive game? The frenzied A's crowd with one more game to cheer on their heroes?
Miguel Cabrera
and
Prince Fielder
?
Coco Crisp
doing Coco Crisp stuff? The A's swinging from their heels? I can't wait.
Where did this rally come from? It appeared that
Joaquin Benoit
had snuffed out the last-gasp Oakland rally in the bottom of the eighth when he struck out
Brandon Moss
on a lovely, low-and-away changeup with two runners on.
In the bottom of the ninth, Jim Leyland turned to his closer,
Jose Valverde
. We remember his perfect season a year ago, when he seemingly walked the tightrope in every save situation but always managed to escape. Well, he fell off a few times this year.
The A's had led the majors with 14 walk-off wins during the regular season, so even though Benoit had just pitched through
Yoenis Cespedes
and Moss in the order, you know the A's believed. Why wouldn't they? It's a magical season in Oakland.
[+] Enlarge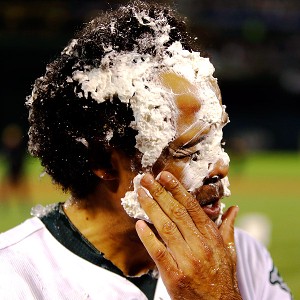 AP Photo/Marcio Jose SanchezPlating the winning run got Coco Crisp a face full -- to say nothing of another game Thursday.
Josh Reddick
pulled a base hit into right field past a diving
Omar Infante
.
Josh Donaldson
crushed a first-pitch, four-seam fastball off the wall in left-center for a double. When he's on, Valverde throws 92-95 mpg and then goes to his splitter to put hitters away. That fastball registered 90. The four pitches to Reddick clocked 90, 91, 91 and 92.
Seth Smith
stepped in and took a ball, swung through a high-and-away fastball, then drilled another fastball away into right-center. The game was tied and, even though
Austin Jackson
cut the ball off before it got to the wall, Smith beat the throw for a double.
The three pitches to Smith: 92, 92, 92. Valverde didn't have his good heat on this night and he had to throw an off-speed pitch. Valverde throwing 95 is a major league reliever. Valverde throwing 90-92 without a wrinkle is batting practice.
George Kottaras
then pinch-hit and Bob Melvin eschewed the sacrifice bunt and let Kottaras swing away. According to conventional wisdom, the situation called for a bunt -- heck, I'm pretty sure even Earl Weaver would have bunted there -- but given the A's propensity to strike out, I understand Melvin's strategy: Give the A's three chances to get the hit.
Kottaras popped out to Cabrera on the first pitch, a 93-mph fastball.
Cliff Pennington
struck out on four pitches, taking a splitter for a called strike on a pitch that registered a bit outside.
Up came Crisp. Game 2 goat. Game 3 hero. Valverde throws a first-pitch splitter. Hard ground ball pulled past Infante into right field, and when
Avisail Garcia
couldn't pick up the ball (with his strong arm, he might have had a shot to get Smith if he comes up with it cleanly), the A's had the win.
More baseball.
Leyland, after the game: "This is baseball. This is why this is the greatest game of all. ... You get tested all the time in this game and this is a good test."
Before the ninth inning, the A's had been hitting .185 in the series (22-for-119). They went 4-for-6 in the ninth. Valverde had not allowed four hits in an appearance all season. He had allowed three runs just twice.
Before the series, I suspected the key element in the series might end up being the Tigers' bullpen. When Benoit blew a lead in Game 2 -- only to see the A's bullpen lose the lead when Detroit scored runs in the eighth and ninth -- I figured the A's had lost their chance to steal a win. You may get one late-inning comeback in a short series, but it's hard to get two.
But the A's got this one. A fifth game. They'll get Verlander and you have to suspect the over/under on his pitch count might be 150. If you're Leyland, do you want to give the ball to Valverde again with a one-run lead in the bottom of the ninth? Next time you think you can manage a major league team, put yourself in that possible situation.
The A's will send rookie
Jarrod Parker
to the mound. On paper, the edge still goes to the Tigers, with the best pitcher in baseball on the mound.
In the postseason, paper means nothing.
October, 10, 2012
10/10/12
12:35
AM ET
The Oakland A's didn't really know what to expect from
Brett Anderson
, who hadn't pitched in 20 days since suffering an oblique strain.
But here's the one thing about Anderson: He can roll out of bed and throw the ball over the plate. He returned from last summer's Tommy John surgery Aug. 21 and made six starts before the oblique injury. In those six starts, he walked just seven batters, displaying the control the 24-year-old had shown since reaching the big leagues at age 21.
Manager Bob Melvin was hoping to get five innings from Anderson on Tuesday. Anderson delivered six shutout frames, throwing 80 pitches and allowing just two hits. His final two pitches might have been his best: a 2-1 slider to
Miguel Cabrera
that broke sharply into the strike zone for a called strike, and then a 2-2 slider that dove down and in and on which Cabrera swung over the top.
Asked what his expectations were after Oakland's bullpen locked down the 2-0 win, Anderson said, "Just go out there and give us a chance to win," citing the performances of
Jarrod Parker
and
Tommy Milone
in the first two games of the series with the Tigers. "You couldn't really script it, but it worked out. ...
Coco [Crisp]
robbing the home run sort of set the tone. You can't say enough about the defense," he said.
On a day when we had two games and saw a combined total of 16 hits, pitching did rule the day. And instead of two games Wednesday, now we get four. Good for everyone (except maybe Reds and Tigers fans).
[+] Enlarge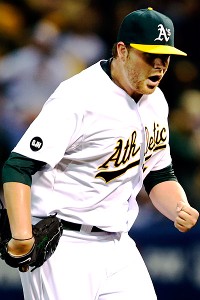 AP Photo/Marcio Jose SanchezIn his first start since September, left-hander Brett Anderson pitched six shutout innings.
A few other thoughts:
Crisp's second-inning robbery of Prince Fielder is one of the greatest postseason catches I can remember, right up there with Willie Mays, Kirby Puckett in the 1991 World Series, Devon White in the 1992 World Series and Endy Chavez in the 2006 National League Championship Series. Fielder got robbed again when Yoenis Cespedes made a diving catch of his liner in the seventh. When the ball was hit, it looked like a sure single and maybe a double in the gap; it hung up just long enough for Cespedes to appear from nowhere. Josh Donaldson also started a nice 5-4-3 double play off Omar Infante's hard smash to end the third.

I loved the way Melvin handled the seventh and eighth innings, first using Ryan Cook and then Sean Doolittle, even though he usually uses Doolittle and then Cook. He brought in Cook to face Fielder, when he could have either left in Anderson for one more batter, brought in Doolittle or brought in Jerry Blevins, who had been warming up in the sixth. I think he wanted to give Fielder a different look than a third shot at Anderson, so he brought in the hard-throwing Cook. That meant Cook would also face right-handers Delmon Young and Jhonny Peralta (who did single), and Melvin wouldn't waste Blevins for one batter. But it also meant Doolittle faced rookie Avisail Garcia and catcher Gerald Laird in the eighth. If Cook had pitched the eighth, Jim Leyland would have pinch hit lefty swingers Quintin Berry and Alex Avila, a better duo than Garcia and Laird.

It's going to be difficult for the Tigers to go all the way with Young batting fifth. Only Josh Hamilton swung at a higher percentage of pitches outside the strike zone among qualified batters this season. Yes, Young hit five home runs in last year's postseason. He also hit .133 in the American League Championship Series. He had 112 strikeouts and 20 walks this year. He is not good. As a No. 5 hitter for a team aspiring to win a title, he's a joke.

Strong outing by Anibal Sanchez. Seth Smith turned on an inside fastball for his fifth-inning home run to dead center, but the Tigers couldn't have asked for more than the 6.1 solid innings he gave them.

Cabrera singled with one out in the ninth, bringing up Fielder against Grant Balfour as the tying run. Balfour got a break on the first pitch, a fastball outside called a strike by plate ump Dana DeMuth. After a fastball outside, Balfour threw a tough 94 mph heater at the knees that Fielder took for strike two. Another fastball, this one at 95, and Fielder grounded into a 6-3 double play. Guess which team led the AL in double plays grounded into?

Max Scherzer versus A.J. Griffin in Game 4. Scherzer left a start Sept. 18 after two innings due to a sore shoulder and returned Sept. 23 but then didn't pitch again until Oct. 3, when he pitched four scoreless innings against the Royals. If he's healthy, he's certainly capable of dominating, after ranking second in the AL in strikeouts to his teammate Justin Verlander and posting a 2.69 ERA in the second half. Following a great run, Griffin struggled in three of his final four starts, with 26 hits and 15 runs in 17.1 innings. Look for a quick hook.