April, 30, 2014
Apr 30
12:33
AM ET
The much-anticipated
Alex Wood
versus
Jose Fernandez
rematch didn't materialize on Tuesday night, as Fernandez turned in another dominating performance with eight scoreless innings while Wood gave up 10 hits and seven runs. What did materialize was another
Giancarlo Stanton
laser beam home run, this one into the right-center bullpen at Marlins Park.
Is there a more exciting batter to watch in the game right now? While I'd certainly put guys like
Mike Trout
,
Miguel Cabrera
,
Freddie Freeman
and newcomer
Jose Abreu
right up there, Stanton combines the prospect of a potential tape-measure home run with every swing along with maybe the most intimidating presence in the game as he digs in. At 6-foot-6 and 240 pounds or so, he's a tight end playing right field, a 24-year-old who is quickly joining legendary status for his tape-measure home runs. (Is there better term in sports than "tape-measure home run"?)
His home run off Wood was measured at a mere 391 feet -- the
shortest
of the eight he's hit this season. His
484-foot blast
off
Eric Stults
back on April 4 that landed in Pensacola is the longest in the majors so far this season, but Stanton has also crushed home runs of 469 and 457 feet, according to the ESPN Home Run Tracker. His average distance per home run of 427 feet trails only Mike Morse, who benefited from two long home runs in the thin air of Coors Field back on April 23, and
Ian Desmond
, who has just four home runs.
[+] Enlarge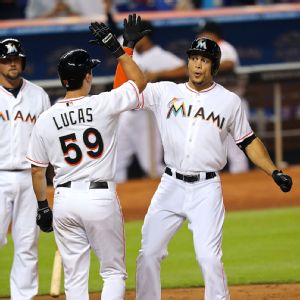 Mike Ehrmann/Getty ImagesAfter mashing his latest big fly for the Fish, Giancarlo Stanton had plenty to celebrate.
Of course, those distance numbers are nothing new for Stanton. He ranked third in 2013 behind only Trout and
Justin Upton
in average home run distance (minimum 18 home runs), had the
longest home run
in the majors in 2012 (494 feet) and the second-longest average distance in 2011 behind Upton. Eighteen of his 125 career home runs have been measured at 450-plus feet and he's done that despite playing half his games in the thick swamp air of Miami.
As an all-around hitter, Stanton may or may not be a finished product. He has 34 strikeouts in 26 games and that strikeout rate may prevent him from becoming a .300 hitter (he did hit .290 in 2012 and is at .269 in 2014). That's another reason he's so tantalizing as a hitter: Has he reached his apex, or is there more still to come?
Stanton's prodigious blasts have to put him on the short list as one of the greatest pure power hitters of all time, right? He's one of those guys who busts the 80 power rating on the 20-to-80 scouting scale. Based mostly on anecdotal evidence, history books, legends, myths, lies, truths and a personal favorite or two, here are my 10 most powerful home run hitters ever, in no particular order:
Babe Ruth
Of course. His longest home run? In Robert Creamer's "Babe," the author writes of a spring training blast hit with the Red Sox in 1919 against the Giants in Tampa. The game was played at the Tampa fairgrounds, with a baseball diamond laid in the infield of the horse racing track. "No one had ever seen a baseball hit anywhere near as far before," Creamer writes. "A couple of sportswriters talked to [Giants outfielder Ross] Youngs afterwards and got him to show them the precise spot where the ball had ended up. They paced off the distance back to home plate and found themselves disbelieving the results."
Contemporary accounts placed the distance at "more than 500 feet" to "more than 600 feet." Red Sox general manager Ed Barrow, who was present that day, said it went 579 feet. There are other stories of long Ruth home runs, but Creamer's account is probably the most reputable and accurate, at least as far as these things go.
Mickey Mantle
Mantle's 565-foot home run off Chuck Stobbs that cleared old Griffith Stadium in Washington, D.C., is widely recognized as the longest hit in a major league game. Thing is, however: That number was a basically a fabrication of Yankees publicist Red Patterson. In Jane Leavy's "The Last Boy," she exhaustively researched the home run, even tracking down Donald Dunaway, the 14-year-old kid who retrieved Mantle's baseball from a front yard beyond the left-field fence that day and showed Patterson where he had found it.
That 565 feet that Patterson roughly measured off was where Dunaway found the ball, not where it landed. Others have looked into the distance and laughed at the 565 estimate. Robert Adair, author of "The Physics of Baseball," estimated 506 feet, give or take five feet. He told Leavy, "That number 565 is pure fiction. It was where they picked up the ball after it rolled across the street." Home run historian Bill Jenkinson estimated the home run at 505 to 515.
How hard is it to hit a ball 565 feet? Last April, Greg Rybarczyk explained where
such a ball would land
at various ballparks.
So maybe Mantle's shot isn't the longest home run ever hit. Or maybe it is.
Mark McGwire
There's
this home run
hit off a
Randy Johnson
97 mph fastball in the Kingdome in 1997 and
this one
at Busch Stadium on May 16, 1998, that was estimated at 545 feet at the time. McGwire said on that home run after the game: "The best ball I've ever hit. I don't think I could hit a better one." Manager Tony La Russa: "I think he's got a little more than that."
Dave Kingman
Built like Stanton, Kingman was the subject of a famous Tommy Lasorda rant not suitable for this website, said athletes are "pieces of meat," skipped Dave Kingman Day at Wrigley Field because he was on the disabled list and instead went fishing and once sent a female sportswriter a live rat in a pink box. He also hit mammoth home runs when he wasn't striking out.
I once saw Kong hit a ball off the speaker that hung over the outfield in the Kingdome in deep left-center. Who knows how far the ball would have gone had it not been interrupted mid-flight. He's also known for two long home runs at Wrigley Field.
This one
, hit on May 17, 1979, during that semi-famous 23-22 slugfest against the Phillies. (The home run is at the 23-second mark. Love the announcer saying "That one's in Milwaukee!") The wind was blowing out that day at 18 mph. It was also blowing out on April 14, 1976, when Kingman belted one that the New York Times reported went 630 feet. It hit the third house beyond Waveland Avenue, which is 530 feet from home plate. Not 630, but still pretty impressive.
Glenallen Hill
Speaking of prodigious Wrigley Field blasts,
my lord
. I think more than the players may have been juiced.
Josh Gibson
Buck O'Neil tells a great story about the Hall of Fame Negro League catcher in Joe Posnanski's "The Soul of Baseball." As a kid in Florida, he had seen Babe Ruth in spring training. Twenty years later, O'Neil was with the Kansas City Monarchs, in the clubhouse getting dressed for the game, when he heard that
sound
again. Posnanski writes:

He heard that same crack of the bat -- to Buck the sound seemed to shake the walls. He rushed out into the dugout -- he was wearing only his jock -- and he climbed to the top step. He saw a thick muscular black man swinging a bat roughly the size of a fully grown oak tree. The man hit the next pitch, and that unmistakable sound rang again in Buck O'Neil's ears. That was Josh Gibson.

Dick Allen
Known for his immense opposite-field power, Allen once hit the roof fašade in deep left-center at Tiger Stadium, a distance of 415 from home plate -- but also 85 feet in the air. Players on the field swore the ball was still ascending. That's unlikely; Jenkinson estimates if that was the case the ball would have gone 700 feet. But Allen was clearly one of the few who possessed the ability to hit a baseball 500 feet.
Willie Stargell
Only four balls have been hit completely out of Dodger Stadium -- two of them by Stargell, merely a visiting player there with the Pirates. On Aug. 6, 1969, he hit an estimated 507-foot home run off Alan Foster that cleared the right-field pavilion and hit a bus parked outside the stadium.
Frank Howard
Before my time, Howard was a mammoth individual, 6-foot-7, 275 pounds, one of the largest players in major league history. While with the Senators, he reached the upper deck at RFK Stadium an amazing 24 times (earning the nickname "The Capital Punisher"). He also cleared the Tiger Stadium roof with one legendary home run. His response to that home run, in a 2010 interview with David Lauriila at Baseball Prospectus: "I think I've hit baseballs a lot further than that. That one probably only traveled 530-540 feet, and I think I hit about half a dozen of them well over 600 feet."
What, are you going to question Frank Howard?
Rob Deer
Rob Deer? Sure, Rob Deer. Built like a linebacker, Deer took one of the most ferocious swings you'll ever see. He hit one out of old Comiskey Park and I once saw him hit one off the left-field foul pole in Seattle -- WAY up the foul pole. And I swear it was ascending. He didn't connect very often, but when he did, ball go far.
May, 6, 2011
5/06/11
4:09
PM ET
To go with our Willie Mays package today, SportsNation worked up a list ranker with 30 of the greatest players of all time. Don't agree with me that
Willie Mays was the greatest ever
? Then
Click here to vote
yourself.
Here's my quick list without spending too much time thinking about it:
1. Willie Mays: He could hit, hit for power, run the bases and field with the best we've ever seen. Could have won as many as 10-11 MVP Awards.
2. Barry Bonds: If he had played center field instead of left, I'd consider him for No. 1.
3. Babe Ruth: I'd like to see him hitting 95-mph fastballs on a regular basis.
4. Hank Aaron: A testament to longevity, consistency, durability and greatness.
5. Stan Musial: Won three MVPs and finished second four other times.
6. Ted Williams: Maybe the greatest hitter of all time, but I give Musial the slight all-around edge.
7. Albert Pujols: Barring injury, he's this good.
8. Roger Clemens: We don't know what he did and if it helped. But we know what he did on the field. Greatest pitcher of all time.
9. Mike Schmidt: Dominated the mid-'70s to the mid-'80s. Eight-time home run champ and one of best fielding third basemen ever.
10. Walter Johnson: Could have dominated in any era.
11. Honus Wagner: Won batting titles, ran the bases and hit for power in the dead-ball era.
12. Lou Gehrig: Only strike against him is he didn't play a premium defensive position.
13. Alex Rodriguez: You can't deny the numbers.
14. Lefty Grove: The most underrated great pitcher of all time. Won nine ERA titles.
15. Mickey Mantle: If only he had stayed healthy.
16. Ty Cobb: Would love to go back in time and bring him back to 2011.
17. Josh Gibson: They say he hit 'em longer than the Babe.
18. Joe Morgan: The most underrated great position player of all time. Did everything well.
19. Rickey Henderson: The object is to score runs and nobody has scored more than Rickey.
20. Greg Maddux: 355 wins, fourth-most starts, more pitches painting black than anyone.
21. Cal Ripken: Overrated as a hitter, underrated as a fielder.
22. Tom Seaver: Mets fans still can't believe they traded him.
23. Pedro Martinez: At his
peak
, the best ever. Four pitches that made batters cry.
24. Frank Robinson: And to think he was only third-best NL outfielder of the early '60s.
25. Johnny Bench: Knees gave out, but those first 12 seasons were amazing.
26. Satchel Paige: Was he even the best Negro Leagues pitcher?
27. Rogers Hornsby: No denying his hitting numbers. Too low? Maybe so.
28. Pete Alexander: Won 94 games over one three-year span, impressive even for the time.
29. Cy Young: Yes, you can say I'm disrespecting the 19th century.
30. Sandy Koufax: A little bit of a product of his time and a huge home/road splits, plus short career for this list.
Follow David on Twitter: @dschoenfield. Follow the SweetSpot blog: @espn_sweet_spot.