January, 26, 2012
1/26/12
8:30
AM ET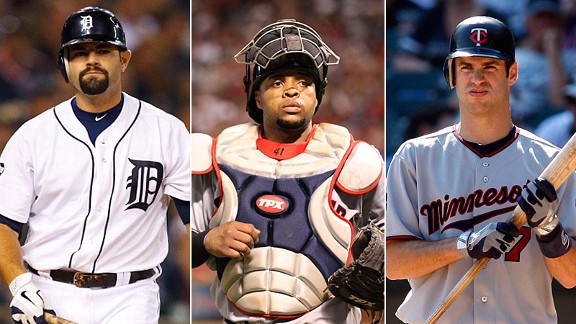 US PresswireWith Alex Avila, Carlos Santana and Joe Mauer, the AL Central is loaded at catcher.
We're back with more divisional position rankings for 2012. You can scream, you can holler, you can protest and call me names. But just because I rated your player lower than you think he deserves doesn't mean I hate your team.
(Here are the
NL East
and
NL West
rankings.)
Catcher
1.
Alex Avila
, Tigers
2.
Joe Mauer
, Twins
3.
Carlos Santana
, Indians
4.
Salvador Perez
, Royals
5.
A.J. Pierzynski
, White Sox
The AL Central might not be baseball's glamor division, but it may have three of the top five catchers in the game if Mauer bounces back from his injury-plagued campaign. Since we're not certain of his health, I'm going to give top billing to Avila, who had the best hitting numbers of any catcher outside of
Mike Napoli
and plays solid defense. I wouldn't be surprised if Santana explodes; with his power-and-walks combo, all he has to do is raise his average 30 points and he'll be one of the most valuable players in the game. Considering that his average on balls in play was .263, there is a good chance of that happening. Perez hit .331 in 39 games; OK, he won't do that again, but he doesn't turn 22 until May and puts the ball in play. There's no shame in being fifth in this group but that's where I have to place Pierzynski, who keeps rolling along and is now 36th on the all-time list for games caught.
First base
1.
Prince Fielder
, Tigers
2.
Paul Konerko
, White Sox
3.
Eric Hosmer
, Royals
4.
Justin Morneau
, Twins
5.
Matt LaPorta
, Indians
In 2009, when Morneau played 135 games, he hit .274 AVG/.363 OBP/.516 SLG. Even if he replicates that line, he may rank only fourth. Konerko has hit a combined .306 with 70 home runs the past two seasons. He's 104 home runs from 500 but turns 36 in March, so he's probably four seasons away; not sure he'll hang on that long, but who knew he'd be this good at this age. If Hosmer improves his walk rate and defense and Konerko declines, Hosmer could climb past him. If it doesn't happen this year, it will happen next. The most similar batter to him at age 21: Eddie Murray.
Second base
1.
Jason Kipnis
, Indians
2.
Gordon Beckham
, White Sox
3.
Johnny Giavotella
, Royals
4.
Alexi Casilla
, Twins
5.
Ramon Santiago
, Tigers
Well, this isn't exactly a
Robinson Cano
/
Dustin Pedroia
/
Ben Zobrist
debate, is it? Kipnis' bat is a sure thing, as evidenced by his excellent play after his call-up (.272 average and .507 slugging in 36 games). His glove was once a question mark but now appears solid enough that he looks like a future All-Star to me. Can anybody explain what has happened to Beckham? He's second mostly by default; he's gone downhill since his superb rookie season in 2009 but is only 25, so there's hope that he'll find those skills again. Giavotella has some potential with the bat (.338/.390/.481 at Triple-A), which is more than you can say for Casilla and Santiago.
Third base
1.
Miguel Cabrera
, Tigers
2.
Mike Moustakas
, Royals
3.
Lonnie Chisenhall
, Indians
4.
Danny Valencia
, Twins
5.
Brent Morel
, White Sox
We'll go with the idea that Cabrera is Detroit's starting third baseman, although I predict he'll end up starting more games at designated hitter. Manager Jim Leyland will end up doing a lot of mixing of his lineups, but for this little exercise we have to choose a starter. Moustakas didn't tear up the league as a rookie and I worry about his ability to hit lefties (.191, homerless in 89 at-bats), but he showed more than fellow rookies Chisenhall and Morel. Valencia doesn't get on base enough and he rated poorly on defense in 2011. I hope he's at least good in the clubhouse. Morel was terrible all season and then exploded for eight of his 10 home runs in September and drew 15 walks after drawing just seven the previous five months. Maybe something clicked.
Shortstop
1.
Asdrubal Cabrera
, Indians
2.
Alexei Ramirez
, White Sox
3.
Jhonny Peralta
, Tigers
4.
Alcides Escobar
, Royals
5.
Jamey Carroll
, Twins
Peralta had the best 2011 season, but he's a difficult guy to project. He had an .804 OPS in 2008 but dropped to .691 in 2009. He had a .703 OPS in 2010 and then .823 in 2011. I just don't see a repeat season, at the plate or in the field. Cabrera didn't rate well on the defensive metrics, and after a strong start he wore down in the second half. Ramirez has turned into a nice player, with a good glove and some power, and he even draws a few walks now. Escobar is a true magician with the glove. Carroll is actually a useful player who gets on base (.356 career OBP), but he's pushed as an everyday shortstop and he'll be 38. He'll be issued the honorary
Nick Punto
locker in the Twins' clubhouse.
Left field
1.
Alex Gordon
, Royals
2.
Alejandro De Aza
, White Sox
3.
Ben Revere
, Twins
4.
Michael Brantley
/
Shelley Duncan
, Indians
5.
Ryan Raburn
/
Don Kelly
, Tigers
I'm not sure what to do here. After Gordon, I just get a headache. We'll pretend to believe in De Aza after his impressive stint in the majors (171 plate appearances, .329/.400/.920). He's hit in Triple-A for three seasons now, and while he's not going to post a .400 OBP again, he should be adequate. Revere is one of the fastest players in the majors, but he's all speed and defense; he hopes to grow up to be
Brett Gardner
, which isn't a bad thing, but he'll have to learn to get on base at a better clip. Brantley doesn't have one outstanding skill so he'll have to hit better than .266 to be anything more than a fourth outfielder; Duncan provides some right-handed pop as a platoon guy. The Tigers have
Delmon Young
, but I'll slot him at DH. That leaves supposed lefty masher Raburn and utility man Kelly to soak up at-bats; both had an OBP below .300 in 2011, although Raburn has hit better in the past.
Center field
1.
Austin Jackson
, Tigers
2.
Denard Span
, Twins
3.
Grady Sizemore
, Indians
4.
Lorenzo Cain
, Royals
5.
Alex Rios
, White Sox
I can't rate Sizemore any higher since he's played just 104 games over the past two seasons, and he hasn't had a big year since 2008. Rios was terrible in '09, OK in '10 and worse than terrible in '11. I'm not betting on him.
Right field
1.
Shin-Soo Choo
, Indians
2.
Brennan Boesch
, Tigers
3.
Jeff Francoeur
, Royals
4.
Josh Willingham
, Twins
5.
Dayan Viciedo
, White Sox
Choo would like to forget 2011, but there's no reason he shouldn't bounce back and play like he did in 2009 and 2010, when he was one of the 10 best position players in the AL. I don't expect Francoeur to deliver 71 extra-base hits again, but maybe he'll surprise us. Viciedo is apparently nicknamed "The Tank," which makes me wonder how much ground he can cover. He did improve his walk rate last season in the minors and turns 23 in March, so there's still room for more growth.
Designated hitter
1.
Billy Butler
, Royals
2.
Travis Hafner
, Indians
3.
Ryan Doumit
, Twins
4. Delmon Young, Tigers
5.
Adam Dunn
, White Sox
Has there been a bigger prospect disappointment than Young in the past decade? I mean, yes, there were complete busts like
Brandon Wood
and
Andy Marte
, but those guys had obvious holes in their games, while Young was viewed as a
sure thing
, a consensus No. 1 overall prospect. But his bat has never lived up to its billing. Other than one decent year in Minnesota, he has low OBPs and he clearly lacked range in the outfield. His career WAR on Baseball-Reference is minus-0.2 (1.6 on FanGraphs), meaning he's been worse than replacement level. He's just not that good, Tigers fans.
No. 1 starter
1.
Justin Verlander
, Tigers
2.
John Danks
, White Sox
3.
Justin Masterson
, Indians
4.
Luke Hochevar
, Royals
5.
Carl Pavano
, Twins
Masterson was better than Danks in 2011, and I do believe his improvement was real. He absolutely crushes right-handers -- they slugged an anemic .259 off him. Danks had two bad months but has the longer track record of success. Even in his "off year" he had a higher strikeout rate and lower walk rate than Masterson. If you want to argue about Hochevar versus Pavano, be my guest.
No. 2 starter
1.
Doug Fister
, Tigers
2.
Ubaldo Jimenez
, Indians
3.
Gavin Floyd
, White Sox
4.
Francisco Liriano
, Twins
5.
Jonathan Sanchez
, Royals
Yes, sign me up for the Doug Fister bandwagon club. Jimenez's fastball velocity was down a couple miles per hour last season but the positives are that his strikeout and walk rates were identical to 2010; he'll be better. Floyd isn't flashy but he's now made 30-plus starts four years in a row, and he'll become a very rich man when he becomes a free agent after this season. Sanchez won't have the luxury of pitching in San Francisco (and to eight-man NL lineups).
No. 3 starter
1.
Max Scherzer
, Tigers
2.
Scott Baker
, Twins
3.
Philip Humber
, White Sox
4.
Bruce Chen
, Royals
5.
Josh Tomlin
, Indians
I could be underrating Baker, who was excellent last season, but only once in his career has he made 30 starts in a season. Tomlin's fans will disagree with this ranking, but he's a finesse guy who relies on the best control in baseball (21 walks in 26 starts). He's the kind of guy you root for, but the league seemed to figure him out as the season progressed.
No. 4 starter
1.
Felipe Paulino
, Royals
2.
Rick Porcello
, Tigers
3.
Jake Peavy
, White Sox
4.
Derek Lowe
, Indians
5.
Nick Blackburn
, Twins
Scouts still love Porcello's arm and I know he's just 23, but he's made 89 big league starts and shown no signs of getting better. His WHIP has increased each season and his strikeout rate remains one of the lowest in baseball. Paulino has an electric arm -- he averaged 95 mph on his fastball -- and
is
getting better. How could the Rockies give up on him after just 14 innings? How could the Astros trade him for
Clint Barmes
? Anyway, kudos to the Royals for buying low on the guy who may turn into their best starter. Peavy can't stay healthy. Lowe has led his league in starts three out of the past four seasons, but I'm not sure that's a good thing anymore. Blackburn is a poor man's Lowe, and I don't mean that in a good way.
No. 5 starter
1.
Chris Sale
, White Sox
2.
Jacob Turner
, Tigers
3.
Aaron Crow
/
Danny Duffy
, Royals
4.
Fausto Carmona
/
David Huff
/
Jeanmar Gomez
, Indians
5.
Brian Duensing
/
Jason Marquis
, Twins
Welcome to the AL Central crapshoot. Turner and Sale have the most upside, but one is a rookie and the other is converting from relief. Crow will also be given a shot at the rotation, but his difficulties against left-handed batters (.311 average allowed) don't bode well for that transition. Even if the artist formerly known as Carmona gets a visa, what do you have? A guy with a 5.01 ERA over the past four seasons. Duensing is another typical Twins pitcher, which means he at least throws strikes. His first full season in the rotation didn't go well, so of course the Twins brought in Marquis, yet another guy who doesn't strike anybody out.
Closer
1.
Jose Valverde
, Tigers
2.
Joakim Soria
, Royals
3.
Matt Thornton
, White Sox
4.
Chris Perez
, Indians
5.
Matt Capps
, Twins
Four good relievers plus Matt Capps. I do admit I'm a little perplexed by Perez, however. In 2009, he struck out 10.7 batters per nine innings. In 2010, that figure fell to 8.7 but he posted a pretty 1.71 ERA. In 2011, it was all the way down to 5.9, but without much improvement in his control. Perez blew only four saves but he did lose seven games. He survived thanks to a low .240 average on balls in play. He's an extreme fly-ball pitcher but didn't serve up many home runs. Bottom line: I'd be nervous.
Bullpen
1. Indians --
Vinnie Pestano
,
Rafael Perez
,
Tony Sipp
,
Joe Smith
,
Nick Hagadone
2. Royals --
Jonathan Broxton
,
Greg Holland
,
Louis Coleman
,
Tim Collins
,
Jose Mijares
3. Tigers --
Joaquin Benoit
,
Octavio Dotel
,
Phil Coke
,
Daniel Schlereth
,
Al Alburquerque
4. White Sox --
Jesse Crain
,
Jason Frasor
,
Will Ohman
,
Addison Reed
,
Dylan Axelrod
5. Twins --
Glen Perkins
,
Alex Burnett
,
Anthony Swarzak
,
Kyle Waldrop
,
Lester Oliveros
If you're starting to think I'm not high on the Twins for this season, you would be correct.
Intangibles
1. Royals
2. Indians
3. Tigers
4. White Sox
5. Twins
I like the youthful exuberance of the Royals, plus the likelihood of improvement from the young players and the possibility of some midseason reinforcements from the minors. The depth of the bullpen will help bolster a shaky rotation, and this just feels like an organization that is finally starting to believe in itself. The Indians are riding last year's positive results and enter the season knowing they might get better production from Choo and Sizemore and full seasons from Kipnis and Chisenhall. I'm not knocking the Tigers here, but they do lack depth in the pitching staff and the pressure is on them.
The final tally
1. Tigers, 65 points
2. Royals, 55 points
3. Indians, 54 points
4. White Sox, 46 points
5. Twins, 35 points
No surprise here: The Tigers will be heavy favorites to win the division with a lineup that should score a ton of runs. I don't think it's a lock that they'll win -- Verlander, Avila, Peralta and Valverde will all be hard-pressed to repeat their 2011 campaigns, for example. But the Royals and Indians appear to have too many questions in the rotations, the White Sox have serious lineup issues, and the Twins have a beautiful ballpark to play their games in.
December, 1, 2011
12/01/11
9:35
AM ET

The American League Central may have a reputation as baseball's skinflint division, but such is not the case: The White Sox, Twins and Tigers each had payrolls over $100 million in 2011 and ranked in the top 10 of highest-salaried ballclubs.
The problem was that two of those three teams didn't get much for their money. Considering the issues in Chicago and Minnesota, and the youth and unwillingness to spend big in Cleveland and Kansas City, Detroit will enter 2012 as the heavy favorite to win the division -- no matter what happens in the offseason. But even the Tigers are far from a sure thing and if the Indians can get good health from
Shin-Soo Choo
and
Grady Sizemore
in 2012, plus strong seasons from youngsters
Jason Kipnis
and
Lonnie Chisenhall
, their offense could be dramatically improved.
But that's getting ahead of ourselves. Here's a quick look at some action plans and items of interest for the five teams.
Detroit Tigers
1. Third base (
Brandon Inge
)
With Inge plummeting to a .197 average, Detroit's third-base production was among the worst in the majors. The team has already been linked to free agent
Aramis Ramirez
and trade discussions with Angels on
Maicer Izturis
. Both would be big upgrades over Inge, who still has one year remaining on his contract. The dark horse possibility: With
Carlos Guillen
($13 million) and
Magglio Ordonez
($10 million) off the books, the Tigers pursue
Jose Reyes
to fill their leadoff void, moving
Jhonny Peralta
to third base.
Likely solution: As much I love the Reyes idea, Ramirez to Detroit seems like a logical fit. The negatives are Ramirez's lack of range and Detroit's need for a little more athleticism in the lineup.

2. Middle relief
By the postseason, Jim Leyland was down to two relievers he trusted:
Jose Valverde
and
Joaquin Benoit
.
Al Alburquerque
had a strong rookie season out of nowhere and
Phil Coke
and
Daniel Schlereth
provide rare power lefty arms, but Albuquerque and Schlereth still have trouble throwing strikes. The Tigers could go after a low-cost veteran like
LaTroy Hawkins
,
Mike Gonzalez
or
Darren Oliver
, or maybe make a trade pitch for White Sox lefty
Matt Thornton
, although it seems unlikely Chicago would trade Thornton to a division rival.
Likely solution: A veteran righty-hander, with the Tigers counting on improvement from Coke and Schlereth.
3. A left-handed bat.
The Tigers missed
Brennan Boesch
's stick in the playoffs, as
Victor Martinez
and the hobbled
Alex Avila
were the only threats from the left side (granted,
Don Kelly
hit a big home run). Boesch's return will help, but Detroit could use a lefty bat to help balance out the lineup.
Likely solution:
Andy Dirks
may given another shot at that third/fourth outfielder job after hitting .251/.296/.406 as a rookie. But what about Rockies left fielder
Seth Smith
, who is on the trade block? His career .518 slugging percentage against righties has been bolstered a bit by Coors Field, but he's a solid hitter who could platoon with
Ryan Raburn
in left, or allow Raburn to play some at second base.
Cleveland Indians

1. Find a left fielder who can hit.
Michael Brantley
is a decent asset -- but as a center fielder. The plan to use Brantley as an everyday left fielder was never a great one to begin with, as he's never going to pop many balls over the fence. Brantley,
Austin Kearns
,
Shelley Duncan
and
Travis Buck
all started at least 20 games in left; Jared Head started six games there. As a group, Cleveland's left fielders hit a miserable .233 with seven home runs; only Baltimore and Minnesota received a lower OPS from their left fielders.
Likely solution: Signing
Grady Sizemore
doesn't necessarily push Brantley back to a starting role in left field. He's best used as a fourth outfielder and Sizemore insurance.
Michael Cuddyer
may end up getting priced out of Cleveland's range, so how former Twins teammate
Jason Kubel
? He can play left and step in as designated hitter when
Travis Hafner
suffers his inevitable breakdown.
2. Find at least one more starter.
Right now, the Indians can only count on
Justin Masterson
and
Ubaldo Jimenez
for their rotation.
Carlos Carrasco
is out for the season following Tommy John surgery,
Fausto Carmona
was terrible and even
Josh Tomlin
is a question mark after the league caught up to him in the second half (5.26 ERA).
Likely solution:
Jeanmar Gomez
has been roughed up in two stints in the majors (146 hits in 116 innings), but his Triple-A numbers were solid, if unspectacular. He'll be given another chance in spring training to battle
David Huff
for a rotation spot.
3. If not
Matt LaPorta
, who plays first base?
The big prospect acquired in the
CC Sabathia
deal, LaPorta just hasn't hit as expected, posting a .299 on-base percentage in 2011. The Indians seem ready to punt on LaPorta, who turns 27 in January so isn't even that young.
Carlos Santana
ended up playing a lot of first base down the stretch, but let's hope he's kept behind the plate, where his hitting value would be maximized.
Likely solution: If free agent
Carlos Pena
lowers his price, he's a possibility, and the Indians reportedly talked with Houston about
Brett Wallace
. I'm not sure Wallace is much of an upgrade over LaPorta, but at least he's younger.
Casey Kotchman
could fit nicely here as lower-cost alternative after posting a .378 OBP with Tampa. And hey, he's only two years older than LaPorta.
Chicago White Sox

1. What do you do with
Adam Dunn
and
Alex Rios
?
Dunn hit .159 with a .569 OPS. Rios hit .227 with a .613 OPS. Dunn was the least-valuable position player in baseball, according to Baseball-Reference.com, while Rios was seventh-worst. They made $24 million in 2011 and will make a combined $26 million in 2012. Both are signed through 2014.
Likely solution: General manager Kenny Williams will be busy during the winter meetings, perhaps shopping around guys like
Gavin Floyd
,
John Danks
and Matt Thornton, looking for some sort of backup plan to these two pieces of junk. The 40-man roster currently includes
Alejandro De Aza
, who probably deserves a chance to play somewhere after a nice run (if over his head) last season. Let's put it this way: he can produce an OPS higher than .613.
2. Third base (
Brent Morel
)
After struggling all season, hitting .250 with just two home runs and seven walks in 328 at-bats through August, Morel suddenly changed his approach in September, got more patient and swung for the fences. He hit just .224 the final month, but with eight home runs and 15 walks. Was it a legitimate improvement, or merely feasting off September tired arms and rookie call-ups?
Likely solution: Morel's hot September earns him another shot.
3. The new manager
This isn't so much an action plan, as a big question mark. Robin Ventura has no previous managerial experience, but the good sign for the White Sox is that respected pitching coach Don Cooper is still around to handle the pitching staff.
Likely solution: If Dunn and Rios stink it up again, it won't matter how well Ventura transitions into the job -- he'll be doomed.
Kansas City Royals

1. Fix the rotation
The Royals had a 4.82 ERA from their starters; only Baltimore was worse in the American League.
Likely solution: The Royals already made a move here, trading
Melky Cabrera
to the Giants for
Jonathan Sanchez
. The club also re-signed
Bruce Chen
. With the signing of
Jonathan Broxton
, and the emergence of rookie relievers
Greg Holland
,
Louis Coleman
and
Tim Collins
in 2011, fellow 2011 rookie
Aaron Crow
will be given a shot at the rotation. I have my doubts it will work: Crow walked 31 in 62 innings out of the bullpen and left-handed hitters tagged him for a .311 average and .538 slugging percentage. There's a reason he struggled in the minors as a starter in 2010 (5.73 ERA). He has a great arm, but won't be able to rely on his fastball/slider combo as a starter.
2. Second base (
Chris Getz
)
Royals second basemen posted a .301 OBP and .636 OPS (26th in the majors) in 2011.
Likely solution: Rookie
Johnny Giavotella
played the final two months there and hit .247 with a .649 OPS. He'll head into spring training as the favorite to win the job. He hit .338/.390/.481 at Triple-A, so the batting potential is there: Bill James projects him to hit .295/.342/.419.
3. Center field (empty -- Cabrera traded)
The Royals were smart to deal Cabrera after his career season.
Likely solution:
Lorenzo Cain
, acquired from Milwaukee in the
Zack Greinke
trade, will finally get a chance to play after spending 2011 in Triple-A. Cain is old for a guy still considered a prospect -- he turns 26 in April -- so he should be a polished product by now. He showed some power for the first time in his career, hitting 16 home runs for Omaha while batting .312. He doesn't walk much, so won't be a star, but should come closing to matching Cabrera's 2011 production.
Minnesota Twins

1. The M & M boys
After 2011's train wreck -- the club's first 90-loss season since 2000 (and at 99 losses, the most the 1982 Twins lost 102) -- it seems pretty clear this team will be dead in the water again unless
Joe Mauer
and
Justin Morneau
get healthy and regain their All-Star status. But they also can't assume these guys are going to play 140-plus games.
Likely solution: Obviously, the Twins need a better backup plan for Mauer than giving .167-hitting
Drew Butera
250 plate appearances. They already accomplished with the smart signing of
Ryan Doumit
to a one-year deal for $3 million. Doumit can catch or play right field, but his bat is good enough to warrant a regular place in the lineup even when he's not behind the plate. Of course, he's also been injury-prone throughout his career. Prospect Chris Parmalee, who impressed in a September call-up, gives the team a potentially decent backup option for Morneau as well.
2. Right field: Empty (Michael Cuddyer, free agent)
For all the attention Cuddyer is getting, let's remember that he's really just a complementary bat on a good team. Unfortunately, considering some of the other outfielders the Twins tried last season --
Rene Tosoni
,
Jason Repko
,
Trevor Plouffe
-- you realize they had nobody in the upper levels of the system.
Likely solution: Doumit may factor into their plans here, but regardless, the Twins need another bat to play a corner or DH. Smith is a trade option and free agent
Josh Willingham
is another possibility.
3. Closer: Empty (
Matt Capps
and
Joe Nathan
, free agents)
Nathan signed with Texas while GM Terry Ryan recently told the St. Paul Pioneer Press that it's likely Capps could return.
Likely solution: Capps was terrible last year, allowing 10 home runs in 65.2 innings while striking out just 4.7 hitters per nine innings. Two years ago, he had a 5.80 ERA. I can't fathom why any team would want to make Capps its closer. Sadly, however, the rest of the Minnesota bullpen is nearly as uninspiring (as is the rotation, but I don't have room to get to them here), but Capps throws strikes and there's nothing the Twins love more than a pitcher who throws strikes (velocity are ability to miss bats don't seem to be a factor). There's no reason for this team to spend big money on one of the remaining free-agent closers, so it probably will be Capps or lefty
Glen Perkins
.
May, 23, 2011
5/23/11
6:22
PM ET
With
Chase Utley
returning for the Phillies tonight, they finally get another bat in their lineup. Phillies' second basemen are hitting .226 with no homers and 10 RBIs, so I think even if Utley plays on one leg and hops around the bases he should be able outproduce that. Here is a look at the biggest problem positions in the majors so far this season ... but only among teams currently at or above .500.
Rays catchers: .190/.256/.314. John Jaso was a big surprise a year ago, posting a .372 OBP and even leading off. He's not hitting this season (.211, .276 OBP) and platoon mate Kelly Shoppach is even worse.
Rays first basemen: .272/.335/.337. Talk about an empty .272: Rays' first sackers have just one home, nine RBIs and 13 runs scored. Most of the blame goes to Dan Johnson, who hit .115 before getting designated for assignment over the weekend. Casey Kotchman his hitting .352 in 117 plate appearances, so the problem may be solved.

Blue Jays second basemen: .217/.268/.317. Aaron Hill has received most of the playing time, but has yet to homer in 116 at-bats. He's hit 62 home runs the past two seasons, although hit just .207 in 2010.

Rockies third basemen: .169/.219/.247. There was a lot of competition for this spot, as Toronto, Baltimore and Oakland third basemen are also hitting under .200, with Seattle and Detroit under .210. That .466 OPS is the worst of any position other than Twins catchers. Take a bow, Jose Lopez, Ian Stewart and Ty Wigginton.

Rays shortstops: .199/.236/.288. That's the lowest OPS of any shortstop group in the majors. Reid Brignac and company have combined for 40 strikeouts and seven walks. Did we mention the Rays are tied for first with the Yankees?

Red Sox left fielders: .207/.244/.272. That's one expensive No. 8 hitter.

Mariners center fielders: .179/.263/.288. That was mostly Michael Saunders. Franklin Gutierrez just returned from the DL and I predict he will outhit that line.

Brewers right fielders: .236/.288/.348. Corey Hart is back but has one RBI in 21 games.

Blue Jays DHs: .235/.313/.324. The Mariners don't have a home run from their DHs (that's you, Jack Cust), but at least have a .361 OBP. Yankee DHs are hitting .195, but at least have nine home runs. Toronto's DHs aren't getting on base or hitting for power.

By the way, how bad are the Twins? Here are their position OPS ranks across the majors: C (30th), 1B (22nd), 2B (30th), 3B (22nd), SS (26th), LF (29th), CF (17th), RF (6th), DH (11th of 14). Oh ... the Twins have allowed the most runs in the AL as well. It's not going to be a fun summer in Minnesota.

In my weekly look-ahead piece, I made an off-hand comment that only three AL outfielders currently have an OPS greater than .900 (and only eight have are higher than .800). Is that a low total? Actually, we haven't had more than three AL outfielders post a .900 OPS since 2006 (at least 50 percent of games played in the outfield). Here's the chart of .900 and .800 OPS seasons by AL outfielders since 2001:
Fun look from The Common Man at the Platoon Advantage on the three position players who have been on a 25-man roster season and have yet to draw a walk ... plus some other non-walking feats.
The Mariners' streak of nine straight games where their starting pitchers went at least seven innings and allowed two or fewer runs is the first time that's happened since the 1999 Braves.
Sticking with the Mariners. Check out the list of pitchers with the highest percentage of strikes, from ESPN Stats & Information:
Michael Pineda, 70.4%
Cliff Lee, 70.0%
Ted Lilly, 69.9%
Roy Halladay, 69.0%
Jordan Zimmerman, 68.1%

And guess which starting pitcher has the highest average fastball velocity this season?

The Stats & Info department passes this note along as well: Josh Tomlin has pitched a quality start in each of his first nine starts this season, the longest streak to start a season by an Indians pitcher since 1913. He has gone 5+ IP in each of his first 21 career starts, tied for the third-longest streak in the Live Ball Era (since 1920).
Carl Pavano is averaging 3.31 K's per nine innings, lowest among qualified starters. Only four pitchers since 2000 who pitched at least 162 innings have struck out so few batters: Aaron Cook for the 2007 Rockies (3.31), Danny Graves of the 2003 Reds (3.20), Chien-Ming Wang of the 2006 Yankees (3.14; he led the AL with 19 wins that year), Kirk Rueter of the 2004 Giants (2.65), and the immortal Nate Cornejo of the 2003 Tigers (2.13). Cornejo made 32 starts that year and struck out 46 batters in 194 innings. He didn't record a strikeout in nine different.
May, 10, 2011
5/10/11
1:01
PM ET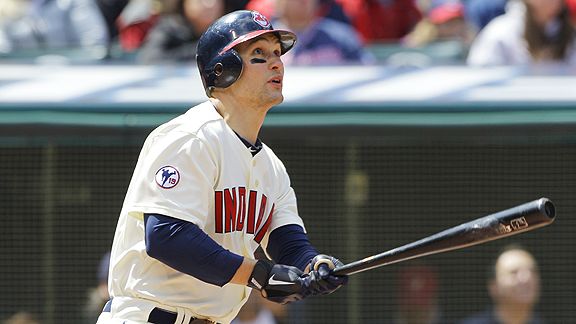 AP Photo/Mark DuncanGrady Sizemore's return has provided a big boost -- offensively and defensively.
The
Cleveland Indians
were quiet this past offseason. No sexy free-agent signings, no wheeling and dealing. When I arrived to Indians camp in spring training, I spent considerable time with rookie GM Chris Antonetti and second-year manager Manny Acta. Both were convinced that if everything went as planned the Indians could contend as early as this season -- even though this was a team that hadn't had a winning record since 2007 and had lost 93 games in 2010 and 97 in 2009. Contending? Really? How?
Antonetti, one of the youngest and brightest GMs in baseball, broke it down this way for me on that hot Arizona March day: "To contend we need the following to happen: (1) We need our key players to get healthy, specifically
Grady Sizemore
,
Carlos Santana
,
Asdrubal Cabrera
and
Travis Hafner
; (2) We need our other young players on the roster to continue their development with meaningful contributions on the field. This list of players includes
Justin Masterson
,
Carlos Carrasco
,
Josh Tomlin
,
Chris Perez
,
Michael Brantley
,
Matt LaPorta
and our young bullpen arms; (3) We need our veterans to contribute and provide leadership on the field and in the clubhouse, including
Orlando Cabrera
, Sizemore and Hafner."
Check, check and check, Mr. Antonetti.
This Indians team is not only contending but has the best record in the American League. Are they for real? Yes, they're for real. I'm not saying they're going to win the division, but what I am saying is that if they stay healthy, this team will contend into September and should win more games than they lose. The main reason this team is for real is the pitching and defense. The starting pitching is solid, the bullpen underrated and the infield defense is the best the Indians have seen since
Jim Thome
,
Roberto Alomar
,
Omar Vizquel
and
Travis Fryman
played together.
[+] Enlarge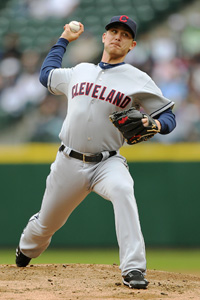 Otto Greule Jr/Getty ImagesJosh Tomlin is 4-1 with a 2.43 ERA and a 0.81 WHIP through six starts this season.
The starting rotation is led by
Fausto Carmona
, who won 13 games last year and is capable of winning 13-16 again this season. Masterson, one of the pitchers acquired in the
Victor Martinez
trade with Boston, is emerging as a solid No. 2 behind Carmona. Masterson has great size and stuff. His four-seam fastball goes up to 97 mph while the two-seamer sits between 89-94. He mixes in a slider and change from a deceptive lower arm angle and has great downward bite. His command in the lower part of the strike zone has improved due to the fact he solidified his delivery. Most importantly, Masterson continues to develop the understanding of how to best utilize his stuff to attack left-handed hitters, a weakness throughout his career. Masterson has quickly become one of the better pitchers in the league, starting 5-0 with a 2.11 ERA.
Carrasco just spent time on the DL for the first time in his career, but the Indians are not concerned as he is set to return to the rotation this week. In my discussions with
Shin-Soo Choo
, Santana and Acta, they raved about Carrasco's potential. They think he'll develop into a 15-game winner. That brings us to Josh Tomlin, who wins everywhere he goes. His minor league career record is 54-21 and his major league career record is 10-5, including 4-1 this year. Here is Antonetti's scouting report on Tomlin that he gave me this week: "Great competitor. Won't beat himself. Pounds the zone. Good four-pitch mix. Understands how to pitch and get hitters out." No argument from me. He might not chalk up a lot of strikeouts each night, but he'll get the groundballs and get the outs to win games.
That brings us to the infield defense. When you have a rotation that pounds the lower part of the strike zone, but doesn't always miss bats, then you better catch the ball in the infield with range. This infield catches the ball with range.
Jack Hannahan
, the journeyman infielder, has done a tremendous job defensively at third base, catching everything with soft hands and an accurate arm. Asdrubal Cabrera is quickly becoming one of the best all-around shortstops in the American league, a very good offensive and defensive shortstop with power, quick hands and feet and a strong arm from the hole. He also has great baseball instincts. He exchanges the ball from glove to release as quickly as anyone. Orlando Cabrera was the one major free-agent signed by Antonetti this offseason and here's his assessment of Cabrera: "He has made an impact both on the field and in the clubhouse. He has great baseball intelligence and understands what it takes to win." In fact, it seems wherever Cabrera goes his teams win (see: Reds, Twins, Red Sox).
Behind the plate Santana has helped lead the Indians' staff to the third-best ERA in the AL. He has well above-average arm strength and eventually will be able to stop the running game when he gets more experience. He's off to a slow start with the bat, but he can hit and hit with power from both sides of the plate. He's a legit future All-Star.
The outfield defense matches the infield defense. Choo is one of the best right fielders in baseball. He gets great jumps, angles on balls and has a strong arm. He can also hit and hit with power. Sizemore is back diving for baseballs and Brantley covers everything in left field like a center fielder. Not a lot of balls are going to be falling in the the gaps at Progressive Field this summer.
The Indians' starting pitchers are pitching deep into games, their offense has put up quality at-bats and has manufactured runs in a variety of ways, thanks to the shrewd managing of Acta, and the bullpen has done a great job of closing games when they get leads as closer Chris Perez has saved 10 of 11 opportunities while
Tony Sipp
,
Vinnie Pestano
and
Rafael Perez
all have ERAs under 2 setting him up.
Remember, this first-place team is doing it without much production from the heart of the order as Choo and Santana have struggled to get past the Mendoza line and top hitting prospect Lonnie Chisenhall is in the minor leagues getting additional seasoning. But we all know that will change, and all three will be productive offensive weapons by season's end.
Hafner and Sizemore are competing for the Comeback Player of the Year Award. Hafner's shoulder is finally healthy and according to Acta, that allowed him to weight train for the first time in years in the offseason. The result is that Hafner's bat speed is back, as shown by his .347 average and .932 OPS.
The farm system is also about to add another wave of young talented players as well. Rookie starter
Alex White
made his debut recently with a win, Nick Hagadone and Drew Pomeranz aren't far behind ( not to mention Jason Knapp, Zach Putnam and Bryce Stowell) and Chisenhall will probably be taking over third base by the middle of this summer. Chisenhall has a chance to be a .290-to-.300 hitter in the big leagues with 15-20 home runs and 40 doubles. He can really hit and is adequate and improving defensively at third base.
Acta is not only one of the best-dressed managers, but he's also quickly becoming one of the most respected young skippers in the game. He's done a phenomenal job in developing the Indians' young arms the last two years and his ability to communicate and motivate are special.
The Indians -- if they stay healthy -- are for real and should produce a summer of winning and continued improved parity in the American League Central.
Thanks for reading and as always I appreciate your comments and feedback. Follow me on Twitter @JimBowdenESPNxm and feel free to send me ideas for future blogs.
April, 12, 2011
4/12/11
1:30
AM ET
On Opening Day, more than 41,000 fans showed up in Cleveland and saw the home team fall behind 14-0 after four innings. The next day, the Indians fell behind 5-0 in the top of the second and lost 8-3. On the third day of the season, the White Sox led again, 1-0 in the fourth inning and had two runners on with nobody out.
And then came the play that turned around Cleveland's season. At least, it will go into mythology that way if the Indians continue their magical run beyond this eight-game winning streak that has the baseball world wondering if the Indians are for real.
Alexei Ramirez
squared around to bunt for the White Sox, the runners took off, Ramirez popped the ball up toward first baseman
Carlos Santana
-- normally the team's starting catcher -- and Santana made a diving catch that turned into a triple play.
Justin Masterson
settled down from there, the Indians won 7-1 and haven't lost since.
"You don't win or lose a division in the first week or even the first month,"
Orlando Cabrera
said after the game. "But getting that first win is always huge. The triple play got us going."
So the question:
Are
they for real?
Before attacking that issue, let's back track to 2010 for a moment. The Indians had a tough season, with major injuries to
Asdrubal Cabrera
and
Grady Sizemore
. They shuffled players in and out of the infield all season -- four guys started at least 20 games at second base, three started at least that many at third base and three started at least 14 at shortstop. With Sizemore sidelined,
Trevor Crowe
and
Michael Brantley
tried center field, but neither hit. Overall, the defense was subpar -- 21st in the majors in defensive efficiency per Baseball Prospectus, 29th in UZR (Ultimate Zone Rating) per FanGraphs.
So the offseason challenge: Bide time until the team's top two prospects, third baseman
Lonnie Chisenhall
and second baseman
Jason Kipnis
, are ready, but do it on the cheap. Famous ex-shortstop Cabrera was brought in to play second base and good-field, bad-hit
Jack Hannahan
won the third-base job out of spring training. Far from perfect solutions, and while both are off to good starts at the plate, they'll sink to their true offensive abilities soon enough. But they at least will anchor a much-improved defense and help a starting rotation that lacks strikeout pitchers.
Following Monday's
4-0 shutout of the Angels
, that Indians staff is on a roll: After those first two disasters, the starters have pitched 52 1/3 innings, allowing just 33 hits and nine runs. Dominant? Well … sort of. They've struck out only 37 batters in that span, meaning that hit ratio isn't going to continue, no matter how good the defense performs.
Mitch Talbot
epitomized this run with his outing against the Angels. He pitched into the ninth inning, not overpowering with four strikeouts, but allowed just five hits. He did induce 13 ground balls, but eventually more of those grounders will find holes. That's what's been happening.
Josh Tomlin
has allowed a .139 average on balls in play in his two starts. Masterson pitched seven innings of one-run baseball against the White Sox without striking out a batter.
This doesn't mean the Indians can't surprise. I've watched both of Tomlin's starts and despite middling stuff, he has an idea of what to do out there. He can be a solid back-of-the-rotation guy if he keeps the ball in the park. Talbot has better stuff than Tomlin but not much of a track record. Carmona and Masterson come with a better pedigree but must show consistency and throw strikes. I still have doubts -- it's really a staff of No. 4 and No. 5 starters -- but the defense will at least be helping rather than hindering this year.
Anyway, it's a good time for Cleveland to get hot. After two more games in Anaheim, the Indians host Baltimore for three, have four in Kansas City, three in Minnesota and return home for the Royals and Tigers. If they can navigate that fairly easy stretch with a nice record, you could see this team gaining a little confidence.
And then there's the big picture. A year from now, the Indians could be throwing out this lineup:
SS Asdrubal Cabrera
CF Grady Sizemore
RF
Shin-Soo Choo
C Carlos Santana
DH
Travis Hafner
3B Lonnie Chisenhall
1B
Matt LaPorta
2B Jason Kipnis
LF Michael Brantley
They need LaPorta to improve (I'm skeptical) and Chisenhall and Kipnis to live up to their potential, but that could be one of the better lineups in the league.
Unfortunately, attendance has suffered in recent years and the front office has cut the payroll to bare bones (26th in the majors in 2011). Hafner's $13 million per season contract runs through 2013 and Sizemore's health remains such a great unknown that it's possible the team won't pick up his $8.5 million club option for 2012.
For a franchise in which not much has gone right in a long time, it's at last nice to see something positive happening for a change.
PHOTO OF THE DAY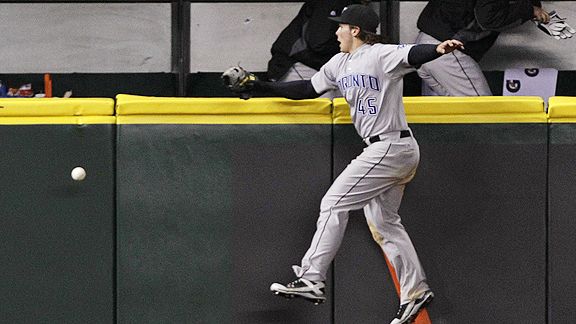 AP Photo/Elaine ThompsonHey, Travis Snider, it's over there. No, no, the ball, it's over there.