SweetSpot:

Juan Francisco
June, 22, 2014
Jun 22
3:55
PM ET
By
Christina Kahrl
| ESPN.com
Just when you thought things had come together for the
Toronto Blue Jays
, they start going to pieces all over again. In Sunday's game against the
Cincinnati Reds
, both
Jose Bautista
and
Brett Lawrie
had to
come out after suffering injuries
. The additional frustration is that this was just after it looked like the Jays' lineup would finally be firing on all cylinders with
Colby Rasmus
back this week after spending time on the DL with a hamstring injury. Now they're at least one man down for a month, or maybe even two.
The immediate concern is how much time Lawrie will have to miss with a fractured index finger on his throwing hand. Recovery time might take a month, perhaps longer. The silver lining is that there will still be plenty of time for him to put in a live-game rehab stint in the minors and rejoin the Jays for the stretch run.
In the meantime, manager John Gibbons will have to continue to rely on a moving-parts infield that he's employed to good effect, just without his best option in Lawrie.
Juan Francisco
hasn't gotten much regular playing time at third base lately because he's manning DH while
Adam Lind
gets over a foot injury, but once Lind recovers, you can anticipate another three-headed playing time split between second and third base, with Francisco starting against most right-handed pitchers at the hot corner,
Steve Tolleson
facing all lefties, and
Munenori Kawasaki
getting most of the time at the keystone. It's a disparate mishmash, one that invites risk -- Francisco's defense, Kawasaki's bat -- while exploiting what each of them can contribute. Suffice it to say, Jays fans should continue keeping score in pencil, since Gibbons should be busy in-game.
But the additional concern is that we also have to see how much time Bautista might miss. Given his history of breaking down and the fact that he hasn't played a full season since 2011, you can understand the Jays' quickness to take him out of a game, even with the outcome in doubt. Even with his five-year slip in the power department -- with his isolated power (SLG minus AVG) amounting to more than 130 points of slugging lost -- Bautista has been on track to hit 30 homers while generating tons of scoring opportunities with his 17.6 percent walk rate.
The big-picture problem is that these kind of overlapping injuries are what could keep the Blue Jays breaking away from the AL East pack, with the even greater danger that they could undermine their bid altogether. Losing Bautista, Lawrie, Rasmus and Lind for varying chunks of time saps the most reliable quality the Jays' offense has been banking on: power, producing the most homers as well as the best ISO in the American League. Finding someone like Francisco on the scrapheap isn't a feat easy to repeat, even for a GM as canny as Alex Anthopoulos, and this isn't a lineup with the kind of depth to afford multiple hits of this magnitude.
The fun upshot of this is that if nobody breaks away, you might see the four teams with legitimate shots to win the AL East (the Jays, Yankees, Orioles and Red Sox) bidding aggressively for help at the trade deadline. All four have holes, even before losing players to injury. Deciding the division champ may well wind up being a matter of finding out which team is the most adaptable as well as which team makes the best deal.
Christina Kahrl writes about MLB for ESPN. You can follow her on Twitter.
May, 27, 2014
May 27
10:00
AM ET
By
Christina Kahrl
| ESPN.com
The first-place
Toronto Blue Jays
? We're coming up on finishing the first third of the season, and it's a fun thing to think about: The first-place Blue Jays, for real. But how did they get there?
It's easy to put down where they are to a couple of big developments: Mark Buehrle's big start, 8-1 with the team going 9-1 in his 10 turns, or
Edwin Encarnacion
's 13 home runs in May, or
Jose Bautista
staying healthy while posting an OPS north of .900 for the first time since 2011.
Melky Cabrera
is hitting and staying out of trouble (so far).
Jose Reyes
has played more games than he has missed.
Those are the things that, when they work, you congratulate yourself, because that's all part of any master plan GM Alex Anthopoulos would have for how the Blue Jays contend. What's interesting about where they're at isn't just the good things working out the way you'd like, it's the other things that they've had to do. It's the things they've had to fix, the elective decisions they're making, to help themselves do even better.
Take their infield. Initially, they gave organizational soldier
Ryan Goins
a big chunk of the second-base job, figuring he'd split time with veteran utility infielder
Maicer Izturis
. Then Izturis tore up his knee, Goins didn't hit, and predictably enough neither did veteran subs
Munenori Kawasaki
and
Chris Getz
. So, with all that failing to stick, the Jays got creative.
They'd already lucked into
Juan Francisco
's availability at the end of spring training, signing him after he was cut by the Milwaukee Brewers, then employing the lefty slugger to good effect when DH
Adam Lind
got hurt. Looking at the wreck of their middle infield, they decided to try Francisco at third base despite years of scouting reports and weak performance to warn them against it. But they figured they were better off resuming the experiment with
Brett Lawrie
at second rather than continue futzing around with the scrappy second-base types most teams might accept -- Goins or Getz, it hardly mattered, use either and you're probably not goin' to getz anywhere.
So, at a time when offense is down, the Jays made the choice to play for runs instead of defense, and it's working. They're averaging 4.9 runs per game with a deep lineup capable of trading blows with the league-leading Los Angeles Angels and Oakland A's. For the Jays, it's a multi-positional platoon, one in which Lawrie flips between second and third base while playing every day, with Francisco at third base against righties and journeyman
Steve Tolleson
at second base against lefties, exploiting the .832 OPS the former Twins farmhand has put up in his abbreviated big-league career against southpaws. They're 18-8 since Francisco's first start at the hot corner on May 3 after starting the year 12-14. They're 9-1 in the games Tolleson has started against a lefty, beating guys like
Cliff Lee
and
Cole Hamels
,
Jon Lester
and
C.J. Wilson
and
Scott Kazmir
.
How does this work? Well, sure, as Francisco is slugging above .600 reflects, some guys can have a great 100 at-bats or so. But perhaps more importantly the Blue Jays are using guys for what they can do where they can do it, instead of getting hung up on what they can't. Take Francisco: Built with the range of your average home appliance, he probably isn't going to be an average third baseman in the major leagues. So what? Aspire to adequacy, and that's what you get, and you might miss out on what the guy can do: Crush right-handed pitching with regular playing time, slugging over .500 in his extended minor-league career. A corner is exactly where you can hide his bat, where he might see only two or three chances per game. Yes, he'll strike out a third of the time. He'll also crank out a .200 Isolated Power at a time when finding people who can contribute on offense isn't so easy.
But let's also credit manager John Gibbons for pushing for runs. Take Monday's game: Up by two in the fifth with nobody out, his lineup just chased
Erik Bedard
, so the Rays have
Alex Colome
come in to face Tolleson -- who'd already homered -- and Gibbons pulls Tolleson anyway to exploit the offensive advantage and bat Francisco against the righty, and devil take the subsequent defensive risks. Francisco walked, the inning just got bigger, and two more runs would score to put the Rays down for keeps. In an era when pitching substitutions and their effectiveness usually define in-game initiative, it was nice to see someone in the dugout take it back on offense and win a matchup game
because he had the option
, and he used it.
The flip side of this is to note that the Jays have to play for runs, because of the other thing that isn't working for them in the early going: Their rotation, and seeing what they're going to do about it. Outside of Buehrle's turns, they're 21-22 overall, and they've gotten just nine quality starts in 31 games from the rotation outside of those made by Buehrle and
R.A. Dickey
. They need better.
Someone like
J.A. Happ
might make for an adequate No. 4 or 5 in a contender's rotation. And you can get excited about what Drew Hutchinson
might
become if you just look at his strikeout and walk rates and his FIP, but that's only going to so far when he keeps getting clobbered the second time through the order (.825 OPS before Monday's slugfest), or the third (.855). Maybe he'll adjust, maybe not.
But if Hutchinson doesn't become the third horse they really need, the Jays have a rotation that's going to keep putting them in the slugfests that their offense will have to win for them. That's fine as long as it's going good, and creating leads that their excellent relief trio of
Brett Cecil
,
Aaron Loup
and
Steve Delabar
protect and hand off to closer
Casey Janssen
. But you'd like to see the Jays adapt their plan in-season again by adding an arm, and not just because banking on Brandon Morrow's comeback from the DL at some point in July would be optimistic.
Sometimes contention is a matter of building on both the ideal and the unexpected. Given that the Jays can be happy to be where they are, here's hoping they take some more chances to stay there.
Christina Kahrl writes about MLB for ESPN. You can follow her on Twitter.
April, 11, 2013
4/11/13
9:00
AM ET
It's easy to forget that a year ago there were the big three super prospects:
Bryce Harper
,
Mike Trout
and
Matt Moore
, and not necessarily in that order. Baseball America named Moore its No. 2 prospect and wrote, "He makes it look so easy, and he's so good he'll make
David Price
a No. 2 starter." While Harper and Trout exploded after getting called up in late April, Moore was quickly forgotten, in part because Harper and Trout exploded, in part because he plays for Tampa Bay, but mostly because it wasn't so easy for Moore in his rookie campaign.
Moore went 11-11 with a 3.81 ERA and struck out 175 batters in 177.1 innings, normally numbers about which one would be ecstatic from a rookie left-hander, but viewed with some disappointment. But it's not fair to view Moore through the lens of what happened to Harper and Trout, or even the 2.95 ERA that Rays teammate
Jeremy Hellickson
had posted as a rookie in 2011.
Expectations for Moore shot up after the dominant playoff start against the Rangers in 2011, when he pitched seven scoreless innings in just his second major league start. After an inconsistent first half in 2012, Moore was very good in the second half (3.01 ERA, five home runs allowed, opponents' batting line of .220/.303/.336). It was that improvement that was one reason many believed -- myself included -- that Moore would step in nicely behind Price as the team's No. 2 with the trade of
James Shields
to Kansas City.
Anyway, fast-forward to 2013. Most of the attention in the American League East has been paid to the revamped Blue Jays, the injury-riddled Yankees, and the revamped Red Sox (remember them?).
Jackie Bradley Jr.
drew a walk off
CC Sabathia
in the season opener and poems were written about his future greatness. Matt Moore? Yesterday's news.
After allowing no runs in his first start, Moore started again Wednesday on a 39-degree day in Texas, following a rain delay. He walked a career-worst six but escaped unscathed. In some regards, he was a little lucky -- last season, a starter walked at least six batters 65 times but only twice allowed no runs. His biggest out was getting
Elvis Andrus
to ground into an inning-ending double play with two on in the fifth. (
Ben Zobrist
would make the game's other key defensive play,
throwing out
Adrian Beltre
at home in the eight to help preserve the 2-0 lead.)
"Where the big pitches that really needed to be made, I was locked into those moments," Moore said. "From that, we can be happy with what the results were."
The cold weather makes it difficult to evaluate Moore's performance. His fastball velocity is down a couple miles per hour from last year in his first two starts, but that's not yet a concern in early April. What is a concern is the location of those fastballs. Look where he has been throwing it against right-handed batters so far: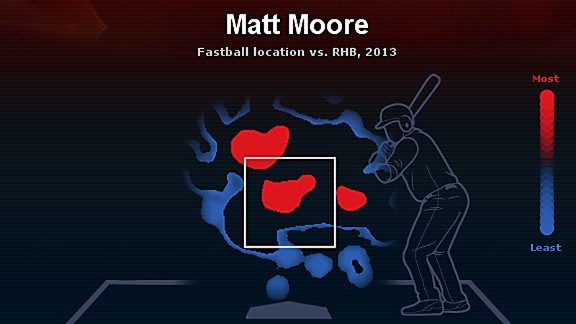 ESPN Stats & InformationMatt Moore hasn't allowed a run in his 11.1 innings despite where he's left some fastballs.
Those are tough places to make a consistent living, especially when you're throwing 91-92 instead of 95-96. If he gets batters to chase that high fastball, it can work. But as we saw Wednesday, high fastball can also lead to walks. Again, it's early, and I think Moore will be fine -- heck, he hasn't allowed a run -- but the fastball command is something to pay attention to before we declare him the next David Price.
My bigger point: Before we move on to hoping for the next great thing, let's pay attention to the good ones already here.
Other quick thoughts from Wednesday:
April, 10, 2012
4/10/12
8:00
AM ET
News and notes from Monday's action that won't mention the Red Sox and Yankees showed great grit and determination by finally winning a game ...
First base: Barry good.
After an 0-3 start following three one-run losses to the Diamondbacks, the Giants turned to
Barry Zito
against the Rockies at Coors Field. Of course, he threw his first shutout since 2003 and became just the second left-hander to ever throw a shutout there --
Tom Glavine
having done it twice. Even more amazing may have been
this 11-pitch at-bat Zito mustered off Esmil Rogers
. With
Buster Posey
and
Brandon Belt
getting the day off the Giants fielded a lineup with
Aubrey Huff
batting cleanup,
Hector Sanchez
fifth and
Brandon Crawford
seventh. Don't worry, Giants fans: Bruce Bochy said Belt will be back in the lineup when the teams meet again on Wednesday.
Second base: Mets win as Nationals throw it away.
I wrote on Sunday about the Mets' patient approach at the plate. They drew six walks on Monday and
Mike Baxter
's pinch-hit leadoff walk off
Henry Rodriguez
in the bottom of the ninth led to the winning run.
Ruben Tejada
laid down a two-strike bunt that Rodriguez threw away to put runners at second and third.
Daniel Murphy
then singled in Baxter for a 4-3 win.
Jon Rauch
threw two hitless innings for the win and the Mets bullpen has allowed just one run in 13.1 innings so far.
Third base: Red-hot Fredi.
The curious lineup decision of the night belonged to Braves skipper Fredi Gonzalez. He benched
Jason Heyward
to get
Matt Diaz
into the lineup, since Diaz was 8-for-15 in his career against
J.A. Happ
. I suppose playing Diaz is reasonable. But he could have easily moved
Martin Prado
to third base and put Diaz in left field. Instead, he kept
Juan Francisco
-- like Heyward a lefty swinger -- in the lineup. Gonzalez's rationale? He wanted to see to how Francisco would fare against a left-handed pitcher in case he's needed later in the season if
Chipper Jones
can't go. Umm, OK. But why bench Heyward in the season's fourth game? He was 2-for-10 with two walks, a double and triple, hardly a reason to give him a day off. Heyward is still a 22-year-old with superstar potential. Those guys need to play every day. Anyway, the Braves lost 8-3 to the lowly Astros, committed four errors (three by Francisco, the guy Gonzalez
had
to get in the lineup), they're 0-4 and Gonzalez is undoubtedly the manager on the hottest seat in the bigs right now.
Home plate: Tweet of the day.
I hope Ozzie Guillen clears up His Castro comments. My dad took us away from Cuba for better life in USA.Glad he did.

— Jose Canseco (@JoseCanseco) April 10, 2012
April, 4, 2012
4/04/12
10:00
AM ET
I can't wait for the season to get going.
You
can't wait. Last October was the best we've had in years, and the offseason only fueled our baseball fever. Spring training is mercifully over. Let the games begin. Here are 100 reasons I'm pumped for the next seven months.
1.
Albert Pujols
in Anaheim. They call him The Machine, but Pujols had a few rusty bolts in 2011. He hit under .300 for the first time, his walk rate was down, and his extra-base-hit percentage was down. After a slow start through May (.267, nine home runs), he did hit much better after returning from his fractured forearm. He moves to a tougher division and will have to face the Rangers, A's and Mariners 19 times each -- with cavernous parks in Oakland and Seattle -- rather than the Cubs, Pirates and Astros. The pressure is on. The spotlight is bright. But machines are immune to all that, right?
2.
Jim Thome
's pursuit of a World Series title. He'll turn 42 in August and will play some first base until
Ryan Howard
returns. That's a pretty good story in itself (he hasn't played on the field since appearing in one game at first in 2008), but he's played in nine postseasons and reached two World Series without winning it all.
[+] Enlarge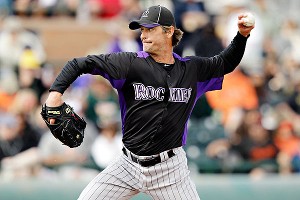 AP Photo/Marcio Jose SanchezAge is just a number for Jamie Moyer.
3.
Jamie Moyer
is back in the majors at age 49 and can surpass Jack Quinn as the oldest pitcher to win a game. Moyer's arsenal these days: an 80 mph fastball, a 70 mph changeup, a 65 mph curveball, a 55 mph slowball, a 20 mph Bugs Bunny ball and an 8 mph retirement community ball that bends time.
4.
Justin Verlander
's encore performance. Verlander threw 3,941 pitches in the regular season, the most since
Livan Hernandez
's 4,007 in 2005. Verlander added 360 more in the postseason. It's not necessarily a big deal -- Verlander's 2009 total is the third-highest since 2005 -- but you do wonder whether Jim Leyland will back off a little.
5.
Roy Halladay
's paintbrush.
6.
Yu Darvish
.
7. Yu Darvish's hair. Straight from Supercuts.
8.
Adam Wainwright
's return to the Cardinals' rotation. He was third in the 2009 NL Cy Young vote and second in 2010. He looked good this spring, pitching 18 2/3 innings and allowing just 11 hits. The strikeout rate wasn't great -- just nine K's -- but signs are positive a year after Tommy John surgery.
9. A full season of
Stephen Strasburg
, who was electric in his own return in September from TJ surgery in September 2010 -- his fastball averaged 95.8 mph, below the 97.3 he averaged in 2010 but still with enough velocity that it would have ranked No. 1 among starting pitchers. The big question for his season: How much the Nationals will limit his innings?
10.
Jose Canseco
's tweets.
11.
Clayton Kershaw
's slider. His fastball isn't too shabby, either. By the way, here's what Kershaw does in the offseason to
stay in shape
and get ready for the season.
12. Verlander, Halladay, Kershaw: three of the amazing generation of pitchers we get to enjoy. Maybe Darvish and Strasburg will join them. In 2011, 14 pitchers pitched at least 200 innings with an ERA of 3.00 or less. The last time we had even 10 such pitchers in one season was 1997, with 11. The last season with more than 14 was 1992, with 20. Yes, steroids are a small part of that. A small part. The best pitchers today are throwing harder and with meaner breaking stuff than we've ever seen. Guys like Kershaw and Halladay are relentless in their workout routines. It's not a lot of fun to be a hitter these days.
13. Well,
Jose Bautista
has a lot of fun.
14. A new generation of young hitters like
Giancarlo Stanton
,
Eric Hosmer
,
Brett Lawrie
,
Jason Heyward
,
Freddie Freeman
,
Starlin Castro
and
Jesus Montero
. All will play their age-22 seasons in 2012.
15.
Jose Reyes
and
Hanley Ramirez
.
16.
Miguel Cabrera
and
Prince Fielder
.
[+] Enlarge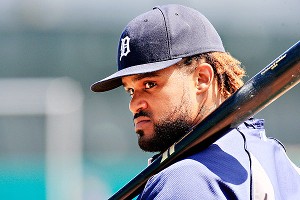 Ronald C. Modra/Sports Imagery/Getty ImagesPrince Fielder adds even more punch to the Detroit Tigers' lineup.
17. Will Cabrera win his first MVP award? He's finished fifth in the voting three times, fourth once and second once. Two things that could prevent him from winning:
A.
Austin Jackson
's on-base percentage. Cabrera hit .388 with runners in scoring position in 2011 but drove in "just" 105 runs.
B. Fielder. Batting behind Cabrera and his .400-plus OBP will give Fielder more RBI opportunities. If he ends up driving in 15 to 20 more runs than Cabrera, they could split votes.
Five other all-time greats who have never won an MVP award:
Derek Jeter
, Eddie Murray,
Mike Piazza
, Al Kaline,
Manny Ramirez
.
18. Cabrera playing third base. With Fielder at first base, the Tigers could have the worst first baseman
and
worst third baseman in baseball. (And, please, don't defend Fielder's defensive prowess at first base. He's better than
Adam Dunn
, I suppose ... but Dunn is a DH.)
19. Defensive runs saved!
Your leaders by position in 2011:
C --
Matt Wieters
1B --
Adrian Gonzalez
2B --
Ben Zobrist
3B --
Evan Longoria
SS --
Brendan Ryan
LF --
Brett Gardner
CF -- Austin Jackson
RF -- Jason Heyward
20. The Sandman.
21. The fans in Milwaukee. The Brewers drew a franchise-record 3.071 million fans in 2011. Depressed over losing Fielder? Hardly. They'll surpass that in 2012.
March, 8, 2012
3/08/12
4:15
PM ET
Michael Baumann of Crashburn Alley has a fun post on a theoretical question: If your life depended on winning the next 10 World Series,
who do you pick for your 25-man roster?
Money is no object. Injuries are a factor. Your team can't be too old, or it won't win down the road. It can't be too young or it won't win now. So who do you take? I like Michael's list, although I disagree with him on a couple of choices. Gerritt Cole over
David Price
or
Justin Verlander
(who isn't that old)? And he selected three relievers; I'd punt the relievers all together and draft 10 or 11 starting pitchers.
Other stuff:
November, 26, 2011
11/26/11
12:17
PM ET
By
Javier Maymi, ESPNdeportes.com
| ESPN.com

Former Cuban national team first baseman and
Atlanta Braves
prospect
Barbaro Canizares
seems to have found his power stroke this winter as he is leading the Mexican Pacific League with 15 home runs and 37 RBIs and a .319 average through 38 games.
Canizares, who in 2004 was kicked off the Cuban team for trying to defect, signed with the Braves in 2006 as a free agent. Unlike former Cuban national team teammate
Kendrys Morales
, who found success in the majors with the Angels, Canizares has played just five games at the major league level.
Now a 32-year-old minor league veteran, Canizares -- the International League batting champion in 2010 -- spent last summer with Oaxaca in the Mexican summer league after the Braves released him on April 3. The right-handed hitting Cuban, however, is looking for a shot at a spring training invitation, perhaps with an American League team looking for some punch off the bench as his defense has been his weakness, according to several scouts.
Playing for the defending champion Ciudad Obregón Yaquis, Canizares has teamed up with
Ryan Spilborghs
,
Doug Clark
and
Alfredo Amezaga
to lead the Yaquis to the top of the standings in the early stages of the regular season's second half after finishing in third place behind Mexicali and Culiacan in the first half.
Williams undefeated in Venezuela

Los Angeles Angels
pitcher
Jerome Williams
is making a strong case for a permanent spot in the 2012 rotation. Pitching for the Magallanes Navegantes, Williams is 5-0 with a 1.00 ERA through six starts with 26 strikeouts and 12 walks while holding opponents to a .219 average.
After bouncing around the National League with San Francisco, Chicago and Washington between 2003 and 2007, Williams hooked up with the Angels last June and went 7-2 at Triple-A Salt Lake before being inserted into the Angels' rotation, where he made six starts and finished with a respectable 4-0 mark and 3.86 ERA.
The Angels kept Williams on their 40-man roster. Given the possible departure of free agent
Joel Pineiro
, Williams is poised to be on their Opening Day roster.
Francisco proving he can play

With doubts about the health of
Cincinnati Reds
third baseman
Scott Rolen
still lurking, up-and-comer
Juan Francisco
is jockeying to become the heir to the hot corner in Cincinnati with strong power numbers while playing for the Licey Tigres in the Dominican winter league.
Through 28 games, the 24-year-old Francisco is currently riding an 11-game hitting streak which has upped his average to .315 with three homers, 14 RBIs and an on-base percentage of .387. His last home run allowed him to pass Dominican legend Felipe Alou for 15th place in the all-time career home runs list in the Dominican league.
Rolen was shelved last September and underwent shoulder surgery. Although recent reports place him on course to come back for spring training, the left-handed hitting Francisco could be an inexpensive option for the Reds, who have plenty of questions with their pitching going into the height of the free-agent market.
Padilla eyes a .400 season
Jorge Padilla
, who is fighting his way back to the majors after his ill-fated tenure with the
Washington Nationals
in 2009, is threatening to become the first player to hit over .400 in Puerto Rico since
Edgar Martinez
batted .423 in 1991-92 for the now-defunct San Juan Metros.
Padilla, an outfielder with the Caguas Criollos, is hitting .475 with an OPS of 1.296. The Criollos, who saw a five-game winning streak snapped by the Ponce Lions on Thanksgiving, have a one-game lead over Ponce in the four-team league.
Padilla, who was drafted by the
Philadelphia Phillies
in 1998 and has since floated through the Mets, Royals, Blue Jays, Nationals and Marlins organizations, was granted free agency by the Marlins on Nov. 1.
Padilla, now 32, last saw major league action with the Nationals in 2009 when he appeared in 29 games, mostly as a pinch-hitter, and compiled a .120 average, going 3-for-25.
September, 13, 2011
9/13/11
3:31
PM ET
A good ol' time was had by all on Tuesday's
Baseball Today podcast
, as Keith Law and I discussed many topics, including:
1. The Red Sox are fading but it only matters because the Rays are good. We take a closer look at this legit race.
2. Meanwhile, any loss for the "contending" Cardinals is a big one, and someone who didn't swing a bat or throw a pitch is responsible for Monday's loss.
3. More Tigers talk! If
Justin Verlander
's crew played in the AL East would they beat the Rays?
4. An emailer wants Bruce Bochy included among the top managers. Do we agree?
5.
Justin Masterson
over
Felix Hernandez
? For this year, a case can be made.
Plus: Excellent emails, Casey Kelly, "Winter's Bone,"
Tim Wakefield
and much more on a packed Tuesday edition of Baseball Today!
April, 25, 2011
4/25/11
1:35
PM ET
The Reds have lost eight of their past 11 games to fall to 11-11 and third baseman
Scott Rolen
has landed on the DL with a strained left shoulder. In the short-term this won't hurt the Reds much as Rolen has been struggling with a .216/.246/.417 line. His replacement is 24-year-old left-handed hitter
Juan Francisco
, whom the organization has long billed as the future third baseman. Chad Dotson over at Redleg Nation
isn't a fan of Francisco's
, comparing him to
Wily Mo Pena
-- which means power potential, but lots of strikeouts with little awareness of the strike zone. I'm inclined to agree, although I think there are worse backups to rely upon.
The bigger question: How good is this Cincy offense? The team is hitting just .229/.309/.386 over those 11 games; and that's despite playing seven of those games at home against Pittsburgh and Arizona. Overall, the Reds still lead the NL in runs scored thanks to
Joey Votto
,
Brandon Phillips
and
Jonny Gomes
, but there is a bit of a mirage going on here: the Reds are hitting /285/.356/.469 at home, .229/.309/.349 on the road. The split wasn't so severe last season when the Reds had a .796 OPS at home and .754 on the road, but The Great American Ballpark is clearly a great hitters' park, enough so that it can cloud the evaluation of the Reds' hitters if you don't examine the numbers more closely.
The long-term issue with Rolen's injury is that he was really good last season, a key component to the Reds' division title. He had the second-best OPS on the team, played 133 games (his most since 2006) and produced 5.0 WAR (wins above replacement) according to FanGraphs. Francisco projects to not much better than replacement level, so the Reds could be looking at a significant win deficit if Rolen doesn't eventually return and come close to his 2010 level of play.
Follow David Schoenfield on Twitter at @dschoenfield. Follow the SweetSpot blog at @espn_sweet_spot.
March, 8, 2010
3/08/10
7:01
PM ET
Via OMGreds.com,
this is a cool baseball card
. Granted, I'm a sucker for group shots. One of my all-time favorites is the classic
Dodgers' Sluggers
from the '57 set.
That said, when I first saw a card titled REDS HEAVY ARTILLERY depicting
Joey Votto
,
Jay Bruce
, and
Juan Francisco
, my initial reaction was "Juan
who
?" Granted, Francisco did play with the big club last year, but he debuted in the middle of September and by then I'd stopped paying any attention to Cincinnati. Does Francisco really fit in with those other guys, though? I looked him up. He's got real power, but the strike zone is a mystery to him and he's No. 2 (at best) on the depth chart at third base, behind
Scott Rolen
.
The new card is an homage to the
1961 version
of Reds' Heavy Artillery, featuring
Vada Pinson
,
Gus Bell
, and
Frank Robinson
.
Robinson was an obvious choice, and Pinson had hit 20 homers in 1960. Bell, though, was an odd choice. Where both Robinson and Pinson were still young, Bell was a grizzled veteran who'd managed only a dozen homers in 1960. Better choices would have been outfielder Wally Post -- who'd hit 17 homers in just 77 games after coming to the Reds in a June deal -- or even catcher Ed Bailey. Meanwhile, Bell hadn't hit more than dozen home runs since 1957. My guess is that the card existed simply because a photographer was able to get Bell, Robinson, and Pinson together one afternoon.
Today, thanks to the wonders of the computer, Topps can do whatever they want, and quickly (here's
a disturbing example
). But with the only other "sluggers" on last year's team being
Brandon Phillips
and
Jonny Gomes
-- with 20 bombs apiece -- it's not hard to figure why Francisco got his shot at carboard immortality.
To take the next step, he just needs to figure out the difference between a ball and a strike.