September, 28, 2012
9/28/12
4:20
PM ET
In my earlier post, I wrote about players since 1969
who had terrific all-around seasons but didn't win the MVP Award
. As a companion to that piece, let's take a quick look at worst MVP winners. There are many ways to look at this, but the easiest is to simply create a cutoff using Wins Above Replacement.
Let's start by looking at MVP winners who had less than 5.0 WAR (via Baseball-Reference.com).
Division Era: 1969 to 2011
[+] Enlarge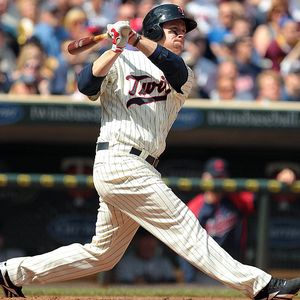 Jesse Johnson/US PresswireFinishing second in the AL in RBIs helped Justin Morneau earn league MVP honors in 2006.
2006 AL: Justin Morneau, Twins (4.0 WAR)
This actually wasn't as bad a selection as it may seem.
Grady Sizemore
led AL position players at 6.5 WAR and
Vernon Wells
was the only other 6-win player, but their teams didn't make the playoffs. Morneau wasn't a great choice -- he won because he finished second in the league in RBIs -- and edged out
Derek Jeter
(5.4 WAR) by 14 points in a year without an obvious top guy.
1998 AL: Juan Gonzalez, Rangers (4.6 WAR)
Gonzalez fit the classic mode of an MVP winner: An RBI leader who played for a playoff team. Nomar Garciaparra (6.8 WAR) and Jeter (7.3 WAR) finished second and third in the voting and also went to the postseason. They would have been better choices, along with WAR leader
Alex Rodriguez
(8.3).
1996 AL: Juan Gonzalez, Rangers (3.5 WAR)
Touched on this one in the other post. He was only ninth in the AL in OPS and his game was all offense. According to WAR, he ranked as the 30th-best position player in the AL. Probably my vote for the worst MVP selection ever.
1995 AL: Mo Vaughn, Red Sox (4.1 WAR)
Shortened 144-game season, but was unlikely to reach 5 WAR. Edged out Albert Belle (6.6 WAR) by eight points. Red Sox teammate John Valentin actually led the AL in WAR for position players at 8.1, with Edgar Martinez (6.7) second and Belle third. Voters during this period didn't really give much weight to position. Sure, up-the-middle guys like Robin Yount or Ryne Sandberg or Cal Ripken would win MVP Awards, but in years when they
were
the best offensive players in the league. Valentin had great numbers, especially for a shortstop, and was an underrated defender. Vaughn got extra credit for leadership and Valentin finished ninth in the voting.
1992 AL: Dennis Eckersley, A's (2.8 WAR)
Before
Justin Verlander
last year, the last pitcher to win MVP. An idiosyncratic selection that's impossible to defend (this even wasn't his 0.61 ERA season). Kirby Puckett had the highest WAR among hitters (6.8) and finished second in the vote.
1987 AL: George Bell, Blue Jays (4.6 WAR)
One of the more famous MVP disputes. Bell led the AL in RBIs and hit 47 home runs and edged out Alan Trammell (8.0 WAR) even though Trammell's Tigers won the AL East on the final day of the season.
1987 NL: Andre Dawson, Cubs (3.7 WAR)
Inexplicable back then and even more so now. Wait, it was explicable: Dawson led the league in home runs and RBIs and won despite a .328 OBP and the Cubs' last-place finish. Ozzie Smith (6.2 WAR) was second in the voting, while Tony Gwynn had the highest WAR at 8.3.
1984 AL: Willie Hernandez, Tigers (4.6 WAR)
The Tigers closer did have an amazing season (9-3, 1.92 ERA, 32 saves, 140 innings) but arguably the most anonymous MVP winner ever. Ripken had the highest WAR in the league and finished 28th in the vote. Ouch.
1979 AL: Don Baylor, Angels (3.5 WAR)
Baylor led the AL in runs scored and RBIs, was viewed as a team leader and the Angels made the playoffs for the first time in franchise history, so it's easy to see
why
he won, despite his limited defensive value (he split the season at DH and left field). George Brett (8.4) and Fred Lynn (8.6) had monster seasons, but finished third and fourth in the voting.
1979 NL: Willie Stargell, Pirates (2.3 WAR)
Shared the award with Keith Hernandez. The only time a guy won an MVP Award for putting gold stars on his teammates' caps.
1974 AL: Jeff Burroughs, Rangers (3.2 WAR)
Another RBI leader and the Rangers won 84 games after losing 105 games the year before. Six different players received first-place votes. The WAR leaders were Rod Carew (7.2) and Bobby Grich (7.0), who finished seventh and ninth in the voting. Grich's all-around game never was fully appreciated. Actually, Gaylord Perry had the best WAR; pitchers dominated the AL back then. Eight of the top-10 players in 1974 by WAR were pitchers.
1974 NL: Steve Garvey, Dodgers (4.3 WAR)
A very good player for a few years but not really a great one. Mediocre on-base percentages and only moderate power for a first baseman.
1970 AL: Boog Powell, Orioles (4.8 WAR)
Talked about this in the other post. Carl Yastrzemski had a huge season for the Red Sox.
Pre-1969 winners
I'm not saying the best players won every year -- heck, it would have been boring just to give it to Willie Mays every year -- but here the most egregious MVP winners in the pre-division period.
1962 NL: Maury Wills (5.8) over Mays (10.2)
Wills did have a good season but won primarily because he stole a then-record 104 bases, at a time when the stolen base was just regaining popularity after nearly going extinct in the 1950s. So there was a certain "wow" factor that impressed the writers back then. Still ... Mays was incredible (.304, 49 home runs, 141 RBIs, 130 runs, Willie Mays defense). Plus, the Giants beat the Dodgers in the three-game tiebreaker to win the pennant. Wills won the vote by seven points.
1961 AL: Roger Maris (6.7) over Mickey Mantle (10.2)
Like Mays, they couldn't give it to Mantle every year. Maris set the home run record but Mantle hit 54 of his own and had a 1.135 OPS versus .993 for Maris. The vote was close: 202 to 198.
1958 AL: Jackie Jensen (4.6 WAR)
Jensen led the league in RBIs and Mantle (8.4) didn't.
1955 AL: Yogi Berra (4.2 WAR)
Voters used to place a lot more emphasis on leadership attributes back in the '50s, a big reason Berra and fellow catcher Roy Campanella both won three MVP awards. Yogi had a good year, but Mantle or Al Kaline probably should have won.
1952 NL: Hank Sauer (5.2 WAR)
Often cited as a terrible MVP selection -- Sauer was a 35-year-old left fielder on a .500 club -- he did lead the NL in home runs and RBIs and ranks fifth in WAR among position. Still, an odd choice over more well-rounded players like Jackie Robinson (8.1) or Stan Musial (7.8), or 28-game winner Robin Roberts (who finished second in the vote).
1950 NL: Jim Konstanty (4.2 WAR)
An obscure 33-year-old relief pitcher for the pennant-winning Whiz Kids who went 16-7 with a 2.66 ERA in 152 innings. Had only one other season above 1.0 WAR. The Phillies didn't really have a star position player, so the Konstanty story line took hold and he got 18 of the 24 first-place votes.
1947 AL: Joe DiMaggio (4.5 WAR) over Ted Williams (9.6 WAR)
Maybe the most controversial results in MVP history. This was the year Williams won the Triple Crown but was left off a ballot and lost the vote by one point. Whether it was Boston writer Mel Webb who did so remains unclear.
This story
says Webb may not even have had a vote.
This may have been the most bizarre MVP vote ever and not just because Williams didn't win. Eddie Joost, a shortstop who hit .206 for the 78-76 Philadelpia A's received
two
first-place votes -- just one fewer than Williams. Some of the down-the-ballot votes were hilarious, including a shortstop named for the Senators named Mark Christman who hit .222/.287/.281 and earned four points.
1944 NL: Marty Marion (4.6) over Stan Musial (8.8)
Musial actually finished fourth in the voting as his Cardinals teammate won. Marion was a good defensive shortstop and probably led the league in intangibles. Eight different players received first-place votes but Musial was the best player in the league.
1934 AL: Mickey Cochrane (3.7)
Cochrane was the player-manager for the pennant-winning Tigers, so this one wasn't just about numbers. Lou Gehrig hit .363/.465/.706 and compiled 10.1 WAR -- good enough to finish fifth in the voting. Yankee fans are still ticked off.
January, 10, 2012
1/10/12
11:30
AM ET
With the Hall of Fame voting still on our minds, I thought it would be fun to look at which non-Hall of Famers fared best in MVP voting, and which Hall of Famers have fared worst.
Modern MVP voting began in 1931 so we'll focus on players whose careers began after that. We'll also limit our scope to position players. We'll use award shares, a metric invented by Bill James that
Baseball-Reference tracks
. If you're a unanimous MVP winner, meaning you've collected 100 percent of the possible maximum points, your award share is 1.00. If you get 80 percent of the possible maximum points, your award share is 0.80. You can than add up individual seasons to reach a career total.
[+] Enlarge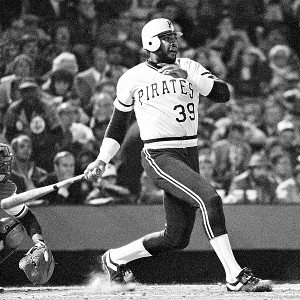 AP Photo/FileDave Parker won the MVP award in 1978.
Not including active players, those yet to have appear on the Hall of Fame ballot (like Barry Bonds or Frank Thomas) or those ineligible for Hall of Fame selection (we mean you, Pete Rose), the player with the most award shares
not
in the Hall of Fame is ...
Dave Parker
. With 3.19 career award shares, he's 28th all time. Parker was an amazing player with the Pirates from 1975 to 1979, compiling 30.1 WAR and winning MVP honors in 1978 when he hit .334 to win the batting title, led the league in slugging percentage and hit 30 home runs with 117 RBIs. He also finished third in MVP votes in '75 and '77 and 10th in '79. After that, he got fat, dabbled in drugs and ruined his career for a few years. He bounced back with the Reds and on the basis of a league-leading 125 RBIs in 1985, finished second in the MVP vote. Another big RBI season in 1986 got him up to fifth in MVP voting. Parker never fared well in the Hall of Fame voting, peaking at 24.5 percent in his second year but holding at around 15 percent after that.
Parker, by the way, had a slightly higher award shares total than Jim Rice (3.15), a similar player from the same era who did make the Hall of Fame in large part due to his success in MVP voting.
Here are the next five:
Jeff Bagwell (2.89 award shares):
The unanimous MVP in 1994, Bagwell also had a second-place and third-place finish and three other top-10 finishes.
Juan Gonzalez (2.76 award shares):
A two-time MVP, although his 1996 win was one of the worst MVP selections ever.
Steve Garvey (2.46 award shares):
Garvey won the NL MVP in '74 with a pedestrian-looking .312/.342/.469 line. It was a good line for the time, but not
that
good -- he ranked 14th in the NL in OPS. But he was third in the league in RBIs and the Dodgers won the division.
Albert Belle (2.38 award shares):
From 1991 through 2000, he hit .300 and averaged 39 homers and 122 RBIs per season. He had a second and two thirds in MVP voting. Despite his peak value, his Hall of Fame support was approximately equal to Herman Cain's in the Iowa caucus.
George Foster (2.37 award shares):
The 1977 NL MVP when he hit 52 home runs and drove in 149 runs for the Reds, Foster had a nice run from '75 to '81. Just don't ask Mets fans what happened after that.
Some Hall of Famers with low award shares:
Wade Boggs (1.20 award shares):
I was surprised Boggs' total wasn't higher. His best MVP finish was fourth in 1985. He wasn't an RBI guy, so was underrated to some extent during his time, although he cruised into the Hall of Fame. Baseball-Reference rates him as the best player in AL in 1986, '87 and '88.
Tony Perez (0.93 award shares):
Despite being a big RBI guy, the kind of player MVP voters have historically loved, he had just one top-five MVP finish in his career.
Ozzie Smith (0.65 award shares):
He finished second in 1987 but that was his only top-10 MVP finish. The MVP vote has always been about offense, but it's interesting that the player widely regarded -- even while active -- as perhaps the greatest defensive player ever fared so poorly, especially since he did became a solid offensive contributor in the mid-'80s.
Richie Ashburn (0.62 award shares):
A Veterans Committee selection in 1995, Ashburn was a gifted center fielder with a career .308 average but only 29 home runs. He twice finished seventh in the MVP vote, his only top-10 appearances.
Bill Mazeroski (0.19 award shares):
A Veterans Committee selection, he was the Ozzie of second basemen, except even less valuable with the bat. He received MVP votes in just two seasons: One eighth-place finish and one 23rd.
New Hall of Famer Barry Larkin finished with 1.10 award shares, including a 0.72 for his 1995 win. Alan Trammell, a similar player who hasn't fared well in the Hall of Fame voting, recorded 1.22 award shares.
July, 19, 2011
7/19/11
6:07
PM ET
Amazing stat of 2011: The
Seattle Mariners
' cleanup hitters are hitting .190 with four home runs and 34 RBIs.
OK, enough with the bad news. Here are the teams with the most RBIs from the cleanup position this season:
Red Sox 79
Phillies 74
Brewers 73
Dodgers 72
Cardinals 70
Of course, must of us understand that RBI are often a reflection of opportunity. If we ranked those five teams by OPS (on-base percentage plus slugging percentage), we get:
Brewers: .982
Cardinals: .970
Dodgers: .964
Red Sox: .925
Phillies: .808
Ryan Howard
, of course, hits cleanup for the Phillies and leads the NL with 73 RBI, despite a .249 average. He does have 19 home runs and is hitting .318 with runners in scoring position. But he has also hit with more runners on base than any hitter in the majors other than
Adrian Gonzalez
. In other words, cleanup production -- at least in terms of RBIs -- is often about the hitters in front of you.
Here's an example. I went through the past 10 seasons and recorded which team had the most RBIs from the cleanup spot, which team had at least 100 RBIs with the lowest OPS, and which team had the fewest RBIs. The player or players with the most plate appearances in the four-hole is listed in parenthesis.
2010
Yankees: .276, 38 HRs, 155 RBIs, .857 OPS (
Alex Rodriguez
)
Reds: .274, 21 HRs, 102 RBIs, .799 OPS (
Scott Rolen
)
Padres: .249, 18 HRs, 71 RBIs, .712 OPS (
Chase Headley
)
Robinson Cano
chipped in with 28 RBIs in 26 games in the cleanup spot.
2009
Brewers: .299, 46 HRs, 141 RBIs, 1.012 OPS (
Prince Fielder
)
Phillies: .276, 44 HRs, 141 RBIs, .914 OPS (Howard)
Marlins: .277, 17 HRs, 104 RBIs, .760 OPS (
Jorge Cantu
)
Royals: .211, 13 HRs, 71 RBIs, .596 OPS (
Mike Jacobs
,
Jose Guillen
)
The Royals easily qualify as the worst cleanup-hitting team of the past 10 years.
2008
Phillies: .253, 47 HRs, 146 RBIs, .885 OPS (Howard)
Royals: .252, 26 HRs, 126 RBIs, .718 OPS (Jose Guillen)
Nationals: .255, 16 HRs, 73 RBIs, .743 OPS (
Lastings Milledge
,
Austin Kearns
,
Dmitri Young
)
And yet the year before, the Royals drove in 126 runs despite a terrible .718 OPS. Of course, you can drive in more runs if you never walk, and Royals cleanup hitter only drew 33 walks.
2007
Yankees: .317, 55 HRs, 160 RBIs, 1.069 OPS (Rodriguez)
Cardinals: .246, 20 HRs, 103 RBIs, .706 OPS (
Jim Edmonds
,
Juan Encarnacion
)
Giants: .267, 32 HRs, 89 RBIs, .911 OPS (
Barry Bonds
)
In his final season, pitchers were still pitching around Bonds.
2006
Phillies: .287, 44 HRs, 144 RBIs, .979 OPS (Ryan Howard)
Royals: .253, 24 HRs, 113 RBIs, .755 OPS (
Emil Brown
,
Reggie Sanders
)
Diamondbacks: .252, 13 HRs, 79 RBIs, .724 OPS (
Luis Gonzalez
,
Conor Jackson
)
The Royals again! And that wasn't the Arizona that lost 111 games (that was 2004).
2005
Red Sox: .294, 48 HRs, 151 RBIs, .956 OPS (
Manny Ramirez
)
Rockies: .264, 27 HRs, 111 RBIs, .797 OPS (
Preston Wilson
,
Matt Holliday
)
Devil Rays: .261, 20 HRs, 81 RBIs, .748 OPS (
Aubrey Huff
)
Yes, it pays to hit in Coors Field.
2004
Red Sox: .289, 43 HRs, 136 RBIs, .951 OPS (Manny Ramirez,
David Ortiz
)
Rockies: .264, 37 HRs, 136 RBI, .844 OPS (
Vinny Castilla
)
Expos: .248, 31 HRs, 106 RBIs, .748 OPS (
Tony Batista
)
Pirates: .238, 21 HRs, 73 RBIs, .744 OPS (
Craig Wilson
)
What, you've forgotten about Craig Wilson?
2003
Rockies: .271, 39 HRs, 149 RBIs, .869 OPS (Wilson)
Reds: .269, 28 HRs, 109 RBIs, .800 OPS (Austin Kearns,
Sean Casey
)
Devil Rays: .256, 14 HRs, 61 RBIs, .710 OPS (Huff,
Travis Lee
)
Remember when Preston Wilson was a star?
2002
White Sox: .328, 46 HRs, 161 RBIs, 1.008 OPS (
Magglio Ordonez
,
Paul Konerko
)
Padres: .261, 24 HRs, 102 RBI, .750 OPS (
Phil Nevin
,
Ryan Klesko
)
Devil Rays: .254, 20 HRs, 77 RBIs, .738 OPS (Huff,
Ben Grieve
)
Ordonez drove in 135 runs for the season.
2001
Indians: .320, 43 HRs, 162 RBIs, .958 OPS (
Juan Gonzalez
)
A's: .241, 23 HRs, 117 RBIs, .722 OPS (
Jermaine Dye
,
Terrence Long
)
Devil Rays: .270, 23 HRs, 89 RBIs, .801 OPS (
Fred McGriff
,
Greg Vaughn
)
That 162 RBIs is the most from any batting order position since 2001.
Follow David Schoenfield on Twitter @dschoenfield.
July, 23, 2009
7/23/09
2:08
PM ET
Near the end of an entertaining Q&A over at
the Freakonomics blog
, Buster Olney lobs a mini-bombshell while discussing award voting:
A vote based purely on a Sabermetric analysis would have its pitfalls as well. There was one year when a star player told a couple of writers that he would never speak to them again if they voted for a certain rival on their ballots, a situation that threatened to undermine that team's clubhouse; and after confirming that appalling story, there's no way I would've ever voted for that player for M.V.P., a situation that a SABR-like approach would've never addressed. In short - yes, I think the writers do the best possible job on the voting because they have the ability to meld all the factors mentioned above. (Now, the question of whether writers should be involved in the voting - and creating news - is another ethical question altogether.)
Ah, a mystery! If Buster wanted to reveal the identity of the "star player" he would have done it already, and I'm not going to put him on the spot.
However, I will report that I was in Seattle in 1996, when Alex Rodriguez would have edged Juan Gonzalez for the MVP if both Seattle voters hadn't listed Ken Griffey, Jr. first on their ballots. Ever since, there have been rumors that Junior or Alex or both were clear to the writers about their favorite candidates. And I'm told by an unimpeachable source that Rodriguez, 13 years later, still holds a grudge against those two voters.
Delicious, right? Someday, when all the involved scribes have taken the Murray Chass career path, we'll know all. In the mean time, feel free to speculate in the comments.