June, 3, 2014
Jun 3
10:00
AM ET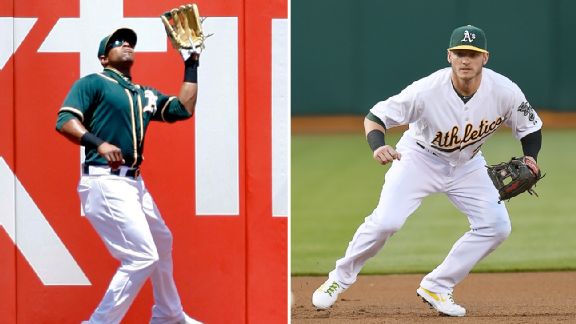 Getty ImagesYoenis Cespedes and Josh Donaldson excelled on defense for the Athletics in May.
The
Oakland Athletics
had the best ERA in the American League in May, and one reason for that was that they had the outfielder with the most Defensive Runs Saved and the infielder with the most Defensive Runs Saved of anyone all month.
Those two players --
Yoenis Cespedes
and
Josh Donaldson
-- finished one-two in our voting for Defensive Player of the Month.
The award is given each month after balloting by ESPN.com writers, members of ESPN Stats & Information and video scouts for Baseball Info Solutions (BIS), which tracks defensive data. Cespedes got five first-place votes and finished with 31 points (we vote with a 5-3-1 system for first through third place), one more first-place and two more points than Donaldson. Troy Tulowitzki
won the award
for April.
Cespedes turned a good month into a great month with a flourish in the final game of May, when
he threw two runners out at the plate
, propelling him to a tie for the Runs Saved lead with Mets outfielder
Juan Lagares
, with 10 apiece.
Even without that final game, this was one of Cespedes' best defensive months in his career. Baseball Info Solutions charted him with eight "Good Fielding Plays" (think Web Gem nominees) and only one Defensive Misplay & Error.
In his first two seasons, Cespedes had 30 Good Plays and 41 Misplays. But May pushed his totals for 2014 to 11 and 6. After catching 28 of 35 balls hit into his zone (the areas in which most left fielders turn batted balls into outs) in April, Cespedes snagged 30 of 32 in May, and had 10 "Out of Zone" catches (up from seven in April). He's also already matched his 2013 total for "baserunner kills" (the term for throwing out a runner without needing a cutoff man) with five.
His infield teammate, Donaldson, already has a pretty stellar rep for his defensive play and solidified that with eight defensive runs saved at the hot corner last month. His 12 Defensive Runs Saved this season lead major league third basemen and already match his total from 2013, when he finished fourth-best in the majors at third base.
Donaldson tied
Jean Segura
for the lead in Good Fielding Plays with 18 and had only five misplays and errors. He's greatly improved his ratio of good plays to misplays, from 63 and 53 in 2013 to 28 and 14 in 2014. Like Cespedes, Donaldson improved on his Revised Zone Rating, going from turning 56 of 73 balls hit into his zone into outs in April to 57 of 67 in May.
Donaldson's presence makes the Athletics' left side of the infield very formidable. The Athletics turned 81 percent of ground balls hit to the left of the second-base bag into outs in May, easily the highest rate of any team (the Pirates finished second at 78 percent).
A few weeks ago, when we asked
Eduardo Perez
for a list of defenders who had impressed him in 2014, he put Donaldson at the top of his list. "I like him a lot," Perez said. "He expects every ball to be hit to him, and he's really good from side to side."
Donaldson excels most at handling balls hit closest to the third-base line,
whether it's due to his positioning or quickness
. Our internal batted-ball tracker had the Athletics giving up hits on only 19 percent of ground balls hit closest to the third-base line in May, well below the average of 35 percent.
Donaldson didn't just have a great defensive May. He had a great offensive one as well, with eight home runs, a .417 on-base percentage and a .990 OPS. Combine his defense and his offensive and you get a Wins Above Replacement total of 2.6, which even outpaced homer-slugging
Edwin Encarnacion
for best in the AL for the month.
Mark Simon helps oversee the ESPN Stats & Information blog and regularly tweets defensive stats on Twitter at @msimonespn
March, 27, 2014
Mar 27
12:44
PM ET
We're getting closer ...
Watched the Baltimore-Tampa Bay game on Wednesday night since it featured Opening Day starters Chris Tillman and David Price. Considering the teams are division rivals, both starters may have held back just a bit and neither pitcher went five innings. I think Price has a huge season coming, one reason I'm picking the Rays to win the AL East. Yu Darvish was going to be my Cy Young pick until his current stiff neck issue means he's going to miss the first week of the season and raises at least a little doubt over his season. I may shift now to Price -- or Max Scherzer or Justin Verlander -- as he became a strike-throwing machine when he returned from his DL stint last season, walking just 13 batters over his final 18 starts. When you can command your stuff like that and throw 95+ mph, a lot of good things are going to happen.
The Angels cut Joe Blanton even though he's owed $8.5 million on his contract. Teams still have a hard time admitting mistakes so give Angels GM Jerry DiPoto credit here for cutting bait. It was a bad deal at the time -- Blanton predictably got hammered in the AL after straddling the line of mediocrity in the NL -- and his poor performance (2-14, 6.04 ERA) was a major reason the Angels finished under .500. Blanton was worth -2.0 WAR last year, so even replacement-level pitching from the fifth spot will be an improvement.
Strong final start from Rockies Opening Day starter Jorge De La Rosa, with six shutout innings against the Giants with one walk and seven strikeouts. The Rockies will need Jhoulys Chacin to come back strong in May but I'm starting to think the Rockies could be that sleeper team to watch -- a team that finished below .500 in 2013 that could make the playoffs. A lot of that depends on the health of some injury-prone players -- Carlos Gonzalez, Troy Tulowitzki, Brett Anderson -- but if the back of the rotation holds up the Rockies could crack .500 and surprise.
The Mets still haven't decided between defensive whiz Juan Lagares and stolen-base dude Eric Young Jr. for a starting outfield slot. The Mets know Lagares can play center -- his great range and 15 assists allowed him to post 26 Defensive Runs Saved in 2013, the sixth-highest total of any fielder -- but also know the .281 OBP he posted may not get any better. OK, I get that he can't hit. But EYJR, who led the NL with 46 steals, had a .310 OBP with the Mets last year. Young has been worth 0.3 WAR in his major league career, Lagares valued at 3.5 WAR a year ago. Lagares doesn't have to improve with the bat to be a more valuable player than Young. Even if his defense slips a little (he may not get as many assists, for example), he's still the better player.
The Pirates locked up Starling Marte to a six-year, $31 million extension, buying out at least one year of free agency and owning options on two more. Looks like a great deal for the Pirates, exactly the kind of below-market rate they need to sign their young players to, and once Gregory Polanco reaches the majors at some point this year, you're going to see what could be one of the best defensive outfields in recent memory with Marte in left, Andrew McCutchen in center and Polanco in right.
Tanner Scheppers was named Opening Day starter for the Rangers, in what will be his first career start. I wonder how many pitchers have made their first career start on Opening Day? If I did the search right on Baseball-Reference, it looks like just three (at least since 1914): Lefty Grove of the Philadelphia A's in 1925, Jim Bagby Jr. of the Red Sox in 1938 and Al Gerheauser of the Phillies in 1943. So who were those three guys? Grove had been a star for years for Baltimore in the International League when the A's purchased him. Bagby, son of a former major leaguer, had gone 21-8 in the Class A New York-Penn League in 1937, enough for the Red Sox to start him against the Yankees as a 21-year-old rookie. Boston had been 80-72 in 1937, so starting a rookie seems a little odd. Gerheauser was a 26-year-old minor league vet who had pitched for Yankees' Triple-A club in Newark in 1942. The Phillies had lost 109 games in 1942, so probably were hoping some Yankee magic would rub off on them. (Actually ... that list looks like pitchers who made their major league debut as an Opening Day starter. Fernando Valenzuela's first career start -- after 10 relief appearances in 1980 -- came on Opening Day of 1981. He pitched a shutout and then reeled off seven more starts in a row of nine innings (one wasn't a complete game). He allowed four runs in those eight starts and we had Fernandomania.
So Randy Wolf was told he had made the Mariners' Opening Day rotation. And then got released. So ... what? Apparently, the Mariners asked Wolf to sign a 45-day advanced-consent relief form, which would mean the Mariners could release Wolf within 45 days and not have to pay his full season's salary. I didn't know such a possible contract existed, and I don't know how common such requests are, but Wolf refused to sign it and became a free agent. (Ryan Divish of the Seattle Times has the story here.) It's understandable why the Mariners would make the request -- Wolf didn't pitch in the majors last year and was last effective in 2011 and it's possible he would simply be holding a spot for a few starts until Taijuan Walker is ready, but considering Wolf was set to make just $1 million, it makes the Mariners look petty and cheap. It's already hard enough to get players to come to Seattle; this isn't going to help.
December, 29, 2013
12/29/13
9:31
AM ET
Today, Buster Olney
rated the top defensive teams in the majors
. We thought we would take the time to look at the offseasons for each team from a defensive perspective. Here's our National League look:
NL East
Braves:
The big change for Atlanta will be dealing with the departure of
Brian McCann
, whose strike-stealing skills will be hard to replace.
Evan Gattis
and
Gerald Laird
will try. Gattis may be better than you think (3 Defensive Runs Saved in 2013). By our tally (and that of StatCorner's
publicly available data
), he ranked among the best in the majors at getting pitches in the strike zone to be called strikes.
Marlins:
The Miami infield rated as average last season, but it has a new -- and potentially worse -- look in 2014, with shortstop
Adeiny Hechavarria
as the lone holdover. The Marlins will try
Garrett Jones
(and his negative-22 career Runs Saved) at first base,
Rafael Furcal
at second base (last played there for two innings in 2004) and
Casey McGehee
at third (bad numbers there in 2009 and 2010, but average in 2011). They'll also have
Jarrod Saltalamacchia
catching; he typically rates bottom of the pack when it comes to defensive metrics.
Mets:
The big story for the Mets will likely be how three center fielders coalesce in the outfield. If it works, the Mets could have the best ground-covering combo in the league. The likely alignment will be
Curtis Granderson
in left,
Juan Lagares
in center and
Chris Young
in right, though Young could shift to center (with Granderson moving to right and
Eric Young
to left) if Lagares' offense isn't to the Mets liking.
Nationals:
Washington hasn't done anything to tinker with its primary starting unit. Arguably the biggest worry will be making sure
Bryce Harper
doesn't overhustle his way into any walls as he did last season. The other thing that will be intriguing will be how new acquisition
Doug Fister
fares with a better infield defense behind him than he had in Detroit the past couple of seasons.
Some think that could bode really well
.
Phillies:
Many scoffed at the
Marlon Byrd
contract, but he represents a
huge
defensive upgrade for the Phillies in right field. The transition from John Mayberry Jr.,
Delmon Young
,
Darin Ruf
and
Laynce Nix
to Byrd represents a swing of 31 Runs Saved (the four combined for negative-19 Runs Saved; Byrd rated among the best with 12).
The Phillies still have a lot of defensive issues, though. First baseman
Ryan Howard
has minimal range. Shortstop
Jimmy Rollins
may still pass the eye test but has rated poorly three years running (negative-30 Runs Saved in that span). Their third-base combo rated almost as badly as right field. And primary center fielder
Ben Revere
had all sorts of issues with balls hit over his head last season. There is a lot of potential trouble brewing for 2014.
NL Central
Brewers:
Ryan Braun
will not just be returning from a performance-enhancing drug suspension. He'll also be playing a new position, right field, as the Brewers announced their intention to shift him from left field. Braun has 23 Runs Saved over the past four seasons, but the deterrent value of his throwing arm, which is minimal to below average, will now be a bigger factor. He'll have to be pretty good all-around to match what the team got from
Norichika Aoki
& Co. (combined 13 Defensive Runs Saved).
Cardinals:
St. Louis ranked second to last in the NL in Defensive Runs Saved last season and had only one position that rated above the major league average. That shouldn't happen again.
The Cardinals have moved
Matt Carpenter
from second to his natural spot at third, where he should be an upgrade over
David Freese
. Freese was traded to the Angels for
Peter Bourjos
, who, if his hamstrings are healthy,
could be a 20-plus run improvement
over
Jon Jay
in center field. Another great glove in
Mark Ellis
signed to share second base with
Kolten Wong
, which will be an improvement over Carpenter. And
Jhonny Peralta
probably is no worse than on par defensively with the man he'll replace at short, Pete Kozma. In sum, the Cardinals could be the most-improved defensive team from last season to this season.
Cubs:
The Cubs aren't vastly different from what they were at the end of last season, at least not yet. Their outfield defense needed an upgrade, and the one thing they've done to that end is obtain
Justin Ruggiano
. He has fared both well and poorly in center field in the past. Ruggiano may get a full-time shot to see what he can do in 2014.
Pirates:
Pittsburgh liked
Russell Martin
so much it brought in a defensive standout to back him up in
Chris Stewart
. Stewart
excels in all areas
and could invert what the team got in 2013 from its backup catchers (negative-6 Runs Saved). The Pirates were also smart about keeping
Clint Barmes
around on a low-salary deal. He's no
Andrelton Simmons
, but he rates
among the best defensive shortstops
in the league.
Reds:
Cincinnati will give
Billy Hamilton
every chance to be the every-day center fielder in 2014. He
rates as "fine,"
which will be a major upgrade from the struggles of
Shin-Soo Choo
, who was forced to play out of position last season. The Reds will also fully take the training wheels off
Devin Mesoraco
with outstanding defender
Ryan Hanigan
having been traded to the Rays. Keep an eye on that one. The security of having Hanigan could be a big loss on the defensive side.
NL West
Diamondbacks:
Mark Trumbo
shifted back and forth between first base and the outfield with the Angels, but he should be the full-time left fielder in 2014 for a team that had four players with 25 or more starts at the position last season. Trumbo showed he could handle left in a stint there with the Halos two seasons ago (a better fit there than in right). My guess is the
Diamondbacks will play him deep
and concede some singles to limit the number of times he'll have to retreat to chase a potential extra-base hit.
Dodgers:
Yasiel Puig
posted a terrific defensive rating in his initial stint in the big leagues (10 Runs Saved), but one concern the Dodgers will have was visible in the NL Championship Series -- how Puig does at limiting his mistakes.
Puig ranked 20th in innings played in right field last season but had the seventh-most Defensive Misplays & Errors (22) based on Baseball Info Solutions' video review. Over 162 games, that might not
affect his overall rating
, but that sort of thing could play a large role in swinging a couple of important games one way or the other.
The loss of Mark Ellis could also be big, though the jury is out until we see how
Alexander Guerrero
handles second base.
Giants:
San Francisco cast its lot with a pair of outfielders who will look a bit awkward in the corners, with Mike Morse in left and
Hunter Pence
in right. This could be a problem if the pitching staff is fly ball inclined. Pence is at negative-16 Runs Saved over the past two seasons. Morse fits best as a DH, and his value will be in whether he can drive in more runs than he lets in. Whoever the Giants' center fielder is this season will have his work cut out for him.
Padres:
San Diego will look to run
Seth Smith
, whom it got from the Athletics for
Luke Gregerson
, in right field. This could be a little dicey. Smith has negative-13 Runs Saved in the equivalent of about a season's worth of games there. Expect
Chris Denorfia
(21 career Runs Saved in right) to remain as a valuable fourth outfielder, late-game replacement.
Rockies:
The big defensive-themed news for the Rockies this offseason was their decision to commit to Gold Glove left fielder
Carlos Gonzalez
as a full-timer in center after trading
Dexter Fowler
. So long as he's not the Gonzalez of 2012, who looked a little heavy and finished with negative-13 Runs Saved, that should work out all right.
Colorado does have a lot of flexibility in its outfield with
Brandon Barnes
and
Drew Stubbs
coming off the bench for now. Either could come in as a late-game replacement for
Michael Cuddyer
if needed, and we wouldn't be surprised if either got some significant playing time in left field too.
September, 2, 2013
9/02/13
11:12
AM ET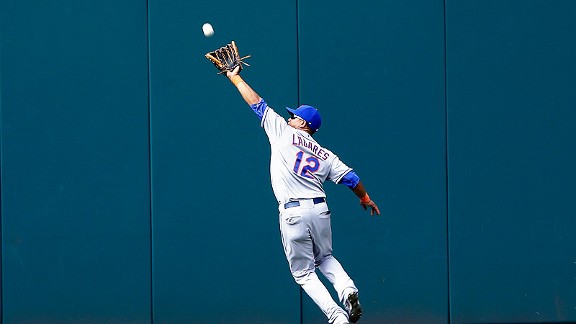 AP Photo/Alex Brandon
Juan Lagares has made tough catches look routine since being recalled by the Mets.
New York Mets
rookie outfielder
Juan Lagares
had to beat out the best of the best to win the Defensive Player of the Month award for August.
Lagares topped two-time 2013 winner
Andrelton Simmons
and impressive
Colorado Rockies
rookie
Nolan Arenado
to take the award this month.
It was well-earned. Lagares led the majors with 12 defensive runs saved in August (one more than Simmons, three more than Arenado). That value came both from his ability to range far outside his position to catch balls and from a throwing arm that has ranked among the best in the sport since his arrival.
Lagares was credited with 22 "Out of Zone" putouts by Baseball Info Solutions in August, with an Out of Zone catch defined as one made in an area in which center fielders turn batted balls into outs less than 50 percent of the time.
Lagares had 67 Out of Zone plays in 663 2/3 innings in center field through the end of August. His rate of one Out of Zone catch for every 9.9 innings (basically one per game) played ranks best in the majors at that position.
Good examples of his glove work include these two plays,
one in which he came in
to rob
Jedd Gyorko
of the
San Diego Padres
and this one in which he went all the way back to the fence to
steal a hit
from Twins outfielder
Josh Willingham
.
Lagares, a converted infielder, didn't even figure to be the team's top defender coming through their farm system. That honor belonged to recent call-up
Matt den Dekker
, who made ESPN's Top 10 plays a couple of times before even making the majors. But when den Dekker got hurt this spring, and the Mets needed a lift from their outfield reserves after
Collin Cowgill
fizzled in an initial tryout, Lagares took advantage of his opportunity.
"His confidence is sky high as far as going to get balls," Mets outfield coach
Tom Goodwin
told ESPNNewYork.com's Adam Rubin prior to Sunday night's game against the
Washington Nationals
. "You lose that instant excitement when you first get here, and the jitters, and he doesn't have that anymore. He just goes out there and plays the game. That's the biggest compliment I can give him. He's really matured beyond his years."
Lagares leads the National League and ranks second in the majors in outfield assists with 12, trailing only
Kansas City Royals
left fielder
Alex Gordon
. He's become a deterrent to baserunners both due to his positioning (he likes to play shallow) and his instincts (he gets to balls quickly).
"You'll see him get to some balls where they're line drives and he's getting to them on the first hop, instead of two or three hops later," Goodwin said. "His routes are outstanding. His reads are outstanding. And when he comes in, he makes good, strong, accurate throws."
Simmons had what has become a typical Simmons month with his 11 defensive runs saved. He has 39 defensive runs saved and will break the record for most defensive runs saved in a season, which was set by
New York Yankees
outfielder
Brett Gardner
with 35 in 2010. Arenado (30 defensive runs saved) and Manny Machado (31) are neck-and-neck for the lead for third basemen.
Also impressive this month were
Minnesota Twins
second baseman
Brian Dozier
, who led the majors with 25 "good fielding plays" (think plays that would be Web Gem nominees), and
Los Angeles Angels
outfielder
Mike Trout
, who despite
the struggles we noted last week
had seven defensive runs saved.
August, 20, 2013
8/20/13
11:20
PM ET
There's a team in New York that's worth watching these days, one that has struggled to score runs much of the season, has been entangled in some legal issues and is in need of a shortstop.
I'm talking, of course, about the
New York Mets
.
Just like their rivals from the Bronx, the Mets aren't going to make the playoffs; unlike the Yankees, however, the Mets have a future that isn't full of aging stars, bloated payrolls and
Vernon Wells
.
That future was on display on Tuesday night in the form of
Zack Wheeler
and a right arm that has enough electricity to light up at least a few of the auto body shops that surround Citi Field. Wheeler took a shutout into the seventh inning against the
Atlanta Braves
, pumping up a home crowd on a warm August evening in Queens. The Mets held on for a 5-3 victory, and while everyone will be talking about the Yankees' doubleheader sweep of the Blue Jays, it's Wheeler and the Mets that are more exciting.
Wheeler is the future to Matt Harvey's present, a guy with a big fastball and ace potential. He may never reach that apex -- he doesn't yet have Harvey's command, let alone his complete arsenal of secondary pitches -- but he has pitched much better than I expected after watching his first couple big league starts, with a 3.49 ERA through his first 12 spins in the rotation. Those outings included a 12-strikeout gem in his previous start in San Diego and a one-run, no-walk effort the game before that in Arizona.
Wheeler's fastball is a weapon almost by itself. Since his recall on June 18, only 10 pitchers have struck out more batters on fastballs. His other pitches -- slider, curveball and changeup -- are works in progress, with the slider looking like it will become his top off-speed pitch. Ask
Jason Heyward
about the one he struck out on in the third inning.
Wheeler tired a bit in the seventh, walking
Joey Terdoslavich
and Heyward with one out, and then watching
Andrelton Simmons
clear the bases with a three-run double off reliever
Carlos Torres
. But I like that Terry Collins initially left Wheeler in there to try to work out of a jam; he's a young pitcher who needs to learn how to close out those innings. He didn't on this night (he left after 114 pitches) but the belief is that he'll get there soon.
[+] Enlarge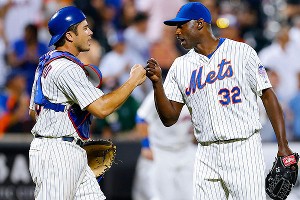 Rich Schultz/Getty ImagesCatcher Travis d'Arnaud, another big reason for the Mets to be excited about their future, got his first hit.
On a night Wheeler pitched, catcher Travis d'Arnaud picked up his first major league hit. He's the highly rated prospect the Mets got from Toronto in the
R.A. Dickey
trade. He spent most of the minor league season on the disabled list, but check out these numbers from his 19-game stint in Triple-A: 21 walks, 12 strikeouts. In four games with the Mets, he's drawn five walks. Have to love that approach, although his injury history is a concern.
Ike Davis
continued his torrid stretch, going 2-for-4 with an RBI single and eighth-inning home run, and I know, it's Ike Davis and this happened last year as well. He was hitting .161 on June 6 when sent to the minors, but since his return to the Mets on July 5, he's hit .282 with a .450 on-base percentage -- only
Joey Votto
,
Mike Trout
and
Paul Goldschmidt
have drawn more walks in that time frame. Is he going to be the star we once thought? No, but maybe if this new ability to get on base is legit, he's going to be a very useful piece in the lineup.
Then there's
Juan Lagares
, the speedy rookie center fielder who has played outstanding defense in center field. Entering Tuesday, Baseball Info Solutions had credited Lagares with 21 defensive runs saved, tied for fifth most of any player in the majors, at any position. But Lagares has done that in about two-thirds the innings that
Carlos Gomez
, the highest-rated outfielder, has played. Defensive stats aren't perfect and single-season numbers can certainly be questioned, but it appears that from both the metrics and the anecdotal reports, Lagares could be an elite defender. Now, his bat may not play -- 66 strikeouts versus nine walks is an issue -- but there's hope here.
Behind Harvey and Wheeler in the rotation there is solid
Dillon Gee
,
Jonathon Niese
and promising
Jenrry Mejia
, who was just shut down after five impressive starts. He'll have surgery to remove a bone spur from his elbow. Noah Syndergaard and Rafael Montero started the Futures Games and are two top pitching prospects who have reached Double-A. The Mets can dream of a 2015 rotation of Harvey, Wheeler, Syndergaard, Montero and Mejia.
The Yankees, meanwhile, have players just trying to stay awake in the late innings.
Maybe the Yankees hang in this wild-card race -- although at 5.5 games behind the A's and with the Rays and the Orioles and Indians still a game ahead of them it will take exceptional baseball from the Yankees and bad baseball from at least one of the A's or Rays for a playoff berth to happen. More likely, the Yankees fall short and they'll have to figure out how to reload for 2014.
Maybe they can figure out a way. Maybe they make peace with
Alex Rodriguez
, he gets his suspension reduced and hits 20 home runs in the second half. Maybe
Derek Jeter
,
CC Sabathia
and
Mark Teixeira
all return healthy and perform. Maybe they replace
Mariano Rivera
without a hitch. Maybe.
Just don't be surprised if it's the Mets who start getting the back page covers in the New York tabloids next year. They need a shortstop -- how about a trade for
Starlin Castro
? -- and they should go hard after free-agent outfielder
Jacoby Ellsbury
. The bullpen needs some work but that can be fixed. But Mets fans can see a foundation building instead of crumbling.