February, 2, 2012
2/02/12
11:00
AM ET
By
Javier Maymí, ESPNdeportes.com
| ESPN.com
Note: You can watch all the action from the Caribbean Series on ESPN3.com. Thursday's games: Venezuela versus Puerto Rico at 1:45 p.m. ET and Mexico versus Dominican Republic at 5:55 p.m. ET.
SANTO DOMINGO, Dominican Republic -- The Caribbean Series is a showcase for the best winter league talent, in part so scouts can have a firsthand look at the developing talent and their progress. This Series is no exception as many teams get ready to open spring training and search for solutions that may come at a reasonable price tag.
Here's a look at 10 players who may be on the bubble for a major league roster spot.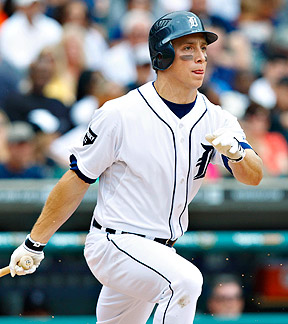 Rick Osentoski/US PresswireThe Tigers hope Andy Dirks displays the same clutch-hitting this spring that he's shown in the Dominican winter league.
1. Andy Dirks (Leones del Escogido)
-- Dirks is 2-for-2 when it comes to winter ball. Last year he won a Dominican League championship with the Toros del Este and this year was picked up by Escogido after the Toros were eliminated in the regular season. At age 26, Dirks is perfectly positioned to make the Detroit Tigers' roster now that
Magglio Ordonez
is gone and
Delmon Young
could see time at DH. Dirks had a solid winter, especially in the Dominican postseason as it was his game-winning single which clinched the title for Escogido in an exciting best-of-nine series over the Aguilas Cibaeñas.
2. Barbaro Canizares (Yaquis de Ciudad Obregón
) -- With all the talk about Yoenis Cespedes, Canizares played this winter as if he had something to prove. Canizares, a former member of the Cuban national team, left Cuba in 2004. He established residency in Nicaragua and eventually signed with the
Atlanta Braves
, but after five games in the big leagues in 2009 was discarded by the organization. Canizares toiled last summer in the Mexican League, batting .312 with 20 home runs and 55 RBIs with a 1.032 OPS in 65 games with the Mexican Pacific League champion Yaquis. He's hoping that performance can earn him a ticket back to get on track to a major league gig.
3. Luis Hernandez (Tigres de Aragua)
-- Aragua's shortstop has the inside track to claim the utility infielder role with the
Texas Rangers
. At 27, Hernandez has a privileged glove and 120 games of major league experience under his belt with the
Baltimore Orioles
,
Kansas City Royals
and
New York Mets
. The Rangers are taking a long look at Hernandez, who would join fellow countryman
Elvis Andrus
should he make the big club.
4. Yohan Pino (Tigres de Aragua)
-- This right-handed pitcher had a strong 2011 Double-A season in the
Toronto Blue Jays
system as he struck out 104 in 95 innings, with just 14 walks. During the Venezuelan League's regular season he posted a 1.97 ERA over 45.2 innings. Pino just turned 28 and many believe he is heading toward his prime and ready for the bigger stage.
5. Nelson Figueroa (Indios de Mayagüez)
-- At 37, Figueroa did some of the best pitching of his career this winter. After spending 2011 with the
Pittsburgh Pirates
and
Houston Astros
in Triple-A, Figueroa earned a minor league deal with the Blue Jays, who seem to be looking at every option out there to strengthen their rotation and bullpen.
6. Julio Borbon (Leones del Escogido)
-- Borbón is on the outside looking in for the Rangers' backup outfielder job, but has raised eyebrows recently with a burst of power in his stroke, which saw him bat .355 in the Dominican League final. The Rangers' outfield is basically set with
Josh Hamilton
,
David Murphy
and
Nelson Cruz
(plus prospect
Leonys Martin
), but Borbon's speed and bat could help the Dominican's case for a big league roster spot over
Craig Gentry
. At the very least, Borbon, who is only 25, could be a trade acquisition for a team looking for a center fielder.
7. Jesus Feliciano (Indios de Mayagüez)
-- After 13 years in professional baseball, Feliciano only has 53 big league games, all with the New York Mets. The left-handed hitting Feliciano had a particularly good winter, however, which earned him a minor league deal with the
Tampa Bay Rays
with an invite to spring training. The Rays are projecting an outfield with
Matt Joyce
,
B.J. Upton
and
Desmond Jennings
with
Sam Fuld
or
Brandon Guyer
as the backup. Feliciano could have the spring of his life and make some heads turn.
8. Raul Valdes (Leones del Escogido)
-- Valdes posted a 1.27 ERA in three outings in the Dominican League finals, pitching Game 9 on two days rest, which has led to the Dominican press to dub him the "Dominican Cy Young." The left-hander is headed to camp with the
Philadelphia Phillies
after splitting 2011 with the
St. Louis Cardinals
and
New York Yankees
and while he has no shot at a starting job in Philly, some scouts here feel he could contend for a lefty reliever role since the Phillies currently only have three lefties in their 40-man roster in
Joe Savery
,
Dontrelle Willis
and
Antonio Bastardo
(who coincidentally will also be active in Santo Domingo with Aragua).
9. Luis Ayala (Yaquis de Ciudad Obregón)
-- For two weeks now it has been rumored that Ayala is weighing offers from the
Los Angeles Angels
and Baltimore Orioles, but has given no hint as to where he's leaning. Ayala had a consistent season in the Mexican Pacific League as he reached the 60-save milestone to become only the seventh MPL pitcher to reach that mark. After going 5-0 with the Yankees in 2011, his stock as a set-up man has risen sharply.
10. Irving Falu (Indios de Mayagüez)
-- Falu had a surprising 2011 batting .301 for Triple-A Omaha and is in a group of six infielders battling for three roster spots on the Royals' roster. A natural shortstop, Falu is unlikely to beat out
Yuniesky Betancourt
, the Royals' offseason acquisition, but could very well be in play for a utility role with a strong spring if
Johnny Giavotella
falters and Betancourt wins the second-base job.
December, 4, 2011
12/04/11
11:48
AM ET
By
Christina Kahrl
| ESPN.com

Now in its last year of existence, baseball's short stack will get rounded out to five teams when the Astros enter the American League in 2013. But in the meantime, it's another four-way wrestling match. However, it's also a starkly segregated division. On one side, you've got the defending pennant-winning Rangers (twice over) and their chief rivals, the Angels. On the other side, the Athletics have won 74-76 games in four of the last five years, while the Mariners have been stuck in the 60s for wins in three of the last four.
Texas Rangers
1.
Rotation: Add a veteran? Or re-sign C.J. Wilson?
It isn't that what the Rangers have right now isn't good -- most teams would love to have a young quartet as talented as
Neftali Feliz
,
Derek Holland
,
Alexi Ogando
and
Matt Harrison
lined up with
Colby Lewis
. They could probably win the division with that. But is any one of them that stopper you expect to beat a playoff team with? Holland or Feliz might grow into it, or Ogando, but do the Rangers want to count on the Madduxes and the talent, or will they hedge their bets by bringing Wilson back or going after someone like
Roy Oswalt
?
Likely solution
: If they don't bring Wilson back or win the bidding on a high-profile vet with playoff experience like Oswalt, they'll opt out and not buy a veteran guaranteed rotation slot just for the sake of it. It'll be either a significant upgrade or some retread for organizational depth, with nothing in between.

2.
First base -- Settle or shop?
Last season, it might have seemed like they did quite nicely without having an everyday answer, rotating
Mitch Moreland
,
Mike Napoli
and
Michael Young
through the slot. However, Young isn't much of a first baseman, Moreland failed to develop at the plate and Napoli spends a good chunk of his time catching. Rangers first basemen rated a whopping 12th in the American League in OPS, beating out only the A's grab bag of prospects and the Rays rentals. While they're not likely to get in on
Prince Fielder
or
Albert Pujols
, is there anyone else worth chasing?
Likely solution
: Unless the Rangers want to revisit last winter's drama of shopping Michael Young, it doesn't seem likely that they'll end up spending serious money at first base. Seeing if Moreland develops at age 26 while they settle for good defenders in center wouldn't be the end of the world, but this is the team that might get the biggest benefit from sneaking in on
Carlos Pena
.
3.
Center field -- Settle or shop?
The Rangers will need to sort out whether or not they want to add someone new to the mix.
Josh Hamilton
made only a month's worth of starts in the middle pasture, and the Rangers spent much of the season with
Endy Chavez
and Gary Gentry batting ninth and splitting time in center while Julio Borbon's season was lost to injuries. Will they settle for Gentry and Borbon in 2012, and take their blend of defense and OBP? The market isn't exactly rich in alternatives.
Likely solution
: Here, they can let it ride or go cheap on another defensive specialist, say,
Rick Ankiel
, with the hope that he rebounds in the Ballpark's friendly confines. There's not a lot of point in overpaying the likes of
Coco Crisp
to be just slightly better.
Los Angeles Angels of Anaheim
The biggest issue was finding a solution to the
Jeff Mathis
fetish, but they've addressed that with their pickup of
Chris Iannetta
. Even if Iannetta's .707 OPS outside of Coors Field might be a splash of cold water for folks expecting the second coming of
Mike Piazza
, he's still a bigger slice of that pie at the plate than Mathis will ever be.
1.
A premium bat.
You'd think that with Albert Pujols, Prince Fielder and
Carlos Beltran
on the market this would be easy, but the Angels are stacked with bodies (if not bats) at the corners. Figuring where to go for a premium hitter is the real trick, because the Angels have stuck themselves with so many ex-famous people, and that's without getting into what they need to do with
Mark Trumbo
if Kendrys Morales' comeback works out. The rumors of interest in the Mets'
David Wright
to play third base makes some sense as a deal from depth, but acquiring Wright for
Peter Bourjos
-- which is really only a good idea if they know they can work out an extension with Wright -- wouldn't erase their overlapping issues at first base, DH and the outfield corners.
Aramis Ramirez
is notionally the same sort of fix, except his play at third base leaves a lot to be desired; it wouldn't be long before he wound up playing a lot of DH or first base.
Likely solution
: It won't be easy to work something out, but third base is a good place to go. But they can't settle for getting one year of Wright before free agency for five of Bourjos and call it a day. Ideally, Jerry Dipoto needs to swap out one of the aging stiffs
and
bring in a real thumper, no easy feat. If he manages it, he might automatically win the label for Hot Stove MVP. If he also gets Morales back and bopping in 2012, the offense will be better still.

2.
Starting pitcher (Joel Pineiro, free agent, plus Tyler Chatwood was dealt)
Even if
Garrett Richards
is almost ready and regardless of whether or not you want to believe
Jerome Williams
is an answer, they're best left to fight it out for the last slot. Because of the mess on offense, one way to compensate would be to add a premium starter to help keep more games in reach. Unfortunately, the market isn't stocked with quality options, but chasing after C.J. Wilson is an obvious avenue to pursue, giving the rotation a quality lefty to balance their reliance on
Jered Weaver
,
Dan Haren
and
Ervin Santana
up front.
Likely solution
: Signing Wilson would be the easy solution. They hold 2013 options on Haren and Santana, but beyond that, it's Weaver and nobody in terms of commitments. Signing Wilson would address that while providing balance.
3.
Making room for Mike Trout.
The ex-famous people problem is the real issue here.
Torii Hunter
will be turning 32 next summer; he isn't going to get any better. Trumbo's just the new Dave Kingman
if
he builds on his rookie season. Bobby Abreu's power is a distant memory, and Vernon Wells' dead-cat bounce in 2011 only went so high. These are the guys in Trout's way to everyday play, not Bourjos.
Likely solution
: It's easy to say these things will sort themselves out, but by July, it's doubtful that Trout will be any more ready than he already is. Eating the $63 million it'll cost to employ Wells the next three years might be more affordable because Trout's under contractual control for the next six years.
Oakland Athletics
1.
Bodies to play in the outfield. (David DeJesus signed with the Cubs, and Coco Crisp and Josh Willingham are free agents.)
If you're an outfielder, the A's need you, because all three regulars are outbound.
Ryan Sweeney
might get to man one corner, and you might hope that Jermaine Mitchell mounts a bid on the job in center. But the A's really need to sign an outfielder or two, ideally one who can play center. Re-signing Crisp as a placeholder seems to be getting a lot of consideration, which would be a return to the lamentable legacy of Willie Wilson serving time in this outfield in the '90s, and cause for joy for nobody. After a .960 OPS between Double- and Triple-A, Mitchell's interesting as an athletic, late-developing farmhand, but he'll be 27 next year. There's also
Michael Taylor
, once considered one of the top prospects in baseball, and currently more of a source of frustration after two mediocre seasons at Sacramento.
Likely solution
: The only likelihood is that the fixes will be cheap. Whether it's a matter of absorbing the tail end of other people's bad-news deals if they're footing the bill, renting hitters a year removed from free agency like DeJesus and Willingham, or sifting through the bargain bin, get ready for a new temp crew.

2.
Power: 12th in the AL and 24th in MLB in Isolated Power (ISO)
Even if they wind up with outfielders like the ones we've noted, it isn't like Crisp or Mitchell or Sweeney provide any power, which the A's will sorely need with Willingham's departure. Between
Brandon Allen
,
Chris Carter
,
Daric Barton
and Kila Ka'aihue, they might have in-house answers for first base and DH, but a multitude of options is not the same thing as having answers.
Likely solution
: Ditching
Hideki Matsui
has helped open room for the crowd of first base/DH options, and a full season from Scott Sizemore at third base should help, but don't be surprised if the A's spring for one slugger to man first, DH or one of the outfield corners. It might help them remain 12th in the league.
3.
San Jose or bust
.
This is really the most important issue for the franchise this and every winter until it's resolved, but team owner Lewis Wolff is slowly wading through
lawsuits by proxy
and MLB's indecision over territorial rights to Santa Clara County to complete a ponderously slow attempt to move south within the East Bay region. The mayor of San Jose asked for this to be fixed two years ago; he was politely ignored. The city's now trying to sell land to Wolff for the express purpose of building a ballpark, but it's unclear if he'll be allowed to move his team to the city out of an exaggerated consideration for the Giants' claim. If the A's were generous in ceding rights to San Jose when the Giants were moving into their new digs (away from San Jose), the Giants have been selfish in subsequently asserting their claims.
Likely solution
: There isn't one. The A's and their fans as well as the cities of San Jose and Oakland remain hostage to the original sin of Bud Selig and company for sloppily and generously granting the Giants these rights in the first place. It's up to the industry to fix that error, but so far there's been an abdication of authority from MLB in the face of noisy assertiveness from the Giants. The Giants are well within their rights and understandably acting out of self-interest -- either to try and force the A's out of the market, or extort an ill-gotten payday -- but this needs fixing. With the CBA and Astros' sale done, this should be the top item of business for the commissioner. Let's see if he treats it that way.
Seattle Mariners
1.
A middle-of-the order thumper. (.115 ISO, 28th in MLB)
You can blame playing in Safeco, but that goes only so far, as the Mariners' .658 OPS on the road was only slightly better than their awful .623 OPS in home games. Much of the problem is self-inflicted -- they're the team that values punchless shortstop
Brendan Ryan
for his virtues afield more highly than any other, after all. While the holdovers in the outfield almost all endured horrific 2011 seasons, a group that includes
Ichiro Suzuki
,
Franklin Gutierrez
,
Trayvon Robinson
,
Mike Carp
and
Michael Saunders
is capable of doing better. Which really leaves third base, DH and possibly first as the places where GM Jack Zduriencik might add an impact bat. This has fed into a lot of speculation over Zduriencik's former Milwaukee connection to Prince Fielder.
Likely solution
: Landing Fielder would be a major coup, but it would be a fairly extreme act of faith by Fielder that Zduriencik's going to get this thing turned around during the life of his contract, assuming Seattle even has the money for that kind of offer. It's more likely that the Mariners will have to settle. A right-handed bat would be great for their lineup's balance, but Safeco is death on right-hander power, suggesting that someone like Aramis Ramirez wouldn't be a good fit. Guys like
Casey Blake
and
Ryan Ludwick
are familiar to manager Eric Wedge from their days in Cleveland; they're also not really answers. Moving Carp to DH and looking at
J.D. Drew
or
Jason Kubel
would be a little more interesting.

2.
A veteran starter. (Traded Erik Bedard and Doug Fister away.)
This is really about making sure they get innings until a few more of the kids are ready for call-ups. Ideally, any veteran would also be someone they could flip at the deadline. Top prospects like Danny Hultzen and James Paxton might earn September call-ups, but the Mariners need someone to take the ball in the meantime. Because they have a great venue for pitchers and a strong defense to offer as inducements beyond cash, they should be able to find someone interested.
Likely outcome
: They'll get the inning guys like
Aaron Harang
,
Paul Maholm
and
Jon Garland
should be calling the Mariners rather than the other way around; finding somebody will be more a matter of finding someone willing to sign for what they're willing to offer. It would be interesting to see if the M's could induce
Hiroki Kuroda
to sign on rather than return to Japan now that the Dodgers are out of the picture.
3.
Third base: Open
.
Prospects
Alex Liddi
, Francisco Martinez and Vinnie Catricala are all a bit rough at the hot corner, and the Mariners probably have zero interest in giving Figgins another crack at the job after witnessing his .595 OPS in two seasons in Seattle.
Kyle Seager
might get the lion's share of playing time by default if the Mariners don't add a vet for temp duty. It won't cost them the pennant.
Likely solution
: Third base is an area of need for a lot of teams, and if the Mariners are willing to eat most of the $18 million they still owe Figgins, they'd almost certainly find an interested party. They shouldn't waste the roster spot indefinitely if they're not going to play him. A veteran placeholder like Blake might fit here on a one-year deal, assuming Zduriencik doesn't conjure up a better solution with some wheeling and dealing.
Christina Kahrl covers baseball for ESPN.com. You can follow her on Twitter.
May, 17, 2010
5/17/10
12:46
PM ET
Julio Borbon
has been awful. In fact, as BBTiA's Joey Matschulat notes, Borbon is
working on something historical
. What should the Rangers do? Joey's big finish:
Josh Hamilton? David Murphy? Those are last-resort options, the kind you employ when the rest of the center field depth chart has contracted some horrible illness. What would seem to make the most sense on paper is some sort of split playing-time arrangement involving Craig Gentry and Brandon Boggs (both at Triple-A Oklahoma City, and both raking), with Borbon being one roster casualty and Joaquin Arias being the other, and then seeing about working in Endy Chavez if/when he's ready to go, but I question how much faith the Rangers have in any one of the Gentry/Boggs/Chavez triumvirate, particularly as far as their capacity to perform consistently during a pennant race goes.

That the Rangers have been able to maintain a two-game lead in spite of overall replacement-level performance at catcher, first base, third base and center field is a testament to those players who are performing at a very high level, but it's also a function of the relative weakness of this division. Count me among those who simply cannot get comfortable with the idea of putting the Rangers' destiny in another team's hands.
Well, you can count me among those who can't get comfortable with the idea of putting the Rangers' destiny in the hands of Brandon Boggs and Craig Gentry. I mean, I suppose a sort of platoon might be reasonably effective, but baseball men generally despise center-field platoons and I doubt if the Rangers' men are much different.
Joey suggests that the Rangers give Borbon two more weeks to produce, at which point it's time to make a move. These things are inherently imprecise, but I think I would give him at least four weeks unless he's so down on himself that a confidence-building stint with Oklahoma seems necessary rather than momentarily convenient. Because unless Borbon's hurt, he's still the most talented center fielder the club has.
March, 1, 2010
3/01/10
1:56
PM ET
Last year, the Rangers gave a raw kid a big job, and
Elvis Andrus
came through with a fine season and a No. 2 finish in Rookie of the Year balloting. As Jeff Wilson writes, they're
doing it again
:
This season's Andrus is Julio Borbon, installed as the starting center fielder after a flashy big-league debut last season. Though technically not a rookie, Borbon is a young player who must be productive to help the Rangers realize their postseason hopes.

"We'll support Borbon the same way," manager Ron Washington said. "He's going to have some days out there when things may not go right, but he's a kid who wants to learn."

The Rangers are confident that Borbon will find success even though he's going to have plenty thrown at him during his first full big-league season.

He will be the primary leadoff hitter, facing right- and left-handed pitching, and he will be asked to help position the outfield during games.

That's a considerable jump for a left-handed-hitter who had only 16 of his 157 at-bats against lefties and who played only four of his 46 games in center field last year.

--snip--

Washington will also give Borbon plenty of at-bats this spring against lefties. He hit a respectable .276 against Triple A lefties last year and has never lacked confidence against southpaws.

The focus is to have quality at-bats against them, and the hits will follow.

"I haven't shown it statistically, even though it was only 16 at-bats," he said. "I always feel comfortable with them. I like facing lefties. If anything, it keeps me more locked in."
It's cute when players say they
like
facing same-side pitchers. Better that than the other, I guess.
As a professional, Borbon has a .332/.380/.433 line against right-handed pitchers and a .260/.324/.331 line against left-handed pitchers.
It's not been a long career, and it's not likely that those numbers represent his true abilities against lefties and righties. But there's every reason to think Borbon will fare significantly better against righties than lefties.
Better that than the other, though, since there are a lot more righties than lefties in American League starting rotations. Not that Borbon is going to kill the righties, either. Fortunately, he doesn't have to. I'm not sure that I'd give him the leadoff role -- particularly against the southpaws -- but like Andrus, if Borbon plays good defense he's good enough to play regularly. And between his speed and his defensive stats in the minors, I think he'll play good defense.
I also think the Rangers might win an extra game or two if they had a right-handed-hitting fourth outfielder who could occasionally give the kid a break.