SweetSpot:

Justin Duchscherer
March, 4, 2011
3/04/11
11:02
AM ET
By
Austin Swafford
| ESPN.com
Finding the balance between experience and youth can be a tricky line to walk in sports. A winning formula in baseball is often found in those teams that manage to have veteran experience in the right places and youthful energy in others. You don't want to be too old or too young, and experience just for experience's sake is no benefit. The Astros have done a very bad job walking that line and they can serve as a cautionary tale for teams trying to win right now.
There's certainly nothing wrong with trying to win right now if you have the right parts. But I have thought about the lesson that could be learned from the Astros as I have watched the Orioles since the end of last season. They closed 2010 on a good note. They hired Buck Showalter and, with him at the helm, went 34-23 to end the year.
[+] Enlarge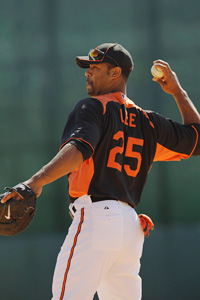 AP Photo/Eric GayThe Orioles signed 35-year-old Derrek Lee, among other veterans, during the offseason.
So, naturally, they looked around at their very talented division and said, "No rush. We have a good manager, we're making good progress and we have young talent. We can be patient while that young talent develops." Right?
It'd be nice if that were the case, but instead of doing that, the Orioles got very involved in free agency, went out and got
J.J. Hardy
,
Derrek Lee
,
Mark Reynolds
,
Vladimir Guerrero
,
Justin Duchscherer
and
Kevin Gregg
. Average age: 31.8.
They're not all old and I don't dislike all of the signings, but why the urgency? Why the apparently desperate need to compete now when they probably won't?
Baltimore is in serious risk of getting mired in the same mud as the Astros since their surprising World Series run in 2005. The Astros haven't been bursting at the seams with young talent the last six years, but they spent four seasons taking what young talent they did have and dishing it to other teams to get veterans to try to compete now. They dealt
Taylor Buchholz
,
Jason Hirsh
and
Willy Taveras
to the Rockies for
Jason Jennings
. They shipped
Luke Scott
,
Troy Patton
and three others to the Orioles for
Miguel Tejada
. At the same time, they signed
Carlos Lee
as a free agent to the biggest contract in club history and patched together their rotation with guys like
Woody Williams
,
Randy Wolf
and
Brian Moehler
.
This not only cleansed the team of promising young players, but also suppressed the development of other young players, because if you're trying to win now, you can't be patient with a guy who struggles through the first couple of months of a season. Where a rebuilding team might recognize its ability to be patient and wait out the growing pains of a young player, a competing team can't afford to take the losses.
Houston spent four years suppressing the development of young players under the delusion that these poorly constructed teams loaded with not-so-good veterans might actually compete. Much like the Orioles, the Astros would go on good second-half runs that convinced the front office that they were just a piece or two shy of competing. Of course, they never even came close.
Much like the Orioles, the Astros finished 2010 on a good note. They had good second-half records, they have young talent and they both appeared to be heading in the right direction for the first time in a long time.
But the Orioles are in danger of falling into the same trap as the Astros. Let them serve as a cautionary tale that a good month and a half doesn't mean the team is a few overpriced veterans away from going to the World Series. Let them serve as a cautionary tale of what happens to a club when they refuse to develop young talent.
Austin Swafford writes Astros 290, a blog about the Houston Astros. You can follow him on Twitter.
October, 9, 2009
10/09/09
7:04
PM ET
Patrick Hayes' prescription for the Tigers? Trade for
Milton Bradley
, and give him the right-field job. Sign free agent
Justin Duchscherer
. Oh, and give a couple of
Gerald Laird
's plate appearances to prospect
Alex Avila
.
Wait, what? Milton Bradley in right field? Really? Yes, really:
Right Field: The outfield needs a makeover, and it's going to start here. Trade Jeremy Bonderman to the Cubs for Milton Bradley. Both make roughly $10 million per year. Bradley is signed for one more year than Bonderman, but the Cubs are desperate to get rid of him, so it's conceivable they'd pay that final year if the Tigers take him.

Jim Leyland is known for working well with head cases. Gary Sheffield didn't produce in Detroit, but he didn't make waves either. So what you say? Well, in NY he was calling Derek Jeter "not all the way black" and Joe Torre a slave master. He's had nothing negative to say about his Detroit tenure. Bradley is not as crazy as Sheff, this can work.

Before signing with the Cubs, Bradley had a career-year in Texas, with a .999 OPS. Once he escapes the racism in Wrigleyville and comes to the more laid back environment in Detroit, he'll be just fine.
Maybe that "racism in Wrigleyville" link is supposed to be sarcastic, but if you actually read the story you'll find that nobody's got any evidence for any sort of racial abuse being heaped on Bradley at Wrigley Field. Leaving aside the intangibles, though, I'm fascinated by this notion that Milton Bradley might be someone's every-day right fielder for some extended stretch of time.
He's been in the majors for 10 seasons. He's started more than 110 games in the outfield exactly once. Players don't generally get healthier as they age; in fact, they generally get less healthy. Which doesn't mean the Tigers couldn't use Bradley. Hayes has slotted Magglio Ordonez as the Tigers' DH, but he's not a terrible outfielder and could simply continue playing right field.
Would adding Bradley and Duchscherer really make a difference next season? Probably not. Even if Bradley stays healthy enough -- physically and emotionally -- to play 140 games and the Duke gives the Tigers 175 good innings, the Tigers would still need a bit of luck to reach the 90 wins it will likely take to capture the AL Central. The basic problem is that in 2010 the Tigers will spend $50 million on Ordonez, Jeremy Bonderman, Dontrelle Willis, and Nate Robertson ... and only one of those fellows is likely to be more than just moderately useful.
It's not easy to win that way, particularly without a great deal of creativity. Maybe Dave Dombrowski will surprise us.
April, 8, 2009
4/08/09
3:04
PM ET
Good (if preliminary)
news from YankeeLand
:
BALTIMORE -- Alex Rodriguez could resume baseball activities back at the team's Tampa, Fla. minor league complex as early as next Monday, New York Yankees manager Joe Girardi said.

| | |
| --- | --- |
| | |
| | Jim McIsaac/Getty Images |
| | A healthy A-Rod would separate the Yankees from the rest of the pack in the American League. |

"He's in a good frame of mind and his rehab is going well," said Girardi, who has been texting Rodriguez over the last month, which the star has spent in Vail, Colo. recovering from hip surgery. "You hope that he doesn't have any setbacks."

Girardi said he is operating under the assumption that the May 15 target date for Rodriguez's return still applies.
Obviously, Alex Rodriguez is
the
X-factor for the Yankees this season. If he's back reasonably soon and plays as usual, the Yankees are as good as anybody. If not, they're just another contender. Which got me to wondering about the other key players among the American League contenders ...
Red Sox: Mike Lowell. Nobody's been talking much about Lowell; speculation generally trends toward David Ortiz or perhaps John Smoltz. But Ortiz will hit and if Smoltz isn't good the Red Sox have other options. If Lowell's not good, though? Jed Lowrie has to slide over, with Julio Lugo taking over as the every-day shortstop.
Rays: B.J. Upton. If the Rays get anything like the Upton we saw last October, there's no obvious reason they can't win 95 games. If they get the Upton we saw from April through September, they're the third-best team in their division (not that there's anything wrong with that). Considering that he's opened this season on the DL, which do you think is more likely?
Indians: Carl Pavano. Yes, I picked the Indians to win the Central. And yes, when I picked the Indians, I knew they were relying on Pavano to win a dozen or so games this season. No, I don't bet real money on my predictions.
Tigers: Justin Verlander. Speaking of lousy predictions, I believe I might have offered Verlander as my Cy Young choice, one year ago. So of course he went 11-17 with a 4.84 ERA, after going 35-15 (and 3.65) over the previous two seasons. Verlander wasn't the Tigers' biggest problem last year, but he might have been their unhappiest surprise. If he can flip that 11-17 around this year, the Tigers should be competitive into September.
Twins: Joe Mauer. Duh.
Athletics: Justin Duchscherer. It's odd to anoint a 31-year-old pitcher with 31 career wins as the key anything, but Duke might be the key to the American League West. I just don't know if the A's win without someone who's likely to win more than a dozen games.
Angels: Kendry Morales. Well, probably not. But the Angels do need to score some runs, and Morales -- finally given the chance to play regularly -- should help at least a little (though it won't matter much if the Angels' two best starters don't get back soon and strong).
For my next trick, I'll come up with a similar list for the National League contenders.