July, 24, 2013
Jul 24
11:50
PM ET
If not for an untimely three-base throwing error on a ground ball back up the middle,
Matt Garza
might have held the Yankees scoreless all night in his Rangers debut. Overall, Garza went 7⅓ innings, allowed five hits, walked none and struck out five on 95 pitches.
Garza made a great first impression as part of a new and improved Rangers rotation. Beginning in spring training, Rangers starters have been ravaged by injuries or lackluster performance all season long. They are one of eight teams with one or zero starters to have made 20 or more starts at this point in the season.
The litany of injuries started early.
Martin Perez
, one of several candidates for the fifth slot in the rotation in spring training, had his left forearm broken by a line drive hit back up the middle in March.
Colby Lewis
and
Neftali Feliz
both had to undergo elbow surgery last year and have yet to return to action this season.
Matt Harrison
had to deal with an inflamed nerve in his back, and he might not return until late August.
The Rangers opened the season with rookie
Nick Tepesch
in the rotation, soon followed by
Justin Grimm
. Neither made matters better for the Rangers: Prior to his inclusion in the Garza trade with the Cubs, Grimm posted a 6.37 ERA in 17 starts with the Rangers, while Tepesch was at 4.85 in 16 starts before landing on the DL with inflammation in his right elbow after his start on July 6.
[+] Enlarge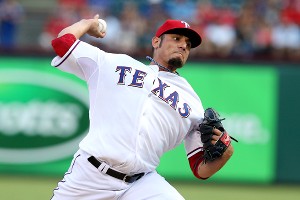 Layne Murdoch/Getty ImagesIf not for one misplay, Matt Garza might have finished his Rangers debut unscored upon.
Through it all,
Derek Holland
and
Yu Darvish
have been the backbone of the Rangers pitching staff. Holland has a 3.10 ERA and Darvish has a 2.86 ERA and a league-leading 161 strikeouts. Sabermetrically, both rank in the top 10 among AL starters by Expected Fielding Independent Pitching (xFIP), a stat that estimates ERA based on strikeouts, walks, and fly balls. Darvish has a 2.82 xFIP, second best in the league, while Holland ranks 10th at 3.48. If the playoffs were comprised of best-of-three series, the Rangers would be good to go. They just had no one to rely on beyond those two.
Enter Garza. He had been fantastic all season with the Cubs, posting a 3.17 ERA over 11 starts since making his season debut on May 21 after recovering from a right lat strain. The Rangers entered tonight 10 games over .500 and only three games behind the
Oakland Athletics
. Replacing whatever amalgamation of starters the Rangers would have ended up using in the No. 5 spot -- while pushing everyone else down a spot -- Garza is a tremendous boon with a little more than two months remaining.
This is not to say that Garza is the panacea for all that ails the Rangers. They still have issues in the outfield, as the combination of
David Murphy
in left and
Leonys Martin
and
Craig Gentry
in center haven't added up to big numbers on offense. The Rangers are also worried that right fielder
Nelson Cruz
might be suspended like
Ryan Braun
for his involvement in the Biogenesis issue. According to reports, the Rangers have expressed some interest in right fielders
Alex Rios
of the White Sox and
Hunter Pence
of the Giants.
Garza was one half of the equation for fixing the Rangers in season. With the addition of an outfielder before the deadline, the Rangers will have everything they need to compete for the AL West title and go to battle in the postseason. A top four of Harrison, Darvish, Garza and Holland is as formidable as any in baseball. The Rangers' bullpen has been unhittable for four months.
As for Garza himself, he simply has to continue doing what he has done throughout his career, which is rely on fastballs and sliders to induce ground balls and limit home runs. Since 2007, his ERA has had a remarkably thin range between 2.87 (2013) and 3.95 (2009). That is the type of consistency the Rangers will need as they prepare for what they hope is a second-half surge that pushes them into postseason action.
July, 3, 2013
Jul 3
11:37
AM ET
Quick thoughts on Tuesday's major league baseball action ...
June, 14, 2013
Jun 14
12:24
AM ET
Jesse Chavez
is essentially the 25th man on the Oakland A's roster. He started the year in Triple-A, got called up, got sent down, got called back up and is working as the low-leverage guy out of the bullpen. Before Thursday, he hadn't pitched since June 5, and the final scores of games he'd appeared in (without a decision) were 6-1, 10-2, 11-5, 6-2, 6-1, 6-3, 10-2, 9-6 and 8-1.
Chavez is the definition of a journeyman right-hander, having pitched for the Pirates, Braves, Royals and Blue Jays before the A's purchased him from Toronto last August. He was a typical Billy Beane acquisition: He has a pretty good arm, fastball in the low 90s, but what Chavez hadn't had was much success at the major league level, with a 5.74 ERA over 191 career innings.
But sometimes you need that 25th guy to come through, and Chavez's other asset is that he had started for Triple-A Sacramento. That ability to pitch multiple innings came into play in Thursday's 18-inning marathon in Oakland, the A's finally pushing across the winning run with a blooper and broken-bat flare off
Mariano Rivera
, winning
3-2
. Chavez was the big hero, however, pitching 5.2 innings of one-hit, scoreless relief. He has a starter's repertoire, with a cutter, curve and changeup. He got two big outs when he entered with two runners on in the 13th, striking out
Kevin Youkilis
and
Vernon Wells
on curveballs.
In the 14th, A's manager Bob Melvin had the guts to intentionally walk
Robinson Cano
with runners on first and second;
Mark Teixeira
popped out to shortstop, missing a hittable fastball. From there it was smooth sailing, as Chavez retired the side in order in the 15th, 16th, 17th and 18th innings. Not bad for your garbage-time reliever.
[+] Enlarge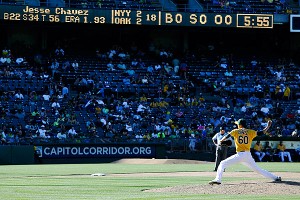 AP Photo/Eric RisbergJesse Chavez got the win for the A's in 5.2 innings of scoreless relief, with one hit and seven strikeouts.
"The last guy they threw was the best guy we faced all day," Teixeira told MLB.com. "That guy is nasty."
It's one of those games that will be remembered if the A's end up winning the American League West. It's that kind of bullpen depth that fueled their second-half surge last season and has fueled their strong start this season. The A's are 33-0 when leading heading into the ninth inning. They're 6-2 in extra innings. When tied through seven innings they're 8-1. This is a tough team to beat late in a game.
The A's have won 11 consecutive games at home and 21 of their past 26, and while they were 7 games behind the Rangers in mid-May, they now lead the division by two games, after the Blue Jays beat
Yu Darvish
and the Rangers
3-1
, dropping the Rangers to 4-8 in June. Injuries to
Ian Kinsler
and
Mitch Moreland
have hurt, but that gets us back to roster depth.
Who is the favorite to win the West? Here's a quick rundown comparing the two teams.
Lineups
Oakland: .246/.328/.397
Texas: .264/.327/.436
Entering Thursday's games, the Rangers had the higher wOBA, but the A's had the slightly better park-adjusted offense. The A's have gotten huge performances from
Josh Donaldson
and
Coco Crisp
, and while some regression might be in order, Donaldson also looks like a much-improved hitter from last season,
as Jerry Crasnick wrote
. On the other hand,
Josh Reddick
(.187) and
Chris Young
(.169) should improve.
For the Rangers, the offense is trending downward. In 2011, they averaged 5.3 runs per game; in 2012, 5.0; this year, 4.4.
Adrian Beltre
and
Nelson Cruz
are doing Adrian Beltre- and Nelson Cruz-type things, but
Elvis Andrus
and
David Murphy
are struggling right now. If Murphy doesn't pick it up, the Rangers might look to add an outfielder.
Advantage: A's.
Starting pitching
Oakland: 29-24, 4.01 ERA; .249/.298/.398; 6.1 innings per start
Texas: 25-21, 3.77 ERA; .251/.311/.391; 5.9 innings per start
The rotations have posted similar numbers, but once you adjust for ballpark, the Rangers' staff has performed better, led by Darvish and
Derek Holland
. FanGraphs WAR rates the Rangers' starters at 8.6 Wins Above Replacement, third-best in the majors, and the A's 12th-best at 5.0.
The good news for the A's is that
Jarrod Parker
pitched well again Thursday. After posting a 7.34 ERA through his first seven starts, he's gone 4-1 with a 2.40 ERA over his past seven, with a .183 average allowed and WHIP under 1.00. His changeup is back to the deadly weapon it was last year, as batters have hit .118 against it in those most recent seven games.

The Rangers have succeeded even though
Matt Harrison
has spent most of the season and the disabled list and
Colby Lewis
all of it.
Alexi Ogando
is also
out again with shoulder inflammation
. The Rangers received some solid work from
Nick Tepesch
and
Justin Grimm
early on, but those two haven't been quite as strong lately, and you have to wonder if the injuries won't catch up to the rotation at some point, at least until Lewis and Harrison return.
Edge: Even. The Rangers have been better so far, but moving forward I think the A's close the gap.
Bullpen
Oakland: 12-3, 2.89 ERA; .227/.289/.358
Texas: 13-7, 3.29 ERA; .240/.313/.368
The Texas bullpen has also been outstanding, especially the back three of
Joe Nathan
,
Tanner Scheppers
and
Robbie Ross
.
Neal Cotts
has added some depth as well. Scheppers has been the big surprise, with a fastball that sits at 94-96 mph and touches 98; he's always had a good arm but might finally be putting it together. He doesn't have a big strikeout rate (21 in 32.1 innings), and I do wonder if he keeps pitching this well. Batters are hitting just .170 off his fastball even though Scheppers' strikeout/walk ratio with the pitch is just 10.9.
Edge: A's. The Rangers have a good pen, but once you get into the fifth, sixth and seventh guys, I think the A's have the advantage.
Defense
Oakland: minus-20 Defensive Runs Saved
Texas: plus-8 Defensive Runs Saved
Ultimate Zone Rating has the clubs essentially even -- Texas at minus-0.3, Oakland at minus-1.3. The big problem area for the A's has been shortstop
Jed Lowrie
at minus-8 DRS. Chris Young, who usually rates very well in the outfield, has also rated poorly at minus-5 DRS. Of course, if he doesn't start hitting, he's not going to get much playing anyway behind Crisp, Reddick and
Yoenis Cespedes
.
Edge: Rangers.
The A's were my preseason pick to win the division, and they look like the better team right now. What do you think?
June, 2, 2013
Jun 2
12:40
AM ET
By
Christina Kahrl
| ESPN.com
When it comes to this year's rookies, as fans I think we sort of came into this season like the kid at Christmas the year after you got the bike
and
the pony, or the new car
and
the Red Ryder BB gun. Because, let's face it, the year after
Mike Trout
and
Bryce Harper
arrived on the scene had to be something of a letdown, right?
Turns out, not so much, at least not in the National League. The difference is that this year the kids are all right on the mound.
Hyun-Jin Ryu
has been one of the few bright spots on a Dodgers team desperate for something worth bragging about beyond its price tag. But the Cardinals'
Shelby Miller
just got his ERA down to 1.82, almost a full run lower than Ryu's, while catching the Korean southpaw in the win column for at least a day, what with Ryu set to take the mound Sunday.
It's a showdown between a pair of outstanding candidates who press many of the hot-button issues about Rookie of the Year voting every season. Some fans -- and perhaps more than a few voters -- might favor the future value they anticipate when they see Miller. Some might have qualms about voting for a foreign leagues veteran, MLB-rookie status or no. But as long as Miller keeps pitching like a man who belongs with teammate
Adam Wainwright
in the conversation on who the best pitcher in the league might be, two months into the season it's Miller's race to win -- if he pitches all year.
[+] Enlarge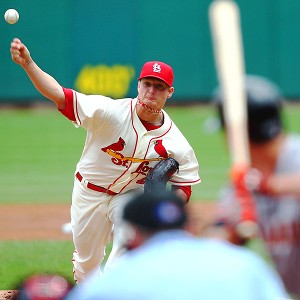 Dilip Vishwanat/Getty ImagesShelby Miller improved to 6-3, and lowered his ERA to 1.82, in the Cardinals' win over the Giants.
That said, it
is
a long season, and as the Nationals' decision to shut down
Stephen Strasburg
in 2012 reflected, pitchers might be excused for factors that have nothing to do with performance.
Happily, the NL field for first-year talent is wider than that tandem, even as Miller and Ryu contend for headlines. Just from among the hurlers,
Jose Fernandez
might have to labor in relative obscurity with the Marlins, marooned in the depths of a new-park hangover that has many Miami fans and voters asking themselves the coyote-ugly question about their franchise a year or two too late. But that has nothing to do with Fernandez's talent, on full display as he mowed down Mets on Saturday. Like Miller, he's striking out more than a man per inning, good enough to put him in the top 10 among NL starters in K/9. If it weren't for Ryu
and
Miller, even in the spring of
Matt Harvey
, we'd be talking about Fernandez a lot more. So you can imagine how
Julio Teheran
, doing well as a rotation regular on a first-place Braves team, feels.
This year, you can really only say one NL rookie position player is generating anything like the same buzz. Atlanta's
Evan Gattis
deserves the love he's getting, not for the backstory but for the production. This is not
Chris Coste
2.0 -- not that a guy like Coste wasn't as easy to root for as Gattis, but when you're slugging north of .600 two months into the season, you're not a passing fancy, you're somebody hitting so well that demoting an eight-figure salary becomes
something more than merely speculative
.
Gattis is doing for position players what Miller and Ryu have done for the pitchers in terms of sucking all the oxygen out of the room. As a result,
Jedd Gyorko
of the Padres might not merit more than a courtesy mention now, but I wouldn't count him out over the next four months. Gyorko has the power to slug .450 or better despite having to call Petco Park home as a rookie; if he cranks 60 extra-base hits while helping the Padres finish around .500, that's an amazing season.
You could say much the same for the pair of rookies starting up the middle for the Diamondbacks. However overmuch attention has been given to Kirk Gibson's clubhouse makeover or the likely big-picture penalties for trading away
Justin Upton
, the work Arizona is getting from
Didi Gregorius
at shortstop (and
A.J. Pollock
in center field) has helped propel the Snakes to first place in the NL West. As easy as it might be to say Gregorius has been helped by the D-backs' bandbox ballpark, three of his four homers have come on the road. If he starts slugging at home, too, how do you count out a slick-fielding shortstop with power on a first-place team?
Even with their delayed call-ups, by this time last year Trout and Harper had already been strutting their stuff. Trout was putting up an .887 OPS for an Angels lineup that needed all the help it could get overcoming
Albert Pujols
' slow start. Harper was hitting .274/.357/.504 in a little more than a month. They might not have been brought up until the end of April, but you already knew we were in for something special. But this year's class? Its players might not compare directly, but they're doing more than enough to pay attention to, now and down the stretch.
The American League, on the other hand ... well, you have to give the Rangers some unexpected due. I don't know if anyone really expects
Justin Grimm
or
Nick Tepesch
to still be in this conversation at the end of June, let alone September, but their contributions have clearly helped keep the Rangers' riding to the league's best record. But
Conor Gillaspie
?
Yan Gomes
? That they're among the top WAR-generating rookies in the AL so far just means that nobody has shown enough, for long enough, with the expectation that he'll still have a job at the All-Star break. I wouldn't rule out
Nick Franklin
or
Jurickson Profar
in partial seasons. I also wouldn't rule out that the eventual AL Rookie of the Year hasn't been called up yet. Or possibly even drafted yet -- who said Christmas comes just once per year?
Christina Kahrl covers baseball for ESPN.com. You can follow her on Twitter.