SweetSpot:

Justin Maxwell
August, 11, 2013
8/11/13
10:30
PM ET
The baseball season is a lot more interesting in Kansas City than it was two weeks ago, when general manager Dayton Moore assessed the limited options at his disposal and turned Kauffman Stadium into a news-free zone at the trade deadline.
Sure, the Royals made a minor deal on July 31 to acquire outfielder
Justin Maxwell
from Houston for minor league pitcher Kyle Smith. More notably, they decided not to trade away starter
Ervin Santana
, who will be eligible for free agency in November. Santana could have fetched a prospect or two in return, but moving him would have sent a signal that the Royals were ready to punt on the 2013 season. With no directive to shed salary from Royals owner David Glass, Moore simply wasn't ready to make that step.
And that's a good thing for Royals fans: Contending for a playoff berth is far more entertaining than the alternatives -- like obsessing over the 30th anniversary of the Pine Tar Game, keeping a daily vigil to monitor manager Ned Yost's job security or busting out in tears every time
Wil Myers
' name appears in a
Tampa Bay Rays
box score.
[+] Enlarge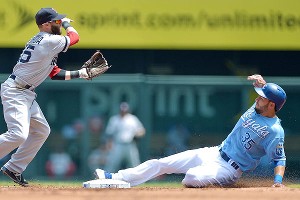 John Sleezer/Kansas City Star/MCT/Getty ImagesEric Hosmer is one of the homegrown hitters leading the charge for the Royals.
While the
Pittsburgh Pirates
are bound for the playoffs despite a rough weekend in Colorado, the Royals are suddenly crafting their own upbeat, small-market narrative in the American League Central. They've won 18 of 23 since the All-Star Game, and they made a major statement over the weekend by taking three of four from the
Boston Red Sox
.
Although one of the games at Kauffman Stadium was a sellout, the Royals averaged 25,180 for the other three -- a sign that the locals are not yet ready to go full-fledged bonkers over their team. At 61-54, the Royals are 4½ games out in the wild-card race and have a 22 percent chance of making the playoffs, according to coolstandings.com. The next few weeks will determine if they're a team coming of age at the optimal time or just a temporary diversion from the
Los Angeles Dodgers
,
Max Scherzer
and
Alex Rodriguez
's Biogenesis suspension appeal.
Regardless of the duration, Kansas City's recent run has to be gratifying to Moore, who bet big on this team when he sent Myers and
Jake Odorizzi
to Tampa Bay in that daring December trade for
James Shields
. And it has to be heartening for prospect watchers who root for young, homegrown players to overcome obstacles and become fantasy-league heroes.
You can cite a lot of reasons for the Royals' surge. Closer
Greg Holland
has converted 25 straight save opportunities and is averaging 14.5 strikeouts per nine innings, and Kansas City's other relievers come at opponents in hard-throwing waves. Shields, Santana,
Jeremy Guthrie
and Kansas City's starters go deep enough into games that the Royals bullpen has logged a mere 320 innings, the lightest workload in the majors.
But the Royals wouldn't be here if not for a welcome revival by their young, marquee position players. First baseman
Eric Hosmer
ranks second to
Yasiel Puig
among major league hitters with 84 hits since June 1 and resembles the confident prospect who finished third in the American League Rookie of the Year balloting at age 21. After George Brett resigned as Kansas City's interim hitting coach three weeks ago, he downplayed his acumen as a Mr. Fix-it type. But Brett and assistant hitting coach Pedro Grifol apparently did a nice job ingraining more confidence in Hosmer, who slugged .465 in 2011 before slipping to a
Yuniesky Betancourt
-like .359 in his second season.
"He's getting back to the swing he had two years ago," an AL scout said of Hosmer. "He was using that inside-out approach, and he had gotten so contact-conscious, and now, he's back to letting the bathead go and driving balls."
Third baseman
Mike Moustakas
is also back among the living. He's raised his average from .177 to .231 since June 9, although Royals people say he's still fighting a penchant to be overly hard on himself and take bad days to heart.
Yost takes his share of dings in Kansas City -- and occasionally invites criticism when he's in a mood to tangle with the media -- but he and the Royals deserve credit for running the kids out there day after day until they figured things out. Major league teams have to determine if their young players are mentally strong enough to handle failure on the biggest stage, and Hosmer and Moustakas are trying to pass the same test that
Alex Gordon
passed on his way to becoming an All-Star at age 29.
Lo and behold, the seemingly minor trade that Moore swung at the deadline has had a positive impact; Maxwell has three homers and a .900 slugging percentage in his first eight games with Kansas City. And when you look around the field, the Royals are doing it precisely the way major league teams should. In Sunday's game against Boston, seven of the nine players in Yost's batting order were drafted and developed by Kansas City. The only exceptions were shortstop
Alcides Escobar
and second baseman
Elliot Johnson
, both of whom came over in trades.
The Royals took another step forward in an eventful week for the division. When last week began, the
Cleveland Indians
stood three games behind the
Detroit Tigers
with a four-game series on the docket at Progressive Field.
Chris Perez
blew a ninth-inning lead Monday, and the Indians dropped six straight before rallying to salvage the finale of their homestand with a 6-5 win against the
Los Angeles Angels
on Sunday.
It's not going to be easy for either Cleveland or Kansas City to make a playoff push with Detroit so far ahead in the AL Central, the
Texas Rangers
and
Oakland A's
both playing well in the West and Boston, Tampa Bay and Baltimore all sporting better records in the East.
But, as the Indians begin a monster nine-game trip to Minnesota, Oakland and Anaheim on Monday and the Royals take on Miami in a three-game series Tuesday, Detroit's two pursuers are both still part of the conversation. Moore even made a trade Sunday, acquiring veteran infielder and strong character guy
Jamey Carroll
in a deal with the Twins.
The Royals have to feel good being a buyer in August, regardless of the magnitude of the transaction. After nine straight losing seasons, it's nice just to be relevant.
June, 9, 2012
6/09/12
8:01
PM ET
By
Christina Kahrl
| ESPN.com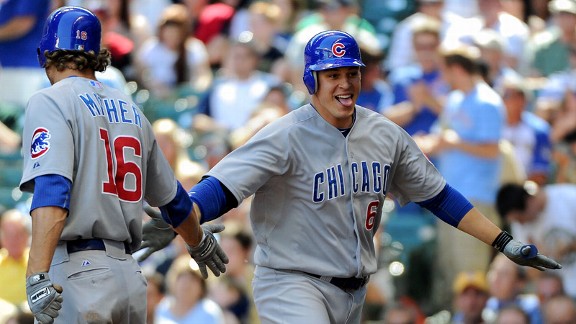 Benny Sieu/US PresswireBryan LaHair, 29, is in the top five in the National League in slugging, OBP and OPS.
At 28 years old and after spending much of the previous five seasons in Triple-A,
Bryan LaHair
was a purportedly "known" quantity -- Quadruple-A bat, perhaps a fill-in first baseman. In his one brief shot at The Show in Seattle in 2008, he split time at first base with utilityman
Miguel Cairo
and
Jose Lopez
. He didn't shine, and it was back to Tacoma the next year. In short, he seemed a man doomed to a dim star on an obscure walk of fame to be named later, perhaps in Tacoma, maybe in Iowa.
He changed that in his sixth campaign in the Pacific Coast League, changing the minds of scouts and analysts alike with 28 homers and a 1.070 OPS. And this year, taken seriously for the first time, he's a 29-year-old getting his first real shot at everyday play in the major leagues ... and blowing the league away. He's third in the National League in slugging, fourth in OBP, and fourth in OPS. And all it took to bring him to Wrigleyville was a minor-league contract, after the Mariners let him slip away as a minor league free agent.
By simultaneously shredding expectations and opposing pitchers, LaHair is providing a fine example that players' career paths aren't simply a matter of forecasting off past performance. That works on the macro level, for most players. But whether as a matter of changing their game or finally getting opportunities they'd long deserved, a few past-prime players are making the most of their opportunities this season.
You can't quite come up with a full lineup's worth of these guys, but beyond LaHair, here's my off-the-cuff list of this season's other "surprise stars," some of whom will belong in Kansas City as full-fledged All-Stars in a month's time.
C A.J. Ellis, Dodgers:
Say what you will about catching always being in short supply -- and it isn't -- Ellis had to wait until this year to get a clean shot at a catching job. Now 31, he's pretty much the perfect example of an organizational soldier: He spent his first two full seasons after getting picked in the 18th round out of Austin Peay as a backup at High-A, caddying for
Russell Martin
and then
Edwin Bellorin
(once upon a time a well-regarded Venezuelan prospect).
Ellis finally became a regular in Double-A in 2006. From the start, he showed tremendous ability to get on base, but the Dodgers kept him at the same slow pace, as he spent two years in the Southern League and two years in the PCL before graduating to two years as a big-league backup. That sort of long-form apprenticeship that seemed certain to lock him into little more than membership in the International Brotherhood of Backup Backstops.
Perhaps only taken seriously as a starter as a matter of grudging last resort this past winter, when the market offered slim pickings as far as catching help, Ellis is second only to
Yadier Molina
among NL catchers in his production at the plate while throwing out 41 percent of opponents' steal attempts. Ellis might be this group's best bet beyond LaHair to be headed to Kansas City for the All-Star Game.
SS Mike Aviles, Red Sox:
It has been a bumpy road for Aviles since his old-rookie debut as a 27-year-old with the Royals in 2008. In K.C., he had to contend with injuries and the idea that he wasn't really a shortstop. This year, shortstops are putting up the collectively lowest OPS (.678) or OPS+ (88), so Aviles' .711 OPS/90 OPS+ clip is just a wee bit above average, not shabby considering he's also doing fine at short, according to advanced fielding metrics. Beyond buying time for
Jose Iglesias
, this has proven a relatively high-yield, low-expense gamble for the Sox: League-average shortstops usually cost millions on the market, but Boston got him for an organizational arm (Kendal Volz) and
Yamaico Navarro
, a utility player so interesting that K.C. flipped him to the Pirates, who have already ditched him in Indianapolis.
[+] Enlarge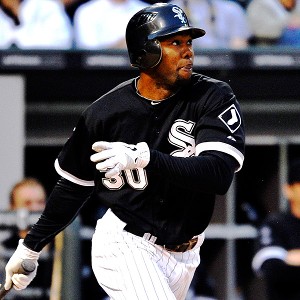 AP Photo/Brian KerseyCenter fielder Alejandro De Aza is making the most of his chance to play every day at age 28.
CF Alejandro De Aza, White Sox:
If LaHair is the slugging surprise of the season, De Aza is the out-of-nowhere leadoff solution most teams need. Back in 2007, he got an opportunity with the Marlins, leading off on Opening Day, but injuries to first one ankle and then the other derailed that season and the next. In 2009, he gave the first indication that he wasn't just going to be a speed guy, slugging .506 for New Orleans; the Marlins were so impressed they let him slip away on a waiver claim by the White Sox. Finally getting a shot at everyday play as a 28-year-old in the one-hole, he's hitting .299/.381/.425 and he's holding his own in center.
Juan Pierre
never looked this good, but a crowd of quality center fielders in the American League will keep De Aza from All-Star status.
OF Gregor Blanco, Giants:
Melky Cabrera
isn't the only Giants outfielder having a season well beyond anything he's done before. A Braves prospect they lost interest in, he was dealt to the Royals, who dealt him to D.C. before the Nationals ditched him. All he's ever done is get on base; he just needed an opportunity. He got one when general manager Brian Sabean fished him off the discard pile this past winter. Pushing his way past
Nate Schierholtz
, Blanco has hit his way into everyday play in right field and the leadoff job with a .387 OBP as a 28-year-old journeyman. Blanco may rival Sabean's "discovery" of
Andres Torres
in 2009 before all's said and done.
RF Justin Maxwell, Astros:
Nobody has doubted Maxwell's power or talent, but his ability to stay healthy has been an annual concern. The Nats decided they had better uses for his spot on the 40-man and traded him to the Yankees, but he spent more time on the disabled list in 2011 with a bum shoulder than he did in pinstripes. The talent-hungry Astros snagged the 28-year-old off waivers this spring, and he's been a free-talent find as a fourth outfielder, providing power against lefties and strong-armed defense.
SP Jerome Williams, Angels:
Back in the day, Williams was a top prospect in the Giants' organization, ranking in Baseball America's top 20 for all baseball. That all seemed merited after a fine 2003 rookie season in which he drew an NL Division Series start for them against the Marlins. It was almost unrelentingly downhill from there; he needed elbow surgery in 2004, got dealt to the Cubs in 2005, and then bouncing through the Nationals, Twins, A's (twice) and Dodgers organizations, as well as a stint in the independent leagues. After making a nice impression on the Angels down the stretch last season, the 30-year-old Williams is getting regular rotation work in the majors for the first time in seven years as their fifth starter. More of a finesse righty these days, he's been an exceptional salvage-project success, putting up eight quality starts in 10 turns, far better work than most teams reasonably expect from a No. 5.
Quite simply, what these guys reflect is that not all replacements are "replacement level." Just when you think you know what a player is capable of, a happy few beyond their expected peak age of 27 have demonstrated the delightful capacity to surprise and exceed the modest expectations even their fans harbored for them. I don't know about you, but I like these kinds of surprises -- here's hoping we see more of the same from all of them.
Christina Kahrl covers baseball for ESPN.com. You can follow her on Twitter.