April, 11, 2012
4/11/12
8:00
AM ET
News and notes from around the majors ...
First base: Injury news.
The injury bug hits the Mets again as we learned
David Wright
suffered a fractured pinkie finger on Monday. Adam Rubin of ESPN New York reports that the Mets will determine Friday if
Wright has to go on the disabled list
. If necessary, Terry Collins would likely move
Daniel Murphy
to third base and play
Justin Turner
or prospect Jordany Valdespin at second. Valdespin hit .294/.333/.468 between Double-A and Triple-A in 2011. ...
Brandon Phillips
landed a big contract and then missed Tuesday's game with a sore hammy. He could miss three or four days.
Willie Harris
played second and hit leadoff. ... Nationals left fielder
Michael Morse
is
still out indefinitely with his strained lat
. He left a minor-league rehab stint, unable to throw the ball from left to shortstop. Veteran
Xavier Nady
is 2-for-10 in his place. ...
Lance Berkman
left his game in the eighth inning with a calf injury. Check tomorrow for updates, but if he's out,
Matt Carpenter
would play first base.
Second base: The Bard's tale.
Daniel Bard
pitched better than his final line of 5 IP, 8 H, 5 R indicates. He had six K's and just one walk and induced 18 swing-and-misses. Only
Josh Beckett
had more swings-and-misses in a game last season (20). Basically, Bard got done in by the dreaded BABIP, burned by a few groundballs that got through the infield. Red Sox fans should be encouraged by his start.
Third base: More Moore.
Matt Moore
made his first start on a cold day in Detroit that featured two different snow flurries. He walked five and struck out four in 6.2 innings, allowing four hits including an
Austin Jackson
home run in the seventh. Like
Yu Darvish
's first start, it would be ridiculous to make any conclusions. The kid is going to be great, it's mostly just a matter if he'll throw enough strikes to be great
this year.
Home plate: Tweet of the day.
Lance Berkman on David Freese: "If you're looking for your next $200M contract, he's got a chance. He's that kind of player." #STLCards

— Anthony Castrovince (@castrovince) April 11, 2012
January, 29, 2012
1/29/12
12:35
PM ET
By
Christina Kahrl
| ESPN.com
With all of this talking about
production up the middle
or
at the four corners
over the past 25 years, it might also be helpful to put this into perspective by asking: Who's average?
Here again, I'm indebted to
Clay Davenport's work
in creating Equivalent Average, as useful a tool for all-time performance on offense today as it was in the '90s. Sticking with the 2011 and following Clay's advice to cheat up a couple of points -- to avoid the impact of the real scrubs -- let's look at who set the bar for mediocrity at all eight regular positions in the field:
Catcher:
Rod Barajas
, .258 Equivalent Average (EqA). Sure, he struggles to get on base, but Barajas' modest pop at the plate -- delivering a .200 ISO last season -- and solid receiving skills makes him the acme of average from the backstop bin. In Pittsburgh, he might help propel their latest bid for a .500 season.
Runner-up: The Brewers'
Jonathan Lucroy
, .254 EqA.
First Base:
Freddie Freeman
, .286 EqA. This might seem like an indictment of the Atlanta Braves' prodigy, but the standards for offense at first base are higher than at any position, and this isn't a shabby place to start for a kid in his age-21 season.
Runner-up: The Marlins'
Gaby Sanchez
, .284 EqA.
Second Base:
Orlando Hudson
, .268 EqA. Hudson's power has taken a hit the last two years since going to slugger-sapping Target Field and now the Padres' Petco Park, but he still provides average offense for the position and above-average glove work, so he'll keep landing gigs.
Runner-up: The Mets'
Justin Turner
, .263 EqA, and an excellent example of how GMs can still find plug-in players on the waiver wire.
Third Base:
One of the funny things about the field is that you'd be hard-pressed to find a truly average regular at third, but the closest might be
Casey Blake
with the Dodgers (.268 EqA) or
Jack Hannahan
with the Indians (.263), so let's call it a platoon and punt on picking a runner-up.
Shortstop:
Clint Barmes
, .257 EqA. Here we have another Pirates offseason acquisition, which might be taken as proof that average is the new up, or that it takes a certain kind of player to choose to go to Pittsburgh. But more fundamentally, Barmes reflects today's higher standard for adequacy on offense at short, because beyond premium defense he ripped a dozen homers for the Astros.
Runner-up: The White Sox's
Alexei Ramirez
, .256 EqA, and another example after knocking 15 homers of his own.
Left Field:
Cody Ross
, .273 EqA. In contrast, here's a great example of the declining standard for what gets by in left. The hero of the postseason in 2010 went back to his more mortal form at the plate with the Giants, and looks like he'll be shunted into a part-time role with the Red Sox, splitting time in right field or spotting for the injured
Carl Crawford
in left early on.
Runner-up:
Jason Bay
, .270 EqA, and a symbol of the Mets' bang-less bucks at work.
Center Field:
Adam Jones
, .273 EqA. Here's a reflection on what a difference a position makes. Cody Ross? Not in high demand. Adam Jones of the Orioles? He's a star, and somebody many teams would love to trade for.
Runner-up: The Diamondbacks'
Chris Young
, .270 EqA. Keep in mind, Equivalent Average is park-adjusted, so all that slugging the Snakes get from their center fielder at home -- including 14 of his 20 homers, with a 131-point difference between his home and road SLG.
Right Field:
Seth Smith
, .283 EqA. Right's the premium offensive position in the outfield these days, so the standard for average is going to be a bit higher. It says something about the Athletics' lot on offense that they traded for Smith and fell he'll provide a big boost with his bat from either corner.
Runner-up:
Jeff Francoeur
, .279 EqA. His comeback with the Royals was nice to see, but it's a reflection of the depths he plummeted to during his three years in the wilderness that he's gone from awful to average, not awesome.
Christina Kahrl covers baseball for ESPN.com. You can follow her on Twitter.
July, 2, 2011
7/02/11
11:30
AM ET
By
Christina Kahrl
| ESPN.com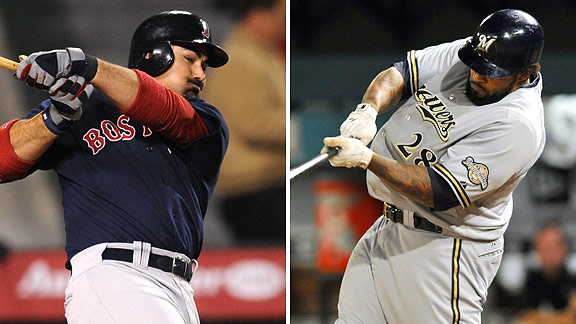 US PresswireAre Adrian Gonzalez, left, and Prince Fielder making the most of their RBI chances?
In the age of new metrics for player performance, the RBI is mired in tough times. The snarkier analysts will chuck it out entirely as an unfortunate statistical footnote. It isn't something you'd go to WAR for, after all, not when the analysis community is busily filling up the statistical toybox like every day was Christmas.
However, while belaboring what it ain't, it's important to remember what the RBI actually is: A plain old counting stat, and the legacy of original stathead
Ernie Lanigan
back from the start of the 20th century. It wasn't Lanigan's fault that subsequent generations started using RBIs as a value judgment, and confusing these simple facts with whether or not a hitter is clutch. Any discussion of who is or is not an "RBI Guy" is not about who possesses some ineffable quality of clutchiness, but it can still be about who has delivered a lot of clutch hits. Then again, I've always felt that "clutch" should be best thought of as an adjective, not a skill.
In baseball there's still a readiness to talk about raw totals of RBIs. After all,
Adrian Gonzalez
is being hailed as an MVP candidate, largely because of a league-leading RBI tally.
Prince Fielder
is busily delivering on what
Albert Pujols
was supposed to in their walk years by leading the National League.
When you look at who wound up with the most RBIs in a season, it isn't about how well a hitter does with his chances; it's about the sum total of his opportunities. And one of the simple facts of life is that hitting in the middle of the order is going to give you those opportunities. Bat in the heart of the order, and you'll get a lot of opportunities. As we'll see, you don't even have to be especially good at driving runners in to wind up with a lot of RBIs, as long as the manager keeps putting you in the middle of the order and you're fortunate enough to have a teammate or three good at getting on base in front of you.
So with that in mind, let's look at a different kind of leaderboard: Who's doing the most with his opportunities, and converting the most runners into runs? Using
a Baseball Prospectus stat
called "Others Batted In," we can find out who gets to bat with the most runners on base and who's bringing them home. By way of explaining the table,
PA w/ROB
is Plate Appearances with Runners On Base,
ROB
is Runners On Base,
OBI
is Others Batted In, and
OBI%
is the percentage of men on base a guy has plated. I'm ranking by OBI% using 200 plate appearances as the cutoff.
Now, that's a fun leaderboard.
Justin Turner
? Well, I guess it's another example of funny, in-season phenomena. While you might not bet on it continuing, facts is facts, ma'am, and the guy deserves his props. If Turner seems like an unlikely leader, though, keep in mind that among big-league regulars (using 500 PAs as a cutoff),
David DeJesus
was the best RBI guy of 2008, plating 21.5 percent of his runners. In 2009, it was
Bobby Abreu
with 19.8 percent. The all-time single-season leader via Retrosheet history was George Brett in 1980, when he drove in 26.9 percent of his runners. However you feel about RBI, that's kind of cool, and not just because that goes back to a time I was a young A's fan who dreaded every Brett at-bat.
A few guys who have long since earned and carry the "professional hitter" rep are on the leaderboard: Young and Martinez, of course. And it's nice to have another reason to give Pence his due. Seeing an aging Chipper Jones still wreaking havoc helps make it clear that he really isn't done yet. And Gonzalez is here, which is a nice reflection of the fact that he's not just a product of his liberation from Petco or his presence in a lineup stacked with OBP threats. He's just scary-good, and this is another way of seeing it.
Finding two NL Central tandems here is fascinating, but with Berkman and Holliday converting their opportunities, you can see how teammates have picked up Pujols, who was at a mediocre 14.1 OBI% before he hit the DL. Finding Fielder and Braun on the list is a reminder that not only does Fielder get the benefit of batting behind Braun, but that they're both getting plenty of chances to bat with men on, thanks to a front-loaded Brewers lineup with
Rickie Weeks
and
Nyjer Morgan
batting in front of them. The guy with the second-most opportunities on the team is
Casey McGehee
, but his OBI clip of 12.4 percent is another symptom of a bad year, and he'll get fewer chances now that he's no longer batting fifth.
But Fielder's presence also illustrates how players aren't necessarily consistent in their OBI% from year to year. In 2010, Fielder drove in just 10.8 percent of his runners (or 51 of 474), a clip that only
Alcides Escobar
worsted among Brewers regulars. Again, this doesn't make Fielder a bad person -- he just didn't execute within Milwaukee's offense in 2010. Since he's been great this year and was at 18.7 percent in 2009, you can take this as another reason why you ought to just let the numbers speak for themselves.
Since I've bolded the leaders in the columns, if you're wondering which batter has walked to the plate with the most runners on board this season, it's
Ryan Howard
of the Phillies with 263. That's despite the Phillies' much-discussed offensive issues. So if you consider their ability to set up a big bopper, give credit where it's due. Whatever their other problems, the Phillies have created a ton of opportunities for Howard, almost as many as the Red Sox have created for Gonzalez. That Howard has driven in "just" 48 runners, or 17.9 percent, is far from an indictment of his abilities as a play-maker -- it's still a very good clip.
If opportunities essentially define the possibility for results when it comes to raw RBI tallies, thanks to the good folks at Retrosheet, let's play a little game: Who holds the single-season record for runners on board when he steps to the plate? I'll give you a hint -- it wasn't from the PED Period. And it wasn't a Yankee. And it wasn't Ted Williams. That's another hint, because it was Jackie Jensen in 1955 -- the guy who batted
behind
Ted Williams. Jensen batted with a record 576 runners aboard and drove in 90 for a decent 15.6 OBI%, but the voters wisely left Jensen behind Williams in another category -- MVP voting. Jensen wound up 10th and Teddy Ballgame finished fourth in a partial season.
To look at it in yet another way, in 2008
Justin Morneau
set a record when he had the good fortune to get 400 plate appearances with runners on base; like Jensen, he was lucky enough to bat behind an even better player,
Joe Mauer
. By plating a fine 19.2 percent of those non-average joes on base, Morneau nearly won his second MVP award. Some folks might overrate him, and maybe Morneau has the heart of a lion or whatever, but on a more basic level this means he was good at executing within an offense lined up to give him his chances.
On some level we all get it. Maybe there's an intuitive leap to make here. In talking about quarterbacks, do we talk about their completions or their completion percentage? Almost always the latter, but it's sensible to talk about both. Somehow, in baseball, talking about opportunities in the context of driving in runners has never been fashionable. That could be attributed equally to the anti-stats crowd that sticks to the old-school info on the back of baseball cards
and
the statheads who grew up thinking RBIs were almost as icky as saves when it comes to statistical purity.
I'm among those who, perhaps like Lanigan back in the day, just thinks this sort of stuff is interesting to know. In the cases of Gonzalez or the Braun/Fielder combo, it's a great way of revealing offensive machines who are punishing opponents again and again, and doing it in a less abstract way than the burgeoning family of sabermetric toys available to us today. Determining the RBI guys isn't particle physics, but you can associate it with something concrete: opportunities and events without value judgments.
Christina Kahrl covers baseball for ESPN.com. You can follow her on Twitter.
July, 2, 2011
7/02/11
10:00
AM ET
By
Charlie Saponara
| ESPN.com
The Major League Baseball All-Star Game is right around the corner, and while the blogosphere is bursting with opinions of who should and shouldn't make the team, I thought it might be fun to start another debate. Who would make an imaginary 2011 all-rookie all-star team? Sure, MLB has the Futures Game, but some of these players are years away from putting up major league numbers and some may never be seen or heard from again -- such is the wonderful world of prospects. The 2011 all-rookie all-star team will feature only players playing Major League Baseball and who are rookie eligible.
Catcher: Wilson Ramos, Nationals
Ramos came out of the gates strong in April to the tune of .358/.426/.527. He hasn't done much at the plate since, dropping his overall line to .238/.317/.389. However, his defensive game has been very solid and he has thrown out 13 of 32 would-be base stealers (41 percent). Ramos was recently a first-round pick in
ESPN's Franchise Player Draft
.
First Base: Freddie Freeman, Braves
Freeman has a bit of an advantage here, as he started the season in the big leagues unlike another strong contender,
Eric Hosmer
. Even so, Freeman has put up very solid numbers for a 21-year-old in his first big-league season. He's hitting .272/.339/.434 overall with nine home runs, but he has improved significantly after a slow April, raising his slugging percentage each month. He leads all rookie first-baseman in weighted on base average,
wOBA
, just edging out
Mark Trumbo
.
[+] Enlarge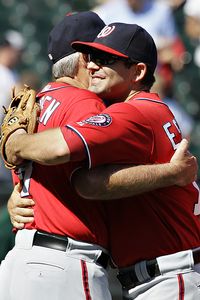 AP Photo/Nam Y. HuhThe Nationals love Danny Espinosa, the rookie second baseman who may make the actual All-Star team.
Second Base: Danny Espinosa, Nationals
Quite frankly, this one wasn't even close. Espinosa was quiet out of the gates, but he continued to play slick defense and the power numbers eventually began to soar. His 15 home runs are the most ever by a rookie second baseman prior to the All-Star break, and his .227 isolated power,
ISO
, puts him in the top 20 in all of baseball. However, Espinosa might have to miss our imaginary all-rookie all-star team, as he may be in line to take a spot on the National League's very real All-Star roster. If that were to happen, Espinosa's replacement would be
Dustin Ackley
, who has looked strong at the plate since being called to the big leagues (.300/.378/.575), but in a very small sample size of 45 plate appearances.
Shortstop: Dee Gordon, Dodgers
This was a tough call, as there is no real standout rookie at the position and no one is even close to 200 plate appearances on the year. While stats always play a role in determining an all-star, sometimes fans just want to see players that bring excitement to the field. That's why the Dodgers rookie gets the nod here. Gordon has been pretty dreadful at the plate (.243/.263/.297), he's still a raw talent, and he has the type of speed that's easy on the eyes.
Third Base: Justin Turner, Mets
With a bigger sample size, I feel that
Mike Moustakas
probably would have snagged this spot, but Turner had been extremely productive before injuring his thumb early in June. He leads all rookie third basemen with 0.6 wins above replacement,
WAR
.
Left Field: Craig Gentry, Rangers
Sometimes players get a surprise opportunity at playing time in the big leagues. Sometimes they make the most of it and sometimes they don't. Gentry has definitely made the most of his time with the Rangers this season, putting up a .355 OBP and nine stolen bases in only 28 games while playing stellar defense.
Center Field: Ben Revere, Twins
When it comes to game-changing speed, Revere has it. He has nine stolen bases in 40 games and has shown exceptional range in center to go along with a respectable .281 average.
Right Field: Josh Reddick, Red Sox
Allen Craig
was well on his way to earning a selection at one of the corner outfield spots, but he's out with a knee fracture. This leaves the selection to a group with a very small sample size. Reddick only has 42 plate appearances on the season, but he's been channeling his inner Randy Jackson, putting up a molten-hot lava bomb line of .444/.476/.772 and has already posted 1.2 WAR.
Designated Hitter: Mark Trumbo, Angels
Trumbo just missed being named the starting first baseman of my all-rookie all-stars, but he deserves a spot on the team and fits in nicely as the designated hitter. He's second among rookies in home runs and third in weighted on-base average,
wOBA
, with a minimum of 200 plate appearances.
Starting Pitcher: Michael Pineda, Mariners
Several rookie starters have had very good seasons to date, but none have been as utterly dominant as Pineda. His 8.7 K/9 is second only to
Brandon Beachy
among rookie starters -- although Beachy has only thrown 56 1/3 innings due to time on the DL -- and his 25.7 percent whiff rate is the best of any rookie starter. Pineda has also thrown the most innings of any rookie starter. Simply put, he's an All-Star, rookie or not. If he ends up representing the Mariners at the actual MLB All-Star Game, there are a number of pitchers that could fill his slot here, including Beachy,
Alexi Ogando
,
Zach Britton
or
Jeremy Hellickson
.
Reliever: Craig Kimbrel, Braves
With a dominant 14.3 K/9, 3.6 K/BB rate and only one home run allowed in a rookie reliever-leading 41 innings pitched, Kimbrel has become one of the most electric closers in baseball. Oh yeah, he also has 23 saves, which leads all rookie relievers and puts him one save behind
Brian Wilson
for the most in baseball.
Of course, all-star selections wouldn't be as fun if it weren't for the debate part of the process. Who would you put on the imaginary 2011 all-rookie all-star team? Who would they play against in an actual game -- the winner of the Futures Game, perhaps?
Charlie Saponara writes for Red Sox SweetSpot network blog, "Fire Brand of the AL." You can find all of his writing adventures by following on Twitter.