March, 16, 2015
Mar 16
1:39
PM ET
GLENDALE, Ariz. -- Reliever Brandon League won't throw for at least a few days after receiving an anti-inflammatory injection in his right shoulder Monday. League felt discomfort when he tried to play catch Sunday.
"It really was getting better, then he went out to throw yesterday and it's still not quite right," Dodgers manager Don Mattingly said. "We'll give him some more time."
League met with team doctor Neal ElAttrache Sunday, but Mattingly said he did not undergo an MRI or further diagnostic tests.
League, 32, is in the mix to be the Dodgers' closer while Kenley Jansen is recovering from a foot injury. League, a groundball specialist, had a 2.57 ERA last year. He struggled early in 2013 and Jansen replaced him as the closer. If League opens the season on the disabled list, Chris Hatcher, who has pitched only 81 major league games and never recorded a save, might be the likely pick to close to start the season. Jansen is expected to be out until at least early May.
October, 12, 2013
10/12/13
1:59
AM ET
Eventually, we got to one of those postseason moments:
Kenley Jansen
, one of the most dominant relievers in the majors, facing
Carlos Beltran
, one of the most dominant October hitters of all time -- maybe
the
most dominant postseason hitter of all time.
Jansen had just entered the game in the bottom of the 13th inning with two runners on base and one out -- more on that later -- to face Beltran, he of the career playoff line of .345/.463/.761 entering this game, the highest slugging percentage ever in the postseason.
Batters hit only .177 off Jansen in the regular season, who basically throws a fastball that hits 97 mph and a deadly cut fastball that moves more like a sinker than the riding cutter that made
Mariano Rivera
a future Hall of Famer. He generates swings and misses on it as opposed to the weak contact Rivera often induced -- Jansen fanned 111 batters in 76 2/3 innings, walking only 18.
But in a 2-2 game, Jansen relieved
Chris Withrow
, who had given up a blooper to
Daniel Descalso
and walked
Matt Carpenter
. Dodgers manager Don Mattingly had wanted to keep Jansen for a save situation but could no longer avoid using his best reliever.
Jansen threw a bunch of cutters and fell behind 3-and-1. He threw another one and Beltran reached down and lined it down the right-field line for the winning hit.
Oh, Beltran also doubled in two runs in the third inning and threw
Mark Ellis
out at the plate in the 10th inning.
Final score: Beltran 3, Dodgers 2. Winner:
Lance Lynn
. Loser: Don Mattingly.
Wait ... Mattingly?
If Game 1 showed us anything, it's that we should expect a tight, low-scoring series, which means managerial decisions will become more vital. Neither manager has a reputation for astute in-game strategic decisions -- as we especially witnessed with Mattingly in the Braves series -- although Cardinals manager Mike Matheny didn't seem to get criticized as much this season and has shown flexibility in matters like adjusting bullpen roles late in the season.
The Cardinals had a strange sacrifice bunt attempt in the seventh inning with
Jon Jay
, which didn't make a lot of sense considering the slow-moving
Yadier Molina
was on first, meaning he's not only more likely to get thrown out at second but less likely to score from second on a base it, and one of the next two hitters was weak-hitting
Pete Kozma
. The bunt didn't work as
Zack Greinke
threw out Molina at second and
Yasiel Puig
then caught a low liner on a hit-and-run play and doubled Jay off first.
But that bunt paled when compared to Mattingly's decisions. Paramount was his move to pinch-run for cleanup hitter
Adrian Gonzalez
with
Dee Gordon
after a leadoff walk in the eighth inning against
Carlos Martinez
. Puig grounded into a 6-4 fielder's choice and the Dodgers had lost Gonzalez. If you're not going to run with Gordon there -- and a steal attempt against Molina is risky -- or at least hit-and-run, then at least wait until Gonzalez reaches second base to pinch-run. There was no need to waste Gonzalez.
Sure enough, we got to the 10th inning and Ellis tripled with one out (thanks to a bad route by Jay on what probably should have been a single). With no Gonzalez to worry about, Matheny intentionally walked
Hanley Ramirez
to pitch to
Michael Young
-- who flew out to shallow right, with Beltran gunning down Ellis with plenty of room to spare.
Timeout. It looked as if Molina never actually tagged Ellis, just got him with his forearm. No umpire is going to call the runner safe there, but next year we'll have instant replay, Mattingly could throw his red flag and then all hell would break loose when Ellis is ruled safe. The umpires would need a police escort to leave the stadium.
But in 2013, it didn't seem to raise much of an uproar. Ball beat runner, runner out.
That pinch-running move haunted the Dodgers in the 12th inning, too.
Carl Crawford
led off with a single. Ellis sacrificed -- which in isolation isn't the dumbest move, but in this case it meant Matheny would again intentionally walk Ramirez and pitch to Young. 6-4-3, double play, rally over. The Dodgers would go 1-for-10 with runners in scoring position.
Finally, there was the decision to use inferior relievers, hoping to get a save situation for Jansen.
Ronald Belisario
and
J.P. Howell
did pitch scoreless innings, but the Cardinals finally got to Withrow in his second inning. But the time Jansen got in there, it was too late.
Look, I realize I'm picking on Mattingly. The players do win and lose the games. If Young gets a hit or
Andre Ethier
catches Beltran's drive at the wall in the third inning or Gonzalez and Puig don't strike out against
Joe Kelly
with runners at second and third in the first inning, then it's a different story. But those things didn't happen and Mattingly's decisions proved costly in this game.
It was a great opener to the NLCS -- just the 12th postseason game ever to go 13 innings. I think we learned a couple of valuable things: The Cardinals have a better, deeper bullpen; Beltran is still a postseason god; Puig (0-for-6) will have to calm down a bit a the plate.
But the key question: Did Donnie Manager learn anything?
August, 29, 2013
8/29/13
5:40
PM ET
Here's the thing: There are a lot of good relief duos out there. Eric Karabell and myself discuss five of the best ones in the video, but there are others we left out:
--The Pirates. Closer Jason Grilli is out right now, but he and Mark Melancon have been terrific all season. Melancon (0.91 ERA) has stepped into the closer's role with Justin Wilson (2.05 ERA) handling most of the eighth-inning duties. That's still a great pair, with Melancon arguably the most valuable reliever in the majors this season.

--The Rangers. They have the fourth-best bullpen ERA in the majors and are 65-3 when leading after seven innings. Great depth behind Joe Nathan with Neal Cotts, Tanner Scheppers, Robbie Ross and Jason Frasor, all with ERAs under 2.70 in 40-plus innings.
--The Royals. The second-best bullpen ERA behind the Braves, and closer Greg Holland has a 1.41 ERA and 29 consecutive saves converted, but the setup guys have been inconsistent and they have five losses when leading entering the eighth.
--The A's. Grant Balfour has just two saves all season, but the second one was a big one on Thursday afternoon, allowing four runs as the
Tigers beat the A's 7-6
in dramatic fashion.
One team not listed: The Reds. Aroldis Chapman been shaky at times -- he's 3-5 with a 2.87 ERA and five blown saves -- and the Reds have lost eight games they led entering the eighth and three entering the ninth, making their bullpen one of the league's
least
effective in terms of holding leads late in games.
By the way, another reminder of the volatility of relief pitchers and bullpens in general: Three of the five closers included in the poll did not begin the season as their team's closer.
June, 27, 2013
6/27/13
11:37
AM ET
May, 20, 2013
5/20/13
12:00
AM ET
A quick warning about
Jurickson Profar
's call to the majors to
replace
the disabled
Ian Kinsler
: Do not expect
Mike Trout
; do not expect
Bryce Harper
; do not expect
Manny Machado
.
Yes, the performance of those three wunderkinds has, unfortunately, raised the expectations for
all
prospects, especially one deemed the best in the game entering this season.
In time, maybe Profar joins them as generational talents (I can see the corny nickname already: "The Four Tops"), but it would be unfair to believe Profar will hit like they have, at least right off the bat. Remember, he's only 20, and, while he held his own in Triple-A, hitting .278/.370/.438 with four home runs, HE'S ONLY 20 YEARS OLD. Most 20 year olds are still learning how to hit curveballs in the South Atlantic League.
That said, I'm excited to see the kid play for a couple weeks. While Profar didn't start Sunday and Ron Washington said he'll split time with
Leury Garcia
, I'm not sure the Rangers recalled Profar to play three games a week. Profar has a good approach at the plate, particularly for a kid so young, drawing 21 walks in 37 games at Round Rock, so that's a good sign that he'll come up to the majors and not get in trouble by being overly aggressive. And, as Washington likes to say, "He's not afraid of the game."
Kinsler had been one of the best players in the league so far, hitting .302 with seven home runs, 20 RBIs and 24 runs, so the Rangers will miss his production from the leadoff spot. But they have a comfortable lead in the AL West and there was no reason to push him through the injury.
Profar is likely headed back to Triple-A once Kinsler's DL stint ends. Of course, who knows, maybe Profar hits so well he leaves the Rangers no choice but to find a regular spot for him. I don't think that will happen, but I wouldn't be that eager to bet against him, either.
REST OF THE WEEKEND

Three stars
1. Matt Joyce, Tampa Bay Rays.
Down 4-0 after one inning to the
Baltimore Orioles
on Saturday, Joyce hit a two-run homer in the third to get the Rays closer and then hit a two-run, go-ahead double in the ninth. On Sunday, Joyce's homer provided the insurance run in a 3-1 win as the Rays swept the O's.
2. Dexter Fowler, Colorado Rockies.
The Rockies had many heroes in winning three of four against the
San Francisco Giants
at home, but Fowler jumpstarted the offense all weekend with 10 hits and seven runs scored. Not a bad four days: He raised his average from .252 to .286.
3. Justin Masterson, Cleveland Indians.
Masterson tossed his second consecutive scoreless start, striking out a season-high 11 in seven innings against the
Seattle Mariners
on Sunday in a 6-0 victory. Masterson improved to 7-2 while lowering his ERA to 2.83. This is a different Masterson than we've seen the past couple seasons, with a much higher strikeout rate (25 percent versus 18 percent last season) but still keeping the home runs to a minimum (just three). While he's struggled in the past against left-handers, he's held them to a .226 average this season with a 36/19 K/BB ratio compared to 72/56 in 2012. And it's not all batting average on balls in play (BABIP), which is a fairly normal .285 so far. If he keeps getting lefties out, he's going to keep winning games.
Honorable mention star of the weekend
Have to mention
Joey Votto
for getting on base all six times in Saturday's win for the
Cincinnati Reds
-- he went 4-for-4 with two walks, a double and a home run. Only two players had a "6-for-6" day last season --
Aaron Hill
of the
Arizona Diamondbacks
and
Neil Walker
of the
Pittsburgh Pirates
. Both went 5-for-5 with a walk and, like Votto, doubled and homered.
One more honorable mention star of the weekend
The Diamondbacks beat the
Miami Marlins
on Saturday as
Brandon McCarthy
pitched the three-hit shutout (no save!), but he had a lot of help from
Gerardo Parra
, who led off the game
with this
on the first pitch and
then did this
in the bottom of the first. Parra has one of the better arms in the majors, but his bat is a big reason the D-backs are in first place, as he's hitting .320/.385/.494 with 28 runs (11th in the NL). That batting line, combined with his outstanding defense, has Parra leading the NL in Wins Above Replacement (WAR), tied with
Matt Harvey
and
Clayton Kershaw
, at 3.1. Justin who?
Clutch performance of the weekend
Atlanta Braves
rookie
Evan Gattis
keeps finding a way to get himself into the highlights. On Saturday, he pinch hit in the eighth inning against hard-throwing
Kenley Jansen
of the
Los Angeles Dodgers
with the Braves down 1-0 and a runner on and
did this
on a 2-2 fastball. The best part of the highlight is
Freddie Freeman
's "I don't believe that" reaction in the dugout.
The Dodgers bullpen, meanwhile, continues to implode. They followed Saturday's loss with another one on Sunday, giving up four runs in the eighth in a 5-2 loss. It has 13 losses, three more than any other team, and its 4.61 ERA is better only than the
New York Mets
and
Houston Astros
.
Unclutch performance of the weekend
Aroldis Chapman
, step on down. Chapman entered with a 2-1 lead on Sunday and walked
Delmon Young
with one out. That was bad enough, but
Cliff Lee
pinch ran for Delmon (yes, a guy who plays the outfield regularly got run for by a pitcher) … and got picked off for the second out of the inning. Game over, right? Nope.
Erik Kratz
homered on a 3-2, 98 mph heater. And then
Freddy Galvis
-- Freddy Galvis! --
hit the dramatic walk-off home run
off a 95 mph fastball.
Best game
OK, it's pretty difficult to top that one. There were some wild games this weekend -- Tampa beat Baltimore 12-10 on Friday, the Indians gave up two home runs in the ninth to Seattle on Saturday only to win in the bottom of the inning -- but Friday's
Washington Nationals
-
San Diego Padres
game was a tough one for San Diego.
Adam LaRoche
homered twice off rookie
Burch Smith
, but the Padres tied it with two runs in the bottom of the ninth off
Rafael Soriano
-- with the help of another
Ryan Zimmerman
throwing error. (A situation that's becoming a serious problem for the Nationals, as that's nine errors for Zimmerman with his fielding percentage a
Mark Reynolds
-like .897.) Anyway,
Chad Tracy
hit a
pinch-hit homer
off
Huston Street
in the 10th to give the Nats a 6-5 win. That's already six home runs allowed for Street, whose trade value is shrinking with each home run.
Hitter on the rise: Jason Kipnis, Indians
He had a three-run,
walk-off home run
in the 10th inning on Friday and two hits on Saturday and Sunday, giving him nine in his past four games, all Cleveland victories. The Indians are 17-4 since April 28 and Kipnis has hit .305 with seven home runs and 21 RBIs in the 20 games he's played. He won't start the All-Star Game with
Robinson Cano
in the American League, and the AL is loaded at second base with Kinsler,
Dustin Pedroia
and
Jose Altuve
, but it wouldn't surprise me to see Kipnis at the All-Star Game.
Pitcher on the rise: Jeff Locke, Pirates
I'm not necessarily buying, but the lefty is now 4-1 with a 2.73 ERA after tossing seven scoreless innings on Sunday against the Astros
in a 1-0 win
. His K/BB ratio is a pedestrian 32/22, but opponents are hitting just .219 off him, thanks to a .230 BABIP. With that number likely to rise, Locke will need to record a few more whiffs to maintain success close to this level. Still, that's three scoreless outings this season and one did come against the Cardinals. Even though he's not
this
good, if he can give the Pirates 175 solid innings as a No. 4 starter, they'll take it.
Team on the rise: Pirates
The Pirates took two of three from the Astros to improve to 11-6 in May and 26-18 overall. They're second in the majors in ERA, and it's not necessarily a huge fluke as they're third in strikeouts. One thing to keep an eye on: Only the hapless Astros have needed more innings from their bullpen, so while the Pittsburgh crew has been outstanding, the workload is a possible concern down the road.
Team on the fall: Dodgers
The two bright spots this week were
Zack Greinke
's return and
Matt Kemp
's great catch
on Saturday, but three losses in Atlanta reiterated that this isn't just a team ravaged by injuries: It's a bad team with a bad bullpen that finds ways to lose. Manager Don Mattingly said not to blame the bullpen. "You add on a run here or there, it takes a lot of pressure off a guy that you can't give up one hit that changes the whole game. I think we have to take this all as a group."
OK, then, we'll call it a team effort of a team on the fall.
August, 14, 2012
8/14/12
1:00
AM ET
By
Christina Kahrl
| ESPN.com
Matt Kemp
didn't go yard. He didn't need to. And
Andre Ethier
? He didn't put the lineup on his back either. What of Mattingly's mighty mites, the guys who were the toast of Los Angeles back in May? They were there, sure, but they essentially clocked in and clocked out, proverbial lunch pails in hand.
And the
Los Angeles Dodgers beat the Pittsburgh Pirates
just the same on Monday night, because the team that made people wonder how general manager Ned Colletti had done it three months ago doesn't really exist anymore. Kemp had a good night, and journeyman
Aaron Harang
tossed his 14th quality start -- a reasonable stand-in definition for "winnable game" -- of the season. This could be the second year in Harang's career that he tosses a quality start 60 percent of the time, the sort of serviceability that recommended him to the Dodgers in the first place, just as it did
Chris Capuano
and now
Joe Blanton
. Rounding out a rotation after you have an ace in place isn't sexy but it's necessary, and perhaps that's the word that will define what Colletti's done this summer: the necessary things.
That's because Colletti didn't stand still any more than circumstances did. When forced to do something necessary, he has done it. He has adapted and overcome, and that, as much as anything, might be what puts the Dodgers into the postseason. Colletti never made the mistake of settling, not for the team he built over the winter on back-loaded deals to an odd collection of journeymen, and not when that team started the season 30-13 behind Kemp's brief triple-crown bid. After a 6-19 swoon through July 17 helped kill any complacency over their brittle early-season achievements, Colletti acted, armed with the newly added largesse of his team's new owners. Trading for
Hanley Ramirez
and
Shane Victorino
and Blanton represents a facelift significant enough to elicit professional respect among cosmetic surgeons.
As a result, the new-look Dodgers might resemble that surprise hot-start team you remember from April, but only in the broadest particulars. Kemp and Ethier you remember. But the undercard? Let's just say the Dodgers aren't going to try getting to the dance with everyone they initially invited. Transient heroes such as
Bobby Abreu
,
Elian Herrera
and
Dee Gordon
have had their moments, but Colletti was as married to any of them as Kris Humphries was to Kim Kardashian -- give me a good month, maybe two, and then, see ya! As brutally unfair as that might seem, that's life in baseball's middle class.
Let's not forget Don Mattingly's part in also doing a few necessary things. The skipper didn't settle on
Javy Guerra
as his closer, last year's 21 saves or no. Faced with a necessary choice after Guerra pitched poorly, Mattingly let performance be his guide, and
Kenley Jansen
nailed down Monday's game. Confronted by
James Loney
's consistently crummy production, the Dodgers have turned more and more to
Juan Rivera
at first base -- Rivera has started 16 of their past 30 games. Giving Ramirez a test-drive at short to see if he can still swing it sets up a later necessary decision about what Gordon's role might be down the stretch. Gordon might be the franchise's long-term future at shortstop, but there's a right-now future to honor as well, and you can bet Mattingly will make a necessary choice with that in mind.
If you want to speculate about anything with this club, though, don't think about the warm fuzzies of the Dodgers' new age of Magic (Johnson) or what might have been if Kemp had stayed healthy. That way lies madness -- with Kemp around, perhaps the Dodgers' needs might not have seemed so dire, and maybe then Colletti doesn't bring in HanRam and the Flyin' Hawaiian and rent Joe Blanton. Follow that thread of possibilities and you're probably left with a nice little team, an 85-win team that gets remembered fondly as a symbol of the Dodgers' return to respectability, if mildly disappointing for its late fade.
But perhaps because the Dodgers did start strong and Kemp did get hurt, Colletti did those subsequently necessary things to make something more of his team's circumstance. As a result, the Dodgers are turning into something more than just a rival with those Angels
arrivistes
from Anaheim for Angeleno affections, they're turning into the sort of team you can see going toe-to-toe with anybody in a postseason series. Outside of the non-
Clayton Kershaw
nights, they can now beat you with the sort of depth in talent that is usually associated with the Yankees or Red Sox or last year's Cardinals (or the Phillies, up until this year).
They're stronger now because they were weak in June, possibly as strong as any team in the league. Think on that: Do you really want to run into a team that can lead off a postseason series with Kershaw? If you're a gambling man, here's hoping you don't find that necessary.
PHOTO OF THE DAY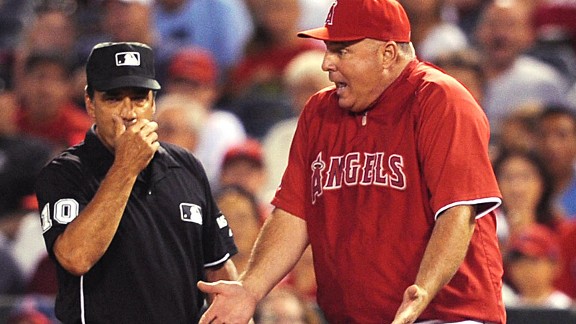 Kelvin Kuo/US PresswireIf Mike Scioscia wants to make a federal case out of it, there's always the Ninth Circuit.
Christina Kahrl covers baseball for ESPN.com. You can follow her on Twitter.
July, 16, 2012
7/16/12
4:15
PM ET
Not sure if you saw how the Padres beat the Dodgers on Saturday night. The Dodgers led the Padres 6-5 in the top of the ninth with runners on second and third and two outs,
Kenley Jansen
looking to close it out. But as he scratched at the pitching rubber and turned his back,
Everth Cabrera
took off for home plate. Jansen then threw the ball away and
Will Venable
came all the way around to
score the go-ahead run
.
Definitely a tough way to lose, although the Dodgers at least had one more at-bat. Was it
the
worst way to lose a game? (I mean, not counting heartbreaking playoff defeats.) Eric Karabell and Mark Simon had fun talking about this on Monday's
Baseball Today podcast

. What do you think? (Also:
Here's a great piece
from Chris Jaffe at The Hardball Times that recounts other memorable/crazy defeats.)
1. Dropped infield pop-up
Example: June 12, 2009. Mets lead the Yankees 8-7, two outs, bottom of the ninth,
Derek Jeter
on second base,
Mark Teixeira
on first base (after he had been intentionally walked),
Alex Rodriguez
at the plate. A-Rod pops up to second baseman
Luis Castillo
and slams his bat ...
except Castillo drops the ball
... and Teixeira comes all the around from first base to score the winning run.

2. Game-ending triple play
Example: Aug. 23, 2009. The Mets trail the Phillies 9-6 entering the bottom of the ninth but two errors and a base hit make it 9-7 to put runners at first and second with no outs. With the runners on the move,
Jeff Francoeur
hits a line shot up the middle -- which Phillies second baseman
Eric Bruntlett
catches, steps on second and tags
Daniel Murphy
for an unassisted triple play.
3. Bases-loaded walk following three other walks
Example: April 13, 2012. The Padres and Dodgers are tied 8-8 in the bottom of the ninth after the Padres had scored twice in the top of the inning to tie it.
Andrew Cashner
gets two outs but then walks
Mark Ellis
, Mark Kemp and
James Loney
.
Joe Thatcher
is brought on to face
Andre Ethier
...
who walks on four pitches
.
4. The walk-off grand slam ... while ahead by three runs
Example: Sept. 27, 2011. The Dodgers score five runs in the top of the 10th inning in Arizona to take a 6-1 lead.
Blake Hawksworth
gets the first two outs. The Diamondbacks chip away, an error keeps the inning going and it's 6-3 with the bases loaded and two outs.
Ryan Roberts
facing
Javy Guerra
.
Roberts clears the bases
.
July, 16, 2012
7/16/12
2:48
PM ET
Is your team still in the race? Mark Simon claims his team is out of it! Anyway, Mark and I gathered for Monday's
Baseball Today podcast
, talking about the weekend results both good and bad for certain teams and much more!
1. Are the Mets and Diamondbacks done? Mark and I disagree on what sample size means, but this also affects buyers and sellers.
2. This all leads to our Power Rankings. Mark says I cannot make a case for the Rays over the Pirates ... well, I just did!
3. What is the worst way to lose a game? The Dodgers found out on Saturday, and we share stories and thoughts.
4. What is Ozzie Guillen doing messing with the great
Bryce Harper
? OK, seriously, what is Ozzie doing?
5. Monday is a big night at Fenway Park as not only does
Kevin Youkilis
return, but so does a certain former Rays outfielder!
Plus your emails, even the ridiculous kind! So download and listen to Monday's Baseball Today Podcast, because there's some really good debate today and it's all in good fun!
November, 14, 2011
11/14/11
12:55
AM ET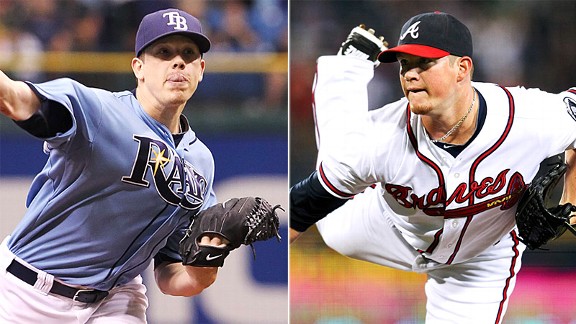 US PresswireTampa Bay's Jeremy Hellickson, left, and Atlanta's Craig Kimbrel led the SweetSpot rookie balloting.
The American League rookie crop has a chance to be one of the deepest, most exciting groups of rookies one league has produced in a long time (although the 2010 NL group with
Buster Posey
,
Jason Heyward
,
Mike Stanton
,
Starlin Castro
and
Jaime Garcia
was an excellent one as well).
On the hitting side,
Dustin Ackley
,
Eric Hosmer
,
Desmond Jennings
and
Brett Lawrie
all have All-Star potential, and guys like
Mark Trumbo
,
Jemile Weeks
,
Jason Kipnis
,
Mike Moustakas
,
Lonnie Chisenhall
,
J.P. Arencibia
and
Salvador Perez
aren't far behind or showcased plenty of potential. Pitchers included
Jeremy Hellickson
,
Ivan Nova
,
Michael Pineda
,
Zach Britton
and
Jordan Walden
. Those lists don't even include prospect studs
Mike Trout
and
Jesus Montero
, who will both remain rookies next season.
It makes for a crowded rookie race, especially since several of the hitters excelled after in-season promotions, which limited their overall numbers. Here are the voting results from the SweetSpot network (based on the same structure as the real voting: five points for first, three for second and one for third):
1. Michael Pineda, Mariners: 77 points (13 first-place votes)
2. Jeremy Hellickson, Rays: 51 points (6)
3. Eric Hosmer, Royals: 25 points (3)
4. Dustin Ackley, Mariners: 23 points (1)
5. Ivan Nova, Yankees: 11 points
(tie) Mark Trumbo, Angels: 11 points (1)
7. Brett Lawrie, Blue Jays: 8 points
8. Desmond Jennings, Rays: 5 points
9. Zach Britton, Orioles: 1 point
In our vote, it was essentially a two-player race; I suspect that in the actual vote, Nova will receive much more support. Let's start by looking at the three starting pitchers, all three of whom were regulars in their team's rotations most of the season.
Hellickson: 13-10, 2.95 ERA, 189 IP, 146 H, 117 SO, 72 BB, 21 HR, 1.15 WHIP
Pineda: 9-10, 3.74 ERA, 171 IP, 133 H, 173 SO, 55 BB, 18 HR, 1.10 WHIP
Nova: 16-4, 3.70 ERA, 165.1 IP, 163 H, 98 SO, 57 BB, 13 HR, 1.33 WHIP
Despite that glossy record, I think it's pretty easy to dismiss Nova. He doesn't have Hellickson's ERA or Pineda's peripherals; he pitched 24 fewer innings than Hellickson; he pitched in the AL East, but so did Hellickson. (We can ignore win-loss record, right? We all learned that last year when
Felix Hernandez
won the Cy Young Award, correct?) As important as Nova was to the Yankees, I think he's pretty clearly No. 3 here.
So let's compare Hellickson and Pineda.
Baseball-Reference WAR
Hellickson: 4.2
Nova: 3.6
Lawrie 2.8
Pineda 2.8
Ackley 2.5
Jennings 2.3
Trumbo 2.1
Hosmer 1.3
FanGraphs WAR
Pineda: 3.4
Lawrie: 2.7
Ackley: 2.7
Nova: 2.7
Jennings: 2.4
Trumbo: 2.3
Hosmer: 1.6
Hellickson: 1.4
Hellickson's season was an anomaly in one important regard: He allowed just 7.0 hits per nine innings while striking out 5.6 batters per nine. How odd is that combo? Since 2000, only six other pitchers have thrown at least 150 innings while allowing 7.5 hits or less per nine innings
and
fewer than six strikeouts per nine. The others:
Johnny Cueto
(2011),
Tim Hudson
(2010),
Trevor Cahill
(2010),
Barry Zito
(2003),
Derek Lowe
(2002) and
Damian Moss
(2002).
Hellickson succeeded because his BABIP (batting average on balls in play) was .223, the lowest among major league starters. That explains the difference in his WAR total between the two sites. FanGraphs' WAR is based upon FIP (fielding independent pitching), which attempts to remove defensive support from a pitcher's performance and assesses "a pitcher's talent level by looking at things a pitcher can control: strikeouts, walks, hit by pitches, and home runs."
So while Hellickson's ERA was 2.95, FIP looks at his mediocre 117-72 strikeout/walk ratio and 21 home runs allowed and projects a 4.44 run average. Pineda, meanwhile, had a 173/55 strikeout/walk ratio and 18 home runs allowed, and his FIP comes in at 3.42 -- lower than his actual ERA.
Basically, FIP regards Hellickson as being hit lucky; indeed, if you were projecting which pitcher will have the lower ERA next season, Pineda is the obvious choice (assuming Hellickson doesn't ramp up his strikeout rate). As a projection system, FIP is much better than simply looking at ERA.
But when evaluating a current season, do you simply dismiss Hellickson's results and say he wasn't that good? Personally, I think that's a big leap. Hellickson's run prevention may have involved a degree of luck -- it's worth pointing out that Pineda also allowed a low .258 BABIP, ninth-lowest among MLB starters (both were also extreme flyball pitchers, which can lower a pitcher's BABIP) -- but he
did
allow a 2.95 ERA over 29 starts, pitching in the tough AL East. He made eight starts against the Red Sox and Yankees (3-2, 3.73 ERA in 48.1 innings). Pineda only had to make one start each against the Red Sox and Yankees. Yes, Hellickson benefited from him his home park and an excellent Tampa Bay defense; but Pineda also benefited from a pitcher-friendly home park and good defense.
Hellickson had a left-on-base percentage of 82 percent -- second-best in the majors behind Jered Weaver's 82.6 percent. He allowed a .167 average with runners in scoring position, with just three home runs in 144 at-bats. Again, there is some good fortune involved here -- a .167 average allowed is not a repeatable skill -- but it
did
happen. It was a real result that helped the Rays win games and I can't so easily dismiss what happened on the field.
In some aspects, while last year's AL Cy Young debate was billed as the battle of new numbers (win-loss record for pitchers is overrated), it wasn't really the battle of new numbers: King Felix excelled in all the other conventional statistics like ERA, strikeouts and innings pitched. To deny Hellickson the rookie award would be the real shout-out to sabermetrics, ignoring his ERA and attributing his numbers completely to luck and defense. I don't think that will happen in the real vote; in fact, I'll be surprised if Pineda finishes in the top three, since -- let's face it -- win-loss record still means something to a lot of voters.
I'm a Mariners fan. I watched Pineda pitch 10-12 times this season and he and Ackley provided two bright hopes in a miserable season. If he stays healthy, the big right-hander is going to be a Cy Young contender in the future. But I put Hellickson No. 1. As for the rest of my ballot, Lawrie and Jennings were great in short stints (Lawrie's WAR includes a positive rating for his defense, which goes against the scouting reports as he came up through the minors), Ackley in a little longer stint, Hosmer over 128 games. Both B-R and FanGraphs hate Hosmer's defense (going against the general scouting reviews of his glovework), and thus affecting his WAR rating. Trumbo's 29 home runs and 87 RBIs led all rookies, but that .291 on-base percentage is damaging. Trumbo had some big hits for the Angels, but I can't put a guy with a .291 OBP in the top three.
My ballot
1. Jeremy Hellickson
2. Michael Pineda
3. Eric Hosmer
Predicted results
1. Jeremy Hellickson
2. Ivan Nova
3. Mark Trumbo
* * * *
In the National League, Braves closer
Craig Kimbrel
is expected to cruise to the award after leading the NL with 46 saves, posting a 2.10 ERA and striking out 127 batters in 77 innings, the sixth-highest strikeout rate ever with at least 50 innings pitched. (By the way, fellow rookie
Kenley Jansen
had the best rate ever, with 16.10 per nine innings.)
Here is the SweetSpot network voting results:
1. Craig Kimbrel, Braves: 108 points (18 first-place votes)
2.
Freddie Freeman
, Braves: 35 points (3)
3.
Danny Espinosa
, Nationals: 26 points (3)
4.
Vance Worley
, Phillies: 16 points
5.
Brandon Beachy
, Braves: 14 points
6.
Wilson Ramos
, Nationals: 13 points
7. Kenley Jansen, Dodgers: 2 points
8.
Josh Collmenter
, Diamondbacks: 1 point
(tie)
Lucas Duda
, Mets: 1 point
I suspect the actual voting results will follow a similar pattern, with Kimbrel possibly emerging as the unanimous winner. Espinosa flew under the radar all season, but hit for power (21 home runs) and played a very good second base. Like Hosmer, Freeman's glovework doesn't rate well by the fielding metrics. Overall, Espinosa's package of power and defense at a premium position makes him more valuable than Freeman. Worley and Beachy were terrific in partial seasons and Ramos gave the Nationals a second foundation piece for the future.
My ballot
1. Craig Kimbrel
2. Danny Espinosa
3. Freddie Freeman
Predicted results
1. Craig Kimbrel
2. Freddie Freeman
3. Danny Espinosa