October, 17, 2012
10/17/12
2:05
PM ET
Until
Eduardo Nunez
homered leading off the ninth inning against
Justin Verlander
on Tuesday, Tigers starters had thrown 30.1 consecutive scoreless innings, the most ever by a team in single postseason. Verlander also had his personal stretch of 23 scoreless innings snapped -- tied for the third longest in one postseason. Let's take a quick look at those other top streaks.
Christy Mathewson, New York Giants, 1905: 27 innings
This was the famous World Series where Mathewson threw three shutouts in five games, blanking the Philadelphia A's in Games 1, 3 and 5 and allowing just 13 total hits. Even in the dead-ball era, it was an impressive accomplishment. It was the only title of Mathewson's career as the Giants made it back to the World Series three times while he was active but lost each time.
Lew Burdette, Milwaukee Braves, 1957: 24 innings
A right-hander with impeccable control and maybe the best spitball in the game, Burdette beat the Yankees three times in the World Series. In Game 2, he won 4-2, shutting them out over the final six innings. He outdueled Whitey Ford in Game 5 to win 1-0. When Warren Spahn came down with the flu before Game 7, Burdette was given the ball on two days' rest and pitched a seven-hit shutout in the Braves' 5-0 victory.
Jerry Reuss, Los Angeles Dodgers, 1981: 23 innings
This was one I didn't remember. In the Division Series against the Astros, Reuss threw nine scoreless innings in Game 2 (although the Astros won 1-0 in 11 innings) and then a shutout in Game 5 to beat Nolan Ryan. He also blanked the Expos for the first five innings in Game 3 of the NLCS.
Kenny Rogers, Detroit Tigers, 2006: 23 innings
Tigers fans don't have to go back far for a great postseason run. Rogers tossed 7.2 scoreless frames against the Yankees in the ALDS, 7.1 against the A's in the ALCS and eight against the Cardinals in the World Series. Not bad for a guy who entered that postseason with an 8.82 postseason ERA in 20.1 previous innings. In fact, you could argue that Jim Leyland's biggest mistake in that World Series was not starting Rogers until Game 2 when he could have pitched in Game 1. Instead he went with a rookie named Justin Verlander who lost both his starts and Rogers never got a second start as the Cardinals won in five games.
June, 19, 2012
6/19/12
11:59
PM ET
Before steroids and HGH and the cream and the clear and other substances of superpower magic, we had old-school baseball: You know, stealing signs from center field, corking the bat, spitting on the ball, using the catcher's belt buckle to cut the ball, nail files, watering the dirt around the basepaths if the visiting team had speedy players, rubbing pine tar or other sticky goo on your glove, maybe a little K-Y jelly on the bill of your cap, pitching from six inches in front of the rubber, using superballs in your bat, taping a thumbtack to your index finger, altering the dimensions of the batter's box, tilting the foul lines, or even just a good ol' first baseman yanking a baserunner off the bag in a key moment of a World Series game.
So, thank you,
Joel Peralta
, for reminding us how baseball was meant to be played, when breaking the rules and cheating were considering a form of art rather than a moral affront against the grand traditions of the game.
Peralta was ejected
in the eighth inning of Tuesday night's game against the Nationals for having a foreign substance on his glove.
That was how you cheated back in the day. If you thought you could get away with it, you tried it. The spitball was banned in 1920? So many pitchers still threw it in the 1950s that former Dodgers pitcher Claude Osteen called it the decade of the spitter. In their book, "The Baseball Codes," Jason Turbow and Michael Duca write how the spitball was so pervasive that in 1955 commissioner Ford Frick lobbied for the relegalization of the pitch.
So, Joel, there is no shame in trying to pull one over on your opponents, the umpires and the fans who paid hard-earned money to witness a contest believed to be on the up and up. After all, Whitey Ford is in the Hall of Fame and he used to mix a concoction of turpentine, baby oil and rosin that he kept in the dugout during games. Gaylord Perry is in the Hall of Fame thanks to his ability in doctoring up the baseball -- or at least, with his swipes and tugs of his cap, deceiving hitters into thinking he was doctoring the baseball (Perry's young daughter once said her daddy just threw a "hard slider"). According to Turbow and Duca, Pete Rose insisted that Angels pitcher Bill Singer threw him four straight spitballs in the 1973 All-Star Game, one which hit catcher Carlton Fisk and bounced away. ("He didn't even tell me the damn thing was coming," Rose quotes Fisk as saying.)
Heck, we all remember
Kenny Rogers
in the 2006 playoffs when he didn't allow a run in three postseason starts. So he had some unknown brown smudge on his hand? Tony La Russa questioned the umpires about Rogers during the World Series and while Rogers was ordered to wash off the foreign substance, he wasn't ejected from the game. Hey, it ain't cheatin' if you don't get caught.
But you did get caught, Joel. Still, your teammate
Carlos Pena
stood up for you. "Someone called him out or betrayed him," Pena said after the game on the Rays' broadcast. "Someone who was his teammate. ... I don't think that's good sportsmanship."
Peralta played for the Nationals in 2010. Washington first-base coach Trent Jewett managed Peralta in Triple-A that year as well. So any number of people could have tipped off manager Davey Johnson to Peralta's grooming habits.
If anything, that's the disappointing thing. Foreign substance on your glove? Boring. Rick Honeycutt once used a thumbtack to cut the ball. Joe Niekro got caught with an emery board in his back pocket. Kevin Gross used sandpaper. Nolan Ryan, in his book "Throwing Heat," admitted to sometimes pitching from in front of the rubber. "On occasion I've pitched from about six inches in front of the rubber when I've needed the big strikeout," Ryan wrote. "And I know I'm not the only one who's done that."
The highlight of all this was after Peralta was ejected from the game and Rays manager Joe Maddon had the umpires check the cap and glove of Nationals reliever
Ryan Mattheus
. Gamesmanship at its best! It's the excitement of beanball wars without the threat of injury.
Plus, you have to appreciate that Peralta respects the traditions of the game. Too many of today's players don't appreciate the game's history. How many even know who Whitey Ford or Gaylord Perry are?
Funny, just today Phillies infielder
Freddy Galvis
sent out a statement apologizing for not using an illegal substance after he was caught with an illegal substance. Just yesterday,
Roger Clemens
was declared a free man when acquitted on all charges that he obstructed and lied to Congress in denying he used performance-enhancing drugs.
But Clemens, I suppose, is still a cheater in the minds of many.
Joel Peralta? He's an artist.
PHOTO OF THE DAY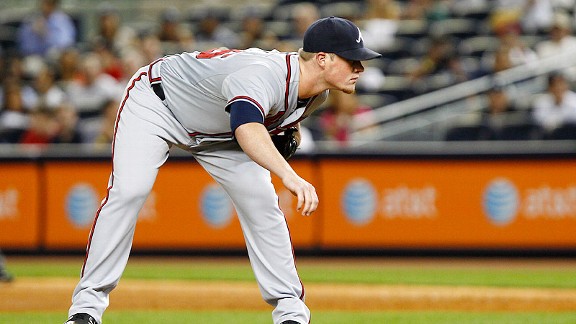 Debby Wong/US PresswireCraig Kimbrel with a lead? You wouldn't want to get between a predator and his prey, would you?
June, 10, 2011
6/10/11
3:20
PM ET
Here are some of the many reasons why you should listen to
Friday's Baseball Today

, hosted by me and Mark Simon:
1. We start with the biggest series of the week, and it wasn't Nats-Pads. The Yankees relief corps is a mess, and it's not so easy to get help, while the Red Sox are ... well, just terrific.
2. Speaking of a mess, the Oakland Athletics haven't won in a while, and we follow up with Mark about the change of managers and how sad it is that players he didn't bring in haven't worked out.
3. We discuss the best show on television in "Baseball Tonight" ("Glee" comes in a close second place) as Mark describes in detail the cool new feature on the show and its applications.
4. How soon do you forgive a player on your favorite team when he historically messes up? We talk Kenny Rogers, Mitch Williams, Bill Buckner ... and tweet us your feedback at @msimonespn and @karabellespn!
5. Every weekend is an important one, and we each identify the series we think have some extra meaning. For me, a certain AL Central team really needs to start playing better.
Plus: Excellent emails, talkin' food at certain ballparks, some really cool stats that Mark had to look up and hey, Eduardo, we'll miss you and wish you well. All this and more as we head to the weekend on Friday's Baseball Today. Be safe!
April, 11, 2011
4/11/11
3:44
PM ET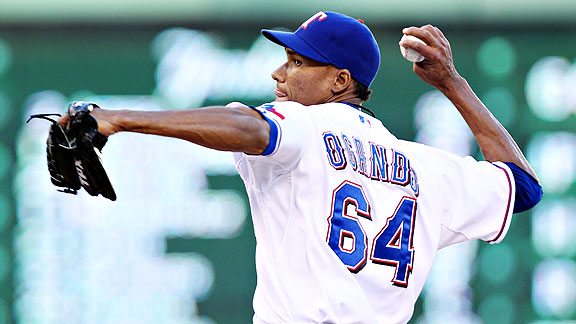 Matthew Emmons/US PresswireSo far, so good: Alexi Ogando hasn't allowed a run in his first two starts.
Alexi Ogando
made his second start for the Rangers on Monday afternoon. Ogando spent his rookie season pitching out of the bullpen (and most of his minor league career as well), but late in spring training the Rangers made the unusual move of trying Ogando into the rotation after deciding to keep
Neftali Feliz
as the team's closer.
It's not a move you see very often. Most relievers are in the bullpen for a reason, primarily because they don't have the stamina to last in the rotation, weren't able to develop the control or deep arsenal of pitches need to start, or lacked the big fastball managers like to see in a starter. Ogando certainly has the fastball needed, but we'll see how he develops on the other fronts.
I like the move and Ogando threw seven scoreless innings against the Tigers, allowing just two hits and walk. Why not take a power arm and see what happens? Kudos to the Rangers brass for taking a risk that really isn't much of a risk. If it doesn't work out, just move him back to the bullpen.
Here are a few reliever-to-starter transitions from major league history. (This isn't meant to be a comprehensive list, but these seem to be the most significant ones, not including many who may have pitched in relief as rookies, such as
Mark Buehrle
.) Many of these guys started in the minor leagues, although they all spent most of their early days in the majors in the bullpen.
David Wells
– Wells was a second-round pick by the Blue Jays but took six years to reach the majors and he spent his first three seasons in the bullpen, making just two starts. Part of that was there just wasn't room. The 1989 Blue Jays, who won the AL East, had a rotation of Dave Stieb, Jimmy Key, John Cerutti, Mike Flanagan and Todd Sottlemyre, all of whom posted ERAs less than 4.00. Wells excelled as a setup guy, with a 2.40 ERA over 86 innings. He got his shot the next year, but even then the Jays never fully entrusted a rotation slot to him as he spent three years alternating starting and relieving, helping the Jays win two World Series, before signing with Detroit as a free agent and becoming a starter the rest of his career.
Derek Lowe
– Lowe started nine games as a rookie with Seattle before getting traded to Boston. From 1998 through 2001, he appeared in 278 games (he did make 13 starts), proving himself as one of the AL's most durable relievers. Grady Little replaced Jimy Williams as manager in 2002 and made Lowe a starter and he won 21 games his first season in the rotation.
Charlie Hough
– It was a long road to the rotation for the knuckleballer. He started in the low minors but switched to relief in Triple-A with the Dodgers in the early '70s. He spent three years there before finally getting a regular job in the major league bullpen. He spent seven seasons there, once pitching 142 innings in relief, but other than 14 starts in 1979, remained stereotyped as a reliever. In 1980, he started out poorly and the Rangers purchased him. In Texas, he languished for two seasons in a mop-up role. Finally, at the end of the 1981 season, he was given a chance to start, won his final four games and became a starter in 1982. He was 34 years old, but would last until 1994, making 417 starts and winning 163 games in that span.
Wilbur Wood
– Before Hough, there was Wilbur Wood. Considering Wood's successful conversion, it's amazing it took so long before Hough got a rotation shot. Wood first reached the majors when he was 19, although he didn't exclusively use the knuckleball. He pitched periodically for the Red Sox and then Pirates for five years but never established himself. The White Sox acquired him and Hoyt Wilhelm advised Wood to stick with the knuckler. He spent four seasons as a workhorse reliever, leading the AL three years in a row in games pitched, before joining the rotation in 1971. Over the next five seasons, he started 42, 49, 48, 42 and 43 games, averaging 336 innings per season and winning 106 games.
Kenny Rogers
– A 39th-round pick out of high school by the Rangers, Rogers started 56 of 169 games in the minors but spent most of his first four years in the majors as a reliever. Like Lowe, it took a new manager to view him as a starter. Kevin Kennedy took over in 1993, put him in the rotation and he last 16 more seasons.
Jeff Fassero
– Like Rogers, Fassero was a low-round pick (22nd) and never a top prospect. Originally drafted by St. Louis, he didn't reach the majors with Montreal until he was 28. Exclusively a reliever his first two-and-a-half seasons, he joined the rotation in July 1993 and was a very good starter for five more seasons with the Expos and Mariners, later returning to the bullpen.
Omar Daal
– Daal had been a reliever for five seasons -- and not a very good one -- with the Dodgers, Expos and Blue Jays when Arizona selected him in the expansion draft and made him a starter. He posted a 2.88 ERA in 1998, won 16 games in 1999 and then was part of the booty that landed
Curt Schilling
from the Phillies.
Danny Darwin
– Darwin was undrafted by the Rangers but took just three seasons to the reach the majors. He spent two years primarily relieving, started in 1981, returned to the bullpen in 1982 and then was back in the rotation in 1983. He'd win 171 games in the majors.
Dave Stewart
– Stewart reached the majors with the Dodgers as a hard-throwing reliever in 1981, and while they did give him 14 starts in 1982, they eventually returned him to the bullpen. Traded to Texas, he bombed out of their rotation and was traded to Philadelphia, where he was released. The A's signed him and he won 20 games in four straight seasons.
Jimmy Key
– A third-round draft pick of the Blue Jays out of Clemson in 1982, Key reached the majors in 1984, appearing in 63 games in relief. Despite underwhelming numbers (44/32 SO/BB ratio, 1.65 WHIP), Bobby Cox put him in the rotation in 1985 and he'd finish his career with 186 wins and a 3.51 ERA.
Goose Gossage
– Here's a famous one that didn't stick. Gossage had led the AL with 26 saves with the White Sox in 1975, pitching 141 innings of dominating relief. Paul Richards replaced Chuck Tanner as manager in 1976 and Richards was an old-school guy from a different era and thought your best pitchers should start. Gossage went 9-17 as a starter, striking out just five more batters than the year before despite pitching 82 more innings. He was traded to Pittsburgh for the 1977 season and never started again.
Follow David Schoenfield on Twitter at @dschoenfield. Follow the SweetSpot blog at @espn_sweet_spot.