SweetSpot:

Kenny Williams
September, 18, 2012
9/18/12
1:10
AM ET
In their most important game of the season, the
Chicago White Sox
ran out a lineup that featured the following players:
That lineup helped
defeat the Tigers 5-4
on Monday afternoon, pushing the White Sox's lead in the AL Central to 3 games with 16 remaining. It's their division to lose.
Kenny Williams never seems to get the credit he deserves as White Sox general manager, but that's an impressive string of deals. Viciedo and Ramirez were sought-after Cubans, but the others show Williams' ingenuity in building a baseball team. He's the king of dumpster diving.
The players he acquired off the scrap heap doesn't stop with the above list.
Alejandro De Aza
, the team's starting center fielder most of the season before an injury (he recently returned), was claimed off waivers from the Marlins back in 2009.
Jake Peavy
was acquired in another salary dump in which Williams didn't have to give up any top prospects (not that the White Sox ever have any).
Francisco Liriano
came over from the Twins this year for next to nothing and has given the White Sox some good starts.
Philip Humber
hasn't been too effective since his perfect game back in April, but he was another waiver claim.
The White Sox are team of castoffs and the unwanted. Even the team's two longtime veterans,
Paul Konerko
and
A.J. Pierzynski
, could be classified in that category. Konerko had been a top prospect coming up through the Dodgers' system, but the Dodgers traded him to the Reds and the Reds traded him to the White Sox. Pierzynski had acquired a label as a malcontent and the Giants released him after the 2004 season. Williams took a chance.
That's what he does. The White Sox don't sign big-name free agents --
Adam Dunn
is the lone high-profile free agent on the roster. The White Sox don't draft well -- in part because owner Jerry Reinsdorf doesn't allow over-slot selections, in part because the White Sox rarely draft high (only one top-10 overall pick since 1991), in part because they just don't draft well -- and
Chris Sale
and
Gordon Beckham
are the only players the White Sox selected in the first round on the current roster.
Williams' pet move through the years is to take a risk on a veteran player with an undesirable contract. The Padres couldn't afford Peavy after signing him to a big deal and see him land on the disabled list. The trade didn't really pay dividends in 2010 and 2011 as Peavy battled more injuries, but he's been one of the AL's top starters. The Blue Jays signed Rios to a guaranteed $70 million deal in April of 2008, but a year later put him on waivers after a slight decline from his 2006-07 numbers, hoping another team would claim him. The White Sox. They got a solid 2010, a terrible 2011, and now an excellent 2012. Youkilis has provided a major upgrade at third base over what the White Sox had received there in recent seasons.
It's a market inefficiency of sorts that Williams has gambled on and that few GMs and owners are willing to take. But it's also a way of acquiring potentially premium talent without giving up top prospects. Maybe those guys aren't
quite
worth their salaries, but in 2012 they are solid contributors. Williams is willing to take the chance on those big salaries -- but not so big they cripple the team's payroll (the White Sox were 11th in the majors in Opening Day payroll).
Billy Beane is certainly the favorite for Executive of the Year, for his offseason wheeling and dealing that turned the A's into surprise contenders. (Yes, there is such an award, given out by The Sporting News, although oddly the last general manager who won the award
and
the World Series was Andy MacPhail of the Twins in 1991.) But Beane's deals weren't really constructed to build the A's into instant winners; it's been more a perfect storm of luck and unexpected performance. Give Beane the credit, of course, but acknowledge the residue of the unknown. Certainly Mike Rizzo of the Nationals and Dan Duquette of the Orioles will receive support.
But Williams is my choice. No, all those players weren't acquired in 2011-2012, so it's kind of a cumulative award. But teams aren't built in one offseason; the award should be based on a general manager's series of moves to build a winner. That's what Williams has done. It's what he usually does -- keeps the White Sox in contention, season after season.
Of course, let's not get ahead of ourselves just yet. As Tigers fans would like to point out, the season is not yet over.
PHOTO OF THE DAY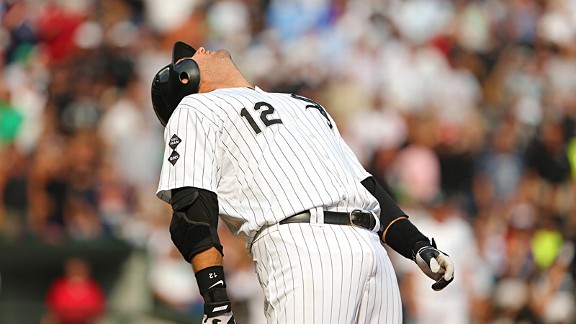 Nuccio DiNuzzo/Chicago Tribune/Getty ImagesWith a White Sox win like Monday's, A.J. Pierzynski might think they can aim for the heavens.
July, 29, 2012
7/29/12
1:14
AM ET
Kenny Williams never seems to get a lot of respect.
During his tenure as
Chicago White Sox
general manager, which began after the 2000 season, he's built two division winners, including the 2005 World Series champions. Maybe the most impressive aspect of his reign is that the White Sox are always competitive. They've been under .500 just three times, but two of those were 79-83. He's done this despite lacking the monster payrolls of teams such as the Yankees, Red Sox and Phillies; despite only once having a pick better than 12th in the first round of the draft; despite never having a franchise superstar like Barry Bonds to build around or pitchers like
Tim Lincecum
and
Matt Cain
, like Brian Sabean has had with the Giants; despite a farm system -- in part because of ownership's unwillingness to spend in the draft and because of that lack of high picks -- that usually ranks near the bottom (Keith Law and Baseball America both ranked the White Sox system 30th heading into the season).
What I like about Williams is he never gives up. He's always trying to win, to build the best team he can given his resources. He never craters, never commits to a complete teardown and embarrassing on-field product, such as the one you're seeing from the Astros, Williams' 2005 World Series opponents.
This is why trading for
Francisco Liriano
is a typical Kenny Williams move -- high risk, perhaps mocked, but one with a potential nice payoff. Liriano's season numbers with the Twins look terrible -- 3-10, 5.31 ERA -- and his last start (against the White Sox, of all teams) was a rough, seven-run blowup. But after an awful April and temporary trip to the bullpen, Liriano pitched very well in a 10-start stint from May 30 though July 18, posting a 2.84 ERA with 77 strikeouts, 28 walks and 38 hits in 63.1 innings (a .171 average allowed). That stretch included back-to-back starts of 15 strikeouts and 10 strikeouts against the A's and Orioles on July 13 and 18, respectively.
In other words, there's a good chance Liriano will outpitch
Zack Greinke
the rest of the way, even though
this trade
will receive much less fanfare and required much less in prospect value: light-hitting infielder
Eduardo Escobar
and left-handed pitcher
Pedro Hernandez
.
In fact, despite the much-maligned farm system, the White Sox have received contributions from several rookies, most notably on the pitching staff with
Jose Quintana
, closer
Addison Reed
, and relievers
Nate Jones
and
Hector Santiago
. With Quintana still the big surprise in the rotation, Liriano presumably takes the place of
Philip Humber
, who did pitch well in a
5-2 victory over the Rangers
on Saturday, but that strong start barely got his ERA under 6.00. With the hope that
John Danks
might return from his shoulder issues, the White Sox now have rotation depth and options in case of injury or if they want to conserve
Chris Sale
's innings.
The White Sox also have a lot to gain from a deal such as this; with a 2.5-game lead over the Tigers, winning the division title is obviously huge. There is a reason you're seeing teams contending for a division title making moves, while teams further back in the playoff chase -- such as the American League East wild-card contenders -- are more conservative. The reward for winning one of the two wild cards is essentially half as valuable as last season, with the one-game playoff plus the possibility that you've burned your best pitcher. But the payoff for the White Sox winning the division is worth taking a chance on Liriano.
As for the Rangers, they don't need to be as desperate as their division rival Angels, who gave up three good prospects to acquire Greinke. Yes, acquiring Greinke would have helped, but the Rangers have to ask: Do any of the other available pitchers make the team that much better? I agree with Jim Bowden:
Probably not

.
The top three starters in a playoff series right now probably would be
Matt Harrison
,
Yu Darvish
and
Derek Holland
(who has had a disappointing season but lately has
looked more like the pitcher
who threw so well in the second half and postseason a year ago). The fourth spot might be open as
Neftali Feliz
rehabs, but among Feliz,
Scott Feldman
,
Roy Oswalt
and maybe even
Alexi Ogando
, the Rangers have options. Do you want to give up Mike Olt or another top prospect for what might be just a minor upgrade in
Josh Johnson
(having his worst statistical season and would be expensive to acquire) or
Ryan Dempster
(who is unlikely to approve a trade to Texas anyway)?
Plus,
Josh Hamilton
and
Mike Napoli
are impending free agents, and there's no guarantee they'll be back, even though the Rangers have entered the upper echelon of payrolls. Maybe the Rangers will let one of those guys walk, spend some of that money elsewhere and give a starting position next season to Olt (with super prospect Jurickson Profar waiting in the wings).
The Rangers have options, but their best chance at holding off the Angels and surging A's might lie within: Namely, Hamilton and
Michael Young
finding their strokes. Hamilton was given a mental day off Saturday to clear his head. Since June 1, he's been one of the worst hitters in the league, batting .190 with a .274 on-base percentage. He's hitting .145 in July with 21 strikeouts in 19 games. Young is eating up at-bats at designated hitter and first base despite an empty .270 batting average. His OBP is less than .300, and he hasn't homered since May 7.
For all the talk of needing a starter, Young is a gigantic hole in the lineup right now. Kenny Williams filled one of his holes. We'll see whether Rangers GM Jon Daniels plugs his.
PHOTO OF THE DAY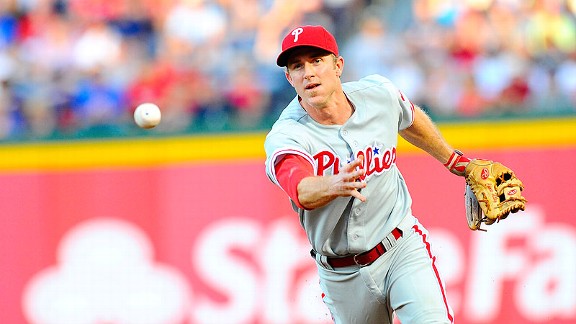 Dale Zanine/US PresswireAs quick as Chase Utley is to the ball, he's not so quick he'll beat the ball to first base.
April, 21, 2012
4/21/12
7:52
PM ET
By
Christina Kahrl
| ESPN.com
Don't count anybody out, ever. But perfect?
Philip Humber
was never supposed to be perfect, but on the 21st day of April he was exactly that: the 21st pitcher to deliver a perfect game and the first to throw one since
Roy Halladay
threw the 20th on May 29, 2010. It was also the first American League perfecto since
Dallas Braden
on May 9, 2010.
But he was never supposed to be perfect. After all, he had proven so very imperfect since being the third overall pick of the 2004 draft. Touted as a top Mets prospect, he blew out his elbow in 2005, and it wasn't long before he was referred to as another example of a Rice pitcher who got hurt and hadn't lived up to the hype. Unimpressed with his minor league performance after coming back from Tommy John surgery, the Mets bundled him into the four-for-one swap that brought them
Johan Santana
before the 2008 season.
[+] Enlarge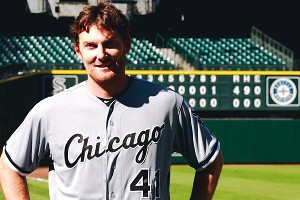 AP Photo/Elaine ThompsonThe White Sox are Philip Humber's fifth organization since he was drafted third overall in 2004.
But the Twins never let him start a single game in the majors after making 48 starts over two years at Triple-A, simply letting him slip away after 2009 rather than keep him on the 40-man roster. The Royals picked him up ... and
they
left him in Triple-A. However desperate the Royals were for pitching of any flavor, they lost him on waivers after the 2010 season to the A's. They were just looking for a possible fifth starter. But the A's lost him on waivers a month later when they decided they had a better way to use to spot on their 40-man roster, signing free agent
Grant Balfour
.
That is where the White Sox stepped in, grabbing Humber off waivers. Their goal for him wasn't any higher than anyone else's. He looked like a good guy to stash at the back end of a rotation -- a fifth guy, a bubble guy on an organizational depth chart, a guy only as good as his last start before giving him much thought. He was somebody who sticks only as long as he earns his keep and who won't be forgiven a run of bad starts.
That was his due, because at no point did Humber dominate in Triple-A. Across four years bouncing among organizations, flitting from New Orleans to Rochester to Omaha, from the Pacific Coast League to the International League and back again, he posted a 4.67 ERA in Triple-A. His clip of 6.9 strikeouts and 2.7 unintentional walks per nine reflected a pitcher who had good command.
With heat that just bumps above 90 mph and good command of four pitches, he's a finesse righty, and those don't catch many breaks. But he promptly proved he belonged last season, getting that last slot in the White Sox's rotation and keeping it, earning job security he'd probably only heard about happening to other people. And now, having achieved history as a strike-throwing machine, those days should be behind him for some time to come.
He's not the first such find for general manager Kenny Williams, though. The White Sox have made a cottage industry out of giving second chances to other teams' tarnished top prospects.
Gavin Floyd
looked like a Phillies flop after being the fourth overall pick of the 2001 draft;
John Danks
was the ninth overall selection for the Rangers in 2003, but they dealt him for
Brandon McCarthy
after seeing him deliver mediocre results at Double- and Triple-A. Good pitching might be hard to find, and not everything Williams touches turns to gold, but these are the benefits of betting on upside risk.
Humber might have had the good fortune to face the Mariners, a woeful lineup, in Safeco Field, a great place to pitch. But other people get those chances, and they don't deliver perfection. It's because of these finds that the Sox have the best rotation in the American League Central, and how they do will define how far the Sox might go this season. As Humber just showed, that might be a lot better than you ever expected.
Christina Kahrl covers baseball for ESPN.com. You can follow her on Twitter.
December, 1, 2011
12/01/11
9:35
AM ET

The American League Central may have a reputation as baseball's skinflint division, but such is not the case: The White Sox, Twins and Tigers each had payrolls over $100 million in 2011 and ranked in the top 10 of highest-salaried ballclubs.
The problem was that two of those three teams didn't get much for their money. Considering the issues in Chicago and Minnesota, and the youth and unwillingness to spend big in Cleveland and Kansas City, Detroit will enter 2012 as the heavy favorite to win the division -- no matter what happens in the offseason. But even the Tigers are far from a sure thing and if the Indians can get good health from
Shin-Soo Choo
and
Grady Sizemore
in 2012, plus strong seasons from youngsters
Jason Kipnis
and
Lonnie Chisenhall
, their offense could be dramatically improved.
But that's getting ahead of ourselves. Here's a quick look at some action plans and items of interest for the five teams.
Detroit Tigers
1. Third base (
Brandon Inge
)
With Inge plummeting to a .197 average, Detroit's third-base production was among the worst in the majors. The team has already been linked to free agent
Aramis Ramirez
and trade discussions with Angels on
Maicer Izturis
. Both would be big upgrades over Inge, who still has one year remaining on his contract. The dark horse possibility: With
Carlos Guillen
($13 million) and
Magglio Ordonez
($10 million) off the books, the Tigers pursue
Jose Reyes
to fill their leadoff void, moving
Jhonny Peralta
to third base.
Likely solution: As much I love the Reyes idea, Ramirez to Detroit seems like a logical fit. The negatives are Ramirez's lack of range and Detroit's need for a little more athleticism in the lineup.

2. Middle relief
By the postseason, Jim Leyland was down to two relievers he trusted:
Jose Valverde
and
Joaquin Benoit
.
Al Alburquerque
had a strong rookie season out of nowhere and
Phil Coke
and
Daniel Schlereth
provide rare power lefty arms, but Albuquerque and Schlereth still have trouble throwing strikes. The Tigers could go after a low-cost veteran like
LaTroy Hawkins
,
Mike Gonzalez
or
Darren Oliver
, or maybe make a trade pitch for White Sox lefty
Matt Thornton
, although it seems unlikely Chicago would trade Thornton to a division rival.
Likely solution: A veteran righty-hander, with the Tigers counting on improvement from Coke and Schlereth.
3. A left-handed bat.
The Tigers missed
Brennan Boesch
's stick in the playoffs, as
Victor Martinez
and the hobbled
Alex Avila
were the only threats from the left side (granted,
Don Kelly
hit a big home run). Boesch's return will help, but Detroit could use a lefty bat to help balance out the lineup.
Likely solution:
Andy Dirks
may given another shot at that third/fourth outfielder job after hitting .251/.296/.406 as a rookie. But what about Rockies left fielder
Seth Smith
, who is on the trade block? His career .518 slugging percentage against righties has been bolstered a bit by Coors Field, but he's a solid hitter who could platoon with
Ryan Raburn
in left, or allow Raburn to play some at second base.
Cleveland Indians

1. Find a left fielder who can hit.
Michael Brantley
is a decent asset -- but as a center fielder. The plan to use Brantley as an everyday left fielder was never a great one to begin with, as he's never going to pop many balls over the fence. Brantley,
Austin Kearns
,
Shelley Duncan
and
Travis Buck
all started at least 20 games in left; Jared Head started six games there. As a group, Cleveland's left fielders hit a miserable .233 with seven home runs; only Baltimore and Minnesota received a lower OPS from their left fielders.
Likely solution: Signing
Grady Sizemore
doesn't necessarily push Brantley back to a starting role in left field. He's best used as a fourth outfielder and Sizemore insurance.
Michael Cuddyer
may end up getting priced out of Cleveland's range, so how former Twins teammate
Jason Kubel
? He can play left and step in as designated hitter when
Travis Hafner
suffers his inevitable breakdown.
2. Find at least one more starter.
Right now, the Indians can only count on
Justin Masterson
and
Ubaldo Jimenez
for their rotation.
Carlos Carrasco
is out for the season following Tommy John surgery,
Fausto Carmona
was terrible and even
Josh Tomlin
is a question mark after the league caught up to him in the second half (5.26 ERA).
Likely solution:
Jeanmar Gomez
has been roughed up in two stints in the majors (146 hits in 116 innings), but his Triple-A numbers were solid, if unspectacular. He'll be given another chance in spring training to battle
David Huff
for a rotation spot.
3. If not
Matt LaPorta
, who plays first base?
The big prospect acquired in the
CC Sabathia
deal, LaPorta just hasn't hit as expected, posting a .299 on-base percentage in 2011. The Indians seem ready to punt on LaPorta, who turns 27 in January so isn't even that young.
Carlos Santana
ended up playing a lot of first base down the stretch, but let's hope he's kept behind the plate, where his hitting value would be maximized.
Likely solution: If free agent
Carlos Pena
lowers his price, he's a possibility, and the Indians reportedly talked with Houston about
Brett Wallace
. I'm not sure Wallace is much of an upgrade over LaPorta, but at least he's younger.
Casey Kotchman
could fit nicely here as lower-cost alternative after posting a .378 OBP with Tampa. And hey, he's only two years older than LaPorta.
Chicago White Sox

1. What do you do with
Adam Dunn
and
Alex Rios
?
Dunn hit .159 with a .569 OPS. Rios hit .227 with a .613 OPS. Dunn was the least-valuable position player in baseball, according to Baseball-Reference.com, while Rios was seventh-worst. They made $24 million in 2011 and will make a combined $26 million in 2012. Both are signed through 2014.
Likely solution: General manager Kenny Williams will be busy during the winter meetings, perhaps shopping around guys like
Gavin Floyd
,
John Danks
and Matt Thornton, looking for some sort of backup plan to these two pieces of junk. The 40-man roster currently includes
Alejandro De Aza
, who probably deserves a chance to play somewhere after a nice run (if over his head) last season. Let's put it this way: he can produce an OPS higher than .613.
2. Third base (
Brent Morel
)
After struggling all season, hitting .250 with just two home runs and seven walks in 328 at-bats through August, Morel suddenly changed his approach in September, got more patient and swung for the fences. He hit just .224 the final month, but with eight home runs and 15 walks. Was it a legitimate improvement, or merely feasting off September tired arms and rookie call-ups?
Likely solution: Morel's hot September earns him another shot.
3. The new manager
This isn't so much an action plan, as a big question mark. Robin Ventura has no previous managerial experience, but the good sign for the White Sox is that respected pitching coach Don Cooper is still around to handle the pitching staff.
Likely solution: If Dunn and Rios stink it up again, it won't matter how well Ventura transitions into the job -- he'll be doomed.
Kansas City Royals

1. Fix the rotation
The Royals had a 4.82 ERA from their starters; only Baltimore was worse in the American League.
Likely solution: The Royals already made a move here, trading
Melky Cabrera
to the Giants for
Jonathan Sanchez
. The club also re-signed
Bruce Chen
. With the signing of
Jonathan Broxton
, and the emergence of rookie relievers
Greg Holland
,
Louis Coleman
and
Tim Collins
in 2011, fellow 2011 rookie
Aaron Crow
will be given a shot at the rotation. I have my doubts it will work: Crow walked 31 in 62 innings out of the bullpen and left-handed hitters tagged him for a .311 average and .538 slugging percentage. There's a reason he struggled in the minors as a starter in 2010 (5.73 ERA). He has a great arm, but won't be able to rely on his fastball/slider combo as a starter.
2. Second base (
Chris Getz
)
Royals second basemen posted a .301 OBP and .636 OPS (26th in the majors) in 2011.
Likely solution: Rookie
Johnny Giavotella
played the final two months there and hit .247 with a .649 OPS. He'll head into spring training as the favorite to win the job. He hit .338/.390/.481 at Triple-A, so the batting potential is there: Bill James projects him to hit .295/.342/.419.
3. Center field (empty -- Cabrera traded)
The Royals were smart to deal Cabrera after his career season.
Likely solution:
Lorenzo Cain
, acquired from Milwaukee in the
Zack Greinke
trade, will finally get a chance to play after spending 2011 in Triple-A. Cain is old for a guy still considered a prospect -- he turns 26 in April -- so he should be a polished product by now. He showed some power for the first time in his career, hitting 16 home runs for Omaha while batting .312. He doesn't walk much, so won't be a star, but should come closing to matching Cabrera's 2011 production.
Minnesota Twins

1. The M & M boys
After 2011's train wreck -- the club's first 90-loss season since 2000 (and at 99 losses, the most the 1982 Twins lost 102) -- it seems pretty clear this team will be dead in the water again unless
Joe Mauer
and
Justin Morneau
get healthy and regain their All-Star status. But they also can't assume these guys are going to play 140-plus games.
Likely solution: Obviously, the Twins need a better backup plan for Mauer than giving .167-hitting
Drew Butera
250 plate appearances. They already accomplished with the smart signing of
Ryan Doumit
to a one-year deal for $3 million. Doumit can catch or play right field, but his bat is good enough to warrant a regular place in the lineup even when he's not behind the plate. Of course, he's also been injury-prone throughout his career. Prospect Chris Parmalee, who impressed in a September call-up, gives the team a potentially decent backup option for Morneau as well.
2. Right field: Empty (Michael Cuddyer, free agent)
For all the attention Cuddyer is getting, let's remember that he's really just a complementary bat on a good team. Unfortunately, considering some of the other outfielders the Twins tried last season --
Rene Tosoni
,
Jason Repko
,
Trevor Plouffe
-- you realize they had nobody in the upper levels of the system.
Likely solution: Doumit may factor into their plans here, but regardless, the Twins need another bat to play a corner or DH. Smith is a trade option and free agent
Josh Willingham
is another possibility.
3. Closer: Empty (
Matt Capps
and
Joe Nathan
, free agents)
Nathan signed with Texas while GM Terry Ryan recently told the St. Paul Pioneer Press that it's likely Capps could return.
Likely solution: Capps was terrible last year, allowing 10 home runs in 65.2 innings while striking out just 4.7 hitters per nine innings. Two years ago, he had a 5.80 ERA. I can't fathom why any team would want to make Capps its closer. Sadly, however, the rest of the Minnesota bullpen is nearly as uninspiring (as is the rotation, but I don't have room to get to them here), but Capps throws strikes and there's nothing the Twins love more than a pitcher who throws strikes (velocity are ability to miss bats don't seem to be a factor). There's no reason for this team to spend big money on one of the remaining free-agent closers, so it probably will be Capps or lefty
Glen Perkins
.
July, 26, 2011
7/26/11
12:32
AM ET
An impartial observer might take a snapshot of the American League Central and conclude that the race is an exercise in wheel-spinning. But that's not entirely correct: The four teams at the top just have no idea if they're coming or going.
The Twins were treated to a combination wedgie and noogie in a 20-6 loss to Texas on Monday and are now 47-55. But they seem strangely resistant to entertaining offers for free agent-to-be
Michael Cuddyer
, a solid righty bat, terrific clubhouse guy and crafty situational reliever in blowouts who might net them a decent prospect haul in return. It's nice to be loyal and cling to hope based on some recent fast finishes, but you have to wonder if Twins general manager Bill Smith is missing an opportunity to capitalize on a valuable asset here.
The Indians, who beat the Angels 3-2 on a walk-off single by rookie second baseman
Jason Kipnis
, have an AL Central-best run differential of plus-2. They began the season at 30-15, but injuries to
Shin-Soo Choo
and
Grady Sizemore
and an overall lack of lineup depth have stalled their momentum and left fans wondering when the magic ends and the reality check begins. Meanwhile, GM Chris Antonetti continues to look for a bat on a limited budget.
The White Sox, the American League's answer to the enigmatic Reds, are always a stinker away from an Ozzie Guillen expletive-fest. And general manager Kenny Williams, a guy who lives to make waves at the trade deadline, seems genuinely conflicted. Amid rumors that he's talking to St. Louis about a deal for young outfielder
Colby Rasmus
, Williams appeared on ESPN Radio in Chicago and said he might "turn over the entire roster'' if the White Sox don't make a move here shortly.
That leaves us with the division leaders in Detroit, where
Justin Verlander
might or might not have enough help in the rotation to get the Tigers to the postseason, and GM David Dombrowski and manager Jim Leyland might or might not be on the spot with owner Mike Illitch in the final year of their contracts.
It was only fitting that when the Tigers and White Sox met in a big AL Central showdown Monday night at U.S. Celluar Field, all the division's warts were on display. Between home runs by
Paul Konerko
and
A.J. Pierzynski
, the Chicago crowd was treated to botched pop flies, a muffed pickoff, a near-collision between
Juan Pierre
and
Alex Rios
in the outfield and a wild pitch that careened off Pierzynski's shinguard and was turned into an out at second base by reliever
Jesse Crain
.
The Tigers ran out four pitchers --
Duane Below
,
Chance Ruffin
,
Charlie Furbush
and
David Purcey
-- with a combined 215 2/3 innings in the big leagues. The vast majority of those belong to Purcey. And White Sox starter
Mark Buehrle
, miracle of miracles, actually issued a leadoff walk in the fifth inning.
Is this any way to run a pennant race?
Take an informal survey of people in baseball front offices, and their predictions for the division generally fall along the same lines. Just about everyone favors Chicago's pitching staff, but the White Sox are going to have a hard time winning if
Adam Dunn
(.159 batting average) and Rios (.301 slugging percentage, 23 RBIs) continue to look this pathetic at the plate. If Dunn plans to hit .200 this season, he better have some Ted Williams-caliber mashing in store for August and September.
Offensively, the Tigers win the Best in Show award. Detroit ranks fifth in the league in runs scored, and
Miguel Cabrera
,
Jhonny Peralta
,
Alex Avila
,
Brennan Boesch
and
Victor Martinez
all have an OPS north of .800.
The Tigers have been trolling for a front-end starter. But with
Ubaldo Jimenez
and
James Shields
pretty much un-acquirable, they might have to stand pat or settle for a back-end guy to complement their top four of Verlander,
Max Scherzer
,
Rick Porcello
and
Brad Penny
.
It could be worse: Scherzer, although up-and-down this season, has generated a swing-and-miss percentage of 9.3 -- better than
Matt Cain
,
Jered Weaver
and
David Price
. And Porcello has quietly gone 4-0 with a 3.33 ERA in July. He's still 22 years old, remember?
In a race this chaotic, the schedule can make a difference. While the Tigers are finished playing Boston and New York this season, the White Sox welcome the Red Sox and Yankees to Chicago for seven games starting Wednesday. As for the feisty Indians, they have 10 games against Boston, Texas and Detroit in early August. That's their sink-or-swim stretch.
"It's a weak division,'' said a National League personnel man, "but I've liked the Tigers all year. Never underestimate a team with a good offense and an ace [starter]. You just don't have long losing streaks.''
And who cares about labels? Dunn can't step to the plate these days without another out-of-town broadcaster referring to him as "the struggling Adam Dunn.'' But as he told Yahoo! Sports in a recent interview, he still enjoys playing, "Even though I suck.''
Say this for the Big Donkey: He's come to the right place.
PHOTO OF THE DAY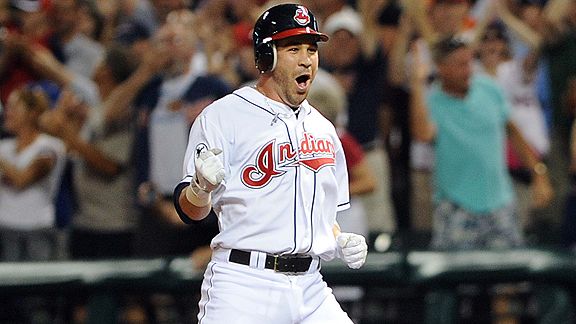 Eric P. Mull/US PresswireJason Kipnis celebrated his first hit. Why not? It was a based-loaded, two-out walk-off in the ninth.
April, 14, 2011
4/14/11
6:08
PM ET
By
Christina Kahrl
| ESPN.com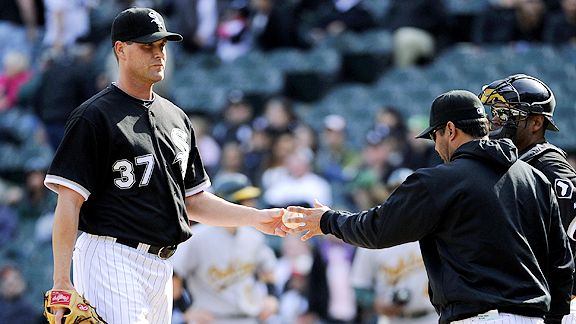 Ron Vesely/MLB Photos/Getty ImagesWhite Sox closer Matt Thornton has already racked up four blown saves in the young season.
The White Sox lost another squeaker Wednesday with
their second extra-inning loss
to the A's. It marked their fifth blown save in the bottom of the eighth inning or later, and the fourth blown save on the season for
Matt Thornton
, this time coming in relief of rookie
Chris Sale
. Sale failed to record an out after being handed a three-run lead in the ninth, so while the blown save gets put on Thornton, it was another bad day at the office for both of the Sox's should-be stoppers. After the game, manager Ozzie Guillen was every bit as combustible as his closers, exploding with an announcement of the obvious: "
I don't have any closer
."
Now, as much as you'll get an argument from those on the inside that pitching the ninth is different from any other, it's also true that closers can be conjured up from the least likely of sources. From last year's saves leaderboard, for example,
Kevin Gregg
(37 saves) was a former utility pitcher for the Angels, while the Mariners'
David Aardsma
(31 saves) was no stranger to the waiver wire. It isn't about the ability to generate saves -- give a lot of guys 30-40 opportunities in the ninth, and you'll get a save 75-80 percent of the time.
It isn't going to be Ozzie's job to pull a rabbit out of his hat, not by himself at any rate. In Sale and Thornton, he has two good lefties who can and will pitch effectively, but their rough starts mean it's going to take some time for trust in them to be rebuilt. Turning to Thornton early in the season and trusting that perhaps Sale would wind up earning the job in-season was a nice plan in the abstract, but in the big picture a pair of southpaws in the Cell doesn't exactly make for the best combination, not in a world full of right-handed hitters, and definitely not in a ballpark as righty pull-power-friendly as the Sox's home -- per Baseball Info Solutions' park factors, U.S. Cellular's 145 park factor for right-handed hitters' home runs is the single highest home-run factor in either league for every kind of hitter in any ballpark over 2008-10. In this kind of environment, there's a real need for a quality right-hander.
And simply put, Ozzie doesn't have that guy. Converted position player
Sergio Santos
has mid-90s heat and might be worth a peek, but like many conversion projects, the four-seamer could probably profit from more movement and less speed-gun heroics, and given his limited experience on the mound, his off-speed stuff understandably needs work: righties can kill his changeup when they aren't sitting dead-red, but his slider has promise. If that sort of sushi is a little too exciting for Ozzie,
Jesse Crain
might make for an adequate temporary solution, but he wasn't especially effective in high-leverage situations in 2008 or 2009, and his strikeout rate isn't all that much higher than average for relief help.
Enter Kenny Williams, who is as active a shopper as any GM in the game today. From Williams on down, the Sox believe in their ability to regild the lily, taking other teams' former top struggling prospects and getting them turned around. The rotation's stocked with them (
John Danks
and
Gavin Floyd
, for example), and it was their gamble on
Bobby Jenks
as a too-wild Rule 5 pick out of the Angels organization that helped propel the Sox to their 2005 title. The answer has to come from outside the organization, and it'll be Williams' crew who can find him. If it's a matter of taking a chance on a pitcher struggling with staying healthy, here again, the Sox can afford a bit of risk where other teams might shrink from it, because they have the benefit of Herm Schneider's matchless training staff.
The question is whether Williams can acquire someone this early in the season, when salary dumps generally aren't the order of the day, so it's likely to cost talent -- something Chicago's system isn't rich in. Making the call this early comes across as desperate, because it is. Even so, perhaps the best fit will involve the Sox living up to their season motto -- "All In" -- and making a deal for a short-time veteran who could use the change of scenery.
So the time is now for Williams to call Sandy Alderson, start talking about
Francisco Rodriguez
, and see how much money the Sox can get the Mets to eat while making it happen. K-Rod may not appear to be the same pitcher he was in his Angels' heyday, but his strikeout rate last season (28.4 percent) was his best since 2007. As much as "closer mystique" is overrated, the Sox probably can't afford to keep experimenting on into May; K-Rod's formerly famous enough to end the club's closer controversy, pushing Thornton back into his set-up job and letting the Sox re-evaluate what they want to do with Sale in the near term. Admittedly, the Sox would be risking K-Rod's 2012 option for $17.5 million vesting -- he needs to finish 55 games to get there, plus a clean bill of health -- but either you're all in, or you're not.
Christina Kahrl helped co-found Baseball Prospectus in 1996, is a member of the BBWAA, and covers baseball for ESPN.com. You can follow her on Twitter here.
March, 3, 2011
3/03/11
12:00
PM ET
By
Bill
and
The Common Man
| ESPN.com
On Tuesday, Darryl Johnston caused a bit of a stir when he ranked the components of "organizational management" -- the owners, GMs and managers -- of
the five AL East teams
. Being Midwest guys, we thought we'd try the same thing with the AL Central; not as sexy, maybe, but fun nonetheless. We're using the same basic method Darryl did, with one point for a fifth-place ranking and five points for a first-place ranking.

Owner
: Jerry Reinsdorf |
AL Central rank
: 2nd |
Points
: 4
Reinsdorf generally stays out of the way and cuts checks these days. He's also succeeded at the unenviable job of maintaining détente between his manager and general manager. Which is good, because the two are both excellent in their roles, even if they don't always work well together. Reinsdorf gets a slight ding here because of his role as Bud Selig's chief supporter and his role in collusion in the late 1980s.
General manager
: Kenny Williams |
Rank
: 1st |
Points
: 5
Williams, who has held his job since 2000, excels at making trades, picking up guys like
John Danks
,
Gavin Floyd
,
Carlos Quentin
and
Jose Contreras
in very one-sided deals. He's reached into the Cuban market, generally hit on his free-agent acquisitions, and had decent farm systems that he's mostly leveraged to acquire more talent.
Manager
: Ozzie Guillen |
Rank
: 1st |
Points
: 5
Ozzie has made waves this offseason by not keeping his clubhouse's business in-house. But he's typically been quick to leap to his players' defense and take the blame himself for any failures. He also consistently provides the best quotes in the business.
White Sox's composite score: 14 points
---

Owner
: Larry Dolan |
Rank
: 4th |
Points
: 2
The Indians used to be the class of the American League Central. They had a beautiful ballpark, they sold out every single game (literally), and they finished 171 games over .500 from 1994-99. Working diligently, Dolan has managed to undo all of that hard work. The Indians sit at the bottom of the division, they drew under 1.4 million fans last year, and they've finished .500 or worse seven times in nine seasons.
General Manager
: Chris Antonetti |
Rank
: 4th |
Points
: 2
Antonetti's hard to figure, given that this is his first season at the helm and the club still has ties to former GM Mark Shapiro. It's also unclear how much of the Indians' performance these last several years are traceable back to Antonetti, Shapiro's right hand since 2007. His first offseason was not exactly inspiring.
Manager
: Manny Acta |
Rank
: 2nd |
Points
: 4
We like Acta. He earns high marks for his open-mindedness, willingness to experiment, demeanor and jaunty hat. His overall record, 227-345, is deceiving, since his owners and GMs steadfastly refuse to provide him with actual major league players.
Indians' composite score: 8 points
---

Owner
: Mike Ilitch |
Rank
: 1st |
Points
: 5
IIlitch and the Tigers spent a long time in baseball's wilderness. Now he's mostly content to hand out the checks and let Jim Leyland and Dave Dombrowkski run the show. This is a good thing. Pizza! Pizza!
General manager
: Dave Dombrowski |
Rank
: 2nd |
Points
: 4
When he's had a free hand, he's put winners on the field. He's occasionally played a little too fast-and-loose with Ilitch's money -- like this year, comically overpaying for a middle reliever and apparent DH in
Joaquin Benoit
and
Victor Martinez
.
Manager
: Jim Leyland |
Rank
: 4th |
Points
: 2
Leyland's still a good and popular manager when he's engaged and happy. As he gets older, there's additional risk that he'll burn out again or fall asleep in the dugout. We're probably starting to get into Casey Stengel-with-the-Mets territory here.
Tigers' composite score: 11 points
---

Owner
: David Glass |
Rank
: 5th |
Points
: 1
We'll never blame an owner for refusing to spend on a team that's going nowhere, but their continually going nowhere is in large part BECAUSE of Glass, who had a huge hand through the mid-90s in turning the team into the perpetual downer it's become.
General manager
: Dayton Moore |
Rank
: 5th |
Points
: 1
Yes, the farm system is excellent right now. Yes, GMDM remains the worst GM in all of baseball. Virtually every move he has made at the big league level has failed spectacularly and predictably. There's been no indication at all that, once those great kids are ready, he is capable of acquiring the pieces necessary to turn that core into a contender.
Manager
: Ned Yost |
Rank
: 5th |
Points
: 1
He's had only about three-fourths of a season in KC, but he has a rep among Brewers fans as a high-strung statistics-phobic dinosaur who used his bullpen in a bizarre and ineffective way. Yost probably isn't a terrible manager, but he's at the bottom of a strong stack.
Royals' composite score: 3 points
---

Owner
: Jim Pohlad |
Rank
: 3rd |
Points
: 3
Pohlad's father did basically what Glass did in the '90s, with the same results. The Twins are spending a lot more these days, but that's the park, not the owner. It's pretty hard to argue with the results under either Pohlad since 2002, though.
General manager
: Bill Smith |
Rank
: 3rd |
Points
: 3
Smith is an enigma. After starting his career with two disastrous trades and little else, Smith shockingly hit a home run with nearly every move a year ago. This offseason, he seems back to his old ways. Antonetti gets ranked behind him for now, but I have a suspicion that Smith might be pretty close to 29th out of 30.
Manager
: Ron Gardenhire |
Rank
: 3rd |
Points
: 3
The esteem in which one holds Ron Gardenhire seems to have an inverse relationship to how often you watch the Twins play. You love him at 30,000 feet, but if you're close enough to see his irrational love of "scrappy" players and his bullpen usage, the cracks start to show. But the players seem to love him and love playing for him, and I think that's the one aspect of managing that sometimes gets unfairly overlooked.
Twins' composite score: 9 points
---
Overall AL Central ranking
:
1. Chicago (14 points)
2. Detroit (11 points)
3. Minnesota (9 points)
4. Cleveland (8 points)
5. Kansas City (3 points)
This roughly approximates how you might expect the 2011 standings to look, at least with the group of three who will finish at the top and the two who are destined for the bottom. The all-around futility of the Royals kind of skews the rest of the results (making Cleveland and Minnesota appear closer than they probably are), but the general order is right.
The Common Man and Bill write obsessively on The Platoon Advantage and bicker incessantly on Twitter here and here.
August, 19, 2009
8/19/09
1:07
PM ET
And on the South Side,
still they wait
...
General manager Ken Williams said [Jake] Peavy won't start on Sept. 3 in a make-up game with the Chicago Cubs at Wrigley Field because Williams doesn't want Peavy risking injury by batting and possibly running the bases. Therefore, the most likely scenario -- if Peavy continues his rehab without incident -- is Peavy pitching against the Boston Red Sox during the series at U.S. Cellular Field between Sept. 4-7.
OK. Let's assume that all goes according to plan and Peavy pitches on the 4th against the Red Sox (and by the way, thanks for the easy American League baptism). If that goes well and Peavy doesn't suffer any setbacks, he would eventually start five games for the White Sox this season. Five games started by a pitcher who cost the White Sox a quartet of young players, at least two of whom are considered real prospects.
Doesn't seem like enough, does it?
But that's just this year. Jake Peavy quite likely will not make a difference this season. Oh, it's possible. But you don't trade four young players to boost your chances of winning the division by two or three percent. He might, on the other hand, make a difference next season. Or the season after that. Or the season after that. Because Peavy's locked up through 2012.
Same goes for Alex Rios. So far, the (really) early returns aren't good, as he's hit even worse for the White Sox than he did for the Blue Jays. Again, though, we won't be able to judge this deal for a while yet. Granted, the Sox didn't actually give up anyone to get Rios. They merely had to assume more than $60 million in contract obligations, and Rios is now theirs through 2014 or '15, if they want him.
Frankly, I'm not wild about either move. But it's fascinating to watch Kenny Williams playing the long game when most general managers of contending clubs are playing, in the middle of the summer, a short game.