July, 21, 2013
7/21/13
10:30
AM ET
By
Jason Wojciechowski
| ESPN.com
Throughout July we're presenting 30 deals in 30 days: the best trade deadline deal ever made by each team. We've covered the AL East, NL East, AL Central and NL Central so far, and are now on the AL West.
THE TEAM:
Oakland A's
THE YEAR:
1999

THE SITUATION:
The great A's teams of the late '80s and early '90s were long gone, as the team had finished under .500 every year since 1992. The farm system was producing success at the major league level -- Eric Chavez, Miguel Tejada, Jason Giambi and Ben Grieve were all regulars in the lineup -- but the pitching lagged behind the hitting. The rotation featured such luminaries as Gil Heredia, Jimmy Haynes and Mike Oquist. Rookie Tim Hudson was the team's only reliable starter.
Through July 28, the team was 51-50 and on the fringe of contention, 8.5 games back of the division lead, five back of the wild card.
THE TRADE:
On July 29, Billy Beane made it known that he was taking a run at the playoffs, sending Elvin Nina, Jeff DaVanon and Nathan Haynes to Anaheim for Randy Velarde and Omar Olivares. Not content to add one solid starter, Beane shocked A's fans by acquiring Kevin Appier from Kansas City two days later for Jeff D'Amico, Brad Rigby and Blake Stein. Appier may be forgotten today, but from the time he entered the Kansas City rotation in 1990 through the end of 1997, he won 134 games with a 3.21 ERA despite the fact the Royals were generally awful.
THE AFTERMATH:
Appier was never the same after missing most of 1998 with a labrum tear, including his time in an A's uniform (96 ERA+), and Olivares was average at best in 1999. The A's missed the playoffs by seven games. The trades, though, are memorable for signaling the death of the A's malaise. The 87 wins that Oakland finished with in 1999 would be their lowest total until 2007, as the team became the force to be reckoned with chronicled in "Moneyball." These were the deals that psychically kicked off a prolonged stretch of success.
-- Jason Wojciechowski, Beaneball
August, 13, 2012
8/13/12
5:46
PM ET
Before the Olympics began,
Kobe Bryant
suggested this year's Olympic basketball team would defeat the fabled 1992 Dream Team that featured Michael Jordan, Magic Johnson, Charles Barkley and Larry Bird. Bryant later adjusted his thoughts, saying the Dream Team was better but that the 2012 squad could beat them.
Bryant and company cruised throughout the tournament until Sunday's gold-medal game against Spain,
prevailing 107-100
after leading by just one point heading into the fourth quarter.
Anyway, that's a lead-in to this: What would baseball's dream team from 1992 look like? Let's turn back the clock and imagine we're in the summer of 1992. Let's pick a 25-man team -- 15 position players, seven starting pitchers and three relievers. Just like the '92 hoops Dream Team, legend status should come into play a bit. Since we're imagining an Olympic-type scenario, we're going with U.S. players only.
The Starters
1. 2B Ryne Sandberg, Cubs
(.304/.371/.510, 26 HR, 7.6 WAR)
Made his ninth consecutive All-Star appearance in '92.
2. CF Kirby Puckett, Twins
(.329/.374/.490, 19 HR, 6.8 WAR)
Had led the Twins to a World Series title in 1991; finished second in '92 American League MVP vote.
[+] Enlarge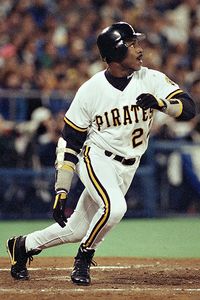 AP Photo/John SwartBarry Bonds led the Pirates to the NLCS in 1992.
3. LF Barry Bonds, Pirates
(.311/.456/.624, 34 HR, 8.9 WAR)
The best player in the game; won his second MVP award in '92.
4. DH Frank Thomas, White Sox
(.323/.439/.536, 24 HR, 6.7 WAR)
In his second full season, but the most feared hitter in the AL. Led the league in OBP and OPS for the second consecutive season.
5. 1B Mark McGwire, A's
(.268/.385/.585, 42 HR, 6.2 WAR)
Had rebounded from a poor 1991 to lead the AL in slugging percentage and the A's to the AL West title.
6. RF Ken Griffey Jr., Mariners
(.308/.361/.535, 27 HR, 5.5 WAR)
At 22 years old, already one of the game's best all-around players. We'll move him to right field with Kirby in center.
7. 3B Terry Pendleton, Braves
(.311/.345/.473, 21 HR, 4.8 WAR)
People remember his 1991 MVP season, but he finished second to Bonds in the '92 vote.
8. C Darren Daulton, Phillies
(.270/.385/.524, 27 HR, 6.7 WAR)
It was a weak year for catchers, but Daulton had a monster season with the fourth-highest WAR among position players.
9. SS Cal Ripken, Orioles
(.251/.323/.366, 14 HR, 3.8 WAR)
Not a good season but a baseball dream team wouldn't have been complete without Ripken.
The Bench
OF Rickey Henderson, A's
(.283/.426/.457, 15 HR, 5.4 WAR)
The best leadoff hitter in the game compiled 5.4 WAR despite playing just 117 games.
OF Andy Van Slyke, Pirates
(.324/.381/.505, 14 HR, 5.9 WAR)
Led the NL in doubles and hits, fourth in the MVP vote, Gold Glove center fielder. His window was small, but a terrific player for a few years.
OF Dave Winfield, Blue Jays
(.290/.377/.491, 26 HR, 3.8 WAR)
Others with a higher WAR, but Winfield gets credit for legend status and helping the Blue Jays win the World Series.
SS Ozzie Smith, Cardinals
(.205/.367/.342, 0 HR, 5.0 WAR)
Tough call here:
Barry Larkin
(.304/.377/.452, 5.5 WAR) or the 37-year-old Ozzie? The Wizard could still pick it and had 43 steals.
3B Gary Sheffield, Padres
(.330/.385/.580, 33 HR, 6.0 WAR)
Challenged for the Triple Crown much of the year before finishing first in batting, third in homers and fifth in RBIs.
C Terry Steinbach, A's
(.279/.345/.411, 3.8 WAR)
Gets the nod over Mickey Tettleton as the backup catcher for his good defense and leadership.
Pitching Staff
Tom Glavine, Braves
(20-8, 2.76 ERA, 3.6 WAR)
The only lefty on our 10-man staff, finished second in the Cy Young vote after winning it the year before.
[+] Enlarge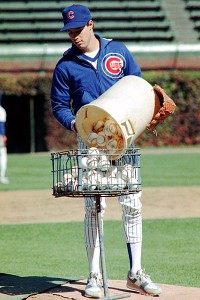 AP Photo/Bill WaughGreg Maddux would win four consecutive Cy Youngs beginning with the 1992 season.
Greg Maddux, Cubs
(20-11, 2.18 ERA, 8.9 WAR)
Won the first of his four consecutive Cy Young Awards.
Roger Clemens, Red Sox
(18-11, 2.41 ERA, 8.4 WAR)
Led the AL in ERA, shutouts, WHIP and SO/BB ratio, but finished just third in Cy Young vote.
Doug Drabek, Pirates
(15-11, 2.77 ERA, 5.1 WAR)
Career went downhill after signing with the Astros in '93, but regarded as one of the toughest competitors in the game at the time.
Jack Morris, Blue Jays
(21-6, 4.04 ERA, 2.5 WAR)
Morris absolutely would have been on a '92 dream team despite the high ERA. He'd just won back-to-back World Series titles and had the 21 wins.
Jack McDowell, White Sox
(20-10, 3.18 ERA, 4.9 WAR)
Kevin Appier
and
Mike Mussina
had better ERAs, but Black Jack had the image at the time. And the league-leading 13 complete games.
Nolan Ryan, Rangers
(5-9, 3.72 ERA, 1.8 WAR)
The numbers don't merit inclusion, but by '92 Ryan was the biggest icon in the game, a 45-year-old flame-throwing legend. Much like Bird, you wouldn't leave him off.
Dennis Eckersley, A's
(7-1, 1.91 ERA, 51 saves, 2.8 WAR)
The last AL reliever to win the Cy Young, Eck also walked away with the MVP trophy. OK, it was a bad vote, but Eck seemed unbeatable back then.
Rob Dibble, Reds
(3-5, 3.07 ERA, 25 saves, 0.9 WAR)
At the time, Dibble had four of the five highest K/9 rates in major league history (minimum 50 innings).
Jeff Montgomery, Royals
(1-6, 2.18 ERA, 39 saves, 3.0 WAR)
From '89 to '93, Montgomery fashioned a 2.22 ERA with 159 saves. What, you expected Mitch Williams?
So, who got Isiah'd? We mentioned Barry Larkin.
Tony Gwynn
was in a bit of a down spell (for him), so he loses out as well. We can't find room for NL home run leader
Fred McGriff
, Will Clark or Paul Molitor. For pitchers, some of the better statistical options would have included the aforementioned Mussina (7.9 WAR) and Appier (7.7 WAR) as well as Frank Viola, Sid Fernandez, Bob Tewksbury and
David Cone
, plus some up-and-coming guys like
John Smoltz
and
Curt Schilling
.
How does this team compare to a 2012 dream team? I'll let you debate who would be on such a 2012 team in the comments section.
November, 29, 2011
11/29/11
9:26
PM ET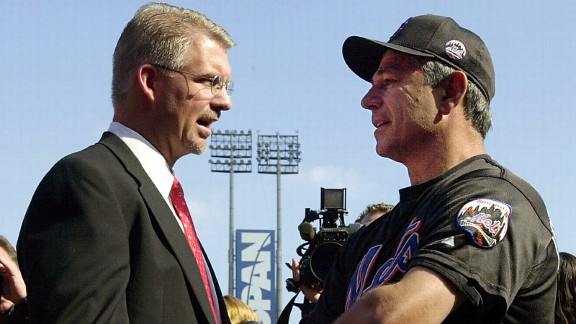 Henny Ray Abrams/Getty ImagesSteve Phillips and Bobby Valentine rarely saw eye-to-eye during their time with the Mets.
When fans think of Bobby Valentine, most will initially think of the time he tried to sneak back into the dugout wearing glasses and a fake mustache after getting ejected from a game. There will be plenty of talk about the perception that he's arrogant, a little aloof and craves the limelight too much. There will be talk that he hasn't managed in the major leagues since 2002 (although he did in Japan after that) and that his departure from the Mets was fueled in part by his disagreements with general manager Steve Phillips.
So the talk will mostly be about his personality. But what kind of manager was he? Let's look back at his career -- focusing mostly on his full seasons with the Mets from 1997 to 2002 -- to see what that may indicate about how he'll manage the Red Sox.
Will Carl Crawford hit leadoff?
With
Jacoby Ellsbury
's new power stroke, it may make sense to move him down in the order to get him more RBI opportunities; that would leave Crawford as a leadoff option. I don't see that. Even if Crawford bounces back, his on-base percentage is hardly ideal for a leadoff hitter and Valentine -- a guy who was using computers and studying sabermetrics back with the Rangers in the '80s -- craves a high OBP from his leadoff hitter.
Check out his leadoff hitters with the Mets:
1997: Lance Johnson/Brian McRae.
1998: Brian McRae/Tony Phillips -- McRae posted a career-high .360 OBP that year.
1999:
Rickey Henderson
.
2000: Ten different leadoff hitters, including
Benny Agbayani
27 games.
2001: Used four guys at least 20 games, led by
Joe McEwing
's 44 games. Led off Agbayani 32 times.
2002:
Roberto Alomar
/
Roger Cedeno
.
The unconventional use of Agbayani, the rotund Hawaiian without much speed but in possession of good on-base skills, shows Valentine's preference for OBP. In 2002, with Cedeno failing to do the job, he used Alomar there. I see Crawford remaining lower in the order, with Ellsbury staying in the No. 1 spot.
Does he like the quick hook or does he let his starters stay in the game?
There's not really a lot of in-game strategy in the American League, especially with a team like the Red Sox that basically just looks to bash the ball. So the most important strategic elements for Valentine will be how he handles the rotation and bullpen. The 2011 Red Sox were 12th in the AL in average innings per start, but that was more a function of a lousy rotation than Terry Francona's itchy trigger finger.
Let's see where the Mets under Valentine ranked in average in innings per start among NL teams:
1997: 5th
1998: 4th
1999: 8th
2000: 4th
2001: 4th
2002: 5th
Nothing really unusual here, as the Mets usually had a solid rotation under Valentine. They ranked in the upper half of innings because he had decent pitchers.
He was a little more generous when it came to allowing his starters throw 100 to 119 pitches:
1997: 9th
1998: 7th
1999: 12th
2000: 3rd
2001: 1st
2002: 4th
What's interesting about the 2001 squad is that they actually allowed the fewest walks in the league, so the high pitch counts weren't the result of a staff that walked a lot of hitters. He had a veteran rotation that year -- Leiter,
Kevin Appier
,
Glendon Rusch
,
Steve Trachsel
,
Rick Reed
-- and let his starters work deeper into games. It will be interesting to see if Valentine allows
Jon Lester
and
Josh Beckett
to reach the century mark more often than Francona did. In 2011, Lester had 22 100-pitch games -- tied for 25th-most among major league starters; Beckett had 21.
Justin Verlander
had 34,
CC Sabathia
31, and other top AL pitchers like
James Shields
,
David Price
,
Felix Hernandez
,
C.J. Wilson
,
Dan Haren
and
Jered Weaver
were all in the high 20s or low 30s.
Does he like an experienced closer?
In other words, would he be comfortable with
Daniel Bard
in the ninth inning? With the Mets, he initially had
John Franco
. The team acquired
Armando Benitez
in 1999 and when Franco went down with an injury in early July, Benitez took over as closer; when Franco returned, Benitez kept the closer job. As the Rangers' manager from 1985 to 1992, he had a different closer every year early on, before the club turned starter Jeff Russell into a successful closer in 1989. Hard to read too much into this, although both Russell and Bard throw hard. My guess is this becomes more of a front-office decision (do they sign
Ryan Madson
?), but that Valentine would have no problem making Bard his closer.
Does he like strikeout pitchers or guys who throw strikes?
With the Rangers, Valentine (and pitching coach Tom House) were obsessed with guys who threw hard. They had
Bobby Witt
, Jose Guzman, Edwin Correa, Nolan Ryan, Mitch Williams and others. Ryan had mostly refined his control (for him) by the time he reached Texas, but the other four would have problems hitting a barn door placed 10 feet in front of them. His first four staffs all had the highest walk rate in the American League. His staffs with the Mets were better, and Valentine seemed less concerned with velocity -- guys like Reed, Bobby Jones and Rusch were more finesse-type pitchers who threw strikes.
Mets strikeout rate under Valentine:
1997: 13th
1998: 7th
1999: 4th
2000: 3rd
2001: 5th
2002: 5th
Mets walk rate under Valentine:
1997: 2nd
1998: 7th
1999: 8th
2000: 3rd
2001: 1st
2002: 5th
Does he like a set lineup?
During his years with the Mets, Valentine always had a set infield, but remarkably never had one outfielder start 100 games at one position more than once. His machinations out there were pretty remarkable and show the willingness to be flexible and mix and match players as needed. Now, with the Red Sox he won't have same issue, with Ellsbury and Crawford playing every day, but it certainly suggests he'd be comfortable with a platoon in right field.
Here's the list of outfielders who started 100 games in a season at the same position with the Mets under Valentine:
1997:
Bernard Gilkey
, LF, 134
1998: Brian McRae, CF, 144
1999: Rickey Henderson, LF, 113
2000:
Jay Payton
, CF, 124;
Derek Bell
, RF, 136
2001: None
2002: Roger Cedeno, LF, 125;
Jeromy Burnitz
, RF, 131
The big issue here is how he handles Crawford, especially if he struggles to hit left-handers again (.195 in 2011). Would he consider benching Crawford against lefties, or at least the tough lefties?
Does he like young players?
With the Mets, he mostly had a veteran lineup. He did give Agbayani an opportunity, broke in Payton and
Timo Perez
, and gave Cedeno his first chance to play every day. With the Rangers, he broke in position players like
Ruben Sierra
, Oddibe McDowell, Steve Buechele, Pete Incaviglia, Jerry Browne,
Ivan Rodriguez
,
Juan Gonzalez
and
Dean Palmer
. Again, this might be more of a front-office decision, but I'd say Valentine would give youngsters like
Josh Reddick
and
Ryan Lavarnway
an opportunity to play regularly.
Valentine's reputation with the Mets was one of being prepared and being tactically smart with his in-game moves. He had to do more with the Mets than he'll have to with the Red Sox, especially considering he was often platooning at one or two outfield spots. He trusted his veteran starters to go deep into games. In short, there's nothing radically unconventional about Valentine's managerial philosophy. Of course, he last managed in the majors 10 years ago and his biggest challenge won't necessarily be strategy, but getting Crawford to rebound, getting his older players in better shape, and rebuilding Bard's confidence.
March, 18, 2011
3/18/11
9:36
AM ET
By
Bill Parker
| ESPN.com
Our friend Craig Calcaterra had a very interesting post over on Hardball Times the other day, in which he attempted to identify the
greatest living player from each team
. His answer for the Angels really caught my eye:
Angels: Another toughie for me. Jim Edmonds, unless you think he had too much time in St. Louis. Tim Salmon? Yikes.
And it's true that the Angels haven't really had a great player who has stayed with the team for long enough to really jump out as you as their greatest ever, but Edmonds and Salmon? That seems a stretch. Nolan Ryan?
Chuck Finley
?
The answer that came to me right away, though, was Jim Fregosi, a shortstop who made six All-Star teams, won a Gold Glove and was mentioned on MVP ballots in eight different seasons with the team. Fregosi's largely been forgotten today, in part because he was done as a full-time player at just 29 and never came particularly close to compiling a Hall of Fame career, and in part because he wasn't flashy. His .268/.340/.403 Angels line was great for a 1960s shortstop (116 OPS+), but certainly isn't eye-catching, and he didn't have the defensive wizardry or speed of a Luis Aparicio. Fregosi was simply a very good player and for a fairly long time.
[+] Enlarge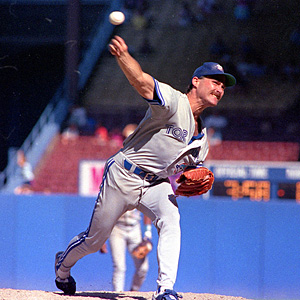 AP Photo/Tony DejakDave Stieb won 175 games for the Blue Jays during his career.
It happens that that's one of my favorite subjects: players who may not be Hall of Famers, but who were very good (sometimes great) players who have been unfairly forgotten by fans. This ignores guys who I think are terribly underrated but SHOULD be in the Hall -- Bobby Grich, Alan Trammell -- but those players are talked about often enough in Hall discussions.
So here's a randomly ordered and by no means exclusive list of players -- all still living and all active at a time when many of us were around to see them -- who, like Fregosi, were very good players who I think should be remembered more than they are:
Dave Stieb
: My personal crusade. In my opinion, Stieb was both the
greatest player in Blue Jay history
and the
greatest pitcher of the 1980s
-- leading the decade (minimum 1,500 innings) with his 127 ERA+ and his 45.2 WAR -- but he never gets credited as either. Stieb had a legitimate case to win the Cy Young Award three different times, but never finished higher than seventh.
Reggie Smith
: One of those guys who did everything pretty well, but nothing exceptionally well. He hit for a high average, but didn't hit .300; had good patience, but didn't post .400 OBPs; had good power, but topped 30 homers only twice and 100 RBIs only once (he did post 90-plus three other times); he played pretty good defense, but wasn't a Gold Glover. That's pretty much the recipe for an underappreciated player.
Jim Wynn
: Much the same story as Smith, but then add in that he was hitting in the Astrodome, which pulled his numbers down across the board. Put him in Enron/Minute Maid over the past decade and he's a superstar.
Robin Ventura
: We haven't "forgotten" him, but his 1.3 percent showing on the 2010 ballot shows how quickly we've forgotten (if we ever really appreciated) how much his on-base ability, power and (especially) defense brought to the table. I wouldn't have voted for him with so many better third basemen on the outside looking in, but he's closer than he's ever been given credit for.
Kevin Appier
: He suffers from having his best years with Kansas City (which was better than it is now, but still not great), and from not being Maddux, Unit, Pedro, Clemens, Mussina or Schilling. But he was brilliant from 1990-97 and was robbed of the '93 Cy Young.
Keith Hernandez, Will Clark and John Olerud
: I consider them as about the same player. All three are underrated because they didn't do much of the one thing first basemen were expected to do: hit home runs. They did almost everything else very well, though, and you could make Hall cases for each (I think they fall just short).
Shane Mack
: Yes, there are much more deserving candidates for this last spot than Mack. Plug in
Eric Davis
or even
Ray Lankford
for the same reasons (similar to the reasons Smith and Wynn get overlooked). But as a Twins fan, it pains me to see how quickly Mack has been forgotten even by my fellow fans. He was a key part of the 1991 champs, and you could make a good argument that he was the team's best player throughout his four-and-a-half seasons with the club.
That's 10 total names (including Fregosi), but doesn't purport to be a top 10 (the exercise is much too subjective for that). Let me know in the comments section if you've got any great non-Hall players YOU think need to be recognized.
Bill Parker blogs at The Platoon Advantage and rants about Dave Stieb and Shane Mack quite regularly on Twitter.