January, 4, 2014
Jan 4
8:00
AM ET
Curt Schilling
appeared on the Hall of Fame ballot for the first time a year ago with overwhelmingly strong credentials for election: The 216-game winner ranks 26th all-time in wins above replacement for pitchers (17th-highest total since the live ball era began in 1920) and 15th all-time in strikeouts, including three 300-strikeout seasons; he's got the best strikeout-to-walk ratio of any pitcher ever (well, not counting a guy named Tommy Bond who was 5-foot-7, born in Ireland and began his career with the 1874 Brooklyn Atlantics) and three 20-win seasons; and he led the league twice in wins, twice in innings, three times in starts, four times in complete games (his 15 complete games in 1998 is the highest total in the majors since 1991), twice in strikeouts and five times in strikeout-walk ratio. Schilling never won a Cy Young Award but finished second in the voting three times.
Of course, Schilling was also one of the greatest postseason pitchers ever, going 11-2 with a 2.23 ERA in 19 starts. His October legacy includes his iconic Bloody Sock Game in Game 6 of the 2004 American League Championship Series against the Yankees, a win in the World Series that year that helped end the long suffering of Red Sox fans, plus his dominant performance throughout the 2001 postseason when he allowed six runs in six starts as the Diamondbacks won the World Series. He helped the Red Sox win another title in 2007. His career 3.46 ERA in a hitters' era gives him an adjusted ERA equal to Tom Seaver and Bob Gibson and higher than Hall of Famers like Jim Palmer, Juan Marichal and Bob Feller.
Schilling was great, he has the advanced metrics that scream Hall of Famer, and he was an iconic figure in the game while active. What more do you need to get elected to Cooperstown?
More than 60 percent of voters didn't check Schilling's name on their ballot.
Then there's the pitcher who finished with the same career adjusted ERA as Schilling. His best ERAs, all in seasons where he pitched more than 210 innings, were 1.89, 2.38, 2.39, 2.58 and 2.69, all coming when offensive totals were exploding. The worst of those seasons had an adjusted ERA+ of 150. Since 1920, only five other starters had five or more seasons with at least 200 innings and an ERA+ of 150 or higher:
Greg Maddux
,
Roger Clemens
, Lefty Grove,
Randy Johnson
and
Roy Halladay
. This pitcher had another season where he went 18-9 with a 3.00 ERA and another where he went 21-11 with a 3.32 ERA while leading his league in innings pitched. He won more than 200 games. He had a 16-strikeout game in the postseason. His career pitching WAR of 68.5 is higher than Palmer, Carl Hubbell or Don Drysdale.
Kevin Brown
got 12 votes in his one year on the ballot, not close to the 5 percent needed to remain on the ballot, and he was kicked to the curb alongside
Raul Mondesi
,
Bobby Higginson
and
Lenny Harris
.
Thank you for your nice career, but your case has no merit.
Heck, Willie McGee received twice as many votes. I mean, Willie McGee was a nice player, and even a great one the season he won the MVP Award, but he had about half the career value of Brown.
The Baseball Writers' Association of America treats starting pitchers like they're infected with the plague. They've elected
one
in the past 14 years: Bert Blyleven in 2011. And Blyleven, despite winning 287 games and ranking 11th all-time in WAR among pitchers, took 14 years to finally get in. Meanwhile, the BBWAA has elected three relief pitchers in those 14 years, so it's not an anti-pitcher bias; it's an anti-starting pitcher bias.
What's happened here? How come no starting pitcher who began his career after 1970 is in the Hall of Fame? Leaving aside the case of Clemens, who would have been elected if not for his ties to PEDs, there are several issues going on.
1. The 1980s were barren of strong, obvious Hall of Fame pitchers. The BBWAA ignored the cases of borderline candidates like
David Cone
, Dave Stieb,
Bret Saberhagen
and Orel Hershiser, and instead embraced Jack Morris, a lesser pitcher than those four but a guy with more career wins.
2. Comparison to the previous generation of starters. Including Blyleven, there are 10 "1970s pitchers" in the Hall of Fame. Here they are, listed in order of election year along with each pitcher's 10-year peak period:
Bert Blyleven (2011): 1971-1980
Nolan Ryan (1999): 1972-1981
Don Sutton (1998): 1971-1980
Phil Niekro (1997): 1970-1979
Steve Carlton (1994): 1972-1981
Tom Seaver (1992): 1968-1977
Fergie Jenkins (1991): 1967-1976
Gaylord Perry (1991): 1967-1976
Jim Palmer (1990): 1969-1978
Catfish Hunter (1987): 1967-1976
These pitchers aren't merely just great pitchers but products of their generation. The late '60s and early '70s produced the lowest-scoring seasons in the major leagues since the dead ball era. The average team in 1968 scored 3.42 runs per game, the lowest total since 1908. That was the notorious pitchers' year, but 1972 didn't see much more offense at 3.69 runs per game. This was also the period when pitchers were worked harder than they had been in decades, making more starts and pitching more innings. The 15-year period from 1963 to 1977 saw 62 different seasons where a pitcher threw 300 innings. The previous 15 seasons saw it happen just 13 times (six by Robin Roberts); the ensuing 15 seasons saw it happen just three times, two of those by knuckleballer Niekro.
This period was the perfect time to ferment long careers with lots of wins. More starts and more innings gave pitchers the opportunity to get more wins. It's no coincidence that the peak seasons of the above pitchers all occurred in roughly the same time span.
3. Speaking of wins ... Hall of Fame voters love wins like
Yasiel Puig
loves driving fast. Morris has 254, a main reason he earned 67.7 percent of the vote last year despite his 3.90 career ERA. Schilling has 216 and Brown 211. The fixation on career wins -- and 300 in particular -- is the result of a unique generation of pitchers; it's a standard previous pitchers weren't held to. Bob Gibson won 251 games, Juan Marichal 243, Whitey Ford 236, Don Drysdale 209 and Sandy Koufax 165. Focus on the entire résumé, not just the win total. Schilling didn't win 254 games, let alone 300, but he's a far superior Hall of Fame candidate to Morris.
Let's compare
Tom Glavine
to
Mike Mussina
, both appearing on the ballot for the first time. With 305 wins, Glavine appears to be the much stronger candidate than Mussina, who won 270 games. Here's what one voter, Dan Shaughnessy of The Boston Globe, wrote:
Glavine and Maddux were 300-game winners. Those are magic plateaus ... unless you cheated.

The rest of the list of players I reject are good old-fashioned baseball arguments. (Craig) Biggio got 68.2 percent of the vote last year, but I don't think of him as Hall-worthy (only one 200-hit season). Same for Mussina and his 270 wins (he always pitched for good teams) and (Lee) Smith and his 478 saves (saves are overrated and often artificial).
There you go. Glavine won 305 games, Mussina won 270, so Glavine is the easy choice. As an aside: I love the bit about Mussina pitching for good teams. As if Glavine didn't pitch for good teams? Since when is pitching for good teams considered a demerit? Plus,
as Jason Collette pointed out
, "Mussina pitched for Baltimore for 10 years -- and Baltimore had losing records in five of those ten seasons. Yet, Mussina had a .645 winning percentage and won 147 of his 270 starts with the Orioles. The Yankees never had a losing record when Mussina pitched there and he had a .631 winning percentage with them. Mussina's .645 winning percentage as an Oriole dwarfed the team's .510 winning percentage in that same time."
(Also, Shaughnessy is apparently voting for Morris because he won 254 games, which I believe is less than 270.)
Anyway, when you examine the numbers a little deeper, Glavine and Mussina compare favorably:
Pitching WAR
Glavine: 74.0
Mussina: 82.7
ERA+
Glavine: 118 (3.54 career ERA in the National League with great defense behind him)
Mussina: 123 (3.68 career ERA in the American League with often bad defenses behind him)
5+ WAR seasons
Glavine: 4
Mussina: 10
Postseason
Glavine: 14-16, 3.30 ERA, 1.27 WHIP
Mussina: 7-8, 3.42 ERA, 1.10 WHIP
The point here isn't to detract from Glavine, but that Mussina has every bit the case Glavine does -- or 95 percent of it, giving Glavine some extra credit if you wish for his two Cy Youngs. Glavine hung on and won 35 more games; Mussina retired after winning 20. That doesn't make Glavine a superior pitcher.
4. Stingy voters. To a certain extent, the BBWAA voters have become tough on
all
candidates -- not just starting pitchers and PED users. As Joe Sheehan wrote recently:
Consider the recent history of Hall voting. The average number of players named per ballot declined steadily up until just last year. In 1966, which was the first vote in the modern era of BBWAA balloting (that is, in which there have been no years in which the BBWAA did not vote), there were 7.2 names listed per ballot. Ten years later, that figure was 7.6. By 2000, a year that featured two players voted in and a ballot with five others who would eventually be voted in (plus Jack Morris, still kicking around), the number was down to 5.6. There were more baseball players than ever before becoming eligible for the Hall, but the voters were becoming much more difficult to impress. That would remain the case for most of this century:

2001: 6.3
2002: 6.0
2003: 6.6
2004: 6.6
2005: 5.6
2007: 6.6
2008: 5.4
2009: 5.4
2010: 5.7
2011: 6.0
2012: 5.1
2013: 6.6

Remember, that downward trend is occurring despite an increasingly crowded ballot due to the split opinions on what do about the PED candidates. With as many as 15 to 20 legitimate Hall of Fame candidates on this year's ballot it will be interesting to see if that 6.6 players per ballot increases further.
5. Timing. The starting pitching problem will be abated somewhat in upcoming elections. Maddux will get in this year, Glavine this year or next. Randy Johnson,
Pedro Martinez
and
John Smoltz
then join the ballot next year. Johnson is a lock, and Martinez has the Koufax-esque peak value thing going for him, although with 219 wins he's not a first-year lock. Smoltz is similar to Schilling in many ways, down to the career win total (213) and postseason heroics, so odds are he'll face the same uphill climb.
I believe most Hall of Fame voters have the same goal: Elect the best players to the Hall of Fame, or at least the best ones they believe to be clean from PEDs. That issue is still stuck in the mud, the Hall itself refusing to give guidance to the voters. But electing Curt Schilling and Mike Mussina is simply an issue of understanding their greatness. They are among the very best pitchers in the history of the game. They deserve to be elected this year, alongside Maddux and Glavine.
October, 20, 2013
10/20/13
3:15
PM ET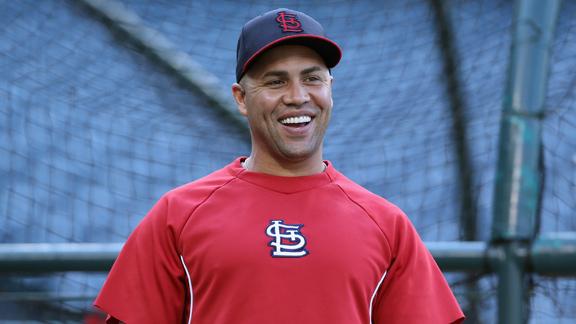 As
Carlos Beltran
delivers more big postseason hits this October for the St. Louis Cardinals, talk about him as a potential Hall of Famer has increased, carrying over from discussions that began in the regular season. ESPN.com's Jerry Crasnick wrote about
Beltran's Hall of Fame case
back in August, while Dave Cameron of FanGraphs
wrote about Beltran and
David Ortiz
the other day.
Basically, Beltran's case goes something like this: He kind of snuck up on everyone as a Hall of Fame candidate, he fares very well in advanced metrics, such as WAR, but not quite as well in more conventional measurements, such as counting stats and MVP voting results. Certainly, two more strong seasons will help his case.
Comparisons have been made to Andre Dawson, another guy who did a little of everything. In terms of career WAR, they're similar: Beltran 67.5, Dawson 64.4. One major difference: There was a time when Dawson was considered maybe the best player in the game, something that has never been said of Beltran. Dawson also won an MVP Award (though ridiculously undeserved), and that undoubtedly helped get him elected to Cooperstown.
It all means Beltran is a borderline candidate. Which gets us to this: How much should his great postseason numbers (.337 BA, 16 HR, 37 RBIs, 1.173 OPS) factor in?
Case study: Jim Rice versus Bernie Williams
Rice: 382 HR, 1451 RBIs, .298/.352/.502, 47.2 WAR
Williams: 287 HR, 1257 RBIs, .297/.381/.477, 49.5 WAR
[+] Enlarge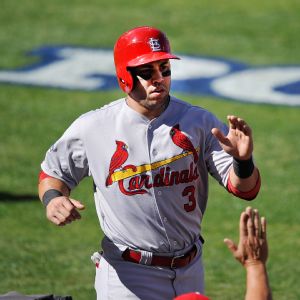 Robert Hanashiro/USA TODAY SportsCarlos Beltran's exceptional postseason numbers could bolster his Hall of Fame case.
After a long and heated debate, Rice finally made it on his 15th and final year on the ballot. Despite similar career value, Williams fell off the ballot after one year. Williams was a key performer on four World Series champions, hitting .275/.371/.480 in his postseason career, with 22 home runs and 80 RBIs in 122 games (he's the all-time postseason leader in RBIs). To be fair, neither are strong Hall of Fame candidates, but in Williams' case his postseason numbers clearly had no effect on the voters.
Verdict:
Postseason doesn't help.
Case study: Curt Schilling versus Kevin Brown
Schilling: 216-146, 3.46 ERA, 127 ERA+, 80.7 WAR
Brown: 211-144, 3.28 ERA, 127 ERA+, 68.5 WAR
In their raw stats, these two are nearly identical, right down to innings pitched (Schilling had five more in his career). Neither won a Cy Young Award, although Brown should have won in 1996 when he had a 1.89 ERA for the Marlins and arguably for the Padres in 1998, when he led the National League in WAR. Schilling finished second in the voting three times, twice to teammate
Randy Johnson
, once to
Johan Santana
. They're not exactly the same: Schilling does have the edge in career WAR (he spent more time in good hitter's park) and strikeouts.
The difference, of course, is Schilling was one of the great postseason pitchers ever, going 11-2 with a 2.23 ERA in 19 career starts, winning three rings. Brown went 5-5 with a 4.19 ERA in 13 starts and one ring. Brown fell off the ballot after one; Schilling received 39 percent of the vote last year on his first year on the ballot, actually a pretty good starting point to eventual election.
Verdict:
Postseason helps.
Case study: Jack Morris versus Dennis Martinez
Morris: 254-186, 3.90 ERA, 105 ERA+, 43.8 WAR
Martinez: 245-193, 3.70 ERA, 106 ERA+, 49.5 WAR
Pretty similar numbers. Morris' win-loss record is slightly better, but he also generally pitched on much better teams. Martinez's best years came in relative obscurity with the Expos, with whom he went 100-72 with a 3.06 ERA in eight seasons. This is more like the Rice-Williams case, in that neither really has a strong Hall of Fame case.
Except that Morris has those World Series rings. Martinez pitched in two World Series, but his teams lost both times. Morris' career in the playoffs: 7-4, 3.80 ERA (13 starts). Martinez: 2-2, 3.32 ERA (seven starts). Martinez received 16 votes and was knocked off the ballot. Morris received 68 percent last year and has one year left on the ballot with a good chance of getting the final-year push like Rice did.
It should pointed out that Morris' overall postseason record isn't that special. He did win two games in the 1984 World Series, but other pitchers have had spectacular World Series and didn't get in to the Hall of Fame (Lew Burdette, Mickey Lolich). For Morris, his candidacy really comes down to voters putting a huge value on his Game 7 performance in 1991.
Verdict:
Postseason helps.
Case study: Kirby Puckett versus Larry Walker
Puckett: 207 HR, 1085 RBIs, .318/.360/.477, 50.8 WAR
Walker: 383 HR, 1311 RBIs, .313/.400/.565, 72.6 WAR
This one is a little more complicated. Puckett's career was ended early by the eye injury, although an injury is an injury, no matter how freakish (voters seemed to give him a pass on his shortened career, however). Walker's numbers were inflated some by Coors Field. Still, Puckett was a Gold Glove center fielder; Walker was a Gold Glove right fielder. Puckett had some power and rarely walked; Walker had power and walked much more often. Walker won an MVP Award, Puckett didn't. Career WAR? Not close.
Puckett sailed in on the first ballot. Walker has been right around 22 percent his three years on the ballot. Puckett played in two World Series and won both; he hit .309/.361/.536 in 24 career playoff games, and had that memorable walk-off home run in Game 6 of the 1991 World Series. Walker played in one World Series and lost. Puckett was lovable, Walker injury-prone. That certainly influenced voters, but Puckett's postseason heroics must have helped get him elected.
Verdict:
Postseason helps.
Case study: Tony Perez versus Keith Hernandez
Perez: 379 HR, 1652 RBIs, .279/.341/.463, 53.9 WAR
Hernandez: 162 HR, 1071 RBIs, .296/.384/.436, 60.1 WAR
Another interesting one in that they were completely different types of players. Perez was a power-hitting first baseman who drove in a ton of runs (it helped having Pete Rose and Joe Morgan hitting in front of him). Hernandez didn't have the same power but hit for a higher average, got on base more and is regarded as maybe the best fielding first baseman of all time.
Perez had the reputation of being a clutch hitter, and the Reds won two World Series titles with him. But Hernandez also won two titles, with the Cardinals and Mets. Here's the kicker, though: Perez was a terrible postseason player, hitting .238/.291/.378 with six home runs and 25 RBIs in 47 games. Hernandez hit .265/.370/.359 but with 21 RBIs in 30 games and was also terrific in two Game 7s (2-for-3, two walks, two RBIs in 1982; three RBIs in 1986).
Of course, in this case, voters probably didn't get past the career RBI totals.
Verdict
Postseason doesn't help, unless you're part of a famous team (unless you're Bernie Williams).
OK, one more. These are kind of fun.
Catfish Hunter versus Orel Hershiser
Hunter: 224-166, 3.26 ERA, 104 ERA+, 36.6 WAR
Hershiser: 204-150, 3.48 ERA, 112 ERA+, 51.7 WAR

Hunter basically got in because he was a famous anchor of Oakland's three straight World Series champions (and a lesser part of two Yankees World Series winners). Hunter went 9-6, 3.26 in his postseason career. His regular-season numbers aren't all that impressive, especially when looking at the advanced metrics such as ERA+ and WAR. Hershiser went 8-3, 2.59 ERA in his postseason career, carried the Dodgers almost single-handedly to the 1988 World Series title (unlike Morris, his team won in five instead of seven). Hershiser fell off the ballot after two years. If only one of his Indians teams had won a championship.
Verdict:
Postseason helps only if the voters want it to.
In the end, you've seen what I've done: compared some of the more marginal Hall of Famers or Hall of Fame candidates to similar players. There is certainly inconsistency from the voters, except perhaps in one main narrative: fame. Rice was
famous
as an active player, while Williams was always overshadowed by other teammates. Schilling's fame rose with the bloody-sock game and titles in Boston. Morris was certainly more famous than Martinez, Puckett more so than Walker, Hunter probably more than Hershiser, Perez maybe more than Hernandez (although that one is more debatable).
As for Beltran, that's what will probably ultimately make his Hall of Fame case an uphill climb: He comes up a little short on the "fame" side of things (unlike, say, David Ortiz). Plus: He's about to just play in his first World Series.
March, 1, 2013
3/01/13
12:15
PM ET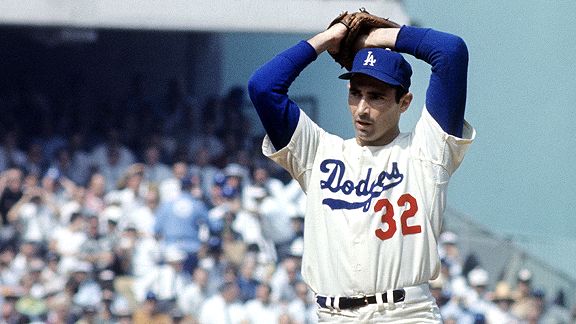 Focus on Sport/Getty ImagesOver his final five seasons, Sandy Koufax went 111-34 with a 1.95 ERA and three Cy Young Awards.
This is another follow-up to a debate that arose in a recent chat session: Which pitcher had the best five-year peak?
With
Sandy Koufax having spent time at Dodgers camp this spring
it seems like a perfect time for a list, doesn't it?
Well, I can never make things easy, so this will be a long list. I started with pitchers since 1950, primarily because I'm not as interested in comparing the peak of dead-ball era pitchers to the more modern game. Plus, we had to make this somewhat manageable. I'm going to use Baseball-Reference Wins Above Replacement to rank the pitchers and we'll have a vote at the end of the story.
The rules: It has to be a five-year consecutive peak -- not necessarily the best five seasons of a pitcher's career, but the best five years in a row. A pitcher can appear only once. That's it. I didn't include postseason results, but maybe should have. I looked at all the Hall of Fame starting pitchers from this era, some current guys and some others I wanted to include. The list is 41 pitchers, but this is
not
the best 41 peaks. I left out some good pitchers, such as Orel Hershiser, Dwight Gooden,
Roy Oswalt
and others. I do think I got all the guys who accumulated at least 30 WAR, however.
Jack Morris, 1983-1987: 20.2 WAR
We have to start somewhere.
Don Sutton, 1971-1975: 21.1
Despite winning 324 games, Sutton was a controversial selection to the Hall of Fame when he made it on his fifth year on the ballot. He was viewed as a compiler -- and, well, he sort of was, as his career-high WAR was 6.3 and he topped 5.0 just three times. From '71 to '75 he went 89-53 with a 2.63 ERA and 25 shutouts. Not bad for a compiler.
Early Wynn, 1952-1956: 22.3
In 1948, Wynn went 8-19 with a 5.82 ERA for the Senators, walking 94 and striking out 49. Bill Veeck of the Indians coveted Wynn anyway because of his good fastball, they got him along with Mickey Vernon in a trade, pitching coach Mel Harder taught Wynn a curve and slider, and he went on to average 18 wins per season in his nine years in Cleveland.
Whitey Ford, 1961-1965: 22.5
Here's a fair question: Is Whitey Ford overrated? Think about it: He pitched in the old Yankee Stadium, with its mammoth left-center power alley, certainly helpful to a left-handed pitcher; he didn't have to face the best team in the league, back when there were only eight teams in the league for much of his career; he won "only" 236 games. Of course, he was the ace of many World Series winners and was certainly clutch in the postseason. Ford's best five years came after Casey Stengel was fired after the Yankees lost the 1960 World Series. Stengel was always cautious with Ford's workload, using him for more than 230 innings only once. But from '61 to '65 Ford averaged 260 innings and went 99-38, a .723 winning percentage.
John Smoltz, 1995-1999: 22.9
When Smoltz shows up on the Hall of Fame ballot, it will be interesting to see how he fares compared to Curt Schilling, two guys with similar career records (Smoltz: 213-155, 3.33; Schilling: 216-146, 3.46) and similar excellence in the postseason. The big difference between the two is Smoltz never had the string of dominant seasons like Schilling did.
Catfish Hunter, 1971-1975: 23.4
Made his mark by winning seven games in the postseason as the A's won three consecutive World Series from 1972 to 1974, but vastly overrated as a pitcher. This five-year peak accounts for two-thirds of his career WAR of 32.1
Tom Glavine, 1995-1999: 24.0
What were the odds that a 22-year-old pitcher who led the league with 17 losses and struck out only 84 batters in 195 innings would turn into a 300-game winner and future Hall of Famer? Lower than slim and none? Glavine's best season via WAR was his breakout campaign in 1991 (8.2) when he won his first Cy Young Award, but in many ways he was similar to Sutton, an amazingly durable pitcher who was very good for a long time.
Felix Hernandez, 2008-2012: 24.1
Working on four straight years of 230-plus innings and doesn't turn 27 until April. With his new contract, the Mariners are banking on many more of those 230-inning seasons in the future.
Nolan Ryan, 1973-1977: 26.0
His first big year came after the Mets traded him to the Angels in 1972 and he won 19 games with a 2.28 ERA, worth 5.8 WAR. Twenty years later he was 44 and posted a 5.0 WAR season for the Rangers. In between, he was a dynamic, often wild, always amazing, and certainly one-of-a-kind. His mid-'70s peak was dragged down by a couple mediocre seasons in '75 and '76 when he posted a 3.40 ERA, only league average for the time once you adjust for his home park.
Mike Mussina, 1999-2003: 26.7
His career WAR of 78.1 is higher than many Hall of Fame pitchers of this era. Best season came in 1992 (7.9 WAR), but he had seven seasons of 5.0 or higher, five of those coming with the Orioles.
Justin Verlander, 2008-2012: 26.7
This stretch includes Verlander's 2008 when he went 11-17 with a 4.84 ERA, worth 1.5 WAR, so the total will jump up with a big 2013. Verlander led the league in losses that year, which prompts the question: How many Hall of Fame pitchers led their league in losses? Well, Phil Niekro managed to do it four straight seasons. Bert Blyleven did it at the end of his career in 1988, and future Hall of Famer Glavine did it the same season at the beginning of his career. Steve Carlton and Robin Roberts each did it twice. Early Wynn and Hal Newhouser. A couple of others. Not necessarily that unusual.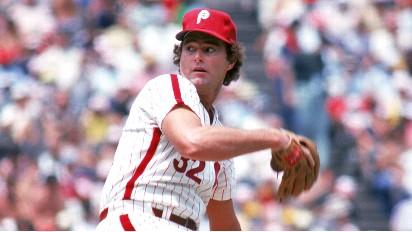 Rich Pilling/Getty ImagesSteve Carlton won four Cy Young Awards, but only one came during his best five-year WAR peak.
Steve Carlton, 1969-1973: 27.9
Maybe the most inconsistent great pitcher ever, this period includes Carlton's all-timer season in 1972 when he went 27-10 with a 1.97 ERA for a Phillies team that won only 59 games. No other pitcher won more than seven games, and he was a reliever. But Carlton followed that up with a 13-20, 3.90 year in 1973 and had some less-than-stellar years. His best stretch of consistent excellence actually came later in his career from 1980-1983, but his 11.7 WAR in '72 helps make this his best five-year stretch.
Don Drysdale, 1960-1964: 28.0
Dodger Stadium: 65-43, 2.19 ERA
L.A. Coliseum: 36-25, 3.14 ERA
Road games: 95-92, 3.41 ERA
Cliff Lee, 2008-2012: 28.9
Sort of the anti-Nolan Ryan. Whereas Ryan would
never
give in to a hitter, preferring to walk a batter rather than just throw something over the middle of the plate, Lee
never
wants to give up a free pass. Over this five-year stretch he has walked 165 batters; Ryan walked that many in a season three times.
Bret Saberhagen, 1985-1989: 29.1
Includes his Cy Young seasons in 1985 (6.9 WAR) and 1989 (9.2 WAR), but he couldn't stay healthy after that. Remember when Dave Stewart whined about not winning the Cy Young in 1989? Yeah, let's not get into that.
Jim Palmer, 1975-1979: 29.2
Palmer won 20 games eight times in nine seasons, but went 7-12 in 1974 right in the middle of that stretch to drag down his five-year peak (we ended up using a mediocre 10-6, 3.30 partial season in 1979 to round out our five years).
Frank Tanana, 1974-1978: 29.3
One of the best young pitchers ever, but hurt his arm in 1978. Returned as a finesse guy to have a long career.
David Cone, 1993-1997: 29.4
Only averaged 184 innings per season over this span thanks to the two strike-shortened seasons and an injury in 1996 that limited him to 11 starts, but went 64-35 with a 3.17 ERA during a high-scoring era and won the Cy Young Award in 1994.
CC Sabathia, 2007-2011: 29.7
Finished in the top five of the Cy Young voting all five seasons.
Rick Reuschel, 1976-1980: 29.8
A favorite of sabermetricians because of a career WAR of 64.6 that ranks 32nd
all time
among pitchers -- just ahead of Palmer, Sutton and Smoltz. Hmm. Reuschel's career record of 214-191 with a 3.37 ERA doesn't blow you away, but he spent his best years with mediocre Cubs teams in a hitter's park with bad defenses behind him. In these five years, he went 77-62 with a 3.33 ERA, topped by a 1977 season (20-10, 2.79 ERA) in which Baseball-Reference rates him not only as the best pitcher in the National League (9.2 WAR), but as the most valuable
player
. In comparing to Palmer, Baseball-Reference estimates Palmer's defense saved him 0.33 runs per nine innings over his career but cost Reuschel 0.18 runs per nine innings (a difference of about 14 runs over 250 innings). Maybe Reuschel would have won three Cy Young Awards if he had Mark Belanger and Paul Blair behind him.
Jim Bunning, 1963-1967: 30.2
After going 12-13 with a 3.88 ERA in 1963, the Tigers traded Bunning to the Phillies (for Don Demeter and Jack Hamilton), figuring at 32 he was past his prime. He wasn't. Instead, Bunning reeled off four magnificent seasons with the Phillies, going 74-46 with a 2.48 ERA while averaging 298 innings per season.
Kevin Appier, 1992-1996: 30.9
Surprise! Went 69-43 with a 3.22 ERA, including a spectacular 9.0-WAR 1993 when he led the AL with a 2.56 ERA and allowed only eight home runs. Should have won the Cy Young Award that year.
Warren Spahn, 1949-1953: 32.2
This stretch includes four of his five highest WAR seasons, the other being his best one -- 9.1 in 1947. Two awesome Spahn stats: (1) From 1947 to 1963, the
fewest
innings he pitched was 245.2; (2) Led the NL in complete games seven consecutive seasons, from ages 36 to 42. Here's a third one: Led or tied for the NL lead in wins eight times.
[+] Enlarge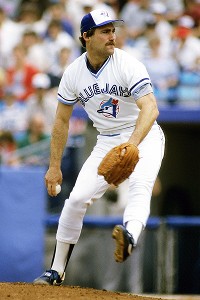 Ronald C. Modra/Getty ImagesToronto ace Dave Stieb should have won a Cy Young Award or two in the early '80s.
Dave Stieb, 1981-1985: 32.4
Underrated in his own time, Baseball-Reference rates Stieb as the first- or second-best pitcher in the AL all five seasons in this stretch, but he never finished higher than fourth in the Cy Young voting because they were giving the awards to guys like Pete Vuckovich and LaMarr Hoyt.
Roy Halladay, 2007-2011: 32.5
Went 93-44 with a 2.80 ERA.
Bert Blyleven, 1971-1975: 33.5
Blyleven's run came from ages 20 to 24 and included a 325-inning season in 1973 when he was 22. Somehow his ligaments and tendons remained attached and didn't turn into soba noodles. You'll notice that Blyleven is the third pitcher with the exact same five-year dates; to a large extent this is because innings totals increased during this period. With more innings comes a higher WAR. In the 1960s, for example, there were 25 300-inning seasons; in the first five years of the '70s, there were 27. Or, really, innings started ramping up in the late '60s, when offense declined, leading to the lowering of the mound after 1968 and the advent of the designated hitter in the American League. To put a more dramatic spin on the increase in workload, from 1955 to 1964, there were seven 300-inning seasons (three by Drysdale); in the next 10 years, there 47 300-inning seasons.
Johan Santana, 2004-2008: 34.2
Won three ERA titles and two Cy Young Awards (and probably should have won a third) in this period.
Ferguson Jenkins, 1968-1972: 34.9
Went 107-71 with a 3.02 ERA, averaging 309 innings and winning the 1971 Cy Young Award. The Cubs were still pretty good in this era, finishing over .500 all five years, so this wasn't just a pitcher excelling despite a bad team behind him.
Curt Schilling, 2000-2004: 35.0
This run includes half a season in Philly, three and a half in Arizona and his first year in Boston, a year that culminated with a bloody sock and the lifting of a curse. Five-year totals: 85-40, 3.24, three Cy Young runner-up finishes, three 20-win seasons, a 300-strikeout season (he had two more in 1997 and 1998) and two World Series championships. Schilling pounded the strike zone -- he averaged only 1.5 walks per nine innings -- and had a remarkable 316/33 strikeout/walk ratio in 2002.
Kevin Brown, 1996-2000: 35.4
Deserved to hang out on the Hall of Fame ballot longer than one year and have his case at least discussed. For a time, Brown was impressive as any pitcher of his generation, throwing that hard, mid-90s sinker. In this stretch he went 82-41 with a 2.51 ERA in the heart of the steroids era, averaging 242 innings, twice leading in ERA and pitching in two World Series. His seasonal WAR totals: 7.7, 6.7, 8.3, 5.9, 6.8.
Juan Marichal, 1962-1966: 35.4
Starting in 1963, he went 25-8, 21-8, 22-13, 25-6, 14-10, 26-9 and 21-11. You know how many Cy Young votes he received those seasons? None. His best five-year peak would be better if not for that 1967 season where he missed some time and made 26 starts. As is, he went 107-45 with a 2.37 ERA.
Wilbur Wood, 1970-1974: 36.7
Another early '70s guy, Wood's knuckleball allowed him to post some of the more freakishly awesome seasons in modern history, including 1971 when he had a 1.91 ERA in 334 innings, and 1972 when he started 49 games and pitched 376.2 innings. Those two seasons were worth 11.5 and 10.3 WAR. (He slacked off in 1973 and started only 48 games and threw 359.1 innings.)
10. Gaylord Perry, 1972-1976: 37.0
OK, we're into the top 10, so we'll start numbering the countdown. If you're getting the idea that the early '70s were to pitching what the late '90s and early aughts were to hitting, then give yourself a gold star. Perry's 1972 with Cleveland was an amazing season: 24-16, 1.92 ERA, 29 complete games, 342 innings, worth 10.4 WAR. From May 6 to Aug. 5 he started 22 games and completed 19, posting a 1.55 ERA. Here's the kicker: He averaged
more than
nine innings per start in that stretch (one of his non-complete games was a
13-inning scoreless effort
).
Five-year totals: 97-79, 2.83 ERA, 313 innings per season.
9. Tom Seaver, 1969-1973: 37.4
Went 103-51 with a 2.35 ERA. Followed this up with another five-year stretch valued at 30.2 WAR.
8. Bob Gibson, 1966-1970: 38.0
This period includes his memorable 1968 season when he went 22-8 with a 1.12 ERA, a year that included a 47-inning scoreless streak and one period where he allowed two earned runs in 92 innings. No wonder baseball lowered the height of the mound from 15 to 10 inches for 1969. That season was worth 11.1 WAR, and he followed that up with two more pretty good ones: 10.3 WAR in 1969 and 8.4 in 1970, when he won another Cy Young Award. If not for a broken leg that forced him to miss two months in 1967, he'd be even higher on the list. (Or if we included hitting; he accumulated 3.3 WAR at the plate as well, and had 19 RBIs in 1970.) Five-year totals: 99-48, 2.30, 27 shutouts.
7. Phil Niekro, 1974-1978: 38.6
This is never mentioned as a great peak since Niekro's record was just 87-77 (pitching for bad Braves teams in the post-Aaron era) and his ERA was 3.16. He even led the league in losses in 1977 and 1978 (and would do so again in 1979 and 1980, joining Pedro Ramos as the only pitchers to do that four consecutive years). His ERA+ of 127, for example, was much lower than Gibson' five-year mark of 153. What Niekro did was throw a lot of innings -- 302.1, 275.2, 270.2, 330.1 and 334.1 -- and that workload led to WAR totals of 7.5, 6.5, 6.4, 8.6 and 9.6.
6. Sandy Koufax, 1962-1966: 39.1
Only sixth? For a pitcher who went 111-34 with a 1.95 ERA, won the NL ERA crown all five years and had seasons of 25-5, 26-8 and 27-9? He won an MVP Award and finished second in the voting two other years, while winning three Cy Young Awards (when they gave it to just one pitcher in all of baseball). So why only sixth? Well, there's no doubting Koufax's domination -- he, Gibson and Wood are the only two pitchers with two seasons of 10+ WAR during their peak runs. But a couple of things: (1) Dodger Stadium was a huge pitcher's park in those days, with a notoriously high mound (Koufax had a 1.37 ERA at home and 2.57 on the road, not that there's anything wrong with 2.57), so his numbers are knocked down a bit to adjust for that; (2) He missed time in 1962 (184 innings) and 1964 (223 innings), so that cuts into his value, at least compared to the other three seasons.
5. Greg Maddux, 1992-1996: 39.2
This is when he won his four consecutive Cy Young Awards. Five-year math: 90-40, 2.13 ERA, 191 ERA+, single-season WAR of 8.9, 5.5, 8.3, 9.5, 7.0 (followed by seasons of 7.6 and 6.3). And remember, his value was held down by the shortened seasons of 1994 and '95, when he had ERAs of 1.56 and 1.63.
[+] Enlarge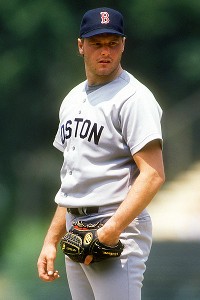 Mitchell Layton/Getty ImagesThe young Roger Clemens wasn't too shabby.
4. Roger Clemens, 1986-1990: 40.1
The numbers: 100-42, 2.71 ERA, 156 ERA+, 256 innings per season, 57 complete games, 23 shutouts, two Cy Young Awards (and was robbed in 1990). Also had 33.7 WAR from 1996 to 2000 and six other seasons of 5+ WAR not included in either of those two stretches.
3. Robin Roberts, 1950-1954: 40.5
Now this is what you call a peak: 115-64, 2.87 ERA, 138 ERA+, 135 complete games, 327 innings per season, seasons of 7.0, 7.6, 7.9, 9.4 and 8.6 WAR. By the 1950s, innings pitched totals had to started to decline, especially compared to the dead-ball guys, but not for Roberts. There were 10 300-inning seasons in the decade and Roberts had six of them. From his autobiography (tip of the cap to the "Neyer/James Guide to Pitchers"): "I was mainly a one-pitch pitcher, although sometimes I mixed in a curveball when I was ahead in the count. I could put my fastball where I wanted it, but I was sometimes criticized for not pitching inside more. ... I just went after people with my best stuff and let the batters hit it if they could."
Roberts threw very hard -- Bill James says he threw about as hard or possibly harder than Bob Feller or Bob Gibson or any of those big guys. Because his control was so good, he relied primarily on that one pitch. (He did give up a lot of home runs.) Outside of this stretch, Roberts had only one more season rated above 5.0 WAR, and one other above 4.0.
2. Pedro Martinez, 1997-2001: 41.4
Let's take these seasons one-by-one:
--1997: 17-8, 1.90 ERA, 8.7 WAR, 241.1 IP, 158 H, 305 SO, won Cy Young Award. Led NL in ERA and complete games (13).
--1998: 19-7, 2.89 ERA, 6.9 WAR, second in Cy Young voting in first year with Red Sox, struck out 251 in 233.2 innings.
--1999: 23-4, 2.07 ERA, 9.5 WAR, won Cy Young, second in MVP voting, 313 SO in 213.1 innings (13.2 per nine).
--2000: 18-6, 1.74 ERA, 11.4 WAR, won Cy Young, somehow only fifth in MVP voting, 284 SO in 217 IP, opponents hit .167 off him --
.167!
This isn't a closer we're talking about here. .167.
--2001: 7-3, 2.39 ERA. Injured, made only 18 starts.
It's too bad we couldn't sub in his 2002 (20-4, 2.26) or 2003 (14-4, 2.22). Great fastball, the best changeup of all time, command, varied his arm angles, mixed in a cut fastball, slider and curveball, and wasn't afraid to deliver some chin music every now and then. Only thing he lacked was the durability to rack up a lot of innings.
Five-year totals: 84-28, 2.18 ERA, 215 ERA+, 1,316 SO in 1,022 innings.
1. Randy Johnson, 1998-2002: 42.2
As awesome as Pedro was, the Unit rates even higher, which tells us something about how good
he
was. Five-year totals: 100-38, 2.63 ERA, 174 ERA+, four Cy Young Awards, three ERA titles, 41 complete games, 17 shutouts, five 300-strikeout seasons, 1,746 SO in 1,274 innings.

Individual seasons: 5.4, 8.8, 7.8, 9.8, 10.4. In fact, his five-year peak could have been higher had he not sulked his way through the first half of 1998 with the Mariners before finally getting traded to the Astros (where he went 10-1 with a 1.28 ERA in 11 starts).
On a rate basis, Pedro was a little better, as reflected in his better ERA+. He also had to face DH lineups for four of his five seasons. But Johnson was dominant
and
durable -- he pitched 252 more innings than Pedro in his five-year peak and that puts him at No. 1.
* * * *
Of course, you don't have to rely on WAR for your own personal rankings. My top five would probably go Johnson, Martinez, Koufax, Maddux, Clemens, with apologies to Bob Gibson.
In the poll, we can only include five names. I apologize to Robin Roberts fans for leaving him out despite his No. 3 ranking above. Like Phil Niekro, his value comes as much from a huge workload as being a great pitcher. But he wasn't dominant in the same sense as some of these other pitchers -- he never led his league in ERA, for example, and his ERA+ during his five-year peak was 138, well below the others. So he got the boot from the poll.
Who do you have?
June, 21, 2012
6/21/12
2:24
PM ET
I had an excellent time talking baseball with Keith Law on Thursday's
Baseball Today podcast

. (What, you wanted us to break down LeBron James and Kevin Durant?) The show may have run a little long, but trust me, it's worth the listen!
1. With
Troy Tulowitzki
undergoing groin surgery and another tough loss, we couldn't avoid the train wreck that is the
Colorado Rockies
. Can we just put Jim Tracy out of his misery already?
2.
Mike Trout
is awesome, but so is
Stephen Strasburg
. We talk about Strasburg's workload and how to keep him fresh for ... October. Yes, we said October.
3. I was at the Orioles-Mets game so we talk some Orioles and Mets, and dig into
Ike Davis
' continued struggles at the plate.
4. A user email prompts a discussion about which pitchers from the 1990s and 2000s are Hall of Famers. And, yes, Mike Mussina was better than Jack Morris.
5. We talk about some prospects -- Billy Hamilton of the Reds, Danny Hultzen and Nick Franklin of the Mariners and, of course, #freetrevorbauer.
All that, plus
Jacob Turner
makes his debut on Thursday,
Matt Moore
versus
Gio Gonzalez
and much more!
August, 17, 2011
8/17/11
12:35
PM ET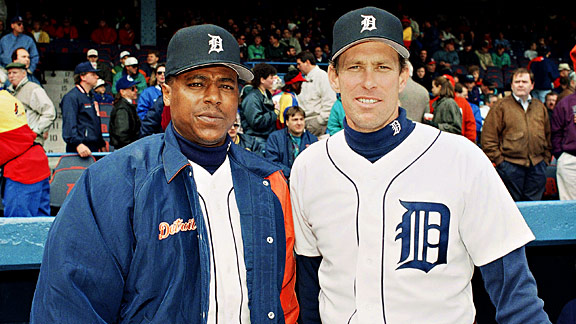 AP Photo/Lennox McLendonLou Whitaker and Alan Trammell formed one of the best double-play combinations in history.
With
Jim Thome
hitting his 600th home run and the Cubs unveiling a statue last week to honor Ron Santo, the Hall of Fame has been on my mind. I'll go more in-depth on Hall of Fame analysis in the offseason, but here are 10 eligible players who deserve a plaque in Cooperstown.
Catcher: Ted Simmons.
Simmons was a career .285 hitter with more than 2,400 hits and during his 1971-1980 peak he hit .301/.367/.466. Only Yogi Berra has more RBIs among catchers -- yes, Simmons has more than Bench,
Mike Piazza
, Gary Carter or Carlton Fisk. He has more hits than any catcher except
Ivan Rodriguez
. I'm not saying Simmons was
better
than those guys, but he produced at the plate like few catchers.
First base: Jeff Bagwell.
Lou Gehrig, Jimmie Foxx,
Albert Pujols
and Jeff Bagwell: The four greatest first basemen of all time. Bagwell received only 41.7 percent of the vote in his first year on the ballot. He'll get in eventually.
Second base: Lou Whitaker.
Here are the players who rank ahead of Whitaker on Baseball-Reference's WAR (wins above replacement-level) list for second basemen: Rogers Hornsby, Eddie Collins, Joe Morgan, Nap Lajoie, Charlie Gehringer and Frankie Frisch. That means Whitaker ranks just ahead of
Craig Biggio
,
Roberto Alomar
and Ryne Sandberg. OK, maybe you don't think Whitaker is quite as good as those three. But he had a terrific all-around game, with good power (242 home runs), patience (.363 career OBP -- the same as Biggio, 19 points higher than Sandberg), a good glove and speed on the bases. Yet he received only 15 votes his first year and was booted off the ballot.
Third base: Ron Santo.
Christina Kahrl made Santo's case here
.
Shortstop: Alan Trammell.
Barry Larkin
received 62 percent of the vote last year and should deservedly make it this year, so I'll stump for Trammell, who peaked at 24 percent last year but is running out of time, as it was his 10th year on the ballot. Trammell hit .300 seven times, won Gold Gloves, was the best player on a World Series winner and should have won the 1987 AL MVP Award.
Left field: Tim Raines.
Arguably the best player in the NL in the 1980s, or at least for a five- or six-year span. (B-R ranks him fifth, behind Mike Schmidt, Dale Murphy, Ozzie Smith and Keith Hernandez, but Raines wasn't a rookie until 1981. Give him another season and he'd move up to second.) He reached base more times in his career than
Tony Gwynn
(3,977 to 3,966, in just 127 more plate appearances). He was one of the greatest basestealers of all time.
Center field: Dale Murphy.
If you like peak value, then Murphy is your guy.
Right field: Larry Walker.
His case isn't a slam dunk, but I was surprised he fared so poorly on his first year on the ballot (20.3 percent). The various injuries hurt his counting stats and the three batting titles are discounted a bit because of Coors Field, but the guy still produced a .313/.400/.565 and was regarded as the best right fielder in the game for many years.
Designated hitter: Edgar Martinez.
Simply put:
One of the greatest hitters of all time
.
Pitcher: Kevin Brown.
Now that Bert Blyleven finally made it, there isn't an obvious pitcher. The six highest guys on B-R's list would be Rick Reuschel, Brown, Luis Tiant, Tommy John, Jerry Koosman and
David Cone
. Brown received just 12 votes last year, despite 211 wins, two ERA titles, a remarkable stretch from 1996 to 2001 when he posted a 2.53 ERA during the height of the steroid era, and a World Series title with the Marlins. Plus, he helped the Red Sox win it all in 2004.
Follow David Schoenfield on Twitter @dschoenfield.
June, 14, 2011
6/14/11
11:25
PM ET
Nick (editor): Verlander alert!
Dave (blogger): Crap! At the grocery store after going to the gym.
Nick: He's thru 6, with 10 K's.
Dave: On way home.
Nick: Thru 7 and making the Indians look stupid.
Dave: Crap!
Justin Verlander
, of course, didn't get his second no-hitter of 2011 on Tuesday night, but he did throw what might have been the most dominant game of the season: 9 IP, 2 H, 0 R, 1 BB, 12 SO. Using the Bill James Game Score method, which grades a start on a 0 to 100 scale, Verlander scores a 94, the best of the season, edging James Shields' 13-strikeout, three-hit shutout over Florida on May 22.
What's frightening to opponents -- and in particular to American League Central rivals such as, say, the
Cleveland Indians
-- is that Verlander seems to have turned it up a notch since that May 7 no-no in Toronto. That day, Verlander struck out just four and after the game talked about his maturation as a pitcher, not always going for the strikeout and conserving his energy early in the game. Indeed, he was clocked at 100 mph in the ninth inning.
Well, as of five days ago, he had yet to strike out 10 batters in a game this season. Now he's done it in back-to-games. He's 8-3, his ERA is 2.66 (more than a run below his career average), and he's walking fewer hitters than ever and allowing fewer hits. Opponents are batting .185 off him. I'm pretty sure most observers would agree he's the best pitcher in the AL right now.
* * * *
As I drove home, I started thinking of this question: Since I've been a baseball fan (1976), which starting pitchers have had the most dominating stuff? By that, I guess I mean something like from a scouting perspective -- velocity, command, pitch variety, stamina, stature and so on. Here's the list I came up with:
1.
Randy Johnson
. Once he developed control of his 100 mph heater and wipeout slider, he just destroyed hitters. Lefties would come up with colds, sore backs and pink eye when he pitched. To put his dominance in perspective: Verlander has 18 10-strikeout games in his career; Johnson
twice
had 23 10-strikeout games in
one season
. Good lord.
2.
Pedro Martinez
. As former ESPN analyst (and former major infielder) Dave Campbell once told me, "The thing that makes Pedro so unhittable is he has four pitches. Guys like Tom Seaver and Steve Carlton were basically fastball-slider guys. You could feel comfortable against them. You'd go 0-for-4, but it would be a comfortable 0-for-4. Against Pedro, you have no chance." At his peak, he had an explosive fastball and the best changeup in the game, plus a slider, curve and cut fastball, all thrown with impeccable control -- and an occasional one high and tight, just to make sure you didn't dig in a little too much.
3. Nolan Ryan. He'd be downgraded for lack of command, but there's a reason he threw seven no-hitters, throwing his fastball and curve (and adding a changeup late in his career), never giving in to a hitter and knocking you on your rear end if he felt a little mean that day.
4.
Stephen Strasburg
. Yes, he was that electrifying. Even if he comes back at 90 percent, he'll be great.
5. Justin Verlander. The most impressive thing is his ability to maintain his velocity into the ninth inning. The command hasn't always been there and at times the fastball can be too straight, which has made him a little more hittable at times than you would expect.
6. Dwight Gooden. The young Doc had a high fastball that he blew by hitters, and a big curve that made girls swoon and grown men cry.
7.
Kevin Brown
. Threw a hard, two-seam sinking fastball that would dive in on right-handed batters. The pitch was so dominant it was both a strikeout pitch
and
a ground ball pitch.
8.
Kerry Wood
. Oh, that rookie season ...
9.
Roger Clemens
. Primarily a fastball/curveball pitcher early in his career; added that unhittable splitter later on.
10.
John Smoltz
. On pure stuff, he would grade higher than
Greg Maddux
and
Tom Glavine
.
Anyway, that's my list -- many others I could have included, such as
CC Sabathia
,
Bret Saberhagen
,
David Cone
, the young
Bartolo Colon
,
Curt Schilling
, Mario Soto,
Mark Prior
,
Johan Santana
...
* * * *
Back to Justin Verlander. Is this the year he puts it all together? By that, I mean keeping his ERA to less than 3.00 (his career best is 3.37), maintaining his health (never an issue with him during his career) and keeping his focus for 30-plus starts?
I think it is. Maybe that May 24 start against Tampa Bay, in which he allowed six runs with only two strikeouts, was a bit of a wake-up call. As talented as he is, the great pitchers still have to pitch and think and work hitters. Verlander has the stuff. But there is no cruise control in baseball. His foot is on the pedal, and right now -- like Dwight Gooden in 1985 or Pedro Martinez in 2000 or Randy Johnson in 2001 -- he's become appointment viewing.
Because I suspect I'll be getting a couple more "Verlander alert!" emails this season.
PHOTO OF THE DAY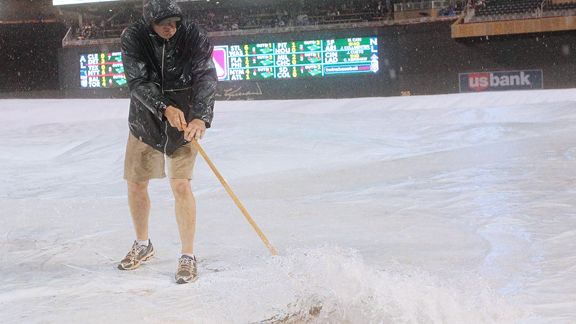 Jesse Johnson/US PresswireYeah, not exactly a night for baseball. Anybody for a tarp slide? No? Well, OK then.
April, 19, 2011
4/19/11
10:44
AM ET
We've looked at the
1970s
and the
1980s
. Let's move to the 1990s, a decade which saw the Padres return to the World Series and
Tony Gwynn
capture four more batting titles.
Gary Sheffield, 1992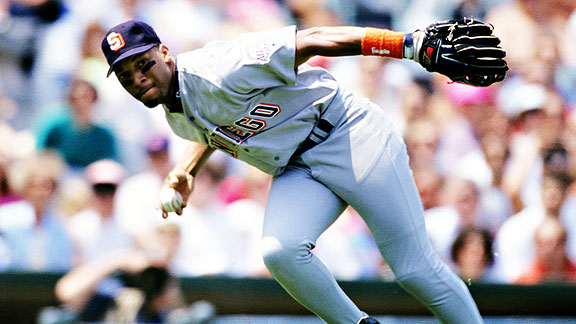 Ronald C. Modra/Getty ImagesSheffield won the batting title with a .330 mark in 1992 but was traded the next season.
The Padres had winning records in 1991 and 1992 but then came one of the darkest periods in the franchise's history, the infamous fire sale in 1993. TV exec Tom Werner had purchased the club in 1990 but apparently decided he didn't like the business side of the sport. The Padres traded away Sheffield,
Tony Fernandez
,
Fred McGriff
, Darrin Jackson, Bruce Hurst and Greg Harris. During this period, they also failed to sign second-round draft picks
Todd Helton
and
Troy Glaus
. Some of the trades worked out OK -- they got
Trevor Hoffman
in the Sheffield deal and
Andy Ashby
and
Brad Ausmus
for Hurst and Harris, but the McGriff and Fernandez deals yielded little. Sheffield's road uniform was the basic road jersey throughout the decade.
---
Ken Caminiti, 1998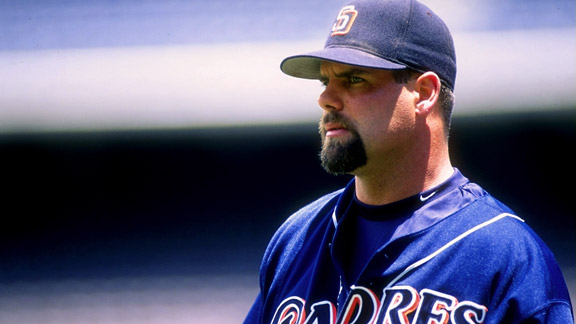 Harry How/Getty ImagesCaminiti was the '96 NL MVP when he hit .326 with 40 home runs.
The Padres won the NL West in 1996, thanks to an MVP season from Ken Caminiti, 110 runs from
Rickey Henderson
, a .353 season from Tony Gwynn. In 1998, they had the best season in franchise history, winning 98 games and upsetting the 106-win Braves and 102-win Astros in the playoffs. Caminiti wears the dark blue alternate top the team wore at home at times that season.
---
Kevin Brown, 1998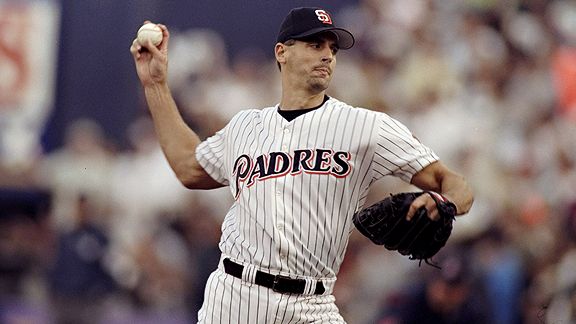 Al Bello/Getty ImagesBrown went 18-7 with a 2.38 ERA in his one season in San Diego.
A big reason for San Diego's success in '98 was Brown, who came over from the Marlins for
Derrek Lee
(the Marlins conducted their own fire sale). Trevor Hoffman had 53 saves, Andy Ashby won 17 games,
Greg Vaughn
hit 50 home runs and Gwynn hit .321 with 16 home runs. Alas, the Padres were swept in the World Series by the Yankees. Brown wears the white pinstriped home jersey from the decade.
Follow David Schoenfield on Twitter at @dschoenfield. Follow the SweetSpot blog at @espn_sweet_spot.
January, 3, 2011
1/03/11
3:08
PM ET
After spending most of a column arguing that Kevin Brown's seven-year, $105 million contract wasn't nearly as bad as we think (which is true), Dan Rosenheck concludes on
a more lasting matter
:
Brown has a much stronger case for inclusion in quite a different pantheon: the Hall of Fame, for which he appears on the ballot for the first time this year. Brown's key statistics -- 3,256 innings pitched at an E.R.A. 27 percent better than the league average -- mirror those of Curt Schilling, who pitched 3,261 innings with an E.R.A. 28 percent better than the league average, and easily meet Cooperstown's established standards. That record may well have been chemically enhanced. But as long as Gaylord Perry, who wrote a book in the middle of his career about throwing the spitball, remains safely enshrined, voters should take Brown's Hall-worthy numbers at face value.
Brown won 211 games and (as Rosenheck suggests) finished his career with a 127 ERA+. I made a list of the pitchers with between 200 and 220 wins
and
ERA+ between 120 and 135.
[+] Enlarge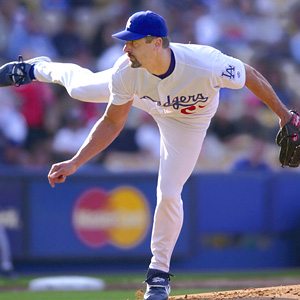 AP Photo/E.J. FlynnA case could be made to send Kevin Brown to Cooperstown.
It's not a huge list, just seven pitchers including Brown and Schilling. The other seven: Stan Coveleski (215 wins, 128 ERA+), John Smoltz (213/125), Don Drysdale (209/121), Eddie Cicotte (209/123), Hal Newhouser (207/130).
Coveleski, Drysdale, and Newhouser are in the Hall of Fame
Schilling and Smoltz will be, someday.
Cicotte, who did as much as anyone to throw the 1919 World Series, is ineligible.
While I'm not sure that Brown
easily
meets "Cooperstown's established standards," he certainly does seem to meet them.
So why isn't he considered a viable candidate for election this year?
Mostly because he never won a Cy Young Award, and because he won 20 games just once. Essentially, he suffers from the same deficits that have kept Bert Blyleven waiting.
Should we hold those things against Brown, though?
From 1996 through 2000, Brown averaged 34 starts and 242 innings per season, and twice led the National League in ERA. His 2.51 ERA over those five seasons ranked second among pitchers with at least 1,000 innings, behind Pedro Martinez and ahead of Randy Johnson, Tom Glavine, Roger Clemens, Schilling, Mike Mussina, and everyone else.
Brown didn't win 20 games in any of those seasons, though. He went 82-41, winning 18 games twice, 17 games, 16 games, and 13 games in 2000 when he pitched 230 innings and posted the lowest ERA in the National League. Was it Brown's
fault
that he didn't win 20 games? If he had won 20 games a couple of times in those years, would his Hall of Fame case be more persuasive?
I have not been particularly enthusiastic about Brown's Hall of Fame case in the past, but I'm beginning to realize that's been largely because he never
felt
like a Hall of Famer to me -- which of course is exactly the sort of "thinking" for which I've criticized so many Hall of Fame voters for so many years.
On balance, looking at both Brown's performance and the fates of pitchers with similar performances, he does seem to be well-qualified for the Hall of Fame. It's true that he doesn't have anything "extra"; doesn't have Schilling's or Smoltz's postseason successes, or Newhouser's big seasons. For that reason, I can understand voters who don't consider Brown
quite
in the same class as those luminaries.
What I can't understand is an electorate that will collectively rate Brown as a
far
lesser pitcher than Jack Morris, to the point where Brown might actually receive so little support that he'll actually drop off the ballot after this single initial appearance.
Historically speaking, that just ain't right.
April, 30, 2009
4/30/09
10:23
PM ET
Posted by ESPN's Kelly Naqi
NEW YORK -- Shortly after Yankees manager Joe Girardi settled into his chair for his pregame news conference in front of 38 members of the media Thursday afternoon, he smiled. Girardi didn't seem at all surprised when the first question posed had to do with new allegations regarding a soon-to-be-released book about Yankee third baseman Alex Rodriguez and not his team's opponent, the Los Angeles Angels.
Girardi was clearly aware of the report in Thursday's New York Daily News, claiming the book "A-Rod, The Many Lives of Alex Rodriguez" (to be released May 4) contained details that Rodriguez:
Used steroids in high school, according to a high school teammate;
Was suspected of using steroids by at least two unnamed Yankee teammates in 2005;
Was seen together with Yankees pitcher Kevin Brown with human growth hormone in 2004;
Was suspected by Yankees management of using banned substances, according to an anonymous clubhouse source.
"To me, it seems like a lot of he-said, she-said kind of stuff," Girardi said. "We've been down this road, we're gonna move on. Alex has talked about how he's gonna move on, and, to me, the focus about Alex Rodriguez is he had eight at-bats today, he was 1 for 5 with three walks, and we're moving on."
When asked if this would be another A-Rod-related distraction for his team, Girardi didn't hesitate.
"There's an easy way for players not to make it a distraction: All they have to say is 'there's no comment,'" he said matter-of-factly. "They've been down this road before where there is things that come up in 'Yankeeland' that a lot of people want to talk about, and players don't necessarily want to talk about it. They do have practice in these deals and obviously, I'll watch to make sure it's not a distraction, but I don't see it being a distraction."
Yankees GM Brian Cashman declined to comment on the report, but the players I spoke with in the clubhouse seemed genuinely unaware of the latest A-Rod allegations.
"I've been playing with my kids all morning, then have been watching the YES Network," Yankees first baseman Mark Teixeira said. "I haven't heard anything."
"I hadn't heard any of this, and I'll bet more than half of these guys don't even know," said Yankee pitcher CC Sabathia, his arm sweeping the width of the locker room. "I don't think it will affect the team. We're excited he's close to getting back. We hope he'll be healthy and help us when he gets back in the lineup. That's my main concern."
When told of the anonymous sources that some of the new allegations are attributed to, Yankees right fielder Nick Swisher said, "Where are the names? Anyone can have a friend that said they did stuff. The key word to know here is 'alleged.'"
"My only thoughts are they are allegations," Teixeira said. "This team is used to outside distractions. The only thing we care about is what happens between the lines."
Girardi said he spoke with Rodriguez on the phone Thursday afternoon but declined to say if they discussed the latest allegations.
"Alex is used to being under a microscope every day anyway," Girardi said. "He's been playing that way in his career for a long time now. You don't necessarily expect this time to be any different when he comes back, just because he's been on the DL for a little bit.
"I know he is really looking forward to getting back with us."
Kelly Naqi is an ESPN bureau reporter based in New York.