December, 22, 2012
12/22/12
8:00
AM ET
Last weekend, I presented the top 10 teams in my
personal power rankings
. That was before the Blue Jays officially acquired
R.A. Dickey
, so I updated my top 10 after that trade, and, to spur on more debate, now present the rest of my rankings. Agree or disagree, but I do think this is the most parity we've seen in a long time. It's why the Orioles and A's were able to surprise this past season and why we will undoubtedly see another surprise team in 2013. It's a great time to be a baseball fan.
1. Nationals
Most talented rotation in the majors, deep lineup, depth. Re-signing
Adam LaRoche
to add another lefty power bat will help.
2. Reds
Superb rotation could be better if the
Aroldis Chapman
transition works, bullpen is deep enough to absorb his loss and
Shin-Soo Choo
provides a needed leadoff hitter.
3. Yankees
I think they can stretch things out more season with a deep rotation, excellent bullpen and power. Remember, they had the largest run differential in the American League last season.
4. Tigers
Deep rotation, great 1-2 punch with Miggy and Prince, and
Torii Hunter
and
Victor Martinez
should improve the lineup.
5. Braves
Left-handed power, power bullpen and a young team that could improve from last year's 94 wins.
6. Blue Jays
Addition of Dickey adds a needed No. 1 to a rotation that could be dominant if
Josh Johnson
and
Brandon Morrow
remain healthy.
7. A's
Young teams that show big improvement are usually for real, and this team has a solid rotation, a strong outfield and power arms in the bullpen.
8. Dodgers
Have to love the
Clayton Kershaw
-
Zack Greinke
combo and an offense with big upside if
Matt Kemp
and
Adrian Gonzalez
come close to 2011 levels.
9. Rangers
I think the rotation is playoff-caliber with
Yu Darvish
,
Matt Harrison
,
Derek Holland
,
Alexi Ogando
,
Martin Perez
and
Colby Lewis
.

10. Cardinals
Have to replace
Kyle Lohse
, but they'll score plenty of runs as long as
Carlos Beltran
(36 years old in April) and
Matt Holliday
(33 in January) keep producing.
11. Rays
Still some holes in the lineup, and replacing
James Shields
' 220-plus innings won't be that easy, but underestimate the Rays at your own risk.
12. Angels
Oddsmaker Bovada.lv has the Angels with the second-best odds to win the World Series (behind the Blue Jays), but I see a rotation
with a lot of question marks
behind
Jered Weaver
, and
Josh Hamilton
only replaces Hunter, who was terrific in 2012.
13. Giants
I discussed
my issues with the Giants here
. I could be wrong, although our friends at Bovada only put the Giants tied for ninth in their World Series odds.
14. Diamondbacks
Their run differential wasn't much different than the Giants last year, and they've added
Brandon McCarthy
, infield depth and still have
Justin Upton
.
15. Phillies
I want to say we're all underestimating a team that includes
Cole Hamels
,
Cliff Lee
and
Roy Halladay
, but then I see an outfield of
Darin Ruf
,
Ben Revere
and
Domonic Brown
, and an infield defense that includes
Michael Young
and
Ryan Howard
and 30-somethings
Jimmy Rollins
and
Chase Utley
.
16. Brewers
They can score runs -- most in the National League last season -- and if the bullpen regroups after 2012's gruesome late-inning efforts, this team could surprise.
17. Red Sox
There will be no expectations after the disaster in 2012 (the franchise's worst record since 1965), but I see a big rebound coming.
18. Royals
I'll buy -- but I'm not buying a playoff spot.
Eric Hosmer
and
Mike Moustakas
have to take huge leaps forward ... or the Royals could be headed for another rebuild.
19. Orioles
Last season's 93-win playoff team provided a beautiful ride, but the Orioles haven't added that big bat they need.
20. Padres
Young team is moving in the right direction after winning 76 games in 2012. Can rotation improve to push Pads over .500?
21. Mariners
Mariners have pursued a big bat all offseason but were only able to pick up
Kendrys Morales
, and he cost them
Jason Vargas
, opening up a 200-inning hole in the rotation. Looks like 2014 before Mariners can make a push in the tough AL West.
22. Pirates
Still no No. 1 or even No. 2 starter (sorry,
A.J. Burnett
is a No. 3 at best) and not enough support for
Andrew McCutchen
. One of these years, Pirates fans, one of these years.
23. White Sox
No
A.J. Pierzynski
, a declining
Paul Konerko
, good year/off year
Alex Rios
due for an off year. Then again, White Sox had a bigger run differential in 2012 than the Tigers.
24. Cubs
Rotation of
Edwin Jackson
,
Jeff Samardzija
,
Travis Wood
,
Scott Baker
and
Scott Feldman
could be competitive, but offense won't be.
25. Mets
At least Mets fans can dream of a future rotation that includes
Matt Harvey
,
Zack Wheeler
,
Jonathon Niese
and Noah Syndergaard. Unfortunately, the 2013 version still includes
Frank Francisco
and a bunch of fourth outfielders.
26. Marlins
Giancarlo Stanton
still makes this team worth watching on a daily basis.
27. Indians
Getting
Trevor Bauer
in the Choo deal added a much-needed starting pitcher prospect. Unfortunately, much of the rest of rotation remains suspect.
28. Twins
Kevin Correia
,
Vance Worley
,
Mike Pelfrey
... what, Rich Robertson and Sean Bergman weren't available?
29. Rockies
At least the Twins have a direction as they wait for young position players to reach the majors. I have no clue what the Rockies are doing, intend to do, want to do, wish to do or hope to achieve.
30. Astros
Welcome to the AL West, boys.
December, 3, 2012
12/03/12
4:07
PM ET
NASHVILLE, Tenn. -- The
Minnesota Twins
made a splash last week when they traded center fielder
Denard Span
to the
Washington Nationals
for pitcher Alex Meyer, a 6-foot-9 former first-round draft pick with a 100 mph fastball. Meyer has the potential to be a front-of-the-rotation starter or, in an alternate scenario, a dominant closer. But he might not be ready to contribute to the big league club for a couple of years.
[+] Enlarge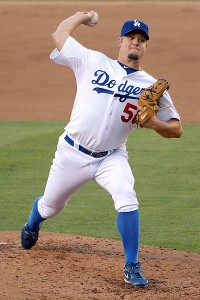 Kirby Lee/Image of Sport/USA TODAY SportsJoe Blanton was 10-13 with a 4.71 ERA in 30 starts combined for the Phillies and Dodgers last season.
With that deal complete, the Twins now turn their attention to acquiring some immediate help for a rotation that went 39-75 with a 5.40 ERA in 2012. It's not a reach to say they're pitching-obsessed.
Free agents
Zack Greinke
,
Anibal Sanchez
,
Ryan Dempster
and (maybe)
Edwin Jackson
might be beyond Minnesota's price range. But when you talk to people at the Gaylord Opryland hotel, they'll tell you the Twins are in on just about every other free agent with a résumé and pulse.
Joe Blanton
, a veteran innings-eater who spent last season with the Phillies and Dodgers, is a prime target for the Twins, sources said. Midrange starters
Kevin Correia
and
Brett Myers
are on general manager Terry Ryan's radar, and the Twins are taking a serious look at the group of non-tendered pitchers who recently became free agents. That list includes former Washington Nationals starter
John Lannan
and erstwhile New York Met
Mike Pelfrey
, who underwent Tommy John surgery in March.
The Twins are also kicking the tires on veteran
Vicente Padilla
. Although some people in the Minnesota organization have concerns about Padilla's makeup, the Twins are intrigued by his ability to both start and relieve.
Minnesota also has been more active than expected in trade talks. Other clubs with excess pitching have approached the Twins to talk about center fielder
Ben Revere
and left fielder
Josh Willingham
, who is a particularly attractive commodity because of his reasonable contract and excellent production.
Willingham hit 35 homers and ranked eighth in the American League with a .524 slugging percentage last season, and he's signed for two more years at a total of $14 million. But unless Ryan is blown away, it's tough to envision him moving an outfielder and putting a major crimp in his offense. In the Twins' quest to bolster their pitching, they would simply be weakening one facet of the team to strengthen another.
June, 7, 2012
6/07/12
1:33
AM ET
By
Justin Havens, ESPN Stats & Information
| ESPN.com
The Pirates have won eight of their past 11 overall and sit just three games out of first place in the National League Central. While it was just last year that we were talking about the "surprising" Pirates before a remarkable second-half collapse, 2012 might be different. Below is a look at what's fueling the Pirates' run this season, how we got to this point and how much of it we can expect to last.
Pitching fueling the Pirates
The Pirates are posting one of their best pitching seasons in the last 30 years. In fact, it's the best since 1984 and eerily similar to 1992 -- the last season they had a winning record.
Pirates' lowest team ERA since 1980:
1984: 3.11
2012: 3.30
1971: 3.31
1992: 3.35
1976: 3.36
The Pirates have seen their overall ERA drop each season since 2010, which is also true for the team's starting pitching ERA. However, the relief pitching has experienced an improvement going all the way back to 2008. In fact, the Pirates' bullpen ERA is its lowest since 1975.
2012: 2.58 (third in the majors)
2011: 3.73
2010: 4.55
2009: 4.59
2008: 4.66
How did we get here?
What makes the Pirates' pitching success even more remarkable is how these pitchers were acquired -- largely, off the scrap heap. Here's a look at how general manager Neal Huntington and his team procured the notable top-performing pitchers on his roster.
Brad Lincoln
(2.40 ERA in 30 IP) -- Drafted by Pirates in first round of 2006 MLB draft.
Jason Grilli
(1.71 ERA in 21 IP, 35 SO) -- Signed as free agent, July 21, 2011.
James McDonald
(5-2, 2.14 ERA, 71 K in 71.1 IP) -- Acquired from Dodgers for
Octavio Dotel
, July 31, 2010.
Juan Cruz
(2.18 ERA, 20 K in 20.2 IP) -- Signed as free agent, Feb. 1, 2012.
Joel Hanrahan
(15 saves, 2.57 ERA -- Acquired from Nationals for
Sean Burnett
and
Nyjer Morgan
, July 30, 2009.
Erik Bedard
(3.72 ERA, 56 K in 55.2 IP) -- Signed as free agent, Dec. 7, 2011.
A.J. Burnett
(5-2, 3.76 ERA) -- Acquired from Yankees for two minor leaguers, Feb. 19, 2012.
Kevin Correia
(4.19 ERA in 58 IP) -- Signed as free agent, Dec. 17, 2010.
As you can see, most of the rotation members were acquired for very little cost; Burnett is making $5 million this season, Bedard $4.5 million, Correia $3 million and McDonald a crisp $502,500. This entire group is making less than $20 million. That's for 80 percent of a rotation and three key bullpen arms.
Can this be sustained?
Fielding Independent Pitching, or FIP, looks at the things a pitcher can control: strikeouts, walks, hit by pitches and home runs allowed. FIP is an effective statistic at predicting future performance -- i.e., a pitcher's FIP number is usually a better indication of his true skill, good or bad, than his present-day ERA. So while the Pirates starters can expect some regression (do we really think McDonald will keep his ERA barely above 2.00 all season?), FIP provides a great deal of optimism regarding the ability to sustain solid performance.
As you can see, 60 percent of the team's starting rotation (though Charlie Morton is currently on the disabled list) can actually be expected to improve moving forward based on their FIP. The only pitcher "predicted" for a significant dropoff is Correia.
Improvements worth noting
What has been the key to Burnett's turnaround this season? While some of it can anecdotally be attributed to the move to the National League, it's much more about increased effectiveness with his fastball.
McDonald's breaking stuff, meanwhile, has been outstanding, among the most effective in all of baseball. Here's a list of highest strikeout rates with curveballs and/or sliders among starting pitchers:
Edwin Jackson
, Washington -- 53.6%
Chris Sale
, White Sox -- 53.0%
Stephen Strasburg
, Washington -- 51.7%
A.J. Burnett, Pittsburgh -- 50.8%
James McDonald, Pittsburgh -- 48.5%<< >>44.1% strikeout rate last season
(Minimum 200 curveballs/sliders thrown)
Specifically, McDonald has become much better at using his breaking pitches against left-handed batters:
Bedard's out pitch has always been his curve, and that is no exception once again. However, he's been markedly more effective with the pitch.
Justin Havens is a researcher for "Baseball Tonight." Follow him on Twitter @jayhaykid.
July, 12, 2011
7/12/11
7:00
AM ET
By
Christina Kahrl
| ESPN.com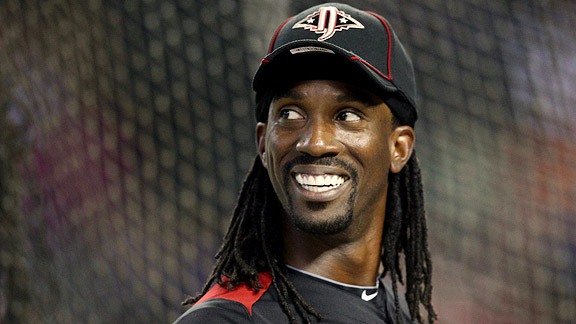 Christian Petersen/Getty ImagesAndrew McCutchen has high expectations for the Pirates in the second half.
You already know the Pittsburgh Pirates are already in a position to break their 18-season streak of losing campaigns. This is also the first time since 1990 the Bucs have had as many as three All-Stars on the squad. Back then, it was Barry Bonds, Bobby Bonilla and Neal Heaton, but this year it's a trio of first-time All-Stars:
Joel Hanrahan
,
Andrew McCutchen
and
Kevin Correia
.
How the three Pirates arrived remains slightly controversial, especially with the furor that cropped up after NL All-Stars skipper Bruce Bochy initially overlooked McCutchen. When asked Monday about how he put his roster together, he was quick to observe, "I got hit pretty hard on McCutchen."
Add in Correia's selection over, say, the Braves'
Tommy Hanson
, and you can understand how this might be the latest cause for frustration over the picks. Hanrahan, however, isn't having any of it. On being joined by two of his teammates, he quipped, "It's nice to have three guys who belong here, instead of one guy who has to be."
McCutchen was aware of the support that had come his way after Bochy's initial snub. "I heard a lot, my girlfriend as well. I found myself on lists of 'top snubs,' [and] made me think I deserve to be here. That felt good, that felt
really
good. It let me know people wanted to see me." As a result of the outcry over his initial inclusion, McCutchen feels it might have raised his profile, if anything: "I definitely felt I got more recognition. It was a little bit of an eye-opener for me."
He knows this is his chance to show people what he can do on a national stage. "It's a great opportunity. A lot of people play this game [the All-Star Game] without getting here," McCutchen said.
The way McCutchen found out -- the Pirates were hosting the Cubs
on Saturday
in front of the Pirates' 10th sellout of the season -- made his selection that much more memorable. Fans gave him a standing ovation and he got a curtain call.
"It was quite humbling. They make that announcement (in the fourth inning), you see the fans stand up and go crazy. ... I really just cherish that moment," he said.
That reflects a change in what the Pirates mean to Major League Baseball.
"Everyone's rooting for us. It's special. This is one of those Cinderella stories. It could change people's lives. We started off in spring training saying what we can do," McCutchen said. "We're at the point where we believe in what we can do. We know we can. Sky's the limit for us." Noting that he'd seen trailers of
Moneyball
, he said it made him think about the Pirates, about how "one guy can change a team -- I want to see that movie!"
It is a marked contrast to how he felt when he was called up in 2009. "I was just happy that I was there," said McCutchen. "Once that settled down, then I started to notice it's all about winning, and if you don't do too well, somebody will take your place. There's definitely a different feeling from past years. We believe we're going to win."
Could McCutchen see it coming? "I definitely could. We had guys in the minor leagues I knew could do a good job. I knew it was going to change for us."
Correia chipped in, noting that, "Alex Presley, I don't think I've seen him make an out in three weeks. We keep bringing up kids like that, and we'll be OK."
As for his own introduction to life as an All-Star, the well-traveled Correia was more than modest about his inclusion on the team. "I'm at the All-Star Game, and I might be the fourth-best starter on [my] team. If
Paul Maholm
got the offense I've had, he'd be sitting here."
But the fourth-best starter, on the Pirates? Per WAR, Correia's exactly right about his place in the Pirates' picture.
"Jeff Karstens is throwing the ball as good as any guy in baseball." Correia said. "
Charlie Morton
has ace-like stuff; he made some mechanical changes, and he throws a two-seam fastball that none of the hitters in this room wants to face. You don't get much of a break going through our rotation."
Hanrahan was more generous to his teammate, saying, "I don't think you can number any of these guys. They take pride going deep in their games. We don't have the sexy pitching staff, but we get the job done."
As a nine-year veteran it is sweeter for Correia to be a first-time All-Star. "I definitely appreciate it more. If it happens early, you think it'll keep happening. Now, I get the full experience of it." It's no surprise that Correia looks at this season and thinks, "I definitely made the right choice, coming to Pittsburgh."
The trio is excited about being here for more than honor. As Hanrahan noted, where they might have joked in the past about Pirates All-Stars, "kind of smirking and saying, go get home-field advantage for the Cardinals, now we're playing to get it for ourselves."
"It's definitely different from the past -- we expect to win," Correia added. "I've had a lot more fun surprising people."
Which would mean ending the streak of 18 losing seasons, presumably, but McCutchen cares more about pursuing higher ambitions.
"It's more for the fans than for us. It'll be great for the city. But we're not going to be satisfied with just finishing over .500. We're hungry to win a championship."
Christina Kahrl covers baseball for ESPN.com. You can follow her on Twitter.
June, 27, 2011
6/27/11
1:25
AM ET
The
Pittsburgh Pirates
couldn't complete a series sweep of the
Boston Red Sox
, but taking two of three and knocking the Sox out of first place qualifies as one of the biggest moral victories for the franchise in years.
A year ago, the Pirates were a disaster. Nothing new there, of course, but even for them their 57-105 season was below standards -- the 105 losses were the most in the majors since the Royals lost 106 in 2005, and they allowed the most runs in the majors and scored the second-fewest. Considering their big offseason moves were to sign
Lyle Overbay
,
Matt Diaz
and
Kevin Correia
, expectations were not high, but here stand the Pirates at 39-38 and just four games out of first place in the NL Central.
It's enough to make them my biggest surprise story of the first half.
But ... can they keep it going? The Central remains wide open: The Cardinals have lost 12 of 15, the Brewers struggle on the road (15-24), and the Reds haven't put it together (tied with the Pirates). Let's look at four key reasons why the Pirates are a game over .500 and whether they can improve in the second half.
1. Andrew McCutchen is awesome.
According to FanGraphs' WAR (wins above replacement), McCutchen has been the sixth-most valuable position player in baseball, trailing only
Jose Bautista
,
Adrian Gonzalez
,
Jose Reyes
,
Matt Kemp
and
Curtis Granderson
. His defense has improved, his on-base percentage is up 35 points from a year ago, and his slugging percentage is up a bit. Last season, he was a good player. He's become a superstar.
Likelihood to continue: Excellent.
2. The team's defense has improved dramatically.
Last season, UZR (Ultimate Zone Rating) ranked the Pirates as the worst defensive team in the majors. This season it ranks them ninth. Other than McCutchen, no individual Pirate rates as especially spectacular; they're just solid across the board.
Neil Walker
and
Ronny Cedeno
appear improved from last season and the fewer innings
Pedro Alvarez
plays at third base only makes the defense better.
Likelihood to continue: Fair. Of course, the defensive numbers are tied into the next category ...
3. The starting rotation has been solid.
The Pirates are sixth in the NL with a 3.70 ERA from the rotation. Let's take a closer look at the five starters.
Jeff Karstens: Currently ranks fifth in the NL with a 2.66 ERA, despite allowing 14 home runs in 84 2/3 innings. No offense to Jeff Karstens or his family, but he's not this good. As a finesse righty with an 88-89 mph fastball, there's only a fine line of success for him. So far he's managed to toe that line: Thirteen of those homers have come with the bases empty and he's held hitters to a .151 average with runners in scoring position.
Paul Maholm: He's been the biggest beneficiary of the improved defense, as his batting average on balls in play, .308 over his career, is at .250 in 2011. His K and walk rates aren't really any different than his career norms. While his home run rate has dropped, it seems unlikely he can maintain a 3.21 ERA over the second half.
Kevin Correia: We've discussed him in the blog before. He's cut way down on his walks at the expense of fewer strikeouts, but the new approach has worked. As long as he continues walking two batters per nine, he can remain successful even with his low strikeout rate. As with Maholm, however, any decline in defense will be especially problematic for him.
Charlie Morton: He's not that good. Among 113 qualifed major league starters, he's 62nd in ERA ... but 110th in runners allowed per nine. OK, he's gotten a lot of groundballs so far and has allowed just two home runs. Call me skeptical.
James McDonald: He's 112th among those 113 starters in runners allowed per nine. Until he stops walking four or five batters a game, he's not going to be anything more than a fifth starter.
Likelihood to continue: Poor. Clint Hurdle has expertly managed the rotation and seems to understand their limitations. The Pirates have pitched the fewest 100-pitch games in the league and rank 14th among NL teams in innings by the starters. Even though Hurdle has done a nice job with them, I don't believe they'll sustain this level.
4. Joel Hanrahan has been lights out as closer.
Hanrahan should make the All-Star team with a 1.24 ERA and a perfect 22-for-22 in save opportunities. Hanrahan has always had the big fastball, but like Correia, he seems to have been benefited from some simple advice from pitching coach Ray Searage: throw more strikes, walk fewer guys. Last season, Hanrahan blew hitters away, fanning 12.9 per nine. He walked 3.4 per nine, which was actually way down from his previous season with the Nationals. This year, his strikeouts are down but so are his walks. He's throwing his fastball more and his slider less, and it's resulted in more groundballs.
Likelihood to continue: Excellent, although he will blow a save or three in the second half.
As you can see, the Pirates will be hard-pressed to stay in the race, or even finish .500. But they've been a terrific story so far and, who knows, maybe they will stay in this thing and have their first .500 season since 1992. I certainly hope so.
SERIES OF THE WEEK


Boston at Philadelphia, Tuesday through Thursday
Tuesday:
Josh Beckett
(6-2, 1.86) vs.
Cliff Lee
(8-5, 2.87)
Wednesday:
John Lackey
(5-6, 7.36) vs.
Vance Worley
(2-1. 2.83)
Thursday:
Jon Lester
(9-4, 3.66) vs.
Kyle Kendrick
(4-4, 3.23)
The pitching matchups fall in Boston's favor as right now the Sox are scheduled to miss
Cole Hamels
and
Roy Halladay
, although Hamels could start Thursday on regular rest if Charlie Manuel decides to move around his rotation. Beckett hasn't pitched since June 15 due to an illness but leads the majors in ERA, WHIP (0.92) and opponents' batting average (.174). Lee, meanwhile, is coming off consecutive shutouts and has allowed just one run his past four starts.
The Phillies have struggled to score runs in interleague play, with just 17 runs in nine games against Texas, Seattle and Oakland. The Red Sox lead the majors in runs scored, but will presumably be without DH
David Ortiz
, although Terry Francona has mentioned the possibility of playing Adrian Gonzalez in the outfield so Big Papi doesn't sit for nine straight games. I wouldn't make the move -- you're making defense considerably worse at two positions while risking injury to Gonzalez -- but it's something to watch for.
PITCHING MATCHUP OF THE WEEK

Kershaw
Saturday:
Clayton Kershaw
(8-3, 2.93) vs.
Jered Weaver
(9-4, 1.97), Dodgers at Angels
There are several must-see duels this week -- including the above Beckett-Lee game, a
Tommy Hanson
-
Michael Pineda
matchup in Seattle on Tuesday that could go 19 scoreless innings, Cole Hamels-
Ricky Romero
on Friday -- but this one I'll be sure to watch, record or check out the replay on MLB.TV. By the way, considering the mess with the Dodgers, are the Angels now L.A.'s No. 1 team?

Weaver
After "slumping" in May with a 3.38 ERA, Weaver has a 1.76 ERA in June. He hasn't allowed more than four runs in a game this season and has now gone 24 consecutive starts allowing four runs or fewer dating back to last August. Kershaw -- who had a 31-start streak of four runs or less of his own from May 2009 to April 2010 -- leads the majors in strikeouts.
From
Baseball-Reference.com
, the longest such streaks of allowing four runs or fewer since 2001:
1.
Jake Peavy
, Padres, Aug. 2003-May 2005: 39 starts (20-7, 2.39 ERA, 244 IP)
2.
Johan Santana
, Twins, July 2006-July 2007, 35 starts (21-8, 2.60 ERA, 238 IP)
3. Johan Santana, Twins, May 2004-May 2005, 32 starts (23-5, 2.04 ERA, 229 IP)
4. Clayton Kershaw, Dodgers, May 2009-April 2010, 31 starts (9-7, 2.33 ERA, 177 IP)
5.
Josh Johnson
, Marlins, April 2009-Sept. 2009, 29 starts (13-5, 3.10 ERA, 182 IP)
5.
Roger Clemens
, Astros, Sept. 2004-Aug. 2005, 29 starts (14-4, 1.35 ERA, 199 IP)
It's a good reminder of how dominant Santana was over those three seasons for the Twins, when he went 55-19 with a 2.75 ERA and WHIP under 1.00.
THREE SWINGS

Hamilton
1.
Josh Hamilton
is right about one thing -- he
doesn't
hit in day games. He tried new contact lenses on Saturday and went 0-4 with four strikeouts (he wasn't wearing sunglasses at the plate) and Ron Washington didn't play him Sunday. Is there any truth to his "blue eyes in day games" theory? From the Elias Sports Bureau, here are the top 10 active hitters with the biggest night/day batting average differential (minimum 2,000 plate appearances):
1. Hamilton: .333 night, .240 day (-.093)
2.
Delmon Young
: .307 night, .249 day (-.058)
3.
Casey Blake
: .277 night, .229 day (-.048)
4.
Denard Span
: .302 night, .263 day (-.039)
5.
Michael Bourn
: .277 night, .239 day (-.038)
6.
Rickie Weeks
: .270 night, .232 day (-.038)
7.
Luke Scott
: .276 night, .239 day (-.037)
8.
Johnny Damon
: .298 night, .261 day (-.037)
9.
Craig Counsell
: .269 night, .232 day (-.037)
10.
Prince Fielder
: .294 night, .258 day (-.036)
Based on this limited sample size, let's just say Hamilton's blue-eye theory doesn't quite hold up. Clearly, he does have a real problem during day games -- his split is 35 points worse than Delmon Young, the No. 2 guy.
But what's more interesting is six of the 10 guys on the list have played primarily for dome/retractable roof teams -- Young (domes in Tampa and Minnesota), Span (Metrodome), Bourn (Houston), Weeks (Milwaukee), Counsell (Arizona and Milwaukee) and Fielder (Milwaukee). Makes you wonder if the lighting during day games in those places isn't very good. Worth a more in-depth study, perhaps.
2. Through June 25, MLB attendance was down 325,000 from a similar point in 2010. You'll hear this hammered home all season long by baseball haters. That's about 282 fans per game. Of course, what the haters won't mention is the Dodgers by themselves are down about 371,000 -- and can you blame Dodgers fans for not showing in droves? The second-biggest drop? The Mets, down about 144,000 fans. So take out the two troubled ownership groups and attendance is up over a year ago. The biggest increases? The Rangers and Giants. And Sunday's games saw six crowds over 40,000-plus. Don't let them tell you baseball is dying.
3. Brien Jackson, who writes for our Yankee blog, had a couple tweets on Saturday night that I couldn't agree with more. It's time the New York media (and to a certain extent, Yankee fans) realize that
A.J. Burnett
is what he is -- an overpaid No. 3 starter. It's time the media stops setting Burnett up for its wrath by saying he has great stuff. Burnett's a two-pitch pitcher without great command, and his fastball isn't even what it used to be. Look, Burnett's had a nice career -- 117 wins, ERA better than league average -- but he's never been a
great
pitcher. Yes, he led the AL once in strikeouts, but the last four seasons he's ranked 90th, 48th, 50th and 29th among major league qualified starters in ERA.
RANT OF THE WEEK
Entering Sunday, the quality start percentage across the major leagues was 55 percent, up two percent from last season and seven percent from 2008 and 2009. It's the highest total since 1988's 56 percent. Complete games are up, on a pace of 207 for the season, which would be the most since 209 in 2003. Starters are averaging 6.1 innings per start, the most since 6.1 in 1998.
All this is a way of saying starters are pitching better and going deeper into games than a long time. OK, no surprise there. But few teams are adjusting to this -- most are still carrying 12, or even 13, pitchers. Managers are gaining slight tactical advantages out of the bullpen ... but giving up perhaps bigger tactical advantages with a smaller bench of position players. If starters are going 6-7 innings per start, it's very difficult to get seven or eight relievers regular work. Let's see teams cut down to six or seven relievers and carry an extra bat on the bench that you can use to pinch-hit against that LOOGY or ROOGY in the middle innings. Runs are scarce these days; having more pinch-hitters available could be a nice little edge.
Follow David on Twitter @dschoenfield and the SweetSpot blog on Facebook.
PHOTO OF THE DAY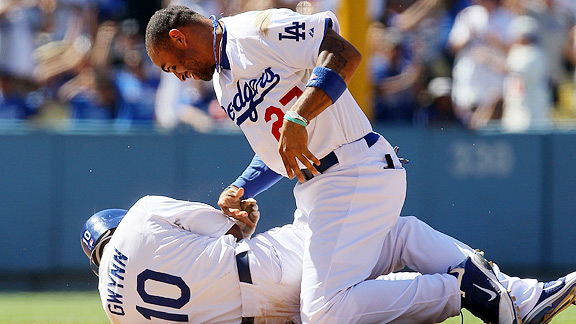 Stephen Dunn/Getty ImagesMatt Kemp has Tony Gwynn Jr. down, and he's not letting him up until the rest of his teammates can dog-pile on top. But that's what happens when you score the winning run, as Gwynn did Sunday.
June, 3, 2011
6/03/11
9:53
AM ET
We shouldn't have to defend the win. When
Felix Hernandez
won the American League Cy Young Award last season with only 13 wins (and 12 losses), it was considered something of a landmark moment for the slide rule set; a validation of sabermetric analysis as a more definitive measuring set for quantifying pitching performance. BABIP, xFIP, and the quality start were hailed as long overdue counterbalances for inordinate run support or failed bullpens. All true; but let's not do a sabermetric sidestep around one simple fact: There is still only ONE stat that counts in the division standings and that's wins. And no major league pitcher has more wins than Pittsburgh's
Kevin Correia
.
[+] Enlarge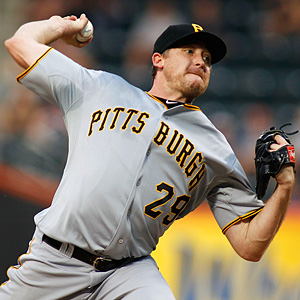 Mike Stobe/Getty ImagesKevin Correia picked up his eighth win of the season Wednesday night.
The intriguing thing to me about Correia is he's not remotely intriguing to either the sabermetricians or the traditional wins and ERA crowd. Both schools seem equally unimpressed and both happily produce numbers to support their arguments. Correia has a 3.40 ERA, respectable certainly but hardly Bob Gibson. He has 34 strikeouts -- 121 major league pitchers have recorded more. His 1.20 WHIP would induce yawns at any sabermetric seminar, where his 4.12 xFIP and run support rate of 4.8 per game might even have some outraged. Yet, all the guy is doing is winning games. I'll say that again: HE -- WINS -- GAMES ... HELLO????
So how is a pitcher who has never won more than 12 games in a season and who found himself starting Opening Day for a Pirates team that hasn't had a winning season in 18 years, won more games than any pitcher in baseball? To begin with, Correia's 11.4 line drive percentage is the lowest among all major league starting pitchers. Considering that about 75 percent of line drives are base hits, Correia's success begins to make more sense. Correia has also rolled 135 groundballs, tied with
Jeff Francis
for seventh most in the majors. Correia's K/9 rate, which was 6.5 in 2009 and 7.1 last season, is down to 4.0 this year but his 2.0 BB/9 rate is the lowest of his career. He's not walking batters, he's throwing groundballs and not trying to strike everybody out. He's winning -- period.
Win No. 8 came Wednesday night at Citi Field, 9-3 over the Mets. Correia kept to his successful but not particularly sexy formula: He threw first-pitch strikes to 20 of the 24 batters he faced. He had only two walks and four strikeouts in his six innings of work with a groundball/fly ball count of 9-4. That's a pitching line that might be easily overlooked but it's effective and efficient. Any time a pitcher with a road record of 7-1, 2.42 gets called mediocre or misleading, we need to put down the charts and graphs and walk away for a bit. In fact, too much focus on things like O-Swing percentage may lead to overlooking Correia's solid work in his last three starts, all Pirates wins. He's pitched 20 innings and allowed just four runs and 17 hits for a 1.80 ERA.
The Elias Sports Bureau reports Correia is the first Pirates pitcher to lead the majors outright in wins through games of June 1 or later since Vern Law in 1960. Correia is just the fourth pitcher since 1975 to record seven road wins in his team's first 54 games and the first to do so since
Pedro Martinez
in 2000. Correia has had five starts this season in which he hasn't allowed a hit with runners in scoring position. I found plenty of numbers for Correia that aren't trendy or dynamic or next-level; they're just good.
Granted, wins are hardly a complete indicator of pitching performance and I know plenty of folks like to pretend that geologists found a wins column next to cave drawings of mastodons, but I'll stubbornly cling to terms like "clutch" or "winner" for as long as wins continue as the only stat that's counted in the standings. If that's antiquated, let's go antiquing.
Follow Steve Berthiaume on Twitter: @SBerthiaumeESPN.
April, 11, 2011
4/11/11
2:45
PM ET
Less than two weeks into the 2011 season and we're already seeing starting pitching performances that could make 2010 look like the year of the hitter and stat lines that could read like an old Times Square scrolling news marquee that would resemble a 1940s version of Twitter for passersby: "Germany surrenders ...
Josh Beckett
vs. Yankees Sunday night: 8 IP, 2 H, 1 W, 10 K in 4-0 BoSox win ... Ray Milland wins Oscar for "The Lost Weekend."
Beckett's performance Sunday night was his best since his signature win with Boston: his start in Game 5 of the 2007 ALCS at Cleveland, with Boston trailing 3 games to 1, when he dominated as the epitome of a postseason ace, forcing the series back to Fenway Park for an eventual AL pennant and World Series championship. He and
Jon Lester
combined to pitch 15 scoreless innings with five hits and 19 strikeouts in their latest starts.
Sunday against the Blue Jays,
Jered Weaver
struck out a career-high 15 batters, the most by an Angels pitcher in 16 years. Weaver's season line reads like a misprint: 3-0, 0.87 ERA, 20.2 IP, 9 H, 2 ER, 9 BB, 27 SO, 0.83 WHIP.
[+] Enlarge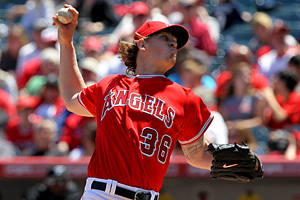 Stephen Dunn/Getty ImagesJered Weaver recorded his third victory of the season on Sunday.
After a search of several months, the nickname for the Phillies' rotation may have finally been found: "The Dubee Brothers," after Philadelphia pitching coach Rich Dubee.
Cole Hamels
silenced the Braves Sunday, with eight strikeouts over seven innings of four-hit ball. Hamels' performance came just three days after the White Sox's
Edwin Jackson
and Oakland's
Trevor Cahill
combined, in separate games, to allow just two runs and seven hits over 16 innings while striking out 20 and walking only one. However, it's not just the Times Square marquee names that have stood out.
If you like the "Dubee Brothers" nickname, how about "The Narvelous"? That's what Brewers closer
John Axford
has called Milwaukee starter
Chris Narveson
. Here's another impressive stat line: how about an ERA of zero? Narveson pitched seven scoreless innings in Saturday's 6-0 win over the Cubs, helped by all the work he's put in on his changeup. "The Narvelous" has pitched 13 scoreless innings and is challenging Jim Slaton's Brewers record of 20.2 scoreless innings by a starting pitcher to open a season, set in 1976. Not bad for a guy whose Cactus League ERA was 6.23.
The Red Sox, who sent
Justin Masterson
to Cleveland in the 2009 trade deadline deal for
Victor Martinez
, have reportedly been trying to bring Masterson back to Boston (according to
Paul Hoynes of the Cleveland Plain Dealer
). Masterson certainly has hit some bumps in the road as an Indians starter after his tenure as a promising and reliable Red Sox reliever, but he had manager Manny Acta calling him "filthy" after a dominant start in Seattle. Masterson's sinker/slider repertoire, combined with sharp movement on his fastball, have put up a 2-0, 1.35 ERA.
Kevin Correia
as an Opening Day starter might make anyone shrug, but Correia has been very effective leading what has been a surprisingly competitive Pirates rotation (3.39 ERA, fifth-best in the NL). Correia is 2-0 and has his fielders behind him admiring the late movement on his pitches.
Baltimore's Opening Day starter was
Jeremy Guthrie
, who earned the respect of his manager, Buck Showalter, on Sunday when he threw six innings of four-hit ball at the Rangers only days after being hospitalized with pneumonia. Guthrie's ERA and WHIP so far both sit at 0.64.
One day earlier in that series, Texas' 6-foot-4, 240-pound lefty
Matt Harrison
retired 18 straight Orioles. His velocity has been impressive and he's 2-0 with a 1.29 ERA and 11 K's in 14 IP.
The Mets have made the 1-year, $1.1 million signing of
Chris Young
look like a steal so far. Shoulder problems kept Young to just 18 starts over the previous two seasons in San Diego but he's allowed only six hits in 12.1 innings with 12 strikeouts and a 0.97 WHIP. On Sunday, Young held the Nationals to one hit over seven innings while retiring 18 of the last 19 he faced.
I'll see you all this week on "Baseball Tonight" at 10 p.m. and midnight ET.
Follow me on Twitter
.
Steve Berthiaume is a regular anchor for "Baseball Tonight" and "SportsCenter." He'll be contributing all season to the SweetSpot blog.
July, 15, 2010
7/15/10
3:13
PM ET
For some reason, I've got a sick fascination with pitchers who are allowed to pitch and pitch and pitch, despite spectacular failure. I don't know if everyone below precisely fits that description, but here are the 10 guys with ERAs higher than 5 who have pitched enough innings to qualify for the ERA rankings:
Even before tacking on
13 runs in five innings last weekend
,
Scott Kazmir
's ERA was 5.98; now it's 6.92. Even during Kazmir's four-game June winning streak, he walked nearly as many hitters as he struck out. It's hard (for me) to say
exactly
what's wrong with Kazmir ... Except we know he's not throwing as hard as he used to, we know he's striking out many fewer hitters than he used to, and we know he's walking more than he used to. All of which could have been said last year, too. Which isn't an encouraging trend.
Like Kazmir,
Nick Blackburn
(6.40) pitches for a contender, which makes his continuing presence in the rotation that much more problematic. Blackburn's problem isn't that he's getting too few strikeouts; it's that he's not getting
any
strikeouts. I exaggerate, of course. But 34 strikeouts in 97 innings is nearly impossible. Blackburn's struck out 3.15 per nine innings; sinker-baller
Aaron Cook
is the only other ERA qualifier under 4 ... and he's at 3.97 Ks per nine. Blackburn's just operating on a completely different level, which would be cool if that different level wasn't that of a scrappy non-prospect in Triple-A. Fundamentally, he's better than this. Blackburn entered this season with a 4.14 career ERA, which was somewhat lucky but not wildly so, considering his 2.46 strikeout-to-walk ratio. You can understand why the Twins haven't given up on him yet.
Kevin Millwood
's on the DL, so perhaps he shouldn't be on this list. But Millwood
has
started 18 games for the Orioles, and he does have a 5.77 ERA. Not exactly what management had in mind when they traded for Millwood, hoping his veteran presence would stabilize a rotation composed mostly of much younger pitchers. Granted, the Rangers are paying $3 million of Millwood's salary this season ... which still leaves (roughly) $9 million for the Orioles.
Next we've got a couple of twin Royals, Prince
Kyle Davies
(5.57) and Prince
Brian Bannister
(5.56) ...
First Banny, then Davies:
Even at their very best,
Our closer figures to get
A relaxing two-day rest.

The Royals aren't going anywhere and they don't have anyone better than Davies and Bannister, so they may as well keep pitching. And each is capable of doing better. Just slightly better, though. If the Royals ever get better, they'll have room for just one No. 5 starter.
Scott Feldman
(5.32) is the one guy who really, really wasn't supposed to be on this list. Not after his 17-8, 4.08 ERA campaign just one year ago. Of course, Feldman's skills never
really
supported that season's record ... But then again, they don't suggest a 5.32 ERA, either. Feldman was mildly lucky last year, and this year he's been terribly unlucky, giving up a .343 batting average on balls in play. Feldman's going to win more games and post a lower ERA in the second half, which is good news for the Rangers and better news for Feldman (whose postseason role is now -- with the Rangers' acquisition of
Cliff Lee
-- highly questionable).
Cleveland's
Justin Masterson
(5.31) is another guy who just needs to keep pitching, and for two reasons: 1) His team isn't going anywhere anyway, and 2) there are some things to like here. Masterson throws hard, his ground-ball rate is high, and his strikeout rate is fine. He does walk too many hitters (and always has), but if he can cut his walk rate by 25 percent he'll be a perfectly fine No. 3 or 4 starter.
Everybody mentioned above suffers the disadvantage of pitching in the Big Boy League, with their better hitters and designated hitters and the like. To be fair, I could have focused on a league-neutral statistic like ERA+ or something. I didn't. I like numbers that start with 5. Sue me. But all this makes San Diego's
Kevin Correia
(5.26) really stand out, as he pitches in a pitcher's park in the National League. Just think how good the Padres would be if they didn't have the worst pitcher (ERA-wise) in the league. Correia looked pretty good last year. But he's 29, and in his career he's got a 4.54 ERA as a starter. Maybe he's just not quite good enough to pitch for a team with postseason aspirations.
Tim Wakefield
(5.22), you can judge for yourself. I'm not saying anything negative about Kid '66.
And finally, we've got our second National Leaguer,
Nate Robertson
(5.10). Robertson is simply a place-holder, and the Marlins can hardly worry about his contract; they're paying him $400,000 this season ... while the Tigers are contributing $9.6 million. If you're a fan, enjoy Nate Robertson while you can. You might not see much of him after August.