May, 12, 2014
May 12
1:34
PM ET
It's been a rough start for some of baseball's top prospects -- three of Keith Law's top 10 have barely played or haven't played at all due to injuries (Byron Buxton, Addison Russell, Miguel Sano) and a fourth (Archie Bradley) is currently sidelined as well.

But here are some performances that have caught my eyes, mostly for the good but a few for the wrong reasons.


Gregory Polanco, OF, Pirates (Keith's No. 13 prospect)
2014: .357/.419/.564, 14 BB, 28 SO (Triple-A Indianapolis)
With Pirates right fielder hitting a pedestrian .245/.309/.344, fans are clamoring for Polanco to get the call. He leads the International League in batting average and his plus defense would essentially give the Pirates three center fielders in the outfield. But Pittsburgh is holding back for service time issues and, to be fair, he has barley 400 plate appearances above Class A.

Francisco Lindor, SS, Indians (No. 6)
2014: .293/.362/.466, 14 BB, 24 SO (Double-A Akron)
The Indians are last in the majors with -27 Defensive Runs Saved, including -2 from shortstop Asdrubal Cabrera. Considering Cabrera isn't tearing it up the plate (.246/.325/.391), Lindor and his outstanding glove are a candidate for a midseason call-up if he continues hitting.

Javier Baez, SS-2B, Cubs (No. 7)
2014: .151/.248/.280, 10 BB, 38 SO (Triple-A Iowa)
So much for Baez's quick path to stardom. After a monster spring training, maybe he's been too homer-happy at Iowa, swinging for the fences too often. Whatever the cause, his overly aggressive approach at the plate has been exploited so far at Triple-A.

Kris Bryant, 3B, Cubs (No. 15)
2014: .331/.437/.624, 20 BB, 43 SO (Double-A Knoxville)
While Baez has struggled, Bryant has flourished with 10 home runs in 133 at-bats. The strikeout rate is big, but he walks and hit home runs. There's always the chance he turns into Mark Reynolds with the K rate, but he's going to hit a lot of home runs in the majors

Oscar Taveras, RF, Cardinals (No. 5)
2014: .293/.340/.489, 9 BB, 20 SO (Triple-A Memphis)
The best thing is Taveras has remained healthy after playing just 47 games last season. Cardinals outfielders are struggling but you're not going to bench Allen Craig yet just to get Taveras' bat in the lineup. For those wanting Taveras to play center, most scouts say he's stretched defensively there (he's been playing all three outfield spots at Memphis).

Kevin Gausman, RHP, Orioles (No. 23)
2014: 0-1, 2.08 ERA, 26 IP, 23 H, 14 BB, 26 SO (Triple-A Norfolk)
For whatever reason, the Orioles have been very conservative with Gausman's pitch counts; the 77 he threw on Saturday were a season high. Combined with some control issues, he's yet to pitch more than five innings. I don't see him getting recalled any time soon unless Baltimore's rotation is hit with a rash of injuries.

Trevor Bauer, RHP, Indians (not rated)
2014: 4-0, 1.12 ERA, 40.1 IP, 27 H, 11 BB, 40 SO (Triple-A Columbus)
Bauer also pitched well in one major league start (two runs, eight strikeouts in six innings). The former No. 3 overall pick has been an enigma as a professional, but the Indians are currently using Josh Tomlin in the rotation.

Jonathan Singleton, 1B, Astros (No. 78)
2014: .293/.406/.624, 26 BB, 36 SO (Triple-A Oklahoma City)
That line includes 11 home runs and 21 total extra-base hits. While he'll be held down at least until June for service time reason, the 36 strikeouts in 36 games is also an sign that he could be exploited for now at the big league level.

Carlos Correa, SS, Astros (No. 4)
2014: .323/.379/.460, 11 BB, 22 SO (Class A Lancaster)
OK, everyone hits in the California League, but keep in mind he doesn't 20 until September. He could reach Double-A while still a teenager.

Mark Appel, RHP, Astros (No. 11)
2014: 0-0, 6.23 ERA, 13 IP, 17 H, 4 BB, 13 SO (Class A Lancaster)
I thought it a little odd that a No. 1 overall pick who was supposed to be a polished college pitcher would start in Class A. Anyway, Appel struggled enough in four starts the Astros sent him back to extended spring training.

Joc Pederson, OF, Dodgers (No. 41)
2014: .368/.482/.669, 30 BB, 42 SO (Triple-A Alburquerque)
There's a lot going on in those numbers, including 11 home runs and he's stolen 10 bases. He's walking a ton but also striking out a lot. Still, I wonder if he'll be the Dodgers' center field come August, with Matt Kemp moving over to left.

Nick Franklin, IF, Mariners (not eligible)
2014: .388/.470/.673, 16 BB, 20 SO (Triple-A Tacoma)
Chris Taylor, SS, Mariners (not rated)
2014: .360/.405/.581, 12 BB, 28 SO (Triple-A Tacoma)
With Brad Miller struggling at the plate and in the field, one of these guys may get a chance soon to play shortstop for Seattle.

Mike Fiers, RHP, Brewers (not eligible)
2014: 6-1, 1.59 ERA, 45.1 IP, 30 H, 6 BB, 64 SO (Triple-A Nashville)
Fiers came out of nowhere as a rookie with the Brewers in 2012 to impressive despite a less-than-overpowering fastball. But he bombed in 2013, allowing eight home runs in 22.1 innings. He's back to dominating in the minors with the best numbers of any minor league starter, ready if Milwaukee needs a starter.

Mookie Betts, 2B, Red Sox (No. 61)
2014: .396/.458/.597, 17 BB, 11 SO (Double-A Portland)
Betts had one of the best seasons in the minors in 2013 but his small stature, lack of power projection and position (he's not a shortstop) kept him from being rated higher. But this kid can flat hit (his .396 average leads all minor leaguers), including five home runs. He can run (15 for 18 stealing) and plays a good second base. He's blocked by Dustin Pedroia so we probably won't see him this year and you hate to trade him because he's so good.

Jonathan Gray, RHP, Rockies (No. 12)
2014: 3-2, 3.22 ERA, 36.1 IP, 32 H, 5 BB, 34 SO (Double-A Tulsa)
Last year's third overall pick gave up seven hits and six runs in two-thirds of an inning in his second start but has allowed just five runs over his past five starts. He's performed better than Tulsa teammate Eddie Butler (No. 17), who has a 3.45 ERA but a 27/11 SO/BB ratio. You know the Rockies will need a starter at some point.

March, 3, 2014
Mar 3
4:30
PM ET
By
Christina Kahrl
| ESPN.com
This is getting talked up on Twitter as very close to happening:
Johan Santana
could be an Oriole.
If so, I love it. I love it even if it subsequently turns out that he has nothing left and that his towering stack of injuries has robbed him of his ability to pitch effectively for any length of time. I love it because you won't know that for sure until you check him out. If the O's take that chance, more power to them.
For most of the last month, Santana has been promoting and throwing bullpen sessions to advertise both that he's still alive -- after missing all of 2013 and 2011, as well as a big chunk of 2012, people start to wonder -- and that his arm is sound. Since he has been touching only 80 on the gun, it's hard to say he's all the way back.
Even so, the Orioles are one of the teams that can't just
afford
to take a flyer on him. They
have
to if they want to take themselves seriously. Not because of what Santana is now, but because of what he might be if he can come back to some fraction of his former self. Think of it as a latter-day John Tudor play: If he's healthy enough to pitch, chances are he'll be good enough to help you win.

Why does that matter for the O's? Because after you get past
Ubaldo Jimenez
and
Chris Tillman
, Baltimore has lunch-bucket types, guys who might make a nice No. 4 in anybody's rotation:
Wei-Yin Chen
,
Miguel Gonzalez
and
Bud Norris
at the least, plus
Zach Britton
and
Brian Matusz
, if you're feeling generous. Top prospect
Kevin Gausman
will eventually pitch his way past that crowd of mediocrity. But over 162 games and especially early on, that mediocrity and depth will have value, keeping games in reach for
Chris Davis
& Co. while giving Buck Showalter enough talent to work with until Santana and Gausman are ready to contribute.
Why them, and why later? Because in a perfect-world, blue-sky scenario where the Orioles contend, you don't want to wind up in the postseason having to start Norris. Gausman might give the Orioles a key front-end starter down the stretch, perhaps playing as large a role for them as
Michael Wacha
,
Sonny Gray
and
Gerrit Cole
did for their teams last year. Running up some combination of Santana and Gausman, Jimenez and Tillman? Now we're talking, not just about a team that might get to the one-game wild-card play-in but a team that might have the starting pitching to win a division series.
So credit the Orioles if they're willing to roll the dice. It isn't like Peter Angelos can take all of his tobacco lawsuit money with him, and for the O's -- and their fans -- there's no time like the present.
If Santana gives us some fraction of that world-beating pitcher who won two Cy Youngs, just call me greedy, because it'll be fun to watch.
Christina Kahrl writes about MLB for ESPN. You can follow her on Twitter.
September, 11, 2013
9/11/13
1:25
AM ET
Some quick thoughts on Tuesday's results and a look forward to Wednesday.
Blown opportunity No. 1:
The Orioles led the Yankees 4-1 after
Chris Davis
belted a big two-run homer in the fifth off
Ivan Nova
, but
Alfonso Soriano
and
Mark Reynolds
homered off
Miguel Gonzalez
in the sixth. Then it got interesting.
Kevin Gausman
had a one-two-three seventh inning, striking out
Lyle Overbay
and
Brett Gardner
, so Buck Showalter brought the rookie back out for the eighth. It's an inning Showalter might manage differently in an alternate universe.
Alex Rodriguez
doubled to lead off the inning, but Showalter left Gausman in to face
Robinson Cano
instead of bringing in lefty
Brian Matusz
. Cano singled to tie the game, and then Soriano homered again. No Matusz, no
Tommy Hunter
, no
Francisco Rodriguez
(until the lead had been surrendered). Hunter had pitched the day before but not two days prior. Matusz ended up pitching in the ninth anyway. Showalter put faith in his rookie, but Matusz versus Cano seemed like the obvious matchup there, with Hunter or Rodriguez facing Soriano.
Blown opportunity No. 2:
Like the Orioles, the Indians had a chance to pick up a game on the Rays with Tampa Bay losing to Boston. They had 12 hits but grounded into three double plays, and the Royals won 6-3.
Carlos Pena
did not pinch-hit.
Blown opportunity No. 3:
The A's led the Twins 3-2 in the eighth with a chance to pick up a game on the second-place Rangers, who would lose to the Pirates. The A's had lost just four games all season when they led heading into the eighth, but
Sean Doolittle
gave up a single and
Ryan Cook
entered to face
Josh Willingham
, who promptly deposited the baseball on the wrong side of the fence (for Oakland) -- the first homer Cook had allowed to a right-handed batter this season.
Pitching performance of the day:
David Price
allowed three hits in eight innings for the Rays. Unfortunately, two came in the same inning, as Boston scored twice in the fifth and
Clay Buchholz
and three relievers combined on a four-hit shutout.
At-bat of the night:
Milwaukee's
Wily Peralta
had a no-hitter going in a 0-0 tie in the sixth inning against St. Louis. With two outs and
Matt Carpenter
on after a walk, Peralta fired a first-pitch, 95 mph fast one and
Matt Holliday
crushed it 426 feet to center field. The Cardinals went on to a 4-2 win.
Most important win:
The Yankees climbed back to just two games behind the Rays.
Most important loss:
Tough one for the Orioles, but at least Tampa Bay also lost. With St. Louis and Pittsburgh both winning, the Reds dropped three games behind the Cards and two behind the Pirates after losing to the Cubs (and
Tony Cingrani
left in the second inning with a back injury).
Wednesday's best pitching matchup:
A.J. Burnett
versus
Matt Garza
(Pirates at Rangers, 2:05 p.m. ET). The Rangers are now 3-8 over their past 11 games, averaging fewer than three runs per game in that stretch. Garza likely needs a big effort as the Pirates go for the sweep. He's allowed four-plus runs in six of his past seven starts, not exactly what the Rangers expected when they traded for him.
Players to watch:
Pedro Alvarez
, Pirates, and
Curtis Granderson
, Yankees. Two similar lefty hitters -- home runs when they connect, but connecting can be a problem. Over the past two weeks, Alvarez is hitting .143/.217/.238 and Granderson is hitting .135/.200/.243.
June, 3, 2013
6/03/13
11:05
AM ET
Some thoughts on Sunday's MLB games and other stuff ...
May, 24, 2013
5/24/13
12:35
AM ET
By
Matt Kremnitzer
| ESPN.com
Things started out well enough for Orioles right-hander
Kevin Gausman
in his highly anticipated major league debut Thursday in Toronto. Through three scoreless innings, the 22-year-old phenom struck out three, walked one and allowed two singles.
Then the wheels started to fall off. After back-to-back doubles to begin the bottom of the fourth, a bunt single and a walk, Gausman had allowed a run and was faced with a bases-loaded, no-out jam. He then fell behind 3-0 on the count to
Emilio Bonifacio
, but Gausman got Bonifacio to hit a sacrifice fly to center field (thanks to a generous strike-one call). He then retired the next two batters to escape the jam, but the Blue Jays weren't done. In the fifth,
J.P. Arencibia
hit a two-run home run on an inside fastball, giving the Jays a 4-3 lead. Gausman finished the inning, but his night was done after that.
His final pitching line went as follows: 5 IP, 7 H, 4 ER, 2 BB, 5 SO on 89 pitches, as the Blue Jays went on to win
12-6
. So, yeah, it wasn't a great outing, but it's not hard to see why the Orioles promoted Gausman in the first place. Gausman, who was
ranked 26th in Keith Law's preseason top 100 prospects list
, has an outstanding repertoire that includes a mid-90s fastball, an outstanding changeup (his best pitch) and a slider that he's been working to improve since entering Baltimore's farm system. He occasionally throws the slider at two different speeds, and
when thrown harder it can resemble a cutter
.
On Thursday, Gausman utilized all of his pitches, including a few fastballs that touched 98 and 99 mph and several impressive changeups. But he will need to demonstrate better command to keep hitters off balance. It's one thing to blow minor league hitters away by getting ahead and then throwing pitches that are clearly outside the strike zone. But in the majors, pinpoint accuracy will make filthy offerings that much more difficult to deal with. Still, it was Gausman's first start, and it's not uncommon for a pitcher with so little minor league experience to need to command his pitches better.
[+] Enlarge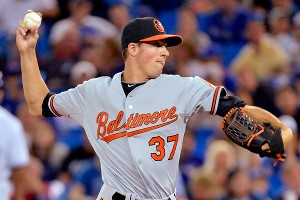 AP Photo/The Canadian Press, Nathan DenetteKevin Gausman allowed four runs in five innings and took the loss in his major league debut on Thursday.
It's basically a given that Gausman will receive a second start (and more), and he definitely should. The Orioles could have gone in a few other directions instead of promoting him. They could have given
Jair Jurrjens
another start, recalled
Zach Britton
or
Steve Johnson
, or gone with
Jake Arrieta
or
T.J. McFarland
. Granted, those aren't necessarily very good options, but the O's didn't have to call up Gausman. But Orioles manager Buck Showalter and executive vice president Dan Duquette wanted to give the youngster a shot, and you'd think they want to see how he performs as the team's fifth starter, at least for a handful of outings -- and preferably for the next few months.
Many Orioles fans expected to see Gausman in Baltimore at some point in 2013, but not in May. If not for the injuries to
Wei-Yin Chen
and
Miguel Gonzalez
, the O's probably wouldn't have made this decision so early. Chen is scheduled to begin rehabbing a strained right oblique muscle soon, but he's still at least a few weeks away from returning. And Gonzalez only just came back from a blister on his right thumb on Tuesday. But because of Arrieta's previous ineffectiveness,
Freddy Garcia
is currently in the rotation, and he has not been good. Garcia has a 4.84 ERA in 22.1 innings, and he's barely striking anyone out (3.22 K/9) and has already allowed six home runs. Since Gonzalez is back, there's no need to have Jurrjens in the rotation (he was recently optioned back to Triple-A Norfolk), and when Chen returns, he'll likely take Garcia's spot in the rotation.
As the Orioles demonstrated when they surprisingly promoted
Manny Machado
last August, they're not afraid to give their talented young players a chance if they can help the team win games. Showalter
said as much on Wednesday
. Machado solidified third base and helped the Orioles get to the postseason last year. And now, the O's are hoping Gausman can at least pitch decently for however many starts they decide to give him. They don't need him to dominate, but they do need him to perform better than the rest of their fringe starters. Overall, the Orioles' rotation, which has now used 11 different starting pitchers, has been underwhelming. Heading into Thursday, Baltimore ranked 12th in the American League in ERA (4.73), 14th in K/9 (6.11) and 11th in BB/9 (3.40).
But Gausman could help to change that. He was talented enough for the Orioles to select him fourth overall in last year's draft, and they believed he was advanced enough to only pitch in 15 combined innings in their low- and high-A affiliates before promoting him to the next level. Starting the year at Double-A Bowie in April, Gausman overwhelmed hitters in 46.1 innings, striking out 49 batters and walking just five. He won't replicate those fantastic numbers in the majors, but the O's are hoping he can at least add something to a rotation that could use a shot in the arm.
Matt Kremnitzer writes for Camden Depot, a blog on the Orioles. Follow him on Twitter @mattkremnitzer.
May, 22, 2013
5/22/13
12:46
AM ET
Quick thoughts on Tuesday's excellent slate of major league action …
May, 15, 2013
5/15/13
4:50
PM ET
With
Wei-Yin Chen
and
Miguel Gonzalez
on the disabled list and
Jake Arrieta
back in Triple-A after poor performance, the Orioles are down three-fifths of their opening week rotation.

Retread veteran
Freddy Garcia
has made three starts and looked like a retread veteran, including a rough outing in Wednesday afternoon's
8-4 loss to the Padres
. Former All-Star
Jair Jurrjens
will make his first on Saturday against Tampa Bay. Jurrjens was an All-Star with the Braves in 2011, but got pounded last year in 10 starts, with a 6.89 ERA and .350 batting average allowed. His Triple-A numbers at Norfolk were OK, but he never was a big strikeout guy before hurting his knee in August of 2011, an injury that might have affected him last year.
He'll become the 10th different pitcher to start for the Orioles, and they might need an 11th to start on Tuesday. For now, however, that won't be prospect Kevin Gausman, the fourth overall pick in last year's draft. GM Dan Duquette
told the Baltimore Sun
: "He's not a candidate for us to recall. He's doing fine at Double-A, and he's getting used to professional baseball. He's doing fine where he is. He's getting his feet on the ground. He's learning about the routine in pro baseball. He's doing well where he is."
Gausman has a 39/4 strikeout/walk ratio in 40.1 innings, but has averaged fewer than six innings per start. It seems wise to give him more time in the minors, although pitchers -- especially a college guy like Gausman -- can be put on the fast track more so than hitters. If Garcia and/or Jurrjens don't pitch, Duquette's patience with Gausman will definitely be tested. The O's recalled
Manny Machado
from Double-A last August; I suspect we'll be see Gausman before the All-Star break.
March, 13, 2013
3/13/13
10:15
AM ET
The
Baltimore Orioles
, after years of failing to develop much quality major-league talent aside from
Nick Markakis
and
Matt Wieters
(
Adam Jones
came over in a trade from Seattle) are suddenly flush with young talent.
Manny Machado
's rookie eligibility expired last season but the 20-year-old looks like a future star, whether at third base or down the road at shortstop once he replaces
J.J. Hardy
.
Behind Machado, the Orioles have three other high-upside youngsters.
Dylan Bundy
made his major-league debut at 19, just a season after being the fourth overall pick in 2011. LSU right-hander Kevin Gausman went fourth overall in 2012 and has the stuff to reach the majors sometime this year. And if you've watched any of the World Baseball Classic, you've seen infielder
Jonathan Schoop
playing second base for the Netherlands. He held his own in Double-A last year at age 20, hitting .245 but with 14 home runs.
Jon Shepherd of Camden Depot asked, "
What are the chances of Machado, Schoop, Bundy and Gausman all being stars
?"
Jon looked at where these guys rank as prospects (Machado and Bundy in the top 10, Gausman in the 21 to 30 range and Schoop in the 91-100 range) and how often players in those groupings turn into busts, regulars or All-Stars.
Jon's conclusion of the probability of the following:
Four All-Stars -- 0.2%
Three All-Stars -- 3.5%
Two All-Stars -- 19.7%
One All-Star -- 44.0%
Zero All-Stars -- 32.6%
Jon suggests that at least two of them need to develop into exceptional players for the Orioles to remain relevant. Even then, an organization has to develop enough talent around its stars. Even four All-Stars is no guarantee of future success. In 1989, for example, the
Seattle Mariners
' rookie class included
Ken Griffey Jr.
,
Randy Johnson
,
Edgar Martinez
and
Omar Vizquel
. From there, it only took the team six years to make the playoffs and that group never did reach a World Series.
The Orioles already have a solid foundation with Wieters, Jones and Markakis. Machado looks like a can't-miss player. If Bundy and Gausman reach their potential, I see the Orioles being relevant far beyond just 2012.
June, 13, 2012
6/13/12
2:10
PM ET
There was definitely some clowning around on Wednesday's
Baseball Today podcast

as Keith Law and I discussed many a fun topic relating to the great game of baseball!
1.
Bryce Harper
hit a mammoth home run and then hit a figurative one when dealing with a reporter postgame. Congrats to Harper, bro.
2. Why shouldn't Harper and
Mike Trout
be All-Stars? Vote them in, people! The game counts, after all!
3. Are the Giants really tinkering with the idea of
Tim Lincecum
as a reliever? We also discuss
Brandon Belt
and
Madison Bumgarner
.
4. Emailers posed questions about attendance in Florida, LSU/Baltimore's Kevin Gausman and on-base percentage versus batting average.
5. Wednesday's schedule features an under-the-radar New York Yankee, a legit All-Star for the
New York Mets
,
Lance Lynn
and much more!
So download and listen to Wednesday's Baseball Today podcast and get your clown on!