July, 19, 2014
Jul 19
3:22
PM ET
By
Christina Kahrl
| ESPN.com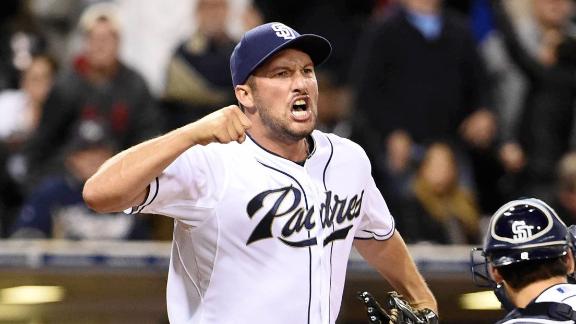 After all of the hue and cry over the Angels' bullpen woes, you'd have to think that the decision to trade for closer
Huston Street
after already getting
Jason Grilli
from the Pirates would answer their needs. Angels manager Mike Scioscia was second in the league in relievers used (behind Cleveland), sorting through answers to a relief crew that, per Baseball Prospectus,
was second-worst in the league
at preventing inherited baserunners to score, allowing 6.1 more runs than you'd expect (with the Tigers owning the dubious honor of being even worse, with 10.3 runs more than expected allowed on inherited baserunners).
My quick takeaways from general manager Jerry Dipoto's decision to go after Street?
1. Getting Grilli and Street is comparable to the Marlins' midseason bullpen overhaul in 2003.
The Marlins had a similarly lousy pen in-season, but they fixed all that when they stopped getting hung up on Braden Looper's virtues and went out and got
Ugueth Urbina
and
Chad Fox
, bumping Looper, their erstwhile closer, forward into earlier in-game situations. Guess what's going to happen with
Joe Smith
? Which is not a bad thing for anyone concerned, because Joe Smith joining Grilli,
Kevin Jepsen
,
Fernando Salas
and
Mike Morin
in the mix in the seventh and eighth innings sounds like a very good thing.
But wait, aren't all of those guys right-handed?
[+] Enlarge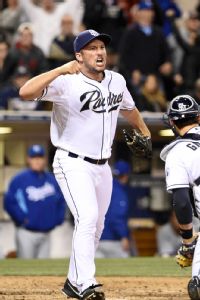 Denis Poroy/Getty ImagesHuston Street should be as fired up to join the Angels as they are about adding him.
2. Not enough lefties? No problem.
The one thing the Angels haven't done in the course of their bullpen makeover is get an awesome lefty, settling for adding veteran
Joe Thatcher
as a token southpaw. Thatcher probably won't get entrusted with lots of leads, but as Scioscia demonstrated quite effectively while winning a World Series in 2002, you don't
have
to have even one top-shelf situational lefty in your pen; he kept
Scott Schoeneweis
around as his lone token lefty threat, but he relied on
Brendan Donnelly
,
Ben Weber
and
Francisco Rodriguez
to protect leads and set up closer
Troy Percival
. In 2004, Scioscia got exactly two innings of lefty relief on the season; the Angels nevertheless won 92 games and the AL West. In 2005, he ramped it all the way up to just 31 ⅓ relief innings from lefties; the Angels won 95 games and the AL West.
Now, no doubt some of you La Russa groupies might quail at this prospect, but Street is exactly the sort of asset whom Scioscia can use and win with. As Stats & Info
pointed out last night
, Street has been essentially indifferent to handedness of late, in that he can beat people on either side of the plate by hitting low-and-outside spots with machine-like consistency. And Grilli has been similarly effective against lefties over time, holding them to a .293 slugging percentage across the last three seasons.
So the Angels may be good to go with just these two, although I'd anticipate that if there's something else Dipoto can pick up cheaply between now and Sept. 1, you can bet he will. But there's the rub, because…
3. Much like the A's deciding to trade away Addison Russell in the Samardzija and Hammel deal, this may be the Angels' last major move.
The Angels (like the A's) don't have much in the way of ready-now farm talent they could call up, and after this trade, they don't have a stock of farm talent to deal from. Per
Keith Law's preseason rankings of one of baseball's worst farm systems
(ranking 29th), Dipoto just dealt three of the Angels' top 10 prospects in second baseman Taylor Lindsey (third in Keith's rankings, No. 1 over at Baseball America), shortstop Jose Rondon (fifth, per Keith) and righty R.J. Alvarez (ninth).
Unless the Angels start dealing players at the major league level, potentially robbing Peter to pay Paul, this may have to be it for them. But a relief quintet of Street, Grilli, Jepsen, Salas and Morin might be more than enough to get it done for the Halos down the stretch. Credit Dipoto for working within his limited means to trade from, and giving a win-now Angels team a great shot at not just catching the A's, but having the kind of relief talent to win with in October.
Christina Kahrl writes about MLB for ESPN. You can follow her on Twitter.
April, 18, 2012
4/18/12
8:00
AM ET
First base: Double trouble for D-backs.
Justin Upton
sat out Tuesday's game against the Pirates due to the thumb injury he suffered April 8. Manager Kirk Gibson said his star right fielder -- batting .212 without an RBI -- saw a hand specialist and would likely undergo an MRI. "The thumb's been bothering him," Gibson
told the Arizona Republic
. "He's pushed hard through it. We've taken a day to re-evaluate what's going on with his thumb." To make matters worse for Arizona,
Chris Young
crashed into the wall in left-center making a leaping grab and left the game with a shoulder bruise. He too will undergo an MRI. The D-backs received a lot of criticism for signing
Jason Kubel
in the offseason, but this is where having four outfielders is an asset, not a problem. If Young can't go,
Gerardo Parra
can handle center.
Second base: Gold Glovers struggling on defense.
Two-time Gold Glove winner
Troy Tulowitzki
committed just six errors last season but he made his sixth already in 2012, letting an easy double-play go through his legs, an error that led to two unearned runs and nearly cost
Jamie Moyer
his "oldest pitcher to win a game" achievement. Meanwhile, two-time Gold Glover
Evan Longoria
booted two grounders and made a throwing error for a three-error night in Tampa's 7-3 loss to the Blue Jays (three of
Jeff Niemann
's five runs were unearned). While Longoria just had one of those nights, Tulo's situation appears more serious, a possible "fielding slump" that is worth keeping an eye on.
Third base: No A's for Angels.
Mike Scioscia removed
Dan Haren
after just 85 pitches, with the Angels leading 2-1 with two runners on and two out in the seventh. Lefty
Daric Barton
was up for the A's so Scioscia brought in
Scott Downs
, who did retire Barton to escape the jam. Even though Downs' is the team's best setup guy -- a guy who has proven he can retire right-handed hitters as well as lefties -- Scioscia took him out after four pitches and brought in
Kevin Jepsen
, a guy considerably lower in the bullen pecking order. Two walks and two hits later it was 3-2 Oakland, and then
Yoenis Cespedes
made it 5-2 with a two-run single off
David Carpenter
. Why Jepsen? Or why remove Haren so soon if your bullpen has been taxed in recent days?
LaTroy Hawkins
had thrown 31 pitches on Monday so was probably unavailable. Downs had thrown 14 pitches, hardly reason to limit him to four pitches.
Jason Isringhausen
had thrown 21 pitches on Sunday -- but Carpenter had thrown 37. The obvious question: Why not use closer
Jordan Walden
... you know, for
more than three batters.
He's thrown two innings all season -- one inning in a 7-1 win and one inning in a 7-3 loss. In other words, he hasn't thrown a meaningful inning all season. In the last week, the Angels' bullpen has lost two leads in the eighth inning and one in the seventh. But whatever you do, SAVE YOUR CLOSER FOR THE NINTH INNING.
Home plate: Tweet of the day.
Rockies pitcher tweeting members of the Los Angeles Clippers after Jamie Moyer's win:
Shout out 2 boys from @laclippers.U witnessed history 2nite! @blakegriffin @bobbysimmons21 @mowilliams @RandyFoye Will u b able 2 dunk @ 49?

— Jeremy Guthrie (@JGuthrie46) April 18, 2012
September, 14, 2009
9/14/09
7:45
PM ET
Oh, this is
delicious
, as there's nothing like a
brewing closer controversy
as we approach October. From the O.C. Register's Mark Saxon:
Manager Mike Scioscia met with closer Brian Fuentes in his office with the door closed for 25 minutes before Sunday's game.

Afterward, Scioscia said the discussion centered on Fuentes' mechanics and he dismissed the notion that they talked about the veteran reliever's role.

Scioscia has replaced Fuentes with Kevin Jepsen in the middle of a save opportunity four times since July 27, most recently on Saturday. Twice in the last five weeks, including Sunday, Jepsen began the ninth inning of a save situation and recorded the first out.

--snip--

Fuentes said the meeting with Scioscia was not about mechanics, but he said he didn't object to Scioscia using Jepsen at times in the ninth.

"That's Mike's decision. They just pick up the phone and tell me when I'm going in," Fuentes said. "I just pretty much do what I'm told."

Fuentes, in his first season with the Angels, was named to his fourth All-Star team this July, but he has struggled for much of the past six weeks. He has a 6.23 ERA and has allowed seven hits and five walks in September.

Jepsen has been stalwart since July 1. He has allowed just two runs in his last 17 appearances.

Jepsen's upper-90s fastball is more typical of pitchers who work the ninth inning regularly.
It's true that most closers throw the baseball exceptionally hard. But there are all sorts of ways to earn saves.
Trevor Hoffman
throws mid-80s fastballs and changeups.
Joakim Soria
throws low-90s fastballs and everything else but the kitchen sink. It really doesn't matter who hard a pitcher throws; what matters are the
results
of what he throws.
Last year, the results for Fuentes included nearly a dozen strikeouts and slightly more than three walks per nine innings. This season he's struck out roughly eight batters per nine innings. Even granting that last season's strikeout rate was uncharacteristic and probably unsustainable, Fuentes' K-rate this season is down roughly 25 percent from his career rate.
Fewer strikeouts usually means more hits, and more hits usually means more runs and a higher ERA. Which is exactly what's happened to Fuentes this season. He's throwing about as hard as he always has, and there's really nothing wrong with him that a few more strikeouts and a few fewer walks won't cure. But the four-time All-Star isn't a superstar, and there's nothing wrong with the manager keeping his options open. Each of the Angels' six busiest relievers this season -- led by the surprising Jason Bulger -- have struck out more than seven per nine innings.
Jepsen's been no better than his bullpen mates in that regard. Where he's excelled is limiting the home runs, giving up only two in 46 innings. Which might go some way toward explaining Mike Scioscia's affection for him.