SweetSpot:

Kyle Fansworth
July, 23, 2011
7/23/11
3:00
PM ET
By
Charlie Saponara
| ESPN.com
With trade rumors hitting us in full force as the deadline approaches, let's take a look back at some of what happened at the 2010 trade deadline and see how many of those players are making an impact for their new teams.
Cliff Lee traded to the Rangers; Mariners acquired Justin Smoak, Blake Beavan, Matthew Lawson and Josh Lueke
Despite a solid BB/K rate, Smoak continues to struggle with consistency at the big league level. He's still only 24, so there is time for him to improve, but he's not the instant impact bat that the Mariners were hoping for. Both Beavan and Lueke have pitched in spots for the Mariners this season. The Rangers rode Lee's contributions to the World Series and have since moved on from Smoak seamlessly, relying instead on the likes of postseason hero
Mitch Moreland
,
Michael Young
and
Mike Napoli
.
[+] Enlarge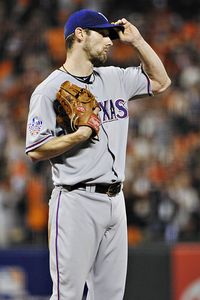 Scott Rovak/US PresswireThe Rangers acquired Cliff Lee in a 2010 deadline deal and rode his arm to a World Series appearance.
Dan Haren traded to the Angels; Diamondbacks received Joe Saunders, Tyler Skaggs, Patrick Corbin and Rafael Rodriguez
Haren has thrived for the Angels this season, and Saunders has held his own with the surprise contenders in Arizona. However, the big score for the D-Back may not arrive until late next season or 2013, as Skaggs has continued to impress all those who have seen him pitch. Recently, he earned a promotion to Double-A after posting a 3.22 ERA, 2.65
FIP
and 3.7 K/BB rate at High-A Visalia in the hitter-friendly California League. Corbin has had his struggles at Double-A, but he has posted an impressive 4.5 K/BB rate and should see the big leagues one day.
Edwin Jackson traded to the White Sox; Diamondbacks received Daniel Hudson and David Holmberg
This move was sort of a head-scratcher at the time, and the way Hudson has pitched for the D'backs ever since confirms that confusion. The Snakes have Hudson under team control through 2016 while Jackson will hit the free-agent market this winter.
Roy Oswalt traded to the Phillies; Astros acquired J.A. Happ, Anthony Gose and Jonathan Villar
Oswalt pitched brilliantly for the Phils in the 2010 postseason. However, career-long back problems may have finally caught up to him. On the Astros' side, Happ was plugged right into the rotation, but his struggles with command and allowing the long ball have led to an ERA nearing six. Gose never played a game in the Astros' system as he was flipped to the Blue Jays for first baseman
Brett Wallace
; the 24-year-old Wallace has been unimpressive in his young major league career, though he does sport an above-average OBP. Villar continues to struggle with strikeouts in the minor leagues.
Lance Berkman traded to the Yankees; Astros received Mark Melancon and Jimmy Paredes
While Berkman is in the midst of a late-career renaissance with the Cardinals, Melancon has taken over as the Astros' closer with a 2.91 ERA, 3.33 FIP and ground-ball rate of 60 percent. Jimmy Paredes is now in Double-A and continues to steal bases, but he also continues to struggle with his lack of plate discipline.
Matt Capps traded to the Twins; Nationals received Wilson Ramos and Joe Testa
Capps pitched well for the Twins down the stretch in 2010, but his huge regression in strikeout rate has hurt him big-time this season. In the meantime, despite some ups and downs in his first full big-league season, Ramos has established himself as the Nationals' catcher of the now and the immediate future.
Jhonny Peralta traded to the Tigers; Indians received Giovanni Soto
Peralta re-signed with the Tigers last offseason and has been worth every penny of the $5.25M he is making this season. Over the past two seasons, Peralta has improved his contact rate, which has helped to lower his strikeout rate. Meanwhile, the 20-year-old Soto continues to show good strikeout ability at the lower minor-league levels of the Indians' organization.
Ted Lilly and Ryan Theriot traded to the Dodgers; Cubs received Blake DeWitt, Brett Wallach and Kyle Smit
Lilly pitched well for the Dodgers down the stretch in 2010, but his issues with the gopher-ball have hurt him this season. With the Dodger's financial situation in shambles, the three-year $33 million deal Lilly signed last offseason only makes things worse. Overall, this deal has helped no one, though the Dodgers did at least acquire league-average reliever
Blake Hawksworth
in exchange for Theriot this past offseason.
Octavio Dotel traded to the Dodgers; Pirates acquired James McDonald and Andrew Lambo
After being acquired by Los Angeles, Dotel appeared in 19 games, allowed seven earned runs and was then traded to the Rockies in September. The Pirates landed the high-upside, inconsistent McDonald, who has been once again inconsistent. However, his 4.15 ERA (4.57 FIP) have at least contributed as a back-end rotation piece to the surprising Pirates. Lambo was once a top-end prospect with the Dodgers, but his prospect status is all but gone now. He's hitting .206/.278/.326 between Double- and Triple-A this season.
Kyle Farnsworth and Rick Ankiel traded to the Braves; Royals received Tim Collins, Jesse Chavez and Gregor Blanco
Both Farnsworth and Ankiel moved on from the Braves in the offseason, and Blanco was traded to the Nationals this past May. Collins made the Royals out of spring training and has continued to prove that he can miss bats (24.3 percent whiff rate), but his control has really tailed off at the big-league level. Collins is only 21 years old, so his future may still be as a consistent late-inning reliever someday.
Charlie Saponara writes for SweetSpot blog, "Fire Brand of the AL." You can find all of his writing adventures by following on Twitter.
April, 11, 2011
4/11/11
12:27
AM ET
As miserable as the Red Sox have played so far, at least they can look at a lineup that includes
Adrian Gonzalez
,
Kevin Youkilis
,
Carl Crawford
,
Dustin Pedroia
and
David Ortiz
and know -- eventually -- they're going to score a lot of runs.
The fans of the
Tampa Bay Rays
, however, are staring down a lineup that includes Triple-A veteran
Dan Johnson
hitting cleanup, Cubs castoff
Sam Fuld
hitting leadoff and 37-year-old
Johnny Damon
trying to hold off the cruelties of age.
It's been brutal start for the defending AL East champions: 20 runs scored through nine games, with a .163 team batting average. With runners in scoring position, they're hitting .150. It's added up to a 1-8 record and now the Rays have to play the Red Sox and Twins this week, two other teams with playoff aspirations due to break out of hitting slumps.
In 2010, the Rays finished third in the AL in runs scored, despite finishing 13th in the league in batting average. They did it by drawing the most walks in the league and stealing the most bases. And they also did it with clutch hitting. Overall, the Rays hit .247/.333/.403, but with runners in scoring position they hit .266/.368/.422 and in so-called high-leverage situations, when a game's outcome is most up for grabs, they hit .272/.354/.442.
In other words, the talent level of the Tampa Bay offense wasn't that of the third-best offense in the league. Yes, the speed and stolen bases helped, but it was a team that relied on timely hitting. The 2011 Rays were counting heavily on big production from
Manny Ramirez
and Damon. Ramirez is gone and Damon looks lost early on, hitting .125 (4-for-32) with nine strikeouts and just one walk.
OK, they're not going to hit .163 all year and they'll hopefully get
Evan Longoria
back in a couple weeks, but this team is going struggle to score runs all season. And that's not the only reason I'm declaring the Rays on life support:
1. The rotation is shaky. In 2010, Tampa Bay starters posted a 3.99 ERA, third-best in the AL.
Jeff Niemann
and
Wade Davis
combined to go 24-18 with a solid a 4.23 ERA.
James Shields
had an ERA over 5.00. Of 92 major league starters to pitch 162 innings, Niemann ranked 82nd, Davis 83rd and Shields 91st in home runs allowed per nine innings. Yes, some of that was due to facing the tough lineups of the AL East, but Tropicana Field is a relatively tough home run park. Niemann (.263) and Davis (.272) also had low averages allowed on balls in play, suggesting some regression would occur in 2011 (even with Tampa's usually stout defense).
2. The bullpen. As "Baseball Prospectus 2011" reported, Tampa Bay's bullpen was the best in the league last season, worth 4½ wins more than the Yankee pen, eight more than Boston's. All those guys are gone, replaced by
Kyle Farnsworth
,
Joel Peralta
, rookie
Jake McGee
and others who will be hard-pressed to come close to the 2010 results.
3. The running game. So important to Tampa's success last year, the Rays are on the losing end this year -- because they can't stop it. While Tampa is eight for 10 on the bases, their opponents are 15 for 15. Something else to worry about.
Look, Tampa is every stat head's little engine that could. They've won two of the past three AL East titles despite spending about $444 million less than the Yankees and $243 million less than the Red Sox.
But it's not going to be three out of four.
SERIES OF THE WEEK
Dodgers at Giants
Monday:
Clayton Kershaw
versus
Madison Bumgarner
Tuesday:
Chad Billingsley
versus
Tim Lincecum
Wednesday:
Ted Lilly
versus
Jonathan Sanchez
Sadly we won't get a Kershaw-Lincecum rematch of Opening Day, but we'll see three excellent matchups. Bumgarner must rebound from a bad first start in which he lasted just three innings. With last week's incident at Dodger Stadium involving fan-on-fan violence, extra security will be on hand at AT&T Park. The Dodgers are 5-4 but another team with a struggling offense, having scored just 28 runs in nine games.
PITCHING MATCHUP OF THE WEEK
Tuesday:
David Price
versus
Jon Lester
(Tampa Bay at Boston)
Yes, I think I'll want to check this one out.
THREE SWINGS
1.
Jered Weaver
and
Dan Haren
may be as good as any 1-2 combo in the majors. After Weaver added the strikeout to his arsenal last season, he moved into the upper echelon of major leaguer starters. He's showing it wasn't a fluke after sending down 15 Blue Jays on Sunday. Haren got the win in relief in Saturday's 14-inning win over Toronto and has 13 strikeouts without a walk so far.
2. Is
Joey Votto
even better than last season? The 2010 NL MVP is hitting .455/.548/.727 and NL pitchers are showing their fear: Votto has eight walks, only three strikeouts.
3. Kudos to Ozzie Guillen for suggesting he may go to a closer-by-committee approach. Yes, this came about primarily because former setup man
Matt Thornton
blew two of his first three save opportunities, but going to a committee allows Guillen to tactically deploy his two late-inning lefties (Thornton and
Chris Sale
) and his late-inning righties (
Jesse Crain
and
Sergio Santos
) as best suited to the situation.
RANT OF THE WEEK
James Loney
, it's time to step up. The Dodgers first baseman turns 27 in May, but instead of reaching his peak, he's become a dud. After hitting .331/.381/.538 in 96 games as a rookie in 2007, big things were expected. After hitting .289 with 13 home runs in 2008, big things were still expected. When his OPS slid to .756 in 2009, people said the power may still come. When he hit .267 with 10 home runs in 2010, reality set in: James Loney isn't that good anymore. He's off to a slow start (.441 OPS) and the Dodgers -- if they want to contend in a tough division -- may need to figure out a way to upgrade their offense at first base.
PHOTO OF THE DAY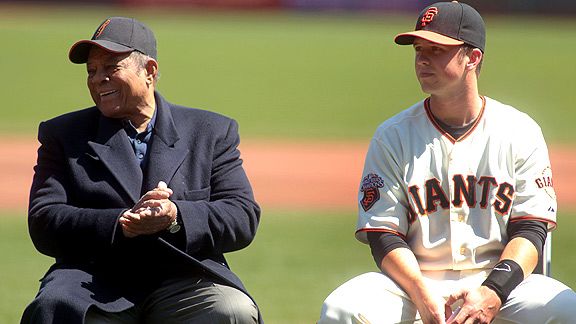 Cary Edmondson/US PresswireGiants past (Willie Mays) alongside Giants present (Buster Posey). Not bad company.