July, 22, 2014
7/22/14
1:00
AM ET

PHILADELPHIA -- It's been a while since the last Cliff Lee sighting on the Citizens Bank Park mound. He went on the disabled list with a strained left elbow on May 18, which means that he was rehabbing through Memorial Day, Flag Day, Father's Day, the first day of summer solstice and Independence Day while any semblance of spring training optimism faded for the Philadelphia Phillies.

Lee finally made it back in time for National Baseball Trade Speculation week -- but just barely.

As the July 31 non-waiver trade deadline approaches, Lee essentially has a two-start showcase to help drum up interest among trade partners looking for rotation help down the stretch. For the sake of brevity, let's just say the first installment didn't go so hot.

Lee returned to the Phillies' rotation in a 7-4 loss to San Francisco on Monday. He did get off to an encouraging start with a nine-pitch, 1-2-3 first inning. But the storyline regressed from there. Lee tied a career high with 12 hits allowed over 5⅔ innings and threw 90 pitches -- 59 of them strikes -- before giving way to reliever Justin De Fratus. Although he broke several bats and gave up an inordinate number of bleeders, it wasn't the type of performance that's going to make general manager Ruben Amaro's cell phone vibrate with calls from motivated suitors.

"I thought he showed some rust," an AL scout said of Lee. "His fastball command was off and he wasn't nearly as precise as usual. He threw too many hittable pitches, and his overall stuff was flatter than normal. Give him another start before rushing to judgment. He threw strikes, but not with the level of precision he typically does."
[+] Enlarge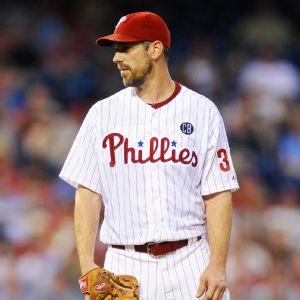 AP Photo/Michael PerezAs rumors about Phillies trades swirled, all Cliff Lee could do was focus on execution.

Contending teams typically want to see more than a two-start cameo before putting their heart into a trade, but it's not unprecedented for clubs to take the plunge off a limited sample size. In 2013, Jake Peavy of the Chicago White Sox missed six weeks with a fractured left rib and returned to make two starts in late July. That 13-inning audition was enough to convince Boston to trade shortstop Jose Iglesias and acquire Peavy in a three-team deal with Chicago and Detroit at the deadline.

In Lee's case, money definitely complicates matters. He's still owed about $10 million this season. Throw in a $25 million salary in 2015 and a $27.5 million mutual option for 2016 that automatically vests if he throws 200 innings next year (not to mention a $12.5 million buyout), and Lee is guaranteed somewhere between $47.5 million and $62.5 million through age 37 or 38. As good as he is, the Phillies are faced with the prospect of having to kick in millions to subsidize him pitching somewhere else.

Lee's deal also includes a limited no-trade clause that allows him to block trades to 20 teams. According to a baseball source, Lee has listed Atlanta, Cleveland, Houston, Miami, Minnesota, the New York Mets, San Diego, Tampa Bay and Washington as the nine teams he can be traded to without his consent.

Against that backdrop, the Tigers, Pirates, Orioles, Mariners, Angels, Royals, Blue Jays and Giants -- contenders all -- were among a dozen teams that had scouts at Monday's game. No one can say for sure who was on hand to expressly scout Lee, in part because the Phillies have so many other tradable commodities on their roster.

Outfielder Marlon Byrd is a potential target for teams in search of a right-handed outfield bat. Closer Jonathan Papelbon is being scouted by the same talent evaluators who are checking in on Joakim Soria, Joaquin Benoit, Brad Ziegler, Steve Cishek, et al. Chase Utley and Jimmy Rollins could help contending teams in need of middle infield help, but their 10-and-5 service-time rights give them veto power over any deal. And while Cole Hamels' name has been mentioned here and there, those rumors have never gained any traction.

Anyone up for some good A.J. Burnett, Antonio Bastardo or Kyle Kendrick speculation?

With Jeff Samardzija, Jason Hammel and Brandon McCarthy already traded and Tampa Bay more conflicted than ever about moving David Price because of its recent surge in the standings, the list of available impact starters is slim. But is it slim enough for a team to make a run at Lee even though he looked like a guy who will need a few more outings to round into top form? At this point, it takes a pretty active imagination to envision Lee pitching anywhere other than Philadelphia this season.

Lee, for his part, said he's oblivious to the Internet buzz. His fastball checked in at an average of 89.1 mph Monday night, slightly below what he was throwing earlier this season. And the Giants recorded three hits against his cutter, a pitch that's been less effective for him this year compared with recent seasons. So he'll make some adjustments and hope the results are better against the Arizona Diamondbacks on Saturday.

"I didn't know how many scouts were here and I don't care about the rumors," Lee said. "My goal is to get out there and try to give the team a chance to win. Obviously I didn't do that as well as I would like. But that's where my focus is. I could care less about the scouts in the stands or the trade rumors. It doesn't mean anything to me. I never cared about that. I still don't."

Spoken like a man who has been through this routine about a half-dozen times already in his career. Lee was 23 years old in 2002 when he went from Montreal to Cleveland with Grady Sizemore and Brandon Phillips in the big Bartolo Colon trade. He has since been traded from the Indians to the Phillies, from the Phillies to Seattle and from Seattle to Texas, so he understands the importance of being an emotional flatliner in July.

"It's not my job to make trades and acquire players and all that stuff," Lee said. "Let them do their job upstairs, and our job as players is to go out there and compete and try to win. It's really that simple to me. I'm not going to get caught up in trades and all the speculation. I'm a Phillie and I want this team to win and I'm going to do everything I can to help that happen. That's really it."

Except that it isn't -- for the embattled Amaro and season-ticket holders who have grown tired of the product the Phillies are selling and want to see changes. Monday night the focus was on Lee. Tuesday it will shift to somebody else. There could be a lot of action in Philadelphia between now and July 31. Some of it might actually take place on the field.
May, 23, 2013
5/23/13
12:42
AM ET
The
Philadelphia Phillies
are 23-24, they've been outscored by 31 runs,
Roy Halladay
is on the disabled list,
Ryan Howard
hasn't hit and
Cole Hamels
can't win. So the Phillies eventually will be sellers at the trade deadline, right? I don't think so. Here are 10 reasons why.
1. Cliff Lee is an ace.
Remember him? Finished third in the Cy Young voting back in 2011. Pitches 200-plus innings every year. Can throw a fastball over a postage stamp while blindfolded. He's still pretty good. OK, his three-hit shutout Wednesday came against the Marlins. It still counts. He's 5-2, his ERA is 2.48, he's one inning shy of leading the majors in innings pitched and opponents are hitting .227 against him. He's one of the best pitchers in baseball.
2. Cole Hamels will pitch better.
Hamels is 1-7 with a 4.45 ERA and has struggled with his command. The Phillies have won just one of his 10 starts. In a way, this is
good
news. You really think Hamels will go 3-21? That the Phillies will win just three of the 30 or so starts Hamels will make? Of course not. So the fact that the Phillies are 23-24 while playing worse than the Marlins or Astros when Hamels pitches means they could easily be worse than 23-24. But they're not.
[+] Enlarge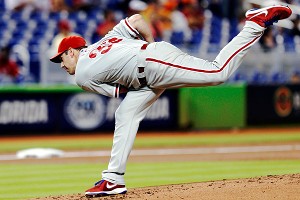 AP Photo/Alan DiazPhillies lefty Cliff Lee improved to 5-2 with a complete-game, three-hit shutout of the Marlins.
3. Kyle Kendrick is actually good now.
As Bill Baer wrote at the end of April, this is a
new-and-improved Kendrick
over the previous mediocre editions. Basically, Kendrick has stopped throwing so many cutters to left-handers and started using his changeup more often. It has given him a strikeout pitch against lefties and helped hold them to a .240/.290/.380 (BA/OBP/SLG) line against him this season, a big improvement compared to the .268/.341/.458 mark from 2010 to 2012.
4. Michael Young hasn't been horrible.
He hasn't been great, hitting .287 with just one home run, but for some reason, he has started drawing walks (23 this year compared to 33 all of last season with the Rangers). That's given him a fine .378 on-base percentage. If he keeps that walk rate up, Philadelphia manager Charlie Manuel should actually consider moving him into the leadoff spot -- especially considering Young's tendency to ground into rally-killing double plays (11, most in the majors). It's not so much that he hasn't been a big positive, but he hasn't been the gaping wound many sabermetric analysts projected. Take that, smart guys!
5. Delmon Young isn't good at baseball.
No, no, no, this is another good thing. The Phillies will eventually realize they'll need a better right fielder. Can you say
Andre Ethier
? Actually, he and Young would make a nice platoon.
6. The bullpen will do better.
The Phillies rank 27th in the majors with a 4.67 bullpen ERA. I think they have enough quality arms down there (14th in strikeout percentage, for example) to improve. Well, assuming
Chad Durbin
doesn't keep getting used.
7. The Nationals just might not be that good.
The Phillies are just one game behind the Nationals in the standings. Their run differentials are nearly the same -- minus-26 for Washington, minus-31 for Philadelphia -- but nobody is suggesting the Nationals sell off. That still leaves the Braves, a team the Phillies still have to play 16 times. In fact, the Phillies haven't played the Nationals yet, so they have 19 games remaining against them. So, umm ... they control their own destiny!
8. Even if the Phillies decide to dump, what do they have to dump?
OK, you could trade
Chase Utley
, but you're not going to get a franchise prospect in return for three months of Utley's services (yes, everyone can point to the Mets getting Zack Wheeler for
Carlos Beltran
in 2011, but that's a rarity). You could trade Lee, although his salary is so high -- $25 million each of the next two years with a possible $27.5 million vesting option in 2016 -- that he might not bring much in return, either. You're not going to get anything for Delmon Young or Michael Young. In other words, trading assets isn't really the way to start a youth movement because you don't have valuable assets to deal. That leaves general manager Ruben Amaro with the option of trying to acquire players other teams might be looking to dump -- such as an Ethier, who probably wouldn't cost much if the Phillies are willing to absorb part of his contract.
9. Roy Halladay might return this year.

He just headed to Florida to
begin rehabbing
from his shoulder surgery, and everyone is hopeful he can return in late August. Hey, you never know.
10. Big-market teams don't give up!
Well, OK, the Red Sox did a year ago, but that's because the Dodgers offered a gift too generous to turn down. The Phillies aren't going to find a taker for Howard's contract.
Look, I don't
believe
the Phillies are good enough to beat the Braves or Nationals, but the wild card isn't a crazy impossibility. They have a tougher schedule ahead, with 35 games left against the Braves and Nationals and only 19 against the Marlins and Mets. Manuel's resistance to doing things such as platooning Howard or admitting that Delmon Young can't or shouldn't play right field is an obstacle. Michael Young might stop drawing walks. Utley just missed a game with a sore rib cage, so who knows when he'll miss a chunk of action.
If the Phillies trade for a couple of bats in the outfield, however, you never know. It certainly doesn't seem in Amaro's nature to concede a playoff berth. Look for the Phillies to be buyers.
April, 24, 2012
4/24/12
1:31
AM ET
My parents still love watching baseball, even
Seattle Mariners
baseball. I called them Monday evening to see if they watched
Philip Humber
's perfect game on Saturday and my dad said he watched a few innings, went out to the mow the lawn and came back just in time to see the bottom of the ninth.
He then proceeded to complain about
Chone Figgins
("He just can't hit.") and
Justin Smoak
("Most good hitters don't take three or four years to figure things out."). Hey, he's right. And you can't blame him; he's been watching inept offense for two-plus years now. But then he said something that sums up a problem not unique to the Mariners:
"You know, even with their great pitching staff the Phillies can't win either."
Indeed, the
Philadelphia Phillies
entered Monday's game against the Arizona Diamondbacks with a 2.46 ERA.
Roy Halladay
,
Cliff Lee
,
Cole Hamels
and
Vance Worley
had allowed just 22 runs in their 13 starts. It doesn't take a Ph.D. in Sabermetrics to realize that's fewer than two runs per start. But after
losing 9-5
to Arizona (made closer with a five-run outburst in the ninth inning) the Phillies are now 7-10. That's the same record as the Mariners, and the Phillies have scored just 48 runs, an average of 2.82 runs per game.
That's right, the Philadelphia Phillies -- the five-time defending National League East champs -- have become the Seattle Mariners.
OK, OK ... I kid, Phillies fans. But the Phillies have scored 12 fewer runs than the Mariners, a team whose OPS leader is
Brendan Ryan
, a guy with a .190 batting average. We all know the laundry list of the Phillies' problems --
Ryan Howard
and
Chase Utley
on the disabled list;
Jimmy Rollins
hitting .242 with no power (two doubles, no home runs) and just four walks;
Placido Polanco
hitting .185 with one extra-base hit and one RBI;
John Mayberry Jr.
hitting .205 with no walks and 14 strikeouts. And so on. In fact, it's fair to ask: Where would the Phillies be without
Juan Pierre
and
Ty Wigginton
?
Man, those 45-homer seasons from Ryan Howard seem like a long time ago.
What I'm wondering: How many runs do the Phillies need to score to contend for the playoffs? After all, offense is still 50 percent of the game.
Entering Monday's action, the National League was hitting a collective .242/.310/.376 -- a .686 OPS that is 24 points lower than 2011's numbers. That figure takes us back to the offensive levels of 1988 to 1992, when the NL OPS figures were .673, .678, .704, .689 and .684. So one way of looking at this: Let's assume it will take 87 wins to make the playoffs. What's the lowest run total for an NL team from that 1988-1992 period that won at least 87 games?
For you baseball historians out there, it shouldn't come as a surprise that the 1988 Dodgers scored just 628 runs, or 3.88 runs per game. That actually put the Dodgers sixth in a 12-team league. The Dodgers allowed 544 runs and finished 94-67, exceeding their projected record by three wins.
Back to the Phillies. They're on pace to score 457 runs. Obviously, that won't cut it, but of course the offense won't be
that
bad all season. It will pick up, that we can predict. In 2011, they allowed 529 runs, the lowest full-season total since the 1969 Orioles allowed 517. So if they match the '88 Dodgers' total of 628 runs, they're still in good shape and project as a 93-win team, assuming the same run prevention as 2011.
What will it take to score 628 runs? They'd have to score 580 runs over the final 145 games, or 4.0 runs per game. Or just about what the National League average has been so far -- 3.94 runs per game entering Monday's game.
But just like the offense is likely to improve moving forward, the pitching staff probably won't match last season's historic stinginess. With Cliff Lee heading to the DL over the weekend with a strained oblique, we see the precariousness of relying so much on a few starting pitchers. The Diamondbacks lit up
Kyle Kendrick
, Lee's replacement, for 11 hits and seven runs in three innings on Monday. Kendrick had a nice season in 2011, posting a 3.22 ERA over 114.2 innings, including 15 starts. Kendrick, however, lives on a fine line of success. Among 145 pitchers last season with at least 100 innings, his strikeout rate ranked 138th. So as he steps in for Lee -- who may miss a month, meaning four or five starts -- don't expect a 3.22 ERA from Kendrick.
That's just one reason to expect the staff to allow a few more runs. Let's say 30 more than a year ago. That's 559 runs. Now that '88 Dodgers total of 628 runs projects to a win total of ... 89.5.
That might still be enough to squeak into the playoffs. Four runs a game. That's all you need, Phillies fans.
But what if the Phillies average 3.8 runs per game the rest of the season instead of 4.0? That projects to 599 runs scored.
And 86 wins. One run every five games. A couple of extra bloops or bleeders per week. A few ground balls with eyes. The difference between making the playoffs and going home.
PHOTO OF THE DAY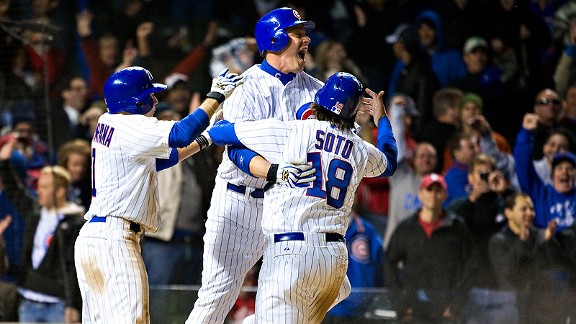 Brian Kersey/Getty ImagesRallying for a win in Wrigleyville is so much sweeter when it's at the Cardinals' expense.
Follow David Schoenfield on Twitter @dschoenfield.
December, 12, 2011
12/12/11
5:58
PM ET
Let's get back to throwing out some good links from around the SweetSpot network ...
June, 24, 2011
6/24/11
7:29
PM ET
The bad news for the Phillies is
nobody seems to know exactly what
is going on with
Roy Oswalt
's back. This could be a two-week stint on the DL; it could be a two-month stint.
The other bad news is their schedule until the All-Star break is a little tougher than their recent fare (only two of their past eight series have been against teams with winning records, the Nationals and Cardinals). They have the A's, Red Sox, Blue Jays, Marlins and Braves before the break.
The good news is the Phillies have built a nice cushion. They're 4 games up on the Braves in the NL East, and 5.5 games better than the Giants, the second-best team in the wild-card race.
The other good news is that
Kyle Kendrick
moves into the rotation. He has a 3.23 ERA, which is actually better than Oswalt's 3.79, so it shouldn't really be much of drop in production, right?
Well ... the problem is Kendrick is unlikely to keep a 3.23 ERA as he churns out more innings. He has 19 strikeouts in 47 1/3 innings, a K rate of 3.6 per nine innings -- that's
third-lowest in the majors
among pitchers with at least 40 innings. And Kendrick doesn't survive by being a ground ball specialist; there's nothing special about his ground ball rate.
Thus, the 4.73 ERA he posted last season is probably a more realistic appraisal of what to expect here on out -- a run worse per nine innings than Oswalt's current rate. Still, that's not
that
damaging over the short haul -- we're talking about a six-run differential over 10 starts.
The other issue is if the Philly pen will get more taxed; but Oswalt has only averaged 5.4 per innings per start, so it's not like he's been going deep into games anyway. thanks to the dominant trio of
Roy Halladay
,
Cole Hamels
and
Cliff Lee
, the Phillies' bullpen has pitched the fewest innings in the National League. Still, there will be a slight ripple effect since Kendrick is fourth on the team in relief innings.
David Herndon
,
Michael Stutes
and call-up
Scott Mathieson
may have to prove themselves in more key situations. There remain questions as well about whether the bullpen can maintain the 3.07 ERA its produced so far. (Bill Baer at Crashburn Alley
speculates about
Heath Bell
.)
Overall, I don't think this changes my assessment of the Phillies: They're still the best team in the National League right now.
Follow David on Twitter @dschoenfield or check out the SweetSpot blog on Facebook.
April, 19, 2011
4/19/11
12:49
AM ET
Just another Monday night in the majors? Yeah, just another Monday night.
It was cold at Wrigley Field, cold enough to make you think the Chicago Cubs should tear down the lights and go back to playing day games all the time.
The cameramen looked like they were headed for an Arctic expedition. Fans wore parkas and ski caps. At one point in the top of the eighth inning, Cubs announcer Len Kasper intoned, "It might be snowing." It was, after all, about 32 degrees by then. And
Carlos Zambrano
was pitching in short sleeves.
Just seeing Big Z out there in the eighth inning was enough to warm the hearts of Cubs fans. Once the workhorse of the Cubs staff, Zambrano doesn't turn 30 until June but all those innings and pitches early in his career caught up to him in recent seasons. (He averaged 215 innings and 95 walks per season from 2003 to 2007, a span when only
Livan Hernandez
and
Barry Zito
threw more total pitches.)
In the previous two seasons, Zambrano pitched as many as eight innings just three times. But there he was against the Padres, striking out the side in the seventh and cruising through the top of the eighth. He worked fast, threw strikes and even though he wasn't overpowering he struck out 10. In that seventh inning, he didn't dial up a fastball more than 90 mph until the final two pitches against
Ryan Ludwick
, instead relying on good movement, a nice front-door slider to catch
Nick Hundley
looking and a couple of 70-something curveballs. It was one of the best starts of his career -- just the ninth time he's recorded a Game Score of 85 or better.
Is Big Z back? I wouldn't say that. The hitters were hacking away in the cold (the 10-inning game lasted just 2:26, proving major leaguers
can
play quickly if they want to), so I wouldn't read too much into the effort, especially after three mediocre starts to begin the season. But for one night it was nice to see something resembling the old Z racking up the strikeouts.
* * * *
Here's one plate appearance against
Tim Lincecum
in the Giants' win over the Rockies.
Chris Iannetta
leading off the bottom of the sixth inning:
1. Fastball low and inside for a ball, 91 mph.
2. Curveball, inside corner, called strike, 84 mph. (Lincecum catches his heel on the rubber on his next pitch, stumbles and aborts the delivery.)
3. Changeup in the dirt, ball two, 77 mph.
4. Sinking fastball fastball, swing and a miss, 87 mph.
5. Fastball away, just off the plate, ball three, 91 mph.
6. Curveball, foul tip, 85 mph. Still 3-2.
7. Back to the sinker, swing and a miss, 86 mph.
What was poor Chris Iannetta supposed to do? He saw seven pitches, saw four different types of pitches, saw six different speeds, saw fastballs on both sides of the plate, and didn't see a single pitch above the kneecaps.
Frame that at-bat, kids, because that is how you pitch in the major leagues. You don't have to be 6-foot-5 and 230 pounds and throw 95 mph heat to win. Locate your pitches, change speeds, and keep everything below the belt. When Lincecum first arrived in the big leagues, he wowed us by throwing 97 mph fastballs past hitters high in the zone. He doesn't do that anymore. He manages a game, out-thinks the hitter. He's no longer The Freak. He's more like The Pitcher.
* * * *
A Hall of Fame pitcher named Waite Hoyt, who later became a longtime broadcaster with the Reds, famously once said, "It's great to be young and a Yankee." Hey, of course it was fun -- he was palling around with Babe Ruth.
I kind of think that's how it is to be playing for the Phillies these days. The team is winning, the stadium is packed, life is good.
Unless you're
Kyle Kendrick
.
He was in the rotation last season, but now he's the long man out of the bullpen. Which means he doesn't get to pitch very often. Which means when he entered in the top of the 12th inning of a 3-3 game against the Brewers he hadn't pitched in nine days.
He walked
Rickie Weeks
on four pitches.
Carlos Gomez
bunted toward Kendrick, but he fired the ball too high for second baseman
Wilson Valdez
for an error, putting runners at first and third.
Ryan Braun
hit a sacrifice fly.
Prince Fielder
was hit by a pitch. Kendrick threw a wild pitch, so
Casey McGehee
was intentionally walked.
Yuniesky Betancourt
hit a sac fly.
Mark Kotsay
was intentionally walked, somewhere in there Phillies fans started booing, and then
Jonathan Lucroy
singled in another run and the Phillies lost 6-3.
Speaking of Phillies fans, one emailed me after the blow-up, writing, "It blows my mind that a right-hander, who throws under 90 with sub-par secondary pitches, is still in the major leagues. I really don't know how the Phillies don't have a young righty who throws over 90 with a good second pitch."
And so it may be another nine days before Kendrick gets to pitch again.
* * * *
The Indians and Royals battling for first place. It must be April. It was 57 degrees at game time, overcast and windy, and Royals fan aren't quite jumping on the bandwagon just yet, as the announced attendance was 12,214. Hey, 20-plus years of disappointment will do that to you.
It was an interesting game, if not necessarily one for the Smithsonian. I was excited to see
Tim Collins
, the Royals' 5-foot-7, 21-year-old rookie reliever enter in the 10th, but
Carlos Santana
walked, and Collins tried to sneak a 1-1 inside fastball past
Shelley Duncan
. But you do not sneak a 1-1 fastball past Shelley Duncan (at least on this night), and Duncan drilled a double into the left-corner to score Santana. Things unraveled from there and the Indians scored four runs, won 7-3 and they're now 12-4. Sure, it
is
April, but they're in first place and right now it's pretty great to be young and playing for Cleveland.
PHOTO OF THE DAY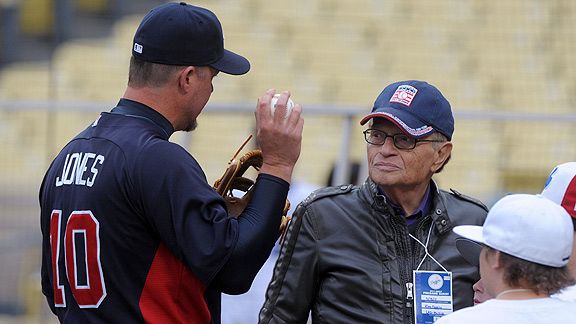 Kirby Lee/Image of Sport/US PresswireLarry Jones -- that's Chipper to you -- trying to teach Larry King how to throw a curve … maybe?
July, 20, 2010
7/20/10
2:27
PM ET
Hey, somebody had to
take the fall
Phillies pitcher Kyle Kendrick was optioned to Triple-A Lehigh Valley on Tuesday, a day after blowing a lead to the St. Louis Cardinals.

Kendrick (5-4) surrendered seven runs in five innings, coughing up a 4-2 lead as the Phillies lost for the fourth time in five games.

--snip--

In his place, the Phillies have called up righthander Andrew Carpenter.

Carpenter, 25, was 7-6 with a 3.41 ERA in 18 starts for Lehigh Valley this season. For his major league career, he is 1-0 with a 9.45 ERA in four games (1 start) for the Phillies between the 2008 and 2009 seasons.
Carpenter didn't crack Baseball America's list of Phillies prospects last winter, but John Sickels did write about Carpenter in
his book
, and you gotta love the love:
Drew Carpenter doesn't have terrific stuff ... although Carpenter looks fat and has had trouble with conditioning ... Most scouts see Carpenter as little more than a Quadruple-A guy ... He has a strong fly ball tendency that won't play well in smaller parks or home run palaces ...
Of course I left out the nice things John said about Carpenter. But the take-home is that Carpenter is a) a marginal prospect who b) probably shouldn't be set loose anywhere
near
Citizens Bank Park, which is only one of the two or three home-run-friendliest palaces in the National League.
Maybe he won't be. Not for long, anyway. Lefty
J.A. Happ
has been rehabbing in Lehigh Valley. And while he hasn't pitched
well
down there -- 15 walks in 19 innings -- he figures to be fast-tracked to Philadelphia shortly after showing any real signs of regaining his command.
Does all of this really matter, though? Kendrick, Carpenter, Happ ... I like Happ and he's probably the best of the three if he's healthy. But we're talking about No. 5 starters here. And the Phillies' problem isn't that they've got three guys for one spot. It's that even after ejecting Kendrick (4.82 ERA) from the rotation, they've still got
Jamie Moyer
(4.88) and
Joe Blanton
(
6.21
) in there. Kendrick was probably the right choice because of his strikeout rate. But with the exception of
Roy Halladay
, everybody in the rotation has simply given up too many home runs.
I know it's a tough place to pitch. But if the Phillies are going to get back into this thing, at least one more starting pitcher will have to keep the ball in the park.
May, 13, 2010
5/13/10
11:11
AM ET
By
Bill Baer, Crashburn Alley
| ESPN.com
The
Philadelphia Phillies
' 2007 season was a year-long struggle.
Adam Eaton
, one of their big free agent signings during the offseason, pitched horribly with a 6.29 ERA in 30 starts.
Jon Lieber
hit the disabled list, as did
Tom Gordon
and
Freddy Garcia
.
Abraham Nunez
and
Wes Helms
did not provide any offense at third base.
Yet the Phillies reached the postseason for the first time since 1993. In the second half of the season, they played .593 baseball and turned up the heat with a four-game series sweep of the division-leading
New York Mets
at the end of August. The Phillies swept the Mets one more time in mid-September and won the National League East on the last day of the regular season, a great reward for six months of relentless battling.
Often overlooked in the Phillies' playoffs path was rookie
Kyle Kendrick
's performance. Called up in mid-June to take the injured Freddy Garcia's spot in the starting rotation, Kendrick pitched well in five of his first six starts. Overall, the Phillies won 13 of his 20 starts, including six of his final eight (in which he posted a 3.74 ERA in 46 innings). Without Kendrick, the Phillies simply wouldn't have broken their postseason dry spell.
Since then, Kyle has failed to live up to his initial success. He earned a spot in the rotation in 2008 but could only muster a 5.49 ERA in 30 starts. The big differences between the two seasons were his increased walk rate (1.9 per nine innings in '08, 3.3 in '09) and his fortune on balls put in play (.279 BABIP in '08, .316 in '09). In both seasons, he averaged fewer than four strikeouts per nine innings, meaning that he was very dependent on his defense to convert batted balls into outs. Despite the Phillies possessing baseball's best defense (according to UZR/150) in '08, they converted 3.5 percent fewer balls in play into outs from '07 to '08 while Kendrick toed the rubber.
Kendrick would spend most of 2009 in Triple-A Lehigh Valley before reclaiming a spot in the 2010 rotation following an injury to
Joe Blanton
. The young right-hander relied on a sinker and a change-up for most of his career. During spring training this year, after being
Roy Halladay
's shadow, he added a cutter to his repertoire. Unfortunately, he has not had the same control that helped his cause in '07 and he is still failing to miss hitters' bats with a sub-4.0 K/9 rate.
Since 1990, only 24 qualified pitchers have finished a season with a K/9 of 4.0 or lower and an ERA+ of 100 (league average) or higher. In this decade, the only pitchers to accomplish that feat are Kirk Reuter (2000, '02),
Brian Anderson
('03),
Carlos Silva
('04-05, '07),
Chien-Ming Wang
('06),
Aaron Cook
('06-07), and
John Lannan
('09). An uninspiring bunch for sure and one that does not make you think of Bob Gibson.
So what should the Phillies do with Kendrick? There has been no evidence that he will ever miss bats at a passable rate and Major League hitters are getting more and more information with every start he makes. In February, when the Phillies were determining their No. 5 starter, I suggested that Kendrick should win the role over
Jamie Moyer
because, if he pitched well, the Phillies could capitalize on his value in a trade.
That ship has sailed. The value Kendrick now provides revolves solely around his salary. He is earning $480,000 this year and will enter his first year of arbitration after the season. Presumably, the Phillies could find a team that wants to cut salary -- perhaps the
Baltimore Orioles
with
Kevin Millwood
or the
Cleveland Indians
with
Jake Westbrook
-- and offer Kendrick and his low salary. The problem is that the Phillies would have to eat some salary and for a front office that capped the team payroll at $140 million going into the season, this may not be realistic.
For now, while
J.A. Happ
is on the mend and with no pitching help from their minor league system is on the horizon, the Phillies simply have to trot Kendrick out there every fifth day, cross their fingers, and hope he can reclaim the luck he found throughout the 2007 season.
March, 27, 2010
3/27/10
4:32
AM ET
Hey, I can't blame you for not caring about Sean Marshall and Tom Gorzelanny. I mean, unless you're a Cubs fan or a close relation. But I don't care who you are -- if you're breathing and you love baseball, you gotta care about the Phillies' fifth starter.
From Matt Gelb:

After three off-season surgeries, Jamie Moyer came to spring training fighting for a job in his 24th season in the majors.

"I didn't really know what to expect, because I haven't been through this kind of thing in the past," Moyer said. "So, you know what? Go wing it. See what happens."

It's working.

The 47-year-old lefthander all but guaranteed his spot as the fifth starter in the Phillies' rotation with a dominating effort Friday night.

Facing a New York Yankees lineup filled with regulars except Jorge Posada and Nick Johnson, Moyer cruised. He allowed just two base runners over 62/3 innings and struck out six. He walked none. The Phillies won, 3-0.

Moyer retired the final 15 batters he faced.

"He looked pretty good, didn't he?" Phillies manager Charlie Manuel said. "He threw good quality strikes down. Even when he missed, he was close. He dropped a little yo-yo on them."

--snip--

It was Moyer's second Grapefruit League appearance. In 11-2/3 innings, he has allowed one run. He also started three B games earlier in the spring. Two were three-inning scoreless outings. In the other, his lone hiccup this spring, Moyer allowed five runs on eight hits in three innings.

Expect to see him in the rotation.

"It doesn't surprise me," Manuel said of Moyer's performance. "I've seen him go to the minor leagues twice and you think he's done, and he fought his way back to become a heck of a pitcher. When he came to spring training this year, I expected him to be in pretty good shape and working hard. Nothing's changed. It's who he is."

Leaving aside the question of whether Moyer's more qualified for this job, at this moment, than
Kyle Kendrick
, it's worth mentioning (again) just how strange this whole thing is.
Moyer turned 47 last fall. There have been exactly three men in major league history who started a game after turning 47.
Phil Niekro, a knuckleballer, started 32 games in 1987, when he was 47 (and he started 26 more the next season).
Jack Quinn, an Austro-Hungarian-American spitballer, started
one game in 1931
, when he was 47.
Satchel Paige, a Methuselah, started
one game in 1965
, when he was 58.
And that's it, friends: 60 starts, with one knuckleball pitcher accounting for 58 of them.
I don't know which label we're going to stick on Jamie Moyer someday. He doesn't throw knuckleballs or spitballs, and he's neither Satchel Paige nor 58 years old.
In two of the last three seasons, Moyer's ERA was right around 5. In the other, it was 3.71 but he gave up an abnormally low amount home runs. I don't have any confidence at all in his ability to post an ERA this season close to the league average. I have a great deal of confidence in Moyer's ability to solidify his place among the more interesting pitchers we'll ever see.
February, 22, 2010
2/22/10
6:27
PM ET
Hey, did you hear? The Phillies are supposed to win the National League East and quite probably reach the World Series again. But did you know they're still one starting pitcher short of a full rotation? HotStove.com
posed this question
to four Phillies-centric bloggers:
Kendrick gets three votes, while Justin Klugh says, "I say give Moyer the ball and see what he can do with it. Kendrick's not going anywhere and he can only benefit from Halladay's tutelage."
There's no right answer here.
Except it's probably not Moyer. At best, he's good for an ERA around 5 (his 3.71 ERA in 2008 was something of a fluke).
I'm not sure it's Kendrick, either. He pitched well for the Phillies last season, but that was only 26 innings and Kendrick still has a career mark of 3.9 strikeouts per nine innings. Essentially, it's almost impossible to survive in the majors with that sort of strikeout rate ... oh, and Kendrick's Triple-A rate? Also 3.9 per nine innings.
Sure, there are signs. Kendrick's a ground-ball pitcher and in the minors he was exceptionally stingy with the home runs.
Ryan Vogelsong? He had a 5.68 career ERA before going to Japan for three seasons.
Jose Contreras? Meh.
I've seen
Antonio Bastardo
listed on the Phillies' rotation
depth chart
, but the organization seems to have decided that
he's a reliever
.
The Phillies don't have any hot prospects coming up.
Like I said, there's no right answer.
No single right answer, anyway. In the old days, a manager might have spotted both Moyer and Kendrick, depending on the evening's opposition. But that sort of thing just isn't done anymore. Everyone has to have a
role
and "spot starter" and "swing man" just aren't on the list.
So who wins the job that is on the list? I don't have any idea. But it doesn't matter much. Whoever has the job in April won't have it in June.