February, 8, 2012
2/08/12
4:29
PM ET
Editor's note: The following is an excerpt from "100 Things Phillies Fans Know and Do Before They Die" by Bill Baer. Copyright 2012 by Bill Baer. Excerpted with permission from Triumph Books. (Check out more of Bill's work at Crashburn Alley, our Phillies SweetSpot blog.)
53. Ed Delahanty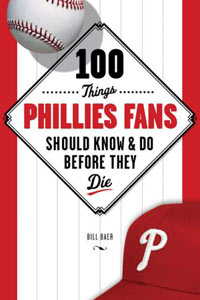 Triumph Books
Ed Delahanty was the first marquee player in Phillies franchise history. The right-handed hitter joined the club in 1888, but did not rise to stardom until 1892. Early in his career, he was a jack-of-all-trades, but as he became more established in the league, he settled in nicely as an outfielder.
In his first four seasons -- which included one season with the Cleveland Infants of the Players League -- Delahanty showed decent contact skills, but scant power. In 1892, he broke out with 57 extra-base hits and 91 RBI. The next year, Delahanty barely missed out on the triple crown, leading the league with 19 home runs and 146 RBI, but his .368 average trailed teammates Billy Hamilton (.380) and Sam Thompson (.370).
Delahanty hit .404 in each of the next two seasons. The trio of Delahanty, Hamilton, and Thompson are the only Phillies to hit over .400; no one has accomplished the feat since the turn of the 20th century.
From 1893-96, Delahanty hit .392 with a 1.069 OPS. He led the league in doubles, home runs, RBI, and OPS twice.
Delahanty did not slow down much as he aged. In 1899, at the age of 31, he led the league in average at .410 and RBI at 137, missing out on the triple crown again. He also had an astonishing 238 hits. Impressively, Delahanty was also a great base runner, finishing his career with 455 stolen bases, averaging one every four games.
Delahanty was easily the best hitter in the Phillies' young history, but he has also remained among the best in franchise history more than 100 years later. He still ranks in the franchise's top-ten in batting average (2), on-base percentage (5), slugging percentage (10), OPS (6), runs (2), hits (3), doubles (1), triples (1), RBI (2), walks (7), and stolen bases (2).
Additionally, along with Rogers Hornsby, Delahanty is one of only two three-time .400 hitters. His career .346 average is fifth all-time in baseball history, behind Ty Cobb, Hornsby, "Shoeless" Joe Jackson, and Lefty O'Doul.
Along with his impressive numbers, Delahanty is remembered for one of "the most shameful home runs of all time." In 1892, the Chicago White Stockings were in Philadelphia at the Huntingdon Street Grounds. In the eighth inning, Cap Anson hit a fly ball to center field. The ball hit a pole and caromed into a "doghouse," where numbers were stored for the scoreboard.
Delahanty went after the ball but got stuck. His teammate Sam Thompson had to retrieve Delahanty with the ball, but Anson had already circled the bases by the time the two had emerged. The book "Baseball Hall of Shame" by Bruce Nash and Allan Zullo referred to the home run as an "inside-the-doghouse home run."
45. The Ryne Sandberg Trade
The Phillies have made quite a few trades with the Chicago Cubs over the years, but arguably none as bad as the Ryne Sandberg trade. Sandberg was drafted by the Phillies in the 20th round of the 1978 draft. In the minor leagues, he performed well enough to merit significant attention from other teams as a trade chip.
[+] Enlarge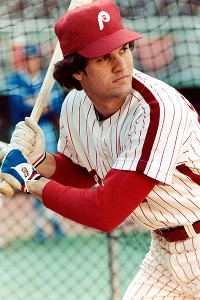 Photofile/MLB/Getty ImagesRyne Sandberg appeared in 13 games with the Phillies in 1981.
After the 1981 season, 36-year-old shortstop Larry Bowa and the Phillies could not reach an agreement on a new contract. Bowa requested a three-year deal, but team president Bill Giles had no intention on handing out a multi-year deal to an aging shortstop. When the team flat refused to grant Bowa the contract he desired, Bowa went on a tirade, accusing the organization of lacking class.
Bowa was still under his old contract, though, so the Phillies either had to keep a disgruntled player on their team or trade him to another organization. With a trade, however, the Phillies would not have any leverage as their dispute with Bowa was in the public eye.
Former Phillies manager and newly-installed Cubs GM Dallas Green saw an opportunity for his club. The Phillies wanted to swap Bowa for Ivan DeJesus, but Green knew he could extract more from the Phillies by playing on Bowa's shortcomings. Later speaking about the trade, Green said, "We knew we had them over a barrel." After a back-and-forth conversation, Green convinced the Phillies to include Sandberg in the deal.
On January 27, the two teams had reached an agreement. The Phillies sent Bowa and Sandberg to Chicago and the Cubs sent DeJesus to Philadelphia. While Sandberg went on to enjoy a highly-successful career with the Cubs that would lead to enshrinement in the Hall of Fame, DeJesus had three very lackluster years with the Phillies, hitting just .249 between 1982-84.
From 1984 to 1993, Sandberg made 10 consecutive All-Star teams. He won the NL Gold Glove at second base each year from 1983 to '91, and he finished first in MVP voting in 1984.
Sandberg finished his career with 62 Wins Above Replacement (WAR), a sabermetric statistic that factors in a player's contributions on both offense and defense, then accounts for the position he plays and compares him to the expected production of a replacement-level player (a theoretical player who would be freely available to play for the league minimum salary). Prior to Chase Utley, the Phillies franchise leader in WAR for second baseman was Tony Taylor at 11.9. There is no doubt that, if Sandberg had stayed in the Phillies organization, he would have retired as the greatest second baseman in Phillies history.
They say hindsight is 20/20, but the outcome of this trade could have been seen coming from a mile away. Unfortunately, the Phillies were forced into action by an ugly contract dispute with one of the team's most recognizable players in Larry Bowa. Bowa, of course, would later return to the Phillies as a manager in 2001, but left at the end of the 2004 season after many clashes with his players, including third baseman Scott Rolen.
Bowa's fiery personality was one reason why he was and still is such a controversial figure in Philadelphia sports history, but the Sandberg trade is as big a part of it. Who knows just how good the 1984-1992 Phillies would have been with Sandberg -- they may not have had to wait 10 years to reach the postseason.
August, 13, 2010
8/13/10
2:14
PM ET
It must be fun to write about the Dodgers this season. Here's Bill Plaschke quoting
Matt Kemp
's agent,
Dave Stewart
:
"I'm almost to the point — and maybe so are the Dodgers — where I'm thinking that this just isn't going to work," Stewart said. "The Dodgers have gaps on this team, and maybe they could fill them by trading Matt. It could be good for the team, and good for the player."
Stewart emphasized he would never formally ask for a trade, but he wonders if his client can be successful while fighting off what he claims are unfair barbs from within the organization, particularly veteran coaches Bob Schaefer and Larry Bowa, both of whom have been critical of the fundamental deficiencies in the budding star.
"It's very, very difficult to play under the circumstances that Kemp is playing under," Stewart said.
"The thing we have to look at is, is there going to be a fit? Is he going to be able to get past the public scrutiny? Matt has to wonder, 'If these guys don't like me, how can I play for them?'"
--snip--
"Everything was fine until suddenly Schaefer and Bowa start getting on him publicly," said Stewart, a former Dodgers pitcher. "On those great Dodger teams of the past, you would never read about a player being trashed like Matt's been trashed."
Stewart is referring to the midseason incident in which Schaefer scolded Kemp for not backing up second base on a stolen-base attempt. Kemp replied with enough harsh words that led to his being benched for three days. Though Schaefer never criticized Kemp publicly, Stewart felt the encounter and punishment unnecessarily embarrassed his player.
Stewart's anger with Bowa stems from a recent Times story in which Bowa chided Kemp for not always playing hard, a charge with which Kemp actually agreed at the time.
"When Larry Bowa played, he would never accept a coach talking about him in the newspaper like that, but they want to Matt to accept it?" Stewart said.I don't know what Larry Bowa would have "accepted" in the 1970s. I'm not sure that Dave Stewart knows, either.
Are Kemp's coaches critical because Kemp isn't playing well this season?
Or is Kemp not playing well this season because his coaches are critical.
That probably depends on your perspective.
I'm not nearly smart enough to get inside Matt Kemp's head. Purely in terms of performance, he's not the player we expected. Here are his OPS+ for the past four seasons: 127, 110, 125, 110. He's striking out (slightly) more often than ever before. His steals are down, his caught stealings up. According to two reputable defensive metrics -- UZR and Defensive Runs Saved -- Kemp's play in center field is
way
off this season.
Essentially, he seems to be regressing. Maybe he can't stop thinking about
Rihanna
. Maybe he put on 25 pounds of muscle last winter, which is slowing him down on the bases and in center field. Maybe he's decided he's a
power hitter
, which would explain the strikeouts and the batting average.
I don't have any idea, really. But you can understand the coaches' frustration with Kemp just a little, can't you? Larry Bowa and Bob Schaefer have been around the game forever, and they haven't seen many players with Matt Kemp's raw talents. And it must be killing them to think he's wasting it.
Which doesn't mean they're helping. Maybe Kemp would benefit from an attitude adjustment, but maybe that process would be facilitated by a coaching adjustment.
Which brings to mind a question that nobody seems to have asked ... What's Joe Torre been up to? In the spring, the general manager ripped Kemp. In the summer, the coaches ripped Kemp. Is Torre waiting for the fall?
The fall doesn't begin until the 23rd of September.
Of course, that's probably too late for the Dodgers, who have already fallen too far. Maybe the solution here is to keep Kemp and find a new coaching staff. Because the old staff doesn't seem to have accomplished much this summer.