October, 20, 2013
Oct 20
3:15
PM ET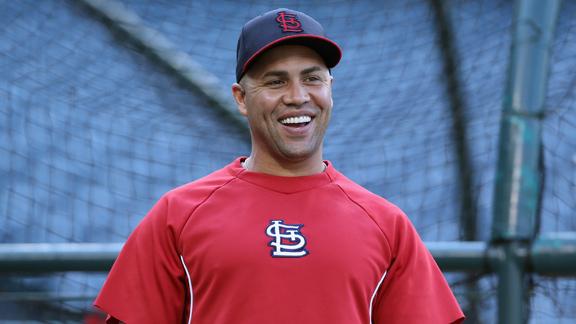 As
Carlos Beltran
delivers more big postseason hits this October for the St. Louis Cardinals, talk about him as a potential Hall of Famer has increased, carrying over from discussions that began in the regular season. ESPN.com's Jerry Crasnick wrote about
Beltran's Hall of Fame case
back in August, while Dave Cameron of FanGraphs
wrote about Beltran and
David Ortiz
the other day.
Basically, Beltran's case goes something like this: He kind of snuck up on everyone as a Hall of Fame candidate, he fares very well in advanced metrics, such as WAR, but not quite as well in more conventional measurements, such as counting stats and MVP voting results. Certainly, two more strong seasons will help his case.
Comparisons have been made to Andre Dawson, another guy who did a little of everything. In terms of career WAR, they're similar: Beltran 67.5, Dawson 64.4. One major difference: There was a time when Dawson was considered maybe the best player in the game, something that has never been said of Beltran. Dawson also won an MVP Award (though ridiculously undeserved), and that undoubtedly helped get him elected to Cooperstown.
It all means Beltran is a borderline candidate. Which gets us to this: How much should his great postseason numbers (.337 BA, 16 HR, 37 RBIs, 1.173 OPS) factor in?
Case study: Jim Rice versus Bernie Williams
Rice: 382 HR, 1451 RBIs, .298/.352/.502, 47.2 WAR
Williams: 287 HR, 1257 RBIs, .297/.381/.477, 49.5 WAR
[+] Enlarge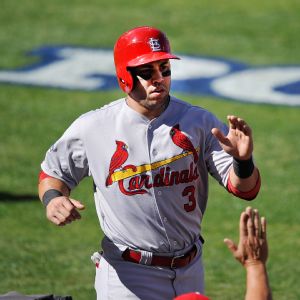 Robert Hanashiro/USA TODAY SportsCarlos Beltran's exceptional postseason numbers could bolster his Hall of Fame case.
After a long and heated debate, Rice finally made it on his 15th and final year on the ballot. Despite similar career value, Williams fell off the ballot after one year. Williams was a key performer on four World Series champions, hitting .275/.371/.480 in his postseason career, with 22 home runs and 80 RBIs in 122 games (he's the all-time postseason leader in RBIs). To be fair, neither are strong Hall of Fame candidates, but in Williams' case his postseason numbers clearly had no effect on the voters.
Verdict:
Postseason doesn't help.
Case study: Curt Schilling versus Kevin Brown
Schilling: 216-146, 3.46 ERA, 127 ERA+, 80.7 WAR
Brown: 211-144, 3.28 ERA, 127 ERA+, 68.5 WAR
In their raw stats, these two are nearly identical, right down to innings pitched (Schilling had five more in his career). Neither won a Cy Young Award, although Brown should have won in 1996 when he had a 1.89 ERA for the Marlins and arguably for the Padres in 1998, when he led the National League in WAR. Schilling finished second in the voting three times, twice to teammate
Randy Johnson
, once to
Johan Santana
. They're not exactly the same: Schilling does have the edge in career WAR (he spent more time in good hitter's park) and strikeouts.
The difference, of course, is Schilling was one of the great postseason pitchers ever, going 11-2 with a 2.23 ERA in 19 career starts, winning three rings. Brown went 5-5 with a 4.19 ERA in 13 starts and one ring. Brown fell off the ballot after one; Schilling received 39 percent of the vote last year on his first year on the ballot, actually a pretty good starting point to eventual election.
Verdict:
Postseason helps.
Case study: Jack Morris versus Dennis Martinez
Morris: 254-186, 3.90 ERA, 105 ERA+, 43.8 WAR
Martinez: 245-193, 3.70 ERA, 106 ERA+, 49.5 WAR
Pretty similar numbers. Morris' win-loss record is slightly better, but he also generally pitched on much better teams. Martinez's best years came in relative obscurity with the Expos, with whom he went 100-72 with a 3.06 ERA in eight seasons. This is more like the Rice-Williams case, in that neither really has a strong Hall of Fame case.
Except that Morris has those World Series rings. Martinez pitched in two World Series, but his teams lost both times. Morris' career in the playoffs: 7-4, 3.80 ERA (13 starts). Martinez: 2-2, 3.32 ERA (seven starts). Martinez received 16 votes and was knocked off the ballot. Morris received 68 percent last year and has one year left on the ballot with a good chance of getting the final-year push like Rice did.
It should pointed out that Morris' overall postseason record isn't that special. He did win two games in the 1984 World Series, but other pitchers have had spectacular World Series and didn't get in to the Hall of Fame (Lew Burdette, Mickey Lolich). For Morris, his candidacy really comes down to voters putting a huge value on his Game 7 performance in 1991.
Verdict:
Postseason helps.
Case study: Kirby Puckett versus Larry Walker
Puckett: 207 HR, 1085 RBIs, .318/.360/.477, 50.8 WAR
Walker: 383 HR, 1311 RBIs, .313/.400/.565, 72.6 WAR
This one is a little more complicated. Puckett's career was ended early by the eye injury, although an injury is an injury, no matter how freakish (voters seemed to give him a pass on his shortened career, however). Walker's numbers were inflated some by Coors Field. Still, Puckett was a Gold Glove center fielder; Walker was a Gold Glove right fielder. Puckett had some power and rarely walked; Walker had power and walked much more often. Walker won an MVP Award, Puckett didn't. Career WAR? Not close.
Puckett sailed in on the first ballot. Walker has been right around 22 percent his three years on the ballot. Puckett played in two World Series and won both; he hit .309/.361/.536 in 24 career playoff games, and had that memorable walk-off home run in Game 6 of the 1991 World Series. Walker played in one World Series and lost. Puckett was lovable, Walker injury-prone. That certainly influenced voters, but Puckett's postseason heroics must have helped get him elected.
Verdict:
Postseason helps.
Case study: Tony Perez versus Keith Hernandez
Perez: 379 HR, 1652 RBIs, .279/.341/.463, 53.9 WAR
Hernandez: 162 HR, 1071 RBIs, .296/.384/.436, 60.1 WAR
Another interesting one in that they were completely different types of players. Perez was a power-hitting first baseman who drove in a ton of runs (it helped having Pete Rose and Joe Morgan hitting in front of him). Hernandez didn't have the same power but hit for a higher average, got on base more and is regarded as maybe the best fielding first baseman of all time.
Perez had the reputation of being a clutch hitter, and the Reds won two World Series titles with him. But Hernandez also won two titles, with the Cardinals and Mets. Here's the kicker, though: Perez was a terrible postseason player, hitting .238/.291/.378 with six home runs and 25 RBIs in 47 games. Hernandez hit .265/.370/.359 but with 21 RBIs in 30 games and was also terrific in two Game 7s (2-for-3, two walks, two RBIs in 1982; three RBIs in 1986).
Of course, in this case, voters probably didn't get past the career RBI totals.
Verdict
Postseason doesn't help, unless you're part of a famous team (unless you're Bernie Williams).
OK, one more. These are kind of fun.
Catfish Hunter versus Orel Hershiser
Hunter: 224-166, 3.26 ERA, 104 ERA+, 36.6 WAR
Hershiser: 204-150, 3.48 ERA, 112 ERA+, 51.7 WAR

Hunter basically got in because he was a famous anchor of Oakland's three straight World Series champions (and a lesser part of two Yankees World Series winners). Hunter went 9-6, 3.26 in his postseason career. His regular-season numbers aren't all that impressive, especially when looking at the advanced metrics such as ERA+ and WAR. Hershiser went 8-3, 2.59 ERA in his postseason career, carried the Dodgers almost single-handedly to the 1988 World Series title (unlike Morris, his team won in five instead of seven). Hershiser fell off the ballot after two years. If only one of his Indians teams had won a championship.
Verdict:
Postseason helps only if the voters want it to.
In the end, you've seen what I've done: compared some of the more marginal Hall of Famers or Hall of Fame candidates to similar players. There is certainly inconsistency from the voters, except perhaps in one main narrative: fame. Rice was
famous
as an active player, while Williams was always overshadowed by other teammates. Schilling's fame rose with the bloody-sock game and titles in Boston. Morris was certainly more famous than Martinez, Puckett more so than Walker, Hunter probably more than Hershiser, Perez maybe more than Hernandez (although that one is more debatable).
As for Beltran, that's what will probably ultimately make his Hall of Fame case an uphill climb: He comes up a little short on the "fame" side of things (unlike, say, David Ortiz). Plus: He's about to just play in his first World Series.
September, 15, 2013
Sep 15
3:41
PM ET
Todd Helton
had a pretty nice major league career for a backup quarterback. The one-time Tennessee QB announced he'll retire at the end of the season, after a 17-year career that has seen him hit .317 with 367 home runs, 2,505 hits and 1,397 RBIs.
While Rockies fans get to say goodbye, the question for the rest of us: Is he a Hall of Famer?
That's really a two-part question, of course: (1) Does he deserve to make the Hall of Fame. (2) What are his chances?
The initial reaction of many may be to compare him to Don Mattingly, another first baseman who had a high peak value but suffered back issues that hurt his effectiveness. As you can see from the list below of recent first basemen, however, Mattingly isn't really in the same ballpark as Helton. The list includes each player's career WAR and then their best five consecutive seasons.
Jeff Bagwell
79.5 (five-year peak: 34.4)
Jim Thome
72.8 (26.9)
Rafael Palmeiro
71.8 (26.3)
Mark McGwire
62.0 (29.8)
Todd Helton 61.1 (37.4)
John Olerud
58.0 (27.0)
Will Clark 56.4 (27.7)
Fred McGriff
52.6 (26.7)
Jason Giambi
51.2 (34.7)
Carlos Delgado
44.3 (26.1)
Don Mattingly 42.2 (28.8)
Helton is way ahead of Mattingly in both career value and peak value -- Helton, in fact, has the best five-year peak on the board. That period ran from 2000 to 2004, when he hit .349/.450/.643 while averaging 37 home runs and 123 RBIs. While Helton hit .300 five times after that, he was never the same in the power department, reaching 20 home runs just once and never again reaching 100 RBIs.
As superficial as that 100-RBI barrier is, it could work against Helton since first base is viewed as an RBI position -- a reason great all-around players like Olerud and Keith Hernandez fared poorly in Hall of Fame voting -- and he topped that 100 mark just five times. Like those two, however, Helton earned value with his glove (since 1950, he ranks seventh on Baseball-Reference's list with 73 runs saved at first base). As good as Helton was at the plate, his offensive WAR actually rates below that of Giambi, McGriff and Clark, and just ahead of Delgado.
Some of that is the Coors Field factor in measuring his value. He's hit .345/.442/.607 at home (225 home runs) versus .287/.386/.470 on the road (142 home runs). That's another knock against Helton, in the same way it's hurt former Rockies teammate
Larry Walker
, who has hovered at just over 20 percent of the vote in his three years on the ballot. In fact, compare their career numbers:
Helton: .317/.415/.539, 133 OPS+, 367 HR, 1,397 RBI, 2,505 H, 1,394 R, 37 SB
Walker: .313/.400/.565, 141 OPS+, 383 HR, 1,311 RBI, 2,160 H, 1,355 R, 230 SB

Walker won an MVP and didn't get to spend his entire career in Denver. I don't see a whole lot separating those two, except Walker was a Gold Glove right fielder and Helton a Gold Glove first baseman. I'd have to rate Walker the better Hall of Fame candidate (his career WAR is also much higher, at 72.6), but the fact that he hasn't fared well in voting probably doesn't bode well for Helton.
If Helton hadn't suffered the back problems, we wouldn't be having this discussion. Three more peak years and he'd be a slam dunk. But like Mattingly, that's not what happened. There's also the issue that none of those first basemen above separated themselves from the pack, except Bagwell, who received 60 percent of the Hall of Fame vote last year, putting him on path to get to the needed 75 percent. Palmeiro and McGwire obviously have no shot right now given their PED history, but voters haven't given much support for McGriff (493 home runs, 1,550 RBIs), either.
For me, Helton falls just under the line. Take away Coors Field, and I wonder if he's John Olerud. That's not meant as a criticism, just that nobody thinks of Olerud as a Hall of Famer. I think Helton's initial time on the ballot will mirror Walker's -- about 20 percent of the vote.
January, 8, 2013
Jan 8
11:53
AM ET
Let's play a little Hall of Fame game. I'm going to present two players with similar statistics. One is in the Hall of Fame and the other is on this year's ballot. Presented two lines of numbers, can you guess which player is the Hall of Famer? Check the numbers, vote in our poll and then check below to see who the players are. (No cheating!)
Comparison No. 1
I should note that these two are contemporaries and the Hall of Famer made it in the first year he was on the ballot.
While the Hall of Famer was never considered the best player in the game, there is an argument to be made that the non-Hall of Famer was the best player in the game at his peak.
Both were good defensive players and had speed, at least early in their careers.
Comparison No. 2
Both had some monster seasons, however. The Hall of Famer led his league in several offensive categories at various times, including runs scored, home runs, RBIs, on-base percentage and slugging percentage. The non-Hall of Famer also led his league in home runs, on-base percentage and slugging percentage. Both were considered good all-around players.
The Hall of Famer took a few years to get elected, but nobody ever calls him out as a poor selection.
Comparison No. 3
I can say these two were pretty similar in many ways, both among the biggest names in the sport while active, with some legendary tales about their performances.
Both pitched for multiple World Series champions but neither came close to 300 wins. Their adjusted ERAs are pretty similar.
When elected, the Hall of Famer was viewed as a controversial selection, in large part because of his win total. The non-Hall of Famer will have to face that same bias.
Comparison No. 4
The Hall of Famer made it on his first year on the ballot and made seven All-Star teams. The non-Hall of Famer made five All-Star teams. Both led their league twice in home runs.
The Hall of Famer hit 30-plus home runs six times while the non-Hall of Famer hit 30-plus home runs 10 times, including six seasons in a row at one point.
According to Baseball-Reference, both players had five seasons with 4-plus WAR.
Comparison No. 5
They didn't play the same position, but both did play key up-the-middle positions and were awarded multiple Gold Gloves in their careers.
One guy was part of more than one World Series champion while the other never played in a World Series. The Hall of Famer made it in on his third year on the ballot while the non-Hall of Famer has work to do.
As far as fame, both would rate very high in that category while active. Had they played longer, both would have a better chance to meet some of the automatic Hall of Fame standards.
Comparison No. 6
Both were arguably the best player on a World Series championship team.
While the Hall of Famer made it after a short stay on the ballot, the non-Hall of Famer has struggled to get enough support. Both players won multiple Gold Gloves. The Hall of Famer hit .300 nine times and the non-Hall of Famer hit .300 seven times.
According to Baseball-Reference, the Hall of Famer had eight four-win seasons while the non-Hall of Famer had nine. This one is close.
Answers
Comparison No. 1: Player A is Tony Gwynn and Player B is Tim Raines.
Of course, I left out Gwynn's 3,000 hits and .338 career average. But as you can see from above, the two were quite similar players: Raines drew more walks, hit a few more home runs and stole more bases at an excellent percentage, making up the advantage Gwynn had in base hits. But Gwynn won batting titles and Raines' dominant years in the '80s came in the obscurity of Montreal.
Comparison No. 2: Player A is
Larry Walker
and Player B is Duke Snider.
Snider's Hall of Fame case was originally hurt by the fact that he wasn't Willie Mays or Mickey Mantle. Of course, who is? But he was a key member of one of the great teams of all time, the 1950s Brooklyn Dodgers. Snider never won an MVP Award but finished as high as second; Walker won MVP in 1997. Of course, Walker is questioned because of the Coors Field numbers, but as you can see, each player's adjusted OPS is about the same. (Ebbets Field was a great hitters' park as well, and Snider's career OPS is 79 points higher at home.)
Comparison No. 3: Player A is
Curt Schilling
and Player B is Don Drysdale.
Two hard-throwing right-handers who racked up strikeouts. Schilling, of course, has the great postseason record (11-2, 2.23 ERA); Drysdale was 3-3, 2.95 in the postseason (all World Series games). Both pitched for three World Series champs. Drysdale has the lower career ERA -- 2.95 to 3.46 -- but once you adjust for eras and ballpark (Dodger Stadium in the '60s was a great pitchers' park), Schilling's ERA is a little better.
Comparison No. 4: Player A is Willie Stargell and Player B is
Fred McGriff
.
And both had cool nicknames as well -- Pops and Crime Dog. Stargell did win an MVP (shared with Keith Hernandez) but that was an award earned for leadership more than production; he did finish second twice in the voting. McGriff finished as high as fourth in the voting.
Comparison No. 5: Player A is
Bernie Williams
and Player B is Ryne Sandberg.
This was my favorite comparison on the list. Sandberg made it on the third ballot while Williams, despite playing center field for four World Series champs, got just under 10 percent of the vote his first year on the ballot. Shouldn't center fielders be given a similar defensive consideration as second basemen?
Comparison No. 6: Player A is
Barry Larkin
and Player B is Alan Trammell.
There is very little to separate these two. Larkin did win an MVP Award, but Trammell should have won in 1987, when he finished second. Larkin played until he was 40, but their career games totals are similar. I think his edge over Trammell is that once Ozzie Smith faded, Larkin was viewed as the best shortstop in the National League. Trammell was always behind somebody -- Robin Yount or
Cal Ripken
, and then after he retired, the AL had all the shortstops putting up the big numbers -- A-Rod,
Derek Jeter
,
Nomar Garciaparra
and
Miguel Tejada
. But there's no shame in being ranked behind Yount or Ripken. Trammell deserves to join Larkin in Cooperstown.
September, 14, 2012
9/14/12
10:00
AM ET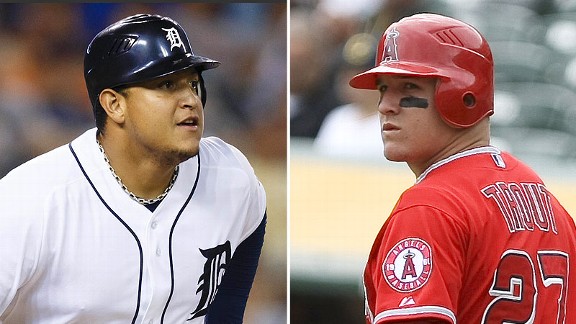 US PresswireMiguel Cabrera, left, is having a great season, but Mike Trout is the slam-dunk AL MVP.
The grievances seem mostly confined to Michigan but usually go something like this: The media is ignoring
Miguel Cabrera
's MVP candidacy because we're in love with
Mike Trout
since he's a rookie; that Trout isn't doing anything so historic that we should just hand him the trophy so easily; that Trout's Angels might not even make the playoffs; that Cabrera is the best hitter in the game; that Cabrera has been shafted in other MVP votes and finally deserves one.
Let's take those arguments one at a time.
1. We just love Mike Trout and are ignoring Miguel Cabrera.
Guilty. Of course we love Mike Trout. He hits, he runs, he fields, he robs opponents of home runs and then hits his own. His name is Trout and he tweets about fishing. The fact that he turned 21 in August isn't the reason he's the leading MVP candidate in the world; the fact that he turned 21 and is doing the things he's doing just adds an extra layer of awe.
But that doesn't mean we have anything against Cabrera. We should all respect the way he has moved back to third base and acquitted himself better than anyone expected. He has missed one game all season. That he's a hitting machine, as feared as any batsman in the league, goes without saying. I don't think Cabrera is getting ignored. It is, however, difficult to claim the spotlight when a kid who spent most of the season at 20 years old is putting up numbers we've never seen from someone that young.
2. Trout isn't doing anything that historic.
Through Thursday's games, Trout is hitting .331/.397/.569. If you look
just
at that triple-slash line then, yes, I suppose you could say there's nothing historic going on here. After all, since 1901 there have been 193 times that a player reached all three of those numbers. Cabrera himself even did it last season.
Of course, Trout has 45 steals (in 49 attempts). Not all 193 of those players ran the bases with Trout's blazing speed. In fact, only 17 of them swiped as many as 25 bases.
And not all of them hit 27 home runs. In fact, of those 17 who stole 25-plus bases, only eight hit as many 20 home runs. All eight happened to be outfielders. Of those eight -- Ken Williams in 1922, Willie Mays in 1957 and 1958, Barry Bonds in 1993, Ellis Burks in 1996, Larry Walker in 1997, Vladimir Guerrero in 2002 and
Ryan Braun
in 2011 -- only one played center field.
So just like that: Mike Trout and Willie Mays. Yes, with a straight face.
Maybe that's too goofy of an approach for you. WAR -- wins above replacement -- is an attempt to analyze a player's batting, fielding and baserunning statistics into one number. Entering Thursday's game, Trout's Baseball-Reference WAR was 10.3. According to the metrics, there have
28 seasons when a player achieved 10.3 WAR or higher
. Six of those seasons were by Babe Ruth, and there have been just six during the divisional era -- Joe Morgan in 1975, Robin Yount in 1982, Cal Ripken in 1991 and Barry Bonds in 2001, 2002 and 2004.
Assuming Trout doesn't go 0 for his next 75, I'm pretty comfortable calling this a historic season.
Oh, Cabrera's WAR: 5.8. Excellent figure. Not historic.
3. How can Trout be the MVP if the Angels don't make the playoffs?
This seems to be Cabrera's best argument -- assuming the Tigers make the playoffs, of course, and the Angels don't. It is true that during the wild-card era few players from non-playoff teams have won the MVP award: Larry Walker in 1997, Barry Bonds in 2001 and 2004,
Alex Rodriguez
in 2003,
Ryan Howard
in 2006,
Albert Pujols
in 2008.
But why this should be held
against
Trout confuses me. Where would the Angels be without him? Nowhere near contending for the playoffs. Plus, there is the likely scenario that the Angels win more games than the Tigers, yet miss the playoffs while the Tigers make it. I fail to see why that makes Cabrera a better MVP candidate than Trout
when Trout's team will have won more games
.
4. Cabrera is the best hitter in the game.
I won't disagree with this assessment, but the problem here is it's hard to argue that he has been a better hitter than Trout in 2012.
Trout: .331/.397/.569, 27 HR, 77 RBI, 115 runs
Cabrera: .328/.393/.590, 36 HR, 118 RBI, 91 runs
So Cabrera has the slightest edge in OPS, .983 to .966. Even though he spent the first few weeks of the season in Triple-A, however, Trout has
created more runs -- 115 to 113, by our numbers
, 121 to 117 by Baseball-Reference figures. But here's another key: Trout has created those while using up 344 outs; Cabrera has used 401 outs.
That's before we even get to the ballparks. Angel Stadium has played a strong pitcher's park this season. Comerica, despite its reputation, has played as a slight hitter's park. So it's hard to give Cabrera the edge on offense when Trout has been the better offensive player. Factor in Trout's obvious huge edges in defense and baserunning, and it's not close.
And, no, I don't want to hear about RBIs. Trout bats leadoff. He doesn't get the opportunities. For what it's worth, in "high leverage" situations, Trout is hitting .328 with four home runs and Cabrera is hitting .351 with four home runs.
5. Cabrera deserves an MVP award.
Hey, I feel for him. If Cabrera fails to win it this year, he'll join Eddie Murray as the only players to finish in the top five of the MVP voting six times yet never win. That's no reason, of course, to vote for a player.
It's Mike Trout's year. He's the best player in the game. This should be Reagan-Mondale. If Trout doesn't win, it would be one of the biggest travesties in MVP voting history.
April, 7, 2012
4/07/12
8:35
PM ET
This is what will have American League pitchers and managers waking up in cold sweats all season long: Those stretches when
Miguel Cabrera
and
Prince Fielder
are both raking, eyes bulging as they pummel meaty fastballs over fences and into outfield seats.
Josh Beckett
become the first pitcher to experience these forces of nature in action, as both hit two home runs off him in Detroit's
10-0 victory
Saturday over Boston. Fielder hit one out to left field and a low, screaming bullet to right for his pair. Going the opposite way is nothing new for him; 11 of his 38 home runs in 2011 went to left or left-center. There were some concerns that Fielder would lose a few home runs moving from Miller Park to the more spacious environs of Comerica, so hitting one out to left is a good, early sign.
How dynamic is this pair? A season ago, Fielder hit .299/.415/.566 with 38 home runs; Cabrera hit .344/.448/.586 with 30 home runs. The last team with two players to hit 30 home runs with a .400 OBP? The 2006 Red Sox with
Manny Ramirez
and
David Ortiz
. Twelve teams since 2000 have had such a duo (or in the case of the 2004 Cardinals, three players):
[+] Enlarge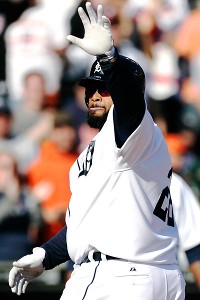 AP Photo/Duane BurlesonPrince Fielder waves after hitting the first of his two home runs off Boston's Josh Beckett.
2006 Red Sox: Ramirez, Ortiz
2005 Yankees:
Alex Rodriguez
,
Jason Giambi
2004 Cardinals:
Albert Pujols
,
Jim Edmonds
,
Scott Rolen
2003 Yankees: Giambi,
Jorge Posada
2002 Astros:
Jeff Bagwell
,
Lance Berkman
2001 Rockies:
Todd Helton
,
Larry Walker
2001 Cardinals: Pujols, Edmonds
2000 Cardinals: Edmonds,
Mark McGwire
2000 Angels:
Tim Salmon
,
Troy Glaus
2000 Astros: Bagwell,
Moises Alou
2000 Mariners: Rodriguez,
Edgar Martinez
2000 Giants:
Barry Bonds
,
Jeff Kent
Of course, all of those pairs or threesomes did this during the high-offense steroids period. Six other teammates did it between 1995 and 1999. But before that? That previous team to have two such players was the 1969 Oakland A's with Reggie Jackson and Sal Bando. Throughout baseball history there have been only 34 such pairs. Here's another way to do this. Let's add OPS+ (adjusted on-base plus slugging percentage) as a third measuring stick. OPS+ adjusts a player's offensive production for home park and era. In 2011, Cabrera's OPS+ was 181, second in the American League. Fielder's was 164, fourth in the National League. Let's set a minimum of 30 home runs, .400 OBP and 150 OPS+.
This takes away some of steroids-era pairs and leaves us with 24 such teammates in baseball history. And six of those 24 were Babe Ruth and Lou Gehrig.
And that, my readers, is the kind of company Cabrera and Fielder have the chance to join.
A few more notes from today's early games:
January, 9, 2012
1/09/12
12:42
PM ET
I'm not an actual Hall of Fame voter. But if I did have a ballot, here's what it would look like.
Yes votes
Jeff Bagwell:
He's vastly overqualified by even tough Hall of Fame standards, an outstanding all-around player who was one of the very best of his generation. A "no" vote on Bagwell can only be justified under ...
well, I don't believe it can
.
Barry Larkin:
As valuable as Ozzie Smith, I view him as
one of the top 10 shortstops of all time
. Easily qualified by even tough Hall of Fame standards.
Edgar Martinez:
I wrote about Edgar a couple years ago
. I admit to some bias as a Mariners fan, but Martinez is simply one of the best hitters of all time. His career was a little short, and yes, he spent most of his time as a designated hitter, but he was so dominant at the plate that he deserves the votes.
Mark McGwire:
We all know the issues. Look, eventually these guys will get in ... the Hall of Fame won't stand for the baseball writers determining a moral standard for election to
its
Hall of Fame. The Hall doesn't belong to the writers; they are merely a conduit for election. It might take five years or 10 years or 25 years, but time will pass and McGwire and others from his generation will get in.
Rafael Palmeiro:
Leaving aside the PED issue, there's obviously no precedent for leaving out a player with Palmerio's career credentials -- 569 home runs (12th all time), 3,020 hits (25th), 1,835 RBIs (16th), 1,663 runs (31st) and 5,388 total bases (10th). You do read things like "Palmeiro was never one of the best at his position" as justification for not voting for him. But I don't think that's quite accurate. Using Baseball-Reference WAR, here are the top five first basemen in the majors from 1989 to 2004:
Palmeiro twice rates as the best first baseman in the league, second another time and has two other seasons in the top five (plus one season as the best DH). On top of the career totals and amazing durability, that's good enough for me.
Tim Raines
: The second-greatest leadoff hitter of all time, comparable in value to Tony Gwynn.
Should be a lock
, but hasn't reached 40 percent of the vote during his four years on the ballot. SweetSpot readers give Raines the "yes" nod by an 85-15 vote.
Alan Trammell:
I didn't write about Trammell, but his Hall of Fame support has been surprisingly minimal and he has no shot of getting in this year. In reality, you can't find two players much more identical than Larkin and Trammell.
So close I would feel guilty if I had an actual ballot
Jack Morris:
I think those who rely solely on WAR sell him short. He survived in an era when most starting pitchers didn't last long enough to establish Hall of Fame credentials. He
did
have a certain aura about him that doesn't show up in the statistics. As I wrote the other day,
he's very close
. SweetSpot voters are split as well: 54 percent say yes, 46 percent say no.
Worth strong consideration, and maybe I'll change my mind in the future
Fred McGriff:
I wrote on the Crime Dog over the weekend
. I could be wrong here; of the nearly 3,500 votes in the SweetSpot poll, 83 percent of you consider McGriff a Hall of Famer ... a huge split over the criminally low support the BBWAA has given him (just 18 percent last year).
Larry Walker:
My friend Jim Caple asks how I could consider Martinez a Hall of Famer, but not Walker, considering Walker's all-around brilliance, similar career length (8,030 plate appearances for Walker, 8,672 for Martinez) and similar OPS+ totals (147 for Martinez, 140 for Walker). I'll investigate Walker further next year, but three things still bother me:
(1) His home/road splits during his Coors Field days are generally quite large:
1995: .343/.401/.701 at home, .268/.361/.484 on the road
1996: .393/.448/.800 at home, .142/.216/.307 on the road
1997: .384/.460/.709 at home, .346/.443/.733 on the road
1998: .418/.483/.757 at home, .302/.403/.488 on the road
1999: .461/.531/.879 at home, .286/.375/.519 on the road
2000: .359/.446/.615 at home, .259/.371/.399 on the road
2001: .406/.483/.773 at home, .293/.416/.549 on the road
2002: .362/.453/.671 at home, .312/.387/.530 on the road
2003: .338/.469/.551 at home, .227/.370//395 on the road
(2)
Dante Bichette
,
Ellis Burks
,
Andres Galarraga
,
Todd Helton
-- a lot of players put up monster numbers in Coors in the '90s and early '00s.
(3) Martinez didn't have a long career, because the Mariners screwed around with him for three years. Walker only reached 8,000 plate appearances because he was very injury-prone -- he missed 495 games during his prime years with various injuries. (Walker played 140-plus games just four times; Martinez did it nine times.)
Bernie Williams:
A brilliant player for eight seasons and a key player on four World Series champs. But the Hall of Fame is simultaneously a mix of peak performance and endurance; Williams' peak value is close, but I believe he falls short on the career trek.
A little short for my tastes
Dale Murphy:
Similar to Williams, except he won two MVP Awards but lacks the rings. His run was even shorter -- really only an outstanding player from 1982-1985, plus 1980 and 1987.
Lee Smith:
I'm not a big fan of closers, even if they did last forever.
When I wrote about Smith
, my biggest issue is that I don't think he was ever the best closer in the game. It might also be worth considering that the four modern closers in the Hall -- Rollie Fingers, Goose Gossage, Bruce Sutter and Dennis Eckersley -- were all closers for World Series winners. Smith appeared in only four postseason games in his career (and lost two of them).
September, 2, 2011
9/02/11
1:58
PM ET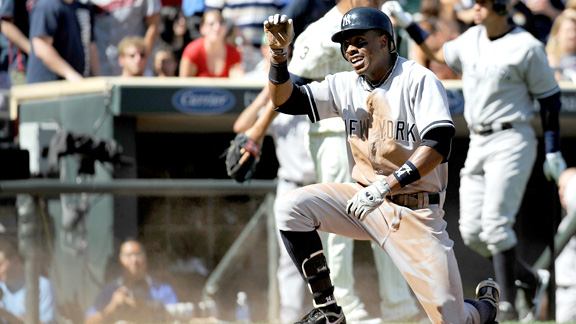 Hannah Foslien/Getty ImagesCurtis Granderson currently leads the AL in runs, RBIs and triples, while ranking second in HRs.
In major league history, a player has scored 150 or more runs 46 times, topped by Billy Hamilton's 198 for the 1894
Philadelphia Phillies
. You can probably guess that the game was a little different back then: Hamilton posted a .521 on-base percentage, he was one of three Phillies to bat .400 and they scored 1,179 runs in 132 games, or nearly nine runs per game.
Of those 46 seasons of 150 runs, 27 came in the 1880s or 1890s, including eight guys who did it in 1894. It happened seven times in the 1920s, five by Babe Ruth. And it happened 10 times in the 1930s. But since World War II, only two players have scored 150 runs in a season: Ted Williams scored 150 in 1949 and
Jeff Bagwell
scored 152 in 2000.
After scoring his 124th run in Thursday's win,
Curtis Granderson
is now on pace for 149 runs. He's scored 27 runs more than the No. 2 guy in the majors,
Jacoby Ellsbury
. Yes, runs are team-dependent to a certain extent -- you need good hitters behind you to drive you in -- but 149 runs is an awesome achievement, no matter how you slice it. And runs are definitely not, as somebody tweeted the other day, "a meaningless stat." There aren't exactly any chumps on this list of players who have scored 140 runs in a season since 1946.
One thing you'll note about Granderson is he easily has the lowest batting average and on-base percentage of anybody on the list. Clearly, his teammates have helped, as he's scored 47 percent of the time he's been on base, the second-highest percentage on the list. He's helped by spending most of the season in the No. 2 hole in the batting order, giving more opportunities to the hitters behind him. Most of the guys on the list hit leadoff (Biggio, Henderson, Dykstra, Knoblauch) or No. 3. the 1996 version of A-Rod hit second (with Ken Griffey,
Edgar Martinez
and
Jay Buhner
following) and the 2007 version hit cleanup, the only cleanup hitter on the list.
The most surprising name on the list might be Knoblauch, especially since he also has the lowest home run total. Despite finishing last in the AL in home runs, however, that Twins teams still scored 877 runs. No. 3 hitter Paul Molitor hit .341 and drove in 113 runs despite hitting just nine home runs.
Anyway, you'll notice most of names here consist of (A) Ted Williams, or (B) players from the high-octane offensive period of the late '90s. The most runs scored in the 1950s, '60s and '70s belongs to Billy Williams of the 1970 Cubs, with 137 runs. That team did score more than 800 runs. The most impressive run-scoring feat during that time might have been Tim Raines, who scored 133 runs for the 1983 Expos, a team that scored just 677 runs overall. Raines scored nearly 20 percent of the Expos' runs that year.
Follow David Schoenfield on Twitter @dschoenfield.
August, 17, 2011
8/17/11
12:35
PM ET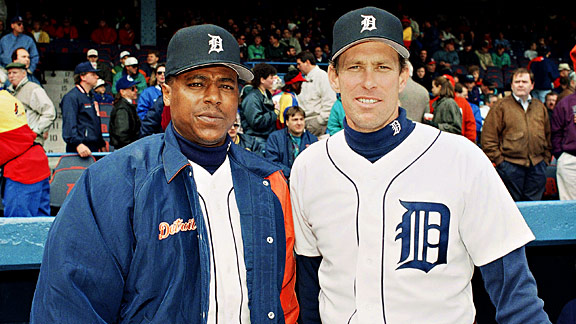 AP Photo/Lennox McLendonLou Whitaker and Alan Trammell formed one of the best double-play combinations in history.
With
Jim Thome
hitting his 600th home run and the Cubs unveiling a statue last week to honor Ron Santo, the Hall of Fame has been on my mind. I'll go more in-depth on Hall of Fame analysis in the offseason, but here are 10 eligible players who deserve a plaque in Cooperstown.
Catcher: Ted Simmons.
Simmons was a career .285 hitter with more than 2,400 hits and during his 1971-1980 peak he hit .301/.367/.466. Only Yogi Berra has more RBIs among catchers -- yes, Simmons has more than Bench,
Mike Piazza
, Gary Carter or Carlton Fisk. He has more hits than any catcher except
Ivan Rodriguez
. I'm not saying Simmons was
better
than those guys, but he produced at the plate like few catchers.
First base: Jeff Bagwell.
Lou Gehrig, Jimmie Foxx,
Albert Pujols
and Jeff Bagwell: The four greatest first basemen of all time. Bagwell received only 41.7 percent of the vote in his first year on the ballot. He'll get in eventually.
Second base: Lou Whitaker.
Here are the players who rank ahead of Whitaker on Baseball-Reference's WAR (wins above replacement-level) list for second basemen: Rogers Hornsby, Eddie Collins, Joe Morgan, Nap Lajoie, Charlie Gehringer and Frankie Frisch. That means Whitaker ranks just ahead of
Craig Biggio
,
Roberto Alomar
and Ryne Sandberg. OK, maybe you don't think Whitaker is quite as good as those three. But he had a terrific all-around game, with good power (242 home runs), patience (.363 career OBP -- the same as Biggio, 19 points higher than Sandberg), a good glove and speed on the bases. Yet he received only 15 votes his first year and was booted off the ballot.
Third base: Ron Santo.
Christina Kahrl made Santo's case here
.
Shortstop: Alan Trammell.
Barry Larkin
received 62 percent of the vote last year and should deservedly make it this year, so I'll stump for Trammell, who peaked at 24 percent last year but is running out of time, as it was his 10th year on the ballot. Trammell hit .300 seven times, won Gold Gloves, was the best player on a World Series winner and should have won the 1987 AL MVP Award.
Left field: Tim Raines.
Arguably the best player in the NL in the 1980s, or at least for a five- or six-year span. (B-R ranks him fifth, behind Mike Schmidt, Dale Murphy, Ozzie Smith and Keith Hernandez, but Raines wasn't a rookie until 1981. Give him another season and he'd move up to second.) He reached base more times in his career than
Tony Gwynn
(3,977 to 3,966, in just 127 more plate appearances). He was one of the greatest basestealers of all time.
Center field: Dale Murphy.
If you like peak value, then Murphy is your guy.
Right field: Larry Walker.
His case isn't a slam dunk, but I was surprised he fared so poorly on his first year on the ballot (20.3 percent). The various injuries hurt his counting stats and the three batting titles are discounted a bit because of Coors Field, but the guy still produced a .313/.400/.565 and was regarded as the best right fielder in the game for many years.
Designated hitter: Edgar Martinez.
Simply put:
One of the greatest hitters of all time
.
Pitcher: Kevin Brown.
Now that Bert Blyleven finally made it, there isn't an obvious pitcher. The six highest guys on B-R's list would be Rick Reuschel, Brown, Luis Tiant, Tommy John, Jerry Koosman and
David Cone
. Brown received just 12 votes last year, despite 211 wins, two ERA titles, a remarkable stretch from 1996 to 2001 when he posted a 2.53 ERA during the height of the steroid era, and a World Series title with the Marlins. Plus, he helped the Red Sox win it all in 2004.
Follow David Schoenfield on Twitter @dschoenfield.
February, 20, 2011
2/20/11
3:30
PM ET
By
Jason Rosenberg
| ESPN.com
Jim Edmonds
announced his retirement on Friday, his 17 season career finally grounded by an Achilles' tendon injury. Edmonds is best known for his highlight reel catches in center field, but the remainder of his play has been oddly underrated over the years.
So we can begin the debate on whether Edmonds is Hall of Fame worthy. Some say yes (as Chad Dotson
did here Friday
), others no.
When we look at Edmonds' Hall of Fame credentials, we're struck by the numbers he put up in the five years after he was traded by Anaheim to St. Louis . Between 2000 and 2004, Edmonds put together a string of seasons that ranked him with baseball's elite. During this stretch, Edmonds averaged 7 Wins Above Replacement (WAR) annually, and posted an OPS over 1.000. Consider that during this same period, a guy named
Alex Rodriguez
was putting together some of his best seasons as a ballplayer; only during this stretch A-Rod's OPS was 14 points below that posted by Edmonds.
During the complete sweet spot of Edmonds' career (1995-2005, which includes his abbreviated 1999 season when he only played in 55 games), Edmonds was among the very best in the game, ranked by cumulative WAR (from B-R.com):
Any random slice of data creates issues, we acknowledge this. So if you're curious about Edmonds' career numbers, his 68.3 WAR places him eighth all time among center fielders. Filtering for center fielders who played since baseball integrated (1947- present), Edmonds ranks fourth in WAR, behind Willie Mays, Mickey Mantle and Ken Griffey Jr., and sixth in OPS+ at 132. Nice company.
[+] Enlarge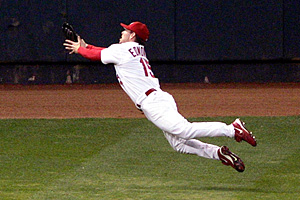 Stephen Dunn/Getty ImagesJim Edmonds was known for diving catches like this one for St. Louis in Game 7 of the 2004 National League Championship Series against Houston.
One unfortunate thing about the table above: Unless the attitudes of the Hall of Fame voters change dramatically, very few of these players are going to make it to the Hall of Fame.
Chipper Jones
and
Vladimir Guerrero
have excellent chances to make it to the Hall.
Jim Thome
is a good bet to be elected to the Hall, thanks to what will likely be 600-plus home runs, not to mention being a Hall of Fame person. Bagwell's first year of HOF eligibility was shrouded in hints and allegations, putting him at 41.7 percent in his debut.
Todd Helton
might struggle, given concerns that his numbers were inflated by playing home games at Coors Field. [
Larry Walker
received a low 20.3 percent of Hall of Fame votes this year, presumably because of the Coors Field factor]. Pudge Rodriguez was named in
Jose Canseco
's book and will face increased scrutiny as a result. But
Barry Bonds
,
Manny Ramirez
,
Jason Giambi
, A-Rod and
Sammy Sosa
will likely be barred because of these players' association with performance-enhancing drugs, again, unless the attitudes of voters change. An entire generation of fans will have very few of the era's best hitters represented.
Edmonds might not have been the greatest player of his generation; he never finished higher than fourth in Most Valuable Player voting. He did not have 2,000 hits for his career, or 400 home runs, or hit .300, milestones that Hall of Fame voters tend to focus on. Still, it seems to us that this generation of players needs Hall of Fame representation -- if not Bonds and Sosa, then why not Edmonds?
Jason Rosenberg writes It's About The Money, Stupid, a blog about the New York Yankees. IIATMS can be found on Facebook, and you can follow Jason on Twitter. Larry Behrendt greatly contributed to this article and can also be followed on Twitter.
April, 7, 2009
4/07/09
5:34
PM ET
On Monday, inspired by a reader, I threw out a challenge: Who are some players whose minor league performances gave us no idea of how good they would be in the majors?
Commenters suggested Matt Holliday, Larry Walker, Hanley Ramirez, Chase Utley, Geovany Soto, Ron Gant and Magglio Ordonez. Lone Star Ball's Adam Morris suggests Rusty Greer and Michael Young, while FanGraphs' Dave Cameron writes:

I always remember this one because of a lecture I got from a scout a few years ago about not trusting minor league numbers, but Travis Fryman is the best candidate for your didn't-hit-at-all-in-minors guy.

1,487 minor league AB, .254/.303/.371

The Tigers kept promoting him, even though he never hit, and he started hitting well from pretty much day one in the majors.

He did, but it's worth noting that Fryman never really was an outstanding hitter; he retired with a 103 career OPS+ (100 is considered league-average) and never finished in the top 15 in MVP voting. It's also worth noting that Fryman was pretty impressive in the minors, considering his age. The Tigers promoted him out of Class A for no obvious reason, but at age 20, he held his own in Double-A, and he held his own the next season in Triple-A, too. Without checking, I'd be willing to bet that Fryman was one of the youngest everyday players in the International League; at 21, that's impressive.
Greer? Same sort of thing. Greer reached Double-A (and thrived) in his second pro season when he was 22. That's pretty good. His career stalled for a short while, but he batted .295 in the minors and was playing every day for the big club in his fifth pro season.
Young? He was impressive in the minors. He fell off just a bit for half a season in Double-A, but a shortstop with an .817 OPS in the minors? Most teams would be thrilled with a guy like that.
Before zipping through the other guys mentioned above, I'll just mention that I'm not all that surprised by Young, Greer and Fryman. We tend to remember the struggles, but when it comes to stars (or near stars), the struggles are the exception rather than the rule. But maybe we'll find someone who fits the bill.
Not Ordonez, though; not really. He struggled as a teenager, but of course, many teenagers struggle. He established himself as a prospect at 20, and played well in Double-A and Triple-A at 22 and 23.
Gant, as a teenager, struggled at exactly the same levels as Ordonez. At 21, he established himself as a prospect by hitting 27 homers with the Durham Bulls in the Class A Carolina League.
Soto does fit the bill. He was always young for his level, and for a catcher, the bar wasn't set real high. But aside from a pretty solid Double-A season at 21 -- and yes, that's impressive for a catcher -- he never did anything, statistically speaking, that would lead one to think he would become a star. Well, not until 2007. In 2006, the 23-year-old Soto posted a .739 OPS with Triple-A Iowa. Not all that good, but good enough to rate (according to Baseball America) as the Cubs' No. 17 prospect.
And in 2007? Soto exploded with a 1.076 OPS, then duplicated that performance after a September call-up. And you know what happened in 2008.
Utley doesn't qualify at all. Yes, it took him a few years to reach the majors, but that's not uncommon for players drafted out of college. Utley was real good in his first pro season, and two years later, he skipped Double-A completely.
I'm not buying Ramirez, either. He was considered a top prospect in the Red Sox chain, and the only blot on his record is a weak 2005, when he was 21 in Double-A. (The year before, he had played brilliantly in high A and Double-A.)
Walker? At 19, Walker slugged .602 in Class A. At 20, he slugged .534 in Double-A.
And finally, Holliday … I'm in for half on Holliday. He struggled in his first high-A season and his first Double-A season, then struggled more in his second Double-A season … and yet, oddly enough, the Rockies promoted him to the majors early in his next season, even though he'd posted a career .750 OPS in Double-A and had played only a few Triple-A games. And you know what he has done since then.
So, can it happen? Sure. Does it happen? Occasionally.
But just very occasionally. I solicited candidates, and you responded with a list of solid hitters. Really, though, only two of them came close to qualifying under the original parameters. Only Soto's and Holliday's major league numbers seem truly incongruous with their minor league performance. An overwhelming majority of the time, we can trust minor league numbers.