August, 6, 2013
8/06/13
11:01
AM ET
In case you missed it, the White Sox recently released Lars Anderson, who was hitting .194/.302/.251 in 66 games at Triple-A Charlotte. You may remember him as a highly rated prospect with the Red Sox; after hitting .317 with 18 home runs between Class A and Double-A in 2008 -- reaching Double-A at age 20 -- Baseball America ranked the first baseman as the No. 18 prospect in the minors before the 2009 season.
Anderson never developed from there, and although he received a couple sips of decaffeinated tea with the Red Sox, his professional career is now in jeopardy at the age of 25. Former major leaguer Gabe Kapler, who managed Anderson at Class A Greenville in 2007, had an
interesting article
on WEEI, titled: "Understanding Lars Anderson: A study in baseball makeup."
While raving about Anderson's approach and swing plane, Kapler ultimately attributes Anderson's struggles to a lack of confidence and belief in his own abilities. He compared Anderson to Josh Reddick, a teammate on that Greenvile team:
Josh Reddick, who hit in front of or behind him in the lineup, had an athletic attitude that I'd seen in every clubhouse I'd occupied. Josh thought nobody could beat him and if that they did, he'd win the next time. His was a self-fulfilling prophecy advantageous for a baseball player. For Lars, it seemed to work in the opposite manner.

The Reddick/Anderson study has some implications beyond confidence and mental toughness. While there is no question that Josh was the most assertive hitter I had in Greenville that year, he didn't have a traditionally "smart" approach to hitting. He walked up to the plate, identified a ball he thought he could drive -- which was a pitch anywhere in the general vicinity of the state of South Carolina and at any speed — and swung as hard as he could.
It's a terrific insight into a player and Anderson himself says in the piece that he now has more confidence in his fielding than his hitting. But I also wonder if there's something else going on here. In a recent
excerpt in Sports Illustrated
from David Epstein's new book, "The Sports Gene: Inside the Science of Extraordinary Athletic Performance," Epstein writes how the best hitters in the major leagues weren't able to hit softball pitcher Jennie Finch -- even though her fastball took about the same time to reach home plate as a 95-mph fastball.
In explaining Albert Pujols' failure to hit her, Epstein writes, "Since Pujols had no mental database of Finch's body movements, her pitch tendencies or even the spin of a softball, he could not predict what was coming, and he was left reacting at the last moment. And Pujols's simple reaction speed is downright quotidian. When scientists at Washington University in St. Louis tested him, perhaps the greatest hitter of his era was in the 66th percentile for simple reaction time compared with a random sample of college students."
Basically, it's not reaction time that makes Pujols or other major league hitters so good, but their experience in facing certain pitches and ability to read on opponents' body language and thus better anticipate, for example, if the pitch is a fastball or curveball or whatever. It's what makes hitting Mariano Rivera's cutter so difficult: It breaks so late compared to what hitters are used to that they can't anticipate the ultimate location of the pitch. Same thing with facing Finch.
As Epstein writes, "No one is born with the anticipatory skills required of an elite athlete."
In the case of Anderson, I wonder if the separation between him and Reddick isn't just confidence but that ability to anticipate or predict pitch patterns. Anderson had the better swing, the better approach and similar raw bat speed and power, and that was enough to get him through Class A ball, against mediocre breaking balls and mediocre fastballs. At higher levels, it takes more than a pretty swing. Maybe some guys are just "better" at somehow reading what the pitch is going to be. Reddick may have a poor approach and swings at too many pitches out of the strike zone, but he learned to anticipate the correct pitch often enough to become a major leaguer.
I see the same thing going on right now with Dustin Ackley of the Mariners. The raw ability is there -- he was the second overall pick in the draft -- but he looks completely confused at the plate -- unable, apparently, to successfully discern what the pitch is going to be, leading to him taking fastballs down the middle and being labeled passive by his organization. Some guys learn and get better with experience. Some players just have "it'; Kapler refers to a Pudge Rodriguez incident where Pudge couldn't even tell you what pitch he hit. Somehow, though, Rodriguez knew what was coming.
You can't teach that. And while Anderson is no doubt suffering from a crisis in confidence it could be that his brain just doesn't work at the level needed to be a major league hitter.
February, 22, 2012
2/22/12
12:45
PM ET
By
Christina Kahrl
| ESPN.com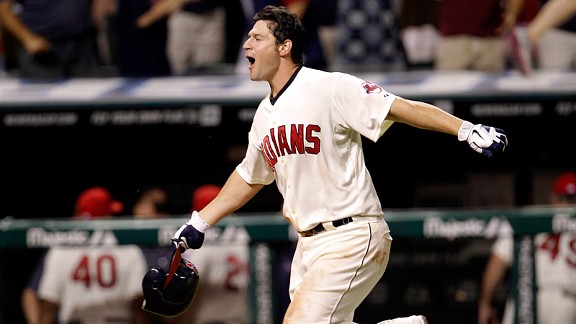 AP Photo/Tony DejakCleveland's Matt Laporta hasn't had much to celebrate in the majors. Will 2012 be different?
On Tuesday I ran through Freddie Freeman's
projections and reasons to feel good and bad about his 2012
, but there's a larger point to make about young first basemen these days, starting with this: Freeman's one of the success stories.
Look around the rest of the game, you'll find a surprisingly large number of first-base disappointments with major questions to answer over whether or not they're ever going to break through:
Chris Davis
, Orioles: MLB career line of .252/.301/.448.
After mashing 36 homers as a 21-year-old in his full-season debut in the minors, Davis was ranked 65th on Baseball America's 2008 list of baseball's top 100 prospects. In fairness, Davis has had to deal with getting shuttled between the infield corners and from Texas to Baltimore, but he's struck out more than 31 percent of the time in 1082 big-league plate appearances, and an OBP around .300 isn't going to fly, even with his tremendous power. In his age-26 season, he needs to break through.
Lars Anderson
, Red Sox: .175/.292/.200 (in 48 PAs)
Before 2009, Anderson ranked as the 17th-best prospect in baseball. It was all about projection, of course: He'd already reached Double-A and hit there before his 21st birthday. But the expectation that doubles would turn into homers as he matured hasn't happened, and he hadn't hit that many doubles in the first place -- a career minor-league ISO of .162 is nice, not excellent, not at first base. He's not done, but he's also not pushing his way into Boston's plans.
Matt LaPorta
, Indians: .238/.304/.397 in 1008 MLB PAs
The days when LaPorta was considered a top prospect and worthy payment for a couple of months of
CC Sabathia
's time seem long gone now. He ranked 23rd on Baseball America's top-100 list before 2008, "fell" to 27th as Indians property going into 2009, but after several clean shots as the Indians' starter, he now looks like the guy who will lose his job to…
Casey Kotchman
, Indians: .268/.336/.398
Seeing Kotchman on this list after his nice little season with the
Tampa Bay Rays
might seem harsh, but after already bouncing from Anaheim to Atlanta to Boston to Seattle, he's already been a non-answer for a number of teams before his 30th birthday. But you can sort of understand why so many have taken a look: He had a four-year run on BA's top-100 list where he never rated as
low
as LaPorta's best, rising from the 22nd-best prospect in the land in 2002 to sixth (!) in 2005. Even allowing for the initial stumble at the outset of his big-league career with mono, Kotchman's produced little power at a power position. He's a slick fielder and a nice place-holder of last/cheap resort -- perhaps especially if you've already endured LaPorta-induced heartbreak -- but if he's supposed to be an OBP guy, just remember that his career walk rate (8.3 percent) is lower than the MLB average over that time (8.5). Is that really what you're supposed to have gotten from the sixth-best prospect in baseball?
Brett Wallace
, Astros: .248/.323/.354
Back when Wallace was the 13th overall selection by the Cardinals in the 2008 draft, he was considered a pure hitting machine, but somebody whose thick build probably wouldn't work out at third base. Even as a hit tool-only prospect, BA rated him as the world's 27th-best prospect before the 2010 season. But in four years as a pro he's flitted through four different organizations, hasn't hit, and now the Astros are talking about giving him a shot -- back at third base, perhaps in part because he hasn't hit anywhere close to well enough to be an adequate answer at first.
James Loney
, Dodgers: .288/.348/.436
Including Loney on this list might seem unfair. He's been durable, and like Kotchman he gets credited with good glovework. He bounced around the 30s and 40s on BA's top-100 lists in the early Aughties, and that career rate might make it seem as if he's delivered. Unfortunately, he hasn't matched his career OPS since his rookie season back in 2007, when he wowed folks with a .919 clip. Back then, you could talk about
Matt Kemp
and Loney and think the Dodgers were set with two MVP candidates, but nothing Loney has done since has kept him in that conversation.
Chris Carter
, Athletics: .167/.226/.254 in 124 MLB PAs
Carter hasn't had a clean shot at a job yet, so he hasn't accrued much playing time. But at this rate you have to wonder if the A's will ever clear the path for him considering how many equally frustrating rivals they've collected to put in his way. Carter topped out as the 28th-ranked prospect by BA before 2010, and he's also moved around a lot (three organizations). Heading into his age-25 season with a career .540 SLG in the minors, you might figure he's due for a look, but the A's also have
Brandon Allen
, sabermetric favorite
Kila Ka'aihue
(long live the Kila Monster), and…
Daric Barton
, Athletics: .252/.362/.378
Barton might be the perfect example about of how "Moneyball" was a nice movie, but if there was even an organizing philosophy, you have to wonder if it hopped off the tracks at some point. When the A's acquired Barton (with
Kiko Calero
) for
Mark Mulder
, it seemed like a perfect match. Barton topped out at 28th on BA's top-100 list, but his patience at the plate made him seem like the organization's idiosyncratic answer at first base. But in the middle of what seemed like a breakthrough season in 2010, he got fascinated with bunting at will (worse yet, manager Bob Geren indulged him), and he lost most of 2011 after tearing up his shoulder. Where the modern walking man fits in on the team that's supposed to love walks more than anybody is up in the air.
Justin Smoak
, Mariners: .227/.316/.385
There's no joy to be had in putting Smoak on this list, and there are certainly special circumstances: He played with injuries to first one thumb and then the other and saw that sap his early season production. He then suffered a broken nose that placed him on the DL, and he lost his Dad -- all really tough things to work through. There was enough good stuff before he got hurt and after he healed to make you think he'll be fine this year. But set against that you've got a first baseman who rated 13th on Baseball America's top-100 prospects list heading into 2010, and he's barely topping a .700 OPS.
Now, 'tis the season for hope and faith, new beginnings and redemption, and all the rest of the warm fuzzies you're supposed to get this time of year.
Carlos Pena
's career got off on the wrong foot (several wrong feet, actually), to the point that the Tigers simply released the former top-five prospect at the end of spring training in 2006. But after five organizations Pena finally stuck as a 29-year-old journeyman with the Rays. How many of these guys' stories are going to have similarly happy endings? Touted as they've been, they've got plenty of questions to answer over whether or not they'll be flat-out useful.
Christina Kahrl covers baseball for ESPN.com. You can follow her on Twitter.