January, 9, 2013
Jan 9
3:08
PM ET
Is this a sad day for baseball? Maybe not. There will be another election next year and one the year after that. I presume onward into the future players will get elected. But this year? The Baseball Writers' Association of America struck out.
Nobody can deny the current process is broken. This summer, the Hall of Fame will hold an induction ceremony that will honor three individuals who have been dead for over 70 years. Only one of those was a player, and Deacon White played so long ago he was a catcher without a glove.
The Hall of Fame is a museum, but there will be no Astros fans trekking to Cooperstown to see Craig Biggio and Jeff Bagwell inducted and take a tour of baseball history. There will be no Tigers and Twins fans going to see Jack Morris get in. No Expos fans cheering Tim Raines, Mariners fans driving 3,000 miles to see the great Edgar Martinez inducted or throngs of Mets fans making the short drive to see Mike Piazza's speech.
If you've never been to the Hall of Fame, maybe this summer is the time to go. The lines will be short.
Some quick thoughts:
[+] Enlarge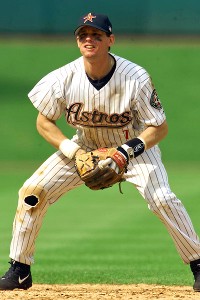 Brian Bahr/ALLSPORTCraig Biggio's 3,060 hits -- good for 21st all-time -- were not enough to make him a first-ballot Hall of Famer.
Craig Biggio (68.2 percent)
The BBWAA went against its history by not electing Biggio. Every eligible player with 3,000 hits except Paul Waner and Rafael Palmeiro was elected in his first year on the ballot (Pete Rose being ineligible). Somehow the writers didn't find room for a player who scored the 15th most runs in history. He'll get in next year.
Jack Morris (67.7 percent)
I almost feel sorry for Morris at this point. His vote total went up just 1 percentage point from last year, leaving him 42 votes short of election. He has one year left on the ballot, and while players as close as Morris often get the sympathy vote when they get this close, his candidacy will be hurt by the addition of Greg Maddux and Tom Glavine to next year's ballot, two pitchers in a higher class than Morris. I just heard Bob Costas on MLB Network mention that the sabermetric community has hurt Morris' case, unlike how it helped Bert Blyleven's case. I think Costas is 100 percent wrong with that statement. In Morris' first five years on the ballot, he received less than 30 percent of the vote. He was initially rejected because voters looked at his 3.90 career ERA as unworthy of Hall status. His totals have risen through the years
despite
the strong sabermetric evidence against him.
Jeff Bagwell (59.6) and Mike Piazza (57.8)
Bagwell's total increased 3.6 percentage points from last year, and Piazza fared well for a first-ballot guy. By historical measures, both are on an excellent Hall of Fame path. Barry Larkin, for example, received 51.6 percent his first year, 62.1 percent the next and was elected in his third year with 86.4 percent. Bagwell and Piazza are tied to PED rumors, so historical measures may not apply to them; Bagwell's total certainly didn't rise as rapidly as Larkin's did. Still, it's also true that Bagwell and Piazza are being viewed differently than Barry Bonds and Roger Clemens.
Tim Raines (52.2)
In his sixth year on the ballot, Raines' total increased from 48.7 percent. He still has nine years to get in; he'll get there.
Lee Smith (47.8)
While Smith's support isn't surprising in light of the fact that three of the past 14 members elected by the BBWAA have been relief pitchers, it continues to baffle me. Yes, he racked up a lot of saves, but I always put the Smith question this way: At any point in his career, even when he was at his scariest, most dominant peak, would he have been traded for a Dale Murphy, Larry Walker, Edgar Martinez, Curt Schilling or Alan Trammell? Of course not. Smith's general manager would have been laughed off the phone, yet he got more votes than any of those guys. His vote total did drop and it was his 11th year, so he's a guy who was affected by the crowded ballot. His chances took a big turn for the worse.
Curt Schilling (38.8)
While it's amazing that Schilling received almost 30 percentage points fewer votes than Morris, this is actually a decent vote total for a first-year candidate. It may be a slow trek for him, but I believe he's on the path to induction.
Roger Clemens(37.6) and Barry Bonds (36.2)
No surprise that these two received less than 40 percent. The most interesting fact is that Clemens received eight more votes than Bonds.
Edgar Martinez (35.9)
In his fourth year, Martinez lost a few votes. He is already fighting the bias against designated hitters, so even though he is just one of 16 players with at least 10 seasons with a .400 OBP (11 total), this wasn't a good day for him.
Alan Trammell (33.6)
Trammell also lost votes. His bandwagon didn't really begin until last year, but it's too late for him and the ballot is too crowded. He is every bit the Hall of Famer that Larkin is, but with three years left, it will be up to some future version of the Veterans Committee to put him in.
Sammy Sosa (12.5) and Rafael Palmeiro (8.8)
They stayed on the ballot, but they're not getting in, at least not through the BBWAA.
Bernie Williams (3.3) and Kenny Lofton (3.2)
Maybe the most discouraging result of the day is that Williams and Lofton -- admittedly, borderline guys -- will be booted off future ballots, their cases never given the opportunity to be argued. Whitaker'd.
* * *
So there we go. A crowded ballot gets even more crowded next year with the additions of Maddux, Glavine, Frank Thomas, Mike Mussina and Jeff Kent. Good luck, voters.
January, 9, 2012
1/09/12
3:29
PM ET
It's difficult enough to get three people to agree on anything, let alone 573.
So the fact that the Baseball Writers' Association of America managed to push
Barry Larkin
past the 75 percent threshold to elect him into the Hall of Fame is a minor miracle. After all, Larkin received just 62 percent of the vote last year and isn't the kind of slam-dunk candidate the writers usually agree on. There was a good chance the writers would pitch their first shutout since 1996. Still, his 24 percent leap in one year is astonishing and only serves to show the capriciousness of the entire process. Somehow, a full one-quarter of the voters suddenly changed their ballots from "no" to "yes" on Larkin.
Otherwise, there was nothing too surprising about the results. The baseball writers are stingier than the electorates in the other major sports. Although the BBWAA has now elected 16 players in the past 10 years (two more were elected via the Veterans Committee), the NFL has elected 51 players, the NHL 26 and the NBA (with far smaller rosters) 20. Larkin was only the holdover from last year within range of the three-quarters vote.
That doesn't mean, in my humble opinion, there weren't other qualified candidates.
Jeff Bagwell
was the best player on this year's ballot, a dominant all-around player and former MVP winner. On his first year on the ballot a year ago, he received just 42 percent of the vote, and it became clear that many voters refused to put his name on their ballots because of suspected performance-enhancing drug use, even though Bagwell has never been linked to any steroids usage, whether through the Mitchell report or a positive test late in his career. He did receive 56 percent of the vote this year, which is actually a very positive sign for his future induction.
For most Hall of Famers, it's a climb to get to 75 percent. You would need an advanced degree in psychology to understand exactly what happens in the voting process, but there is no doubt that some form of empathy develops once a player gets over 50 percent. At that point, election becomes a clear possibility, and the voting bloc usually transitions rapidly from "maybe" to "yes." In fact, in the past 25 years, the only players to reach 50 percent in the BBWAA vote and
not
get elected to the Hall are Jim Bunning, Orlando Cepeda and Jack Morris. The Veterans Committee eventually selected Bunning and Cepeda, and Morris is still on the ballot.
The problem with Morris is that it took him 11 years to get to 50 percent. The election of Bert Blyleven a year ago cleared the path for him as the best starting pitcher on the ballot, but climbing from 53.5 percent to 75 percent in one year was just too much, and he received 66.7 percent. With the ballot exploding with strong candidates in the next two years, it will be difficult for Morris to get over the hump. We saw this in 1999, when Nolan Ryan, George Brett and Robin Yount were elected -- holdovers from the 1998 ballot saw their vote totals dip significantly while being compared to those three. For example, Tony Perez dropped from 68 percent to 61 percent; Gary Carter from 42 to 34 percent; Jim Rice from 43 to 29. A year later, Perez got 77 percent and was elected, Rice got 52 percent and Carter 50. Rice and Carter both eventually made it.
So although Morris is close, he'll start to face "competition" in 2013 from
Roger Clemens
and
Curt Schilling
, and in 2014 from
Greg Maddux
,
Tom Glavine
and
Mike Mussina
. Still, he's now so close, I think there's a good chance he'll get in over the next two years, especially with strong anti-PED ballots still running at a fever pitch. Morris may be seen as a "clean" candidate.
After six years on the ballot,
Mark McGwire
remained steady at 19.5 percent.
Rafael Palmeiro
, despite being one of just four players with at least 10 seasons of 35 home runs and 100 RBIs (
Alex Rodriguez
has 12, Babe Ruth 11, Palmeiro and Jimmie Foxx 10) again received even less support than McGwire, with just 12.6 percent of the vote.
Other than Larkin and Bagwell, the player who received the best news today is probably Tim Raines. He jumped from 38 percent to just shy of 49 percent. He's almost at that magical 50 percent make, and as with Blyleven, the statistical analysis that shows he's actually a strong Hall of Fame candidate rather than a marginal one is beginning to mount. It will take several years, but he appears to finally be gaining enough momentum.
Lee Smith did cross the 50 percent mark for the first time, so maybe his election is also inevitable. I'm not so sure that's the case; as a reliever, he's a bit of a unique case, and his vote total has actually remained fairly constant, as he debuted nine years ago at 42.3 percent. With the glut of starting pitching and position player candidates coming up in the next few years, the 10-man limit per ballot would seem to hurt Lee's chances. As for
Bernie Williams
, at least he stayed on the ballot.
January, 9, 2012
1/09/12
12:42
PM ET
I'm not an actual Hall of Fame voter. But if I did have a ballot, here's what it would look like.
Yes votes
Jeff Bagwell:
He's vastly overqualified by even tough Hall of Fame standards, an outstanding all-around player who was one of the very best of his generation. A "no" vote on Bagwell can only be justified under ...
well, I don't believe it can
.
Barry Larkin:
As valuable as Ozzie Smith, I view him as
one of the top 10 shortstops of all time
. Easily qualified by even tough Hall of Fame standards.
Edgar Martinez:
I wrote about Edgar a couple years ago
. I admit to some bias as a Mariners fan, but Martinez is simply one of the best hitters of all time. His career was a little short, and yes, he spent most of his time as a designated hitter, but he was so dominant at the plate that he deserves the votes.
Mark McGwire:
We all know the issues. Look, eventually these guys will get in ... the Hall of Fame won't stand for the baseball writers determining a moral standard for election to
its
Hall of Fame. The Hall doesn't belong to the writers; they are merely a conduit for election. It might take five years or 10 years or 25 years, but time will pass and McGwire and others from his generation will get in.
Rafael Palmeiro:
Leaving aside the PED issue, there's obviously no precedent for leaving out a player with Palmerio's career credentials -- 569 home runs (12th all time), 3,020 hits (25th), 1,835 RBIs (16th), 1,663 runs (31st) and 5,388 total bases (10th). You do read things like "Palmeiro was never one of the best at his position" as justification for not voting for him. But I don't think that's quite accurate. Using Baseball-Reference WAR, here are the top five first basemen in the majors from 1989 to 2004:
Palmeiro twice rates as the best first baseman in the league, second another time and has two other seasons in the top five (plus one season as the best DH). On top of the career totals and amazing durability, that's good enough for me.
Tim Raines
: The second-greatest leadoff hitter of all time, comparable in value to Tony Gwynn.
Should be a lock
, but hasn't reached 40 percent of the vote during his four years on the ballot. SweetSpot readers give Raines the "yes" nod by an 85-15 vote.
Alan Trammell:
I didn't write about Trammell, but his Hall of Fame support has been surprisingly minimal and he has no shot of getting in this year. In reality, you can't find two players much more identical than Larkin and Trammell.
So close I would feel guilty if I had an actual ballot
Jack Morris:
I think those who rely solely on WAR sell him short. He survived in an era when most starting pitchers didn't last long enough to establish Hall of Fame credentials. He
did
have a certain aura about him that doesn't show up in the statistics. As I wrote the other day,
he's very close
. SweetSpot voters are split as well: 54 percent say yes, 46 percent say no.
Worth strong consideration, and maybe I'll change my mind in the future
Fred McGriff:
I wrote on the Crime Dog over the weekend
. I could be wrong here; of the nearly 3,500 votes in the SweetSpot poll, 83 percent of you consider McGriff a Hall of Famer ... a huge split over the criminally low support the BBWAA has given him (just 18 percent last year).
Larry Walker:
My friend Jim Caple asks how I could consider Martinez a Hall of Famer, but not Walker, considering Walker's all-around brilliance, similar career length (8,030 plate appearances for Walker, 8,672 for Martinez) and similar OPS+ totals (147 for Martinez, 140 for Walker). I'll investigate Walker further next year, but three things still bother me:
(1) His home/road splits during his Coors Field days are generally quite large:
1995: .343/.401/.701 at home, .268/.361/.484 on the road
1996: .393/.448/.800 at home, .142/.216/.307 on the road
1997: .384/.460/.709 at home, .346/.443/.733 on the road
1998: .418/.483/.757 at home, .302/.403/.488 on the road
1999: .461/.531/.879 at home, .286/.375/.519 on the road
2000: .359/.446/.615 at home, .259/.371/.399 on the road
2001: .406/.483/.773 at home, .293/.416/.549 on the road
2002: .362/.453/.671 at home, .312/.387/.530 on the road
2003: .338/.469/.551 at home, .227/.370//395 on the road
(2)
Dante Bichette
,
Ellis Burks
,
Andres Galarraga
,
Todd Helton
-- a lot of players put up monster numbers in Coors in the '90s and early '00s.
(3) Martinez didn't have a long career, because the Mariners screwed around with him for three years. Walker only reached 8,000 plate appearances because he was very injury-prone -- he missed 495 games during his prime years with various injuries. (Walker played 140-plus games just four times; Martinez did it nine times.)
Bernie Williams:
A brilliant player for eight seasons and a key player on four World Series champs. But the Hall of Fame is simultaneously a mix of peak performance and endurance; Williams' peak value is close, but I believe he falls short on the career trek.
A little short for my tastes
Dale Murphy:
Similar to Williams, except he won two MVP Awards but lacks the rings. His run was even shorter -- really only an outstanding player from 1982-1985, plus 1980 and 1987.
Lee Smith:
I'm not a big fan of closers, even if they did last forever.
When I wrote about Smith
, my biggest issue is that I don't think he was ever the best closer in the game. It might also be worth considering that the four modern closers in the Hall -- Rollie Fingers, Goose Gossage, Bruce Sutter and Dennis Eckersley -- were all closers for World Series winners. Smith appeared in only four postseason games in his career (and lost two of them).
January, 6, 2012
1/06/12
8:00
AM ET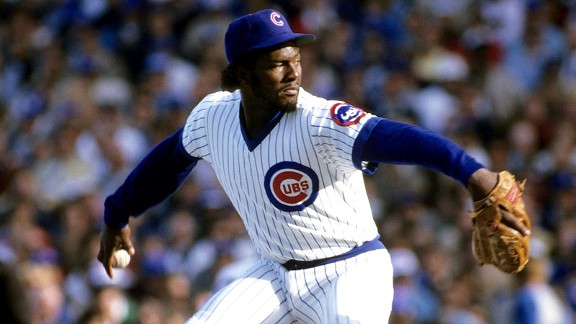 Ronald C. Modra/Getty ImagesLee Smith led his league in saves four times and ranks third all-time with 478 saves.
I want to consider Lee Smith's Hall of Fame question fairly. But I keep returning to what I think is the obvious question: Would you really rather have Lee Smith on your team than Barry Larkin or Alan Trammell or Edgar Martinez or Tim Raines or Bernie Williams or Larry Walker or Jack Morris or Jeff Bagwell or Dale Murphy or Fred McGriff?
You really think if the Chicago Cubs had called up the Montreal Expos or Atlanta Braves in 1983 -- when Smith was at his most dominant -- and said, "Hey, we'll give you Smith for Raines or Murphy" that those teams would have said yes? In 1991, when Smith finished second in the NL Cy Young vote, do you think the Padres would have traded McGriff for him?
Isn't the answer clear?
* * * *
Smith was taken in the second round of the 1975 draft by the Chicago Cubs, discovered in his small Louisiana hometown by the legendary Buck O'Neil. He was big, he threw gas and he had no idea what he was doing. In 1978, pitching as a starter for Double-A Midland, he threw 155 innings, walked 128 and struck out 71. His ERA was 5.98. He nearly quit baseball at the time, but Billy Williams convinced him to return. The odds that he'd become a Hall of Fame candidate at the point? I'd say less than the Cubs' chances of winning the 2012 World Series.
Smith, of course, converted to a relief pitcher and became one of baseball's most intimidating closers, sauntering in slowly from the Wrigley Field bullpen, his cap sitting loosely atop his head, throwing smoke from the late-afternoon shadows. It's that slow walk that I most remember Smith for; indeed, near the end of his career he became notorious for napping in the clubhouse during the game and not heading out to the bullpen until the seventh inning.
What I don't remember is ever thinking of Smith as baseball's best closer. But memories are hazy. Let us check some of Smith's best seasons.
1983: 4-10, 1.65 ERA, 29 saves, 103.1 IP, 70 H, 41 BB, 91 SO
In Smith's only season with an ERA under 2.00, he led the NL in saves and ranked fourth in the majors. You can make a case he was the second-best reliever in baseball that year behind Dan Quisenberry (45 saves, 139 innings, 1.94 ERA), although Jesse Orosco was also pretty dominant (1.47 ERA in 110 innings) and Orosco went 13-7 rather than 4-10.
1984: 9-7, 3.65 ERA, 33 saves, 101 IP, 98 hits, 35 BB, 86 SO
The Cubs won the division title and Smith ranked second to Bruce Sutter in the NL in saves, but didn't have a particularly dominant season. Sutter, Quisenberry, Willie Hernandez (AL Cy Young and MVP), Goose Gossage and Bill Caudill, for example, all clearly had better seasons. In fact, 77 pitchers with at least 100 innings had a lower ERA that year. In the NLCS, he also served up the game-losing gopherball to Steve Garvey in Game 4.
1988: 4-5, 2.80 ERA, 29 saves, 83.2 IP, 72 H, 37 BB, 96 SO
Now with the Red Sox -- he was considered so valuable the Cubs gave him up for Al Nipper and Calvin Schiraldi -- Smith got his ERA under 3.00 for the first time since 1983 and the Red Sox won the AL East. Smith was 29-for-37 in save opportunities that year, a 78 percent success ratio. He ranked ninth in the majors in saves and among those with at least 25 saves, he ranked ninth in ERA, sixth in innings, second in strikeouts and tied for 13th in save percentage. I don't think you say he was one of the best three or four closers that year.
1990: 5-5, 2.06 ERA, 31 saves, 83 IP, 71 H, 28 BB, 87 SO
For some reason, the Red Sox had signed Jeff Reardon in the offseason, so in early May they traded Smith to the Cardinals for Tom Brunansky. Smith was 31 for 37 in save chances. But it was a good year for closers: Dennis Eckersley had a 0.61 ERA, Bobby Thigpen saved 57 games with a 1.83 ERA, Randy Myers and Tom Henke were just as dominant as Smith. A good year, but Smith clearly ranks behind Eck and Thigpen and no better than even with Myers and Henke.
1991: 6-3, 2.34 ERA, 47 saves, 73 IP, 70 IP, 13 BB, 67 SO
You'll notice that Smith's innings are slowly dropping as closers became more and more protected. Once a 100-inning reliever, he's now in the low 70s. That didn't prevent Smith from finishing second in the Cy Young vote, as he led the majors in saves. He had a good year, although Bryan Harvey was the most dominant closer that year -- 46 saves, 1.65 ERA, 101/17 strikeout/walk ratio. I'd argue that Eckersley, Rick Aguilera and Henke were also as effective or more so than Smith. He did convert 89 percent of his save chances -- the third-highest ratio of his career.
1992: 4-9, 3.12 ERA, 46 saves, 75 IP, 62 H, 26 BB, 60 SO
Smith led the NL in saves, but with nine losses and eight blown saves, it was hardly a stellar season. Among the 12 relievers with at least 30 saves, Smith ranked 10th in ERA, sixth in innings, sixth in strikeouts and seventh in OPS allowed. And somehow finished fourth in the Cy Young vote. (Thirteen NL starters pitched 200 innings with a lower ERA than Smith that year.)
1994: 1-4, 3.29 ERA, 33 saves, 38.1 IP, 34 H, 11 BB, 42 SO
Still going strong at 36, Smith was now the ultimate one-inning reliever -- actually, not even that. He pitched in 39 games so he averaged just less than an inning per outing. He led the majors in saves in the strike-shortened season, but let's be serious -- this was not a great season. Among the 10 closers with 20 saves, he had the fewest innings, ranked sixth in ERA and seventh in OPS allowed. Here's another way to look at the end of Smith's career: From 1992 through 1995 he led the majors with 159 saves, nine more than Myers. But he was really a dominant reliever in that span? Among the 15 pitchers with at least 50 saves over those years, Smith's 3.43 ERA ranks 12th and his OPS allowed 11th. He got saves because he wasn't terrible and had the easiest job in baseball: Come in with the bases empty and get two or three outs.
So what are we left with? Yes, he retired as baseball's all-time saves leader with 478, although he has since been lapped by Trevor Hoffman and Mariano Rivera. He does still rank third and the closest active closer is Francisco Cordero with 327.
In the end I see Smith as a very good reliever, but also the ultimate compiler. Considering the coddled nature of the position, to even consider a closer you need to at least be
the man
for a period of years, and Smith never had a run of dominance like Rivera or Goose Gossage or Billy Wagner or Joe Nathan. On his first year on the ballot, Smith received 42.3 percent of the vote; nine years later, he hadn't budged much, with 45.3 percent. The line has been drawn on Lee Smith, as strong as the line on steroids users. He had a great career, he filled his role at a position where a lot of guys burn out quickly. But I say again: You can't vote for Smith when there are so many more valuable, viable candidates to vote for.
January, 2, 2012
1/02/12
8:30
AM ET
There are a lot of misunderstandings about the Hall of Fame and its voting procedures and results, beginning with the little fact that baseball was not, of course, actually invented in Cooperstown, N.Y., in 1839 by a future Civil War general named Abner Doubleday.
For example, many voters and fans divide themselves into "big Hall" and "small Hall" camps. This seems like a reasonable split of opinion. There, is however, a problem with those who advocate for the small Hall premise: the Hall of Fame is not -- and has never been -- a small Hall of Fame, a shrine memorializing only the elite of the elites.
The first Hall of Fame vote was conducted in 1936, when Ty Cobb, Babe Ruth, Honus Wagner, Christy Mathewson and Walter Johnson became the initial five inductees. The next year, a special Centennial Committee elected some 19th-century pioneers and executives. An Old Timers Committee in 1939 elected Cap Anson, Old Hoss Radbourn and others. Throughout the 1940s, the Old Timers Committee elected many more players from the 19th century and early 20th century, some obviously strong candidates and others of far less quality. Meanwhile, the Baseball Writers Association essentially stopped electing anybody; between 1940 and 1946, it voted in only Rogers Hornsby.
[+] Enlarge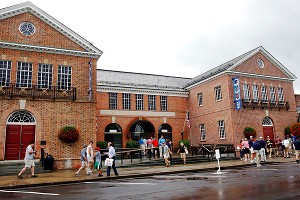 AP Photo/Mike GrollWith baseball writers stingy with their ballots, the Hall of Fame has sought ways to get more members in.
This eventually led to the two means of current entry into the Hall of Fame: the annual Baseball Writers vote, in which a player must obtain 75 percent of the ballots cast; and the Veterans Committee, which considers players bypassed after 15 years on the regular ballot, plus managers, umpires, Negro Leaguers, executives and owners. At the actual Hall of Fame in Cooperstown, there is no distinction made between means of enshrinement, no mention of vote percentage or years spent on the ballot. All Hall of Famers are equal, with a small plaque in the main gallery of the museum, ordered by year of election.
And thus the reality is that we have a large Hall of Fame, one encouraged by the board of trustees with its various incarnations of the Veterans Committee through the years. In so many words, it's saying to the writers, "You're not electing enough Hall of Famers; you're too tough and we believe in a big Hall, so we want another means to elect players you missed." When the Veterans Committee failed to elect any candidates from 2002 to 2007, the Hall revised the committee in attempts to get more inductees.
Despite this, the small Hall versus large Hall debate persists. The writers -- and there were 581 who voted last year -- collectively hold a small Hall mindset, not surprising considering the 75 percent threshold. The writers have essentially averaged between one and two players elected per year for six-plus decades:
2010-2011: 3
2000-2009: 17
1990-1999: 15
1980-1989: 18
1970-1979: 13 (plus Roberto Clemente in a special election)
1960-1969: 6
1950-1959: 15
While this may
appear
to establish a level of consistency, in reality it suggests a toughening of standards -- the number of teams (and players) has increased through the years since baseball's first expansion in 1961, so the writers are electing a lower percentage of eligible players than 30 or 40 years ago. (A near doubling of teams would indicate a doubling of Hall of Famers.)
So the writers have been tougher in recent years; ironically, this span coincides with some of the
weakest
Hall of Fame selections by the writers -- Andre Dawson (2010), Jim Rice (2009), Bruce Sutter (2006) and Kirby Puckett (2001) would all rank near the bottom of the 108 BBWAA Hall of Famers.
That doesn't even get into the inexplicable psychology in Hall of Fame voting. Why does Rice receive 29.8 percent of the vote in his first year, remain stuck at 29.4 percent by year five, languish in the 50 percentile for six years and then ramp up to 76.4 percent and election over his final four years on the ballot? Why does Don Mattingly begin at the same place as Rice -- 28.2 percent -- and slowly slide backwards from there? Why does Sutter start at 23.9 percent and later gain momentum and enshrinement after 13 years on the ballot, but Lee Smith start at 42.3 percent and after nine years remain at 45.3 percent?
It doesn't make sense. And that's why Hall of Fame debates are contentious, spirited, sometimes mean, sometimes logical, sometimes emotional ... but always fun to read and argue about.
Over the next week, leading up to next Monday's 2012 Hall of Fame announcement, I'll be examining some of the players on this year's ballot.
We'll start with Barry Larkin
.
July, 23, 2011
7/23/11
12:00
PM ET
By
Christina Kahrl
| ESPN.com
The recent votes for the Hall of Fame have seemed to engender a lot of controversy. Whether it's Bert Blyleven finally getting in thanks to the efforts of sabermetricians such as Rich Lederer and Jay Jaffe, angry disagreements over the BBWAA's elections of Jim Rice or Andre Dawson, or dickering over why Bruce Sutter got in before Goose Gossage, the subject seems to inspire debate, even when all-time greats like
Roberto Alomar
and Blyleven are getting their due.
It's in that spirit of complaint that we should ask if a big part of the problem is what LCD Soundsystem called "the unremembered '80s."
Since I'm sure some will complain that a decade starts with the '0' year and others that it ends with it, let's start by casting a wider net and look at the WAR leaders for 1980-90, while noting who's been voted to Cooperstown and who hasn't. It's admittedly quick and dirty, but it's a place to start the conversation. Looking at the 15, it's great for the 10 who have gotten their due. (Sure, we can kibitz over Dawson for all sorts of reasons, but he was nevertheless a great player.)
Starting from here, you could put together an excellent lineup of stars from the '80s who haven't made it into the Hall of Fame. Going position by position:
Catcher:
Probably the weakest position, but Lance Parrish's 324 career homers and 35.7 WAR (28.8 in the '80s) would suit. Parrish was also one of the best-throwing catchers of his day, gunning down 39 percent on his career, helping to land him on eight All-Star teams. Effectively, he was to the AL what Gary Carter was for the NL.
First Base:
Back in December, Mark Simon
put together a nice overview
of the case for why Keith Hernandez belongs in the Hall. I've slowly started coming around to this point of view, aided by the additional information from Michael Humphreys' book "Wizardry" on all-time fielding greatness -- recommended for any stathead's bookshelf -- with the finding that Hernandez rates as the best fielder at first in baseball history. Hernandez had all the virtues you'd want in a first baseman minus the overwhelming power.
What might surprise people is that it's Hernandez who shines via WAR, and not New York's other first baseman, Don Mattingly. It really shouldn't surprise anybody. As great as Donnie Baseball was, he burned very, very brightly so very, very briefly. He has a good argument for being baseball's best ballplayer for four years -- and then he wasn't that guy anymore, playing through injuries and declining effectiveness. As great as his peak value was, he doesn't even present the decade's best argument for inducting a briefly game-best ballplayer. (We'll get to Dale Murphy shortly.)
Second Base:
Has to be Lou Whitaker.
Once in a while, you'll still get the odd stathead who argues that the BBWAA doesn't make huge mistakes, making the easy comparison of its track record for putting people into the Hall against the various flavors of Veterans Committees the process has been saddled with over the years. Fair enough, but what about Lou Whitaker? The BBWAA eliminated Whitaker from all future consideration in his first year on the ballot, one of its most spectacularly thoughtless decisions where Hall voting is concerned.
Whitaker was the best second baseman in baseball between Joe Morgan and Robbie Alomar. Whitaker is the post-World War II WARP leader among all Hall-eligible players
not
in the Hall of Fame; he beats Sandberg and Willie Randolph fairly easily. He also beats Bobby Grich, 69.7 WAR to 67.6. Whitaker tops Raines (64.6) and Larkin (68.9) and Trammell (66.9).
But by receiving just 15 total votes in his first (and last) year on the ballot, Whitaker was dropped forever after from BBWAA consideration, because he didn't reach the five-percent cutoff. He deserves much, much better, so we can hope this is one of those mistakes that whatever rules apply in 2015 or later can get him voted in by the Veterans Committee, the electoral college or the Diet of Worms. Somebody
has
to get this right, don't they?
Third Base:
Like catcher, the choice may fall short in a Hall of Fame argument, but Buddy Bell (60.8 career WAR) was a fine defender and paragon of professional hitterdom, but because most of his career was spent on dead-end Indians and Rangers teams, he may be better remembered for his nondescript days in the dugouts of the Tigers, Rockies and Royals.
Shortstop:
If Whitaker has been flat-out screwed by the process, there's still some hope that '80s great Alan Trammell will get his due from Cooperstown. Tram was the signature player from those great-to-good Tigers teams of the '80s that seem to have been collectively forgotten ever since their manager, Sparky Anderson, got elected. Maybe Trammell suffers from being the best shortstop in baseball before Ripken, and maybe he'll get his due after
Barry Larkin
gets voted in, but there really shouldn't be any controversy over voting him in. Jay Jaffe's JAWS system puts Trammell seventh overall among Hall-eligible shortstops (leaving
Alex Rodriguez
out of the conversation since his career's still a going concern).
Outfield:
Tim Raines should be a no-brainer, but if Parrish's case paled next to Carter's in front of the current electorate, it shouldn't be surprising that the second-best leadoff hitter of all time managed to be caught in the same sort of tunnel vision just because he happened to be a contemporary of Rickey Henderson. Although there's nothing to be done for Whitaker, Rock should get the benefit of the same sort of campaign run by those who previously worked so hard to get Blyleven to Cooperstown. This is one of those oversights that should be corrected in the next couple of years.
As I mentioned, I'd run with Dale Murphy as a worthwhile Hall of Famer at a time when we're putting Rice and Dawson in. Like Dawson, Murphy had a multi-year run in the sun as someone widely considered baseball's best player, winning back-to-back MVPs in 1982 and '83 (and arguably deserving another in 1987). Whereas Mattingly had a four-year run, Murphy's started in 1980 and ran through '87, producing 264 homers and a .517 slugging. In some ways he had Carter's career in reverse -- it didn't really take off until he was taken out from behind the plate and stuck in the outfield to stay. Murphy finished with 398 homers, a low tally by today's standard, but that's more than Rice. And with a 45.7 career WAR to Rice's 41.5, maybe one of the signature players of the '80s deserves reconsideration.
For right field, you could go for Dwight Evans for career value. His 61.8 total WAR puts him among the 150 top players all-time, but Dewey was as much a star of the '70s as the '80s -- he just aged well, like a fine wine. Since the '80s are a controversial era, let's go with a controversial great: Darryl Strawberry. I wouldn't put him in the Hall, but in the '80s he ranked seventh in runs created with his bat (R
bat
on Baseball-Reference), behind five Hall of Famers and Murphy.
Starting pitching:
We've left moundsmen to the side, but there's a good reason for that -- Jack Morris, and the odd notion that somehow he was a great pitcher. Given that the '80s comprised the bulk of Morris' useful career, you'd expect that he'd rate among the best pitchers of the era. He doesn't.
Taking a look at the pitchers' table, you're sure to ask: Where's Morris? Take it all the way down to 15th, and that's where you'd find the mustachioed workhorse -- behind Teddy Higuera and Bruce Hurst, and behind fellow warhorse Charlie Hough.
The top 10 is an interesting group itself, because it includes so many guys who suffered major arm injuries or early burnout. The '80s represented a new, tough challenge for pitchers. Run-scoring increased, and a lot of guys broke down trying to live up to workload standards established in the '60s and '70s. Gooden, Tudor, Saberhagen, Hershiser -- outside of Clemens, the best pitchers of this generation all blew out their arms. The field was open for odd ducks like Mike Scott and Dave Stewart to wind up having tremendous but brief runs of greatness, but as wonderful as they were, nobody's putting them in the Hall of Fame.
Let's bring this back to Morris. Say you want to just look at the good bits of Morris' career -- 1978-92. Morris was just the seventh-best pitcher in that span via WAR, behind the Rocket, the Ryan Express, the Eck and Bert Blyleven, not to mention those stars of the '80s who usually don't get much press -- Dave Stieb and Bob Welch.
What Morris leads in from his own heyday is two big counting stats. First, there's his 236 wins. That's a product of three things: playing with a star-studded lineup, great run support
and
his durability. In the rush to condemn Morris' worthiness, the durability seems to get short shrift, but he did throw 400 more innings than anybody else in baseball in this "Age of Morris." If you want to argue that a man should make the Hall for being durable during an age of fast burnouts, that's not such a bad thing.
But at that point we may as well start talking about Stieb's worthiness as well, since he had the best balance of durability and quality during this time. But like Whitaker, Stieb is someone the BBWAA forgot, eliminating him in his first year on the ballot in 2004 with just 1.4 percent of the vote. But that isn't going to stop me from tabbing Dave Stieb as the starting pitcher of the '80s, not Morris. Besides Stieb's leading WAR tally, he was third in wins (158), behind Morris (177) and Welch (164), tied with Fernando in shutouts with 29, and his ERA+ of 128 tops even Doc Gooden (125) and the oft-injured Tudor (126). Besides, Stieb had no-hitters broken up in consecutive 1988 starts with two outs and two strikes in the ninth, and a perfect game busted up with two outs in the ninth in 1989. (He did finally get a no-hitter in 1990, against the Indians.) If anyone in this field deserves a break, it's Stieb.
Closer:
The overall leader in saves from 1980-90 was Jeff Reardon with 285, but the better pitcher was slow-shufflin' Lee Smith with a 23.8 WAR to Reardon's 17.4, a tally that also tops those of Dan Quisenberry (23.6) and Dave Righetti (23.0). Smith eventually set the record for saves and currently rates third all-time with 478, with 265 of those coming in the broadly defined '80s.
Why isn't Smith in Cooperstown? To some extent he's being penalized for the fact that standards for Hall-worthy closers are still being made up as we go along. But another problem is that Smith's career has one foot in the era when closers threw 100 innings and settled for 30-save seasons, and the other in the Eck era where closers have been reserved for ninth-inning save opportunities alone. Smith doesn't properly belong in either, so you can't bundle him with Rollie Fingers and Goose and Sutter and Quiz on the one side, or with
Trevor Hoffman
and
Mariano Rivera
on the other. Reaching the postseason just twice in an 18-year career probably does him no extra favors with the voters.
We can't know exactly why the '80s have been overlooked in terms of the Hall, but given the presence of several all-time greats at key defensive positions -- like Whitaker and Trammell -- an all-time great leadoff man in Raines, a nice power tandem in Straw and Murph, and perhaps the best starting pitcher in baseball over a decade in Stieb, I'd enjoy taking my chances with these guys against all comers. They do not deserve to be forgotten, and one hopes that several of them -- beyond a likely like Raines -- get their due.
Christina Kahrl covers baseball for ESPN.com. You can follow her on Twitter.
January, 8, 2010
1/08/10
1:57
PM ET
Honestly, I can't remember seeing the baseball writers as worked up about anything as they are about
Roberto Alomar
. Here's Ken Rosenthal with a fairly
representative opinion
:

Our membership is too bloated, too riddled with voters who do not take the process seriously enough to educate themselves properly.

Oh, we usually get it right, and we'll surely get it right next year with Alomar, who fell short by only eight votes. But the eligibility requirements for voters need to be tightened before worse mistakes are made.

To vote for the Hall, a writer must be a 10-year member of the BBWAA. But one sports editor from each outlet also is eligible, and so are feature writers and current or former columnists who rarely attend games.

The sports editors should be eliminated immediately; they simply do not develop the same feel for the game as writers who cover the sport regularly. Drawing the line on feature writers and columnists would be more difficult; many columnists, in particular, are astute observers of the game. But somehow, the local chapters need to police their memberships more diligently. There has to be a better way.

--snip--

Virtually every voter I know is honored to participate in the process. Virtually every voter I know considers the ballot a tremendous responsibility. It's the voters I don't know — the ones I never see at ballparks — who worry me. I fear that some do not give the candidates the consideration they deserve.

The BBWAA has done a fine job in recent years of adding Web-based writers, including several whose work is strongly influenced by sabermetrics. The next step is to go the other way, trim the fat from the membership, purge those who do not study the game closely enough to warrant Hall of Fame votes.

The Alomar snub is an embarrassment.

If people's feelings get hurt, too bad.

Rosenthal isn't the only prominent BBWAA member calling for change. Shoot, Buster Olney believes the
writers shouldn't be involved
at all (
Jeff Pearlman agrees
, snarkily).
Rather than editorialize -- Rosenthal and Olney have beaten me to the punch, with style -- I'll simply offer a bit of knowledge and a humble prediction.
First, Rosenthal is absolutely right about the voting population. I've written about this at some length, and if the die-hard baseball fans knew who's being sent Hall of Fame ballots every year, it would be a major scandal.
Or a minor kerfuffle, at least.
But my prediction is that little will come of this. Sure, it would be a neat story if the snubbing of Alomar wound up as the tipping point for real reform. But the BBWAA is a big ship that takes a great deal of time and effort to change directions. I suspect that if a candidate like Alomar was repeatedly snubbed, something might actually change after a few years. But it takes time, and any real movement toward change will likely be forgotten a year from now, when Alomar is elected. The next controversy will come in a few years if
Roger Clemens
and
Barry Bonds
aren't elected. That will result in a great deal of hand-wringing and self-reflection, and might eventually lead to something.
I take it back. I will editorialize. I agree with Rosenthal the system is flawed. I don't necessarily agree that the writers shouldn't be involved, but I believe they (we) should be somewhat
less
involved. But be careful what you wish for. If the BBWAA culls all the current voters who don't really pay any attention to baseball -- and there are many dozens of them -- we'll have
more
candidates elected. How many more, I don't know. But more, for sure.
More isn't necessarily bad. But more wouldn't mean Tim Raines and Alan Trammell. It would mean Jack Morris and Lee Smith. The standards for election would inevitably be lowered. Not maintained. Lowered.
The system that's in place, however flawed, usually arrives at a good result, eventually. It took too long, but eventually Ryne Sandberg and Gary Carter were elected. It's taking too long, but eventually Bert Blyleven and Roberto Alomar will be elected. Raines and Trammell? Sure, they've been terribly jobbed. But the Hall of Fame would never endorse any reform that would get either of them elected.
Be careful what you wish for.