February, 19, 2013
2/19/13
11:35
AM ET
There's the old story about Cool Papa Bell being so fast that he once bunted the ball and was tagged out at third base.
You get the idea that
Cincinnati Reds
prospect Billy Hamilton is even faster than that. After he set the all-time minor league stolen-base record with 155 -- in just 132 games -- the Reds moved Hamilton from shortstop to center field in the Arizona Fall League, and he's resuming his minor league career in center this spring.
While Hamilton has played just 50 games above Class A, the Reds might need that transition to center field to develop quickly. The Reds are counting on either
Shin-Soo Choo
or
Jay Bruce
to man center field, a position neither has played the past four seasons, except for one game Choo played there in 2009. I had ESPN Stats & Information look this up: During the divisional era, only one outfielder has played at least 300 games in the outfield over a four-year span but fewer than 10 in center, and
then
played 100 games in center. That was Tim Raines with the Expos in 1984.
[+] Enlarge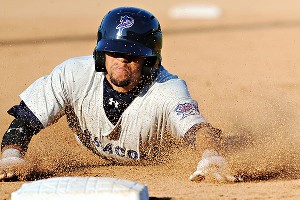 AP Photo/Tony FarlowBilly Hamilton stole 155 bases in 2012 while getting caught 37 times.
But is Hamilton ready for the majors? He hit .323 at Class A Bakersfield and then had a line of .286 AVG/.406 OBP/.383 SLG in Double-A, at age 21; being a switch-hitter will certainly help. He doesn't have much power -- two home runs -- but he used his speed to leg out 14 triples. Importantly, he drew 86 walks, although he did strike out 113 times. The total package put him 30th on Keith Law's top prospects list, with Keith writing: "At the plate, Hamilton has plenty of bat speed and has become strong enough to avoid having pitchers light him up inside; he drifts over his front side and probably won't ever hit 10 homers in a season, with a little more rotation in his swing when he hits right-handed."
Vince Coleman
It was Coleman's record of 144 steals that Hamilton broke. Coleman did that in the Class A South Atlantic League in 1983, at age 21, in just 113 games. He hit .350 but had even less power than Hamilton, with eight doubles and seven triples. Pushed up to Triple-A the following year, Coleman hit .257/.323/.334 but had added a little strength with 21 doubles and four homers.
Like Hamilton, Coleman was a switch-hitter and his build was similar to Hamilton's: 6-0, 170, whereas Hamilton is listed at 6-1, 160. Coleman stole 110, 107 and 109 bases his first three years in the majors, but he was never a great player due to mediocre on-base percentages. Despite his speed, he never hit .300, and his career average was .264. His career-best WAR was 2.9.
Hamilton's advantage here is that he projects as a center fielder; Coleman played left with Willie McGee in center for the Cardinals. It does appear that Hamilton has more skill with the bat than Coleman, but the big question is how Hamilton's minor league walk rates will translate if he's not a big power threat at the plate.
Otis Nixon
Nixon swiped 107 bases between Double-A and Triple-A in 1982, hitting .282/.412/.304. Nixon was also a switch-hitter but had even less power than Coleman, as witnessed by that slugging percentage. What he did well was draw walks: 108 in '82, his third straight year of 100 walks in the minors. Nixon never got much of a chance with the Yankees and then the Indians. After three years as a backup with the Expos, the Braves acquired him in 1991 and he had his first good season at age 32, hitting .297/.371/.327 and stealing 72 bases, although a drug suspension forced him to miss the postseason.
Nixon had zero power -- 11 career home runs -- but ended up playing until he was 40. The comparisons between Coleman and Nixon are interesting, but it does appear Hamilton has more upside: He has Nixon's eye at the plate but has shown a little more extra-base hit ability in the minors than either one.
Donell Nixon
Otis' younger brother, Donell swiped 144 bases for Bakersfield in the Mariners' system in 1983. (By the way, if you get the idea that everyone was running in the early '80s, you're right. Five of the top 10 minor league stolen-base seasons occurred from 1980 to 1983.)
More powerfully built than his brother, Donell still didn't have much pop, and his line that year was very similar to Hamilton's: .321/.391/.408, also at 21 years old. For the sake of comparison, Donell ranked 19th in the Cal League in OPS that year (minimum 139 at-bats, via Baseball-Reference) -- Kirby Puckett's OPS in the same league was only nine points higher -- while Hamilton ranked 32nd last year. In other words, in 1983, Donell looked very much like Hamilton looks now.
Anyway, things never worked out for Donell. He stole 102 bases in 116 attempts in Double-A in 1984, hitting .269 and posting a .353 OBP, but then broke his leg in spring training in 1985 and missed all but 12 games over the next two seasons. The Mariners being the Mariners of those days, he then made their Opening Day roster in 1987. Shockingly, after hardly playing for two years, he didn't hit and was sent down and his career never developed.
Jeff Stone
Stone was another of these early-'80s guys, stealing 123 bases and getting caught just 13 times for Class A Spartanburg of the South Atlantic League in 1981 at age 20. Unlike Coleman and Otis Nixon, Stone had
some
power, knocking 44 extra-base hits at Double-A Reading in 1983 for a .317/.379/.463 line (with 90 steals). After hitting .362 in 185 at-bats for the Phillies in 1984, some predicted batting titles in his future, but he played just 372 games in the majors.
What happened? Here's a
good story on Stone from 2004
, by Andrew Miller of The Pitch. "To be honest, he couldn't absorb a lot of instruction," said Bill Giles, the team's president at the time. There were stories that Stone allegedly asked a minor league teammate if the moon was the same one that shined back home in Missouri. Paul Owens told Sports Illustrated in 1992, "People thought he was dumb, but he wasn't. He was naive, but beautifully naive." Bill James said, "Not often does a young player take one step back after another after another. This was what was unusual about Stone's career."
Seems a little strange to write off a player's disappointing career because he was naive. Stone didn't walk much and was never good in left field, despite his speed. In the end, he remains one of those players that longtime Phillies fans will always remember.
Lenny Dykstra
In 1983, Dykstra had one of the great minor league seasons, hitting .358/.472/.503 with 105 steals for Class A Lynchburg (Mets) of the Carolina League. You can see big differences between Dykstra and Hamilton, however: Dykstra was a year younger and had 46 extra-base hits, including eight home runs. He drew 107 walks while striking out just 35 times. The next year he hit .275/.372/.389 at Double-A, and in 1985 he was in the majors. There are similarities, and Hamilton is faster than Dykstra, but Dykstra's control of the strike zone in the minors foretold a guy who would be a good major league hitter.
Willie Wilson
I thought I'd look up Wilson, maybe the fastest major leaguer I've ever seen -- him or Deion Sanders. Wilson was a bigger guy -- 6-3, 190 -- and his minor league stats are unimpressive. In 1977, at Triple-A, he hit .281/.323/.349 with 74 steals, 24 walks and 106 strikeouts at age 21. Two years later he hit .315/.351/.420 with the Royals, stealing 83 bases. From 1979 to '82 he hit .320, and he won a batting title in 1982. He was only 27, but would hit .300 just one more time (supposedly, he started thinking he could hit more home runs and developed an uppercut; indeed, his ratio of fly balls increased starting in 1983).
Rickey Henderson and Tim Raines
Let's not even go here. Henderson was in the California League at 18, hitting .345 with a .466 OBP and 11 home runs. Raines is a more reasonable comparison, although he hit .354/.439/.501 at Triple-A Denver in 1980 at age 20.
So who is Billy Hamilton? His minor league résumé so far is more impressive than the résumés of Coleman or Otis Nixon or Wilson (or Esix Snead!), but less impressive than those of Dykstra or Henderson or Raines. As long as Hamilton stays within himself, draws his walks, hits the ball on the ground and hustles out his doubles and triples, he should develop into a better player than Coleman. I think the upside here is the young Wilson, who learned to hit at the major league level. Wilson had the advantage back then of playing on turf, so I don't know if Hamilton will contend for batting titles, but he's not just a speed guy. He can play baseball.
July, 30, 2012
7/30/12
3:10
PM ET
Mark Simon and I teased this on the Baseball Today podcast, so here it is. Tom from Melbourne, Fla., writes in:
I have a slew of answers for Friday's ridiculous question regarding greatest difference in WAR in consecutive years. For the analysis, I wrote a program to search player profiles and career stats on Baseball-Reference.com for every major league player in history. Here are the results.

Largest one-year increase in WAR for batters (min 350 PA in each year): A total of 30 players have had increases in WAR of greater than 6.0 in a year. The largest one-year increase was by Rickey Henderson from his rookie season in 1979 (-1.0 WAR) to his sophomore season in 1980 (8.7 WAR), a difference of +9.7 WAR. The top-10 list includes several Hall of Famers (Henderson, Eddie Collins, Babe Ruth, Mike Schmidt), two active players (Matt Kemp, Josh Hamilton), a guy called "Nails" (Lenny Dykstra, of course), and two guys who had a standout season (Bret Boone, Tommy Harper). Boone went from a WAR of 0.0 in 2000 to an MVP-esque WAR of 8.5 in 2001.
OK, this is Dave again. I'll run Tom's lists with some of my own commentary.
Besides Henderson, Collins and Schmidt were also cases of players developing from their rookie seasons to their sophomore years. Collins increased his average from .273 to .346 and his stolen bases from eight to 63. (Like Henderson, he also barely met the 350-plate appearance cutoff.) Schmidt hit .196 with 18 home runs as a 23-year-old rookie in 1973. What were the odds that player would develop into the best third baseman of all time? As a sophomore, he hit .282 and led the National League in home runs and slugging percentage while playing a great third base. Dykstra was actually healthy in 1989, but after a midseason trade from the Mets to the Phillies, he had hit just .222 with Philadelphia, dragging down his season numbers. In 1990, he hit .325 and led the NL in hits and on-base percentage. Other than 1993, he'd spend much of his remaining seasons on the DL.
Babe Ruth appears twice, both following shortened seasons. In 1922, he played just 110 games, missing the first six weeks because of a suspension due to offseason barnstorming actitivities and then more time when he has suspended again for jumping into the stands to confront a heckler (imagine if that happened today!). In 1925, he suffered his infamous "Bellyache heard 'round the world" season and played just 98 games while hitting .290. Ruth had initially fallen ill during the Yankees' spring training tour, a stomach ache blamed on eating too many hot dogs. Good stories. Ruth later underwent surgery for what doctors called an intestinal abscess although one teammate suggested Ruth's problem occurred a little lower on his anatomy. Others have speculated alcohol poisoning. Whatever the cause of Ruth's ailments, he bounced back in 1926.
The one name that may surprise you is Tommy Harper. The Seattle Pilots selected Harper from the Indians in the 1969 expansion draft and while he led the AL with 73 stolen bases he hit just .235 with just 21 extra-base hits in 148 games. The team moved to Milwaukee in 1970 and Harper discovered his power stroke, hitting a career-high 31 home runs while playing third base.
Here are the five biggest decreases:
As Tom writes, "Sisler missed the entire 1923 season with a severe case of sinusitis which resulted in double vision, and he was never the same after that." After hitting .420 in 1922, his averaged dropped to .305 when he finally returned in 1924. We talked about Ruth. Ashburn looks like a case of a guy who just got old overnight. A fleet center fielder known his on-base skills and range, Ashburn had led the NL with a .350 average and .440 OBP in 1958 at the age 31. In 1959, those numbers dropped to .266 and .360 and his defensive numbers took a big hit. His speed numbers also dropped -- 13 triples to two and 30 stolen bases to nine. Maybe there was an injury involved here, but Ashburn missed just one game and the Phillies traded him after the season. Looks like a guy who just lost his speed to me. Ripken's 1991 MVP season remains one of the biggest fluke seasons in recent decades. He hit between .250 and .264 every season from 1987 to 1993 except for 1991 when he exploded with one of the great offensive seasons ever by a shortstop. Similarly, Boudreau had one of the best shortstop seasons of all time in 1948, hitting .355 with a .453 OBP (he had 98 walks and just
nine
strikeouts) while being credited with 3.0 WAR on defense alone. Boudreau had bad ankles and even though he was just 31, 1949 would be his last season as a regular.
Anyway, thanks to Tom for the lists. Good stuff.
September, 2, 2011
9/02/11
1:58
PM ET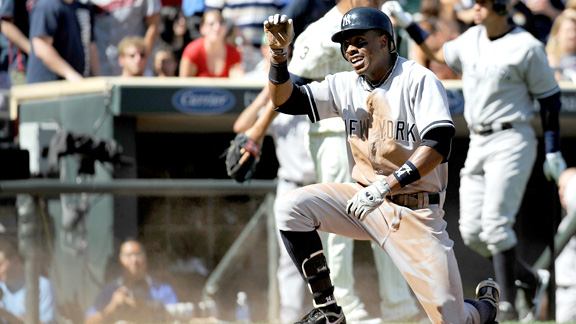 Hannah Foslien/Getty ImagesCurtis Granderson currently leads the AL in runs, RBIs and triples, while ranking second in HRs.
In major league history, a player has scored 150 or more runs 46 times, topped by Billy Hamilton's 198 for the 1894
Philadelphia Phillies
. You can probably guess that the game was a little different back then: Hamilton posted a .521 on-base percentage, he was one of three Phillies to bat .400 and they scored 1,179 runs in 132 games, or nearly nine runs per game.
Of those 46 seasons of 150 runs, 27 came in the 1880s or 1890s, including eight guys who did it in 1894. It happened seven times in the 1920s, five by Babe Ruth. And it happened 10 times in the 1930s. But since World War II, only two players have scored 150 runs in a season: Ted Williams scored 150 in 1949 and
Jeff Bagwell
scored 152 in 2000.
After scoring his 124th run in Thursday's win,
Curtis Granderson
is now on pace for 149 runs. He's scored 27 runs more than the No. 2 guy in the majors,
Jacoby Ellsbury
. Yes, runs are team-dependent to a certain extent -- you need good hitters behind you to drive you in -- but 149 runs is an awesome achievement, no matter how you slice it. And runs are definitely not, as somebody tweeted the other day, "a meaningless stat." There aren't exactly any chumps on this list of players who have scored 140 runs in a season since 1946.
One thing you'll note about Granderson is he easily has the lowest batting average and on-base percentage of anybody on the list. Clearly, his teammates have helped, as he's scored 47 percent of the time he's been on base, the second-highest percentage on the list. He's helped by spending most of the season in the No. 2 hole in the batting order, giving more opportunities to the hitters behind him. Most of the guys on the list hit leadoff (Biggio, Henderson, Dykstra, Knoblauch) or No. 3. the 1996 version of A-Rod hit second (with Ken Griffey,
Edgar Martinez
and
Jay Buhner
following) and the 2007 version hit cleanup, the only cleanup hitter on the list.
The most surprising name on the list might be Knoblauch, especially since he also has the lowest home run total. Despite finishing last in the AL in home runs, however, that Twins teams still scored 877 runs. No. 3 hitter Paul Molitor hit .341 and drove in 113 runs despite hitting just nine home runs.
Anyway, you'll notice most of names here consist of (A) Ted Williams, or (B) players from the high-octane offensive period of the late '90s. The most runs scored in the 1950s, '60s and '70s belongs to Billy Williams of the 1970 Cubs, with 137 runs. That team did score more than 800 runs. The most impressive run-scoring feat during that time might have been Tim Raines, who scored 133 runs for the 1983 Expos, a team that scored just 677 runs overall. Raines scored nearly 20 percent of the Expos' runs that year.
Follow David Schoenfield on Twitter @dschoenfield.
June, 29, 2010
6/29/10
7:57
PM ET
Lenny Dykstra used steroids? Really?
Well, it's only hearsay. But, yeah. According to his onetime business associate Randall Lane (who, granted, has few reasons to be charitable toward Dykstra). It's all in
Lane's new book
:
Lane said the admission came during a late-night conversation in February 2008 when he was in Dykstra's New York hotel room to convince him to pay $250,000 he owed in connection with the publication of a glossy magazine he was publishing at the time.

As it happened, Roger Clemens has testified before Congress that day after being fingered in the Mitchell Report as a user of performance-enhancing substances. Dykstra's name had also been included by Mitchell's investigators. As the reports aired on a continuous cable loop, Dykstra blurted out his confession.

"You know," Lenny said, finally breaking the ice. "I was like a pioneer for that stuff."

"Excuse me, Lenny?"

"The juice. I was like the very first to do that. Me and [Jose] Canseco."

He straightened up, as he prepared, somewhat proudly, to reveal his role in this dangerous, unseemly history.

Lee Thomas was general manager of the Phillies at the time. He has said that he confronted Dykstra at the time and that the player adamantly denied he was doing anything wrong. Thomas noted that, under the terms of the Collective Bargain Agreement then in effect, he was powerless to do anything but tell the player not to do anything illegal.
I've said this before and I'll say it again ... While we'll never know everything, we'll know more this year than we knew last year, and we'll know more next year than this year, ad infinitum. I know that some of you just don't care who was using the drugs, and I understand that you're tired of the moralizing that accompanies each revelation.
But I tend to think in historical terms, and in historical terms this is all
exceptionally
interesting. If you sit down someday to write a book about baseball in the 1990s, wouldn't you want to know who was using steroids? Wouldn't that story in Lane's book serve as a wonderfully juicy nugget in your narrative?
And speaking of books, most baseball players really aren't interesting enough to write about. Not in a serious biography, anyway. But Dykstra's different. Between his baseball career and his business adventures and the fractured relationship with his baseball-playing son, there's the makings here of a Shakespearian tragedy. The only problem is that you sort of have to wait until the ending, to really do the story justice.
February, 10, 2010
2/10/10
3:54
PM ET
In honor of Lenny Dykstra's 47th, SPORTSbyBROOKS, offers
this heartening update
:
Case you don't know, Dykstra filed for Chapter 11 bankruptcy last July, listing fewer than $50,000 in assets against $10 to $50 million dollars in liabilities.

But three months before that filing, Dykstra told Mike Fish of ESPN.com that his net worth was, "60 million." If that was indeed true, Dykstra succeeded in losing up to $110M in around 90 days.

Dykstra not only hoodwinked the media about his fake investment ability, he may have deceived his son. Cutter Dykstra was the 54th pick in the 2008 MLB draft by the Milwaukee Brewers. For signing with Milwaukee, Cutter received a $737,000 bonus from the club.

In July, 2008, Cutter did an interview with Brewers blog BrewCrewBall.com and talked about what he did with his bonus money.
Sordid story short: Cutter gave his check to his old man. A little more than a year later, it wasn't clear how much of that money was left, but Lenny supposedly was removed by police after trying to make contact with Cutter. Meanwhile, after two seasons it looks like Cutter's career is going nowhere fast, with a .247/.342/.362 line as a professional. Hard to figure how this has a happy ending.