December, 1, 2011
12/01/11
9:00
PM ET
By
Christina Kahrl
| ESPN.com
The Marlins have noisily associated themselves with most of the biggest big-name free agents, flirting with
Jose Reyes
,
Albert Pujols
,
Mark Buehrle
and
C.J. Wilson
. Now, a lot about this smacks of aggressive brand promotion now that the Fish have brought in Ozzie Guillen to manage, changed their look, and anticipate moving into their new stadium next spring. It would be remarkable if they land any one of those four free agents, but the rumors buzzing around their reaching an agreement with the Padres'
Heath Bell
could have legs.
Keep in mind that the Marlins could already anticipate their expenses expanding by $15 million from 2011 to 2012 thanks to having back-loaded their multi-year commitments to
Hanley Ramirez
,
Josh Johnson
,
Ricky Nolasco
and
John Buck
among others. That's before getting into the expense of haggling with plenty of arbitration-eligible players; they may sensibly discard the entirely replaceable guys, the
Joe Nelson
types, as they did before, but doing so might spoil all the good vibrations they're so busily trying to cultivate among an understandably skeptical fan base.
[+] Enlarge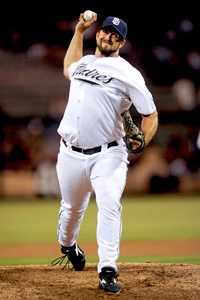 Andy Hayt/Getty ImagesAre the Marlins targeting San Diego's Heath Bell?
So even before Larry Beinfest and Mike Hill could start spending some significant chunk of the Lorians' lucre, you could reasonably expect the Fish to top a $70 million payroll in 2012. We'll see how far they're willing to go beyond that, and whether by attaching themselves to some of the market's biggest stars isn't just a case of trying to keep their name in the papers with all of the dignity of a D-list socialite chasing after paparazzi instead of the other way around.
The reason Bell
might
be different has everything to do with their situation and his. Where the aforementioned quartet of big names are all in demand and likely to sign elsewhere for bigger money than the Fish are used to flinging around, Bell may not have quite as much going for him as the free agents in greatest demand.
First, there's his age. Bell was already almost 30 before he got his break with the Padres after the Mets prematurely ditched him in a ticky-tack trade in 2006 that defied easy rationalization. He'll be 34 next season, so it isn't like he's in the same situation as
Jonathan Papelbon
or even
Ryan Madson
. As a result, this represents his first and probably only chance to score an eight-figure multi-year commitment, but his age probably militates against his getting everything he wants.
Also arguing against his getting top dollar is how much benefit he's gotten from pitching in Petco Park the past five years. Career, he's allowed just 2.5 runs per nine in San Diego, against 3.8 R/9 everywhere else he's pitched in the majors. He's become more of a fly-ball pitcher since coming to the Padres, which can be seen as adapting and exploiting the park's wide-open spaces, but with that goes a slightly higher rate of homers allowed on the road: 0.6 to 0.4 HR/9, so we aren't talking about Lidge-like combustibility here, but it's another cause for concern.
Then there's his strikeout rate's decline. It dropped below 30 percent of all opponents' at-bats for the first time in his Padres career. Given that very few people whiff hitters at that clip forever, it isn't like last year's 20 percent K-rate is cause for extreme alarm, since he's still above-average and throwing around 94 mph. But it's another factor that bidders can talk up while trying to talk down Bell's price.
Put those three things together, and you can see how Bell could be the kind of quality closer the Marlins would be willing to afford. With the sticky legal situation over the identity of Leo Nunez/Juan Oviedo (aka, the closer to be named later), the have an opening and might be able to hand-wave their way past the various mild causes or concern that go into making a multi-year commitment to Bell. Keep in mind, we have no real idea how the Marlins' park will play, but Bell's track record is more than good enough overall to get him major money and a multi-year commitment, even if he doesn't get beyond an Average Annual Value of $10 million per year in the deal.
Getting three years guaranteed might entail giving up no-trade protection or a guaranteed donation to the team charity or whatever other bits have to be wangled to make everyone happy. Here's hoping that, both parties willing, this is one rumor that's going somewhere.
Friday P.M. postscript
: This post went up a couple of hours before the announcement that Bell had agreed to terms with the Marlins on a three-year, $27 million deal, a contract that includes provisions for a fourth-year vesting option for another $9 million.
Depending on your point of view, this was wonderful, terrible or significant, or some combination thereof. Naturally, a lot of statheads decried the expense, wailing over Bell's declining strikeout rate -- without noting that it's still higher than league average -- and his fly-ball rate, without observing that it was higher before he had Petco to pitch in, and without anyone having any idea how Municipal Shakedown Stadium will play.
Mostly, the shrieking was over the idea that closers are overpriced and fairly fungible, a point I'm generally in agreement with. Lots of people can and do quite nicely as closers when you give them the opportunity. I wouldn't go so far as to say
anybody
can close, because it isn't like you want a situational specialist getting over-exposed, and you can't just chuck the notion that some guys just aren't comfortable in the role. But .
But this also goes to Jim Bowden's point, that the Marlins sent a message with this deal. Unlike getting
Hanley Ramirez
or
Josh Johnson
or
Ricky Nolasco
to agree to multi-year deals, those contracts were matters of using the leverage of club control to induce their own players to accept financial security. Signing Bell's different -- they Marlins landed a man on the market, available to all.
You could argue that they paid a premium for that by paying a deal with a $9 million AAV, but Bell got a lot less per annum than
Jonathan Papelbon
($12.5 million AAV for four years) for a shorter stretch, and more than
Joe Nathan
for longer ($7.25 million AAV over two). And as I speculated, they'd get him for less than eight large per year, but offer a third guaranteed year to get him. In essence, the Marlins behaved like an equal competitor on the market, and that's new for them. You can bet players and their agents will notice.
On the other hand, "everybody's doing it" isn't exactly the ultimate in justifications for doing something, even when you're a team with a rep as lousy as the Marlins when it comes to paying people. The ready demand from the smart set is that the Marlins could have gotten somebody else nearly as effective for less. That's a reasonable argument, but only up to a point -- the Hot Stove league doesn't operate like a true open market, because not everyone is available. Trading for alternatives is great to posit in the abstract, liberating some put-upon set-up man robbed of the opportunity to rack up saves, but the teams that employ them have this annoying tendency of wanting to keep them for themselves, or demanding value in trade.
Put it all together, and I think the expense -- and the message it sends -- can't help but improve the Marlins' chances to land another big name in free agency. If it's
Albert Pujols
or
Jose Reyes
, that's something. If it's
Aramis Ramirez
, on the other hand... well, we'll just have to see, won't we?
Christina Kahrl covers baseball for ESPN.com. You can follow her on Twitter.
June, 3, 2011
6/03/11
11:56
PM ET
By
Brien Jackson
| ESPN.com
Ryan Braun
can hit. The Brewers' slugging left fielder entered Friday night hitting .306/.402/.563 (BA/OBP/SLG), and via a FanGraphs offensive metric,
wRC+
, his mark of 171 is tied with Reds first baseman
Joey Votto
for second in the National League. In fact, Braun is hitting so well, not even getting a day off can keep him from contributing.
Braun started the night on the bench in his return to the city where he was a star during his college career at the University of Miami. But with the Brewers down 5-4 to the Marlins in the top of the ninth and
Yuniesky Betancourt
on first base as the tying run following a leadoff single, manager Ron Roenicke called on Braun to pinch hit. With a 1-1 count after two fastballs down in the zone, Marlins closer
Leo Nunez
tried to work another fastball in on Braun's hands. It didn't quite get in fast enough, and the slugger turned on it and sent a line drive over the wall in left to give the Brew Crew the lead.
The Marlins made things interesting in their half of the ninth, thanks in no small part to Roenicke's decision to intentionally walk
Mike Stanton
to put the winning run on base. The Brewers ultimately loaded the bases following a
John Buck
walk with two outs, but closer
John Axford
rebounded to strike out
Brett Hayes
and preserve the victory.
The win continues an impressive run for Milwaukee. Despite the preseason hype the Brewers got after acquiring pitchers
Zack Greinke
and
Shaun Marcum
, a little less than a month ago, Milwaukee sat at just 13-19 and had lost seven games in a row. Since that early-season nadir, the Brewers have won 18 of 25 games and are two games out of first place in the highly competitive NL Central.
Carrying the Brewers has been their trio of familiar offensive stars. In addition to Braun, the Brewers have two other players,
Prince Fielder
and
Rickie Weeks
, among the top 12 NL hitters in wRC+, the most of any one team. Three other teams boast two players in the top 12: the same Marlins the Brewers defeated Friday, and division rivals St. Louis and Cincinnati.
Both the Brewers and Reds have to be feeling pretty good about where they stand. The Reds have been able to hang around the race despite some disappointing pitching, particularly from their starters, while the Brewers have successfully bounced back from their disappointing start and are firing on all cylinders after a spate of early-season injuries. They're both still looking up at the Cardinals, however, although fate certainly isn't helping the Redbirds in 2011.
For starters, you have to wonder how long
Lance Berkman
can continue to perform the
Albert Pujols
impersonation he's been doing thus far in 2011. Entering play Friday, the "Big Puma" was hitting .329/.449/.595 and leading the NL in wRC+. It certainly seems unlikely that he's going to do that for a full season, although stranger things have happened. Their other MVP candidate of the moment,
Matt Holliday
, just went on the DL. And Pujols still isn't hitting well, batting just .265/.335/.412, a downright shockingly un-Pujolsian performance thus far in 2011. Yet they're still leading the division. Plenty of observers were set to write them off even before the season started, especially after they lost
Adam Wainwright
for the year thanks to Tommy John surgery.
With this many good teams bunched atop the division, you can bet the trade deadline will be a very interesting time for their fans. After all, at least one of the Brewers, Cardinals and Reds will have to miss the playoffs, and with all of them having a legitimate chance to take the division crown, you can bet each will aggressively pursue improvements where it can. Right now, the Reds seem the most in need of help, desperately looking for improvements to their rotation and something, anything, approaching quality production from the shortstop position. The Cardinals are getting by for now, but you have to figure they'll want to at least do something to give them some depth with all the injuries they've been piling up lately -- although they are no doubt hoping their biggest addition in the next month or so is a rejuvenated Pujols.
As for the Brewers? They probably would like to add some help in the bullpen. That's the only real hole on this club so far, and that unit is still fifth in the league in xFIP, promising improvement during the season. As a result, while the Cardinals might be leading the division for now, it's a hot Brewers ballclub that looks like it is the best team at the moment.
PHOTO OF THE DAY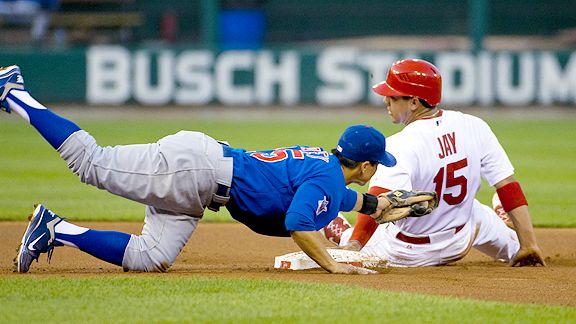 Scott Rovak/US PressiwrePlaying tag 'round the bag, there's only two kinds of people in this world: the safe and the out.
Brien Jackson is a contributor and associate editor at It's About the Money, Stupid! You can follow Brien on Twitter, and follow IIATMS on Twitter and Facebook.
May, 10, 2011
5/10/11
1:05
AM ET
The Minnesota Twins and Boston Red Sox battled for 11 innings on Monday night, and in the end,
Carl Crawford
's double high off the Green Monster plated
Jose Iglesias
with the winning run in a 2-1 victory.
Twins manager Ron Gardenhire, apparently waiting to take the lead before using closer
Matt Capps
, and not wanting to use
Joe Nathan
on back-to-back days, was left with somebody named
Jim Hoey
on the mound. With one out, Hoey walked
Jed Lowrie
-- not necessarily a surprise since Hoey walked 34 in 52 2/3 innings in the minors last season. Iglesias came in as a pinch-runner and Crawford hit a 3-2 pitch off the wall.
We're going to see a lot of games like that this season: low-scoring affairs decided in the late innings. With scoring down, games will be tight, and with close games, late-inning bullpen work may be more important than ever. And if you're relying on Jim Hoey in tie games, chances are you may be 12-21.
Let's do a quick overview of the state of 'pens around baseball.
Three best bullpens on contenders
1. San Francisco Giants: The unheralded secret weapon of last year's champs, the bullpen has picked up where it left off, with
Javier Lopez
,
Sergio Romo
,
Ramon Ramirez
and
Guillermo Mota
throwing lights-out. Closer
Brian Wilson
blew his first save chance but has since converted 11 in a row, despite a little wildness. The team has lefty-righty balance, with lefties
Jeremy Affeldt
and
Dan Runzler
adding solid depth.
2. Florida Marlins: Several arms were added to the Marlins' 'pen after last season's shaky performance and so far they have a 2.59 relief ERA, second only to San Diego's. I believe in this group, although stellar setup man
Clay Hensley
was just placed on the DL with a bruised rib. Closer
Leo Nunez
appeared in 17 of the team's first 32 games, so watch his usage carefully.
3.
New York Yankees
: Yes,
Mariano Rivera
had that little burp, but he's back on track. Setup man
Rafael Soriano
has struggled, but I project he'll turn it around.
Joba Chamberlain
is throwing better than he has in years, and underrated
David Robertson
has one of the nastiest curves you'll see. The 'pen has allowed just five home runs in 95 innings. The big question is whether
Boone Logan
will prove to be a reliable lefty in the absence of
Pedro Feliciano
.
Bullpen doing it with smoke and mirrors right now
Tampa Bay Rays: The Rays have a 2.69 bullpen ERA, third-best in the majors, and have allowed opponents a .203 batting average. They've allowed just 61 hits in 87 innings despite a poor 51/34 strikeout/walk ratio. Some of that is attributable to their defense, but the low strikeout rate means that .203 average will be difficult to maintain. And maybe you believe in
Kyle Farnsworth
more than I do.
Three bullpens I'm worried about
1. Texas Rangers: The Rangers will be fine at closer once
Neftali Feliz
returns, but the rest of the 'pen looks shaky, as it has allowed 16 home runs in just 94 innings and has a poor 66/43 strikeout/walk ratio. Forty-somethings
Darren Oliver
and
Arthur Rhodes
are looking more their age and have surrendered three home runs apiece, and
Darren O'Day
is on the 60-day DL with a torn labrum in his hip.
2. Detroit Tigers: The team's best reliever has been
Al Alburquerque
, and with a name like that, he'd better be good, because we want him to last a long time. Closer
Jose Valverde
is always a tightrope, but the rest of the setup crew, including high-priced free agent
Joaquin Benoit
, has looked inconsistent.
3. Milwaukee Brewers: Brewers relievers already have nine defeats. They have a few good arms in closer
John Axford
and
Zach Braddock
and
Brandon Kintzler
, but control issues have been a problem so far and lack of depth could be an issue.
Two awesome bullpens if you only need two guys
1. Atlanta Braves:
Craig Kimbrel
and
Jonny Venters
are dominant (and
Eric O'Flaherty
provides a nice third guy). We'll have to see whether Venters holds up after pitching 79 games and 83 innings last year, but so far he's been even better than he was in 2010, with a 0.70 WHIP.
2. Boston Red Sox:
Daniel Bard
's raw numbers are great (well, except that 0-3 record, which is not exactly a non-important notation).
Jonathan Papelbon
is back with an 18/2 strikeout/walk ratio. But new acquisitions
Bobby Jenks
and
Dan Wheeler
have been disastrous, leaving a gaping hole after the top two.
Bullpen that may actually be OK
St. Louis Cardinals: The Cards are tied with the Brewers with nine bullpen losses, three by deposed closer
Ryan Franklin
. And while the team may not have a set closer (
Fernando Salas
has the role for now), there are some good arms here.
Jason Motte
,
Mitchell Boggs
and rookie
Eduardo Sanchez
all average more than 93 mph with their fastballs, and Salas throws strikes. Mix in LOOGYs
Trever Miller
and
Brian Tallet
, and I think Tony La Russa will figure out roles that turn this into one of the better 'pens in the NL.
PHOTO OF THE DAY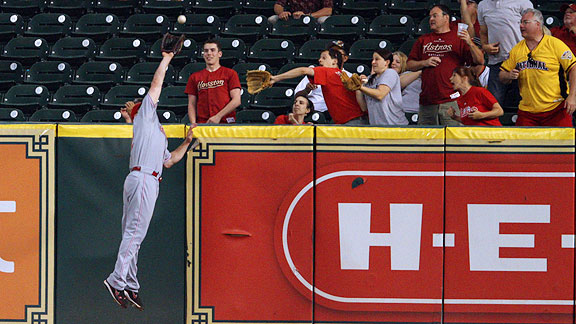 Thomas Campbell/US PresswireStretch! Jay Bruce reached as high as he could, but no dice. That one's gone.
April, 15, 2011
4/15/11
12:59
AM ET
Hey, I love blaming the manager. You love blaming the manager. It's as much a part of baseball as peanuts, Cracker Jack and questioning every home run hit from 1993 to 2005, except those hit by
David Eckstein
.
So let's go around one night in baseball and play the newest SweetSpot game, coming soon to GSN, "I Could Do A Better Job, If Only I Weren't Sitting On My Couch Blogging Instead."
The move:
Marlins manager Edwin Rodriguez brings in
Leo Nunez
to close out a 6-5 lead against the Braves.
What happened:
Nunez got the job done, giving up a leadoff line-drive single to
Alex Gonzalez
, but escaping further damage.
My take:
Nunez is a mediocre reliever (4.37 career ERA) who lucked into the Marlins' closer role a couple seasons ago -- and held on to it despite allowing 13 home runs. I would have kept
Clay Hensley
in the game. Hensley, so dominant last season (2.16 ERA, 1.11 WHIP, only three home runs), threw five pitches in the eighth inning in recording the game's two biggest outs,
Dan Uggla
and
Jason Heyward
, leaving the bottom of the order for Nunez. Even then, Nunez was lucky to escape without a blown save. After Gonzalez's single,
Freddie Freeman
laced a liner into deep right-center that
Scott Cousins
made a nice running catch on. A couple more feet and it's a tie game.
The move:
Twins manager Ron Gardenhire takes out
Carl Pavano
after eight shutout innings, brings in
Joe Nathan
to protect a 2-0 lead against the Rays.
What happened:
Double, walk, two-run double, game tied. Twins lose in the bottom of the 10th when
Matt Capps
blows another lead.
My take:
Two years ago, before Nathan blew out his elbow, this move wouldn't have been questioned, of course, as Nathan was one of the most dominant closers around. But he's not Joe Nathan anymore. His fastball, 93-94 mph before the injury, has been averaging 91 this season. Pavano had thrown just 104 pitches and allowed four hits and two walks. He'd retired the side in order in the eighth, including a strikeout of
Johnny Damon
. He's a workhorse. Leave him in.
The move:
Buck Showalter has
Mike Gonzalez
pitch to
Nick Swisher
with runners at second and third and one out in the bottom of the 10th inning.
What happened:
Swisher hits a sac fly to give the Yankees a 6-5 win.
My take:
I wholeheartedly agree with this move. Not a big fan of the intentional walk to set up the double play, as it forces the pitcher to throw a strike -- and the hitter knows it. (Last season, batters hit for a higher average and more power with the bases loaded than with runners on second and third.) Plus, in this specific case you have a high strikeout batter (Swisher struck out 139 times in 2010) and a pretty good strikeout pitcher in Gonzalez. The argument for walking Swisher would be to set up a double play with
Jorge Posada
, but last season Posada grounded into a double play in only 7 percent of his possible opportunities (14 percent in 2009). And Gonzalez isn't a groundball pitcher, so a double play would have been unlikely. Sometimes the right move just doesn't work. (Now, if you want to argue whether
Kevin Gregg
should be Baltimore's closer. …)
The move:
Eric Wedge hits
Adam Kennedy
cleanup for the Mariners. Kennedy had started at cleanup once before in his career.
What happened:
Kennedy drives in Seattle's lone run in a 5-1 loss to Kansas City! Shockingly, a lineup with Adam Kennedy hitting cleanup struggled to score runs.
My take:
Look, I know why Eric Wedge did this: He doesn't want to bat
Justin Smoak
cleanup, presumably to take "pressure" off him. Hey, I don't know if Smoak is going to be any good. He's easily been Seattle's best hitter so far (cough) and whether he turns out to be a big-time hitter will have nothing to do with where he bats in the lineup. Either he can hit major league pitching or he can't. And I know this: the only way Seattle will ever be a good team again is if Justin Smoak develops into a cleanup hitter. At some point you have to take the training wheels off and let the kid ride or fall.
So there you go. One night in baseball. Sometimes the moves work, sometimes they don't, and sometimes they just confuse us. But in the end I tend to believe it's the ballplayers who win and lose the games.
It's just more fun to blame the manager.
PHOTO OF THE DAY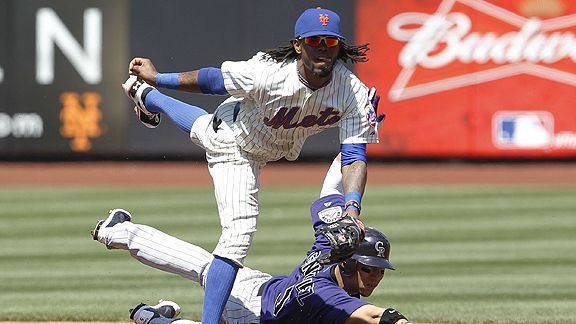 William Perlman/THE STAR-LEDGER/US PresswireJose Reyes was able to get out of the way of CarGo. The Mets couldn't avoid the Rockies, though.