September, 29, 2013
9/29/13
8:53
PM ET
There were some moments there when it appeared the Tampa Bay Rays would complete a mini collapse of sorts, especially when manager Joe Maddon lost his cool as the Rays were starting to melt down in the seventh inning and he had an Earl Weaver moment, getting ejected after arguing with plate umpire Paul Schreiber following a trip to the mound.
The Rays had entered the weekend in control of their own wild-card destiny, but while the Indians and Rangers were beating the Twins and Angels, Tampa had lost twice to Toronto. A six-run first inning made it appear it would be an
easy win on Sunday
, but the Rays saw a 7-0 lead slide to 7-3 in the sixth, then 7-4 in the seventh and then 7-6 in the eighth as closer Fernando Rodney gave up two run-scoring singles and then a walk that loaded the bases. But he struck out Moses Sierra with two outs and got through the ninth and now the Rays will play the Rangers in the tiebreaker game on Monday night to move on to the wild-card game.
On paper, the pitching matchup goes to the Rays, with David Price starting against Martin Perez. The Rays set up their rotation back in early September to line up Price to start the wild-card game or, if necessary, this game. The Rangers had to scramble at the end and, needing a win on Sunday, started ace Yu Darvish, so the start here falls to the young left-hander.
Before we get to Price's checkered big-game history -- especially against the Rangers -- I'm left with two thoughts on this year's wild-card race.
First, the Rays are arguably better than the Indians or Rangers. By that, I mean the AL East was clearly a tougher division than the Central or the West. AL East teams went 242-188 outside the division, the Central went 210-220 and the West went 197-233. If the Rays had played 19 games against the Astros and Mariners instead of the Orioles and Blue Jays, they would have likely won a few more games.
But them's the breaks, I guess, and strength of schedule matters only for NCAA tournament seedings. Plus, the Rangers are hosting the game because they did win the season series, 4-3.
The second issue is the decision the Rays made to start Wil Myers in the minor leagues and not recall him until June 18. While the Rays can claim they wanted Myers to work on cutting down his strikeouts, we also know this move is something the Rays have done in the past to save money. By delaying Myers' call-up date, they saved not only a season on his free agency but also postponed his initial eligibility for arbitration by a year. That will save them millions down the road, but maybe it will end up costing them a playoff berth this year.
From Opening Day until June 17, Rays right fielders hit .246/.327/.427, not awful but below Myers' .295/.353/.482 line. Matt Joyce and Ben Zobrist played a lot out there early on, so in essence the Rays were playing guys like Ryan Roberts and Sam Fuld early on instead of Myers. I think it's fair to suggest the Rays would have at least one more win if Myers had been called up six weeks earlier.
[+] Enlarge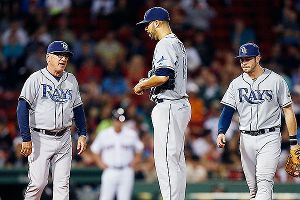 AP Photo/Michael DwyerDavid Price doesn't want to have to face further questions about his problems with the Rangers.
OK, so what about Monday's game? While Price is understandably the guy Maddon wants to give the ball to, it's also true that the Rangers sort of have the whammy on him. Price is 1-4 with a 5.98 ERA in eight regular-season starts against Texas and is 0-3 with a 4.66 ERA in three postseason starts. Those are the only three playoff starts of Price's career, and remember also that on that memorable final day of 2011 he started and dug a big hole for the Rays when he allowed six runs in four innings to the Yankees. So he has a checkered past in big games.
After missing all of June with a triceps injury, Price returned and had the best stretch of his career, eight starts where he went 5-1 with a 1.40 ERA, a 44-to-2 strikeout-to-walk ratio and had three complete games where he threw fewer than 100 pitches. He's allowed two runs in each of his past four starts, but hasn't had quite the same efficiency. What he's done, however, is keep the ball in the park as he's given up just two home runs in his past 11 starts.
In a move to perhaps counteract Price's dominance against left-handers, the Rangers announced Nelson Cruz will be activated for Monday's game. They didn't say whether he would be in the starting lineup, but you have to think Ron Washington may take that chance even though Cruz hasn't played a major league game since Aug. 4.
The past week or so, Washington has gone with Craig Gentry in left, Leonys Martin in center and Alex Rios in right, with David Murphy, Jeff Baker and others rotating through the DH slot. Martin hasn't hit lefties (.231/.286/.300), but an outfield of Gentry/Martin/Rios is the best defensive alignment the Rangers can throw out there. Baker will be in the lineup somewhere, considering he's slugged .667 against left-handers (10 home runs in 105 at-bats). An infielder by trade, Baker has started 15 games at first base. If I'm Washington, I keep the outfield intact, play Baker at first, bench Mitch Moreland and use Cruz as the designated hitter.
(Update: Baker has a hernia and has been ruled out from playing in the field the past few weeks. Plus he hasn't homered since August, so we'll likely see Moreland at first but maybe still see Cruz at DH.)
Perez doesn't have Price's résumé, but he has a 3.05 ERA over his past 11 starts. The peripherals aren't quite as good, with just 51 strikeouts in 73 2/3 innings. However, Perez has a great changeup that has actually made him more effective against right-handed batters. Maddon is pretty limited in his lefty-bashing options at the plate. You may see David DeJesus, who has delivered some big hits down the stretch, but you're unlikely to see Matt Joyce, who hit .167 against lefties.
Washington, of course, has a deep bullpen so he'll have the luxury of a quick hook and the ability to mix and match with righties and lefties. Remember, expanded rosters are in play since this is simply Game No. 163 of the regular season. While Perez has been solid of late, I don't think Washington should play around unless Perez is absolutely dealing; a quick hook should be in order. On the other hand, in sweeping the Angels, Washington did use Tanner Scheppers and Joe Nathan all four games and Neal Cotts in three. Not that Scheppers or Nathan will be unavailable, but it probably means Washington is even more unlikely to be a little creative and maybe stretch those two for four or five outs instead of three.
Given where the Rays were a week ago, I feel like more pressure is actually on them. The Rangers won their last seven just to get here and have to feel good just to have one more game. If the Rays lose, they'd become the first team since the 2002-03 Mariners to miss the playoffs two straight years while winning 90-plus games, so they face the frustration of another excellent season that falls just short of the postseason.
I don't see Price going the distance, so it becomes a battle of the bullpens in the late innings.
Advantage, Rangers
. I'll say Texas 4, Tampa Bay 3, with Fernando Rodney taking the loss in the bottom of the ninth.
August, 30, 2011
8/30/11
3:26
PM ET
It was Eric Karabell and Keith Law on Tuesday's
Baseball Today podcast
and we had a good ol' time with no cat noises, discussing many issues including these…
1. At the risk of beating the drum too many times, when
Randy Wells
throws a two-hit shutout at your offense in your stadium, you need more offense. Still.
2. Why is
Kevin Kolb
more popular these days in Arizona than
Justin Upton
? It's sad, in a way, but the Diamondbacks keep on keepin' on.
3. The AL Central race is still a race, as a rotation of Mark Buehrles takes on another led by the potential Cy Young winner. Can Ozzie's bunch make this interesting?
4. Who is the young
Texas Rangers
outfielder replacing
Nelson Cruz
? KLaw tells all about him and fellow Cuban
Dayan Viciedo
.
5. An emailer ranks the managers, and while we don't necessarily agree with how he did it, it's an interesting list.
Plus: More excellent emails, a tired
Jered Weaver
, an awesome
Desmond Jennings
, the future for
Lance Berkman
and
Andrew Cashner
and a whole lot more on a packed Tuesday edition of Baseball Today! Download now!
July, 21, 2011
7/21/11
4:27
PM ET
Injuries were the lead focus of Thursday's
Baseball Today podcast
, but Keith Law and I also found time for some upbeat discussion as well. Here are a few of the reasons why you should listen:
1. The Diamondbacks lost
Stephen Drew
, but their offense will survive. The question is about their defense.
2. The Tigers picked up a key player and again the question is about the team's defense.
3. If KLaw was running the Mets, would he be showing
Jose Reyes
the proverbial door along with
Carlos Beltran
?
4. Ozzie Guillen went nuts -- again -- on Wednesday, but we kind of like his behavior. Should the White Sox?
5. It's a day of aces in baseball, but our focus starts with a right-hander with an ERA on the wrong side of 5.
Plus: Excellent emails, the not-so-excellent
Aubrey Huff
, late-developing lefty pitchers, prospect Leonys Martin and a ton more on Thursday's Baseball Today podcast!
May, 6, 2011
5/06/11
7:02
PM ET
The
Texas Rangers signed Cuban defector Leonys Martin
this past week to a five-year, $15.5 million contract. Martin, 23, is a left-handed hitting center fielder who profiles to be their future leadoff hitter. The Rangers continue to be disappointed in the jumps and angles
Julio Borbon
takes in center and feel that for longevity sakes that
Josh Hamilton
will be better served staying in left field. Martin is expected to start in Double-A Frisco, with a September call-up not being ruled out this year if he hits enough.
Definition of scouting grades:
80 -- Hall of Famer
70 -- Superstar
60 -- All-Star Caliber player/Silver Slugger/Gold Glove
55 -- Above-average major league player
50 -- Average major league player
45 -- Below-average major league player
40 -- Role player
35 -- Minor league player
Rangers general manager Jon Daniels gave me his scouting report on Martin:
"6-2, 190 -- could have been a wide receiver. Left/Right (has actually played some shortstop in the past, but we feel is true CF). Plus runner (3.7 on drag bunt yesterday) but not a burner. Instinctive in field and on basepaths. Has some pull power and will drive ball, but is more of a line-drive gap to gap approach. True leadoff guy with feel for strike zone and understanding of his role and value of getting on base. 6 arm (60 on our scale). Smart, aptitude and driven."
Here is a summary of the evaluation of Martin that I received from multiple teams and other evaluators:
DEFENSIVELY:
He is an above-average defender in center field with first-step quickness with good jumps and angles. His arm is above average and accurate.
OFFENSIVELY:
Line-drive hitter with sweet spot contact. Has good strike zone awareness. Stays back well on secondary pitches. Not a lot of preliminary movement and has direct path to ball. Knows how to work counts and can draw walks. Has pull power that has the potential of developing in time. Potential leadoff hitter who can steal bases.
MAKEUP AND CHARACTER:
Intelligent player with good baseball instincts. Knows how to play the game. Aptitude is off the charts.
SUMMARY:
Long-term solution in the leadoff spot and center field. Chance to be an impact top-of-the-order bat with above-average, but not burner, speed. Estimated time of arrival is 2012 with the possibility of a September call-up this year.