August, 29, 2012
8/29/12
12:06
AM ET
Here's the thing about baseball in 2012: The difference between the best teams and the worst teams isn't all that extreme. The
New York Yankees
, for example, have outscored their opponents by 99 runs. The
Minnesota Twins
, with one of the worst starting rotation in recent memory, have been outscored by 114 runs. That's 213 runs, which is significant, but maybe not as large as you might imagine. The Twins have played 129 games, so we're talking about 1.7 runs per game. What's 1.7 runs? A double here, a single there, an extra walk here, one play made on defense. It's not
that
much, but those three or four plays a game add up over 162 games.
This gets us to the
Baltimore Orioles
, the team that won't go away. For the past couple of months, most analysts have predicted them to slowly slide out of the playoff chase, especially those of us who look at the numbers. We kept to their negative run differential: It will catch up to them eventually, we said. The talent base isn't there; they won't keep winning all these one-run games; their luck will run out.
Well, it's late August and the Orioles have 34 games remaining. Forget what us so-called experts predicted -- they're still in the race; they're 3.5 games behind the Yankees; and if the season ended today they'd be playing the Oakland A's in the wild-card game. And they're still getting outscored on the season ... by 39 runs.
But here's the deal: A month ago, the Orioles were 52-49 and 8.5 games behind the Yankees. Their run differential at that time was minus-63. Since then they've gone 19-8 and outscored their opponents by 24 runs -- or nearly one per game. There's nothing that screams fluke about what has happened over the past 30 days. The Orioles might have lucked into a 52-49 record but at this point they're for real.
One reason for their improvement has been the emergence of
Chris Tillman
, the tall, talented right-hander for whom it seems the Orioles have been waiting since Bush 43 was still president. After struggling in 2009 (5.40 ERA) ... and 2010 (5.87 ERA) ... and 2011 (5.52 ERA), Tillman didn't make the Opening Day roster. He was sent down to the minors leagues, cleaned up his motion so it became more over the top. His fastball, which had averaged 90.5 mph in 2010 and 89.5 mph in 2011, has now averaged 92.8 in 2012, with good downhill plane generated from his 6-foot-6 frame.
On Tuesday night at Camden Yards, the Chicago White Sox looked clueless against Tillman, who pitched seven one-hit innings on the way to a
6-0 Baltimore victory
. He did walk four but the White Sox
couldn't measure his fastball
, which he threw on 68 of his 109 pitches, a much higher percentage of fastballs than he normally throws (about 45 percent entering the game). He mixes in a curveball, slider and changeup, which he started utilizing more often late in the game. In other words, a classic approach since the days of rock-strewn infields and baggy wool uniforms: Establish the fastball early and then mix in the offspeed stuff.
The only hit off Tillman was
Dayan Viciedo
's infield dribbler in the fifth inning that
J.J. Hardy
couldn't field cleanly. Tillman actually said he didn't have his Grade A stuff on this night. "There were plenty of games where I had better stuff," he said. "There were some spurts there when I kind of got out of whack." Tillman had walked just 15 batters in his first nine starts.
Tillman's emergence -- he's now 7-2 with a 3.26 ERA -- symbolizes how the Orioles have revamped their rotation over the past month. Gone are
Jake Arrieta
(6.13 ERA),
Brian Matusz
(5.40 ERA) and now
Tommy Hunter
(5.95 ERA), to be replaced by the newly acquired
Joe Saunders
, who will start in Wednesday's series finale.
Jason Hammel
, the team's ace the first half, will also make a rehab start this weekend and could return to the rotation on Sept. 6. Arrieta, Matusz and Hunter combined to start 54 games -- and allowed five or more runs in 22 of them. Those are three main culprits behind the team's run differential. Well, that and the fact that
Wilson Betemit
and
Mark Reynolds
are no longer attempting to play third base.
Watching the Orioles the past two games, I've gotten a little bit of that "destiny" feeling.
Lew Ford
, out of the majors since 2007, homered both nights.
Nate McLouth
hit the big two-run home run Monday and added three hits Tuesday. As a Mariners fan, it reminds me of the miracle 1995 season, when the M's rallied from a 12.5-game deficit in late August to win the American League West. The team featured memorable big moments from guys such as Alex Diaz and Doug Strange and a way-past-his-prime Vince Coleman.
The Orioles are 24-6 (a .800 winning percentage) in one-run games, which would easily be the best record in one-run games during the wild-card era (the 2003 Giants went 28-12, a .700 mark). In fact, that would be the best of any team since 1901 -- the 1981 Orioles went 21-7 (.750). Of the top 10 one-run records from 1996 to 2011, eight of the teams made the postseason.
Team of destiny? Maybe, just maybe.
Thanks to Katie Sharp of ESPN Stats & Information for research help.
PHOTO OF THE DAY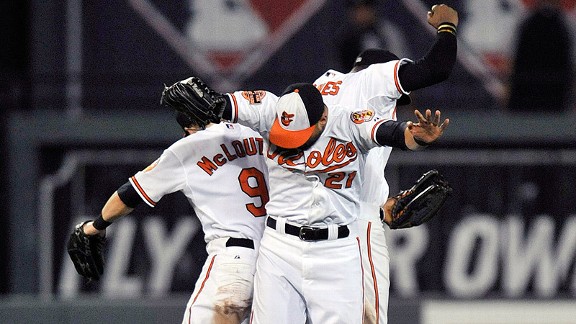 Joy R. Absalon/US PresswireIt's almost September, and the Orioles have plenty of practice celebrating a last out.
August, 19, 2012
8/19/12
1:00
AM ET
By
Christina Kahrl
| ESPN.com
The Orioles are the team that won't go away. For months now, they've been predicted to, expected to, and they have no end of excuses for why they're
supposed
to be long since out of the expanded wild-card picture already. Injuries, run differential, relative anonymity plus generally underwhelming performances from most of the people you have heard of -- the Orioles are supposed to be goners.
They aren't gone, but they might be going places. On Saturday, it was
Zach Britton
's bend-don't-break stylings that were their latest "that's not really possible, is it?" feat.
Seven shutout innings
against the Tigers make for some sort of Saturday night special, not bad for the latest transient solution in Buck Showalter's constantly fixed-up rotation.
Go by appearances alone, and it seemed like Britton had no business matching zeroes with the Tigers'
Rick Porcello
, allowing nine baserunners to Porcello's four through the first six innings. But three 6-4-3 double plays were enough to keep his head above water. Porcello had retired 11 men in a row heading into the seventh, but so what? A pair of dink singles and
Chris Davis
' three-run shot later, it didn't matter what Porcello had done beforehand or how good he looked doing it, because the O's had a decisive lead thanks to Davis' just-enough bit of bopping, making Britton a winner.
That in itself might be a bit of a surprise, considering that Britton's shot at pitching this year was no sure thing in March, when shoulder surgery seemed likely. But opting for platelet-rich plasma (or PRP) treatments put him on the shorter road to rehab, and he's been the skippable, sometime-fifth starter for a team that barely goes a week without having to change something in its rotation.
The Orioles have managed to keep the identity of their rotation's third or fourth or fifth starter a matter of a near-weekly surprise to everyone, including themselves. Some of that has been a matter of effective roster management by general manager Dan Duquette: Early in the season, the Orioles could afford to flip the optionable
Tommy Hunter
back and forth between Baltimore and Triple-A Norfolk, rostering him only when they had to. Despite that time spent shuttling back and forth, it says something about Baltimore's lot that Hunter is now second on the team in total starts because almost everyone queued up ahead of him has broken down or pitched his way out of a job.
This yo-yo role Britton found himself in on Saturday, as he was called back up into the latest breach in the rotation after already blowing his initial call-up after the All-Star break, getting clobbered in five of six starts. In the Orioles' ad-hoc rotation, he was back up because he was on the 40-man roster and had four days' rest, and little else -- he was four days removed from getting chewed up by Charlotte, pitching through a split nail on his pitching hand.
Britton briefly dealt with the burden of being blown up too soon as a sign of better times to come in the spring of 2011, after he notched a quick eight quality starts in his first 10 turns as a rookie in the big-league rotation. But just like
Brian Matusz
and
Jake Arrieta
, his success didn't last -- Britton managed just five starts of six innings or more and three runs allowed or less in his last 18 turns in 2011, putting him well on his way toward a new entry on the Orioles' list of mound disappointments. But like every other expectation for an Orioles setback, it seemed to merely set the stage for this latest improbable bit of heroics.
Where the rotation woes of the Yankees or the Red Sox get featured prominently, the Orioles have been scrambling all season. Only Chinese import
Wei-Yin Chen
has lasted the season. Chen plus Britton, Hunter, former Mariners prospect
Chris Tillman
and journeyman
Miguel Gonzalez
represent the latest front-five confection in a rotation that has already had to use 10 starters. Every day, the four non-Chens are all pitching for their jobs, because
Jason Hammel
is on the mend and due back in another two weeks.
Contenders aren't supposed to start TBD in three or four rotation slots this late in the season, are they? But this comes on top of their playing TBNL in left field. Davis was briefly their answer there, but so was
Nolan Reimold
,
Endy Chavez
,
Xavier Avery
and
Steve Pearce
. They're down to a
Nate McLouth
-
Lew Ford
platoon that would be entirely plausible if we were talking about a contender -- in the International League.
All of which is part of what makes the Orioles so entertaining. As they scrape to keep pace with the Rays in the wild-card chase, it might be hard to call them the underdog, but that's only if you keep your eyes peeled on payrolls. It's easy to root for the Rays -- every statistically savvy smart kid goes fanboy on sabermetrics' poster team. And they're supposed to beat Baltimore -- they're supposedly smarter, and stocked up on the really good players you already know, like
Evan Longoria
and
David Price
. And yet the Orioles still will not go away. Fun, ain't it?
PHOTO OF THE DAY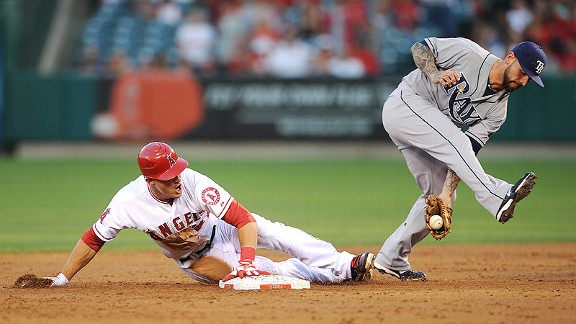 Kelvin Kuo/US PresswireRyan Roberts might do a little dance, but it's Mike Trout who has a steal to celebrate.
Christina Kahrl covers baseball for ESPN.com. You can follow her on Twitter.