August, 30, 2011
8/30/11
10:30
AM ET
By
Christina Kahrl
| ESPN.com
Sort of like yesterday's exercise with pitchers, if you want to take a stab at who's doing the best job of eradicating the running game from behind the plate, you can go in a few directions. Cut off playing time around 400 innings caught (we'll cheat and keep
Joe Mauer
in the sample, because he just missed) and you can go with simple caught-stealing percentage. And voila, this year's best catchers at getting caught stealings are the Indians'
Lou Marson
and
Kelly Shoppach
of the Rays at 44 percent apiece. Raise your bar to include only the most regular receivers, and the Snakes'
Miguel Montero
is your guy (40 percent).
However, just running with SB/CS data doesn't necessarily give us the whole picture, does it? Regardless of whether a play's ruled a stolen base -- and let's set aside the anachronistic silliness of "defensive indifference" -- what we're interested in is results in terms of baserunners advancing or getting thrown out. Poor receiving skills on top of a weak arm can contribute to runners taking more extra bases on loose-ball plays (wild pitches, passed balls), but a strong arm can help deter runners from going anywhere lest they get gunned down.
So, using Baseball-Reference's Runner Bases Allowed (which include PBs and WPs as well as steals) and Runner Kills (outs of every fashion, whether they're pickoffs, caught stealings, etc.), plus Baseball Info Solutions' Catcher Runs Above Average (RsbC), let's see if we can get a slightly more involved look at the best guys:
That makes for a fairly interesting field, but we see a lot of the same names crop up: Wieters, Shoppach and Marson. Opportunities aren't equally distributed, of course -- some guys draw tougher assignments. So
Jarrod Saltalamacchia
and
Josh Thole
, the catchers charged with most frequently handling baseball's knuckleballers (
Tim Wakefield
for the Red Sox and
R.A. Dickey
for the Mets) don't catch many breaks.
And looking strictly at Runner Kills can give you a false impression -- one of the reasons Olivo and Lucroy show up in that column but nowhere else is because they lose so many bases on steals and loose balls that they get attributed more opportunities. They're very average at throwing out runners (an exactly MLB average 28 percent for Olivo, 26 percent for Lucroy), but they're both allowing around three extra bases per nine innings they catch, among the worst marks in the majors. Olivo's hands of stone made him a strange choice for the defensive-minded Mariners, especially since they settled on him in last winter's backstop sweepstakes fairly early (Dec. 9), but it's consistent with his track record.
In the end, I'm partial to the ratio of bases allowed to kills as a useful quick-and-dirty way of answering the question of who's doing the best job of killing off baserunners when opportunities come along. If you're partial to giving part-time players full credit -- and why not, catching's no easy gig -- that means giving Shoppach and Marson their due as the game's best sharpshooters behind the plate. But among the ironmen asked to be everyday receivers, it's the Orioles' Wieters who should walk away with the gold.
Christina Kahrl covers baseball for ESPN.com. You can follow her on Twitter.
February, 26, 2011
2/26/11
10:26
AM ET
By
Steve Buffum
| ESPN.com
If I were to tell the story of the
Cleveland Indians
' 2010 season, I would probably start with the three-run error.
[+] Enlarge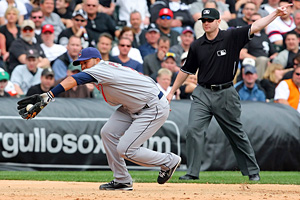 Dennis Wierzbicki/US PresswireCleveland won't miss the defensive mishaps of former third baseman Jhonny Peralta.
Every team makes errors. It's unreasonable to expect any team to make it through a season defensively unscathed. The very best Gold Glove-winning infielders make errors.
This was not one of those errors.
Tribe fans were excited to start the season with perceived defensive whiz
Asdrubal Cabrera
at short: He had played well at both middle infield positions in 2009, and was considered a sizable defensive upgrade to the rather plodding, spherically-headed
Jhonny Peralta
. Peralta slid over to third, a position that could potentially hide his below-average range while still taking advantage of his strong arm. His slow first step was not seen as an asset of comparable size.
When you think about a three-run error, you think about a diving outfielder and a ball rolling to the wall. You might think of Jose Canseco's innovative cranial fielding technique, or perhaps a marauding band of highly agitated Pennsylvania Outfield Badgers. But the outfield is involved in some way, no?
No.
With the bases loaded, the Tigers' hitter bounced a ball to Peralta's left, which he managed to knock down with a grace normally accompanied by an eyeless Muppet singing, "Bork, bork, bork!"
Thousands of Cleveland fans momentarily lost consciousness as they forgot to breathe while giving Peralta the telepathic signal
not
to rush the throw.
In my experience as a Cleveland fan, the Cleveland Fan Long-Distance Telepathic Network needs work.
Peralta's throw to ersatz first baseman
Andy Marte
was … look, it was not a good throw. Not many first basemen would have caught that throw. My point is, not many first basemen would have approached the play as Marte did, either, which is to say, to stand like a grandfather clock and … again, I cannot tell you what Marte's thought process was here, but it appeared to combine equal parts Zen, terror, and petit mal seizure. The ball rolled away. Detroit's baserunners continued to run. Right fielder
Shin-Soo Choo
, roughly 19 times the distance from the ball, ran toward the ball. The sun changed position perceptibly in the sky. Detroit baserunners continued to run.
Did I mention that Cleveland lost by three runs?
After Peralta was traded, which was
after
he broke Cabrera's arm in a collision, Cleveland fans were "treated" to the sight of
Jason Donald
playing short and waiver pickup
Jayson Nix
sliding from his natural position of second to third. As a shortstop, Donald is a perfectly adequate second baseman. As a third baseman, Nix is a perfectly adequate second baseman.
If the Indians face a lineup of
Adam Dunn
,
Jim Thome
,
Ryan Howard
and
Travis Hafner
, their innovative three-second-basemen defense will serve them well. Until this team is constructed, they will still require someone to stand closer to third base than any other player. Right now, this is likely Nix. Or Donald. Possibly
Luis Valbuena
, a man who is not quite as good as Donald, or Nix, or a sack of iguanas.
Compounding this is the fact that the two best Cleveland starting pitchers are groundball pitchers
Fausto Carmona
and
Justin Masterson
.
Other amusing anecdotes from the 2010 infield include the walk-off bunt, the four-wild-pitch opener (as least partly due to rookie catcher Tofu
Lou Marson
's inexperience with
Jake Westbrook
's sinker), the walk-off wild pitch, and the game with six infield hits.
Is there room for hope here? Of course. For one thing, the Indians are placing an increased emphasis on infield defense this season. They recognize the issue. But plenty of potential improvement can come from simple experience: Marson became much more accomplished behind the plate over the season and has a terrific arm. Nix and Donald will likely play better just by virtue of repetition. A healthy
Matt LaPorta
, if such a thing actually exists in non-theoretical space, should be fine at first. And the future of the Cleveland infield is probably Jason Kipnis, Lonnie Chisenhall, and possibly Cord Phelps, although none of them is ready to open 2011 with the Tribe.
The offensive contributions of these players (besides LaPorta) are almost irrelevant: The Indians did a decent job of scoring runs in 2010 and will likely do so again. A full season of
Carlos Santana
, any contribution better than what
Grady Sizemore
was able to struggle through, and a fully-recovered Cabrera will go a long way toward boosting the offense.
In Cleveland, the watchword is "infield defense." It will be better in 2011 … axiomatically.
Steve Buffum writes The B-List, a blog about the Cleveland Indians.
April, 9, 2010
4/09/10
5:29
PM ET
Aaron Gleeman on
the great catching prospect
you might not know yet:
Part of the reason why the Indians were willing to trade both Victor Martinez and Kelly Shoppach last season is that they have stud catching prospect Carlos Santana waiting in the wings at Triple-A.

Acquired from the Dodgers in mid-2008 as part of the Casey Blake deal, Santana was initially expected to begin this season on the disabled list because of a broken hamate bone in right hand suffered while playing winter ball. Instead, he celebrated his 24th birthday last night by going 4-for-5 with two homers and a double in the Triple-A opener.

For now Lou Marson is Cleveland's starting catcher and at just 24 years old he's a solid enough prospect in his own right, but when Santana is ready the Indians won't hesitate to clear a path for him and that time may be right around the corner.
Just last week, I read somewhere that there aren't any good young catchers these days. I read something like that every few years, and every few years there's another new crop. Today it's Santana,
Buster Posey
and Jesus Montero, all of whom rank among the 10 best prospects in the minors.
The Indians are obviously blessed with young catchers, as Marson's only 11 weeks older than Santana. But it's far from clear how good Marson can be; in roughly the same playing time, he's got a .314/
.433
/.416 line in Double-A, .277/.361/.360 line in Triple-A. About all we can say for sure about Marson is that he'll draw his share of walks, which immediately puts him ahead of most young catchers.
So, yeah: Marson's a perfectly fine place-holder, but it would be lovely for the Indians if he played so well over the next month or two or three -- however long it takes Santana to force his way into the majors -- they could flip him for a catcher-hungry team and get another prospect (or two). Because the Indians are essentially playing one game: Prospect Acquisition. Get enough of them, and they can compete in a weak division every year. Don't get enough, and just hope to get lucky every few years. At this point they're doing well with hitters, but the jury's still out (way out) with pitchers. And they have to hit on both.