December, 5, 2013
12/05/13
2:30
PM ET
A follow-up to yesterday's post titled
"One thing Hall of Fame voters get wrong."
The premise of that piece was that voters haven't properly adjusted for the increasing number of teams since expansion first began in 1961 -- from 16 teams to the 30 we have now. I pointed out that the 1950s and '60s have a combined 39 Hall of Famers (for an average of 36 teams) while the 1970s and '80s have just 36 Hall of Famers for 50 teams.
Personally, I think the one-to-one ratio of Hall of Famer per team sounds about right. It's fewer than the overrepresented 1920s and 1930s, about what we have for the '50s and '60s but fewer than what we have for the '70s and '80s.
So, who is missing from the '70s and '80s? Here are 10 guys I would put in. WAR totals and rankings from Baseball-Reference.com.
Tim Raines (69.1 WAR, 105th all time)
Ballot history: After starting out with just 24 percent of the vote in 2008 he's started climbing in recent years and was up to 52 percent last year.
This will be Raines' seventh year on the ballot, and while he'll probably stagnate in the next couple years with some big names on the ballot, he looks like he'll eventually get in before his 15 years is up.
Alan Trammell (70.4 WAR, 94th)
Ballot history: After 12 years on the ballot, he was at 33 percent last year. He won't get elected via the BBWAA.
I've never understood why Trammell was never able to build a case. His career numbers are very similar to Barry Larkin's, minus a few steals, and Larkin made it in on his third year. Even if you think Larkin was a
little
better, if Larkin's case is 100 percent then Trammell's should be about 98 percent. Two differences: Larkin won an MVP and Trammell finished second when he should have won; Larkin didn't have Cal Ripken in his league.
Lou Whitaker (74.8, 77th)
Ballot history: Got 3 percent his first year and fell off.
Whitaker's career numbers are pretty similar to Roberto Alomar's: .276/.363/.426 with a 117 OPS+ versus .300/.371/.443 with a 116 OPS+. Alomar had more steals and the better defensive reputation although Whitaker was very good and won three Gold Gloves. It's not necessarily that Whitaker was as good as Alomar but that he compares very favorably. The case against him is that his peak wasn't as high -- his five best seasons were worth 28.9 WAR compared to Alomar's five best at 33.0 -- but he was very good even up to his final season. You know what hurt him? He hit the ballot in 2001, when even middle infielders were putting up huge offensive numbers. Whitaker's good seasons looked less impressive at the time.
Dwight Evans (66.7, 125th)
Ballot history: First came on in 1997, lasted three years before getting booted.
Evans had received 10 percent his second year, which while not great at least gave him some momentum from his first year. Maybe his case would have exploded like Bert Blyleven's. But the 1999 ballot added Nolan Ryan, George Brett and Robin Yount and everybody else suffered as a result. Evans, of course, is a sabermetric darling. He did things well that Jim Rice, his Hall of Fame teammate on the Red Sox, didn't: draw walks, play superb defense. The walks meant that Evans posted a higher on-base percentage even though Rice had the higher average. You'd think a guy who won eight Gold Gloves, hit 385 home runs in the pre-steroid era, drove in 1384 runs and scored 1470 would have been more appreciated. Part of his problem was that he was better in his 30s than his 20s. He wasn't a Hall of Famer for the first half his career so not enough people thought of him as one.
Bobby Grich (71.0, 90th)
Ballot history: One and done.
Yes, another sabermetric favorite. He had good power for a second baseman for his era, drew a ton of walks and won four Gold Gloves. An enormously valuable player in his time -- Baseball-Reference ranks him as one of the top seven position players in the AL in seven different seasons, including first in 1973.
Orel Hershiser (56.8, 209th)
Ballot history: Received 11 percent his first year and then fell off in his second. Odd.
Hershiser won "only" 204 games and thus his early exit from the ballot. I'm not saying he's a lock candidate, but why has Jack Morris' case taken off while Hershiser was dumped so quickly? At his peak, Hershiser was more dominant and his 1988 postseason heroics certainly are the equal of Morris' Game 7. OK, Morris won more games. Maybe a better comparison is another former Dodgers pitcher, Don Drysdale, who made it in with 209 career wins. Hershiser's career ERA isn't as good but he also had to pitch in the high-scoring late '90s during the decline phase of his career. Like Drysdale, he was famous during his peak (not mention Hershiser broke Drysdale's scoreless-inning record). Postseason career: 8-3, 2.59 ERA in 22 games (18 starts).
Keith Hernandez (60.1, 177th)
Ballot history: Stayed on for nine years, peaking at 11 percent.
As a first baseman, you make the Hall of Fame for your bat, thus Hernandez never drew much support. Still, he was a .296 career hitter, drew walks, played on two World Series champs and is regarded as maybe the best defensive first baseman ever. His career WAR is Hall of Fame borderline but Hernandez was also one of the most iconic players of the '80s, if you want to put stock into that. (And, yes, Hernandez over Don Mattingly, who simply had too short of a peak.)
Luis Tiant (66.7, 125th)
Ballot history: Stayed on for 15 years.
Here's what's interesting about Tiant: He received 30 percent of the vote his first year on the ballot, 1988. People have been elected with worse starting positions -- Rice, Blyleven, Bruce Sutter. Drysdale received just 21 percent his first year. So initially there was a strong belief in Tiant as a possible Hall of Famer, with his 229 career wins and popular personality. He to fell 11 percent his second year. What happened? Gaylord Perry and Fergie Jenkins entered the ballot in 1989. Then Jim Palmer. Then Tom Seaver in 1992, Phil Niekro in 1993, Steve Carlton in 1994. He wasn't as good as those guys so everyone forgot about him.
Ted Simmons (50.2, 289th)
Ballot history: One and done. He's on the Veterans Committee ballot this year.
I'm on the fence with Simmons, but he does rank 10th all time in catcher WAR and I'd argue that the top 10 at each position are strong Hall of Fame candidates. He wasn't Johnny Bench, but who was? From 1971 to 1980 he hit .301 and averaged 90 RBIs per season.
And ...
Pete Rose (79.4, 64th)
Ballot history: Actually received 9.5 percent of the vote in 1992.
OK, maybe including Rose is cheating a bit.
* * * *
So that's 10 players. Others you could argue for: Jack Morris, Dale Murphy, Willie Randolph; Graig Nettles isn't that dissimilar from Brooks Robinson; Rick Reuschel's career WAR is higher than Palmer, Drysdale, Sutton or Juan Marichal; Lee Smith has done pretty well in the BBWAA voting and is still on the ballot. Tommy John, Dave Concepcion, Dave Parker, Steve Garvey and Dan Quisenberry are on the Veterans Committee ballot this year, which makes them all candidates, although I think only John has a strong case. (Quisenberry is no different from Sutter, however, so there's that.) Dave Stieb was dominant in the '80s; with a little more luck he could have won three Cy Young Awards and been a stronger choice.
Part of the problem voters face is that as the quality of talent improves over time it becomes harder for the great players to separate themselves. So Stieb looks like Hershiser who looks like Bret Saberhagen who looks like Dwight Gooden and none of them were Tom Seaver so nobody gets in.
I know many (most?) of you believe electing guys like those above would weaken the Hall of Fame. That's sort of my ultimate point; if your Hall of Fame is Willie Mays and Hank Aaron and Cal Ripken, then your bar is way above the established level of actual Hall of Famers. Let's just give guys from recent decades their fair due.
January, 8, 2013
1/08/13
12:30
AM ET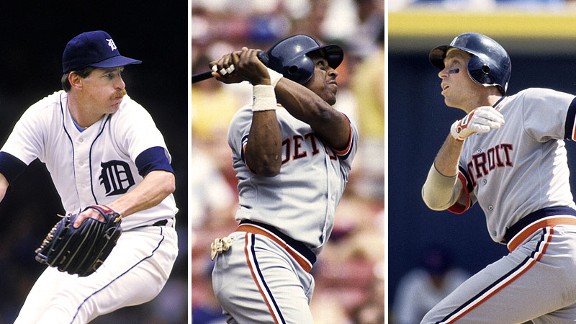 AP Photo, USA TODAY SportsJack Morris, left, and Alan Trammell, right, were both on this year's HOF ballot; Lou Whitaker fell off.
In 1978, four rookies helped the Tigers win 86 games, ending a stretch of four consecutive losing seasons. That group -- Jack Morris, Alan Trammell, Lou Whitaker and Lance Parrish -- would be the core of a team that would finish over .500 for the next decade, peaking with a 104-win season and World Series title in 1984 and another American League East title in 1987. While it wasn't exactly historic -- the Tigers would win 90-plus games just three times in that 11-year stretch -- it was certainly a terrific run of success.
Yet that club has just one Hall of Famer so far -- manager Sparky Anderson.
Morris, of course, has a chance to get in when the balloting results are announced Wednesday. But is he the
right
Tiger who should go in? Trammell remains on the ballot as well, but received just 37 percent of the vote last year. Whitaker, despite strong but underappreciated credentials, fell off the ballot after one year. Their career stats:
Morris: 254-186, 3.90 ERA, 3824 IP, 3567 H, 1390 BB, 2478 K, 39.3 WAR
Trammell: 2293 G, .285/.352/.415, 185 HR, 1003 RBI, 1231 R, 67.1 WAR
Whitaker: 2390 G, .276/.363/.426, 244 HR, 1084 RBI, 1386 R, 71.4 WAR

Obviously, if you're WAR believer, Morris lags well behind his double-play combo. (Something to consider: How much better did those two make Morris?). Of course, we didn't have WAR back in the '80s, but it's also not correct to say -- as many writers point out in protest against the numbers geeks or in defense of Morris -- that we didn't have those fancy sabermetric stats back then. Of course we did. Bill James was writing his best-selling "Baseball Abstract" throughout the decade.
Let's do a quick survey of how the three players ranked in James' annual "Abstract," to give us another view of how they were viewed at the time.
1981
Morris: Fourth among starting pitchers (behind Fernando Valenzuela, Steve McCatty and Steve Carlton). Morris had a career-best 3.05 ERA in that strike season (it was also the lowest-scoring season in the AL between 1977 and 2012).
Trammell: Sixth among shortstops.
Whitaker: Seventh among second basemen.
1982
Morris: Fifth among starting pitchers (behind Carlton, Dave Stieb, Fernando and Steve Rogers).
Trammell: Fourth among shortstops (behind Robin Yount, Dave Concepcion and Dickie Thon).
Whitaker: Third among second basemen (behind Bobby Grich and Joe Morgan).
1983
Morris: Fifth among right-handed starters. One of his best seasons: 20-13, 3.34 ERA, led the AL in innings and strikeouts.
Trammell: Fourth among shortstops (behind Yount, Thon and Cal Ripken).
Whitaker: First among second basemen. Hit .320, won a Gold Glove, eighth in MVP voting (the only time he received MVP votes).
1984
Morris: James rated entire rotations instead of pitchers. Morris didn't rank in the top 10 in the AL in ERA or innings.
Trammell: Second among AL shortstops. Trammell was the World Series MVP, hitting .450 with two homers and six RBIs.
Whitaker: First among AL second basemen.
1985
Morris: Fourth among AL right-handers (behind
Bret Saberhagen
, Stieb and Bert Blyleven). In separate article on the Hall of Fame progress of active players, James wrote, "Among the pitchers of his generation, Jack Morris is the one who is making the strongest progress toward the Hall of Fame. It is not that he has done anything spectacular that immediately projects him forward, as Dwight Gooden did last year, but that he is picking up plusses here, there and everywhere, adding something almost every year.
Trammell: Third among AL shortstops (behind Ripken and
Tony Fernandez
).
Whitaker: First among AL second basemen. "May have been the only unanimous selection other than Gooden," James wrote.
1986
Morris: Fourth among AL pitchers. "He's probably three or four good years away from the Hall of Fame now."
Trammell: Fourth among AL shortstops (behind Fernandez, Ripken and
Julio Franco
).
Whitaker: Third among AL second basemen.
1987
Morris: Second among MLB right-handed starters (behind
Roger Clemens
). "For the ninth straight year, Jack Morris last year did a few things that would be characteristic of a Hall of Fame pitcher."
Trammell: Third among MLB shortstops (behind Ozzie and Fernandez). A little surprising that Trammell didn't rate ahead of Fernandez, after finishing second in the MVP vote (and he should have won it over George Bell).
Whitaker: Third among MLB second basemen.
1988
James did not publish a book in 1989.
1989
James published "The Baseball Book," but did not include player rankings. He did include his 1980s decade All-Star team and had Morris as the No. 3 starting pitcher, behind Dwight Gooden and Roger Clemens. That's the argument, of course, that has essentially gained Morris momentum in recent years ("Most wins in the '80s.") Morris did pitch the most innings in the decade, and while defining a decade as artificial as any 10-year division, it is instructive to note what happened to the other top pitchers on James' all-decade team:
Dwight Gooden: Suffered shoulder injury in 1989.

Roger Clemens: All-time great.

Ron Guidry: First season didn't come until he was 26, so had a short career. Crushes Morris in career Cy Young shares -- he's 16th while Morris is 76th.

Bob Welch: 211-146, 3.47 in career, won a Cy Young award, received one vote for Hall of Fame.

John Tudor: Developed late and then got hurt, but was great for a few years.

Orel Hershiser: Led National League three consecutive years in innings pitched and then tore rotator cuff. Came back and managed to win 204 games. Fell off the ballot in second year.

Teddy Higuera: The little guy from Mexico could really bring it. Was 27 as a rookie and later had back surgery and then tore his rotator cuff.

Bret Saberhagen: Two-time Cy Young winner had thrown over 1,300 innings at age 25 (Morris had just under 600). Shoulder issues rest of career.

Dave Stieb: Had the second-most wins in the '80s. Averaged 275 innings from ages 24-27. Morris averaged 228 at the same ages. Shoulder and back injuries.

Fernando Valenzuela: Led league in innings at age 20. Averaged 269 innings from 21 through 25. Arm died.
You see what happened here, right? Most of the best pitchers of the '80s got hurt. With guys like Valenzuela, Gooden and Saberhagen, it's not surprising, seeing in retrospect the workloads they carried as young pitchers. This requires a more in-depth article, but the 1980s was a sort of transition decade: Teams were moving to five-man rotations, hitters were getting bigger and stronger, the 300-inning workloads of the 1970s had ceased, but pitchers weren't handled as carefully as now and medical and training techniques weren't as advanced.
Morris and Clemens -- both college pitchers, by the way -- weren't abused at a young age like some of the other top pitchers. They survived. Morris first threw 200 innings at age 24 (between the majors and minors) and threw 250 at age 25, but then had the shortened season at age 26. His first back-to-back big workloads didn't come until 27-28.
That makes Morris unique for his generation of pitchers -- but doesn't make his value more than what it was. But back to the point: Based on James' rankings, Morris
was
considered one of the best pitchers at the time -- not the No. 1 or No. 2 or No. 3 guy, but you don't have to be the very best to achieve Hall of Fame status.
Trammell and Whitaker also ranked consistently high and there was certainly a time when Whitaker was defended as the best second baseman in baseball. Trammell might not have quite achieved that status -- but, again, you don't have to be No. 1 to be a Hall of Famer (it would be a small Hall of Fame if that were the case). On the other hand, Morris probably
was
the most famous of the three. One year, James wrote that one of these days America would wake up and realize how great Whitaker was. That, unfortunately, never did happen, even though Whitaker remained effective until he retired after 1995 (he slugged .518 that year).
OK, this was really just a long post to give a reason to post the poll above. What do you think?
January, 12, 2012
1/12/12
5:31
PM ET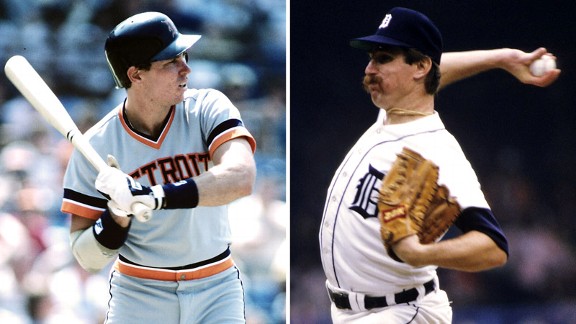 Getty ImagesAlan Trammell and Jack Morris were part of an impressive group of Tigers that debuted in 1977.
In 1977, Jack Morris, Alan Trammell, Lou Whitaker, Lance Parrish, Steve Kemp and Dave Rozema debuted for the
Detroit Tigers
. Trammell, Whitaker and Parrish were September call-ups; Morris debuted in late July and made six starts; Rozema won 15 games as a 20-year-old rookie, completing 16 of his 28 starts; Kemp was the oldest of the group, turning 23 in August that year, and he hit .257 with 18 home runs, 71 walks and 88 RBIs.
It was an amazing collection of talent. Here, compare their career WAR figures from Baseball-Reference to the fabled 1995 Yankees' group of debut players:
What's more, the team also had 23-year-old All-Star first baseman Jason Thompson, who hit .270 with 31 home runs; center fielder Ron LeFlore, who hit .325 and scored 100 runs; outfielder Ben Oglivie, who hit 21 home runs and slugged .464; and in 1979, Dan Petry and Kirk Gibson reached the majors.
From there, it only took the Tigers until 1984 to win the division. With all the talk of Jack Morris this week, I was thinking about those Tigers teams and wondering, with all that talent, why it took them so long to finally gel into a playoff team. Their seasonal records:
1978: 86-76
1979: 85-76 (Sparky Anderson hired midseason)
1980: 84-78
1981: 60-49
1982: 83-79
1983: 92-70
1984: 104-58
For five years seasons, the Tigers remained stagnant. Why, despite all that young talent, didn't the Tigers improve? A few reasons:
1. Thompson was an All-Star again in '78 but had a poor 1979, and after a slow start in 1980, was traded for outfielder Al Cowens, who hit six home runs in two years with Detroit.
2. Oglivie was traded in 1978 to the Brewers for Jim Slaton, who pitched one year for the Tigers and then signed as a free agent with ... the Brewers. Oglivie became a three-time All-Star with the Brewers, including a 41-homer season in 1980.
3. LeFlore was traded after the 1979 season to the Expos for Dan Schatzeder. Deal didn't work out for either team.
4. It took some of the guys some time to get going. While Whitaker was the 1978 AL Rookie of the Year, he didn't really become a big star until 1982, when his power blossomed. Gibson had a strong 1981 strike season, but was injured in 1982 and had a poor 1983.
5. Sparky did weird things like fooling around with Tom Brookens at third base for the better part of a decade, long after he had shown he couldn't hit. The team played Enos Cabell two years at first base and he hit seven home runs.
6. The Tigers had problems filling the back of rotation after Morris, Petry and Milt Wilcox. Rozema kept missing time (yes, a guy who threw 16 complete games as a 20-year-old developed arm problems) and they'd rush guys to the bigs too often. GM Jim Campbell (he was the club's GM from 1963 through 1983) just couldn't find enough arms and Sparky failed to show the same proclivity for building a bullpen that he had shown in Cincinnati.
Anyway, the team acquired Chet Lemon for Kemp in 1982, improved in 1983 as Trammell and Whitaker had terrific seasons, Morris pitched 293 innings and Juan Berenguer blossomed as a swingman. Still, the '83 team finished six games behind the Orioles, a team that featured
Cal Ripken
, Eddie Murray, Ken Singleton, six platoons and one pitcher who made 30 starts. It's amazing Sparky still kept his job.
It all came together in 1984, of course. What's amazing about that team is nobody really had a career season, with one notable exception: Willie Hernandez was acquired from the Phillies for Glenn Wilson and John Wockenfuss and he finally gave Sparky a dominant reliever, winning Cy Young and MVP honors after going 9-3 with a 1.92 ERA and 32 saves in 140 innings. In fact, he and Aurelio Lopez combined to go 19-4 out of the pen. Bench guys like Dave Bergman, Ruppert Jones and Johnny Grubb were also outstanding.
Even though Whitaker, Trammell, Parrish, Lemon, Gibson, Howard Johnson, Morris, Petry, Hernandez and Berenguer were still all younger than 30, that group could only scrape together one more division title, in 1987. True, the AL East was much stronger than the AL West in those days, so the Tigers faced some stiff competition. But they fell to 84 wins in 1985, won 87 in 1986, 98 in 1987 and 88 in 1988 before the bottom fell out in '89.
Two final thoughts: I wonder if Morris and Trammell would be Hall of Famers if that squad had done a little more -- another playoff appearance or two would have added another stamp to their legacies. Finally, is there a team similar to the Tigers now? That team that couldn't get over the hump ... until it finally did. The Blue Jays are probably the closest analogy, as since 2005 they've won 80, 87, 83, 86, 75, 85 and 81 games.
Maybe the Jays are where the Tigers were in 1982. They take a leap forward in 2012 and then another big leap in 2013 ...
August, 17, 2011
8/17/11
12:35
PM ET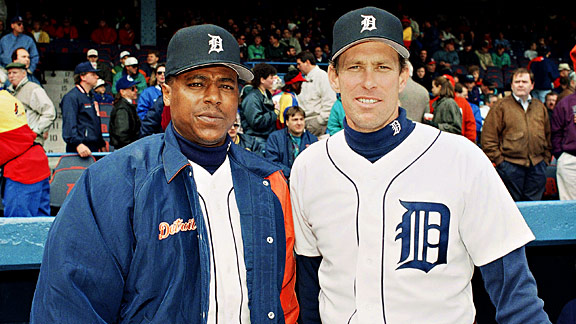 AP Photo/Lennox McLendonLou Whitaker and Alan Trammell formed one of the best double-play combinations in history.
With
Jim Thome
hitting his 600th home run and the Cubs unveiling a statue last week to honor Ron Santo, the Hall of Fame has been on my mind. I'll go more in-depth on Hall of Fame analysis in the offseason, but here are 10 eligible players who deserve a plaque in Cooperstown.
Catcher: Ted Simmons.
Simmons was a career .285 hitter with more than 2,400 hits and during his 1971-1980 peak he hit .301/.367/.466. Only Yogi Berra has more RBIs among catchers -- yes, Simmons has more than Bench,
Mike Piazza
, Gary Carter or Carlton Fisk. He has more hits than any catcher except
Ivan Rodriguez
. I'm not saying Simmons was
better
than those guys, but he produced at the plate like few catchers.
First base: Jeff Bagwell.
Lou Gehrig, Jimmie Foxx,
Albert Pujols
and Jeff Bagwell: The four greatest first basemen of all time. Bagwell received only 41.7 percent of the vote in his first year on the ballot. He'll get in eventually.
Second base: Lou Whitaker.
Here are the players who rank ahead of Whitaker on Baseball-Reference's WAR (wins above replacement-level) list for second basemen: Rogers Hornsby, Eddie Collins, Joe Morgan, Nap Lajoie, Charlie Gehringer and Frankie Frisch. That means Whitaker ranks just ahead of
Craig Biggio
,
Roberto Alomar
and Ryne Sandberg. OK, maybe you don't think Whitaker is quite as good as those three. But he had a terrific all-around game, with good power (242 home runs), patience (.363 career OBP -- the same as Biggio, 19 points higher than Sandberg), a good glove and speed on the bases. Yet he received only 15 votes his first year and was booted off the ballot.
Third base: Ron Santo.
Christina Kahrl made Santo's case here
.
Shortstop: Alan Trammell.
Barry Larkin
received 62 percent of the vote last year and should deservedly make it this year, so I'll stump for Trammell, who peaked at 24 percent last year but is running out of time, as it was his 10th year on the ballot. Trammell hit .300 seven times, won Gold Gloves, was the best player on a World Series winner and should have won the 1987 AL MVP Award.
Left field: Tim Raines.
Arguably the best player in the NL in the 1980s, or at least for a five- or six-year span. (B-R ranks him fifth, behind Mike Schmidt, Dale Murphy, Ozzie Smith and Keith Hernandez, but Raines wasn't a rookie until 1981. Give him another season and he'd move up to second.) He reached base more times in his career than
Tony Gwynn
(3,977 to 3,966, in just 127 more plate appearances). He was one of the greatest basestealers of all time.
Center field: Dale Murphy.
If you like peak value, then Murphy is your guy.
Right field: Larry Walker.
His case isn't a slam dunk, but I was surprised he fared so poorly on his first year on the ballot (20.3 percent). The various injuries hurt his counting stats and the three batting titles are discounted a bit because of Coors Field, but the guy still produced a .313/.400/.565 and was regarded as the best right fielder in the game for many years.
Designated hitter: Edgar Martinez.
Simply put:
One of the greatest hitters of all time
.
Pitcher: Kevin Brown.
Now that Bert Blyleven finally made it, there isn't an obvious pitcher. The six highest guys on B-R's list would be Rick Reuschel, Brown, Luis Tiant, Tommy John, Jerry Koosman and
David Cone
. Brown received just 12 votes last year, despite 211 wins, two ERA titles, a remarkable stretch from 1996 to 2001 when he posted a 2.53 ERA during the height of the steroid era, and a World Series title with the Marlins. Plus, he helped the Red Sox win it all in 2004.
Follow David Schoenfield on Twitter @dschoenfield.
July, 23, 2011
7/23/11
12:00
PM ET
By
Christina Kahrl
| ESPN.com
The recent votes for the Hall of Fame have seemed to engender a lot of controversy. Whether it's Bert Blyleven finally getting in thanks to the efforts of sabermetricians such as Rich Lederer and Jay Jaffe, angry disagreements over the BBWAA's elections of Jim Rice or Andre Dawson, or dickering over why Bruce Sutter got in before Goose Gossage, the subject seems to inspire debate, even when all-time greats like
Roberto Alomar
and Blyleven are getting their due.
It's in that spirit of complaint that we should ask if a big part of the problem is what LCD Soundsystem called "the unremembered '80s."
Since I'm sure some will complain that a decade starts with the '0' year and others that it ends with it, let's start by casting a wider net and look at the WAR leaders for 1980-90, while noting who's been voted to Cooperstown and who hasn't. It's admittedly quick and dirty, but it's a place to start the conversation. Looking at the 15, it's great for the 10 who have gotten their due. (Sure, we can kibitz over Dawson for all sorts of reasons, but he was nevertheless a great player.)
Starting from here, you could put together an excellent lineup of stars from the '80s who haven't made it into the Hall of Fame. Going position by position:
Catcher:
Probably the weakest position, but Lance Parrish's 324 career homers and 35.7 WAR (28.8 in the '80s) would suit. Parrish was also one of the best-throwing catchers of his day, gunning down 39 percent on his career, helping to land him on eight All-Star teams. Effectively, he was to the AL what Gary Carter was for the NL.
First Base:
Back in December, Mark Simon
put together a nice overview
of the case for why Keith Hernandez belongs in the Hall. I've slowly started coming around to this point of view, aided by the additional information from Michael Humphreys' book "Wizardry" on all-time fielding greatness -- recommended for any stathead's bookshelf -- with the finding that Hernandez rates as the best fielder at first in baseball history. Hernandez had all the virtues you'd want in a first baseman minus the overwhelming power.
What might surprise people is that it's Hernandez who shines via WAR, and not New York's other first baseman, Don Mattingly. It really shouldn't surprise anybody. As great as Donnie Baseball was, he burned very, very brightly so very, very briefly. He has a good argument for being baseball's best ballplayer for four years -- and then he wasn't that guy anymore, playing through injuries and declining effectiveness. As great as his peak value was, he doesn't even present the decade's best argument for inducting a briefly game-best ballplayer. (We'll get to Dale Murphy shortly.)
Second Base:
Has to be Lou Whitaker.
Once in a while, you'll still get the odd stathead who argues that the BBWAA doesn't make huge mistakes, making the easy comparison of its track record for putting people into the Hall against the various flavors of Veterans Committees the process has been saddled with over the years. Fair enough, but what about Lou Whitaker? The BBWAA eliminated Whitaker from all future consideration in his first year on the ballot, one of its most spectacularly thoughtless decisions where Hall voting is concerned.
Whitaker was the best second baseman in baseball between Joe Morgan and Robbie Alomar. Whitaker is the post-World War II WARP leader among all Hall-eligible players
not
in the Hall of Fame; he beats Sandberg and Willie Randolph fairly easily. He also beats Bobby Grich, 69.7 WAR to 67.6. Whitaker tops Raines (64.6) and Larkin (68.9) and Trammell (66.9).
But by receiving just 15 total votes in his first (and last) year on the ballot, Whitaker was dropped forever after from BBWAA consideration, because he didn't reach the five-percent cutoff. He deserves much, much better, so we can hope this is one of those mistakes that whatever rules apply in 2015 or later can get him voted in by the Veterans Committee, the electoral college or the Diet of Worms. Somebody
has
to get this right, don't they?
Third Base:
Like catcher, the choice may fall short in a Hall of Fame argument, but Buddy Bell (60.8 career WAR) was a fine defender and paragon of professional hitterdom, but because most of his career was spent on dead-end Indians and Rangers teams, he may be better remembered for his nondescript days in the dugouts of the Tigers, Rockies and Royals.
Shortstop:
If Whitaker has been flat-out screwed by the process, there's still some hope that '80s great Alan Trammell will get his due from Cooperstown. Tram was the signature player from those great-to-good Tigers teams of the '80s that seem to have been collectively forgotten ever since their manager, Sparky Anderson, got elected. Maybe Trammell suffers from being the best shortstop in baseball before Ripken, and maybe he'll get his due after
Barry Larkin
gets voted in, but there really shouldn't be any controversy over voting him in. Jay Jaffe's JAWS system puts Trammell seventh overall among Hall-eligible shortstops (leaving
Alex Rodriguez
out of the conversation since his career's still a going concern).
Outfield:
Tim Raines should be a no-brainer, but if Parrish's case paled next to Carter's in front of the current electorate, it shouldn't be surprising that the second-best leadoff hitter of all time managed to be caught in the same sort of tunnel vision just because he happened to be a contemporary of Rickey Henderson. Although there's nothing to be done for Whitaker, Rock should get the benefit of the same sort of campaign run by those who previously worked so hard to get Blyleven to Cooperstown. This is one of those oversights that should be corrected in the next couple of years.
As I mentioned, I'd run with Dale Murphy as a worthwhile Hall of Famer at a time when we're putting Rice and Dawson in. Like Dawson, Murphy had a multi-year run in the sun as someone widely considered baseball's best player, winning back-to-back MVPs in 1982 and '83 (and arguably deserving another in 1987). Whereas Mattingly had a four-year run, Murphy's started in 1980 and ran through '87, producing 264 homers and a .517 slugging. In some ways he had Carter's career in reverse -- it didn't really take off until he was taken out from behind the plate and stuck in the outfield to stay. Murphy finished with 398 homers, a low tally by today's standard, but that's more than Rice. And with a 45.7 career WAR to Rice's 41.5, maybe one of the signature players of the '80s deserves reconsideration.
For right field, you could go for Dwight Evans for career value. His 61.8 total WAR puts him among the 150 top players all-time, but Dewey was as much a star of the '70s as the '80s -- he just aged well, like a fine wine. Since the '80s are a controversial era, let's go with a controversial great: Darryl Strawberry. I wouldn't put him in the Hall, but in the '80s he ranked seventh in runs created with his bat (R
bat
on Baseball-Reference), behind five Hall of Famers and Murphy.
Starting pitching:
We've left moundsmen to the side, but there's a good reason for that -- Jack Morris, and the odd notion that somehow he was a great pitcher. Given that the '80s comprised the bulk of Morris' useful career, you'd expect that he'd rate among the best pitchers of the era. He doesn't.
Taking a look at the pitchers' table, you're sure to ask: Where's Morris? Take it all the way down to 15th, and that's where you'd find the mustachioed workhorse -- behind Teddy Higuera and Bruce Hurst, and behind fellow warhorse Charlie Hough.
The top 10 is an interesting group itself, because it includes so many guys who suffered major arm injuries or early burnout. The '80s represented a new, tough challenge for pitchers. Run-scoring increased, and a lot of guys broke down trying to live up to workload standards established in the '60s and '70s. Gooden, Tudor, Saberhagen, Hershiser -- outside of Clemens, the best pitchers of this generation all blew out their arms. The field was open for odd ducks like Mike Scott and Dave Stewart to wind up having tremendous but brief runs of greatness, but as wonderful as they were, nobody's putting them in the Hall of Fame.
Let's bring this back to Morris. Say you want to just look at the good bits of Morris' career -- 1978-92. Morris was just the seventh-best pitcher in that span via WAR, behind the Rocket, the Ryan Express, the Eck and Bert Blyleven, not to mention those stars of the '80s who usually don't get much press -- Dave Stieb and Bob Welch.
What Morris leads in from his own heyday is two big counting stats. First, there's his 236 wins. That's a product of three things: playing with a star-studded lineup, great run support
and
his durability. In the rush to condemn Morris' worthiness, the durability seems to get short shrift, but he did throw 400 more innings than anybody else in baseball in this "Age of Morris." If you want to argue that a man should make the Hall for being durable during an age of fast burnouts, that's not such a bad thing.
But at that point we may as well start talking about Stieb's worthiness as well, since he had the best balance of durability and quality during this time. But like Whitaker, Stieb is someone the BBWAA forgot, eliminating him in his first year on the ballot in 2004 with just 1.4 percent of the vote. But that isn't going to stop me from tabbing Dave Stieb as the starting pitcher of the '80s, not Morris. Besides Stieb's leading WAR tally, he was third in wins (158), behind Morris (177) and Welch (164), tied with Fernando in shutouts with 29, and his ERA+ of 128 tops even Doc Gooden (125) and the oft-injured Tudor (126). Besides, Stieb had no-hitters broken up in consecutive 1988 starts with two outs and two strikes in the ninth, and a perfect game busted up with two outs in the ninth in 1989. (He did finally get a no-hitter in 1990, against the Indians.) If anyone in this field deserves a break, it's Stieb.
Closer:
The overall leader in saves from 1980-90 was Jeff Reardon with 285, but the better pitcher was slow-shufflin' Lee Smith with a 23.8 WAR to Reardon's 17.4, a tally that also tops those of Dan Quisenberry (23.6) and Dave Righetti (23.0). Smith eventually set the record for saves and currently rates third all-time with 478, with 265 of those coming in the broadly defined '80s.
Why isn't Smith in Cooperstown? To some extent he's being penalized for the fact that standards for Hall-worthy closers are still being made up as we go along. But another problem is that Smith's career has one foot in the era when closers threw 100 innings and settled for 30-save seasons, and the other in the Eck era where closers have been reserved for ninth-inning save opportunities alone. Smith doesn't properly belong in either, so you can't bundle him with Rollie Fingers and Goose and Sutter and Quiz on the one side, or with
Trevor Hoffman
and
Mariano Rivera
on the other. Reaching the postseason just twice in an 18-year career probably does him no extra favors with the voters.
We can't know exactly why the '80s have been overlooked in terms of the Hall, but given the presence of several all-time greats at key defensive positions -- like Whitaker and Trammell -- an all-time great leadoff man in Raines, a nice power tandem in Straw and Murph, and perhaps the best starting pitcher in baseball over a decade in Stieb, I'd enjoy taking my chances with these guys against all comers. They do not deserve to be forgotten, and one hopes that several of them -- beyond a likely like Raines -- get their due.
Christina Kahrl covers baseball for ESPN.com. You can follow her on Twitter.